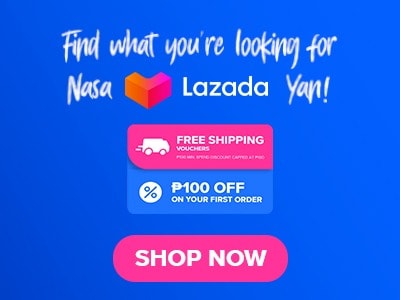 Casual dining is quite popular in our country these days because we all know that the generation nowadays is becoming experimental and wants to try different cuisine that is available in our country. I found a perfect place for you guys where you can enjoy delicious meals like pasta and other delicious and foreign-inspired dishes while enjoying a great view of their restaurant plus you don't have to go outside Manila. Interesting right? Have you heard about Talisay the Garden Cafe? If not I'm sure you're already interested in this article specially if you are a foodie like me. Let's dig in with the Talisay the Garden Cafe menu, whereabouts, and best sellers, lets's start!
Below, you'll find the updated list of Talisay the Garden Cafe menu prices.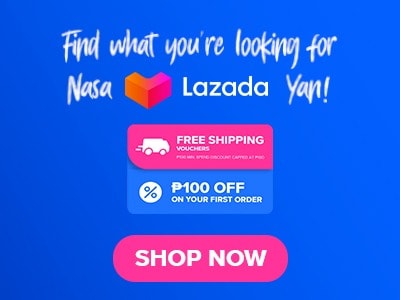 Menu Items
Price (PHP)

Meal Starters

Lumpia fresca
225
Gambas al ajillo
380
Calamari frito
340
Beef salpicao
580
Baked tortang talong
290

Salad

Talisay garden salad
390
Talisay smoked bacon
440

Soup

Molo soup
240

Talisay Specials

Paella mixta
790
Palabok negra
620
Lengua con setas
630
Jamon de talisay
640
Calderetang kambing
675
Fried chicken with gravy
325

Regional Specials

Chicken pianggang
390
Callos con garbanzos
630
Crispy pork belly adobo
460
Balbacua
520

Additional Side Dishes

White rice
60
Garlic fried rice
70
Organic brown rice
70
Fried potato wedges
90
About Talisay the Garden Cafe
Chef Mike "Tatung" Sarthou is the owner of Talisay the Garden Cafe. Coming To his restaurant feels like going home and enjoying a home-cooked meal made with love. Talisay the Garden Cafe is a bungalow house located on Maginhawa street and it has a sleek but homey atmosphere. The interior is really good, it has that chilled vibe that anyone will get comfortable with. The reference for their restaurant is their own house in Cebu where the chef grew up. Because He wanted to recreate all of his happy moments with his family. They try creating dishes that they grow up with and other dishes that they learned from other countries that they visited thru the help of his brother Jomi and Hanicel Jomi's wife. They are happy to serve their customers because this is their passion. Talisay the Garden Cafe is also known for giving beautiful presentations on their dishes.
Talisay The Garden Cafe Menu Best Seller
Here is the list of Talisay the Garden Cafe's best sellers according to their staff. We also interviews some customers that already tried their restaurant to ask their opinion about the food.
Lumpia Fresca – Their Lumpia Fresca is actually the chef's specialty. It is soft and the homemade crepes are already flavorful. Inside their lumpia is fresh and tender ubod of coconut. It also has a generous amount of slightly thick sauce that is sweet and peanutty. To be honest, this Talisay the Garden Cafe menu is one of the most delicious lumpia fresca that I tried, it has the right flavor and really addictive in a good way.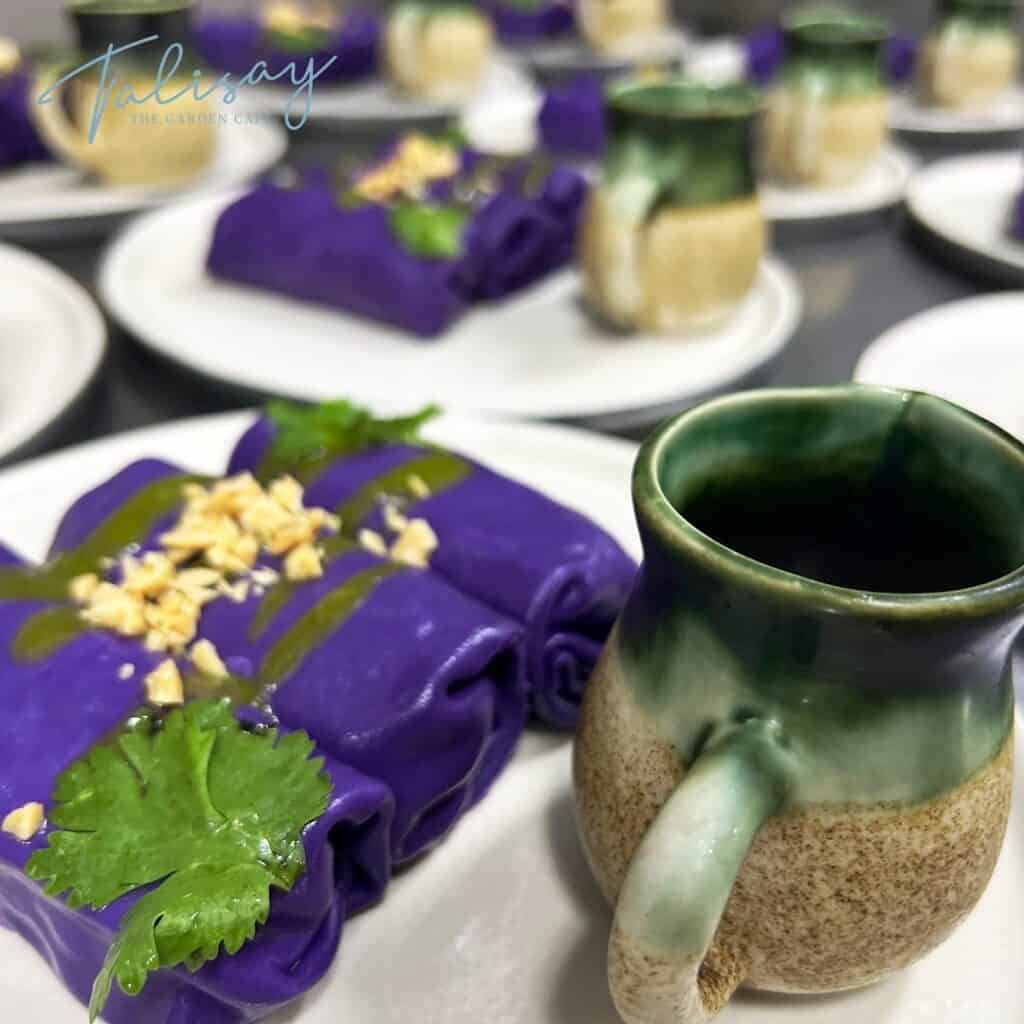 Molo Soup – This classic Filipino dish is heartwarming light and delicious. Made with pork and shrimp dumplings in a clear and clean broth of tender chicken with shredded chicken and shrimp for more flavors. It's a soup that will remind you of your childhood or home. You can have their Molo Soup for only 140 PHP. This very delicious soup is also really great with any rice or meat.
Jamon de Talisay – The owner who is the chef follows an old family recipe of Jamon or ham in English. Their Jamon de Talisay is made with slow-cooked ham in a brick oven and then glazed with a special sauce which I think is a pineapple sauce for a more delicious flavor. Believe me, their Jamon de talisay is really savory and delicious.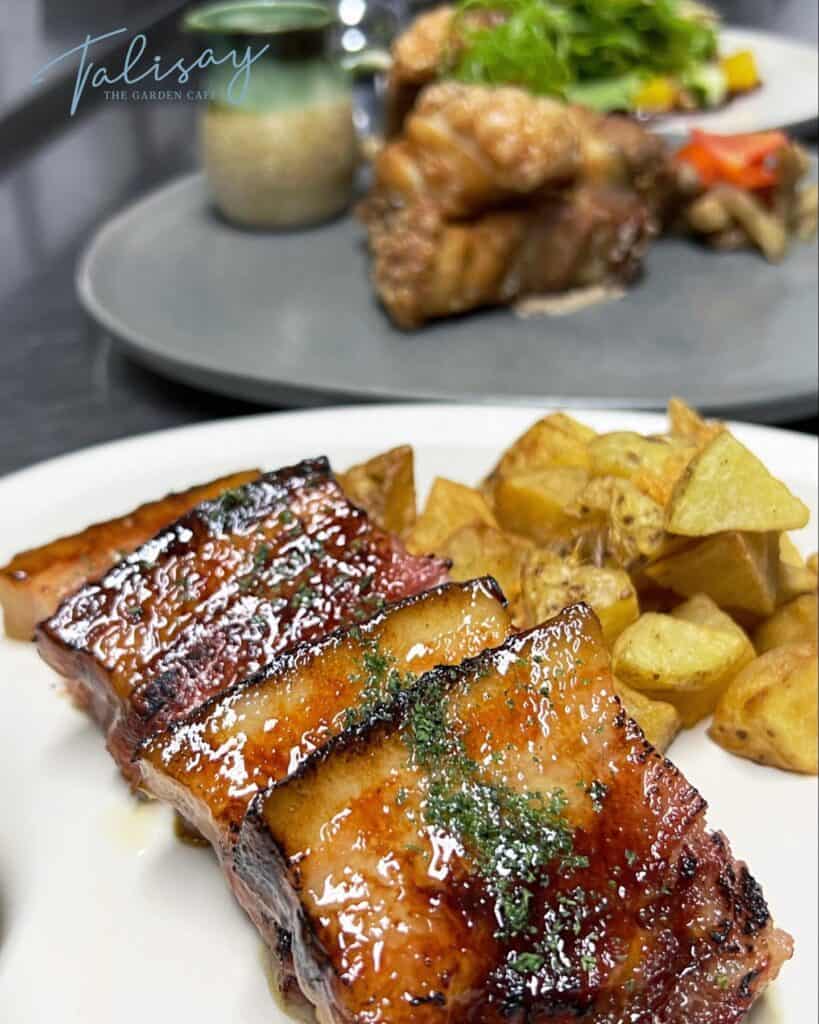 Karne Norte con Patatas – Their karne norte con patatas is made with prime beef chunks that they cured for 2 days and also roasted for hours to make it very tender with gravy that has the right amount of thickness, they also serve this with potato wedges for a more authentic expression. You can have their karne norte con patatas for as low as PHP 590.
Pescado y Coco – This Talisay the Garden Cafe menu is a special dish because their Pescado y Coco is Chef Tatung's Lola (grandmother) recipe. He never experimented or learn to improve his Lola's recipe of Pescado y coco because he believes that his Lola's recipe is already the best. Made with pampano slowly cooked in coconut cream, tomatoes, ginger, and other secret ingredients that only Lola and her apo who is the chef know: they also add some chili for an extra kick. Their Pescado y coco is very rich in taste and insanely good and you can have it for only 800 PHP.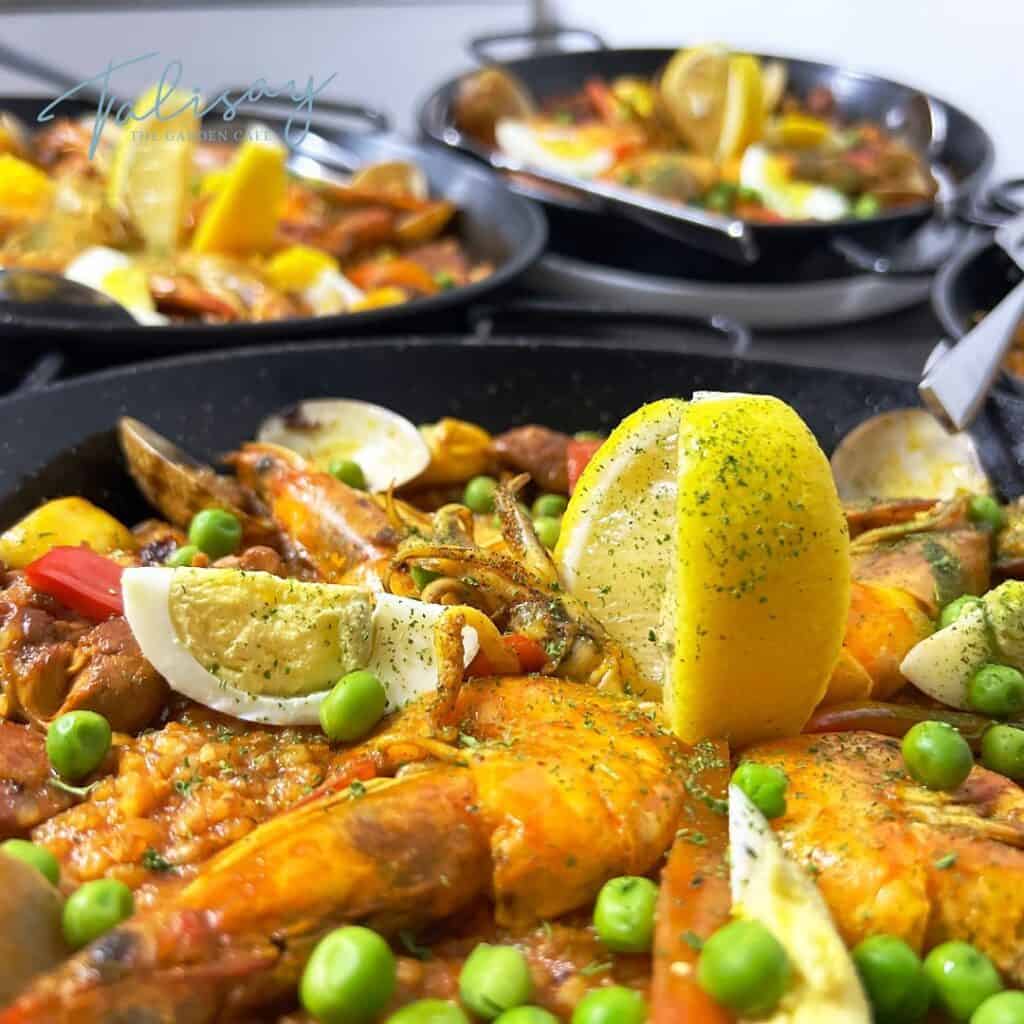 Paella Mixta – Their paella mixta is great for sharing the serving is big enough to feed three to four persons. Their paella mixta is made with tender seafood and tasty and well-cooked chicken mixed with rice and is actually crispy at the bottom. You can have their paella mixta for as low as 790 PHP only. I like this dish so much that when I asked for paella mixta for takeaways I am the only one that was eating it. This is my personal favorite.
Meal Starters
Talisay the Garden Cafe starters menu consists of light meals to prepare your appetite for some more appetizing and delicious food items. On their starters, they have lumpia fresca which is one of their best sellers. Beef Salpicao is so good I forgot that it is just a starter.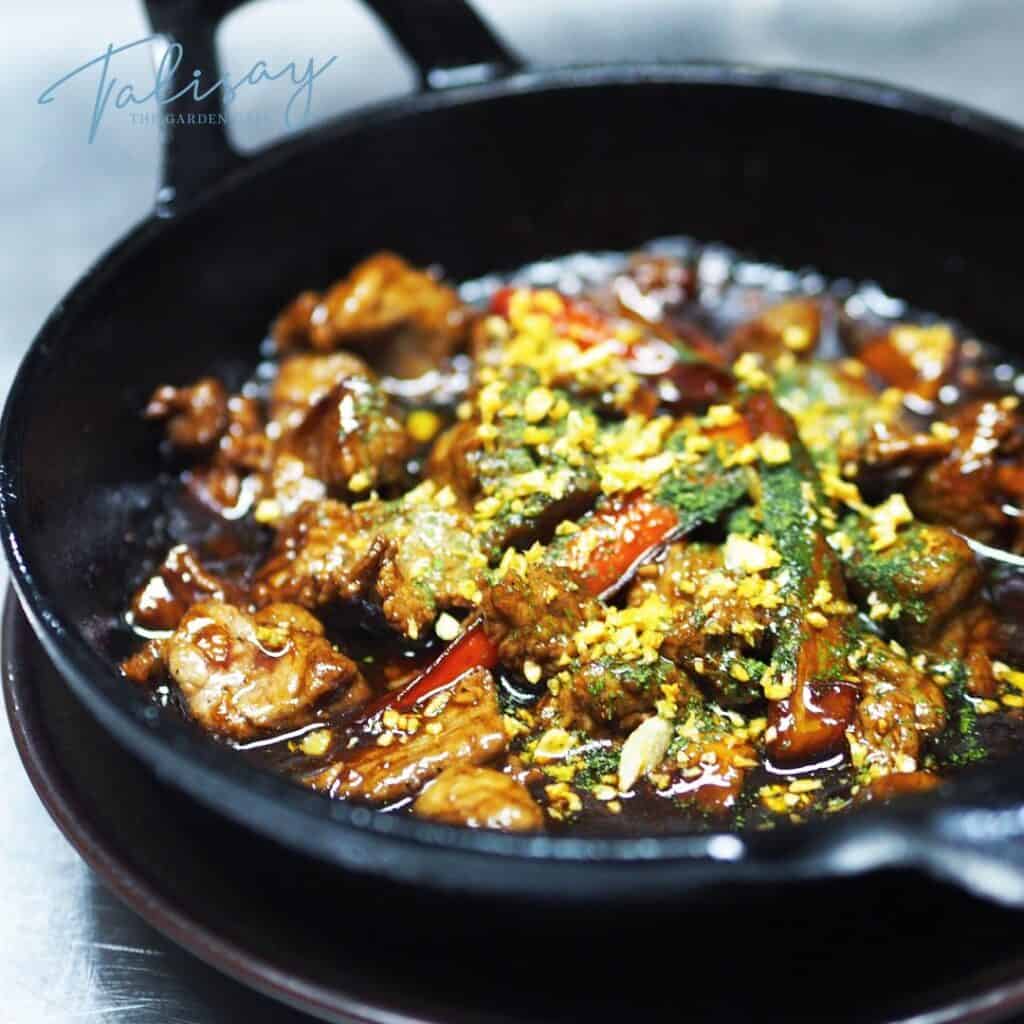 Croquettas that are made with breaded potatoes and fried and stuffed with some jamon de talisay. The next one is their Gambas al Ajillo which is basically shrimp sauteed in butter, rum and topped with fried shrimp head. Lastly, is their very simple yet delicious Calamari Frito, this is basically fried squid dipped in breading with aioli.
Talisay Specials
Talisay the Garden Cafe menu have 6 special dishes to choose from, they have paella mixta that is made with organic rice, sofrito, stocks made with seafood, then topped with chicken, chorizo, and seafood. Next, is their Palabok Negra which is made with rice noodles in a sauce made with squid ink and then topped with Palabok fixings.
They also have Lengua con Setas which are made with tender cows tongue in cream sauce with white wine, mushrooms, and olives. Next is their Jamon de Talisay which is also included in our best-seller list. They also have Kalderetang kambing and fried chicken with gravy.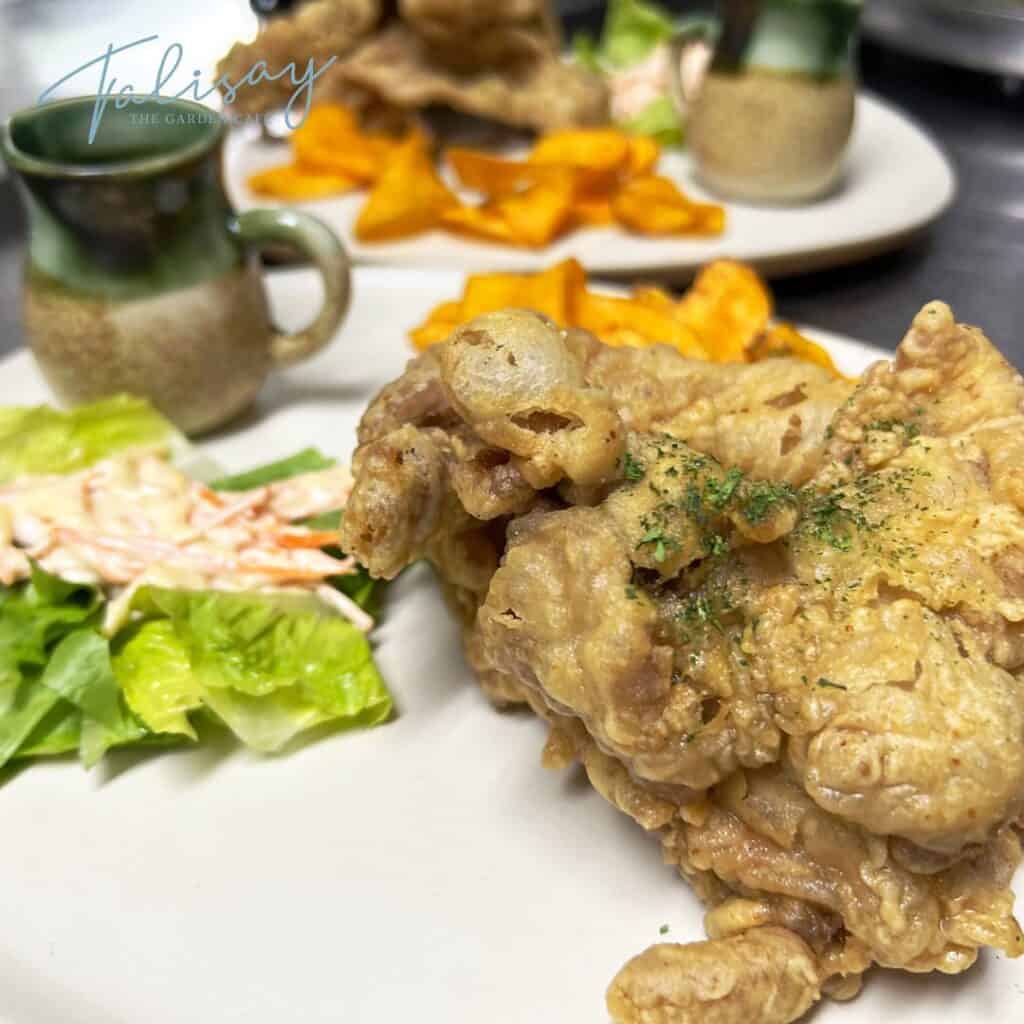 Talisay the Garden Cafe Menu Delivery
If you want to order your favorite Talisay the Garden Cafe food items all you have to do is message them on their WhatsApp at +63 919 877 6321 or you can also message their Facebook page. You can also use delivery services that are available at your location.
Social Media Pages
Talisay the Garden Cafe's social media accounts are always updated about their latest promo, new products, and discounts. You must like their social media pages to be updated always here are the link.
Facebook: https://www.facebook.com/TalisayGardenQC/
Instagram: https://www.instagram.com/talisayqc/
Conclusion
One of the best places that offer great food without leaving Metro Manila. The ambiance was nice and their service is good their serving size is also huge. Their paella is so good I swear. Talisay the Garden Cafe menu has a lot of delicious meals to choose from and aside from delicious, their presentation is also great. The service crews are all nice and polite and their restaurant is really clean. This restaurant already set a high standard when it comes to the dining experience. Highly recommended.