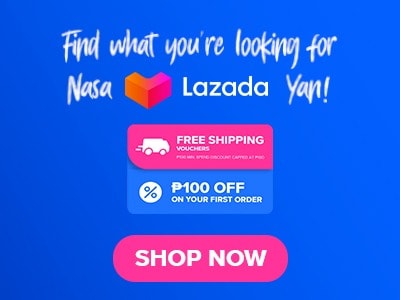 Through a new menu of ready-to-eat and ready-to-cook dishes, the Acacia Steakhouse, which is renowned for its charming, homey, and casual atmosphere in the neighborhood of Capitol Hills, now offers all these similar sentiments to each customer's home kitchen via delivery. Acacia Steakhouse has a menu of favorites that are pre-marinated, sauced, and simple to prepare to one's preferences. Their 14-day aged and ready-to-grill steaks are one of the famous items on their menu.
Below, you'll find the updated list of Acacia Steakhouse menu prices.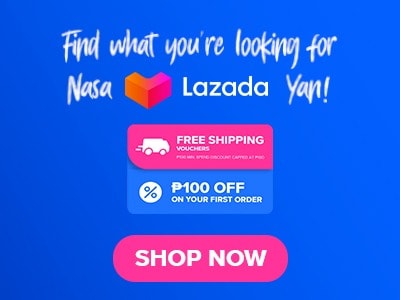 Menu Items
Price (PHP)

Steaks

Butcher's Steak
450
Black Pepper Steak
495
Flat Iron Steak
495
Steak and Marrow
595
Salisbury Steak
350
Australian Grassfed Ribeye
1350
Choice Ribeye
1450
Wagyu Striploin
1490

Starters

Pumpkin Soup
85
French Onion Soup
120
Portobello Mushroom Soup
195
Greenvalley Salad
175
Caesar Salad
230
Buruschetta
130

Entree

Prawn Gambas
265
Chorizo Squid
275
Miso Glazed Salmon
395
Bolognese Pasta
295
Seafood Aglio Olio
320
Chicken Tartufo
265
Pork Schnitzel
265
Acacia Burger
350
Angus Salpicao
320

Red Wine

Fat Bastard
950
Fat Bastard
950
Pionero
895
Rookslane
895
Altozano
895
Prime Cuts Red Blend
950
Ramon Roqueta Reserva
990
Montepulclano d' Abruzzo
850
Morande
1200

Whie Wine

Pionero
790
Pionero Chardonay
790
Pinot Grigio Veneto
790
About Acacia Steakhouse
Acacia Steakhouse is a Filipino-style restaurant located at Acacia St, Capitol, Cebu City, that offers great-tasting steaks! Visitors at this restaurant can plunge into delectable fare and superb samples of pepper steaks, pumpkin soup, and prawns. If you are famished, you just have to come to Acacia Steakhouse for their delicious creme brulee and a great wine to start up your dinner. It is a casual steakhouse good for gatherings with family and friends.
Acacia Steakhouse Menu Best Seller
These are the list of the most popular and most ordered dishes from Acacia Steakhouse's menu.
Steak and Marrow – Bone marrow is flavorful and a wonderful addition to a good steak. It has a slightly sweet, savory, and full-bodied flavor when cooked properly. Bone marrow also has collagen and glucosamine, which help strengthen and maintain the health of bones and skin.
Wagyu Striploin – The Wagyu striploin is renowned for its intense marbling. It is one of the best cuts of Wagyu beef because of its rich marbling. Striploin's powerful flavor and well-balanced texture are a result of the substantial amount of intramuscular fat present in the meat. Anyone seeking to taste a great steak should get this Acacia Steakhouse menu.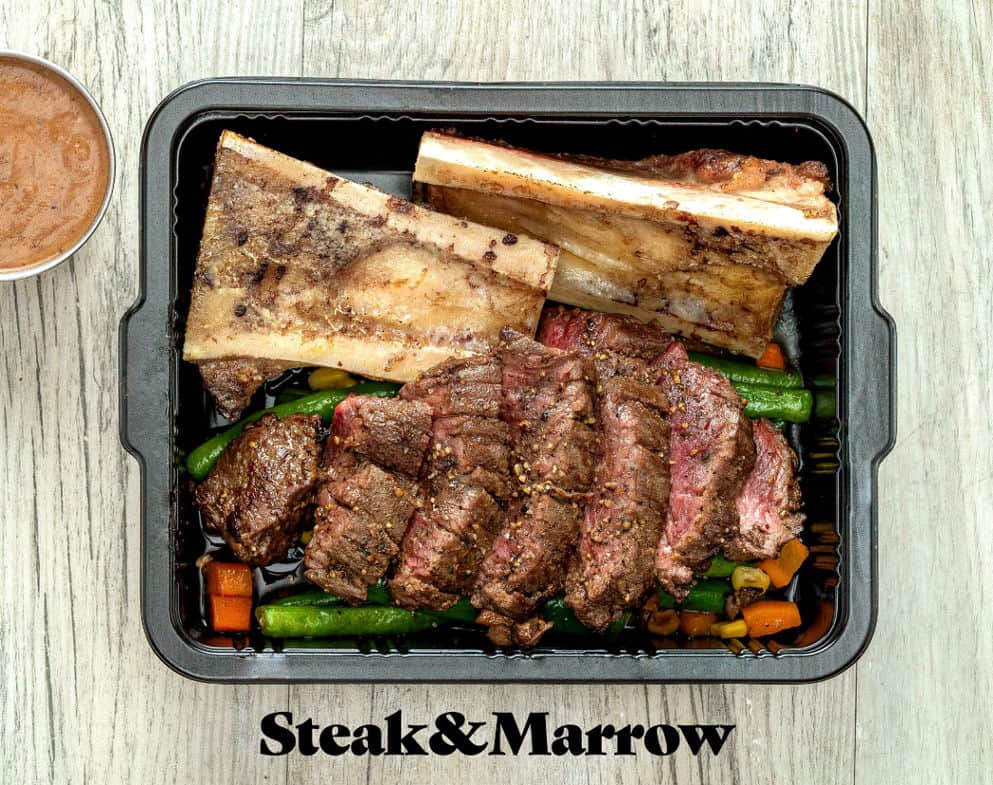 Salisbury Steak – An American-style hamburg steak variation that is made with ground beef and additional seasonings.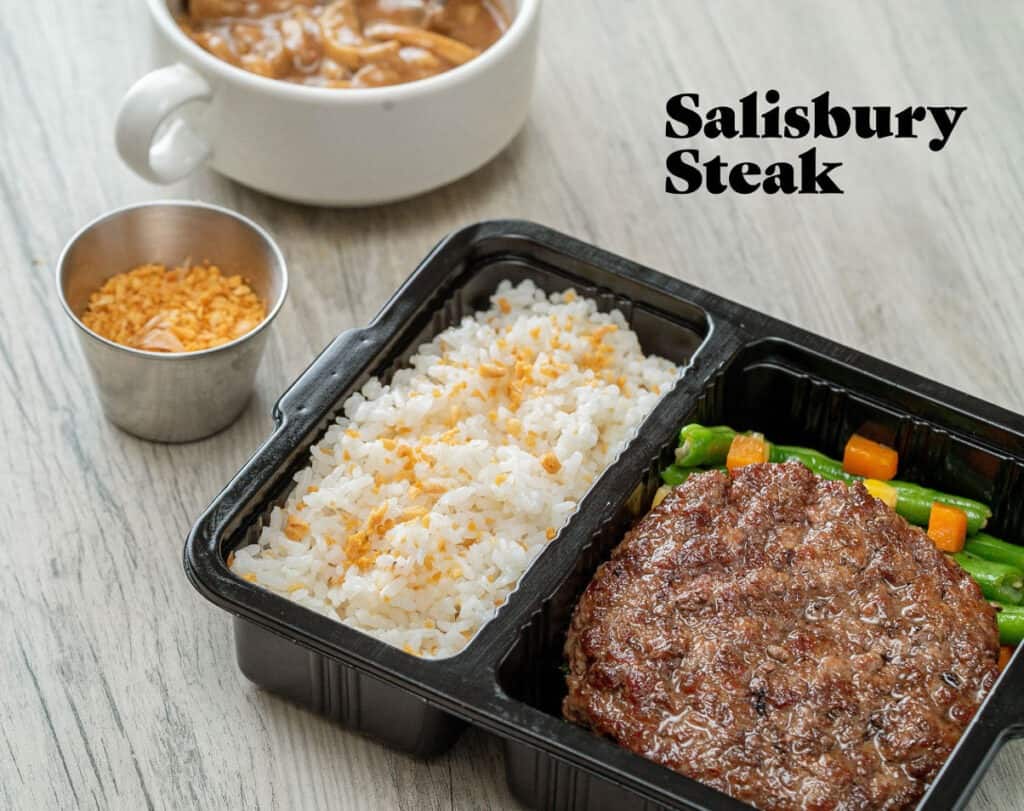 Prawn Gambas – In addition to being a full meal with rice, pasta, or bread this classic dish is often offered as an appetizer at bars. Acacia Steakhouse's prawn gambas are modified to suit the local ingredients available and are traditionally cooked with prawns, olive oil, and different varieties of spices.
Steaks
These menus are what make Acacia Steakhouse the way it is right now. Aside from their best sellers, these dishes are the reason why customers visit Acacia Steakhouse.
Butcher's Steak – It is a piece of beef steak renowned for its flavor. This portion of the animal's top belly, known as the plate, is where this cut is made. It was once one of the numerous beef steaks that were referred to as "hanging steak."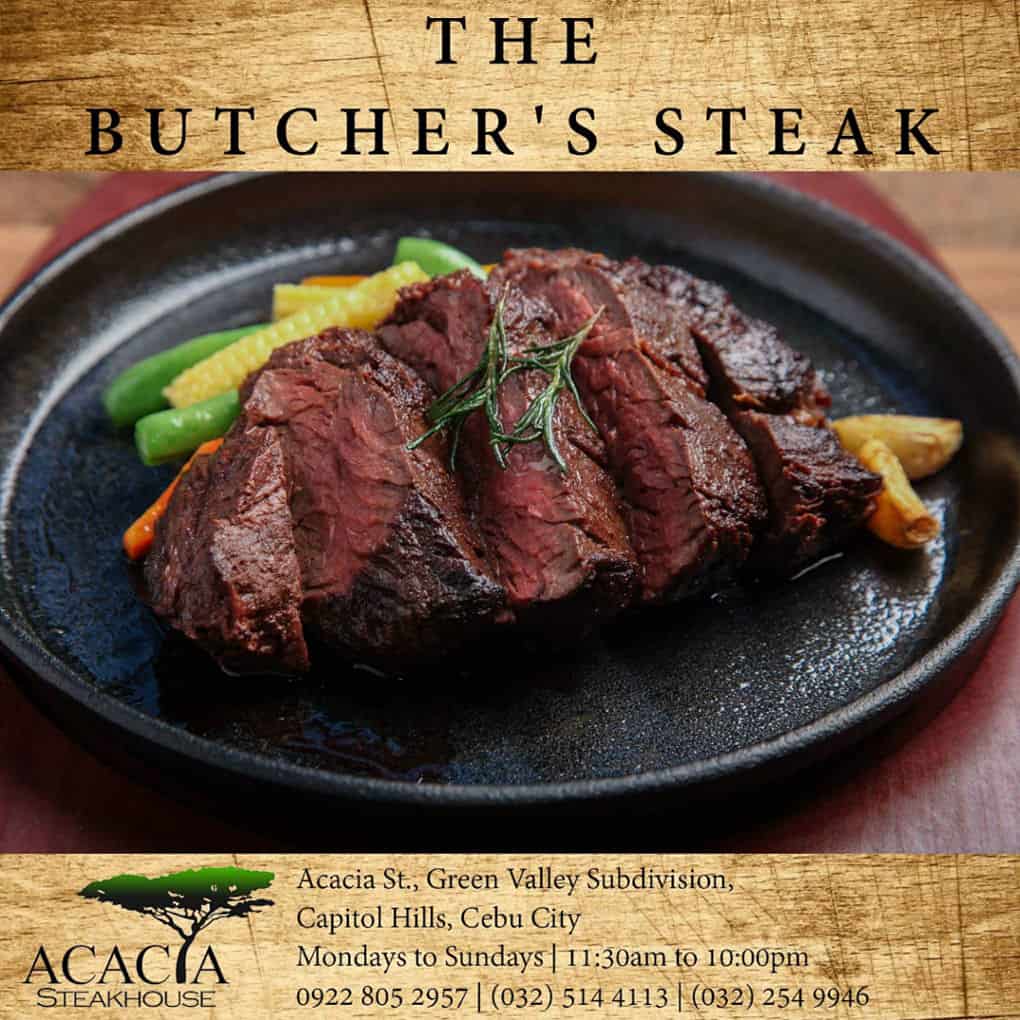 Black Pepper Steak – Black Pepper Beef is a quick and simple stir-fry made with beef, onions, and peppers that have been heavily spiced with black pepper and oyster sauce. Big, juicy steak chunks are used in this variety of Chinese classics, giving it a greater body, and a robust, meaty flavor.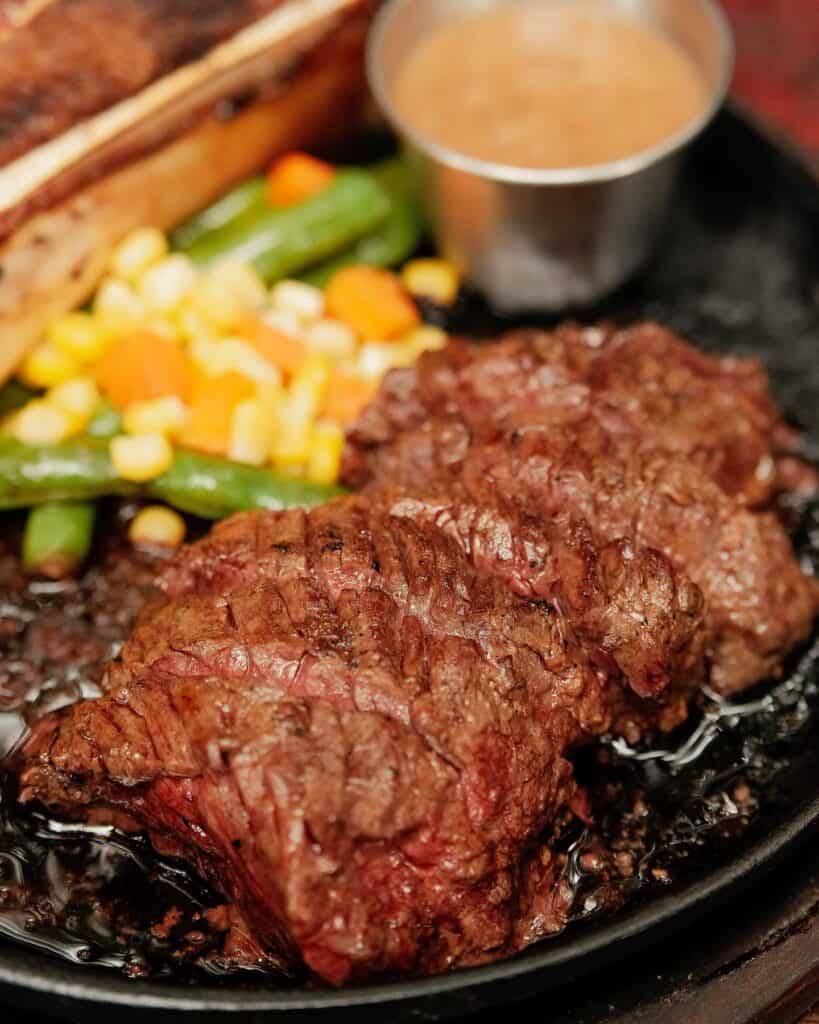 Australian Grass-Fed Ribeye – This menu of Acacia Steakhouse uses ribeye from a grass-fed animal that is leaner, and the meat has real muscular integrity when compared to meat from other animals that were bred conventionally, which receive little to no exercise. It is juicy and tender when gently cooked.
Starters
The dishes that are part of this menu are supposed to prepare the diners' palates as they wait for their main course.
Pumpkin Soup – Pumpkin puree is used to make pumpkin soup, which is typically a variety of bound soups. It is frequently consumed by locals and is available either hot or cold.
French Onion Soup – Typically made with meat stock and onions, this type of soup is frequently grated and topped with croutons or a larger piece of bread with cheese.
Bruschetta – It is a variety of antipasto that is created with the use of grilled bread that is mixed with different seasonings. Additionally, a variety of different toppings such as vegetables, pork, and cheese are included in this dish.
Entree
This Acacia Steakhouse menu is made of delectable dishes that are served before the main course arrives. Here are some of the best entrees that I highly recommend trying.
Angus Salpicao – Every bite of the delicate black Angus cubes is very satisfying and fulfilling. Angus beef's tenderness and luscious flavor are ideal for this type of cooking method. This dish works well for potlucks as well as packed lunches.
Miso Glazed Salmon – Salmon filets are marinated in a mixture of soy sauce, miso, sake, and other seasonings before being baked until they are tender and golden. The ease and satisfaction of this dish will delight you and your family, especially when it is served with rice and vegetables.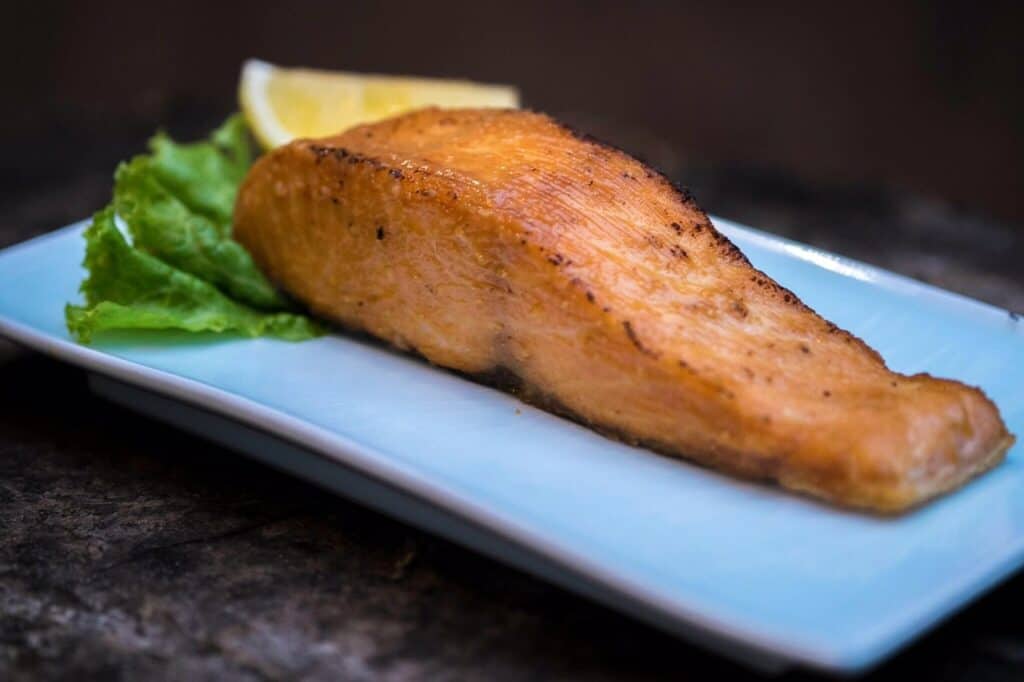 Pork Schnitzel – To help the meat be cooked more uniformly until it becomes soft, the cutlet, which is often boneless, is pounded into a thin slice. Pork chops are crushed into thin, soft cutlets that are then breaded, sauteed, and served with a juicily crisp exterior and interior.
Wine
Acacia Steakhouse is not only famous for its delectable dishes; they also serve finely aged wine for its customers to enjoy.
Rook's Lane – Rook's Lane is a fruity, easy-to-drink ladies' variety of Murray Darling wine. These wines are styled with an eye toward the laid-back nature of the Australian way of life and display all the warm and generous qualities for which Australian wine is recognized.
Altozano – This wine became easy to drink because of the sweet tannins that it contained. Altozano is a juicy wine with light tannins and strong aromas that are well-balanced.
Pinot Grigio Veneto – It is a delicious wine that was created from Pinot Grigio grapes. Pinot Grigio Veneto is light and flavorful and makes a mouthwatering accompaniment to seafood and salads.
Acacia Steakhouse Menu Delivery
You may enjoy your favorite steak dishes in the comfort of your own home by placing an order from Acacia Steakhouse's online store using the FoodPanda or GrabFood applications. For more information about their delivery services, you can get in touch with them through their social media pages.
Chat with Acacia Steakhouse PH Staff
Planning to go to Cebu or discover delicious restaurants around Cebu? Then why not try Acacia Steakhouse? Chat through their social media pages to get information about their opening schedule, promotions, reservations, and many more. Visit their social media pages by clicking the links provided below:
Facebook: https://www.facebook.com/acaciasteakhouse/
Instagram: https://www.instagram.com/acaciasteakhouse
Twitter: https://twitter.com/acaciasteakhous
Conclusion
Acacia Steakhouse's menu is made up of fantastic food! Each of them is visibly well-prepared, and after taking a single bite, you would taste how fresh the ingredients of their dishes are. They have a great and accommodating staff, coupled with a relaxing interior. Acacia Steakhouse is definitely a must-visit place whenever you are in Cebu.