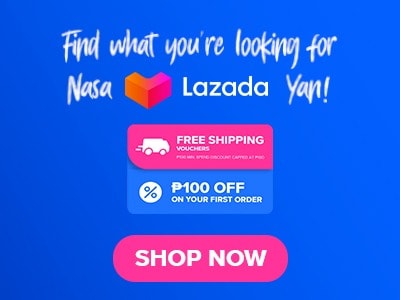 Are you looking for a casual dining restaurant where you can get most of your Filipino food cravings? Or you're already used to dining at restaurants and you want to try something for a change. Let me save your energy and introduce a restaurant that I'm sure will meet your standards when it comes to food. Have you heard about Barrio Fiesta? Well for sure you've heard of them since they have been around for so many years. In This article, we are going to get to know them a little bit more, and let's see if you'll get interested in the Barrio Fiesta menu and eventually try dining with them. Prices are affordable as well, already tried this restaurant a couple of times, and I'm sure you'll love everything that they have on their menu. Alright, people without further ado let's start.
Below, you'll find the updated list of Barrio Fiesta menu prices.
Menu Items
Price (PHP)

Filipino Breakfast

Beef tapa
300
Pork Tocino
300
Sauteed tuna
300
Longganisa
300
Gourmet tuyo
300
Corned beef slab
300
Corned beef
300
Spanish sardines
300
Tinapang bangus
300
Daing na bangus
300
Tinapang salinas
300
Hot dog
300
Fried pork adobo
300
Spam
300

Western Breakfast

Breakfast bangers and mash
300
Minute steak
300
French toast
300
American breakfast
300
Muesli
300
Cereal
300

Soup

Agnes Sorel
120
Classic tomato soup
120
Sopa Crema de calabaza
120
Crema sopa de ajo
120

Salad

Classic caesar salad
299
Chef's salad
310
Ensalada valenciana
299

Tapas

Beef salpicao
320
Calamares ala romana
280
Gambas y champignon al ajillo
280
Hojaldre relleno de mariscos
300
Patatas bravas
180
Tortilla de patatas
180
Revuelto de setas y gambas
220

Paella

Paella de carne
750
Paella mariscos mixtos
750
Paella negra
800
Paella valenciana
800

Sabaw

Molo soup
295
Sinigang na ulo ng salmon sa miso
350
Pocherong bulalo
520
Sinigang na bulalo
520
Beef goulash soup
380

Pampagana

Sisig pork
250
Sisig bangus
270
Sinuglaw
280
Kinilaw na tambakol
250
Liempitos
280
Kinilaw na tanigue
280
Pancit pusit
345

Ulam

Beef caldereta
415
Chicken afritada
350
Pork menudo
280
Chicken inasal
320
Halabos na hipon sa taba ng talangka
350

Sabaw

Chicken sotanghon soup
415
Cream of mushroom
295
Hototay soup
315
Nilaga baka
450
Nilaga baboy
495
Sinigang baboy
395
Sinigang baka
455
Sinigang bangus belly
385
Sinigang boneless bangus
375
Sinigang hipon
395
Tinolang manok
350
Tahong soup
295

Baboy

Crispy pata
695
Binagoongan baboy
395
Breaded pork cutlets with tartare sauce
315
Inihaw na baboy
385
Lechon Kawali
395
Mixed adobo
395
Pork adobo
385
Pork dinuguan
395
Sweet and sour pork
325

Manok

Chicken adobo
335
Chicken barbecue
355
Crispy chicken
355
Garlic chicken
355

Lamang dagat

Seafood kare kare
460
Adobong pusit
345
Camaron rebosado
345
Inihaw na pusit
345

Isda

Boneless bangus fried
365
Boneless bangus grilled
365
Fish fillet with tartar sauce
385
Fish fillet with sweet and sour sauce
365
Inihaw na pla pla
365
Pinaputok na pla pla
365
Steak tanigue
355

Baka

Kare kare
415
Bicol express
395

Mga Gulay

Ampalaya con carne
295
Ampalaya con hipon
295
Pinakbet
365
Chopsuey gisado
295

Kanin

Fiesta adobo rice
195
Pinoy rice
170
Java rice
175
Garlic rice
155
Plain rice
145

Pansit

Pansit bihon
360
Pansit canton
320
Pansit palabok/malabon
345

Mains

Callos
450
Lengua con setas
380
Pan salmon frito
450

Pasta

Fettuccine chicken piccata
280
Linguine pollo pasta
280
Puttanesca negra
280
Spaghetti frutti di mare
370
Filipino style spaghetti
250
Gambero y chorizo
320
Gourmet tuyo pasta
320
Fettuccine carbonara
280

Grilled steak

New york strip
1400
US angus ribeye
1500
Tony's wagyu beef
2500
Tomahawk steak
2500
Lamb chops
1200

Sandwich

Alta burger
290
Blt sandwich
220
Club house sandwich
290
Hungarian sandwich
290
Monte cristo
220

Kiddie Menu

Alta Jr. burger
220
Classic mac n cheese
220
Chicken Nuggets
180
Spaghetti bolognese
220

Vegetarian

Artichoke ala milanese
320
Mixed vegetables pesto pasta
320
Ratatouille
220
Tofu steak
220
Vegetable in green curry
250

Dessert

Turones ala mode
130
Halo-halo
150
Mango ice box
150
Ebuelicious pie
190
Churros y chocolate con batidor
150
Crema catalana
150
Seasonal fresh fruit
280
Blueberry frozen cheesecake sabayon
170
About Barrio Fiesta
Sixta Evangelista Ongpauco is the founder of Barrio Fiesta. The original Barrio Fiesta restaurant started on 1958 with a mission to create a memorable experience for their customers and to make sure that each visit to their restaurant will leave a good impression of having everything delicious and quality. The ambiance of this restaurant is a good plus since the restaurant is Filipino-themed because they want to maintain Filipino culture and heritage alive in our modern world nowadays.
The name Barrio Fiesta which actually means "feast" (a festive tradition where you could get mostly good food to celebrate a patron saint's day of a specific place) "is a Filipino tradition that started hundreds of years ago. Kare kare is actually the flagship dish for this restaurant, what's special with their kare kare is they are the ones who produced the bagoong and peanut butter that's why though kare kare is well known in the country theirs is different.
Also, their crispy pata is one of their most famous dishes, they even have a buffet for their crispy pata where you can eat all you want for a very reasonable price. As of today Barrio fiesta have more than fifty restaurants in the country and outside of the Philippines still continuing to serve Filipino authentic cuisine.
Barrio Fiesta Menu Best Seller
Here is the list of Barrio Fiesta menu best seller that you can order in their restaurant. This might serve as a guide if you are just new to their menu.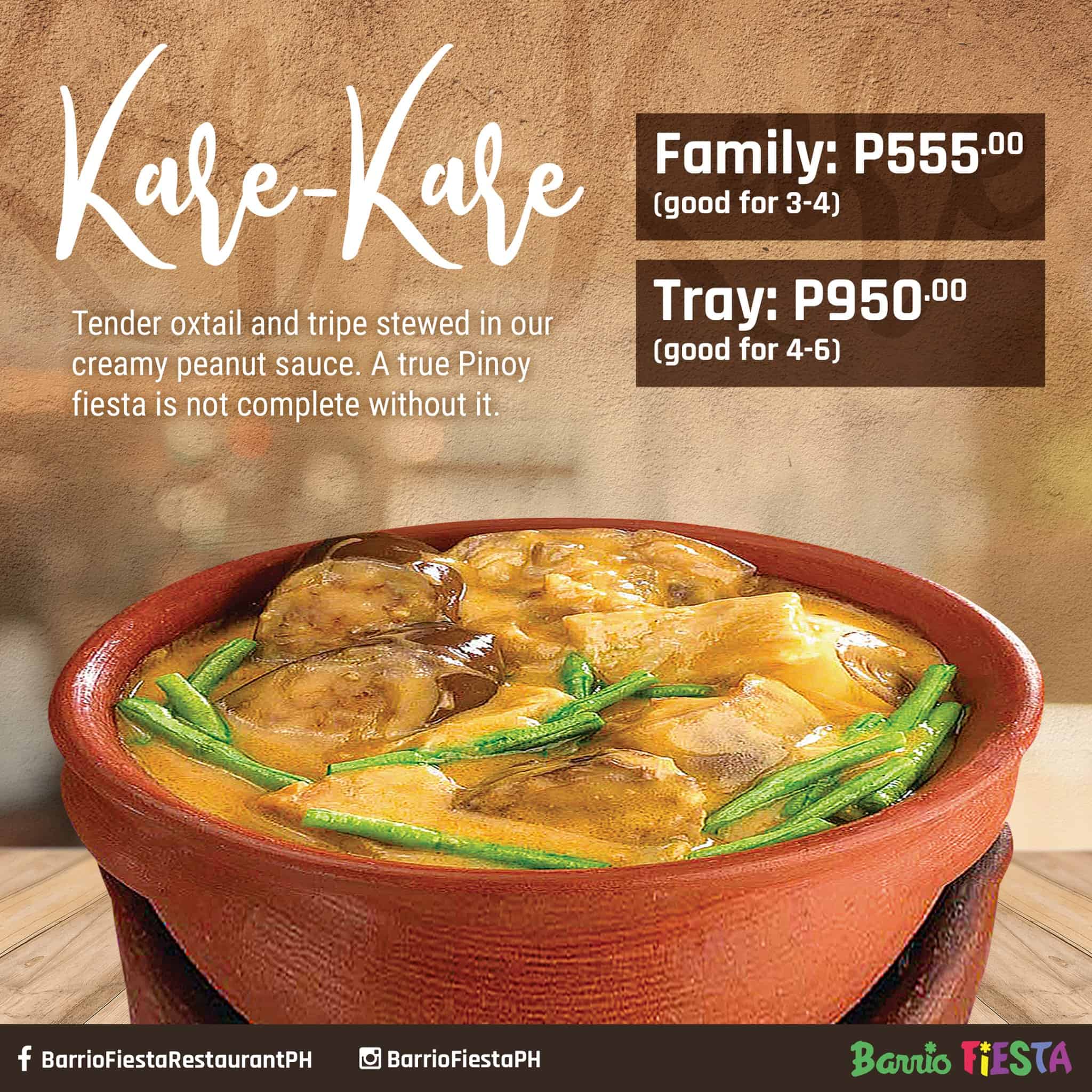 Kare Kare – They serve this classic and well-known Filipino dish. Really tasty and irresistible. Their own peanut butter and bagoong made their kare kare version different from all other kare kare that you can find in the market. Bursting flavors. I don't have enough words for this dish, it's really delicious. A must-try if you love peanut sauce taste.
Original Crispy Pata – Their crispy pata is one of the best that you can find on the Barrio Fiesta menu. Tender and not dry though it is not for people with the high blood pressure but a little serving is okay than none at all right? This signature dish is one of the most ordered food on their menu they even have to eat can pata promo.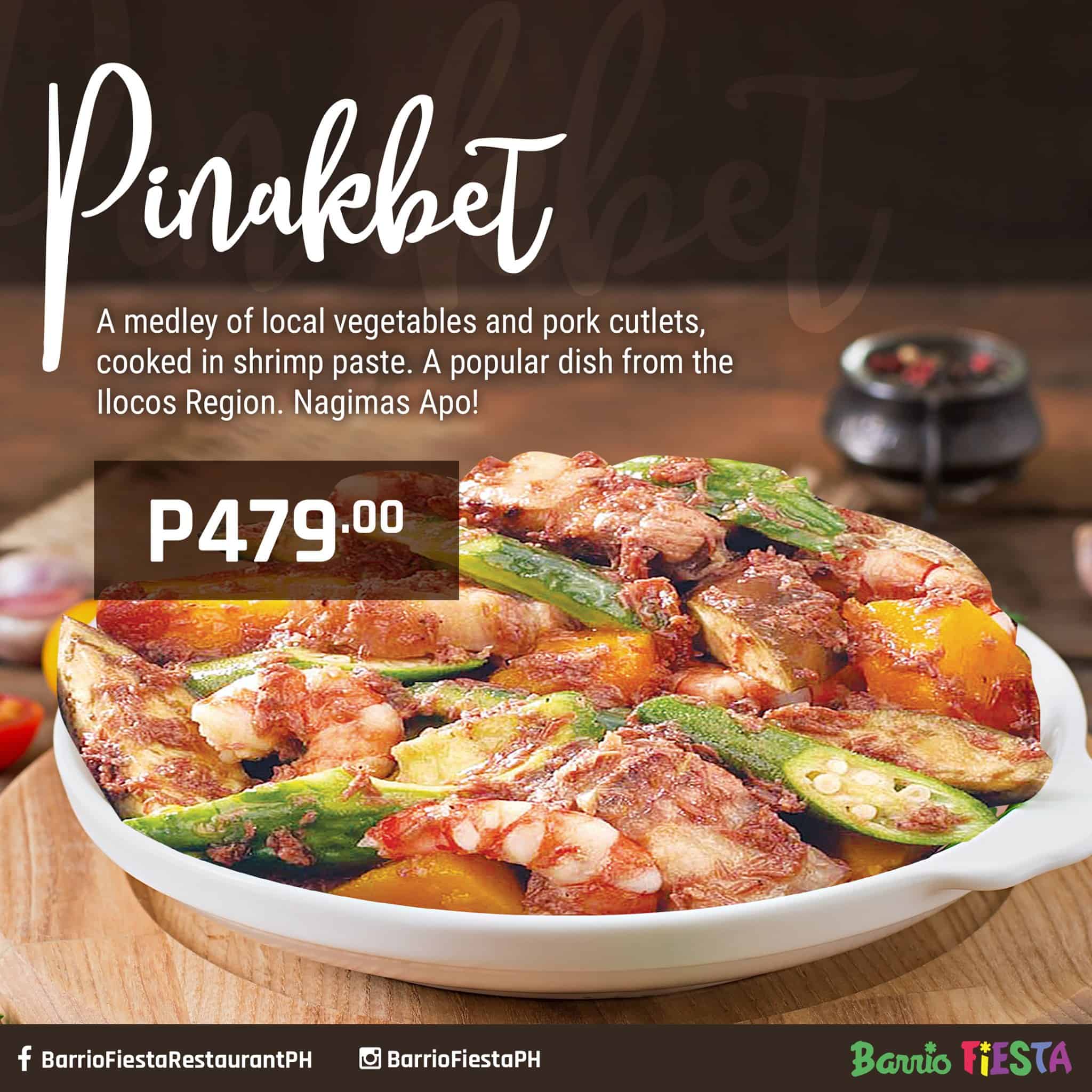 Pakbet na Baboy at Hipon – This Barrio Fiesta menu is for you if you like some veggies and not all meat. Their pakbet version is really delicious though I don't eat many veggies I enjoyed this one. The baboy meat and the shrimp are a good combination. Very tasty. I love their version of pakbet because everything is here fresh veggies the savory taste of meat and the shrimp. Also, a must-try.
Crispy Patita – This one is basically just like their crispy pata but in this dish, you can choose your best part of the pata from the upper part, middle, or the bottom part near the nails. Just like the pata the meat is also tender and very crispy, perfect to order if you guys cant finish the pata. Not for weak hearts.
Bouillabaisse – A very beautiful dish with a Filipino twist. Creamy and delicious perfectly paired with anything fried. This famous french recipe is very fresh, the seafood and the number of flavors in this dish will leave you very satisfied. I like how big the shrimp are in this dish with all those creamy bases. Something you can try if you are looking for something not so ordinary.
Barrio Fiesta Birthday Promo
If you want your birthday to be extra special barrio fiesta is opening its doors for a birthday celebration in their restaurant. You may call their hotline numbers to make a reservation and for your inquiries. Take note that different branches have different phone numbers. Just check on the branch phone numbers near your location.
Barrio Fiesta Eat All You Can
Barrio fiesta is offering an eat-all-you-can crispy pata for only 799 pesos every Fridays from 6 pm to 10 pm. Who wouldn't want that right?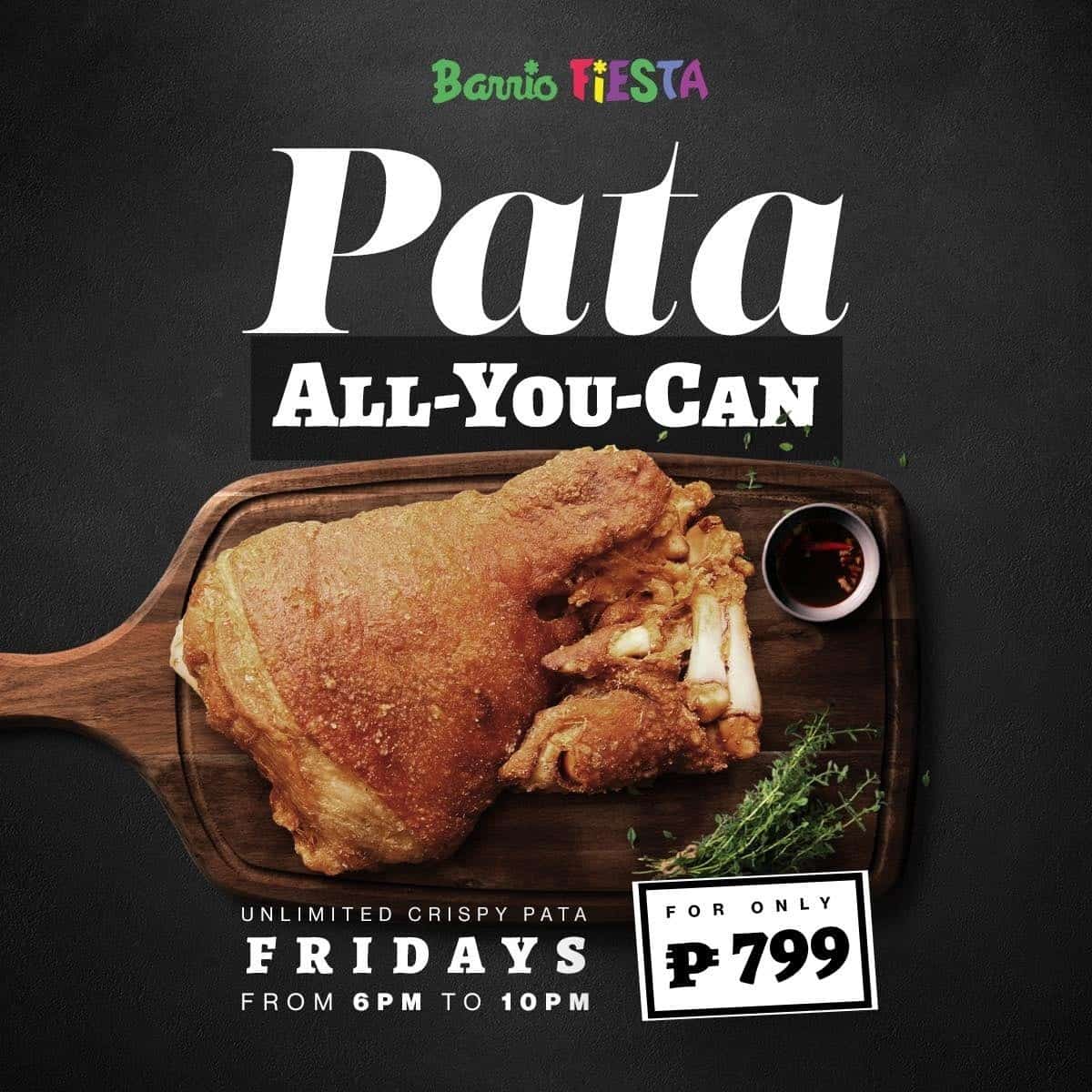 Make sure to get your favorite sauce for a much better meal experience and of course the rice. Please confirm at the branches near you about this promo.
Barrio Fiesta Menu Delivery
You can now order your favorite barrio fiesta food items simply by getting to their website at https://barriofiestaqa.com/ to locate a store near you or you can also choose to try third-party food delivery services like Food Panda, Lalamove and Grab Foods or other third-party delivery services that you can find on the market these days for an easier way.
Social Media Pages
Facebook: https://facebook.com/BarrioFiestaRestaurantPH/
Instagram: https://www.instagram.com/barriofiestafoods/
Website: https://barriofiestafoods.com/
Conclusion
This restaurant is truly a Filipino restaurant where we can find the dishes that we Filipinos learn to love. Thanks to this restaurant they made it easier for us consumers to access authentic Pinoy dishes and btw the prices are reasonable. Most of the Barrio Fiesta menu items are really delicious, Crews are okay and friendly and they will assist you really well and the service is great since we don't have to wait for a long time just to get our orders. Highly recommend it for Filipino cuisine lovers. Thumbs up!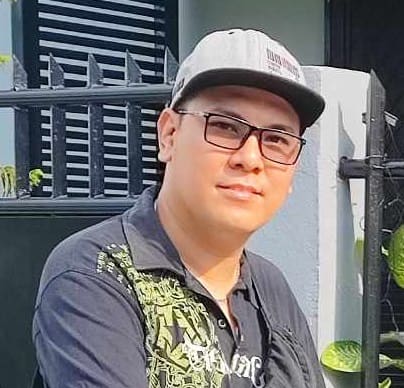 Hi! I'm Nivek Strife, the person who made MenuPH. I'm the one who added most of the popular menus you see on this website, and I really hope you enjoy them! Feel free to check them all out.
Growing up, I was surrounded by lots of tasty foods, like the classic Adobo and the sweet Leche Flan. That love for the many flavors of the Philippines is what got me excited about adding to MenuPH. When I learned how to make websites, I saw the need for a place to show off all the amazing Filipino dishes, and that's how MenuPH started.
MenuPH isn't just a website; it's like a fun journey into food. I've teamed up with famous chefs and found great places all over the Philippines to bring you a bunch of menus that show off the best of Filipino cuisine. Whether you're into the usual dishes or new twists, MenuPH is here to guide you through the rich world of Filipino flavors.
With MenuPH, my aim is to help local businesses, talk about good food choices, and make a group of friends who love food. No matter if you like fancy restaurants or street food, MenuPH has something for you. Come join me on this food adventure as we find great places, taste real flavors, and enjoy the unique food traditions that make the Philippines awesome.