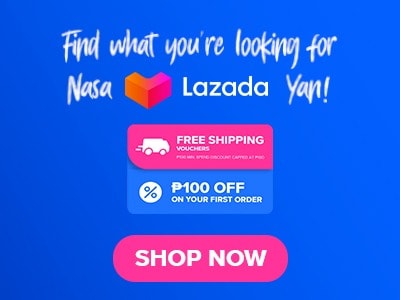 The Stoned Steaks menu highlights its heavenly and delicious steaks such as Angus, Wagyu, Dry aged, and Japanese wagyu. The other items on its menu are starters, salads, surf & turf, mains, sandwiches, pasta, sides coffee & dessert, drinks, cocktails, wines, beers, and liquors. These steaks are cooked according to your preference and served on a lava-rock plate. It allows you to grill your own steak and its staff is ready to help in grilling your steaks.
Below, you'll find the updated list of Stoned Steaks menu prices.
Menu Items
Price (PHP)

Starters

Soup of the Day
130
Oyster Rockefeller
420
Truffle Parmesan Fries
280
Brioche Onion Rings
170
Baked Veal Bone Marrow
290
Shrimp Cocktail
380

Salad

House Salad
290
Caesar Salad
360
Wild Rocket Salad
320

Angus Steak

Tenderloin (Solo 220g)
2550
Tenderloin (Share 350g)
3780
Ribeye (Solo 220g)
2450
Ribeye (Share 350g)
3480
N. Y Striploin (Solo 220g)
1850
N. Y Striploin (Share 350g)
2780
Sirloin (Solo 220g)
1150
Sirloin (Share 350g)
1480

Wagyu Steak

Ribeye (Solo 220g)
3200
Ribeye (Share 350g)
4800
N. Y Striploin (Solo 220g)
2600
N. Y Striploin (Share 350g)
3900
Sirloin (Solo 220g)
2300
Sirloin (Share 350g)
2800
Ribeye (Solo 220g)
3900
Ribeye (Share 350g)
5900
Tenderloin (Solo 220g)
3860
Tenderloin (Share 350g)
5700
Sirloin (Solo 220g)
2390
Sirloin (Share 350g)
3480

Dry Aged Steak

Wagyu Ribeye Grade 7 (Solo)
4350
Wagyu Ribeye Grade 7 (Share)
6850
Wagyu Ribeye Grade 4 (Solo)
3750
Wagyu Ribeye Grade 4 (Share)
5250
Angus Ribeye (Solo)
2800
Angus Ribeye (Share)
4100

Japanese Wagyu

Wagyu A5 Strips (220g)
5300

Surf & Turf

Angus Tenderloin with Shrimp
1280
Wagyu Tenderloin with Shrimp
1580
Stoner's Fresh Catch
1780

Mains

Mushroom Risotto
620
Braised Beef Short Ribs
1265
Lamb Riblets
1299
Wagyu Salpicao
450
Fish and Chips
420
Seafood Jambalaya
425
Grilled Tanigue
625
Grilled Salmon
625
Seafood Gumbo
1200
Herb Roasted Spring Chicken
420

Sandwich

Wagyu Rancho Burger
560
Wagyu Cheese Burger
560
Dry Aged Cheese Burger
590
Beef Patty Melt
590

Pasta

Wagyu Lasagna
420
Spaghetti Wagyu Meatballs
520
Mushroom Alfredo Pasta
510
Truffle Mac and Cheese
450
Seafood Arrabbiata
510
Seafood Aglio Olio
510

Sides

Steak Fried Rice
130
Kimchi Fried Rice
120
Steamed Rice
60
Mac and Cheese
185
Steak Fries
140
Creamy Corn
160
Buttered Vegetables
110
Cauliflower Gratin
220
Spinach Gratin
250
Harricot Verts w/ Almonds
180
Roasted Garlic Mashed Potato
170

Coffee

Cappucino
120
Brewed Coffee
120
Espresso Shot
90

Dessert

Choco Lava Cake
265
Banoffee Moelleux
265
Vanilla Gelato
195
Dark Chocolate Gelato
230

Juices

Watermelon Wonder
150
Fresh Lemonade
150
Stoned Iced Tea (glass)
70
Stoned Iced Tea (bottomless)
100
Lemon Lush
150
Pineapple Juice
80

Sodas

Coke Regular
70
Coke Zero
70
Sprite
70

Shakes

Watermelon
150
Ripe Mango
150
Melon
150
Lychee-Mango
230
Dark Choco Milkshake
190

Red Wine

Ramon Bilbao Gran Reserva (Spain) (Bottle)
4100
Ramon Bilbao Reserva (Spain) (Bottle)
2550
Jacob's Greek Merlot (Australia) (Bottle)
1555
Sutter Home Cabernet Sauvignon (California) (Bottle)
1250
Sutter Home Zinfandel (California) (Bottle)
1250
Zonin Merlot (Italy) (Glass)
300
Zonin Merlot (Italy) (Bottle)
995
Tribu Malbec (Argentina) (Glass)
290
Tribu Malbec (Argentina) (Bottle)
965
Quiet Life Shiraz (Australia) (Glass)
300
Quiet Life Shiraz (Australia) (Bottle)
900
Gran Caserio Cabernet Sauvignon (Chile) (Glass)
250
Gran Caserio Cabernet Sauvignon (Chile) (Bottle)
830

Beers

San Mig Light
110
San Miguel Pale Pilsen
110
Corona
220

Cocktails

Big Daddy
280
Rosemary Lemon Drop
190
Margarita
200
Mojito
200
White Russian
280
Black Russian
280

White Wine

Jacob's Creek Riesling (Australia) (Bottle)
1400
Sutter Home Chardonnay (California) (Bottle)
1250
Zonin Moscato (Italy) (Glass)
315
Zonin Moscato (Italy) (Bottle)
1050
Tribu Chardonnay (Argentina) (Glass)
290
Tribu Chardonnay (Argentina) (Bottle)
965
Gran Caserio Sauvignon Blanc (Glass)
250
Gran Caserio Sauvignon Blanc (Bottle)
830

Sparkling Wine

Chandon Brut
1600
Chandon Delice
1600
Chandon Rose
1700
About Stoned Steaks
Stoned steaks are inspired by the dining experience of Dick Baljadia on a cruise ship. Heated stones are used to grill meat because open flames are prohibited on the cruise ship for safety. He wants to provide luxurious yet affordable steaks that are good for sharing. Aside from the steaks, it also offers other delicious dishes to cater different tastes of its customers.
Stoned Steaks Menu Best Seller
These best-sellers are the dishes that are always on the list of its customers because of their delectable taste.
Rib-Eye Angus Steak – Savor a scrumptious and premium-quality steak, cooked to perfection on a blazing 350-degree lava rock, which enhances the flavor and provides a unique culinary experience.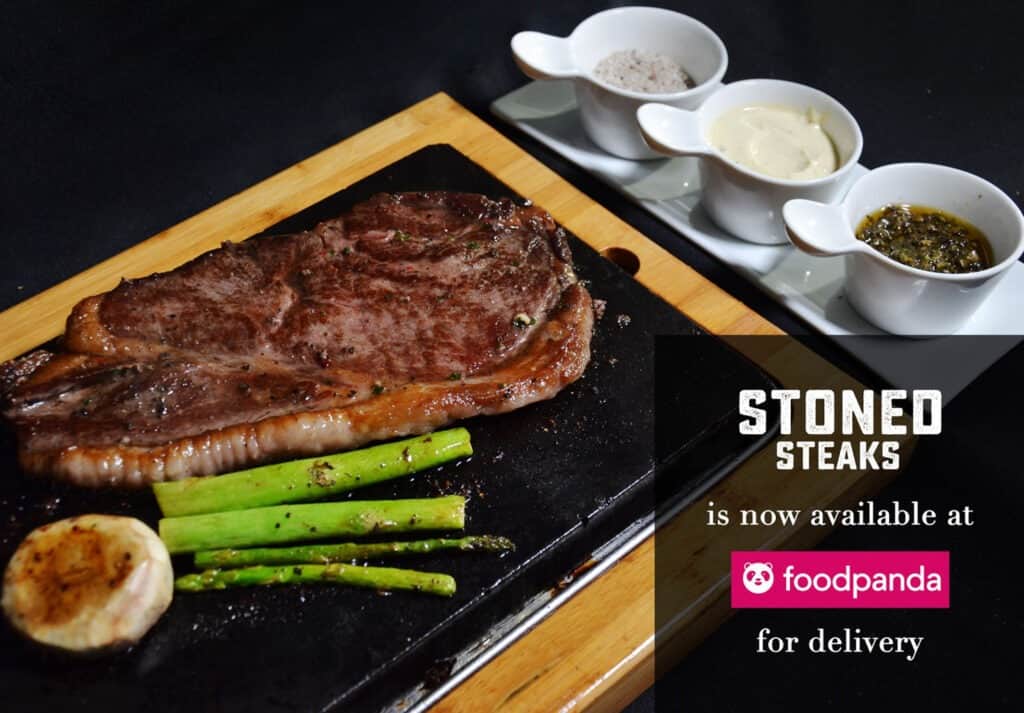 Wagyu Ribeye G7 – From the Stoned Steaks menu, you can savor the exquisite Wagyu Steak, served with their renowned stoned sauce and accompanied by a side of flavorful mushrooms, creating a truly delectable dining experience.
Oyster Rockefeller – Treat yourself to a best-selling starter that features delectable baked oysters, prepared with a savory mixture of spinach and a heavenly trio of cheeses. Served on a plate atop small, sizzling lava rocks, this dish is sure to captivate your taste buds and provide a memorable dining experience.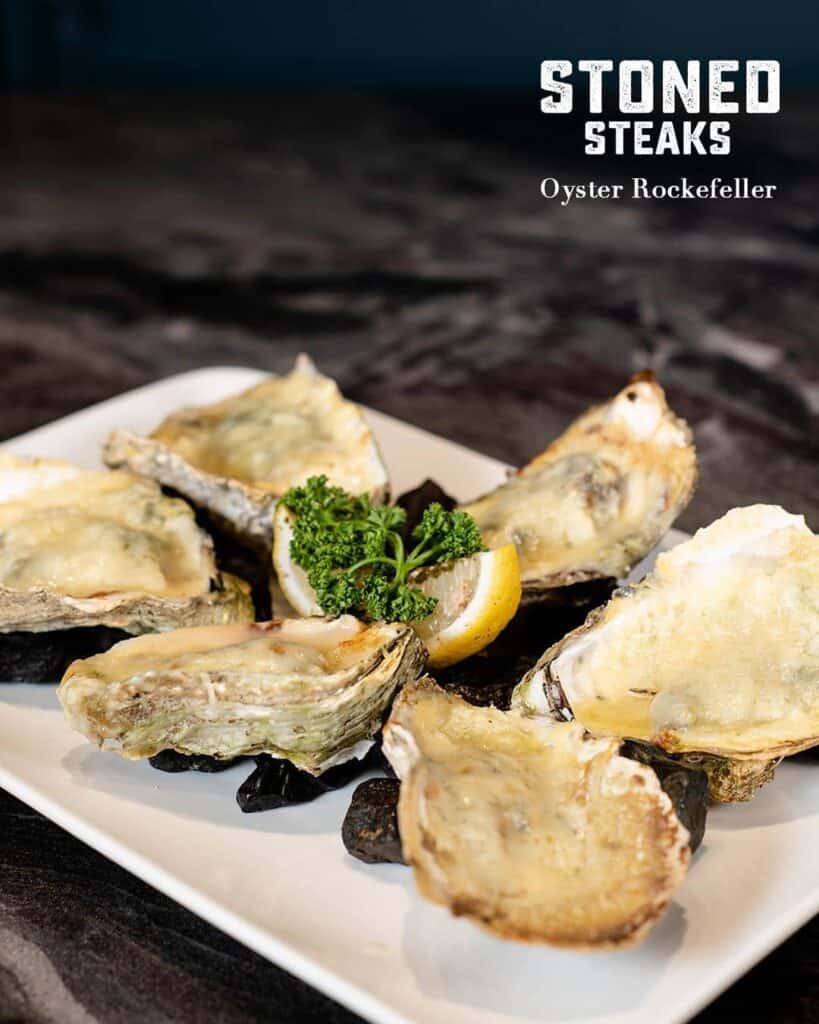 Truffle Parmesan Fries – One of the most beloved and popular starters among customers are the fries, consisting of perfectly crisp and shoestring-cut potatoes, generously topped with delectable truffle paste and savory parmesan cheese. This classic dish is sure to satisfy your cravings and leave you wanting more with each crispy bite.
Spaghetti Wagyu Meatballs – Experience a truly unique and delectable twist on traditional spaghetti pasta with Stoned Steaks' special tomato sauce and succulent wagyu meatballs, perfectly combined and served atop a bed of perfectly cooked pasta. Topped with a generous portion of tangy pecorino cheese.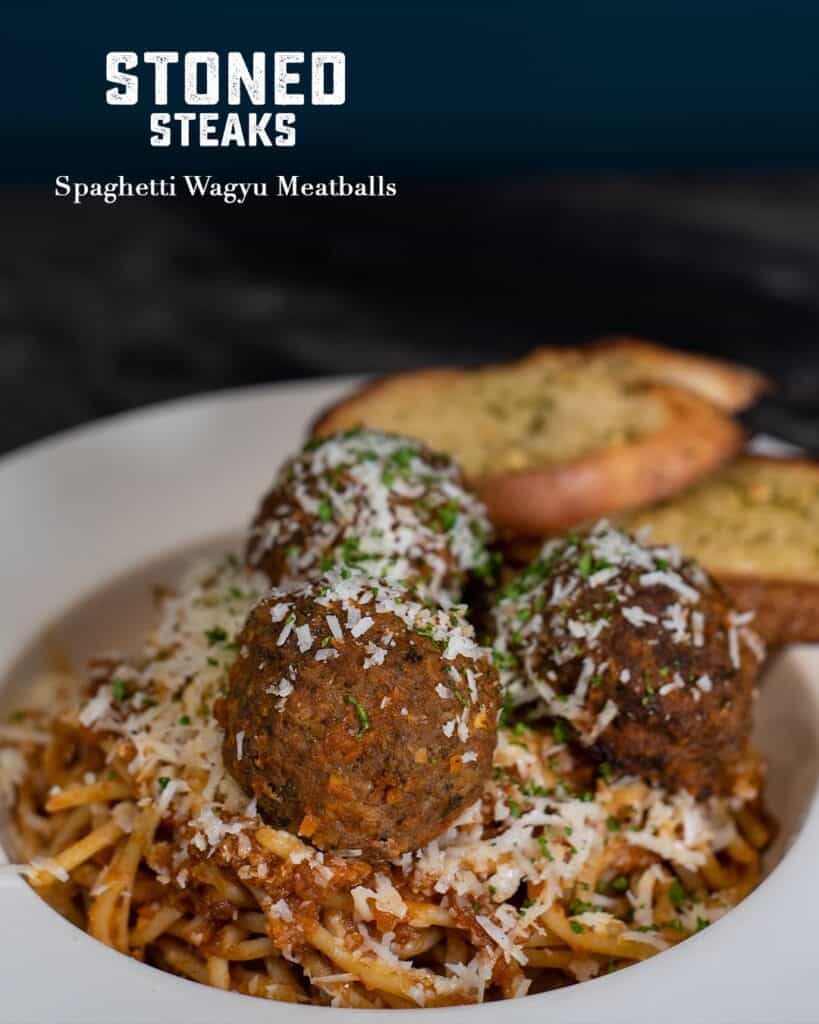 Steak Menu
Stoned Steaks give an exciting dining experience because these are served on a hot lava plate and you can cook them based on your preference.
Angus Steak – Tenderloin, Ribeye, N.Y. Striploin, and Sirloin are the Angus steaks that it offers. The available sauces are signature stoned sauce, warm cheese fondue, bleu cheese, mustard, peppercorn, mushroom, red wine, and chimichurri.
Wagyu Steak – Most of the dishes that are served with Wagyu steak are the restaurant's best sellers. Grade 4 and Grade 7 are the two qualities of Wagyu steaks. The types of Wagyu steaks that you can choose from are Ribeye, N.Y. Striploin, and Sirloin.
Dry Aged Steak – Wagyu Ribeye Grade 7, Wagyu Ribeye Grade 4, and Angus Ribeye are the dry-aged steak that you can choose from. The tenderness of dry-aged steaks makes them more flavorful.
Japanese Wagyu – Wagyu A5 Strip is one of the most popular high-grade steaks worldwide. It has a flavorsome and melt-in-your-mouth taste that will satisfy your cravings.
Surf & Turf – These Stoned Steaks menu are perfect for those who love steaks and seafood. Angus Tenderloin with Shrimp, Wagyu Tenderloin with Shrimp, and Stoner's Fresh Catch are the combinations that will truly delight your taste buds. Salmon, shrimp, and scallops are the seafood options for Stoner's Fresh Catch.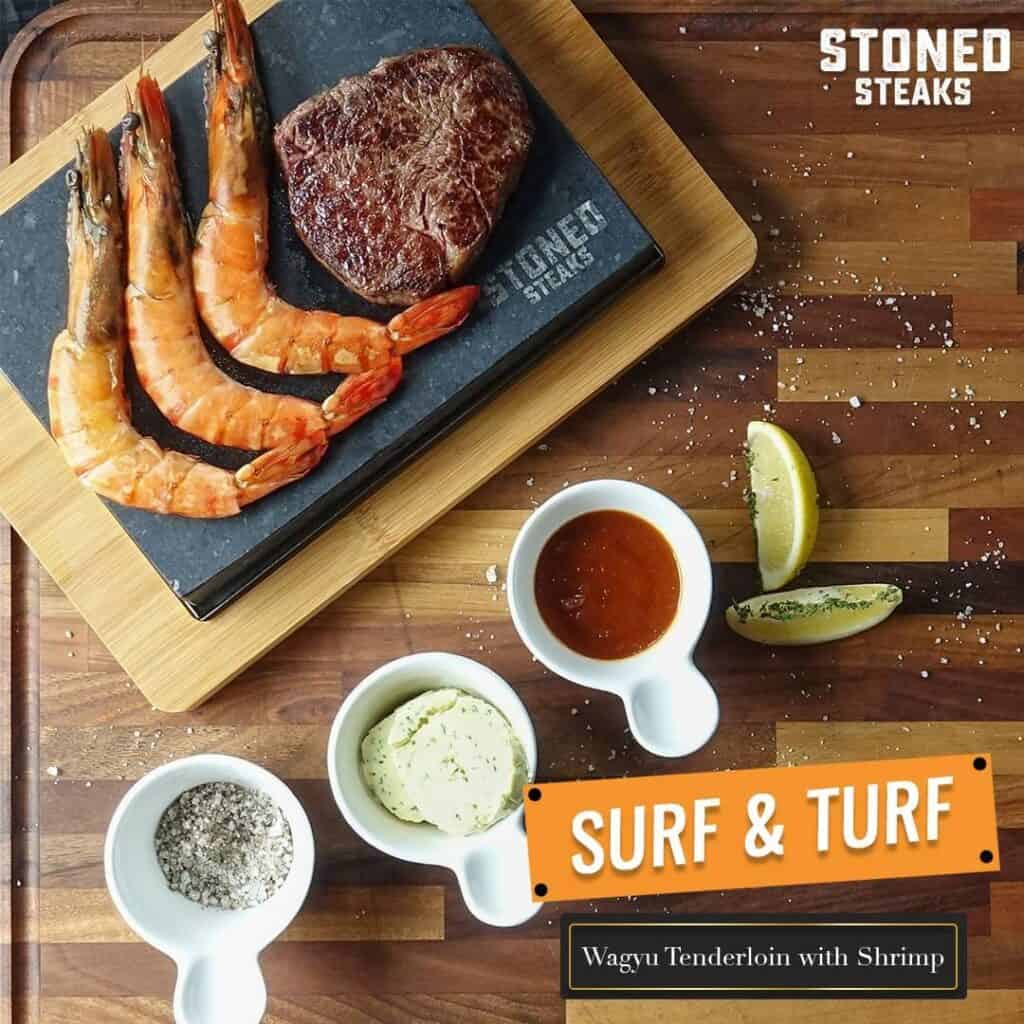 Mains
The Stoned Steaks also offer a meat and seafood menu. The meat dishes include Mushroom Risotto, a creamy risotto with mushrooms served with wagyu striploin. Braised Beef Short Ribs, a fall-off-the-bone Angus short ribs served with steamed rice. Lamb Riblets are served in a lava stone with mixed vegetables, signature sauce, and peppercorn. And Wagyu Salpicao, which is made of mushroom, wagyu sirloin strips, onion, bell pepper is served with savory and sweet sauce. There is also Herb-Roasted Spring Chicken, where half of the spring chicken is marinated in herbs and served with mashed potato.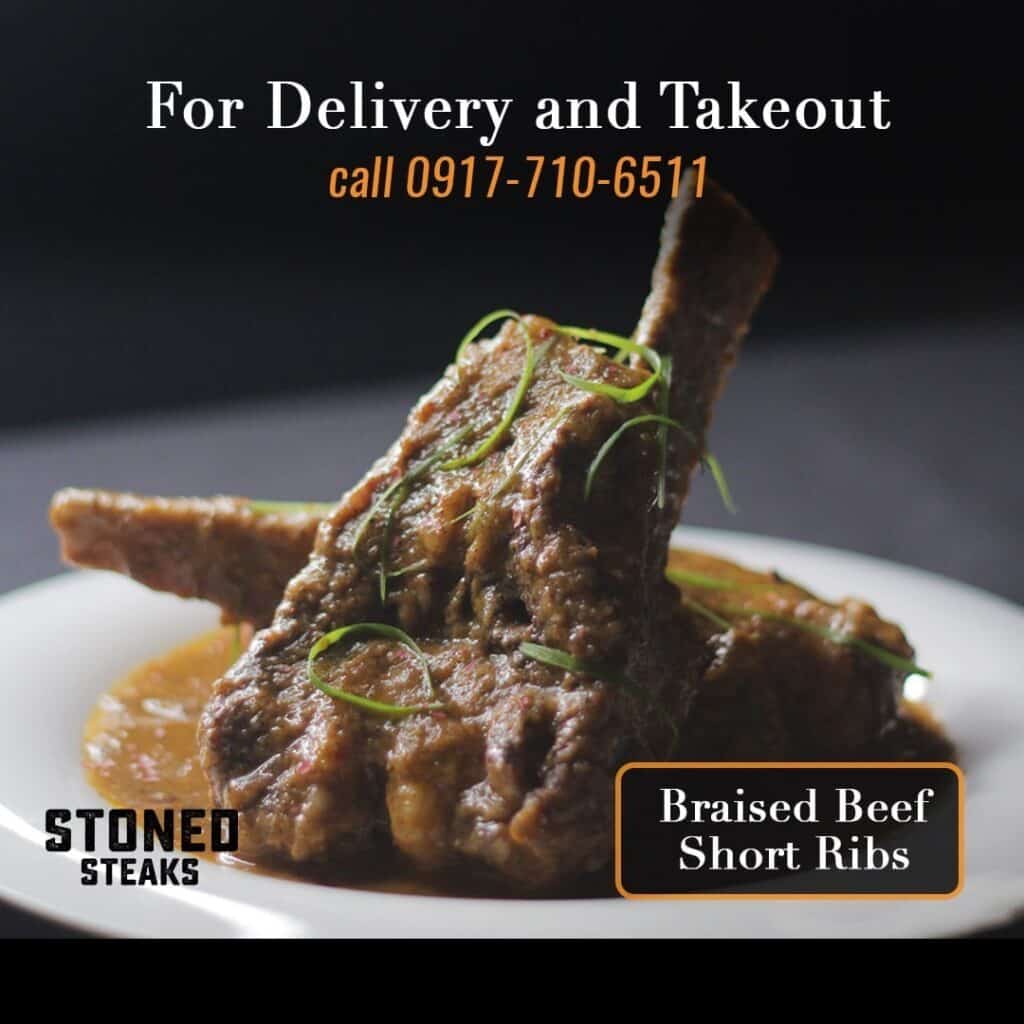 For seafood fanatics, there is Seafood Jambalaya where rice, mussels, shrimps, and clams are sauteed in jambalaya sauce. Grilled Tanigue, tanigue is marinated in herbs, pepper, salt, and olive oil and served with mango salsa. Grilled Salmon, where salmon is cooked the same as Grilled Tanigue. Lastly is the Fish and Chips, where Pangasius fillet is cooked in mildly spiced batter and served with Cajun potato chips.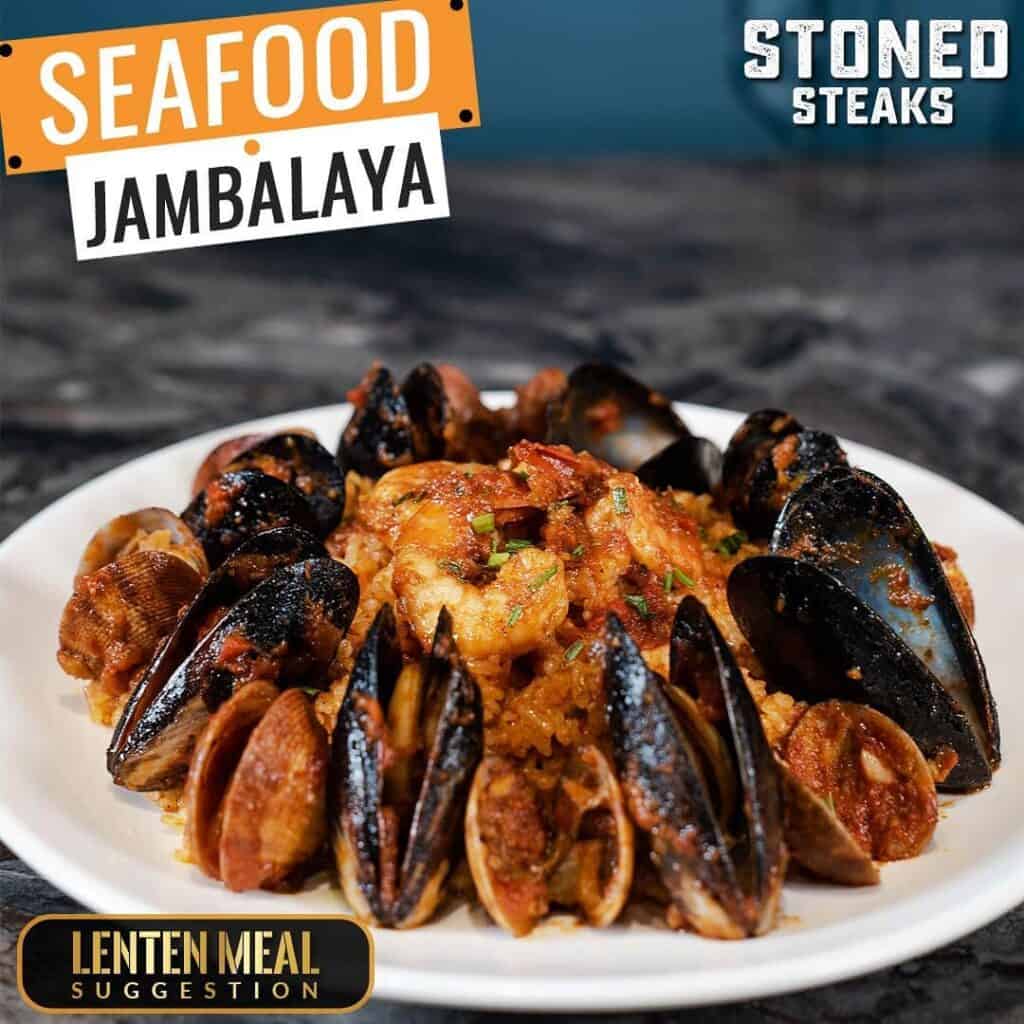 These main dishes are perfect for everyone as it offers a wide selection of meats and seafood that are cooked using different techniques.
Starters
Oyster Rockefeller and Truffle Parmesan Fries are the best-selling starter menu at Stoned Steaks. There is also a soup of the day that can warm up your taste buds. Having soup before the main meal provides health benefits such as cutting down on calorie intake and aiding in proper digestion.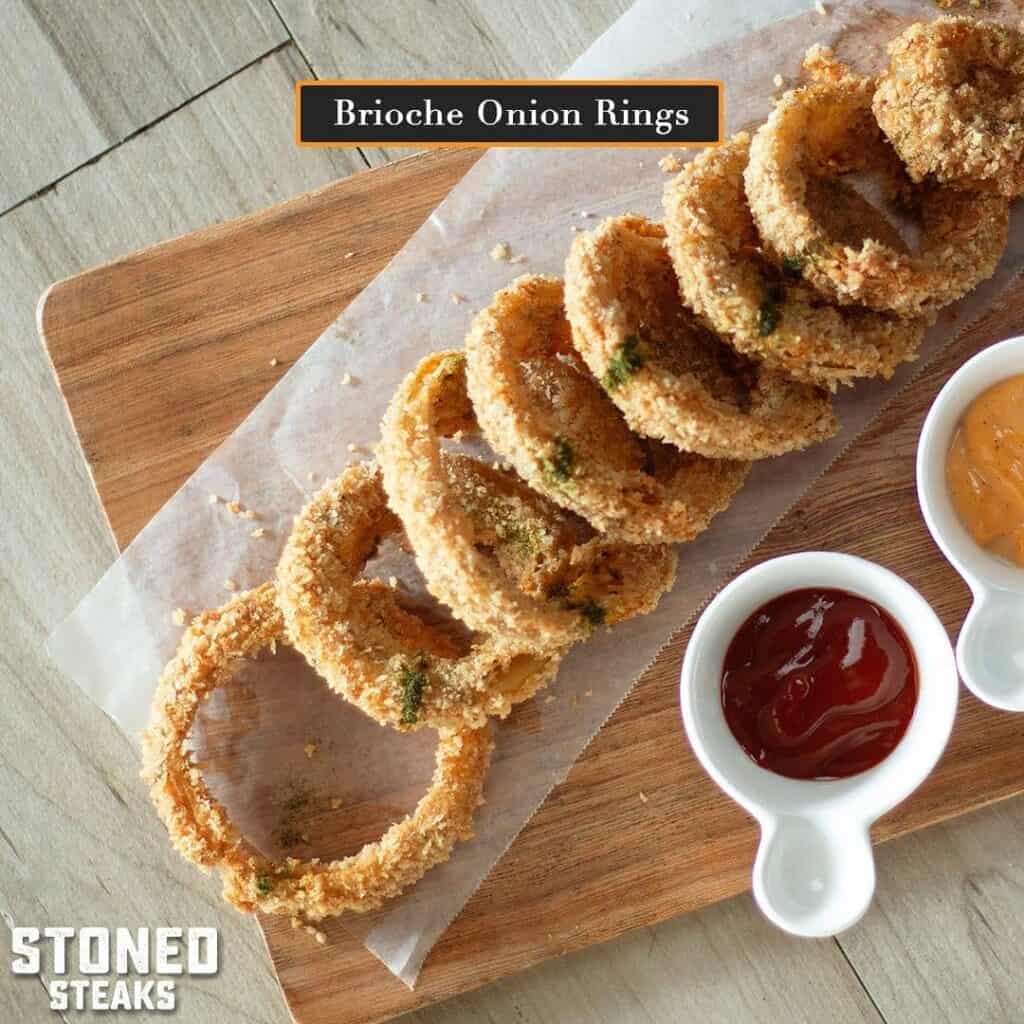 The other starters that it offers are Brioche Onion Rings made up of deep-fried onion rings garnished in mildly spiced batter; Shrimp Cocktail, a dish where grilled shrimps are served with sriracha mayo and mango salsa; and Baked Veal Bone Marrow Sauce that consists of 2 pieces of baked bone marrow sauce served with signature bone marrow sauce. These starters will kick off your appetite and it is good for sharing.
Sandwich
The Wagyu Rancho Burger which is made up of a Wagyu patty, lettuce, tomatoes, onions, cheddar, and signature sauce served with onion rings is the Steak Stoned's best-selling sandwich. It also offers Wagyu Cheese Burger, Dry Aged Cheese Burger, and Beef Patty Melt.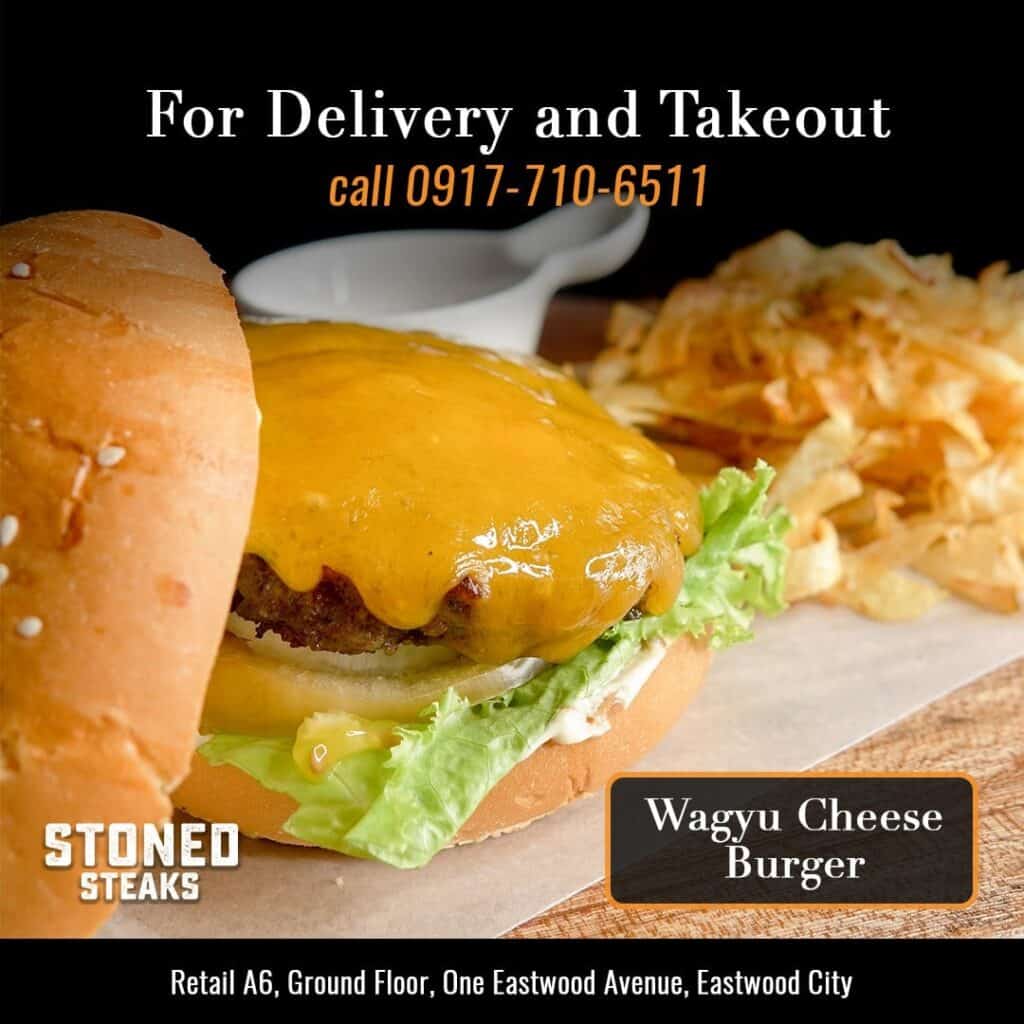 These sandwiches are absolutely delightful and luxurious. These are not ordinary sandwiches as it uses brioche bun and premium steaks so you can easily distinguish their delectable taste.
Pasta
Mushroom Alfredo Pasta and Spaghetti Wagyu Meatballs are the crowd-pleaser pasta dishes of Stoned Steaks. It also offers Seafood Aglio Olio, a spaghetti pasta cooked with shrimps, clams, and mussels in olive oil; Seafood Arrabbiata, a linguine pasta cooked with shrimps, clams, and mussels in mildly spiced marinara sauce; Truffle Mac and Cheese, a macaroni pasta sauteed with truffle paste and 5 kinds of cheese; and Wagyu Lasagna, a pasta that consists of ground wagyu, grana Padano, bechamel, and Stoned Steaks signature tomato sauce.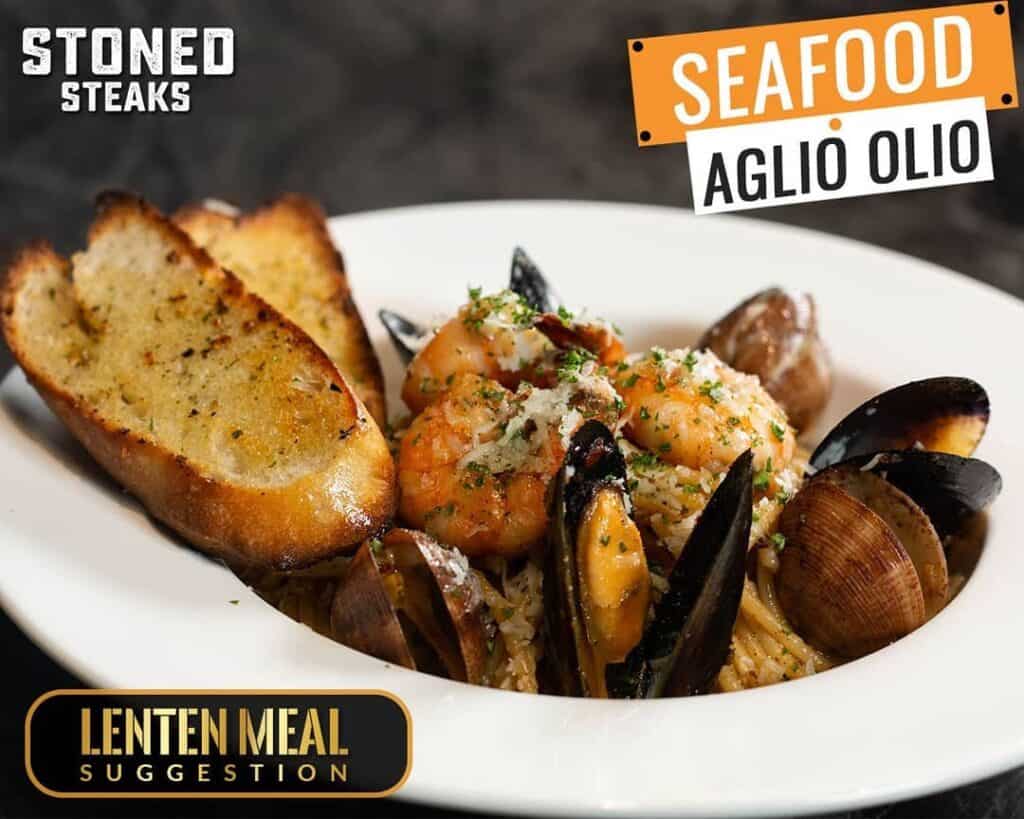 It is one of the Stoned Steaks dishes that you shouldn't miss because its bursting flavors will tickle your taste buds. These hearty pasta dishes will surely satisfy your cravings and level up your dining experience.
Stoned Steaks Menu Delivery
Stoned Steaks delivery is only available through self-booking. You can contact them through their official Facebook Page to arrange your orders for delivery. The other way of contacting them is through their official landline and mobile numbers. The number of its Tomas Morato Branch are 88663807 and 0917 – 1321881. The number of its branch at Eastwood are 83738845 and 0917 – 7106511.
Social Media Pages
Have you decided to dine in Stoned Steak? I suggest you message them or follow their social media accounts for reservations or other concerns. You're able to stay up-to-date with the latest updates in their restaurant. You can find the links to their pages and contact details below:
Facebook: https://www.facebook.com/stonedsteaks
Instagram: https://www.instagram.com/stonedsteaks/
Email: [email protected]
Conclusion
Stoned Steaks menu offers delicious, nutritious, and affordable dishes. It will give you a new dining experience because it uses a traditional cooking technique in serving their steaks on a hot lava plate. It is a must-try steakhouse where you will experience grilling your steak based on your preference. They have attentive staffs who will help you in preparing your food. Its grilling sound and aroma will surely make you excited.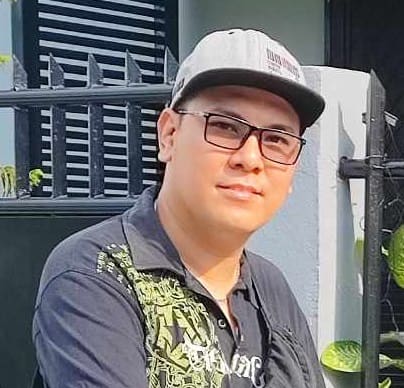 Hi! I'm Nivek Strife, the person who made MenuPH. I'm the one who added most of the popular menus you see on this website, and I really hope you enjoy them! Feel free to check them all out.
Growing up, I was surrounded by lots of tasty foods, like the classic Adobo and the sweet Leche Flan. That love for the many flavors of the Philippines is what got me excited about adding to MenuPH. When I learned how to make websites, I saw the need for a place to show off all the amazing Filipino dishes, and that's how MenuPH started.
MenuPH isn't just a website; it's like a fun journey into food. I've teamed up with famous chefs and found great places all over the Philippines to bring you a bunch of menus that show off the best of Filipino cuisine. Whether you're into the usual dishes or new twists, MenuPH is here to guide you through the rich world of Filipino flavors.
With MenuPH, my aim is to help local businesses, talk about good food choices, and make a group of friends who love food. No matter if you like fancy restaurants or street food, MenuPH has something for you. Come join me on this food adventure as we find great places, taste real flavors, and enjoy the unique food traditions that make the Philippines awesome.