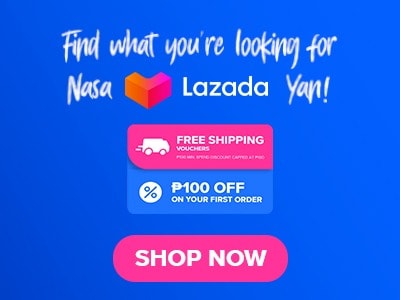 Another day, another food review! Hi guys your food buddy is back! It's been quite a long since I did my last food review. For today's episode, I am going to tell you about my wonderful and extravagant experience at Lugang Café. Want to know why it was extravagant? Then please continue reading buddy! Lugang Café as a steady firm in China made its debut when it landed here in the Philippines. As expected from the fourteen world-class Chinese chefs who created the plethora of food variations, I cannot agree more that the Lugang Café menu foods are the finest meal that I ever tasted.
I anchored the word extravagant because this restaurant is indeed prodigal due to its menu cost. Though I cannot question their pricing, however, a typical or normal person is not capable to afford to be in this place if they won't have a large sum of money to pay for their meal. On the contrary, their pricing would be costly but the quality of food that they serve is undeniably perfect. From the plating up to the slicing, their meal screams perfection. So if you are looking for a fine dining restaurant, then this place is best for you buddy! Have your reservations ready, and enjoy your fine dining experience at Lugang Café.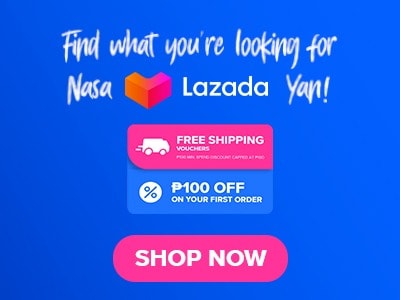 Below, you'll find the updated list of Lugang Café menu prices.
Menu
Price (PHP)

All Dishes on Menu

Abalone Mushroom Jellyfish
298
Baby Cabbage with Stir Fried Pork
288
Beef Tenderloin With Crispy Garlic
828
Beijing Shredded Pork (Served with Pancake)
328
Bittermelon With Salted Egg
248
Braised Broccoli with Preserved Egg in Broth
378
Braised Diced Beef With Button Mushroom And Peppers
788
Braised Spinach with Preserved Egg in Broth
378
Breaded Shrimp Balls with Mozzarella
428
Cantonese Stir-fried E-Fu Noodles in Abalone Sauce
388
Chicken and Corn Soup
328
Chicken Topped With Scallion And Ginger Oil
498
Chong Qing Style Red Pepper Chicken
548
Clam Stir-fried with XO Sauce
398
Crispy Chicken 1/2
528
Dry Braised Green Beans With Minced Pork
288
Fish Head Steamed with Pickled Red Chili Pepper
788
Fried Pomfret With Basil
598
Fried Pomfret With Scallion
598
Fried Rice With Salted Fish And Diced Chicken
388
Fried Rice With Taiwanese Sausage
388
Fried Whole Grouper with Light Soy Sauce
1880
Garlic Buttered Shrimps
698
Golden Fried Rice With Egg And Shredded Pork
388
Honey Barbecue Pork
468
Hot And Sour Soup
328
King Oyster Mushroom Jelly Fish Salad
298
Kung Pao Chicken with Cashews
328
Kung Pao Prawns
698
Kung Pao Tofu
298
Lugang Café Birthday Noodles
588
Mapo Tofu
288
Mixed Mushroom in XO Sauce
468
Oyster Omelette With Sweet And Spicy Sauce
348
Pan Fried Siopao
298
Pineapple Fried Rice
398
Pineapple With Shrimp Stuffed In Crullers
428
Pork Wontons In Spicy Chili Oil
228
Roast Duck 1/2
1488
Roast Duck 1/4
788
Roast Duck Whole
2688
Roasted Pork Belly
428
Seafood Pumpkin Soup
428
Seafood Spinach Soup
388
Shrimp with Oats
698
Shrimp with Salted Egg Yolk
698
Soy Sauce Braised Pork Knuckles
628
Spareribs In Plum Sauce
528
Spicy Beef And Tendon Noodle Soup
528
Spicy Clams with Thai Sweet Basil
398
Spicy Fish Fillet In Claypot
428
Spicy Qing Yi In Claypot
528
Steamed Asado Siopao
288
Steamed Chicken Feet with Tausi
188
Steamed Fish Fillet With Crispy Taoso
428
Steamed Fresh Clams with Silk Melon
428
Steamed Grouper with Black Bean Sauce
1880
Steamed Pomfret With Light Soy Sauce
598
Steamed Pomfret With Tausi
598
Steamed Pork And Vegetable Dumplings (8Pcs)
298
Steamed Pork Xiao Long Bao (8Pcs)
288
Steamed Pork Xiao Long Bao With Truffle Paste (5Pcs)
528
Steamed Pork Xiao Long Bao With Xo Sauce (8Pcs)
398
Steamed Qing Yi With Crispy Taoso
528
Steamed Rice
68
Steamed Shrimp And Pork Shao Mai (8Pcs)
388
Steamed Shrimp with Garlic
498
Steamed Vegetarian Dumplings With Truffle(8Pcs)
328
Steamed Whole Grouper with Crispy Taoso
1880
Stewed Beef Belly in Sour Broth
588
Stewed Beef, Tendon, and Turnip in Claypot
598
Stir Fried Beef Slices with Chili Peppers
488
Stir Fried Broccoli
338
Stir Fried Spinach
338
Stir Fry Prawns With Xo Sauce
698
Stir-fried Eggplant with Basil
288
String Beans With Salted Egg
248
Sweet And Sour Fish Fillet
428
Sweet And Sour Pork With Pineapples
448
Sweet And Sour Qing Yi
528
Sweet and Sour Whole Grouper
1880
Szechuan Beef In Spicy Broth
668
Szechuan Spicy Squid
528
Taiwanese Crispy Chicken Nuggets
248
Taiwanese Fried Pork Chop
398
Taiwanese Omelette With Preserved Turnip
228
Taiwanese Salt and Pepper Shrimp
498
Taiwanese Salt And Pepper Squid
498
Taiwanese Sausage
288
Taiwanese Stewed Minced Pork
388
Taiwanese Stewed Pork
498
Taiwanese Stir Fried Rice Noodles With Pork
298
Taiwanese Sweet Soy Whole Grouper
1880
Taiwanese Tofu With Pork And Claypot
298
Three Cup Chicken
468
Tofu with Preserved Egg and Pork Floss
228
Vietnamese Eggroll
228
Wasabi Mayo Prawns
698
Winter Melon and Clam Soup
288
Wonton Soup
198
"Machang" Glutinous Rice and Stewed Pork Wrapped in Bamboo Leaves
168
About Lugang Café
Filipinos who reside in the rich country of the Philippines are known to be one of the best countries that can produce meals and viand that can surely satisfy your palate. As your food review buddy, I traveled my way going to the elegant and prestigious place named: Lugang Café.
You know what buddy, I was mesmerized by the fact that Lugang Café had its very own first outside branch. And guess where it was located? Of course in the Philippines!
This majestic and enchanting place was established by Bellagio Group of Restaurants, Shanghai & Beijing. Since it has established its first branch outside China – which is the Philippines – we may assume that it wouldn't grow that much. But believe me or not, it had already established a great name in the Philippines as it has been recognized by the Philippine Tatler's 100 Best Restaurant Awards.
Lugang Café Menu Best Seller
It is indeed a jaw-dropping restaurant, however as I roamed my eyes over their set menu, I can literally see elegance in their meals. From the exterior design of the fine restaurant, up to their interior and their plating, you can certainly enjoy the aura which they emit – I suggest that you should also ready your credit card because it is about to become a glamorous dining experience.
On top of that, the majority of us wouldn't like to settle for classics and ordinary meals, right? We want that new and fresh combination of flavors that can satisfy our palate. With the idea of putting compassion in every meal, below is a list of Lugang Café's most popular beans that you should try!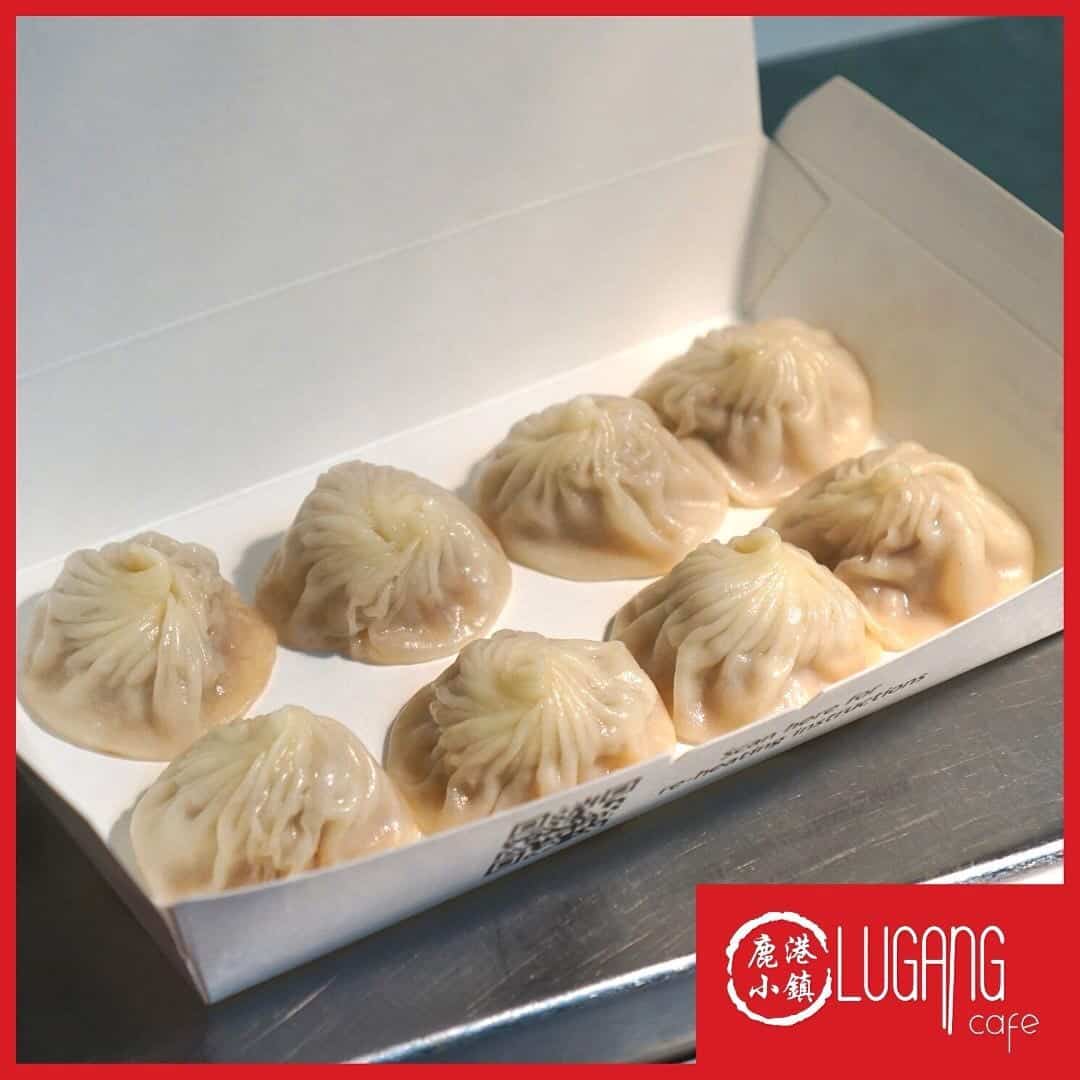 Steamed Pork Xiao Long Bao (8 pcs) – The soft and meaty texture in this Lugang Café menu emits made me buy it. As I munch this 288 pesos meal, I personally can say that every bite of long bao is indeed heaven. As per its taste, it is somehow synonymous with Filipino siomai however this long bao is rich in flavor with additional herbs and seasoning, unlike the typical Filipino siomai.
Kung Pao Prawns – Another seafood meal buddy! If you have the same spicy and sweet tongue just like me, then you would definitely love this viand! Kung Pao Prawns is a platter of seafood mixed with Kung Pao flavor.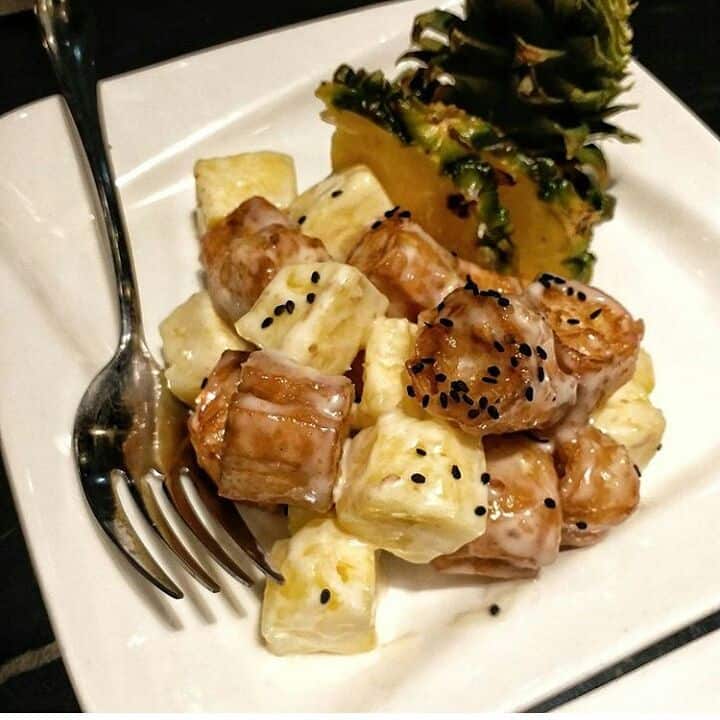 Pineapple With Shrimp Stuffed In Crullers – Of course, seafood! If you are a fan of my food review, you will definitely know that I love ordering seafood meals. This viand has a wide variety of texture, it is chewy, minty, and with a kick of sour due to the pineapple cuts that was drizzled on top of the gristly shrimps.
Lugang Café Noodles Menu
As what the cliché Filipino quote stated, "kumain ng pancit upang humaba ang buhay". Cantonese Stir-fried E-Fu Noodles in Abalone Sauce is the one and only noodle menu that you can order from Lugang Café.
Enjoy the sweet and savory taste of the abalone mixed with the original Cantonese Stir-fried E-Fu Noodles that can definitely satisfy your noodle hunger. This slippery and delightful dish is served in a single big bowl of enjoyment that can only be purchased for 388 pesos only!
Lugang Café Unlimited Menu
If there would be one thing that most Filipino want, then it would be the unlimited meal and an eat-all-you-can diner that most restaurants offer! As I roamed my eyes on their menu list, I have seen this Feast for five meal which is a special offer from the house.
It is a set of meals which is composed of 11 dishes! Yeah, you heard it right buddy! It is 11 dishes of your own choice! You can pick your own sets of meals but remember that you should not pick the same order! If you would like to taste this Feast for five meals which can only cost you 3,288 pesos, then you can visit the nearest Lugang Café.
Lugang Café Birthday Promo
Is it your birth month or birthday today? Then I have good news for you buddy! Lugang Café is now free from charges if you can justify that it is your birth month or your birthday. Of course, there would be requirements that you should plaster at hand so that it will serve as identification proof that it is indeed your birthday.
For the list of requirements needed, I would provide the obligatory materials that you should bring:
Birthday Celebrant should and must bring at least 5 guests who will order Feast All You Can (note that all of them should order this meal individually)
Birthday Celebrant must bring a valid ID with the attached birthday
Note that this promo is exclusive and must not mix or combined with other existing discounts
Lugang Café Menu Delivery
Due to the threat of the pandemic, Lugang Café now offers a nationwide delivery! Yes, you heard it right? Enjoy this fine dining experience with your loved ones at the convenience of your own comfortable and relaxing home! To purchase orders at Lugang Café, you can try the local food servicing app just like FoodPanda or Grab food.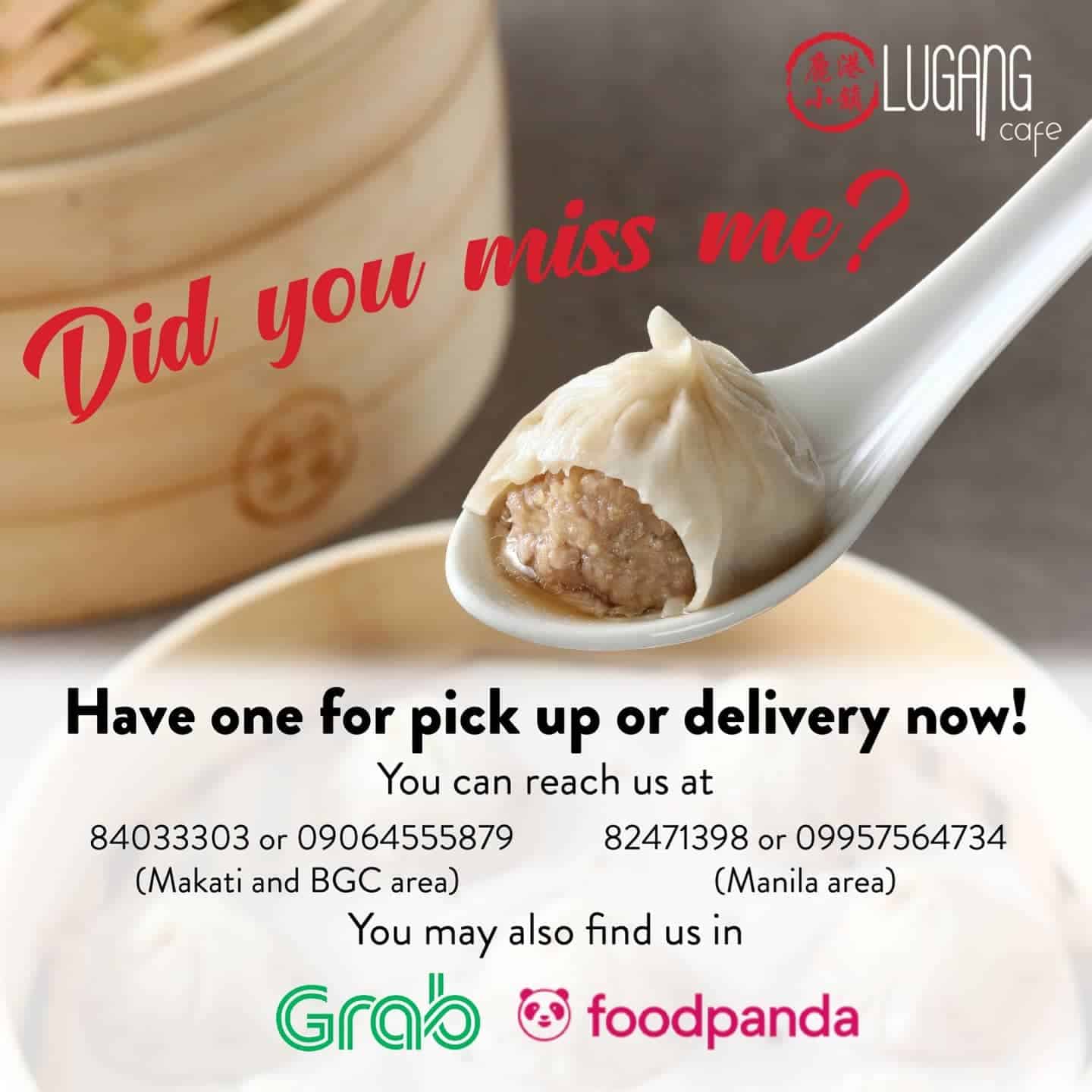 To know the details which you need to fill out on the pick-up site, then the following details talk about the addresses of different branches, contact number and the business hours of Lugang Café.
SM Mall of Asia
| | |
| --- | --- |
| Address | Ground Floor, Main Mall, South Arcade, SM Mall of Asia, Pasay City |
| Contact Number | 0906-2176216 |
| Business Hours | 10 AM to 9 PM |
Glorietta 2
| | |
| --- | --- |
| Address | G/F, The New Glorietta, Ayala Center, Makati City |
| Contact Number | 0906-4555879 |
| Telephone Number | 8403-3303 |
| Business Hours | 10 AM to 9 PM |
Robinsons Place Manila
| | |
| --- | --- |
| Address | Level 1, Pedro Gil Wing, Robinsons Place Manila, Ermita, Manila |
| Contact Number | 0995-7564734 |
| Telephone Number | 8247-1398 |
| Business Hours | 10 AM to 9 PM |
O'Square Greenhills
| | |
| --- | --- |
| Address | 1st floor, O'Square, Greenhills Shopping Center, San Juan City |
| Contact Number | 0906-2176217 |
| Telephone Number | 7753-6516 |
| Business Hours | 10 AM to 9 PM |
SM Aura
| | |
| --- | --- |
| Address | 5th Floor, Skypark, SM Aura, BGC, Taguig |
| Contact Number | 0906 4555873 |
| Telephone Number | 8519 0460 |
| Business Hours | 10 AM to 9 PM |
Social Media Pages
If you need to get the latest news about the current Lugang Café menu, prices, or promo, then you should definitely subscribe to their social media pages.
Facebook: https://www.facebook.com/lugangcafe/
Instagram: https://www.instagram.com/lugangcafe/
Twitter: https://twitter.com/lugangcafe/
Conclusion
As our society reaches its peak when it comes to food innovation, most Filipino nowadays aren't settling for instant foods and fast-food restaurants. They are now more vigilant and want to try something new, something that can turn their palate upside-down. And with that, Lugang Café is indeed a perfect place if you would like to taste something new, and something that is unique.
My experience at Lugang Café is definitely worth the price, even though their meal is literally jaw-dropping, they can never dissatisfy you with the quality meal that they can produce. I believe that the food on the Lugang Café menu is a must-try. They are a fine dining restaurant and if you have a loose budget, then visiting them is not a mistake nor a wrong decision.