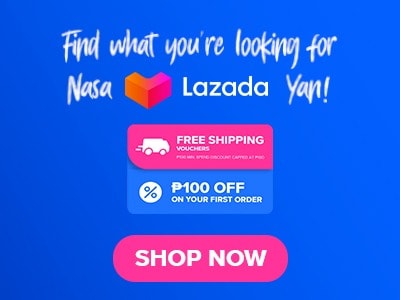 Japanese-style curry rice is the highlight of the CoCo Ichibanya menu. Its menu consists of salad, gratin, naan bread, basket, curry udon, dessert, and drinks. It also offers curry rice and omelet curry rice that can be combined with a choice of topping. You can choose from standard, multigrain, and turmeric that are available in various serving sizes. The curry sauce levels of spiciness are mild, standard, and fiery hot. Its delectable and authentic Japanese curry rice dishes make it the No. 1 Japanese Curry House worldwide. 
Below, you'll find the updated list of Coco Ichibanya menu prices.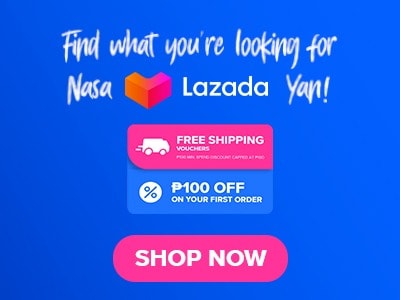 Menu Items
Price (PHP)

Salad

Fried Shrimp Salad
310
Mixed Salad
260
Fried Chicken Salad
300
Sausage Salad
300
Fried Squid Salad
280
Corn Salad
160
Tuna Salad
180
Egg Salad
160

Basket

Chicken Nuggets
220
French Fries
190
Seafood Basket
290

Gratin

Shrimp Curry Rice Gratin
360
Spinach & Eggplant Curry Rice Gratin
300
Chicken Curry Rice Gratin
340
Multigrain Rice
30
Turmeric Rice
30

Naan Bread

Naan Bread
230
Curry Naan Bread Set
290

Omelette Curry

Pork Cutlet Omelette Curry
420
Clam & Tomato Omelette Curry
420
Beef Omelette Curry
490
Fried Chicken Omelette Curry
420
Vegetable Omelette Curry
330
Okra Tofu Omelette Curry
300
Stewed Shrimp Omelette Curry
370
Cream Mushroom Omelette Curry
390
Creamed Chicken Omelette Curry
390

Vegetable Curry

Vegetable Curry
290
Kimchi Curry
260
Eggplant Curry
260
Okra Tofu Curry
260
Spinach Curry
260

Seafood Curry

Shrimp Cutlet Curry
390
Seafood Curry
380
Stewed Shrimp Curry
330
Fried Shrimp Curry
390
Fried Fish Curry
360
Fried Squid Curry
360
Clam Curry
330

Meat Curry

Pork / Chicken Cutlet Curry
380
Fried Chicken Curry
380
Stewed Chicken Curry
330
Grilled Pork with Kimchi Curry
330
Hamburg Steak with Cheese Curry
390
Hamburg Steak Curry
360
Beef Curry
450
Meatballs Curry
380
Sausage Curry
380
Sliced Beef Curry
330
Sliced Pork Curry
300

Others

Natto Curry
290
Cheese Curry
300
Scrambled Egg Curry
260
Mushroom Curry
330
Creamed Croquette Curry
330

Mixed Curry

Pork Cutlet & Vegetable Curry
470
Fried Fish, Spinach & Stewed Shrimp Curry
550
Choice of 2 items
120
Pork Cutlet & Cheese Curry
480
Beef Vegetable Curry
540
Fried Fish & Vegetable Curry
450
Hamburg Steak, Spinach & Tomato Curry
470
Eggplant, Vegetable & Spinach Curry
410
Clam, Spincach & Tomato Curry
440
Hamburg Steak & Tomato Curry
410
Vegetable & Spinach Curry
350
Fried Fish & Spinach Curry
420
Scrambled Egg & Creamed Croquette Curry
390
Creamed Croquette & Cheese Curry
430

Rice

Rice (150g)
20
Multigrain Rice (150 g)
10
Turmeric Rice (150g)
10
Rice (250g)
20
Multigrain Rice (250 g)
30
Turmeric Rice (250g)
30
Rice (350g)
40
Multigrain Rice (350g)
70
Turmeric Rice (350g)
70
Rice (450g)
80
Multigrain Rice (450g)
110
Turmeric Rice (450g)
110
Rice (550g)
120
Multigrain Rice (550g)
150
Turmeric Rice (550g)
150

Topping

Corn
40
Boiled Egg
40
Half Boiled Egg
50
Tomato
50
Tuna
60
Spinach
60
Eggplant
60
Kimchi
60
Scrambled Egg
60
Okra Tofu
60
Vegetable
90
Natto
90
Mixed Cheese
100
Sliced Pork
100
Creamed Croquette
130
Grilled Pork with Kimchi
130
Sliced Beef
130
Stewed Chicken
130
Clams
130
Stewed Shrimp
130
Mushroom
130
Fried Fish
160
Hamburg Steak
160
Fried Squid
160
Meatballs
180
Seafood
180
Fried Chicken
180
Pork Cutlet
180
Chicken Cutlet
180
Japanese Sausage
180
Cheese Hamburg Steak
190
Shrimp Cutlet
190
Fried Shrimp
190
Beef
250

Set Menu

Choice of 2 items
120
Choice of 3 items
140
Choice of 4 items
160

Cocoichi Curry Udon

Curry Udon
340
Rice Bowl (125 g)
50
15-Grain Rice
30
Onsen Egg
50

Topping

Shrimp Cutlet
190
Pork Cutlet
180
Chicken Cutlet
180
Beef
250
Fried Chicken
180
Creamed Croquette
130
Fried Fish
160
Fried Squid
160
Cheese
100

Dessert

Coffee Jelly
100
Ice Cream - 2 Flavors
100
Ice Cream - 3 Flavors
150

Drinks

Bottled Water
40
Coke / Coke Light
80
Sprite
80
Sparkling Water
100
Orange Juice
100
Calamansi Iced Tea
100
Calamansi Juice
100
Calamansi Soda
100
Apple Juice
100
Coffee
100
Tea
100
Lemon Tea
100
Milk Tea
100
About CoCo Ichibanya
The first restaurant of CoCo Ichibanya was opened on January 1978. Ten years later, it reached its 100th restaurant in Japan. Its key to fast expansion is the authenticity of its Japanese curry rice. In January 2013, Guinness World Records™ certifies it as the largest curry restaurant in the world. Today, it has more than 1400 branches worldwide.
CoCo Ichibanya Menu Best Seller
Japanese curry rice is the specialty of CoCo Ichibanya. These best-sellers are the most recommended and the ones that are always on the customers' list.
Hamburg Steak with Cheese Curry. This dish includes rice, curry sauce, and hamburg steak topped with melted cheese. The softness, juiciness, and cheesy goodness of Hamburg perfectly complemented the taste of curry sauce.
Pork Cutlet Curry. A curry rice menu from CoCo Ichibanya that consists of rice, curry sauce, and pork cutlet. It is one of the simple dishes that first-time customers try.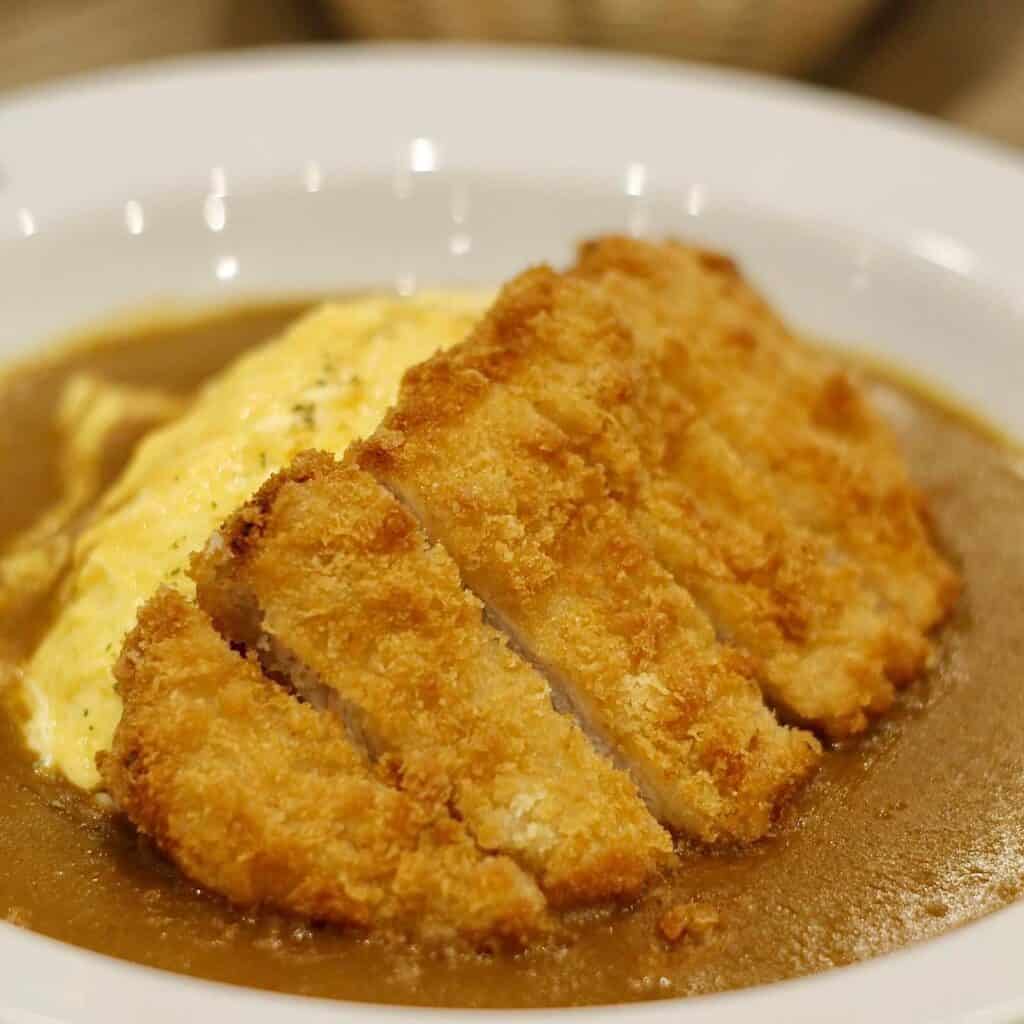 Fried Chicken Curry. Fried chicken is the most popular and classic dish that people love. It consists of bite-sized breaded and deep-fried chicken, rice, and curry sauce.
Chicken Cutlet Omelette Curry. It is made up of breaded and deep-fried chicken cutlet, curry sauce, and rice. The visual presentation and aroma of this dish make it one of the restaurant's best sellers.
Vegetable Omelette Curry. Various fresh vegetables, omelette, rice, and curry sauce are included in this dish. A perfect dish for those who want a balance of healthy and delicious meals.
CoCo Ichibanya Mixed Curry Menu
Mixed Curry is perfect for those who want flavorful curry dishes. It allows you to create and mix your favorite dishes. Pork Cutlet & Vegetable Curry and Fried Fish, Spinach, & Stewed Shrimp Curry are the must-try mixed curry dishes. CoCo Ichibanya also offers a set menu where you can add two to four items of your choice. The additional set menus that it offers are a soup of the day, a mini salad, ice cream, and a drink. This combination of toppings will make you enjoy curry better.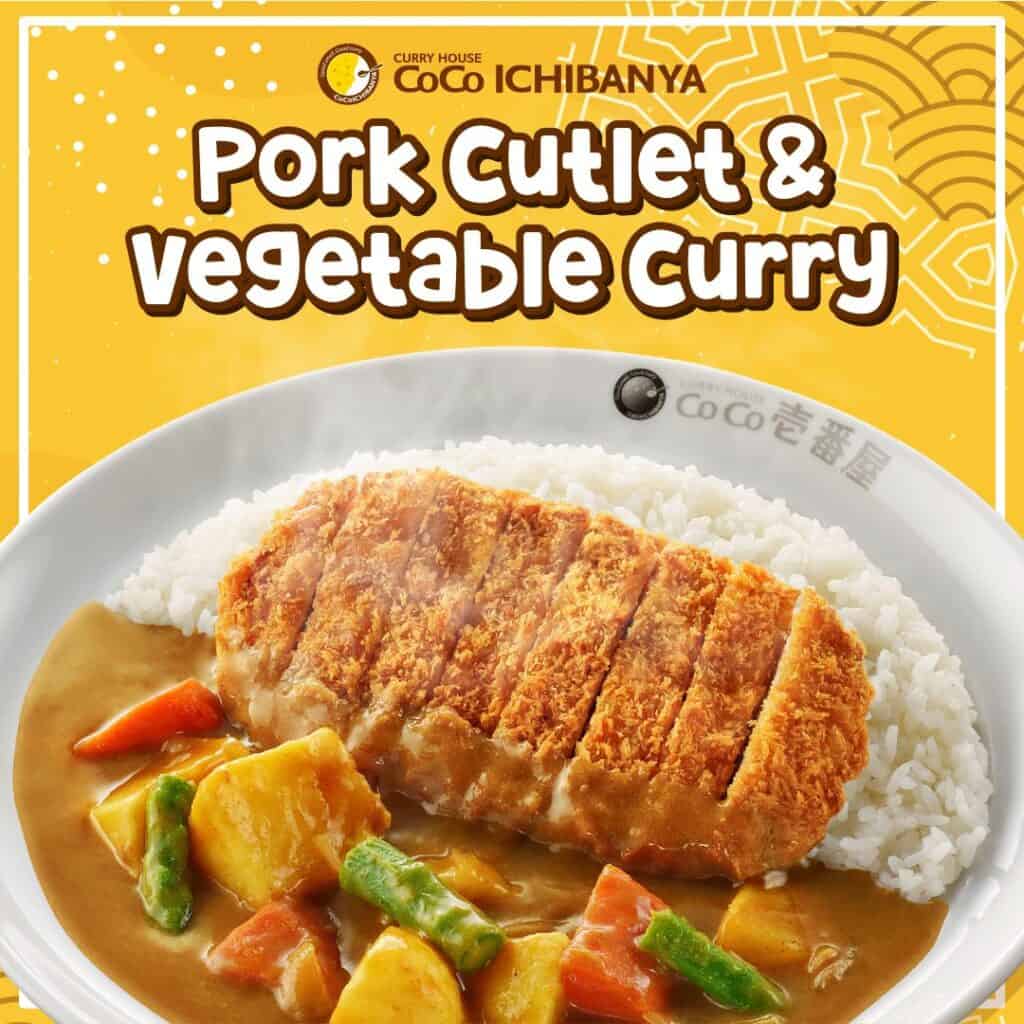 Curry Rice
Vegetable Curry, Seafood Curry, Meat Curry, and Mixed Curry are the categories of curry rice that CoCo Ichibanya offers.
Vegetable Curry is made up of fresh vegetables so you can enjoy their natural sweetness and taste. You can choose multigrain rice or turmeric rice if you want a healthier meal. Some of the vegetable curry dishes that it offers are vegetables, kimchi, okra tofu, eggplant, and spinach. For seafood lovers, there are Shrimp Cutlet Curry, Seafood Curry, Stewed Shrimp Curry, Fried Squid Curry, Fried Shrimp Curry, Fried Fish Curry, and Clam Curry.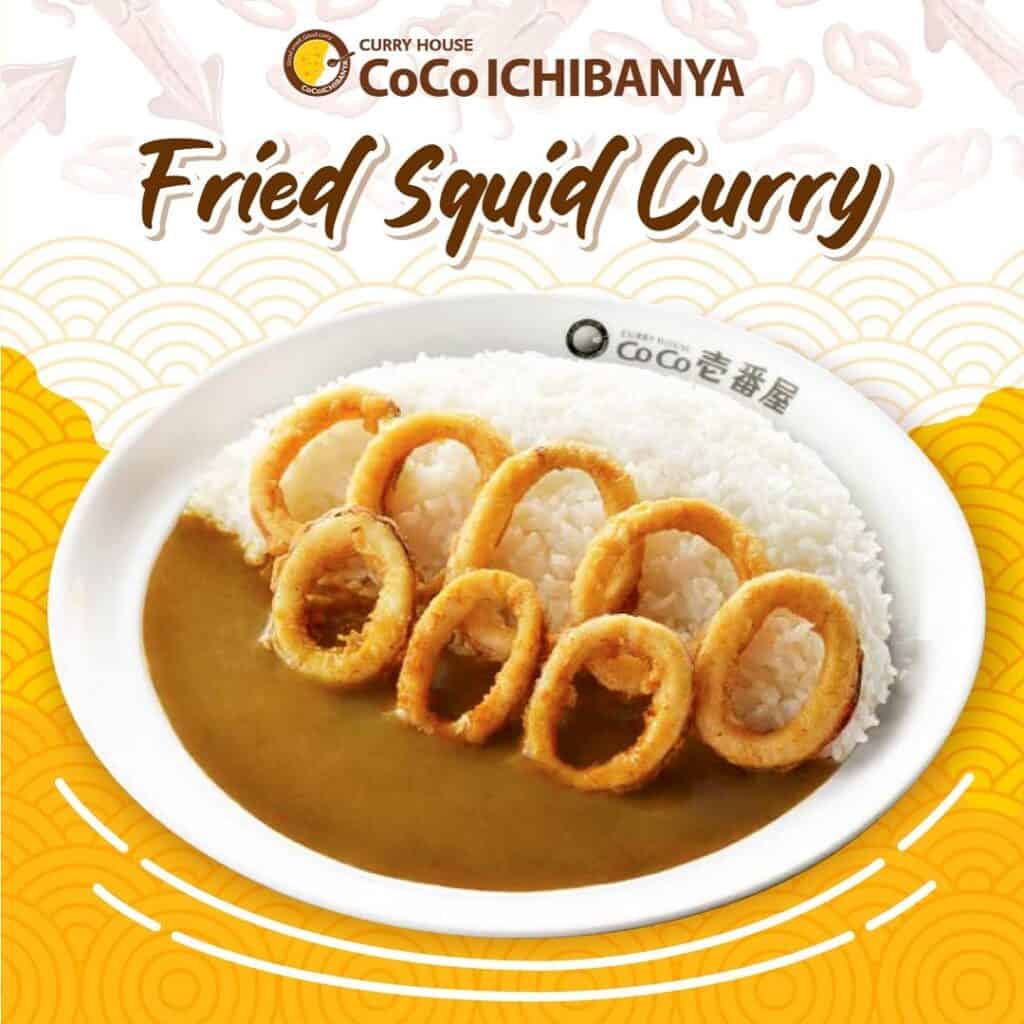 These curry rice menus are perfect for any time of the day. It offers various types of rice, spice level, and a wide selection of toppings so you will be able to try different combinations each time you dine in or order via delivery. 
Omelette Curry Rice
Soft and fluffy omelet is topped on a bed of curry sauce and rice and paired with your choice of toppings. 
Clam & Tomato Omelette Curry and Pork Cutlet Omelette Curry are the must-try dishes. The other omelet curry rice that it offers are beef, fried chicken, vegetable, okra tofu, stewed shrimp, cream mushroom, and creamed chicken. You can also create your own combination to level up your dining experience. The texture of the omelet and the flavor of curry sauce makes this dish truly delectable and satisfying.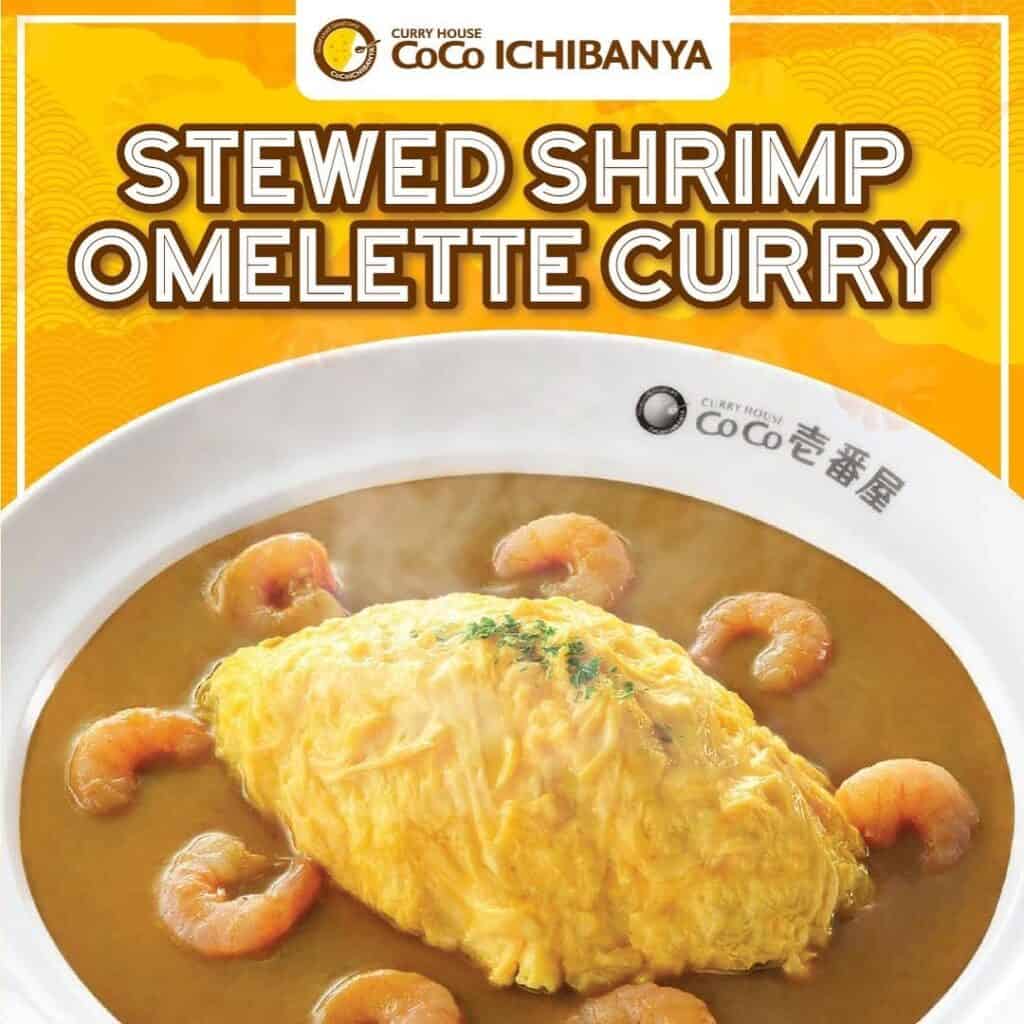 Choice of Toppings
CoCo Ichibanya offers a wide selection of menu toppings so you can create a perfect combination that suits your taste. 
Some of the chicken toppings that it offers are fried chicken, steamed chicken, and chicken cutlets. For vegetarians, there are eggplant, mixed vegetables, spinach, and okra tofu. There are also pork, beef, seafood, and egg toppings that you can pair with your chosen rice and curry sauce.
The texture and taste of each topping are perfectly paired with the rice and curry sauce. With lots of toppings to choose from, you will always have something new to try. Fresh and premium toppings are used and cooked to perfection to provide you with satisfying dishes that will make you come back for more.
Meat Curry
Meat curry from the CoCo Ichibanya menu consists of pork, chicken, and beef dishes. Premium meat and savory curry sauce are expertly cooked to make it aromatic and delicious. The meat toppings that you can pair with curry sauce and rice are fried chicken, stewed chicken, grilled pork with kimchi curry, and Hamburg steak with cheese curry. You can also customize your meal with your preferred rice, spice level, and toppings. Its meaty goodness and savory flavor will make you crave more. 
Salad
Salad is a perfect dish if you are on a diet or if you want a healthier dish. Salads are made up of cucumber, tomatoes, corn, and other green vegetables, paired with topping, and garnished in your choice of dressing. Japanese and sesame dressing are the two types of salad dressings that it offers. These sesame dressings are full of flavor which makes salad healthy and delicious. Some of the toppings that are paired with salad are fried shrimp, fried chicken, corn, sausage, tuna, fried squid, egg, and a mixture of tuna, egg, and corn.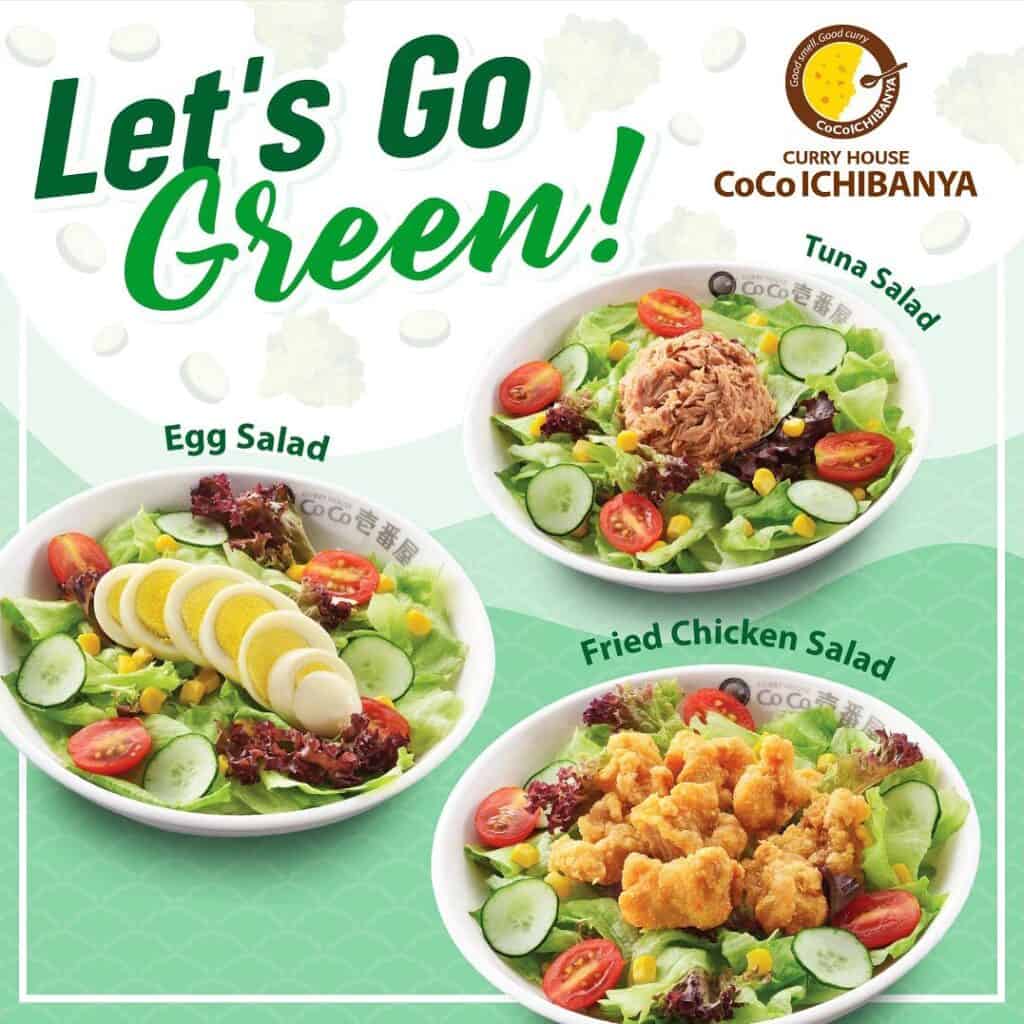 It is perfect if you want a light, healthy, and delicious meal. It has a festive color that enhances its visual presentation. It has lots of health benefits so adding this to your diet can improve your health. This is also good for sharing so you can enjoy this meal with your family and friends. 
CoCo Ichibanya Menu Delivery
Their menu delivery is available through Grabfood, Pick a Roo, & Booky. If these platforms are not available in your area, you can order directly through text or Viber & have your food picked up by your chosen courier. You can check their store directory on their official Instagram account to arrange your orders. 
Social Media Pages
You can get updates about their new food releases or promotions if you follow their social media pages. You can also message them to order and they will redirect you to their website. Please refer to the links below:
Facebook: https://www.facebook.com/CoCoIchibanyaPH/
Instagram: https://www.instagram.com/cocoichibanyaph
Conclusion
The CoCo Ichibanya menu is known for its customization feature and authentic dishes. It allows you to choose your preferred variation and size of rice, curry sauce level of spiciness, and topping. It offers various toppings so you can explore and try new dishes every time you visit the restaurant. This is a great place for all ages because it offers a wide variety of food combinations that everyone will surely love.