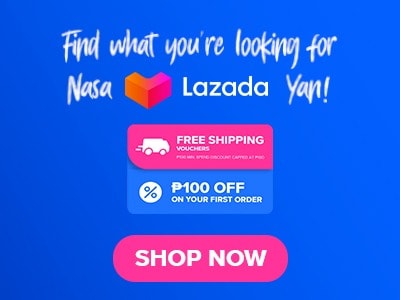 Do you find yourself craving a delicious rotisserie chicken nowadays but actually looking for something better? Or are you looking for a place to dine in with your friends, colleagues, and family but don't have any idea where to find the best food and ambiance? Look no more dear, I found a restaurant that will surely fit your standards for casual dining. Let us talk about Kenny Rogers Roasters. We will find out about what foods can they offer and let's get to know them. Excited? Same here, So without further ado, we will start by discussing the Kenny Rogers Menu.
Below, you'll find the updated list of Kenny Rogers menu prices.
Menu Items
Price (PHP)

Solo Plates

Solo A Chicken
250
Solo A Ribs
400
Solo B Chicken
280
Solo B Ribs
430
Super Solo Chicken
320
Super Solo Ribs
470
Ribs & Chicken Plate
505

Grilled Plates

Grilled chicken plate 1 side
255
Grilled chicken plate 2 side
285
Burger steak 1 side
255
Burger steak 2 side
285
Grilled sausage 1 side
240
Grilled sausage 2 side
270
Grilled fish 1 side
270
Grilled fish 2 side
300
Premium steak 2 side
525

Healthy Plates

High protein meal
285
Classic healthy plate
285
High fiber meal
285
Low calorie meal
290
Light & easy
210
Super salad
210

Group Meals

Roasted chicken
905
OMG unfried fried chicken
905
Roasted & OMG unfried fried chicken
905
Rib and chicken platter
1080
All grilled
1285
Honey bourbon ribs
1520

Ala Carte

Roasted chicken quarter
170
Roasted chicken half
295
Roasted chicken whole
555
OMG chicken 2 pcs
170
OMG chicken 4 pcs
295
OMG chicken 6 pcs
555
Ribs half
385
Ribs whole
725

Chimichuri

Solo A Chimichuri Chicken
270
Solo B Chimichuri Chicken
350
Chimichuri Chicken group meal
1040
Chimichuri Roast Chicken and rib platter
1170
Half Chimichuri Chicken
355
Whole Chimichuri Chicken
670
Chimichuri Chicken and rib plate
545
Classic Healthy plate - Chimichuri Chicken
320
High protein meal - Chimichuri Chicken
320
High Fiber Meal - Chimichuri Chicken
320

Savory Snacks

OMG Strips & Dips - 6 pcs Chicken strips
200

Sandwiches

Cold chunky tuna combo
175
Cold chunky tuna ala carte
140
Ham & cheese combo
200
Ham & cheese ala carte
165
Roasted chicken combo
200
Roasted chicken ala carte
165
1/3 Lb. Cheese burger combo
240
1/3 Lb. Cheese burger ala carte
205

Pasta

Spaghetti with meat balls
165
Spaghetti Carbonara
160
Chicken Lasagna
160
Nachos
175
Quesadilla
185
Burrito
205

Salads

Caesar Salad
155
Kani & Mango Salad
155
Soup & Salad
120

Soup

Chicken noodle soup
90
Clam chowder
105

Side dishes

Regular
60
Large
85
Side sampler
165

Muffins

1 piece
18
Box of 6
90

Desserts and Beverages

Chocolate mousse
60
Fruits in cream
65
Sandae - chocolate - strawberry - vanilla
70
Brownie / A La Mode
50/85
Banana split/ peach melba split
155
Soda regular
55
Soda large
60
Soda Pitcher
165
Iced tea regular
60
Iced tea large
65
Iced tea pitcher
180
Sugar free iced tea regular
60
Sugar free iced tea large
65
Sugar free iced tea pitcher
180
Pineapple juice regular
65
Pineapple juice large
70
Soda float
85
Bottled water
40
Soda in can
65
Coffee
65
Hot tea
35
San Miguel pale pilsen
70
San Mig light
70

Kenny Rogers Fruit Juice 300ml

Apple
110
Guyabano
110
Mango
110
Pink Guava
110
About Kenny Rogers Roaster
Kenny Rogers Roaster is a chicken-based restaurant, they are founded in 1991 by a famous musician named Kenny Rogers and John Y. Brown Jr. the former CEO of KFC which is also the former Governor of Kentucky a US state. The Kenny Rogers menu originally featured wood-fired rotisserie chicken. Their first restaurant was located in Coral Spring Florida. By the year 1995, their menu expanded and they also include ribs, turkey, and different kinds of side dishes.
The company entered bankruptcy in 1998 however despite the end of the chain in the United States, its Asian branches continue to flourish under Berjaya Group. As of the moment, Kenny Rogers Roasters has 156 branches worldwide, they are serving thru various locations like Singapore, China, India, Brunei, Dubai, Thailand, Cambodia, Malaysia, and the Philippines. The current owner of this chicken-based restaurant is Berjaya Corporation.
Kenny Rogers Roasters Promo Menu
Featured items on their menu from new items give value to your money. This restaurant regularly offers limited-time promos, Though their promo always changes from time to time or depending on the season Kenny Rogers Roasters offers a buy 1 get 1 box of calamansi muffins to offer. They also have 20% to 30% of deals sometimes. To be updated on their latest promo all you have to do is to check their website.
Best Food on Kenny Rogers Menu
Menu items on Kenny Rogers also focused on healthier ways to eat and enjoy your food. Their Roasted Chicken is on top for the best food to get at their restaurant, this savory and delicious caramel brown roasted chicken is available in whole half and quarter servings. Their protein-packed meals are also one to consider for their best food composed of a quarter serving of chicken with rice, caesar salad, and a drink.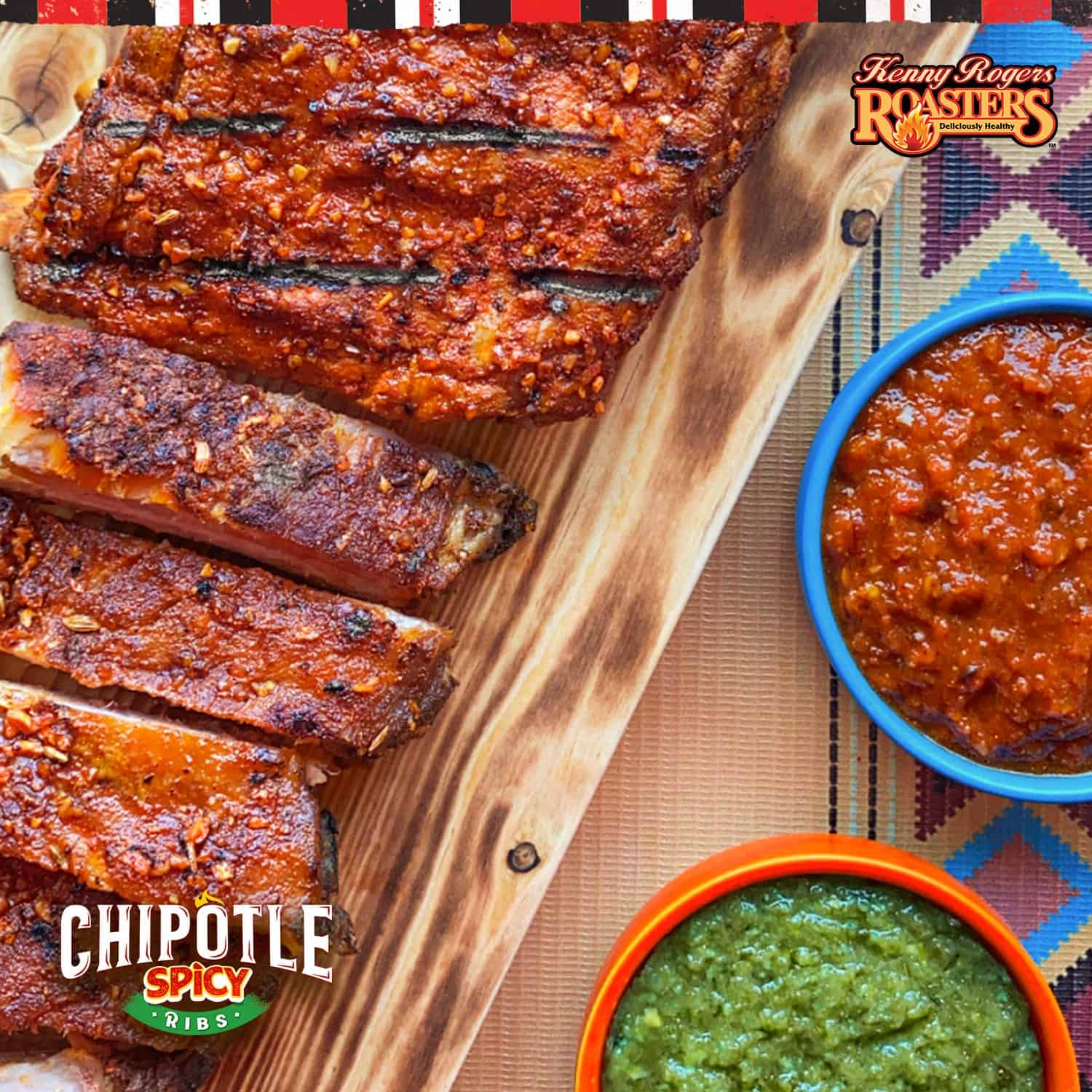 Photo Credit: Kenny Rogers Roasters FB Page
Kenny Rogers Roasters Solo Meal
Kenny Rogers Roasters offers solo plates for their customers, here is the list of solo plates that they offer.
Solo A – Comes with chicken (roasted or OMG) or ribs (half slab) with regular side dish rice and muffins.
Solo B – It comes with chicken (roasted or OMG) or ribs (half slab) with two regular side dishes, rice, and muffins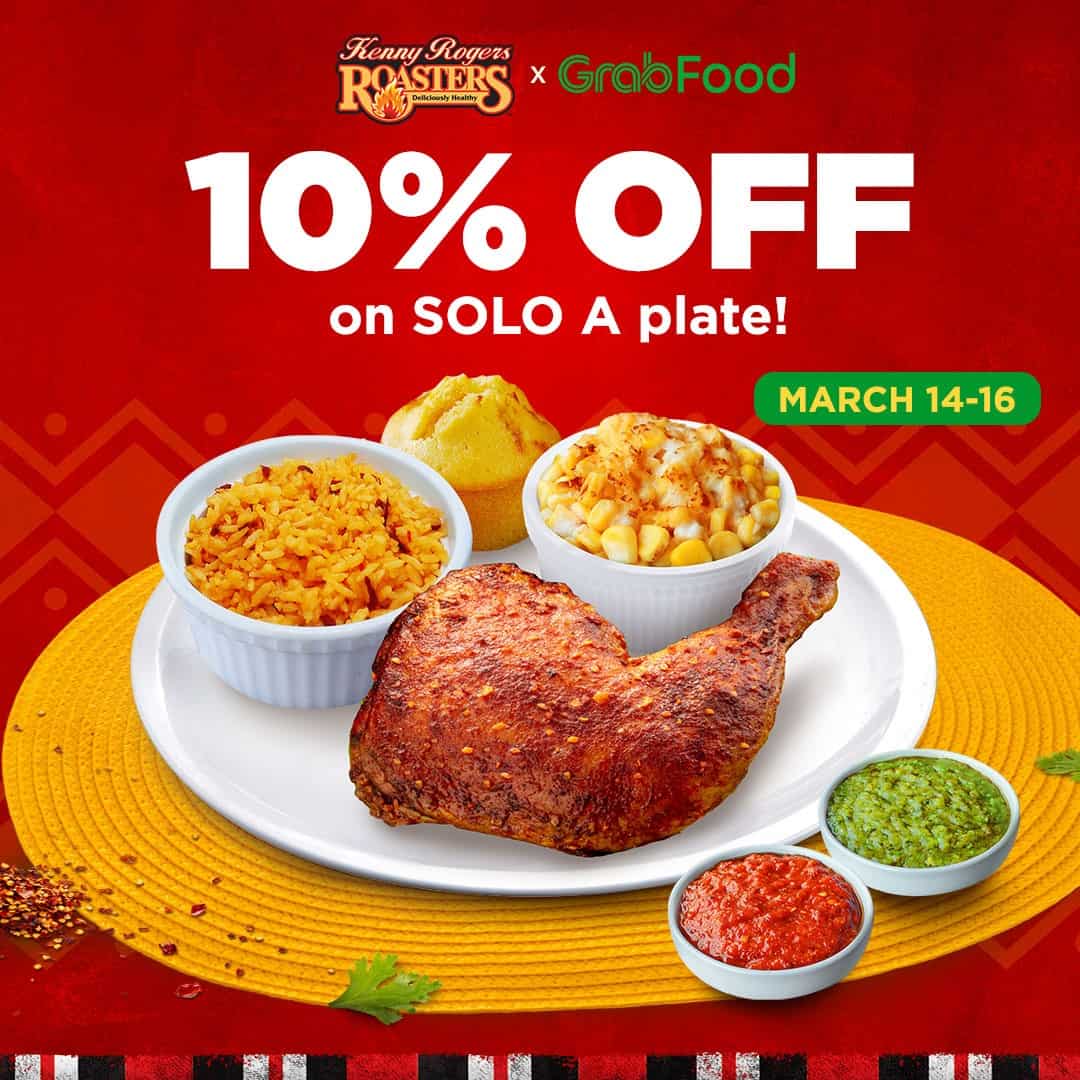 Photo Credit: Kenny Rogers Roasters FB Page
Super Solo – This menu consists of (roasted or OMG) or ribs (half slab) with regular side dishes, soup, salad rice, and a brownie.
Rib and Chicken Plate – comes with half slab rib and 1/4 roasted or OMG chicken with two regular side dishes and a muffin.
Recommended Kenny Rogers Menu Group Meal
Here are the examples of their group meals that I can recommend if you are going to dine in with your barkada, family, and colleagues.
Roasted Chicken one whole.
OMG unfried fried chicken bucket of 8 pieces.
Honey bourbon ribs, 4 pieces half slab.
Roasted and unfried fried chicken 1 half roasted and four pieces of OMG unfried fried chicken.
Rib and chicken platter consist of one quarter roasted chicken two pieces of unfried fried chicken and 2 pieces of half slab ribs.
All Grilled comes with 1 piece rosemary and thyme chicken fillet, 1 piece American barbecue chicken fillet, 1 piece schüblig sausage, 1 piece burger steak, and 1 piece half slab rib.
Talk to Their Staff
Want to know about the latest Kenny Rogers menu or promos that they can offer?
You can talk with a customer service representative of Kenny Rogers Roasters to tell your inquiries, concerns, and suggestions. Use any of the following links to get in touch with them. The hotline number is also listed below if you want to use it instead of reaching out on their social media.
Hotline Number: 8-555-9000
Website: https://kennys.com.ph/
Facebook: https://facebook.com/KennyRogersPH/
Instagram: https://www.instagram.com/kennyrogersph/
Kenny Rogers Roaster Delivery
Craving for menu specials but you can not go outside because of your busy schedule? Avoiding traffic and long queues? Nothing to worry about because you can now order your favorites Kenny Rogers Roasters menu in the comfort of your home. Thanks to their delivery service.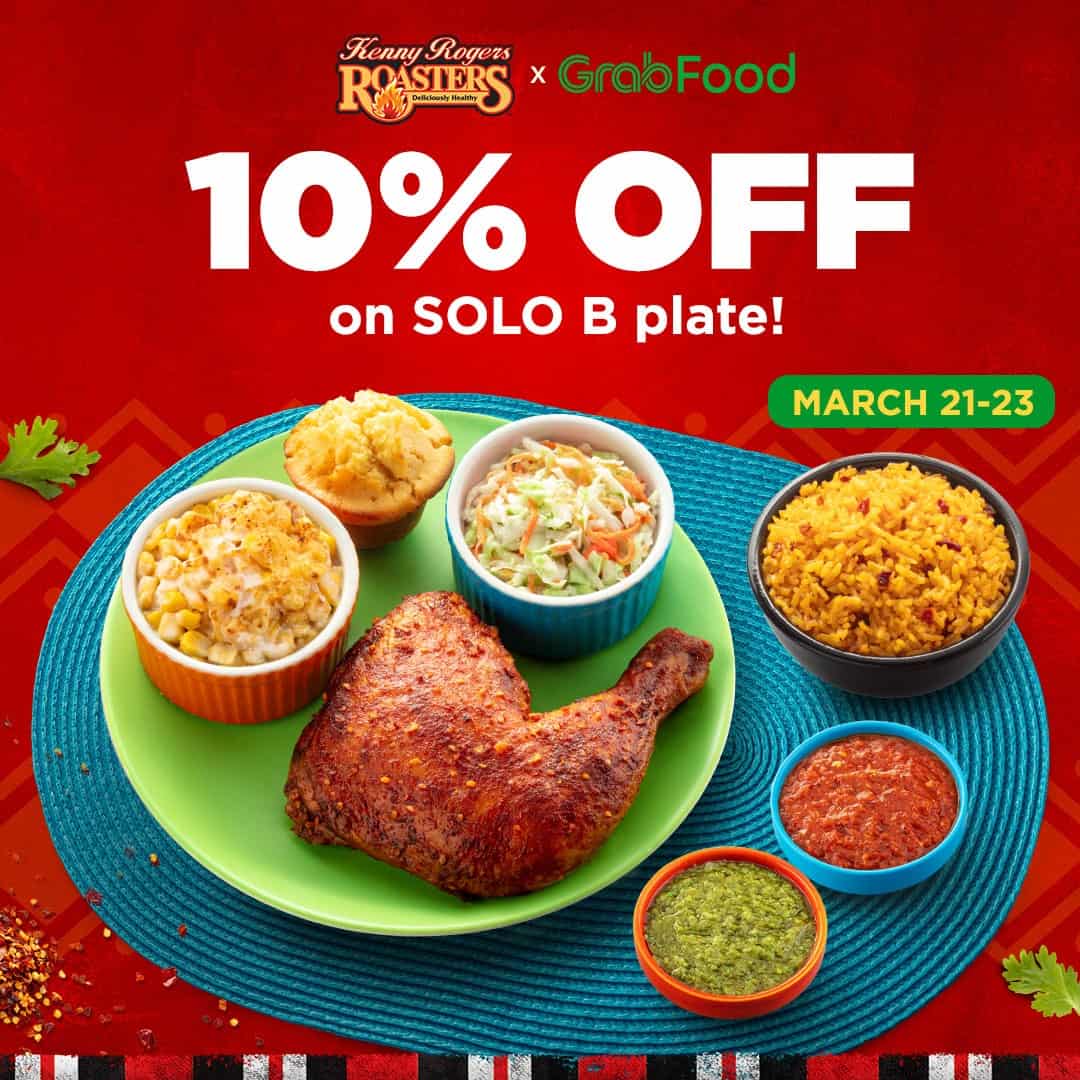 Photo Credit: Kenny Rogers Roasters FB Page
All you have to do is to go to their website at https://kennyrogersdelivery.com.ph/ or call their hotline number at 8-555-9000 their delivery service is open from 10 am to 9 pm. Or you can also use third-party delivery services like Food Panda and Grab Foods.
Conclusion
If you are looking for a good casual dining experience with a customer-friendly ambiance Kenny Rogers Roaster is the best restaurant to go to. The foods that they offer are fantastic and delicious they have a lot of different selections that for sure will satisfy your cravings at a reasonable price, their restaurants are clean the staffs and crews are friendly and professionals, a great place to enjoy dining with family and friends. Overall a good experience and highly recommended.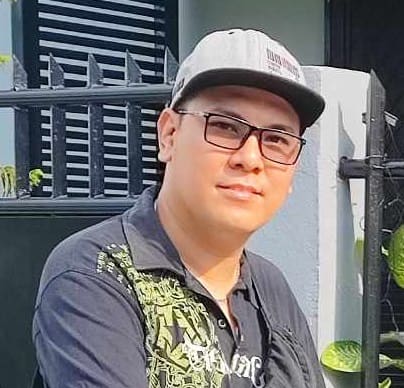 Hi! I'm Nivek Strife, the person who made MenuPH. I'm the one who added most of the popular menus you see on this website, and I really hope you enjoy them! Feel free to check them all out.
Growing up, I was surrounded by lots of tasty foods, like the classic Adobo and the sweet Leche Flan. That love for the many flavors of the Philippines is what got me excited about adding to MenuPH. When I learned how to make websites, I saw the need for a place to show off all the amazing Filipino dishes, and that's how MenuPH started.
MenuPH isn't just a website; it's like a fun journey into food. I've teamed up with famous chefs and found great places all over the Philippines to bring you a bunch of menus that show off the best of Filipino cuisine. Whether you're into the usual dishes or new twists, MenuPH is here to guide you through the rich world of Filipino flavors.
With MenuPH, my aim is to help local businesses, talk about good food choices, and make a group of friends who love food. No matter if you like fancy restaurants or street food, MenuPH has something for you. Come join me on this food adventure as we find great places, taste real flavors, and enjoy the unique food traditions that make the Philippines awesome.