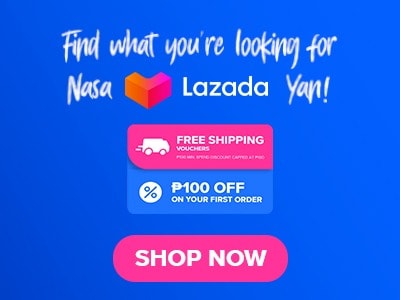 Tanay Highlands menu serves Filipino cuisines that are artistically prepared. It offers starters, sandwiches, soup, salads, pasta, all-day breakfast, mains, desserts, coffee & espresso, refreshers, and other drinks. These dishes perfectly complemented the ambiance of the restaurant. It is an all-in-one getaway destination where you can enjoy delicious foods and drinks, a panoramic view, and high-quality service. It is a place that will give you a memorable dining and travel experience.
Below, you'll find the updated list of Tanay Highlands menu prices.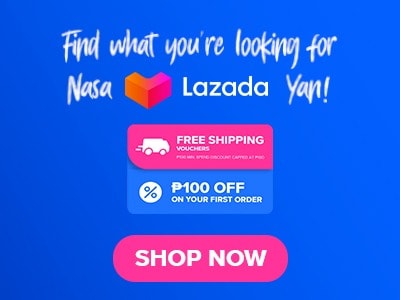 Menu Items
Price (PHP)

Starters

Mexican Pulled Pork Nachos
290
Pommes Frites
260

Sandwiches

Verdure Sandwich
290
Grilled 4-Cheese Sandwich
290

Soup

Highlands Goto
250
Almondigas
250
Bulalo with Torched Marrow (Solo)
550
Bulalo with Torched Marrow (Sharing)
850

Salads

Mango Kani Salad
290
Rocca Salad
290
Pomelo and Green Mango Salad
290
Caesar with Chicken Piccata
290

Pastas

Truffle Cream
300
Sausage Marinara
300
Pesto w/ Chicken Piccata
300
Cereal Prawn Alfredo
300
Aglio Olio w/ Spanish Sardines
300

All-Day Breakfast

Beef Tapa
300
Daing na Bangus
300
French Toast w/ Breakfast Sausage & Fresh Fruits
300
Hungarian Sausage
300
Native Garlic Longganisa
300

Mains

Beef Pares
320
Buffalo Fillet with Ranch Dip
320
Chicken in Mushroom Sauce
320
Classic Fried Chicken
320
Glazed Fried Chicken
320
Gambas Rice Bowl
320
Grilled Pork Chop with Mango Salsa
390
Lechon Macau
390
Tanigue Steak w/ Lemon Butter Sauce
320
Pork Ribs
390
Salisbury Steak
350
Tonkatsu Curry
350

Desserts

Chocolate Chip Cookie
200
Carrot Walnut Cake
200
Custard Cake
200
Sansrival Cake
200
Chocolate Truffle Cake
200
Honeycomb Praline Cake
200
Passion Fruit Parfait
200

Add-Ons

Plain Rice
20
Chorizo Rice
40
Fried Egg
20
Upgrade to Chorizo Rice
20

Coffee & Espresso

THC Signature Brown Sugar Latte
200
Chocnut Nostalgia
200
Honey Cinnamon Latte
200
S'mores Mocha
200
Ube Halaya Latte
200
Summer Breeze
200

Espresso-Based

Americano
150
Flat White (Hot Only)
180
Cappucino
180
Latte
180
Dirty Matcha Latte
200
Manila Vanilla
200
Oat Milk Latte
200
Sweet Oat Milk Latte
200
Salted Caramel
200
Spanish Latte
200

Single Origin Pour Over

Local
180
Specialty
250

Add-Ons

Double Espresso Shot
60
Oat Milk
40
Torched Marshmallows
20

Non-Espresso

Ovaltine Malted Milk
180
Cioccolato
160
Matcha Latte
180

Refreshers

House Blend Iced Tea
140
Hibiscus Honey Iced Tea
140
Pink Lemonade
140
Green Tea Lychee
140
Cinnamon Apple Refresher
150

Infusion Coolers

Peach Lemon Soda
200
Peach Passion Fruit Soda
200
Strawberry Mango Infusion
200
Iced Four Red Fruit Tea
200

Hot Teas & Infusions

Pure Green Tea
200
Green Tea Jasmine
200
Pure Chamomile
200
Earl Grey Tea
200
Lemon Ginger Tea
200
Pure Peppermint
200

Alcoholic

Budweiser
200
Hoegaarden - Peach
250
Hoegaarden - Rosee
250
San Miguel - Light
150
San Miguel - Pale Pilsen
150
Sapporo
200
Stella Artois
200

Others

Hope Bottled Water
40
Evian Natural Spring Water
120
Perrier Sparkling Water
120
A&W Rootbeer
80
Canned Soda (Coke Regular, Coke Zero, Sprite, Royal, Mountain Dew)
60
About Tanay Highlands
Tanay Highlands is a full-service restaurant located in Tanay, Rizal. It is one of the recommended places because it serves delicious cuisines, is pet-friendly, has perfect temperature, and scenic view. Its ambiance will make you feel like you're in Baguio and Tagaytay. It has also a camping site and events place where you can celebrate special events with your loved ones.
Tanay Highlands Menu Best Seller
These are the best-selling comfort food menu of Tanay Highlands that are worth trying when you visit this amazing place. 
Grilled 4-Cheese Sandwich – It is a best-selling sandwich that is made up of 4 premium kinds of cheese stuffed in two buttery toasts. Fries and sriracha are also served with this dish.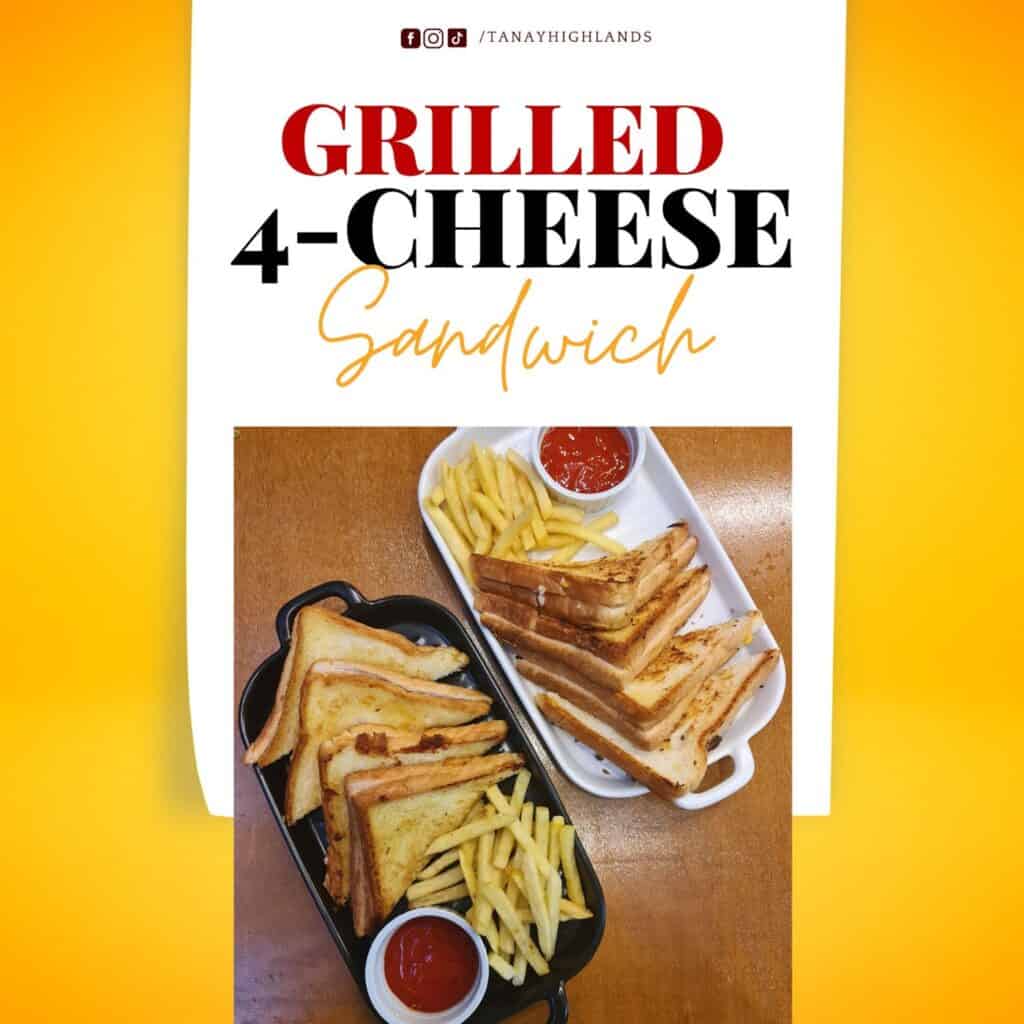 Beef Pares – Beef pares is an aromatic dish where braised beef is cooked to perfection. It is paired with chorizo rice and chili garlic sauce.
Classic Fried Chicken – Fried chicken is one of the famous dishes in every restaurant. This classic fried chicken dish of Tanay Highlands has a crispy texture and delectable taste. It comes with steamed rice, house slaw, and herbed gravy.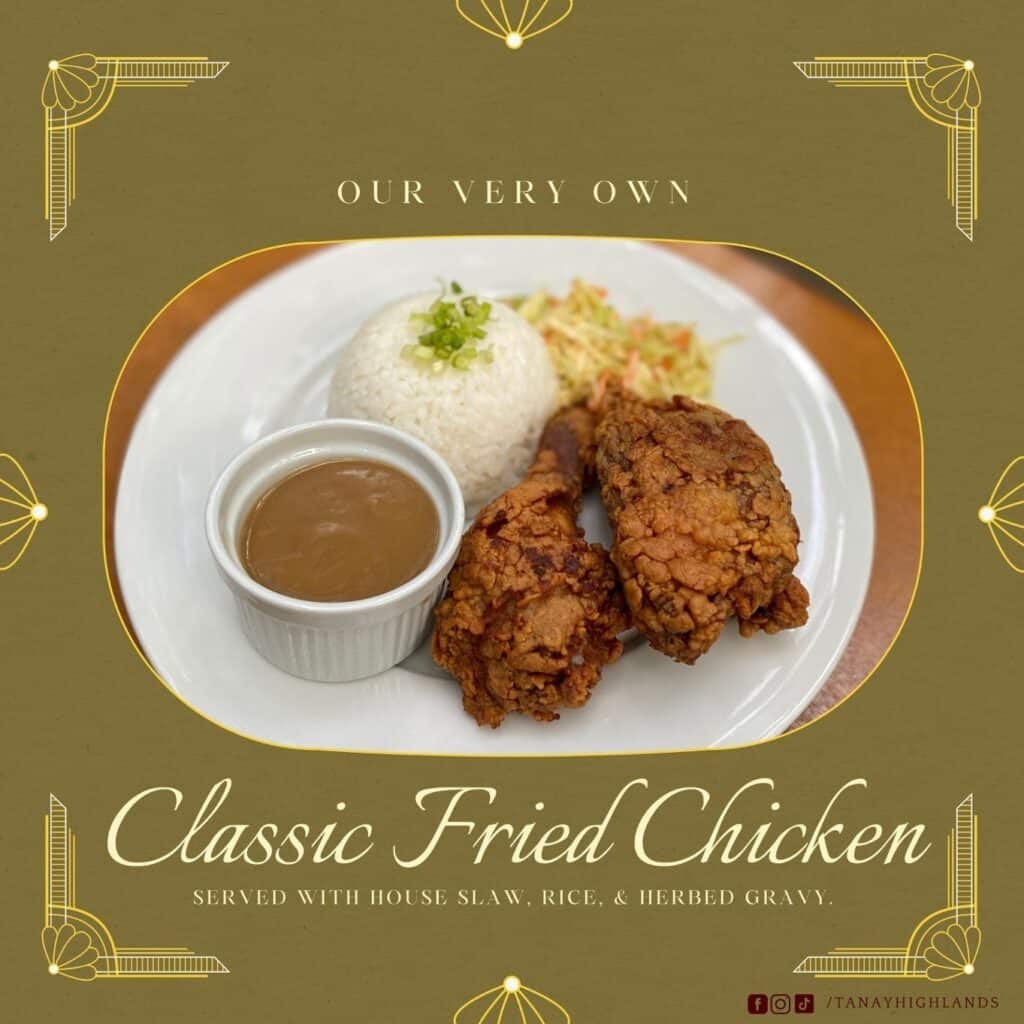 Lechon Macau – Pork belly is expertly cooked to achieve its crispy and juicy texture. Steamed rice and two special sauces complete this dish.
Pork Ribs – These barbecue pork ribs are well-loved for their tenderness and savory taste. It is served with steamed rice and house slaw.
Mains
These main dishes of Tanay Highlands will give you a rewarding dining experience as it consists of food items that go well together.
Glazed Fried Chicken – A perfect choice from Tanay Highlands menu for those who love to eat fried chicken with a twist. Its signature sauce sets it apart from other fried chicken dishes. Steamed rice and house slaw are served with it.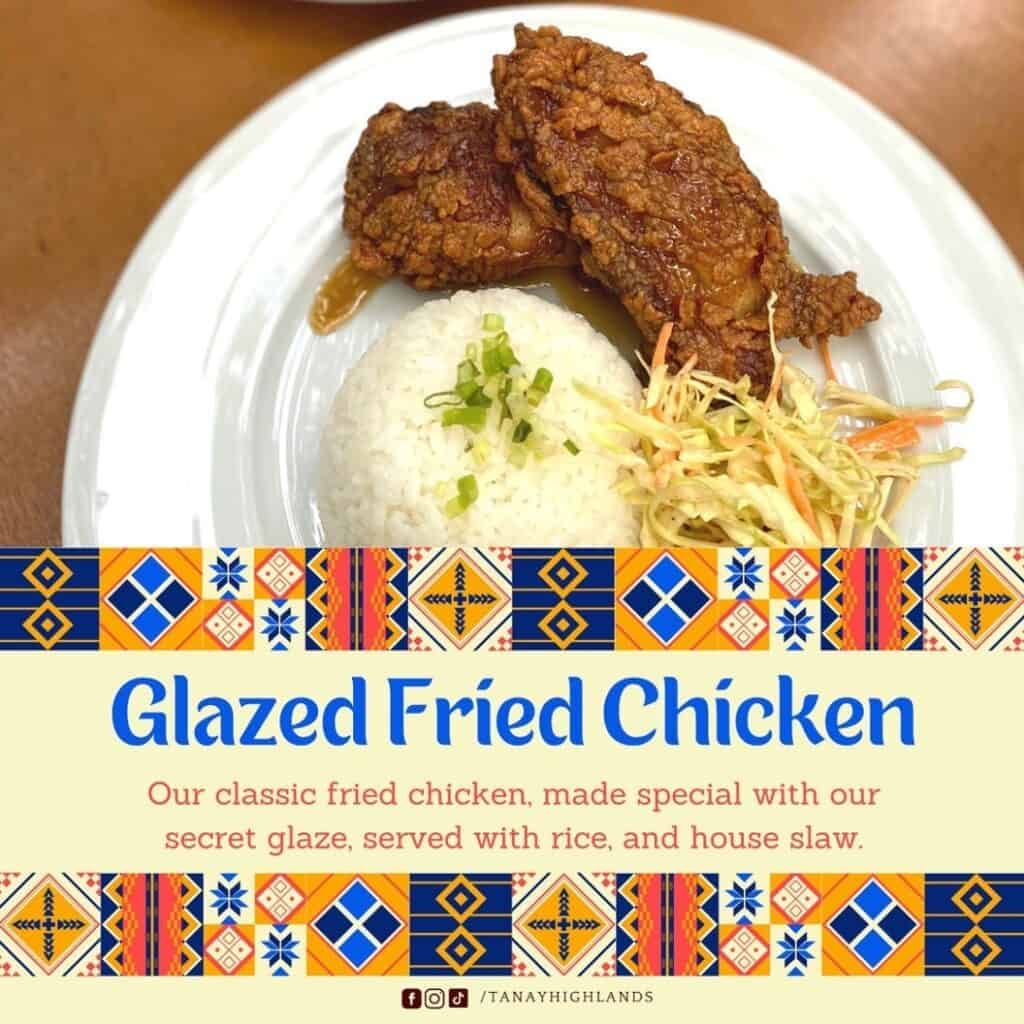 Grilled Pork Chop with Mango Salsa – Pork chop is grilled to an ideal state and served with rice, orange vinaigrette, and mango salsa.
Tonkatsu Curry – It is made up of lightly breaded and perfectly cooked pork cutlets. It also comes with rice and a curry sauce inspired by Japanese cuisine. The juiciness of pork cutlets and the creaminess of curry sauce creates a delectable and remarkable dish.
Salisbury Steak – This steak has a unique taste because the beef patty is made of the restaurant's special recipe. Rice, carrots, corn, and jalapeno aioli are paired with this dish.
Tanigue Steak with Lemon Butter Sauce – Tanigue is grilled to perfection and topped with green onion. Its creamy and flavorful lemon butter sauce makes this dish extraordinary.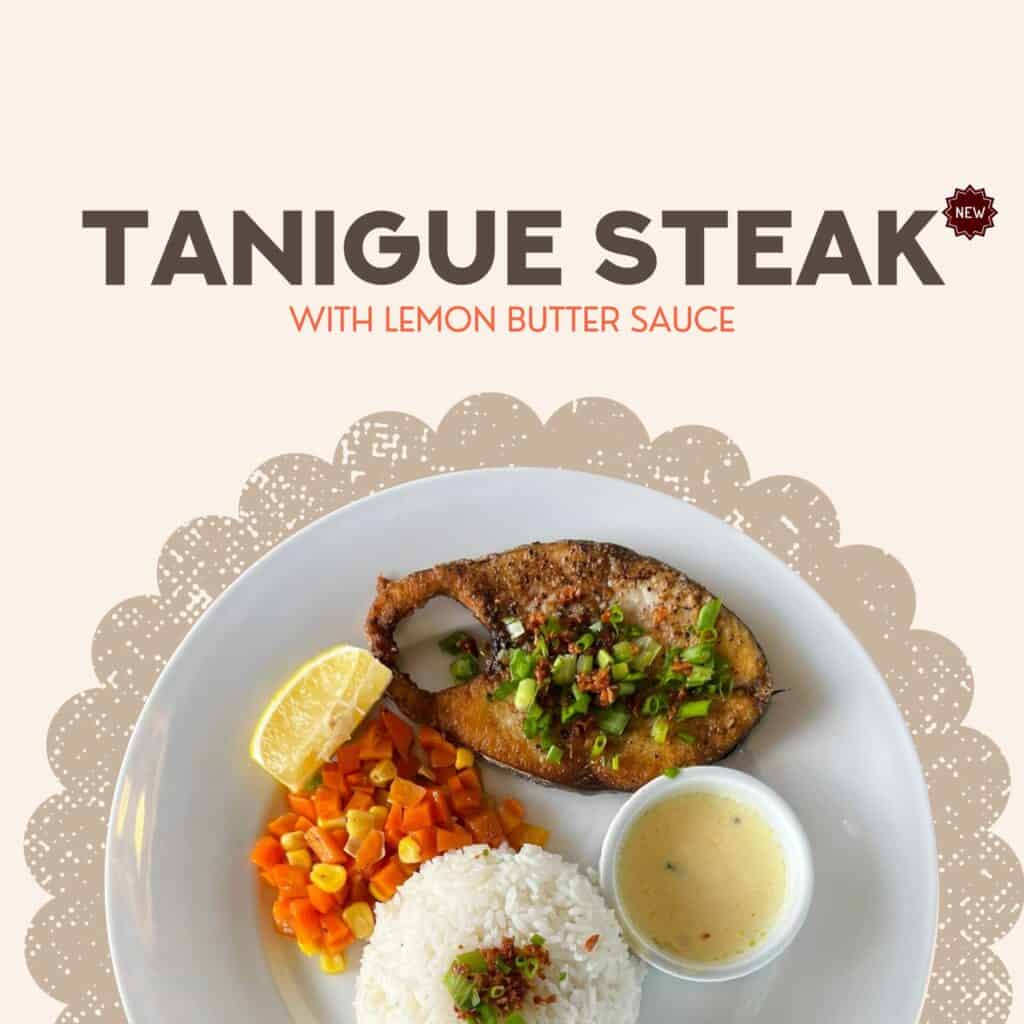 Coffee & Espresso
Its coffee and espresso are popular as they are served hot or iced which makes it perfect in every weather condition.
S'mores Mocha – S'mores is one of the most common snacks during camping. This drink is a perfect alternative if you don't have time to create S'mores as it is made up of the restaurant's homemade chocolate ganache, graham crumbs, and marshmallows.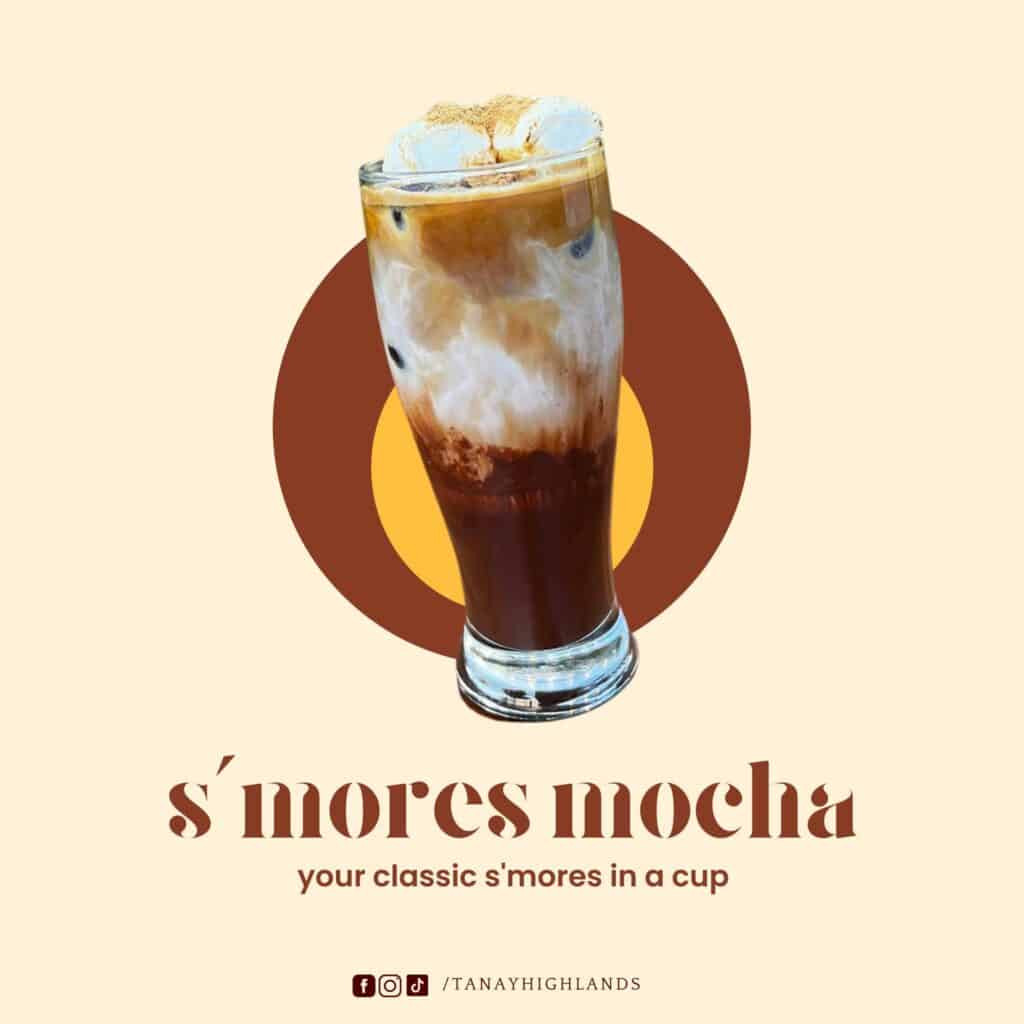 Ube Halaya Latte – A must-try drink that has a rich and creamy flavor. It has the taste of Ube Halaya, one of the famous Filipino desserts.
Summer Breeze – It is an orange, lemon, and honey-iced americano drink that will make you feel the breeze of summer. This is available in iced only.
Chocnut Nostalgia – This menu from Tanay Highlands is one of the remarkable candies because of its distinctive taste. This drink is inspired by the famous peanut milk chocolate bar and it will make you reminisce your wonderful childhood memories. It is rich in the restaurant's special chocnut sauce.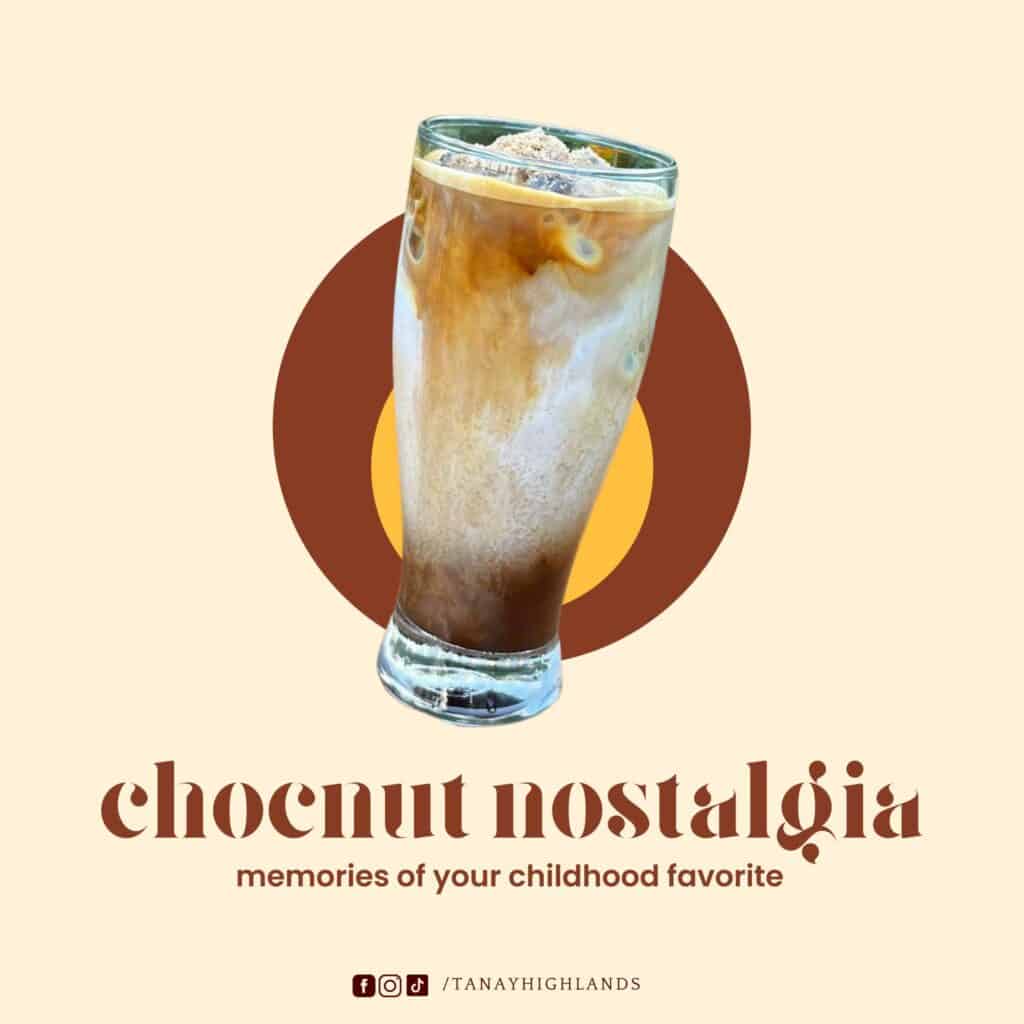 THC Signature Brown Sugar Latte – This signature drink is commonly seen in the social media posts of those who visit this restaurant. The simplicity of this coffee and its homemade brown sugar syrup make it a reliable drink in any kind of weather.
Pastas
Tanay Highlands' menu features a selection of hearty and delectable pasta dishes, each served with a freshly baked herbed focaccia bread. These dishes are a must-try for anyone looking to indulge in delicious and hearty Italian cuisine.
Truffle Cream – Pasta is cooked in ideal consistency and has a creamy taste. The special truffle oil and mushroom make it flavorful.
Cereal Prawn Alfredo – It is one of the kitchen favorites made up of traditional alfredo pasta topped with cereal-crusted prawns inspired by Singapore.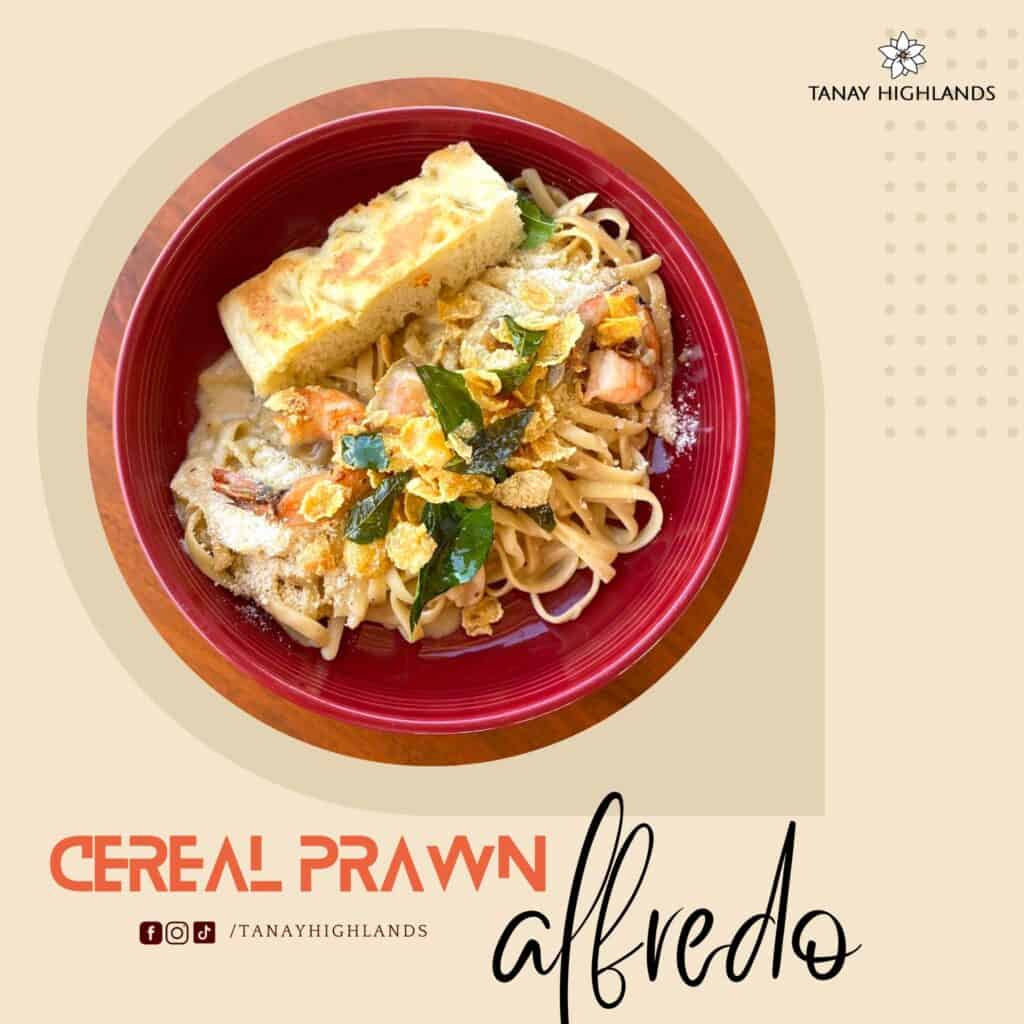 Sausage Marinara – Al dente pasta is cooked with homemade marinara sauce and smokey sausage. This is a must-try pasta dish that will make you crave more.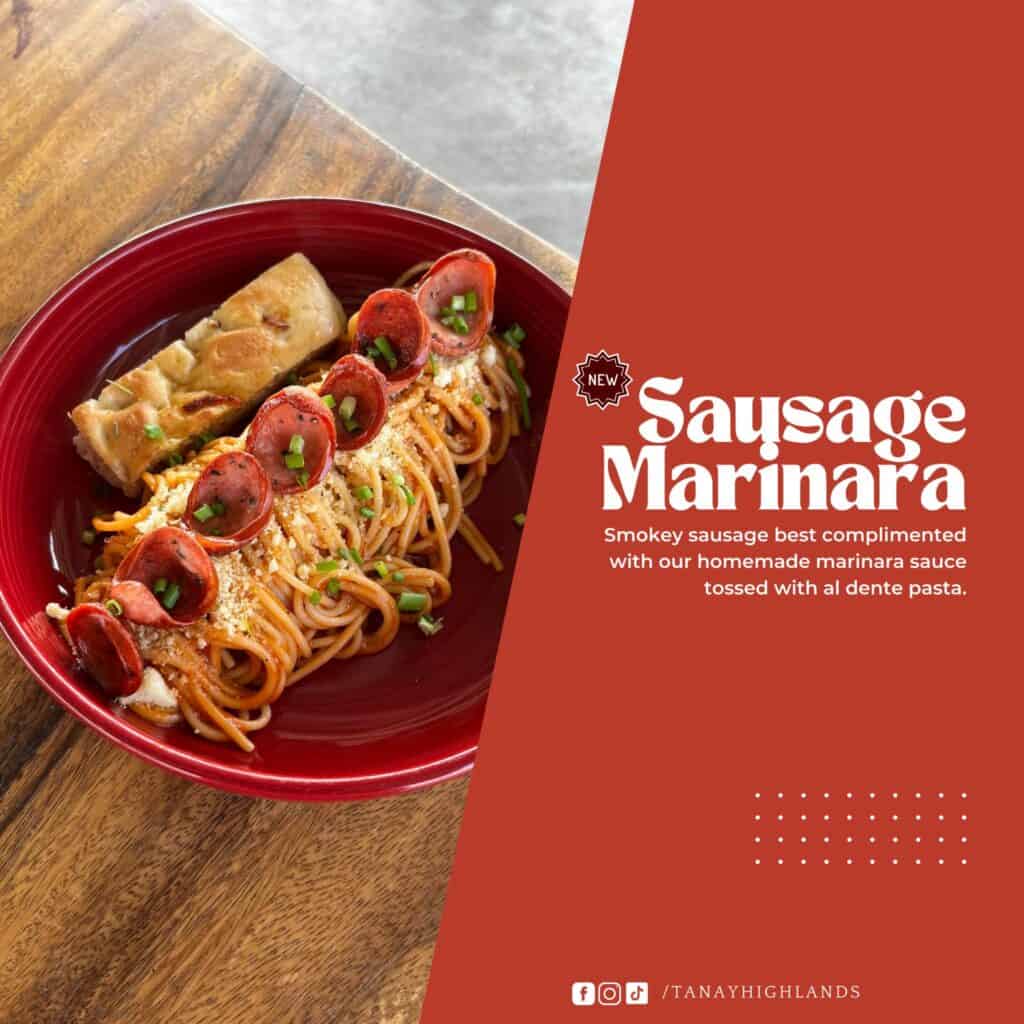 Pesto w/ Chicken Piccata – It is made up of juicy chicken picatta topped with a bed of classic alfredo pasta.
Aglio Olio w/ Spanish Sardines – The classic olive oil-based pasta is cooked with Spanish sardines and special cherry tomatoes.
Starters
Tanay Highlands offers two starter menus. The first one is the Mexican Pulled Pork Nachos made up of nachos, salsa, pulled pork, and cheese. The second one is Pommes Frites, an ideal dish for potato snack fanatics that is composed of deep-fried curly potato strips served with special sriracha dip. 
All Day Breakfast
The all-day breakfast that this restaurant offers is a combination of usual breakfast items that are well-liked by Filipinos such as Beef Tapa, Daing na Bangus, and Native Garlic Longganisa. It also provides breakfast dishes influenced by other cultures such as Hungarian Sausage and French Toast w/ Breakfast Sausage & Fresh Fruits. Undoubtedly, a delicious breakfast menu from Tanay Highlands will power up your day as it is rich in flavor and nutrients.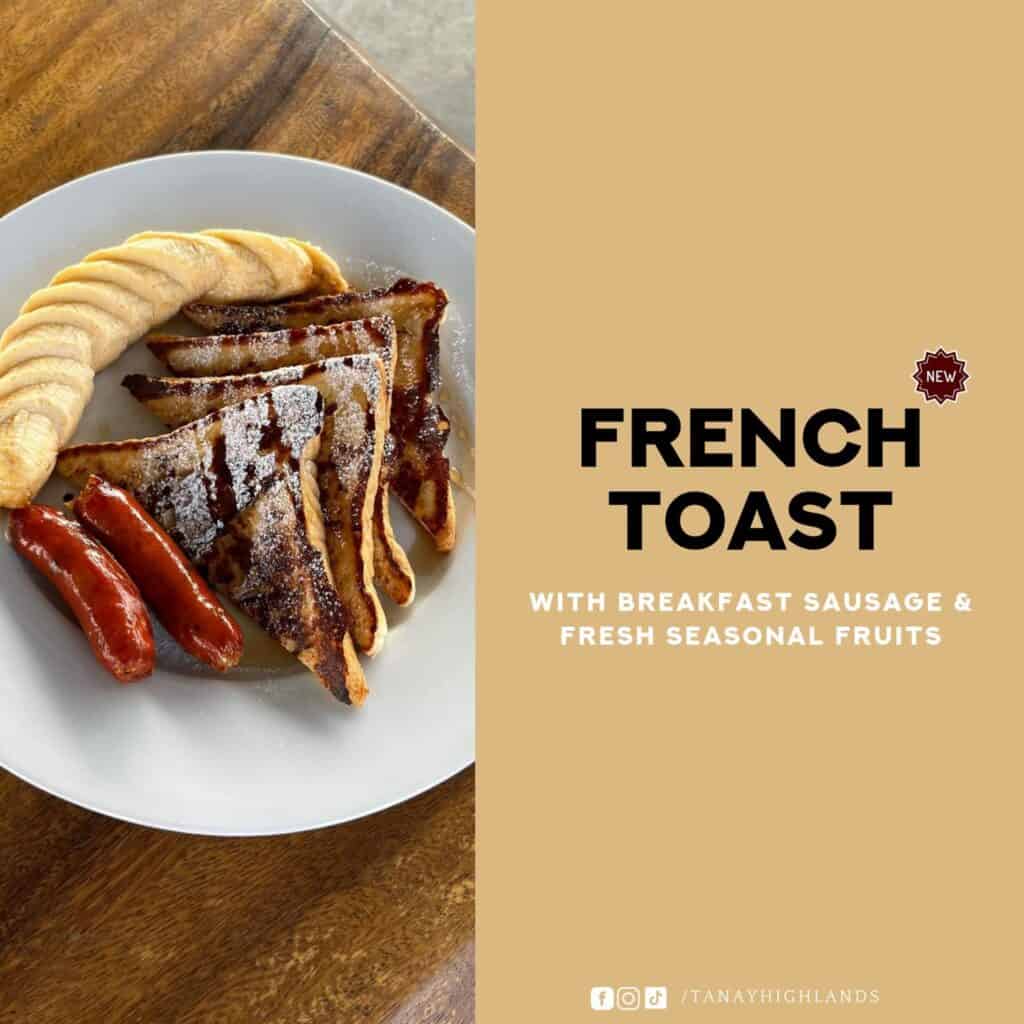 Tanay Higlands Menu Delivery
Tanay Highlands menu doesn't have a delivery option and is only available in dine-in. You can visit this restaurant daily from 6:00 AM to 8:00 PM. You can also contact them through their social media pages or official number 0968-883-3866 for inquiries.
Talk to Tanay Highlands PH Staff
Tanay Highlands had so much to offer not just its delicious food menu. You can easily get in touch with them through their social media pages if you have any concerns about their products or services. They have staff that will surely accommodate your concerns.
Facebook: https://www.facebook.com/tanayhighlands
Instagram: https://www.instagram.com/tanayhighlands/
TikTok: https://www.tiktok.com/@tanayhighlands
Email: [email protected]
Conclusion
Tanay Highlands menu and an amazing view are the special features of this restaurant that captures the interest of tourists. It's a perfect place to unwind with your friends and family as you will enjoy the beauty of nature and can do many activities here like camping and celebrations. You will surely enjoy its instagrammable spots, relaxing ambiance, and scenic view of Laguna de Bay at Pililla Windmills.