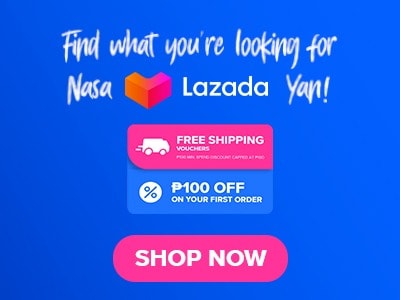 The Frazzled Cook is the ideal restaurant to visit if you are looking forward to a unique and delicious meal as it features a delightful fusion of international flavors that offers a unique and exciting dining experience for all its guests. From comfort food to gourmet delights, The Frazzled Cook brings together a menu that has influences from various cuisines which results in a  mouthwatering selection of dishes. This restaurant emphasizes using only fresh and high-quality ingredients so that each dish is sure to provide guests with a satisfying and memorable dining experience.
Below, you'll find the updated list of The Frazzled Cook menu prices.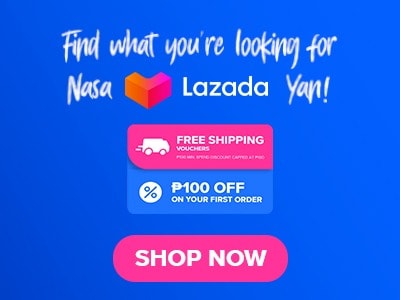 Menu Items
Price (PHP)

Starters

Sizzling Squid
585
Frazzled Sisig
275
Ceviche
195
Grilled Cheese Stacks
215
Sizzling Gambas
425

Soup

Squash Soup
155
Mushroom Soup
195
Potato and Basil Chowder
165

Salad

Herbed Chicken Salad
375
Squid Salad
415
Vegetable Salad
245
Mango Salad
355
Bleu Cheese Salad
550
Watermelon Salad
325

Pizza

Caprese Piza
385
Tenderloin and Sausage Pizza
535
Salmon Pizza
515
Chorizo Pizza
465
Scampi Pizza
165
Truffle Pizza
525

Pasta

Truffle Pasta
395
Spicy Shrimp Pasta
315
Seafood Pasta
325
Tomato Cream Pasta
315
Pesto Pasta
365
Vegetable Pasta
225
Chorizo Pasta
365
Pasta Cream Bacon and Sage
295
Baked Pasta
345

Paella

Seafood Paella
395

Beef

Wagyu Salpicao
595
Ribeye Steak
1750
Beef Kebab
385
Tenderloin Nuggets
395
Tenderloin Steak
395
BBQ Beef Short Ribs
595

Pork

Grilled Porkchop
385
Pork BBQ Ribs
595
Slow-cooked Pork Ribes
525

Chicken

Grilled chicken Rosemary
265
Spicy Chicken Kebab
325
Crusted Chicken Tortilla
395
Chicken Marsala
325
Chicken Cordon Bleu
425

Seafood

Peppered Salmon Steak
395
Grilled Salmon
425
Spicy Gambas Al Ajillo
355
Pan-seared Dory
295
Grilled Tanigue Steak
425

Others

Lengua with Mushroom and Corn
425
Spicy Lamb Stew
465

Dessert

Creme Brulee Cake
325
Mango Creme Brulee Cake
345
Strawberry Tres Leches
395

Juice

Homemade Iced Tea
95
Cucumber Lemonade
95
Orange Juice
175
Fresh Lemonade
145
About The Frazzled Cook
The Frazzled Cook is a restaurant located in Quezon City, Philippines that is known for its extensive menu and vibrant dining experience. It offers a unique and cozy ambiance that creates a welcoming and charming atmosphere for diners. The Frazzled Cook's menu is a fusion of international flavors that combines influences from various cuisines to create exciting and innovative dishes. It has become a popular spot for food enthusiasts, families, and friends looking to enjoy a memorable dining experience in a fun and vibrant setting.
The Frazzled Cook Menu Best Seller
The menu at The Frazzled Cook boasts an impressive array of delectable delights curated primarily from their selection of hearty main courses. These dishes, favored by the restaurant's esteemed visitors, encompass a diverse range of flavors and ingredients that cater to a multitude of tastes.
Tenderloin Steak – This steak that is made from a prime cut of beef is grilled to perfection and seasoned with herbs and spices, allowing the natural taste of the meat to shine through. It is then served with the guest's choice of sides which makes for a classic and satisfying dish for steak lovers.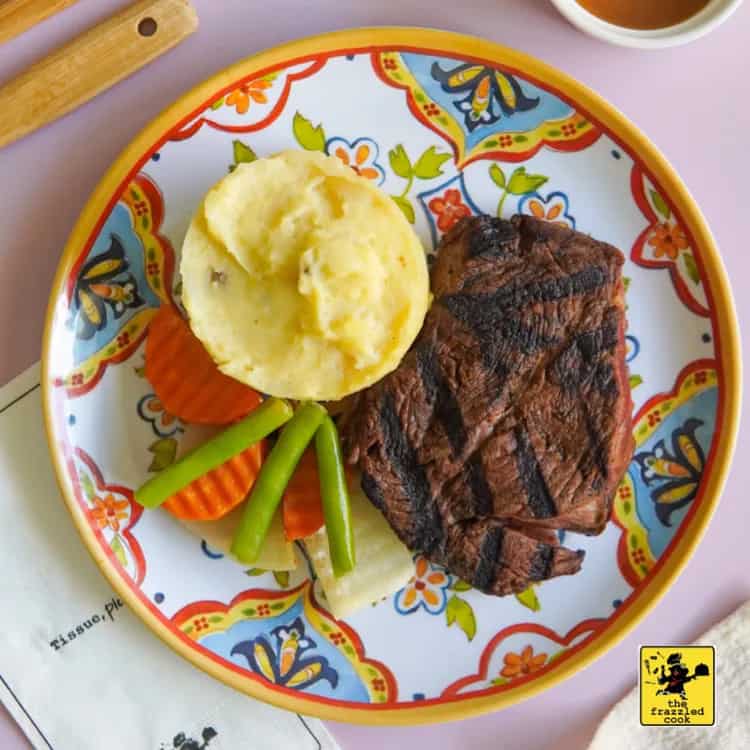 Pork BBQ Ribs – This menu is made up of mouthwatering and tender pieces of pork ribs that are marinated in a flavorful blend of spices and sauces. The ribs are grilled until they become tender and caramelized which results in a delicious combination of smoky, sweet, and savory flavors that will leave you wanting more.
Spicy Chicken Kebab – This spicy chicken dish offers a burst of flavors complemented by its spiciness. These fresh and juicy pieces of chicken are marinated in a spicy sauce and skewered with vegetables before being grilled to perfection. The combination of tender chicken and fiery spices creates a delightful and bold taste experience.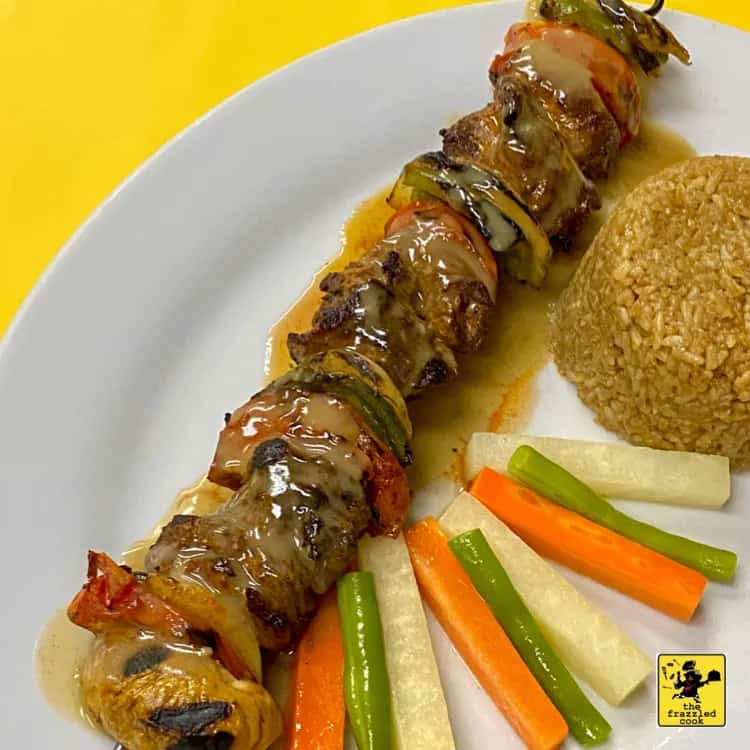 Peppered Salmon Steak – The dish features a generous portion of fresh salmon seasoned with cracked black pepper and then grilled to perfection. The salmon retains its moistness and natural flavors which is perfectly complemented by the subtle spiciness of the pepper.
Spicy Lamb Stew – This stew is a unique and hearty dish with tender chunks of lamb simmered in a flavorful and aromatic spicy broth. The spices infuse the lamb with a depth of flavor, creating a satisfying and warming meal that is perfect for those who love unique dishes with a little bit of heat.
Starters
These starters introduce you to the wonderful food at this lovely restaurant, ranging from savory bites to tempting treats. They're like a friendly welcome to the scrumptious choices waiting for you here.
Sizzling Squid – This appetizer is a seafood dish that features tender and fresh squid cooked with a delicious mix of flavors. It is then served on a sizzling plate and is infused with aromatic herbs and spices which creates an enticing aroma that enhances the overall experience.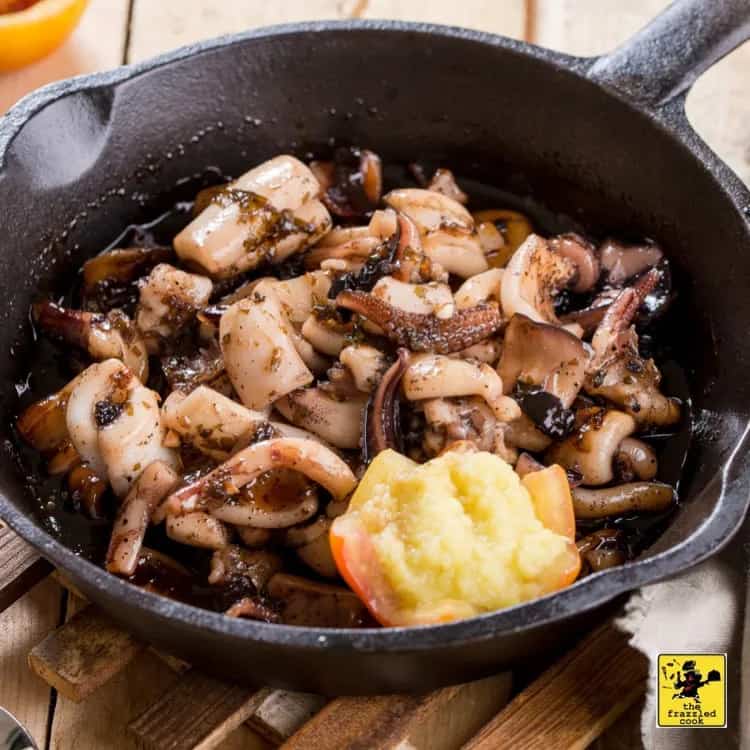 Frazzled Sisig – The sisig dish is a Filipino favorite, but this one has a unique twist that you will surely love. This dish features a medley of chopped and grilled pork, mixed with tangy calamansi, onions, and chili peppers which translates into a mouthwatering and flavorful sisig dish that is both savory and slightly tangy.
Grilled Cheese Stacks – These are a scrumptious appetizer or snack option that consists of layers of toasted bread and creamy melted chees that creates a delightful texture and a satisfying flavor that is sure to please cheese lovers.
Beef
This menu is filled with a wide variety of beef dishes that will surely wow any guest that is a fan of beef dishes.
Wagyu Salpicao – It is a luxurious dish featuring premium Wagyu beef sauteed in garlic-infused oil and soy-based sauce. The tender and succulent Wagyu beef is complemented by the bold flavors of garlic, creating a delectable and savory experience that delights the taste buds.
Ribeye Steak – This steak is a classic favorite among steak lovers as it is known for its marbling and rich flavor. The ribeye is seasoned in different spices and then grilled to perfection which results in a juicy and tender steak that is sure to satisfy and delight most meat lovers.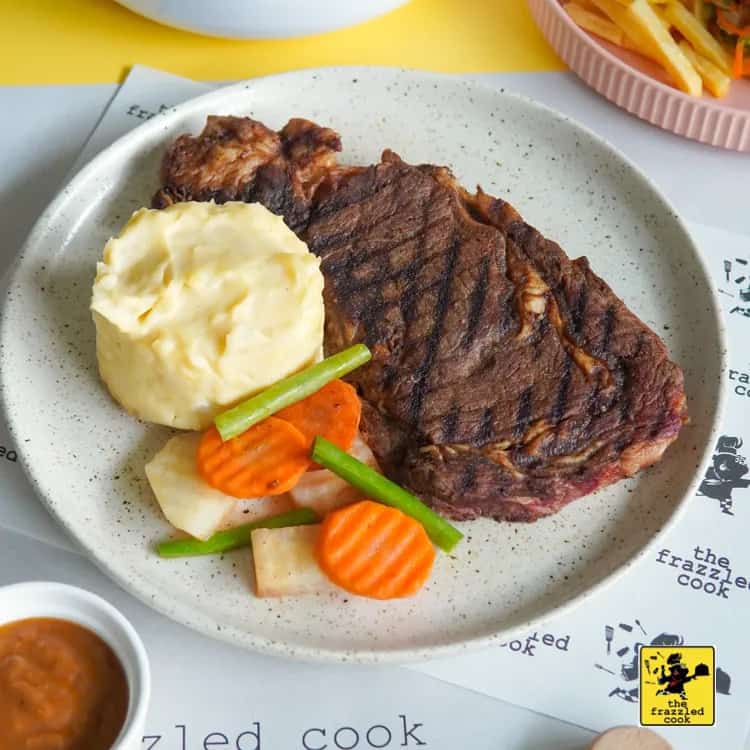 Beef Kebab – It is a delightful beef offering that features marinated beef chunks skewered with vegetables and grilled to perfection. The combination of these ingredients results in a perfect balance of flavors and textures that make it a tasty and wholesome choice.
Chicken
The Chicken menu of The Frazzled Cook offers a delightful array of chicken choices. Every dish is crafted using fresh and high-quality chicken ingredients, and the cooking process is finely tuned to achieve absolute perfection. Indulge in the tasty Grilled Chicken Rosemary, the zestful Spicy Chicken Kebab, the delightful Crusted Chicken Tortilla, the classic Chicken Marsala, and the exquisite Chicken Cordon Bleu. Each of these menus promises a unique burst of flavors, ensuring that their customer will surely love.
Pasta
Pasta lovers at The Frazzled Cook are in for a treat with an expansive selection of pasta creations that exude comfort and delectable tastes. Each pasta dish has been thoughtfully crafted to achieve an indulgent, velvety texture, ensuring every mouthful bursts with a symphony of delightful flavors. Dive into the rich essence of Truffle Pasta, embrace the zingy punch of Spicy Shrimp Pasta, and savor the ocean's bounty in the Seafood Pasta. Tomato Cream Pasta offers a luscious twist, while Pesto Pasta brings forth an aromatic herbaceous delight. The Vegetable Pasta provides a wholesome medley, while Chorizo Pasta adds a hint of smoky goodness. For a truly wonderful experience, relish the harmonious fusion of Pasta Cream Bacon, and Sage, and conclude your exploration with the gratifying satisfaction of Baked Pasta.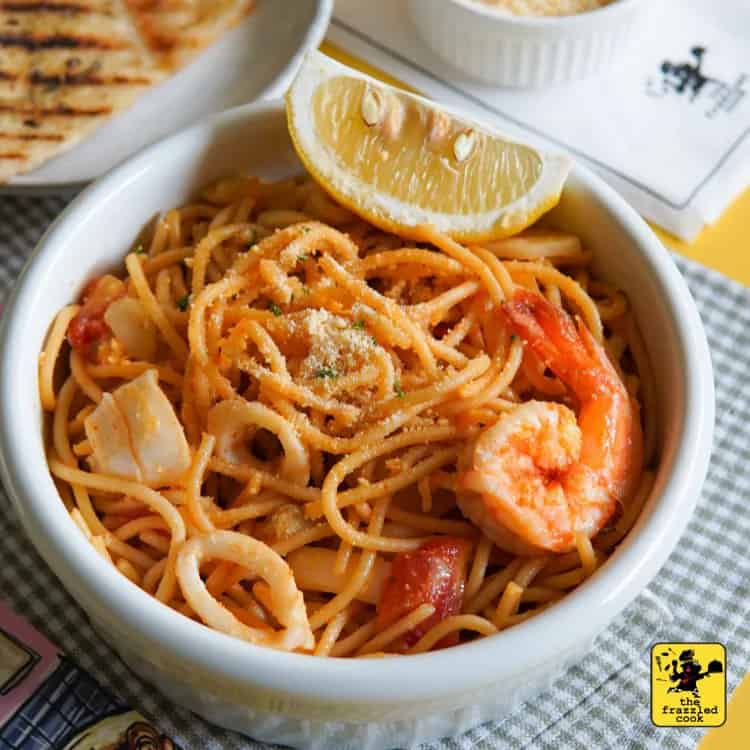 The Frazzled Cook Menu Delivery
The Frazzled Cook menu delivery provides customers with a convenient way of ordering their favorite dishes at the said restaurant without the need to go out of their own homes. They can order through delivery services like FoodPanda and have their food items delivered straight to their homes.
Social Media Pages
Be the first to know about their seasonal delights, culinary inspirations, and behind-the-scenes insights. Their social media pages are your gateway to exploring the diverse flavors and stories that make dining at The Frazzled Cook truly memorable.
Facebook: https://www.facebook.com/thefrazzledcook
Instagram: https://www.instagram.com/thefrazzledcook
Twitter: https://twitter.com/TheFrazzledCook
Website: https://www.thefrazzledcook.net/contact
FAQs
Where is The Frazzled Cook located?
You can visit The Frazzled Cook at 78 Sct. Gandia St, Diliman, Quezon City, 1103 Metro Manila.
What type of cuisine does The Frazzled Cook serve?
The Frazzled Cook serves a diverse a of cuisines from around the world that showcases a combination of international flavors.
Does The Frazzled Cook take reservations?
The Frazzled Cook operates on a walk-in basis but also does accept reservations.
Is The Frazzled Cook suitable for large groups or events?
Absolutely! The Frazzled Cook is the best place for visitors in large groups.
Does The Frazzled Cook have any signature dishes?
Tenderloin Steak, Pork BBQ Ribs, Spicy Chicken Kebab, Peppered Salmon Steak, and Spicy Lamb Stew are considered to be The Frazzled Cook's signature dishes.
Conclusion
The Frazzled Cook is a go-to restaurant in the Philippines when it comes to offering a delightful and diverse menu filled with creative and flavorful dishes. Their fusion of international flavors and dedication to using fresh ingredients ensures that every visit is a memorable experience. In addition, the inviting ambiance of their establishment adds to the overall experience, making it a perfect spot for enjoying a memorable meal with friends and loved ones. So if you're looking for a unique dining experience that will leave you craving for more, The Frazzled Cook is the best place to visit.