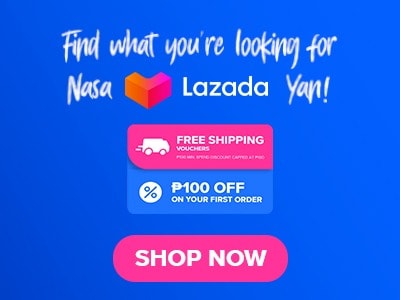 The Sushi Ninja menu consists of various Japanese cuisines. It offers Zensai (appetizers), Poke, Tacos, Sashimi & Naagiri, Special Platters, Modern Sushi, Traditional Sushi, Tushi Sushi, Yakitori, Donburi, Specials, and Beverages. The cuisines of this restaurant are innovative while keeping its authentic flavors. Chef Matthew Floro Tanjuakio applied the knowledge and skills that he gained in studying sushi dishes at Tokyo Sushi Academy and California Sushi Academy to create these innovative and delightful dishes.
Below, you'll find the updated list of Sushi Ninja menu prices.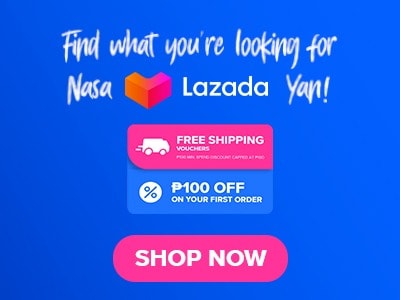 Menu Items
Price (PHP)

Zensai (Appetizer)

Wakame Salad
235
Kani Salad
285
Sunomono
215
Spicy Tuna Salad
410
Spicy Salmon Salad
395
Stuffed Shitake
365
Agedashi Tofu
220
Yasal Itame
210
Edamame
220
Miso Soup
90

Poke

Maguro Poke
400
Sake Poke
385
Mixed Poke
395
Maguro Miso Poke
450
Maguro Roasted Garlic Poke
435

Additional Poke Toppings

Benishoga
30
Chuka Wakame
40
Japanese Mayo
20
Furikake
20
Gari
30
Hoisin
20
Ebiko
20
Kani Salad
30
Mango
20
Nori
10
Pickled kyuri
20
Red Cabbage
30
Red Onion
20
Spicy Mayo
20
Tako
35
Tempura Flakes
20
Togarashi
25
Wakame
20
Yuzu
50
Bonito Flakes
10

Tacos

Ishikawa
310
Hattori
300
Momochi
280
Mochizuki
270
Jinichi
300
Hikaru
350
Tomoe
310
Oyaki
280
Miho
280

Sashimi

Maguro (Tuna)
395
Sake (Salmon)
385
Uni (Sea Urchin)
330
Saba (Mackarel)
460
Kani (Crab)
260
Tamago (Japanese Omelet)
240
Ebi (Prawn)
385
Tako (Octopus)
320
Japanese Ikura (Roe)
620
Hamachi (Yellow Tail)
800

Nigiri

Maguro (Tuna)
290
Sake (Salmon)
255
Uni (Sea Urchin)
230
Saba (Mackarel)
260
Kani (Crab)
200
Tamago (Japanese Omelet)
185
Ebi (Prawn)
265
Tako (Octopus)
220
Wagyu (Beef)
350
Unagi (Roe)
380
Japanese Ikura (Roe)
360
Hamachi (Yellow Tail)
310

Special Platters

Nigiri Platter Special
1200
Sashimi Platter Special
1350

Kindaiteki Sushi (Modern Sushi)

California Maki (Good for Sharing)
340
Tsukiji Maki (Good for Sharing)
400
Ikebukuro Maki (Good for Sharing)
500
Nagasaki Maki (Good for Sharing)
590
Harajuku Maki (Good for Sharing)
580
Koenji Maki (Good for Sharing)
450
Hiroshima Maki (Good for Sharing)
540
Sakura Maki (Good for Sharing)
480
Osaka Maki (Good for Sharing)
510
Shibuya Maki (Good for Sharing)
510
Fuji Maki (Good for Sharing)
510
Shinjuku Maki (Good for Sharing)
600
Covarrubias Maki
470
Otaru Maki (Good for Sharing)
630
Mulanay Maki (Good for Sharing)
660
Pucela Maki
520
Arashiyama Maki (Good for Sharing)
585

Maki

Teka Maki (Tuna)
310
Sake Maki (Salmon)
305
Kappa Maki (Cucumber)
250
Futo Maki (Mixed Vegetables, Tamago, Kani & Oboro)
510
Hamanegi (Hamachi and Negi)
350

Temaki

Spicy Tuna Temaki
220
Spicy Salmon Temaki
290
California Temaki
230
Ebiko Temaki
230
Unagi Temaki
330
Jap. Ikura Temaki
370
Kani Temaki
210
Sake Temaki
280
Tuna Temaki
310

Toshi Sushi (Good for Sharing)

Keiyo Toshi
470
Ginza Toshi
445
Asakusa Toshi
650
Marunochi Toshi
420
Oedo Toshi
660
Kyoto Toshi
420
Odakyu Toshi
455
Ebisu Toshi
460
Hibiya Toshi
430
Okinawa Toshi
455

Yakitori

Butanika (Pork)
220
Gyuniku (Beef)
350
Tebasaki (Chicken Wings)
210
Negima (Chicken Meat & Leeks)
230
Bonjiri (Chicken Tails)
215
Kawa (Chicken Skin)
210
Leba (Chicken Liver)
200
Salmon Belly
230

Ebi Tempura

Ebi Tempura (3 pcs.)
380
Ebi Tempura (5 pcs.)
600
Ebi Tempura (5 pcs.)
940

Donburi

Oyakodon (Chicken)
380
Gyuniku Sute-ki don (Steak)
480
Karai Maguro don (Spicy Tuna)
560
Karai Sake don (Spicy Salmon)
540
Tendon (Ebi Tempura)
540
Tori Teriyaki don (Chicken Wings)
440
Beef Gyudon
440
Chirashidon
690
Unagidon
730
Maguro Pokedon (Hawaiian tuna salad)
530
Sake Pokedon (Hawaiian salmon salad)
525
Mixed Pokedon
550
Gohan (Japanese plain rice)
115
Sushi Rice
125

Specials

Salmon Shioyaki
380
Salmon Teriyaki
430
Tuna Teriyaki
485
Fried Chicken Curry & Rice
450
Beef Curry Rice
750
Grilled Miso Salmon
440
Japanese Ginadara Teriyaki
990
Grilled Miso Japanese Gindara
1165
Grilled Hamachi Head
620
Salkoro Steak & Rice
880
Wagyu Ribeye Teriyaki (Good for Sharing)
1270
Mentalico Udon
590
Sukiyaki (Good for Sharing)
700
Chahan
220
Wagyu Chahan
230
Leon's Sushi Burger (Good for Sharing)
800

Dessert

Green Tea Ice Cream
180
Vanilla Ice Cream
160
Strawberry Ice Cream
160
Chocolate Ice Cream
160
Fresh Ripe Mango
150

Drinks

Bottomless Iced Tea
150
Iced Tea
110
Coca-Cola
90
Coca-Cola Zero
90
Coca-Cola Light
90
Sprite
90
Sprite Zero
90
Royal Tru-Orange
90
Bottled Water (purified)
70
Wellness Purified Water
60
Calamansi Juice (hot or cold)
130
Iced Tea Shake
180
Ripe Mango Shake
170
Green Mango Shake
170
Grape Shake
170
Lemonade
95
Pink Lemonade
95

Sake

Ginjo Sake (300ml)
600
Josen Sake (300ml)
600
Nigori Sake (300ml)
600
Sparkling Sake (250ml)
600
Kirei Peach (300 ml)
600
Hakkaisan Dai Ginjo
4650
Hakkaisan Ginjo
4400
Hakkaisan Honjozo
2075
Hakkaisan Sparkling
2325
Hakkaisan Tokubetsu
2000
Gekkeikan Traditional Sake (1.8L)
2000

Local Beer

San Miguel Light
120
San Miguel Pale Pilsen
120
San Miguel Super Dry
150
San Miguel Premium
160

Imported Beer

Sapporo (330 ml)
190
Sapporo Draft
210
Asahi
190
Kirin
190
About Sushi Ninja
Sushi Ninja initially operated as a stall in weekend markets like Soderno and Mercato. The concept of this restaurant is designed by Chef Matthew Floro Tanjuakio. It opens its doors in a catering business until it becomes a completely developed restaurant. Today, it has gained popularity for serving authentic and delectable Japanese food and beverage.
Sushi Ninja Menu Best Seller
These are the delectable and remarkable dishes of Sushi Ninja that will satisfy your cravings.
Ebi Tempura – It is the most popular and favorite dish of its customers. The flavorful tempura sauce and crunchy batter coated on succulent prawns make this dish a crowd-pleaser.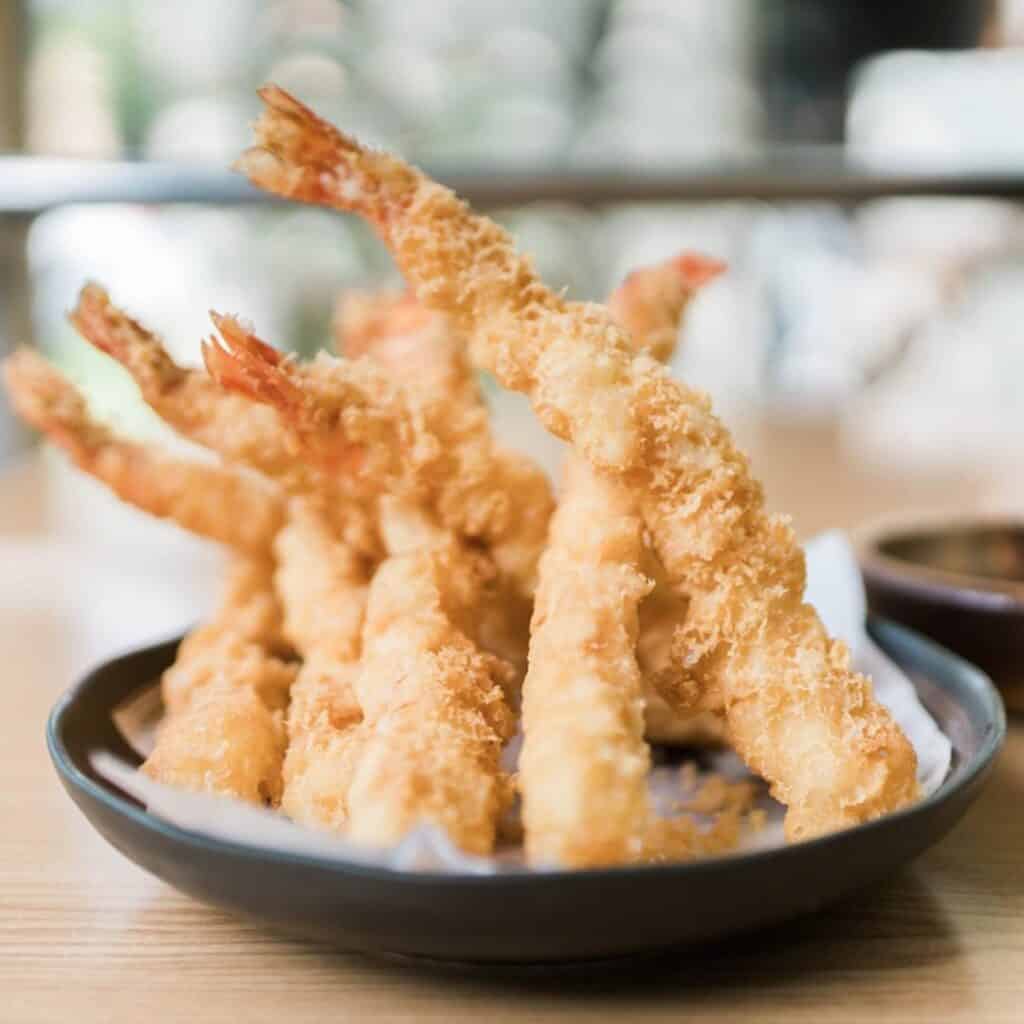 Spicy Tuna Salad – The spices of this spicy tuna salad dish complement well with the texture and flavor of tuna. The perfect mixture of spiced tuna, shredded nori, ebiko, and special sauce makes this a best-selling dish. It is also good for sharing so you can enjoy this with your loved ones.
Covarrubias Maki – This dish is inspired by Spanish cuisine. Chorizo is the main ingredient of this dish that is prepared with negi, tempura flakes, and tamago.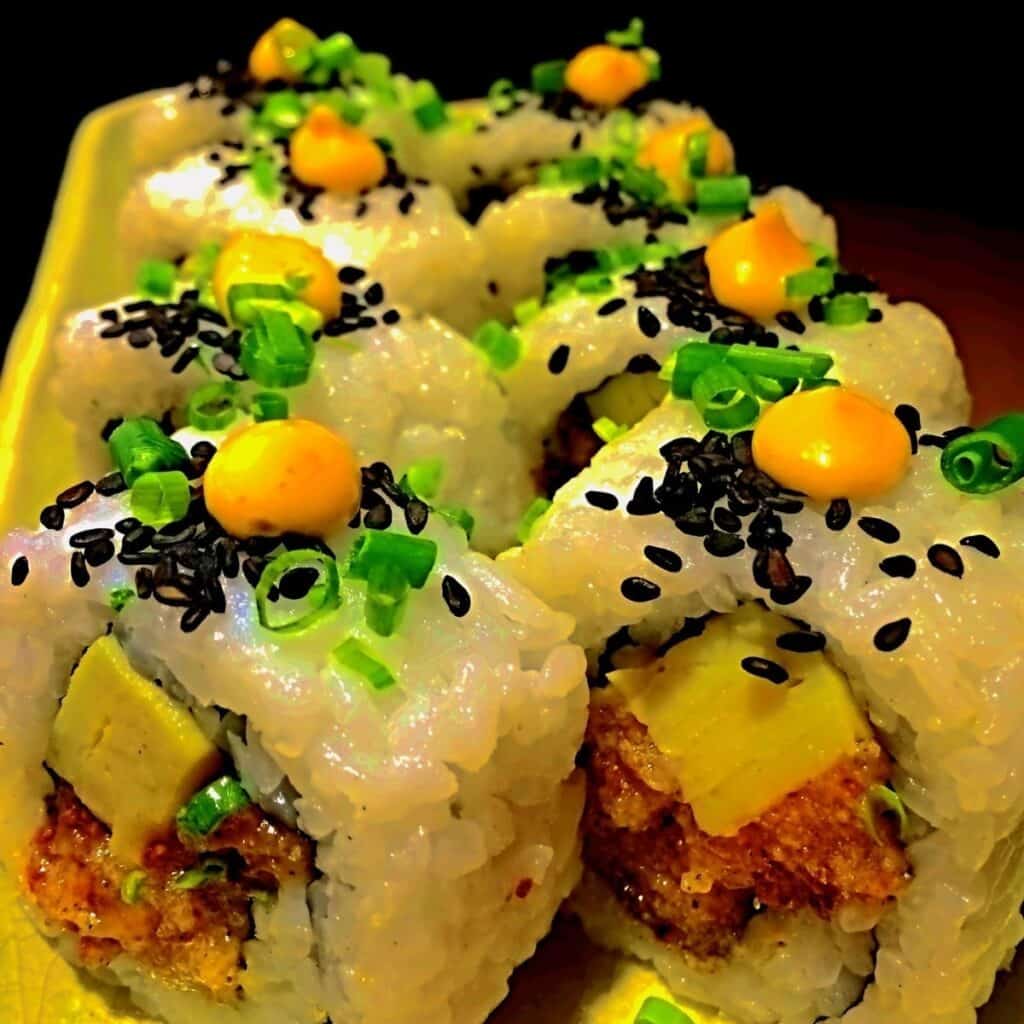 Momochi Tacos – A delightful taco made up of savory salmon and a special blend of spices. Thinly sliced leeks are topped on this taco dish and stuffed in a crunchy fish skin taco.
Shinjuku Maki – It is a flavorful modern sushi made with deep-fried tuna, unagi, tamago, and a special sauce topped with ebiko, kani, Japanese sauce, and sesame seeds.
Zensai
Zensai is a Japanese term for an appetizer. The appetizing menu that Sushi Ninja offers are salads, shitake, tofu, vegetable, and soup.
Wakame Salad – On the Sushi Ninja menu, you'll find a delicious salad comprising of seaweed, tender bits of tako, and a delectable topping of ebiko. This Japanese-inspired dish offers a delightful blend of textures and flavors that will leave your taste buds craving for more.
Kani Salad – Savor the taste of summer with our exquisite Mango and Kani Cucumber salad, elevated with a generous topping of ebiko and shredded nori. The juicy sweetness of fresh mangoes and the refreshing crunch of cucumbers complement the succulent kani (crabstick) perfectly, creating a symphony of flavors in every bite. To top it off, the ebiko adds a delightful pop of color and texture, making this dish a feast for both the eyes and the palate.
Spicy Salmon Salad – Chunks of succulent tuna are mixed with crispy tempura flakes, sprinkled with freshly shredded nori, and drizzled with spicy mayo for an explosive burst of flavors and textures.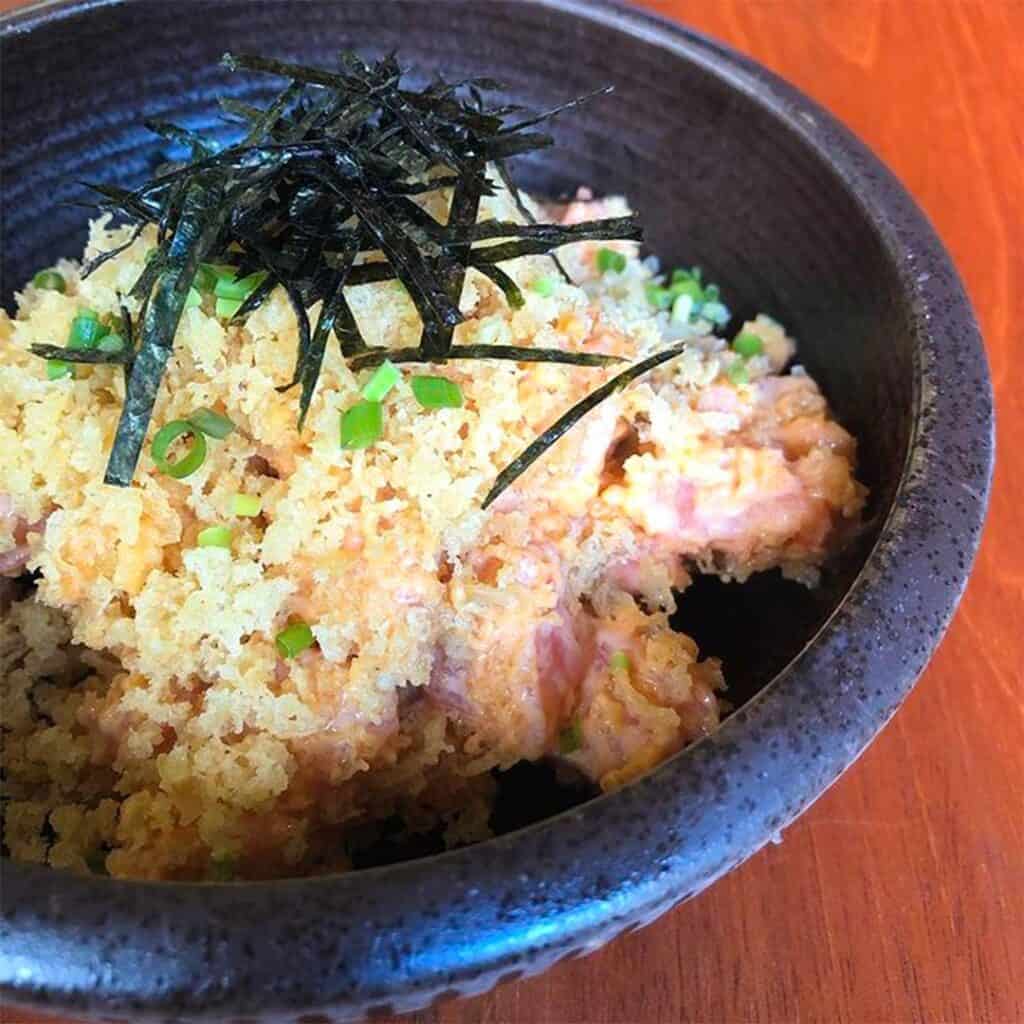 Stuffed Shitake – A delectable appetizer made up of shitake mushrooms stuffed with spicy tuna, battered lightly, deep-fried, and glazed in special sauce and roasted sesame seeds.
Agedashi Tofu – Savor a mouth-watering blend of textures and flavors with this delicious menu. It features tofu that is lightly breaded and deep-fried to perfection, resulting in a crunchy exterior and a soft, silky interior. The tofu is served with a flavorful tempura sauce, which adds a rich umami taste that complements the delicate flavor of the tofu. To complete the dish, grated radish, and onion leeks are sprinkled on top, adding a refreshing and zesty note to the dish.
Poke
Poke is a Hawaiian dish inspired by Japanese cuisine. Sushi Ninja offers various seafood chunks that are served with special sauces and toppings.
Maguro Poke – This exquisite dish features succulent chunks of fresh tuna bathed in a delectable poke sauce that perfectly complements its natural flavor. The tuna is then artfully adorned with vibrant colors and crunch of thinly sliced onion leeks and a sprinkle of fragrant sesame seeds.
Sake Poke – The salmon pieces are garnished with a delectable combination of onion leeks and sesame seeds, generously coated in the restaurant's signature poke sauce.
Mixed Poke – This dish is a seafood lover's dream, combining two of the ocean's most flavorful fish – tuna and salmon – in one tantalizing dish. It is a mixed Maguro poke and Sake poke dish.
Maguro Miso Poke – This dish features chunky pieces of tuna coated in a unique miso glaze and generously garnished with shredded nori and white sesame seeds. The flavors and textures meld together to create a harmonious balance of savory and nutty, with a satisfying contrast between the soft tuna and the crispy toppings.
Maguro Roasted Garlic Poke – This Sushi Ninja menu is a tantalizing blend of savory and fragrant flavors. Juicy chunks of tuna are bathed in a delectable garlic sauce, then finished off with a generous sprinkling of chopped negi and crunchy white sesame seeds.
Yakitori
Yakitori consists of flavorful dishes grilled to perfection. Grilled chicken parts are the most popular Yakitori dishes. Sushi Ninja adds pork, beef, and salmon yakitori dishes to serve their customers new and exciting dishes.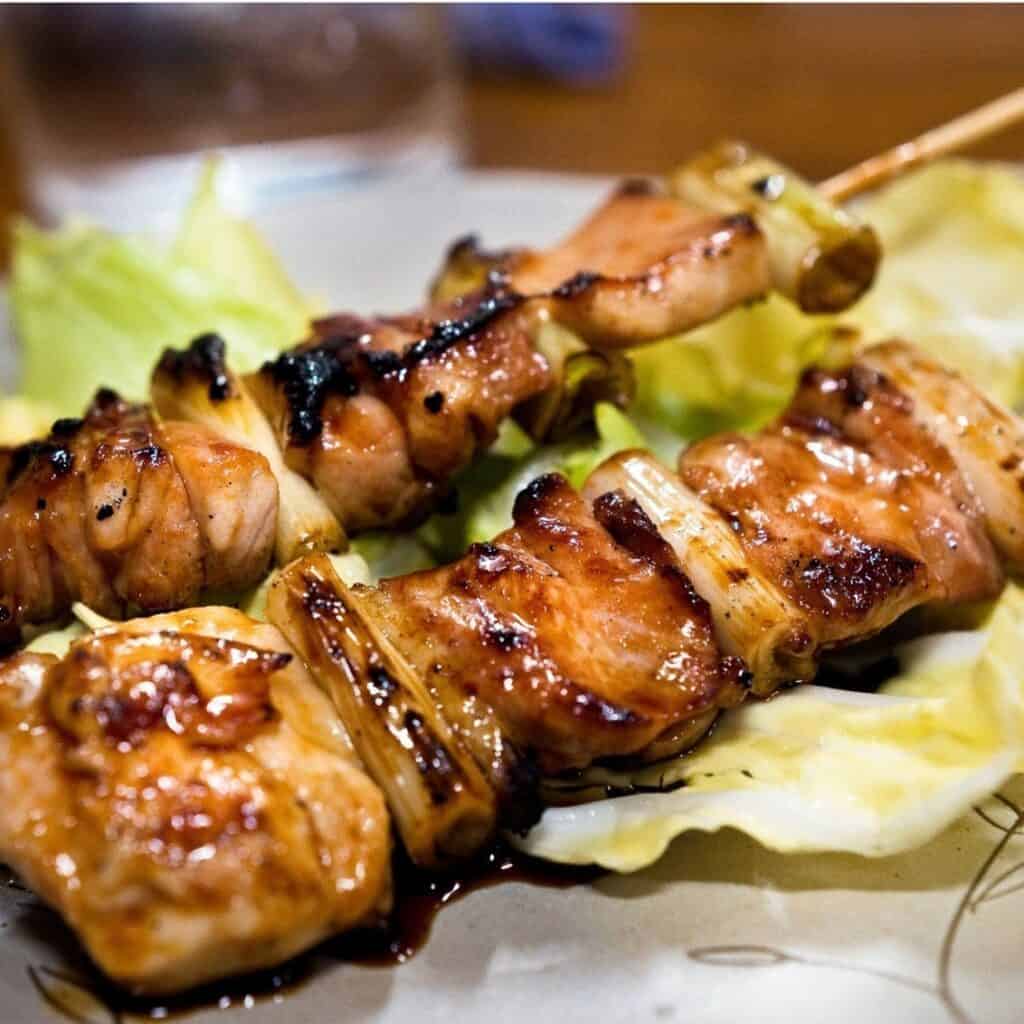 The chicken yakitori that it offers are Tebasaki (Chicken Wings), Negima (Chicken meat & Leeks), Bonjiri (Chicken Tails), Kawa (Chicken Skin), Leba (Chicken Liver), and Chicken Heart. It also offers Butaniku (Pork), Gyuniku (Beef), and Salmon Belly.
Donburi
Donburi is a Japanese rice bowl dish filled with toppings like meat, seafood, vegetables, and sauces. The donburi menu of Sushi Ninja will make your Japanese dining experience more satisfying and delightful.
Oyakodon – It is a traditional Japanese comfort food where chicken and egg are simmered in soup and a special sauce blend of this restaurant.
Beef Gyudon – A mouthwatering dish made up of marinated tender beef that is cooked to perfection with pickled vegetables. It is laid on a bed of guhon rice and topped with egg and sesame seeds.
Karai Maguro Don – It is a rice bowl dish where rice is topped with spicy tuna. This is an ideal dish for those who want to spice up their meal with exciting flavors.
Tendon – This is a rice bowl made of lightly breaded and deep-fried ebi tempura laid on a bed of rice.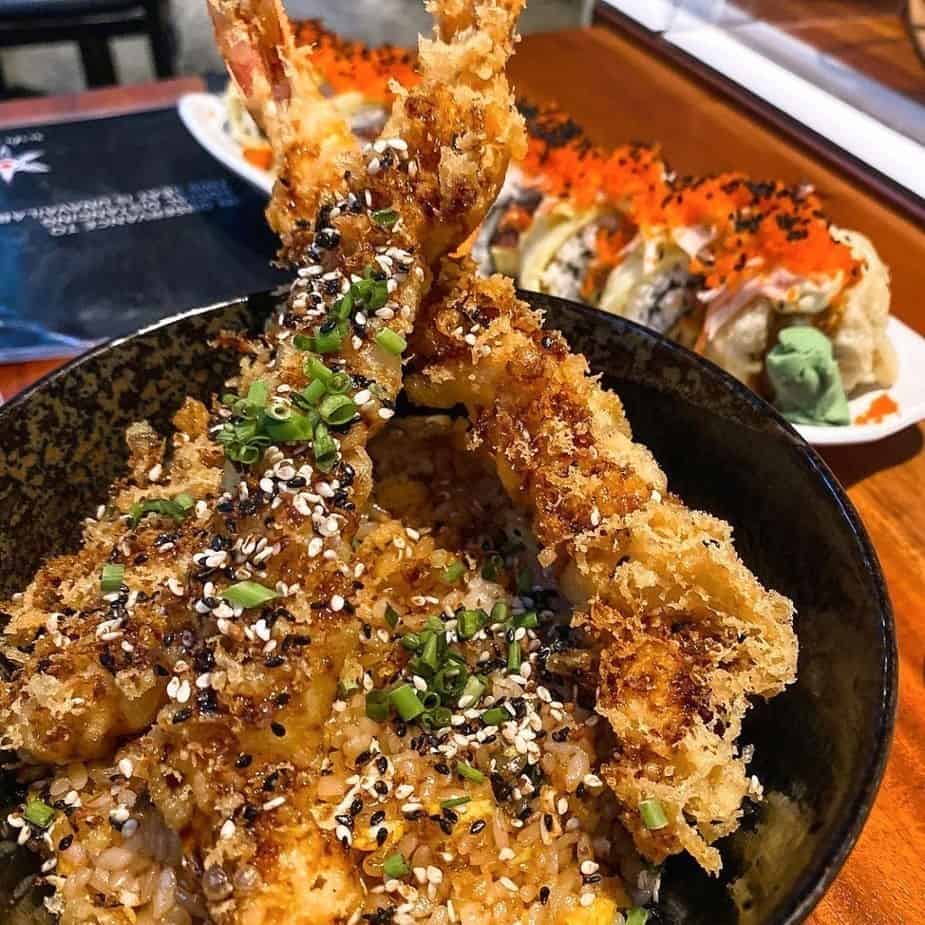 Tori Teriyaki Don – Slices of chicken are cooked with authentic Teriyaki sauce until it becomes tender and juicy.
Tacos
The tacos that Sushi Ninja offers are stuffed with seafood and various toppings. The tacos that include a rice option are Ishikawa, minced salmon belly with fried chorizo topped with capers and alfalfa sprouts; Hattori, a kani salad with fried chorizo topped with negi and garlic mayo; Jinichi, spicy tuna with arugula toppings; Mochizuki, minced tuna with poke sauce and white onion leeks toppings, and Momochi, spicy salmon topped with onion leeks.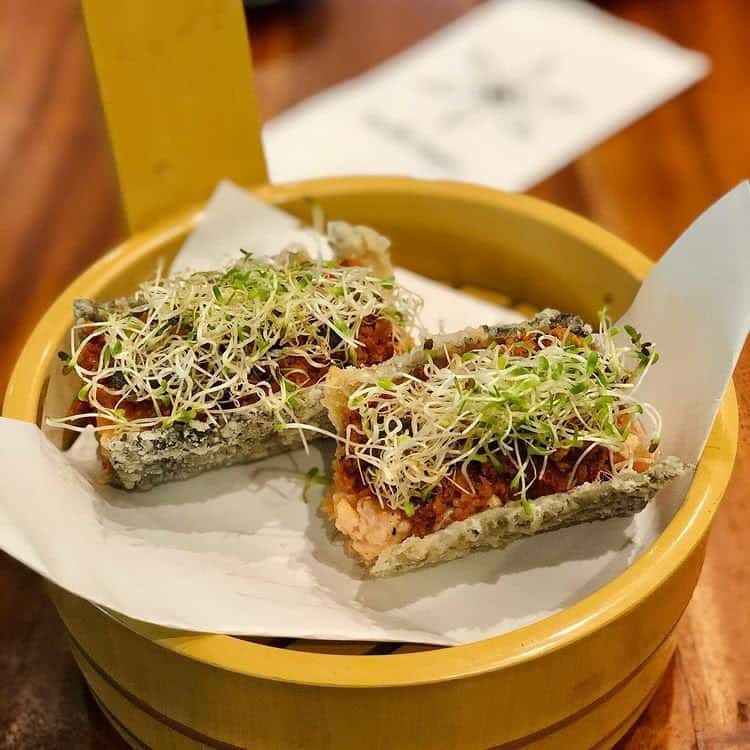 The other taco menu of Sushi Ninja that don't have a rice option are Hikaru, made with ebiko, spicy tuna, kani, negi, and unagi; Oyaki, salmon with bonito flakes, alfalfa sprouts, and Japanese mayo; Tomoe, shredded tomago, unagi, and toasted sesame seeds; and Miho, tempura flakes, cream cheese, Japanese mayo, and onion leeks. These satisfying dishes are filled with fresh and delectable ingredients. It can also be eaten as a quick snack at any time of the day.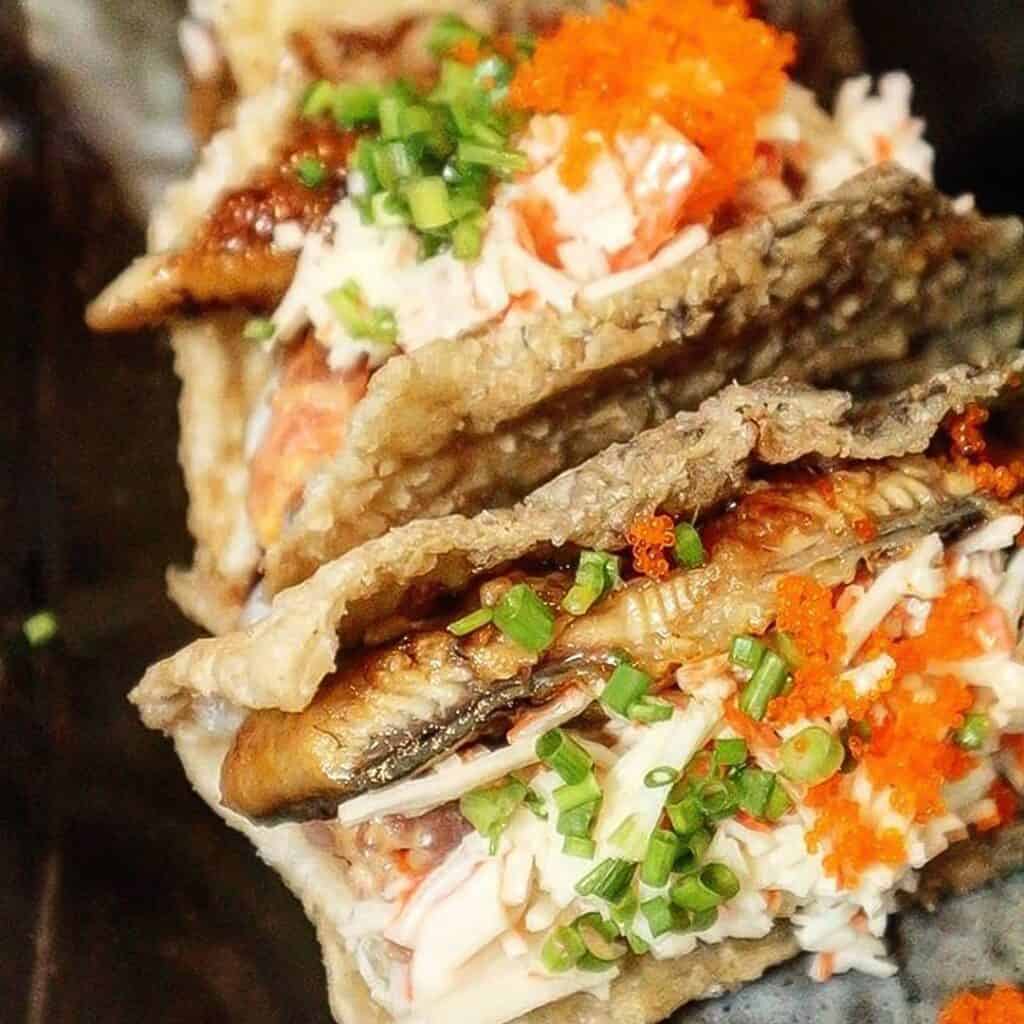 Sashimi and Nigiri
Sashimi is raw seafood sliced thinly while Nigiri is sushi made with thin slices of seafood and contains rice molded by hand.
The Sashimi and Nigiri that it offers are Maguro (Tuna), Uni (Sea Urchin), Kani (Crab), Ebi (Prawn), Tako (Octopus), Tamago (Japanese Omelet), Saba (Mackarel), Sake (Salmon), Japanese Ikura (Roe), and Hamachi (Yellow Tail). The other Nigiri cuisines that it provides and has limited supply are Wagyu (Beef), and Unagi (Eel).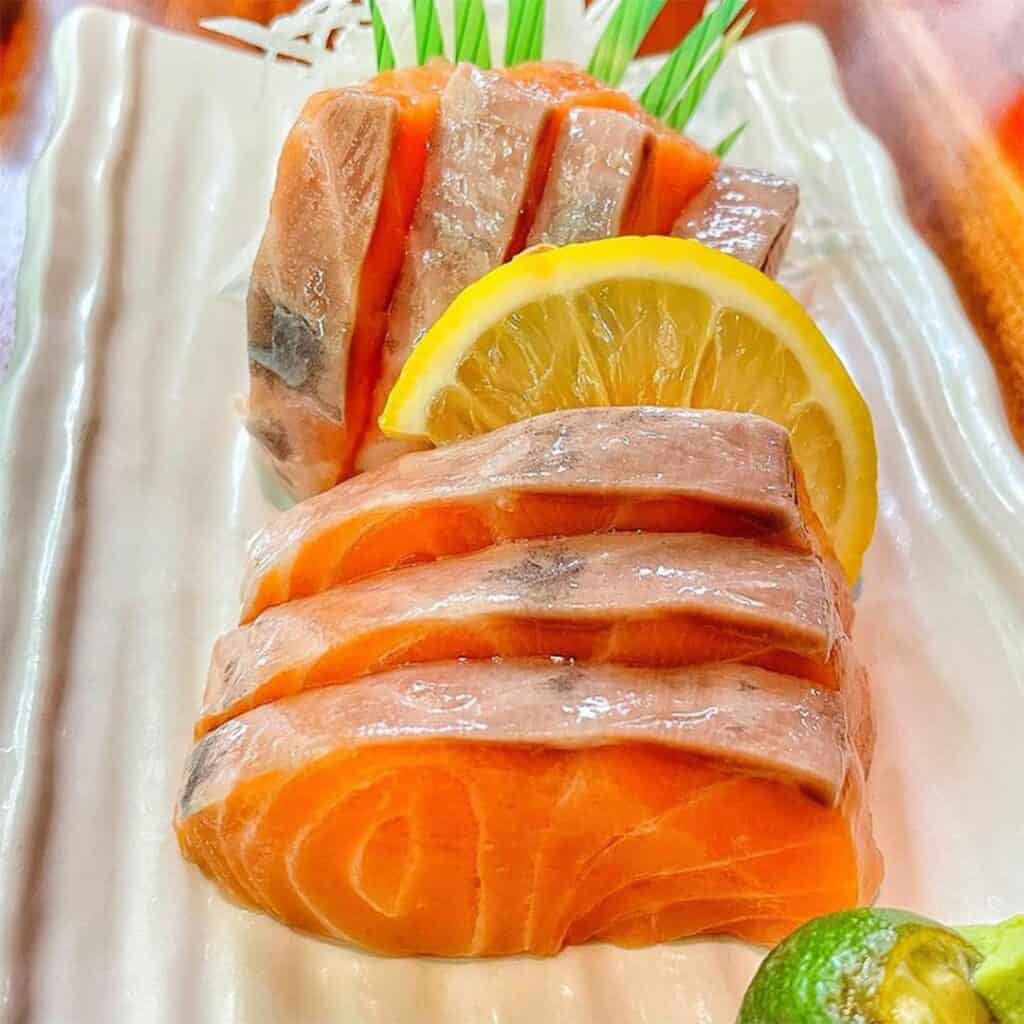 Sushi Ninja Special Menu
Sushi Ninja offers special dishes that are expertly cooked. It consists of Salon Shioyaki, Salmon Teriyaki, Tuna Teriyaki, Fried Chicken Curry & Rice, and Beef Curry Rice.
The meals that it offers with limited supply are Grilled Salmon Head, Japanese Gindara Teriyaki, black cod with teriyaki sauce; Grilled Miso Japanese Gindara, black cod in marinated miso; and Saikoro Steak & Rice, made with grilled steak cubes, beansprout, pontu sauce and topped with negi, radish, and garlic chips.
The good for sharing meals that it offers are Wagyu Ribeye Teriyaki, steak with mixed vegetables & two kinds of teriyaki sauce; Sukiyaki, a hot pot filled with ribeye meat, mixed vegetables, noodles, and tofu; and Leon's Sushi Burger, a meal that consists of Kani salad, spicy tuna, jamon, chuka wakame, black ebiko, and garlic mayo.
Sushi Ninja Menu Delivery
Sushi Ninja only accepts takeout and dine-in orders. You can call their mobile number at 0917 837 8744 and their hotline number at 85567706 (using a landline), and 0285567706 (using mobile) for your orders.
Social Media Pages
Craving for Japanese sushi? Sushi Ninja's got you covered. Follow their social media pages to get notifications about the latest updates in their restaurant. You might get a chance to grab a discount or promos if you keep scrolling in their pages. The links of their pages are provided below, so click the links now and follow them to support them.
Facebook: https://www.facebook.com/sushininjaph
Instagram: https://www.instagram.com/sushininjaph/
Conclusion
The wide range of Japanese cuisine on the Sushi Ninja menu makes it a perfect place for everyone who wants to try various authentic and innovative sushi dishes. It can alleviate your Japanese dining experience with food cooked to perfection. Aside from the delectable food and beverages, its relaxing ambiance and the amazing service of its staff will make you come back for more.