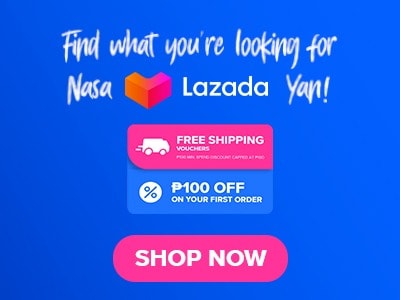 Feeling extra adventurous today? Well, let us take that vibe to the next level with this restaurant that I will recommend today. They are famous for their exquisite Thai cuisine with a chic atmosphere that creates an unforgettable dining experience. A pure indulgence with their signature dishes awaits you along with cocktails that add a refreshing twist to tour dining. Meet Greyhound Cafe now that I have introduced this restaurant let us take a closer look at its menu and price collection.
Menu Items
Price (PHP)

Cold Beverages

Mineral Water
70
San Pellegrino Sparkling Water
290
Soda Water
210
Tonic Water
210
Ginger Ale
210
Soft Drinks
95
Iced Lemon Tea (Greyhound Style)
240
Iced Tea (Greyhound Style)
190
Iced Tea with Milk
200
Iced Cocoa
200
Frosty Choco
250

Hot Beverages

Hot Milk
100
Hot Cocoa
140
Hot Lemonade
230

Coffee

Espresso / Decaf
130
Double Espresso / Decaf
160
Macchiato / Decaf
170
Americano / Decaf
120
Cappuccino / Decaf
140
Café Latte / Decaf
150
Mocha
170

Tea

Earl Grey Tea
120
English Breakfast
120
Green Tea & Lemon
120
Pure Camomile
120
Pure Peppermint
120
Peach & Passionfruit
120

Fruit Juice

Apple Juice / Shake
170
Watermelon Juice / Shake
180
Coconut Shake
250
Lychee Shake
150
Banana Shake
170
Pineapple Shake
150
Mixed Fruit Punch / Shake
180
Lemon Juice / Shake / Soda
250

Float

Espresso Float
260
Bubble Sour
310
Cherry Soda Float
220
Citrus Soda Float
170
Chinese Plum & Sprite Float
390
Yok Lor Granita
150
Thai Tea Granita
190
Nom Yen Granita
180
Coconut Juice
250
Thai Iced Tea with Milk / Bubble
250 / 310
Thai Iced Coffee / Bubble
250 / 310

Healthy Cocoktail

Pink Cooler
300
Fruity Shaky Yoghurt
300
Passion Fashion
300
Pink Journey
300
Green Mellow
300
Oriental Kiss
300

Soup

Tiger Prawn Galangal with Coconut Soup
570
Black Mushroom Cream Soup
380
Light Tom Yum Soup
580
Seafood Poh-Tak Soup
530

Salad

Salad de Foie Gras
950
Baby Spinach Salad with Bacon
285
Seared Scallop Salad
620
Avocado Salad with Rocket Leaves
390
GHC Signature Caesar Salad
280
Sandwich in a Bowl
280
Fresh Lasagna Salad
325
Pomelo Salad
320
Zesty Thai Beef Salad with Herbs
1,200

Our All Time Favourite

French Fries
190
Salmon Sashimi in Spicy Hot Sauce
380
Thai Steak with Jaew Sauce
1,400
Greyhound Famous Fried Chicken Wings
390
Fried Salmon Toro with Special Dips
420
Beef Massamun Curry
680
Complicated Noodles
380
GHC Seafood Spring Rolls
550
Crispy Sweet Corn with Crab Meat
290

Thai & Asian Favourite

Thai Pop
390
Larb Salmon Thai North Eastern Style
540
Italian Bruschetta
280
Chicken Satay
490
Italian Style Clam and Mussel Soup
550
Weeping Hunters
790
Pita Pizza with Italian Sausage
620
Pita Pizza with Seafood Stuffing
480
Spicy Muay Thai Burger
490
Buffalo Burger
750
Grilled Ham and Cheese
320

Eat Dish

Red Snapper Miang
1,580
Crispy Pork Knuckle with Chilli Paste
1,400
U.S. Rib-eye on Fire
1,980
The Famous Muay Thai Grilled Chicken
690
Tom Yum Super Bowl
1,400
Super Beef Lover Hot Pot
1,050
Spicy Seafood Poh-Tak Hot Pot
990
Street Style Duck Noodle Soup
950
GHC Fiery Bowl
590
Thai Braised Beef Noodle Soup with Beef Balls
880
Miss Saigon
480
Spicy Udon with Crispy Pork Leg
880
Phad Thai with Fresh Shrimp
450

Pasta

Spaghetti Cha Cha Cha
645
Tom Yum Fusilli with Tiger Prawn
680
Penne with Light Pesto Sauce
480
Spaghetti Carbonara in Signature Light Cream Sauce
480
Spaghetti with Crab Meat in Prawn Cream Sauce
380
Spaghetti Olio with Bacon
290
Angry Pasta
390
Spaghetti Corned Beef
250
Penne Al Pomodoro with Ham & Cheese
490
Spaghetti with Crispy Dried Salted Fish
280

Rice

Minced Chicken or Pork with Sweet Basil Leaves and Hot Chillies
300
Pounded Shrimp Fried Rice
490
Spicy Fried Salmon Cubes with Holy Basil Leaves on Rice
650
Fried Tons of Crab Meat with Rice
590
Fried Rice with Dried Beef
380
Fried Rice with Dried Salted Fish
320
Fisherman Seafood Salt n' Spice Rice
590
Rib Eye Steak with Green Curry Sauce and Rice
1,900
Spaghetti Corned Beef
Fresh Lasagna Salad
330
Baby Spinach Salad
250
Crispy Pumpkin and Tofu Salad
350

Vegetarian Lovers

Crispy Sweet Corn
380
Clear Tom Yum Soup
290
Vegetarian Tom Yum Noodles
290
Vegetarian Tom Yum Noodles Served with Flat Rice Noodles
590
Vegetarian Mixed Mushroom Spaghetti
420
Fettuccini with Grilled Vegetables in Pesto Sauce
390
Spicy Spaghetti Vegetarian
390
Vegetarian Phad Thai
350

Dessert

Happy Toast
250
Sea Salt Caramel Chocolate Cake with Vanilla Cream
410
Passion Cake
390
Tiramisu Cake
360
Young Coconut Crepe Cake
250

Thai Dessert

Tub Tim Krob Greyhound-Style
280
Butterfly Pea Sakoo with Coconut Sherbet
190
Palm Sugar Banana
190

Ice Cream

Coconut Sherbet
120/210
Vanilla
120/210
Strawberry Sherbet
120/210
Chocolate
120/210
Lemon Sherbet
120/210

More dessert

Banoffee
275
Thai Tea Crepe Cake
440
Creme Brulee
340

Parfait

Chocolate Lover Parfait
250
Chum Cham Parfait
250
Sticky Rice + Mango Parfait
250
About Greyhound Cafe
Greyhound Cafe is known for its traditional Thai cuisine that adds a different but very enticing way of dining. Their menu takes a flavorful fusion of authentic Thai flavors that capture your adventurous heart. Their famous caramelized grilled pork belly that is flavored with icy tamarind sauce is one of the main reasons why this restaurant is beloved among Filipinos. From the well-balanced formula of every meal on their menu, there is no doubt that even people who are taking their first step at this restaurant will surely bring a very lasting memory.
Greyhound Cafe Best Selling Menu
Excited enough? Here is the list of their best-selling dishes from Greyhound Cafe that highlight various textures and aromatic dishes that you will surely love.
Complicated Noodle – This signature dish offers you a delightful fusion of noodle sheets along with fresh lettuce leaves. The minced pork sauce with chili sauce on the side is what elevated the entire dish to a different level.
Salmon Sashimi in Spicy Hot Sauce– A trip to oceanic flavors that features a slice of fresh salmon with special greyhound spicy lime sauce. This dish has been a top-selling item on their menu since day one.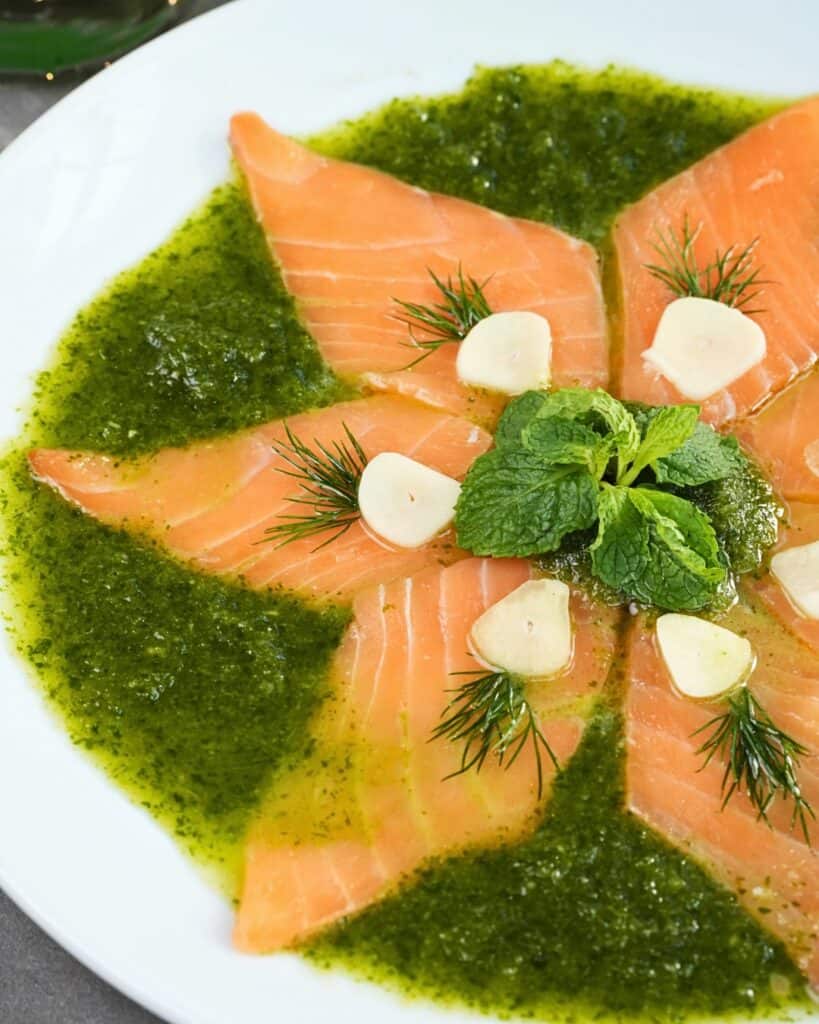 Thai Steak with Jaew Sauce – Indulge in this masterpiece that highlights Thai sauce that is perfectly grilled and marinated rib-eye steak. It is vibrant and a delight for every meat lover out there.
Greyhound Famous Fried Chicken Wings – This famous fried chicken menu from Greyhound Cafe is a perfect dish to share with your friends. It has crispy single-bone wings that are perfectly marinated in authentic Thai fish sauce.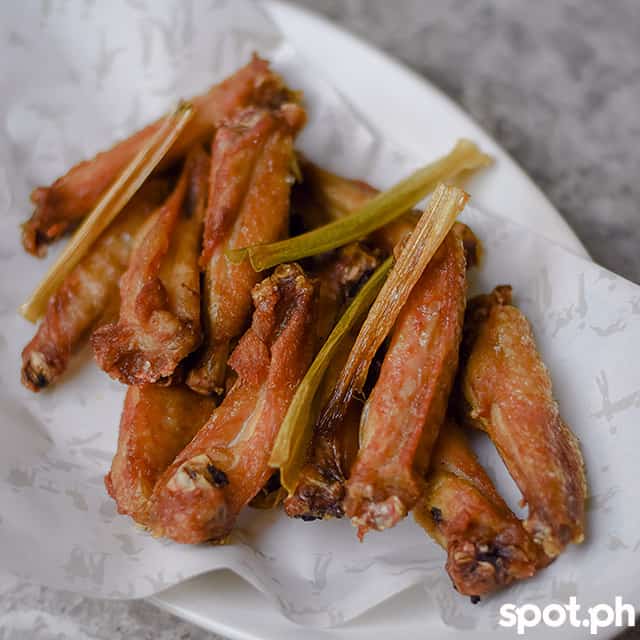 Beef Massamun Curry – An intense flavor but delightful experience is served in this Beef Massamun Curry that features beef that is served in roti bread giving you a perfect combination.
Thai & Asian Favourite
These Greyhound Cafe menu collections are known to be simple but not boring as they are packed with vibrant colors and bold flavors making them a perfect choice to spice up your day.
Thai Pop – These bite-sized fried chicken pops are here to serve you a spicy flavor with their sriracha mayo and aioli that fully elevates every bite of this dish.
Italian Bruschetta – Transport your taste buds with hearty Italian bruschetta that highlights a toasted baguette slice showcasing its delightful chewy texture while it is generously topped with a medley of Italian-style mushrooms.
Chicken Satay – A juicy tender chicken that is grilled to perfection and what makes it even better is that it is dipped in a rich creamy peanut sauce. But it does not end there because it is paired with crisp cucumber salad sticks too!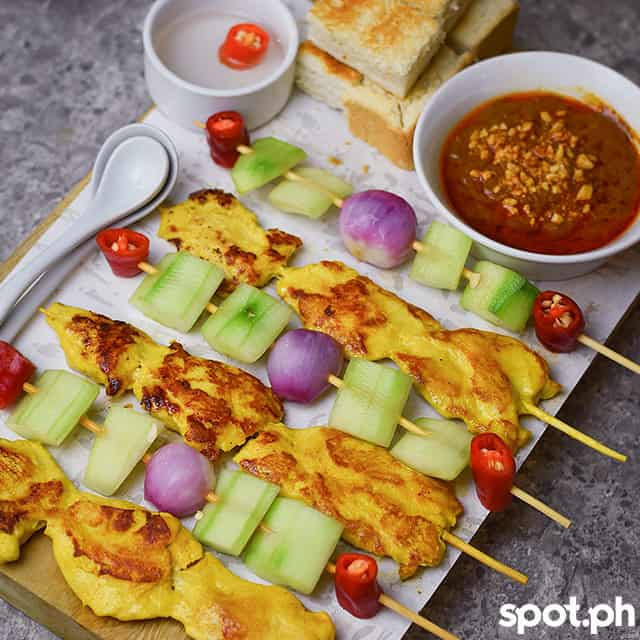 Weeping Hunters – This dish features a premium medium grilled beef ribeye on delightful cucumber slices with crispy holy basil leaves making it a uniquely rare dish.
Eat Dish
Prepare for a fulfilling experience with this collection that showcases the best flavors of Asia giving you a very enticing experience you will surely love.
Red Snapper Miang – This Thai grilled whole red snapper is served with vermicelli along with vegetables and a flavorful herbal miang sauce that you enjoy.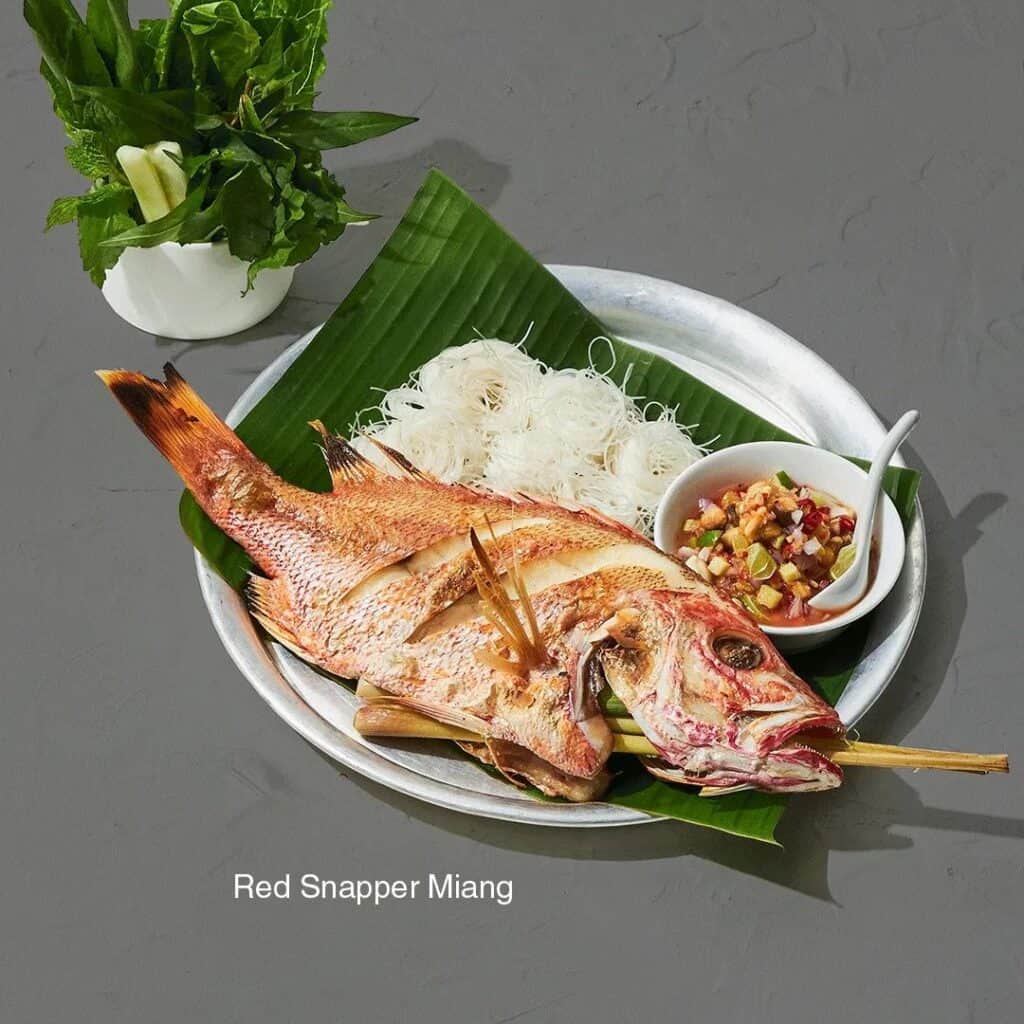 Crispy pork Knuckle – Discover the greatness of this crispy German-style braised pork that is perfectly marinated with Thai herbs. It is served with chunky paste and jaew sauce along with sticky rice.
The Famous Muay Thai Grilled Chicken – Take a legendary bite of this whole chicken menu of Greyhound Cafe that is served with somtum and jaew sauce. It is grilled with turmeric that will surely give you a perfect upper punch!
Tom Yum Super Bowl – This seafood combination of scallops along with squid, tiger prawns, and black muscles is served in spicy tom yum soup which is a famous fish that is beloved among Thai people.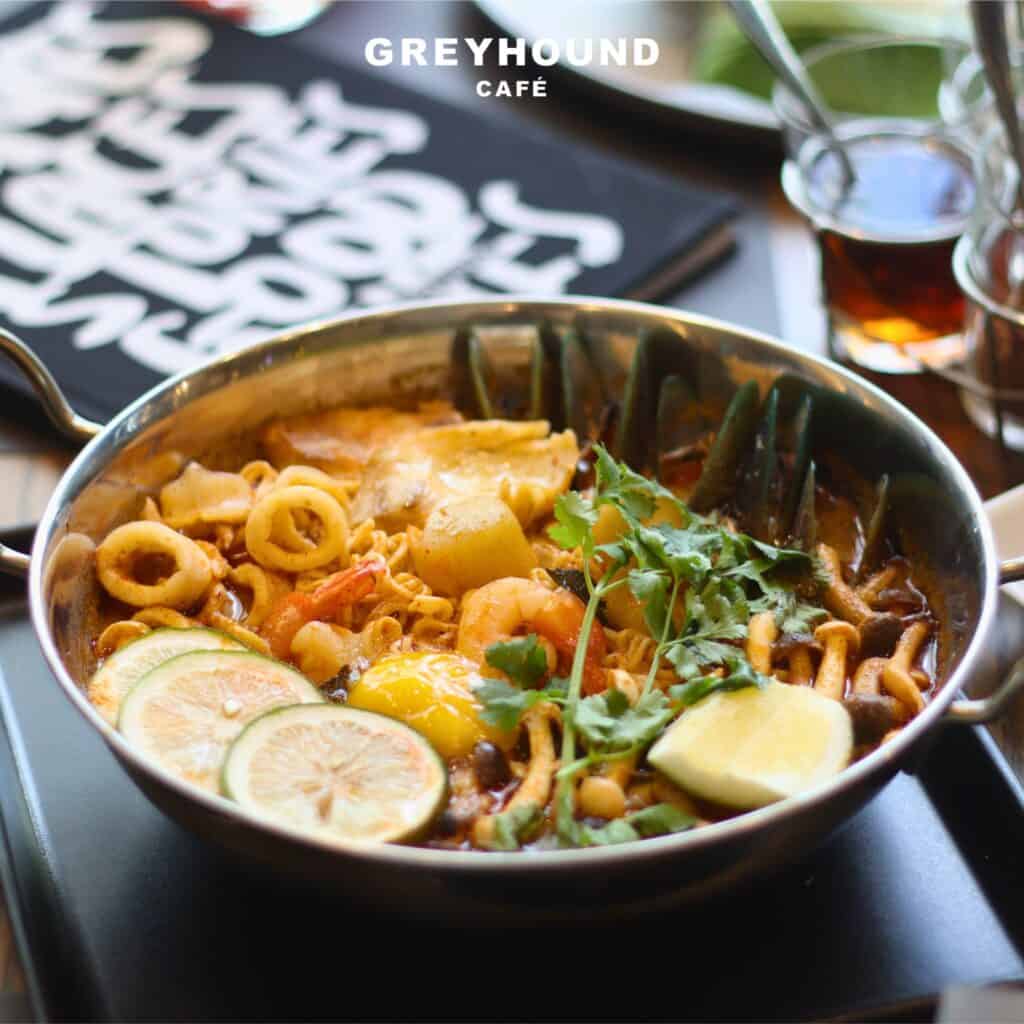 Greyhound Cafe Delivery
They are available through various third-party delivery channels such as Food Panda PH and GrabFood which has a wider range of available areas. You can also order through Foodie-Delivery Ph just visit their official website and add to your cart your favorite meals and have them delivered right to your doorstep. Enjoy these delightful meals in the utmost comfort of your home because you deserve it!
Social Media Pages
Your support on their social media opens the door to a world of exclusive promotions, discounts, and curated experiences. Experience the extraordinary at unbeatable prices and savor a dash of exclusivity with every visit.
Facebook: https://www.facebook.com/greyhoundcafephilippines
Instagram: https://www.instagram.com/greyhoundcafe.ph
TikTok: https://www.tiktok.com/@greyhoundcafe
Website: https://greyhoundcafe.com.ph
FAQs
What type of cuisine does Greyhound Cafe offer?
Greyhound Cafe offers you a delightful collection of meals that highlights the best flavors of Asia and other foreign cuisines. It is a must-try restaurant, especially for people who want to take a delightful bite of Thai delicacies.
What is Greyhound Cafe known for?
They are known for a wide range collection of Thai cuisines and other foreign delicacies. They are quite famous too with their cocktails making it a perfect option for a romantic dinner.
What are the operating hours of Greyhound Cafe?
Greyhound Cafe operates from 10 AM until 9 PM.
Where is Greyhound Cafe located in the Philippines?
Greyhound Cafe is located on the Upper Ground Floor, SM Aura Premier, 26th Street, Corner McKinley Pkwy, Taguig, 1630 Metro Manila
Conclusion
In conclusion, Greyhound Cafe is a restaurant where creativity, tradition, and innovation collide together to serve you a very excellent dining experience. Their fusion of Thai cuisine's menu with international flavors is a bold act and a well-thought-of idea that I need to commend. It is a restaurant that introduces a new and exciting experience that I will not forget, especially from their Thai pop to other Italian bruschetta that transports you into the finest bites of Italy. Their menu is something that needs to be put in conversation while waiting for your delightful plats. The bold and spiced-up flavors are captivating to the core making me yearn for more so I am certain that it won't be my last visit here and I will surely be delighted for more.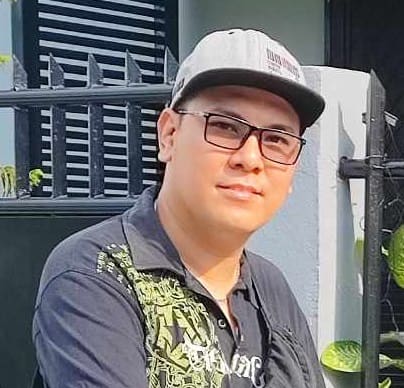 Hi! I'm Nivek Strife, the person who made MenuPH. I'm the one who added most of the popular menus you see on this website, and I really hope you enjoy them! Feel free to check them all out.
Growing up, I was surrounded by lots of tasty foods, like the classic Adobo and the sweet Leche Flan. That love for the many flavors of the Philippines is what got me excited about adding to MenuPH. When I learned how to make websites, I saw the need for a place to show off all the amazing Filipino dishes, and that's how MenuPH started.
MenuPH isn't just a website; it's like a fun journey into food. I've teamed up with famous chefs and found great places all over the Philippines to bring you a bunch of menus that show off the best of Filipino cuisine. Whether you're into the usual dishes or new twists, MenuPH is here to guide you through the rich world of Filipino flavors.
With MenuPH, my aim is to help local businesses, talk about good food choices, and make a group of friends who love food. No matter if you like fancy restaurants or street food, MenuPH has something for you. Come join me on this food adventure as we find great places, taste real flavors, and enjoy the unique food traditions that make the Philippines awesome.