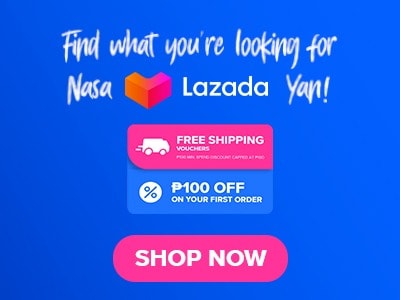 North Park Menu is a popular casual dining restaurant chain in the Philippines whose menu offers a wide range of Chinese and Filipino cuisine, including dim sum, noodles, rice meals, and other specialties. They are well-known for their generous serving sizes and reasonable prices, making them a popular choice for families and groups looking for good value for money. They not only serve delicious and reasonably priced dishes, but they also prioritize the quality and freshness of the ingredients they use, which is the main reason for their popularity.
Below, you'll find the updated list of North Park menu prices.
Menu Items
Price (PHP)

Best Seller

China Chicken
428
Imported Broccoli Flower in Oyster Sauce
263
Shanghai chicken
428
Sweet and Sour Fish Fillet
308
Sweet and Sour Pork
283
Stir Fry Beef with Imported Broccoli Flower
538

Braised Noodles

Braised Noodle Nanking Beef
333
Braised Noodle Aniseed Beef Tendon
273
Braised Noodle Wanton
233
Braised Noodle Fresh Prawn Dumpling
353
Braised Noodle 3 Kinds of Mushroom
213
Braised Noodle Double Pork Rib
288
Braised Noodle Szechwan Tan Tan Mien
243
Braised Noodle Plain
108

Congee

Pork bola-Bola Congee
158
Plain Congee
103
Pork Bola Bola Congee 6 pcs
158
Chicken Ball with shiitake Congee
153
Fresh Fish Fillet Blanced in Congee
163
Shredded Pork with Century and Szechuan and Vegetable Congee
168
Sliced tender Beef Congee
223
North Park Superior Congee
368
Crystal Prawn in Congee with Shiitake Mushroom
238

Superior Soup

Superior Soup Nanking Beef
298
Superior Soup Aniseed Beef Tendon
223
Superior Soup Wanton
188
Superior Soup Soup Fresh Prawn Dumpling
308
Crab and Corn Soup
303

Signature Dishes

Fried Beancurd Skin with Shitake Mushroom in Oyster Sauce
183
3 Kinds of Mushroom with Imported Broccoli Flower in Oyster Sauce
263
North Park Special Toast Noodles
408
North Park Chow Mien
408
Kingdao Spareribs with Red Sauce
308
Salt and Pepper Spareribs
278

Roast Specialties

Roast Combination Platter
838
BBQ Pork Asado Roast Specialty
258
Dired Pork Sausage Roast Specialty
298
Lechon Macau Roast Specialty
408

Noodles in Soup

Ultimate Noodles
518
Noodles in Soup with Nanking Beef - Light
213
Noodles in Soup with Nanking Beef - Regular
308
Noodles in Soup with Aniseed Beef Tendon - Light
193
Noodles in Soup with Aniseed Beef Tendon - Regular
248
Noodles in Soup with Fresh Prawn Dumpling - Light
233
Noodles in Soup with Fresh Prawn Dumpling - Regular
328
Noodles in Soup with Wanton - Light
133

Hotpot dishes

Nanking Beef and Tendon with Raddish Hot Pot
398
Fish Fillet with Soft Tofu in Tausi Hot Pot
348
Lechon Macau with Eggplant Hot Pot
498
About North Park
North Park is a popular Filipino fast-casual restaurant chain that serves a variety of Chinese-inspired dishes. The restaurant first opened in 1994 and has since expanded to more than 50 locations across the country. They have multiple locations in Metro Manila and other cities in the country, making it accessible to many customers. The restaurant's goal is to provide customers with affordable and delicious Chinese-Filipino cuisine in a casual and comfortable setting, making it an excellent choice for those looking for delicious and affordable Chinese food in the Philippines.
North Park Menu Best Seller
These dishes are well-known for their delicious flavors and generous portions, making them excellent choices for those guests who are looking for a filling meal.
China Chicken – This is a popular dish consisting of crispy fried chicken coated in a special sauce that makes it sweet and savory and has a little bit of spiciness. It is accompanied by vegetables and served with steamed rice, making it an excellent dish to order when dining with friends or family.
Imported Broccoli Flower in Oyster Sauce – A fresh broccoli dish, cooked in a savory oyster sauce and served with other dishes. This dish would be a nutritious addition to your meal and is an excellent choice for vegetarians or anyone looking to increase the number of vegetables in their diet.
Shanghai Chicken – Tender pieces of chicken that are cooked in a sweet and tangy sauce and contain vegetables such as bell peppers and onions. This menu of North Park is one of the best chicken dishes you'll ever taste in this restaurant, hence the fact that it is one of their best sellers.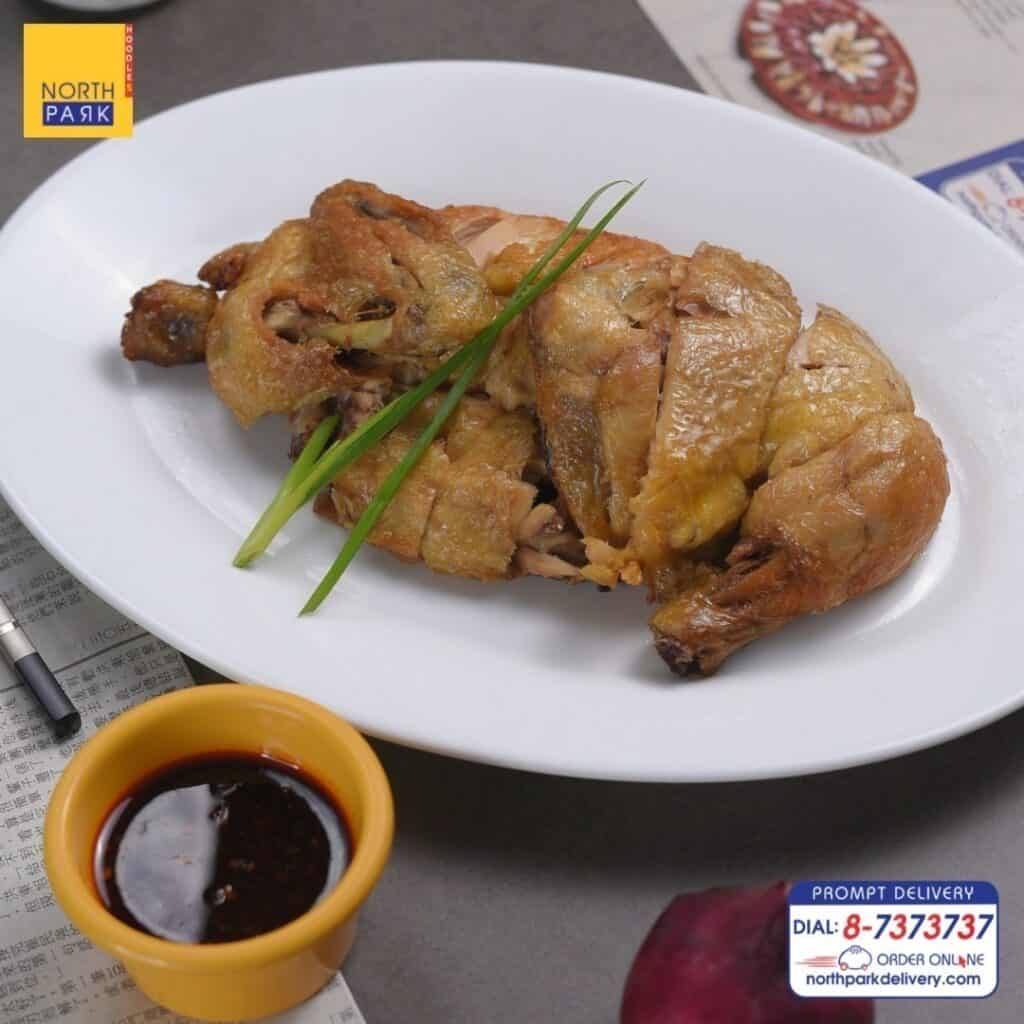 Sweet and Sour Pork – Sweet and sour pork is a traditional Chinese dish made with pork in a sweet and sour sauce. The pork in this dish is crispy and is served with vegetables like bell peppers, onions, and pineapple. This dish is an excellent choice for guests who are looking for a familiar dish with a twist.
Braised Noodles
This noodles menu offers tasty and comforting dishes that are perfect for a satisfying meal.
Braised Noodle Nanking Beef – Composed of tender beef and savory noodles that are braised in a flavorful broth, the tender meat complements the broth, which has a hint of spiciness that is perfect for beef lovers looking for a noodle with tender meat at a very affordable price.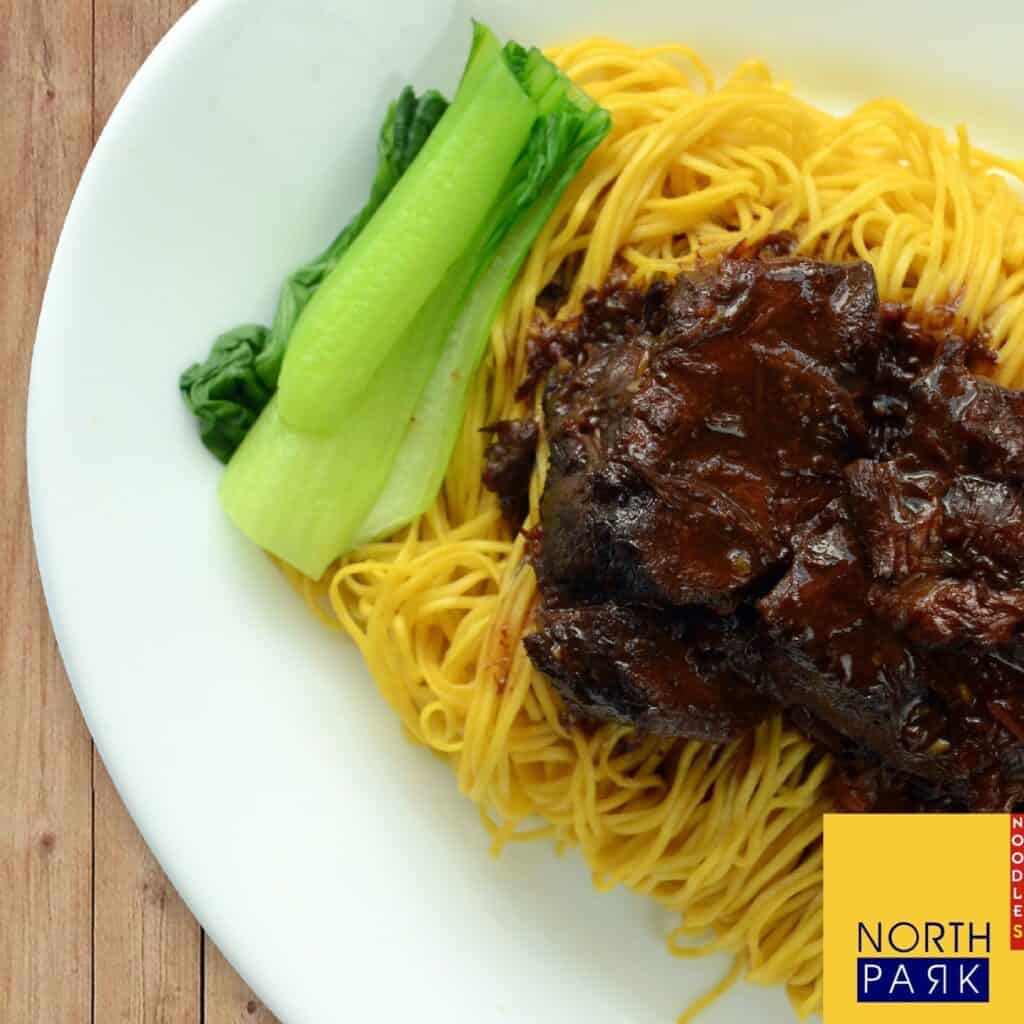 Braised Noodle Aniseed Beef Tendon – It is a bit similar to the Nanking Beef version, but with beef tendon chunks added for a different texture. Guests who would like their noodles to be slightly chewy but still flavorful would enjoy this dish!
Braised Noodle Wanton – This North Park menu is made with tender pork dumplings and savory noodles that are served in a clear and flavorful broth, this dish's broth is lighter in flavor than the other two options, but it still packs a punch.
Congee
North Park's Congee menu offers a great selection of dishes that are perfect for anyone looking for a delicious and comforting meal.
Plain Congee – Plain congee is a simple yet satisfying dish, ideal for those who prefer a milder flavor. However, the fact that it is just a plain and simple dish is what makes this dish very affordable, doesn't mean that it is below average in flavors. It is one of the most enjoyable dishes to order in North Park.
Chicken Ball with Shiitake Congee – The Chicken Ball with Shiitake Congee is a heartier option with savory chicken balls and flavorful shiitake mushrooms, making it an excellent choice for those looking for a more substantial meal.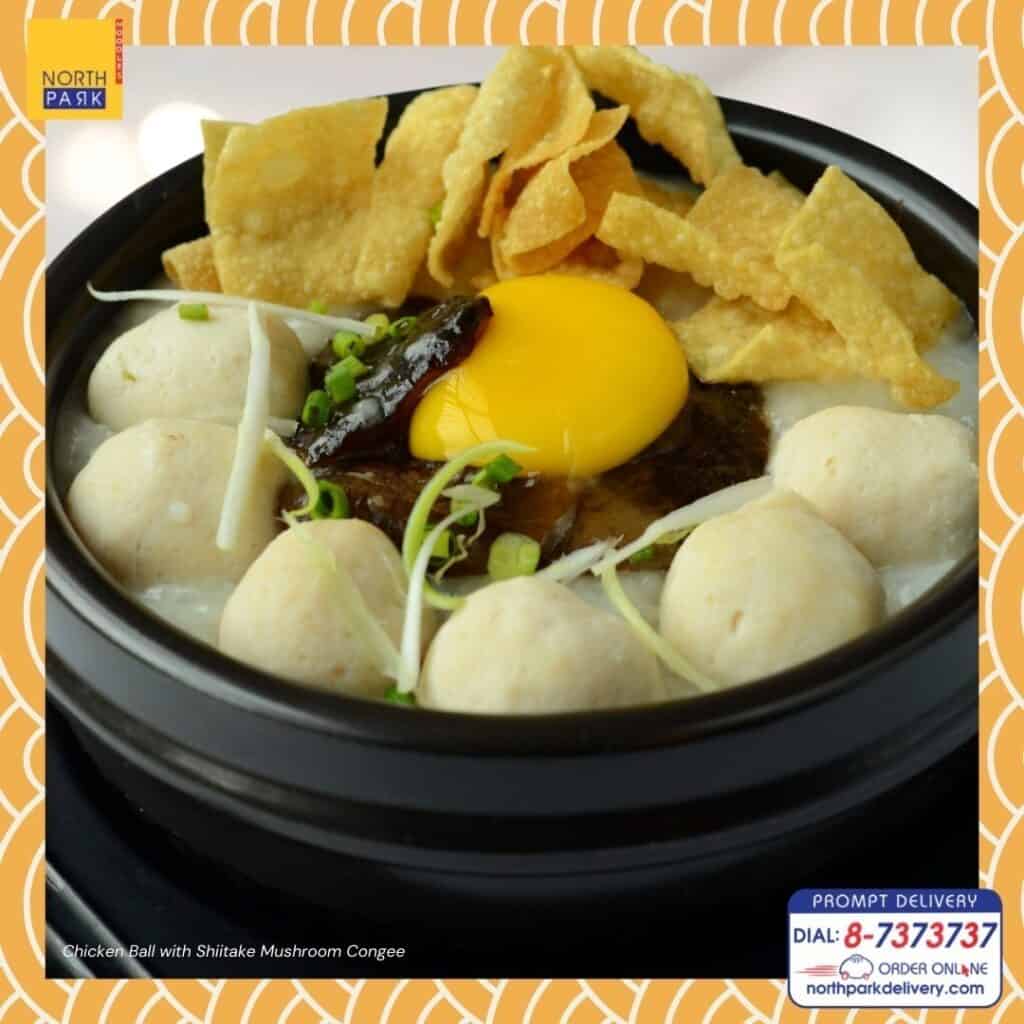 Fresh Fish Fillet Blanched in Congee – This is a standout dish that features tender and flaky fish fillet cooked to perfection in a rich and flavorful congee broth that is perfect for seafood lovers. Not only is it filling but it is a nutritious meal as well.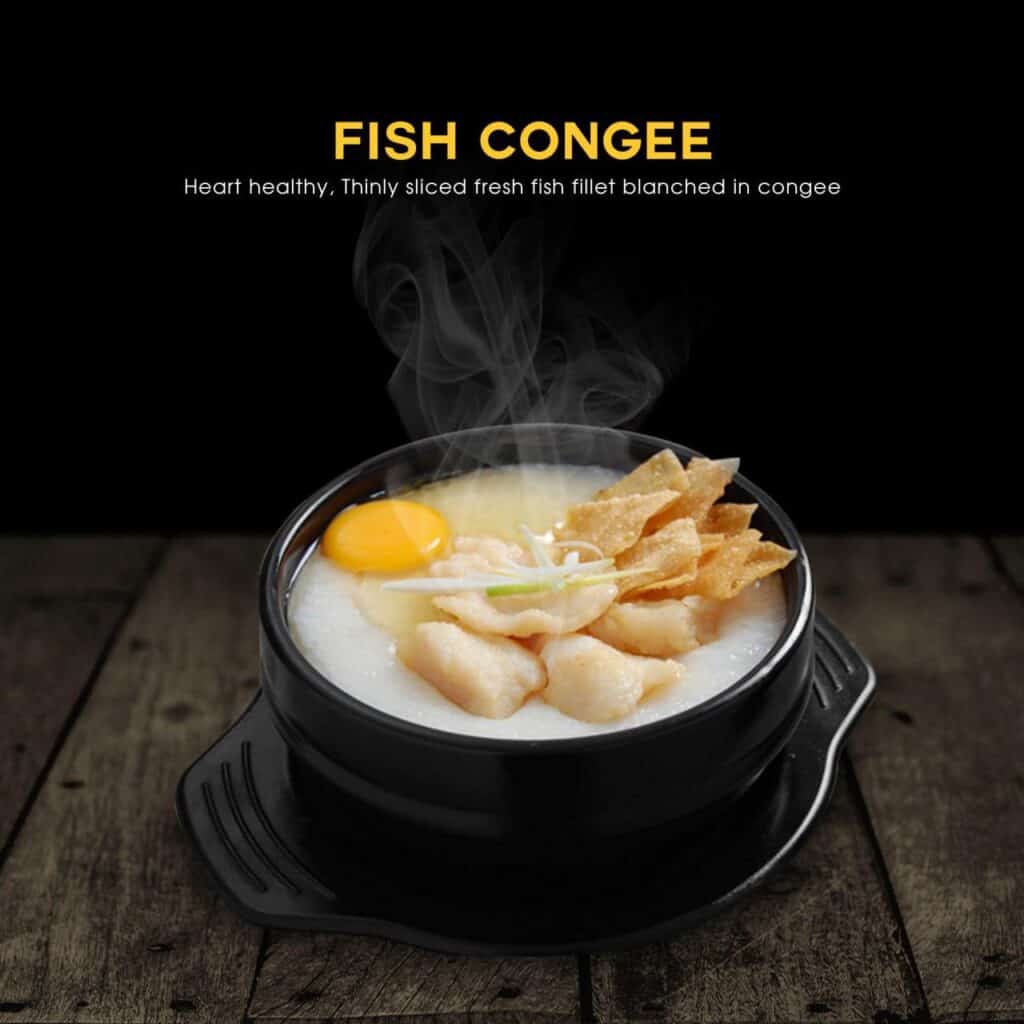 North Park Superior Soup Menu
North Park's Superior Soup menu features a variety of tasty and comforting soup dishes ideal for a filling meal.
Superior Soup Aniseed Beef Tendon – Superior Soup Aniseed Beef Tendon is a delectable soup with a hearty broth. It has a distinct flavor due to the presence of tender beef tendons, anise, and other spices. The broth is flavorful and thick, and the beef tendons are soft and chewy.
Superior Soup Nanking Beef – A flavorful soup made with beef slices, radishes, and spices that have beef. The tender beef and the savory broth in this dish make it ideal cold-weather comfort food.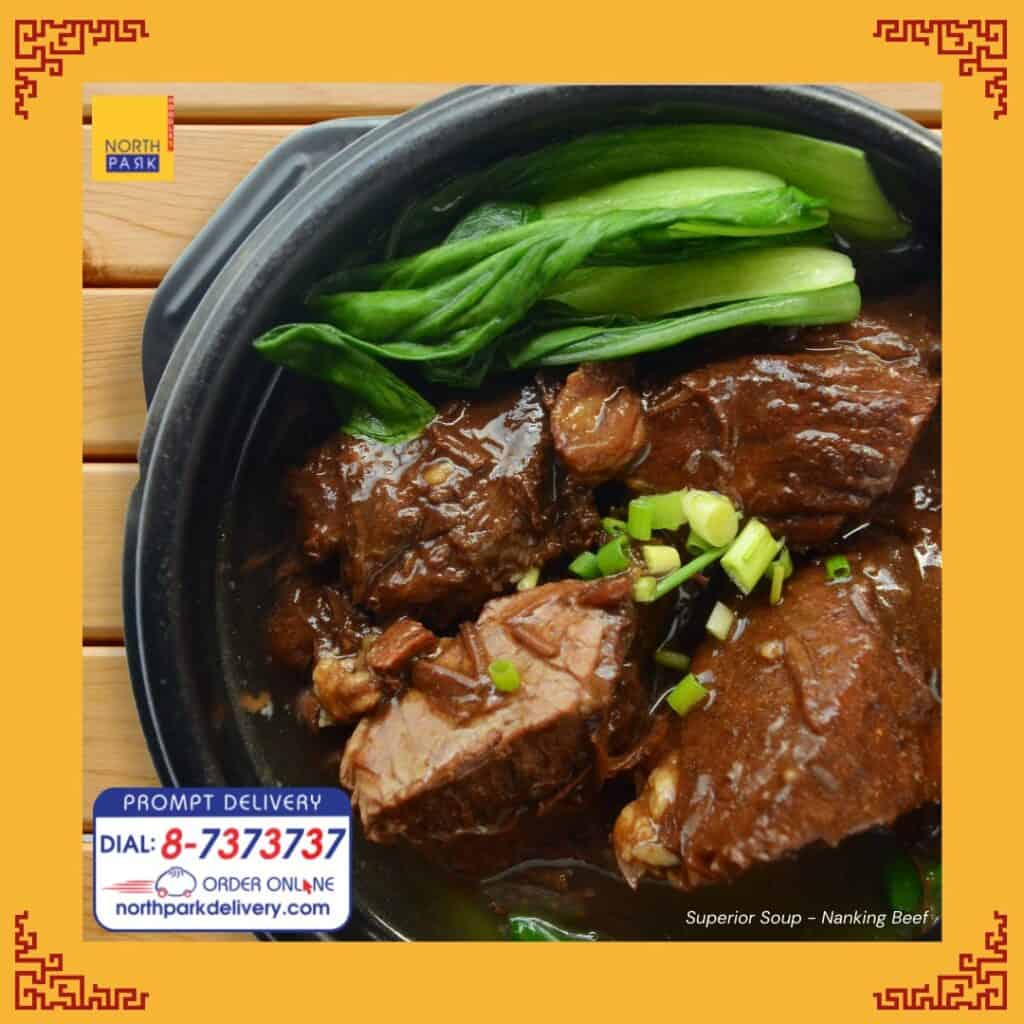 Superior Soup Wanton – A classic soup dish made with pork dumplings, vegetables, and broth, the Superior Soup Wanton. The dumplings are tender and soft, and the broth is flavorful and warming. It's ideal as an appetizer or light meal.
Signature Dishes
These signature dishes on the North Park menu are popular Chinese-inspired dishes in the Philippines, and they are well-liked by customers. In the end, it all comes down to personal taste and preferences, but the majority of the guests that visit the place enjoy all of their signature dishes because of the budget-friendly price and their delicious and unique flavors.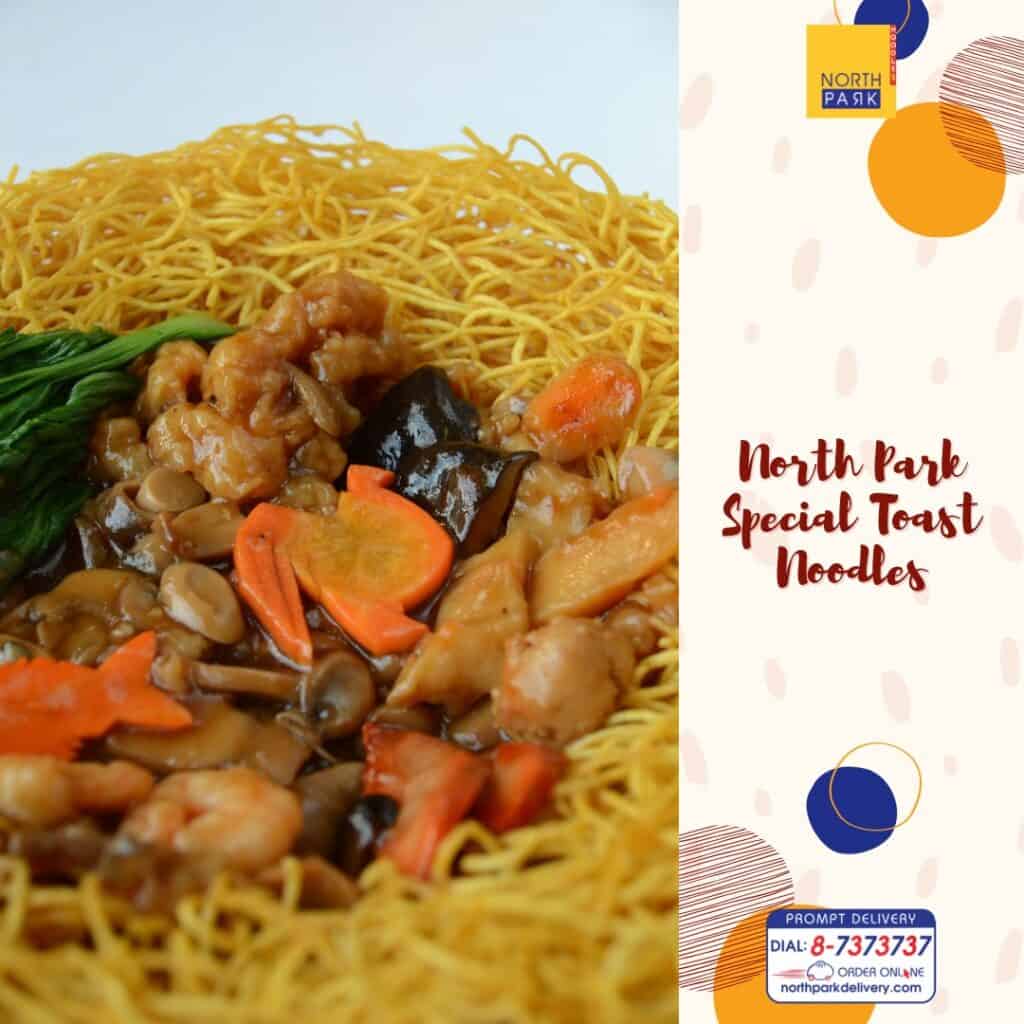 Hot Pot Dishes
These dishes are very popular in Chinese cuisine and are a good option for those who enjoy hot pot style meals or want to experiment with new flavors. Furthermore, the flavor and quality of these dishes are not comparable to any of the restaurants that you have visited in the past.
North Park Menu Delivery
The easiest way to order from North Park's menu online is to go to their official website, North Park Philippines, or download their mobile app. Just sign up and fill out your details, browse their menu, add items to your cart, and proceed to check out! Alternatively, you can also order the North Park foods through third-party food delivery apps such as Grab Food or Food Panda.
North Park Social Media Pages
To keep yourself informed about the newest deals and promotions at North Park and also demonstrate your backing, it would be beneficial to visit, follow, or subscribe to their social media channels. They frequently update their menu with fresh selections, and you can be the first to learn about them by monitoring their social media profiles. Make sure to stay up to date on any thrilling offers by following North Park right away!
Facebook: https://www.facebook.com/northparkgreatnoodles/
Instagram: https://www.instagram.com/northparkgreatnoodles/
Website: https://northparkdelivery.com/
YouTube: https://www.youtube.com/@northparkgreatnoodles
Conclusion
The menu at North Park is popular not only for its variety and flavors but also for its generous serving sizes and low prices. The restaurant's ambiance is casual and comfortable, with a modern and stylish interior design that enhances the overall dining experience. Overall, North Park provides a satisfying dining experience with its extensive food lists, reasonable prices, and welcoming atmosphere. For an affordable yet satisfying Chinese dining experience, this restaurant is a top choice. Its menu is filled with delicious Chinese dishes that won't leave you feeling financially strained.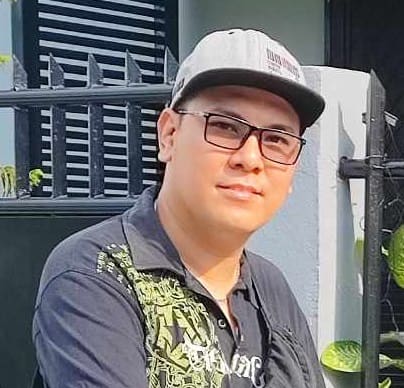 Hi! I'm Nivek Strife, the person who made MenuPH. I'm the one who added most of the popular menus you see on this website, and I really hope you enjoy them! Feel free to check them all out.
Growing up, I was surrounded by lots of tasty foods, like the classic Adobo and the sweet Leche Flan. That love for the many flavors of the Philippines is what got me excited about adding to MenuPH. When I learned how to make websites, I saw the need for a place to show off all the amazing Filipino dishes, and that's how MenuPH started.
MenuPH isn't just a website; it's like a fun journey into food. I've teamed up with famous chefs and found great places all over the Philippines to bring you a bunch of menus that show off the best of Filipino cuisine. Whether you're into the usual dishes or new twists, MenuPH is here to guide you through the rich world of Filipino flavors.
With MenuPH, my aim is to help local businesses, talk about good food choices, and make a group of friends who love food. No matter if you like fancy restaurants or street food, MenuPH has something for you. Come join me on this food adventure as we find great places, taste real flavors, and enjoy the unique food traditions that make the Philippines awesome.