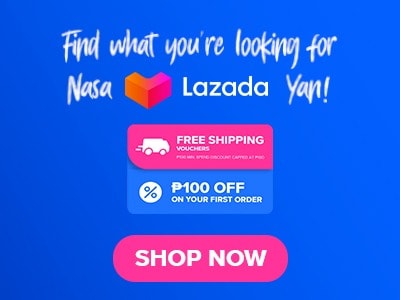 The Coffee Project specialty menu is coffee, which is made up of Arabica from Brazil and Robusta from Sumatra. Their menu, however, has a variety of items on it, including the Vietnamese Latte, which is made up of Vietnamese Nguyen beans. This drink has a robust flavor that combines perfectly with sweetened milk to produce a coffee that is delicious and chocolatey. They also offer sandwiches, pasta dishes, and rice dishes to go along with these delectable beverages.
Below, you'll find the updated list of Coffee Project menu prices.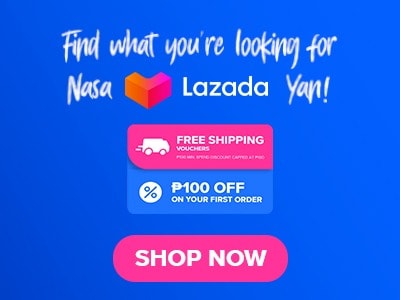 Menu Items
Price (PHP)

Rice Meals

Beef Tapa
315
Boneless Bangus
295
Longganisa
295
Corned Beef
275
Chicken Parmigiana
315
Mushroom and Garlic Chicken
315

Breakfast

Ham and Cheese Omelette
245
Mushroom Omelette
235
Continental Breakfast
355
French Toast
235
Fish and Chips
250

Pasta

Sardine Pasta
290
Carbonara
250
Arrabiata
260
Mushroom Creamy Pesto
290
Sausage and Garlic Pasta
345
Chicken Alfredo Penne
350
Salad
Greek Salad
240
Caesar Salad
240
Calirfornia Kani
220

Sandwich

Clubhouse
290
Tuna Melt
240
Spam and Egg
240
Bacon
270
German Sausage
285

Pizza

Tortilla
230
Thin Crust Pizza
645

Party Tray

Party Sardine Pasta
1,200
Carbonara
1,000
Arrabiata
1,000
Chicken Alfredo
1,400
Creamy Pesto and Mushroom Pasta
1,200
Sasusage and Garlic Pasta
1,300
Chicken Parmigiana
1,100
Mushroom and Garlic Chicken
1,100
Fish and Chips
1,000

Cakes

Caramel Cheesecake
2,530
Nutella Cheesecake
2,530
Blueberry Cheesecake
2,530
Strawberry Cheesecake
2,530
dulce De Leche Cake
2,530
Chocolate Caramel Cake
2,530
Naked Red Velvet Cake
2,530
Ube Makapuno Cake
2,530
Oreo Cheesecake
2,530
Mango Mousse Cake
2,530

Milk Tea

Classic Milk Tea
115
Wintermelon Milk Tea
125
Okinawa Milk Tea
125
Hokkaido Milk Tea
125
Dark Chocolate
135
Thai Milk Tea
120

Cheesecake

130
Classic Milk Tea Cheesecake
145
Oreo Cheesecake
150
Oreo Matcha Cheesecake
170
Taro Cheesecake
150
Chocolate Cheesecake
150
Dirty Series
130
Dirty Milk and Pearl
130
Dirty Milk Tea and Peral
130
Dirty MAtcha and Pearl
165

Yogurt

130
Lemonade Dream with Fruit Jelly
145
Green Apple Black Tea
145
Lemon Yogurt
130
Strawberry Yogurt
130
Passion Yogurt
130

Hot Drink

Americano
140
Brewed Coffee
130
Capuccino
150
Cafe Latte
150
Cafe Mocha
165
Caramel Latte
170
Whit chocolate Mocha
175
Coffe Indochine
175
Vietnamese Latte
195
Hot Chocolate
160
Hot Tea
130
Matcha Green Tea Latte
165
About Coffee Project
In 2014, Coffee Project established its first location in Muntinlupa's Starmall Alabang. Coffee Project aspires to provide top-notch espresso-based drinks and polite service to create unforgettable experiences for customers. They also provide delectable food. Along with providing excellent service and the best cuisine and drinks, each branch's interior is exceptional, giving the Coffee Project an advantage over its rivals. For the purpose of fostering a joyful and vibrant mood among customers, Coffee Project has greenery and flowers in every coffee shop.
Coffee Project Menu Best Seller
These items are some of the most popular ones on the Coffee Project's menu. Each person who comes to this cafe doesn't miss one of these items.
Coffee – As the name itself suggests, the Coffee Project's specialty is obviously coffee. The Coffee Project serves tasty coffee that is composed of Arabica coffee from Brazil and Robusta coffee from Sumatra. The blend of flavors that this mixture provides is very aromatic and flavorful.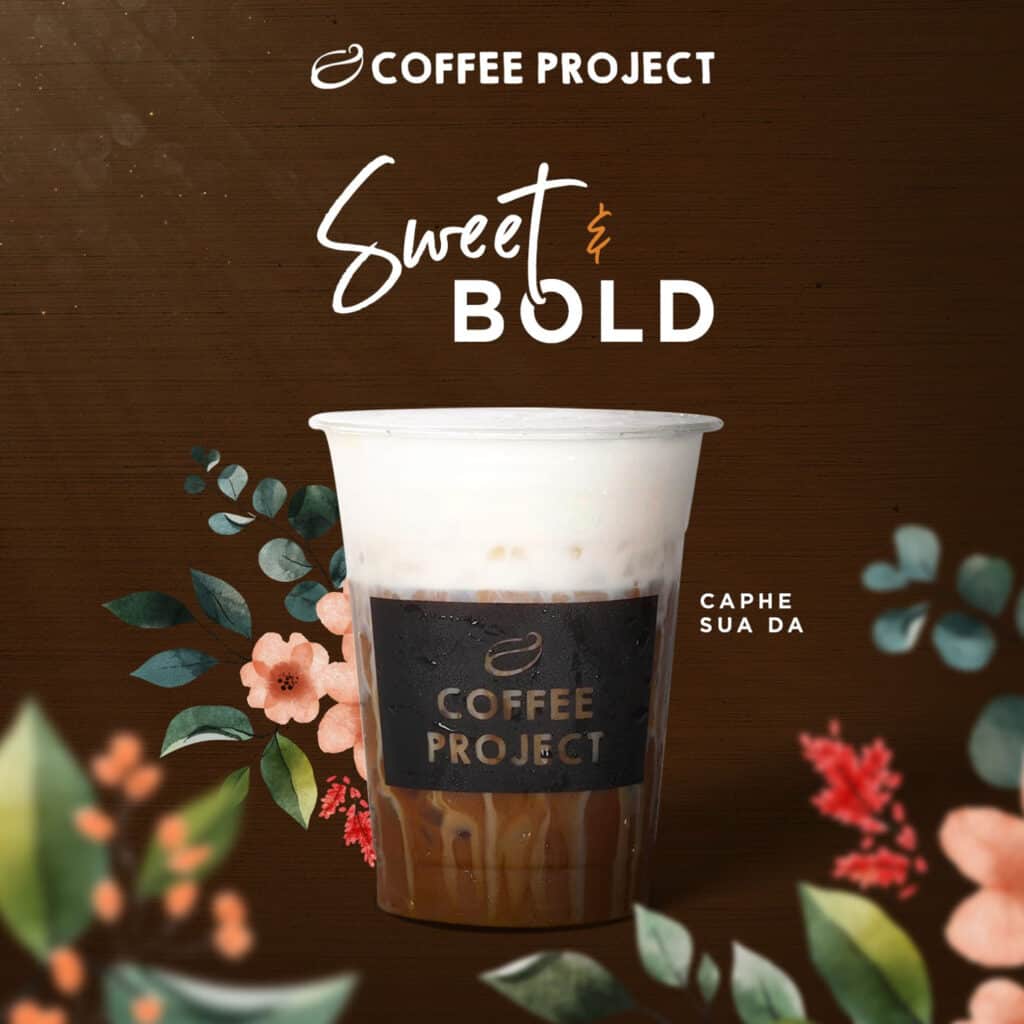 Penne Arrabbiata Pasta – A specialty of Roman cuisine where the arrabbiata sauce is used to season the pasta dish, hence its name, Penne Arrabbiata Pasta. This dish uses simple ingredients like penne rigate, tomatoes, spicy chili peppers, garlic, and fresh parsley.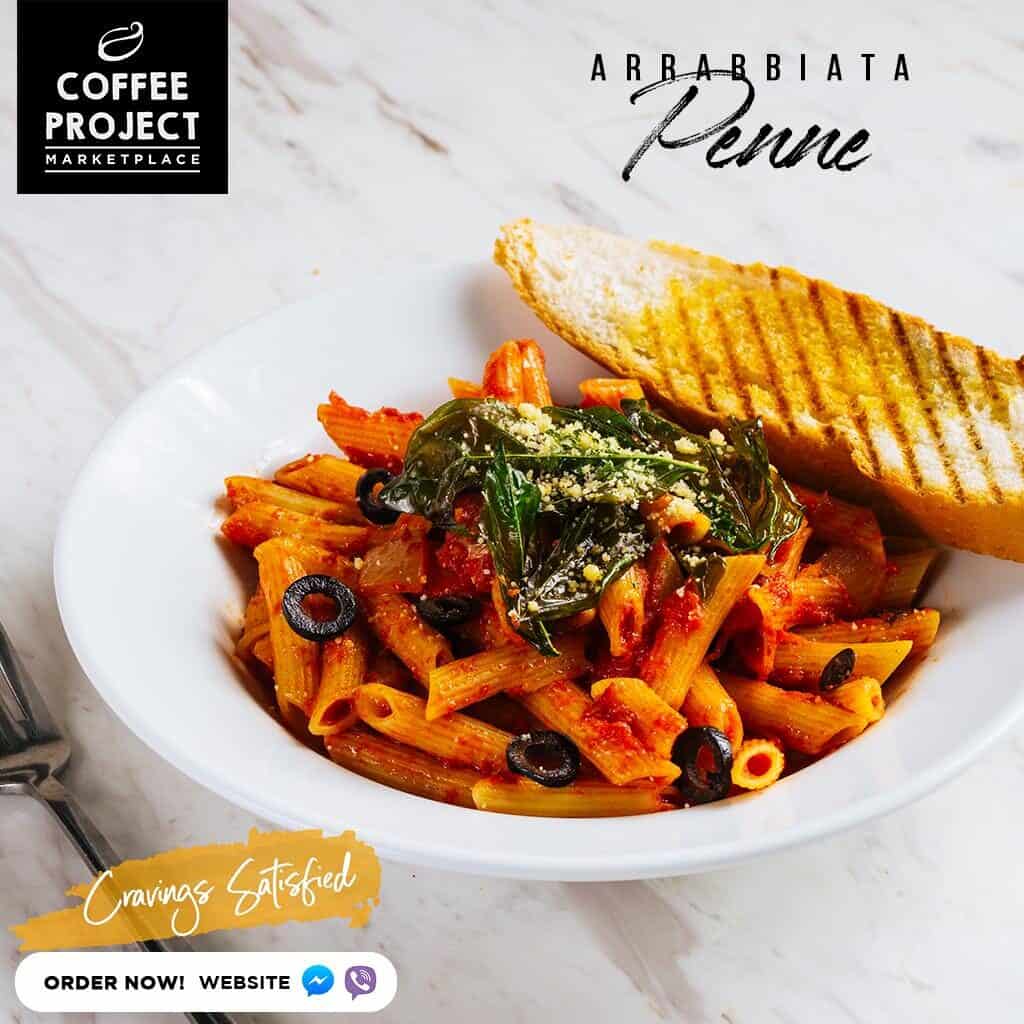 Tuna Sandwich – This classic tuna sandwich starts with the traditional combination of tuna and light mayonnaise followed by bread and butter pickles, hard-boiled eggs, celery, green onions, and mustard.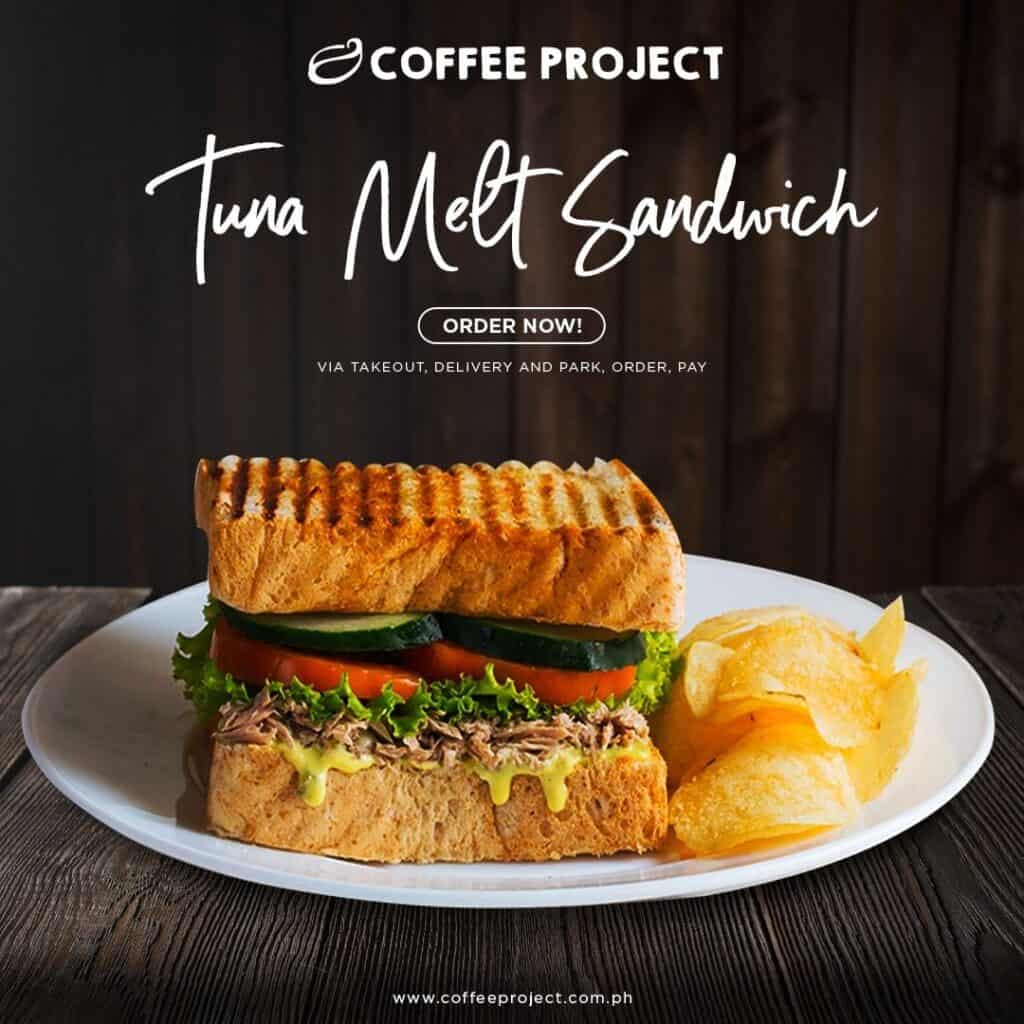 Hot Drinks
Everything that makes up the name "Coffee Project" is represented on this menu. It consists of the very items that make Coffee Project special.
Hot Americano – Americano is one of the most popular drinks in North America, if not, all over the world. Italians created the Americano, an adaptation of "American coffee" that substitutes a straightforward espresso beverage for milk and hot water.
Hot Cappuccino – A cappuccino is an espresso-based coffee beverage made with milk foam that originated in Austria before becoming popular in Italy. Some variations of the beverage include adding cinnamon or cocoa powder to the flavor, using cream in place of milk, and using non-dairy milk alternatives.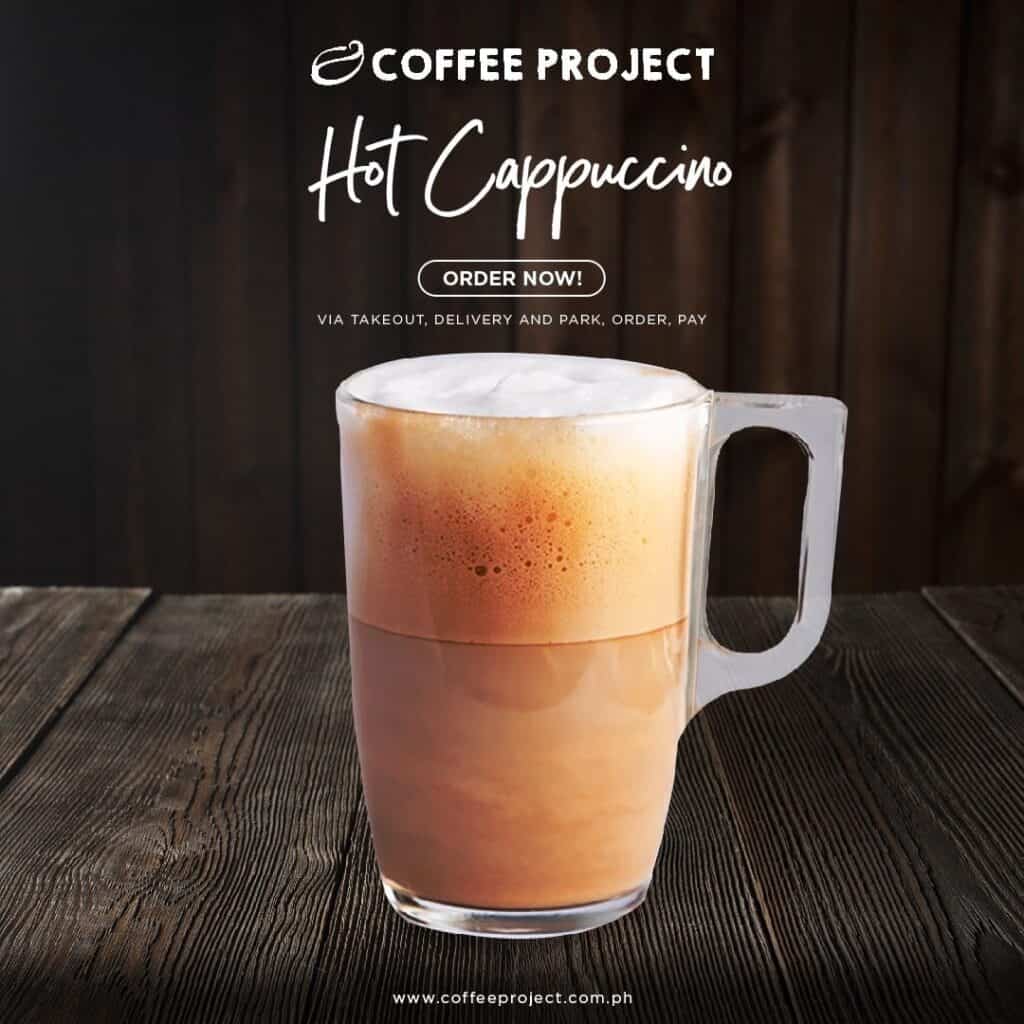 Cafe Latte – The Italian coffee drink known as cafe latte is frequently abbreviated to "latte" in English. Steamed milk and espresso are used to make it. A cafe latte is made up of one or two shots of espresso, steamed milk, and a thin coating at the top.
Cafe Mocha – A cafe mocha, also popularly known as a mochaccino, is a war, chocolate-flavored variation of cafe latte that is frequently served in glasses rather than mugs.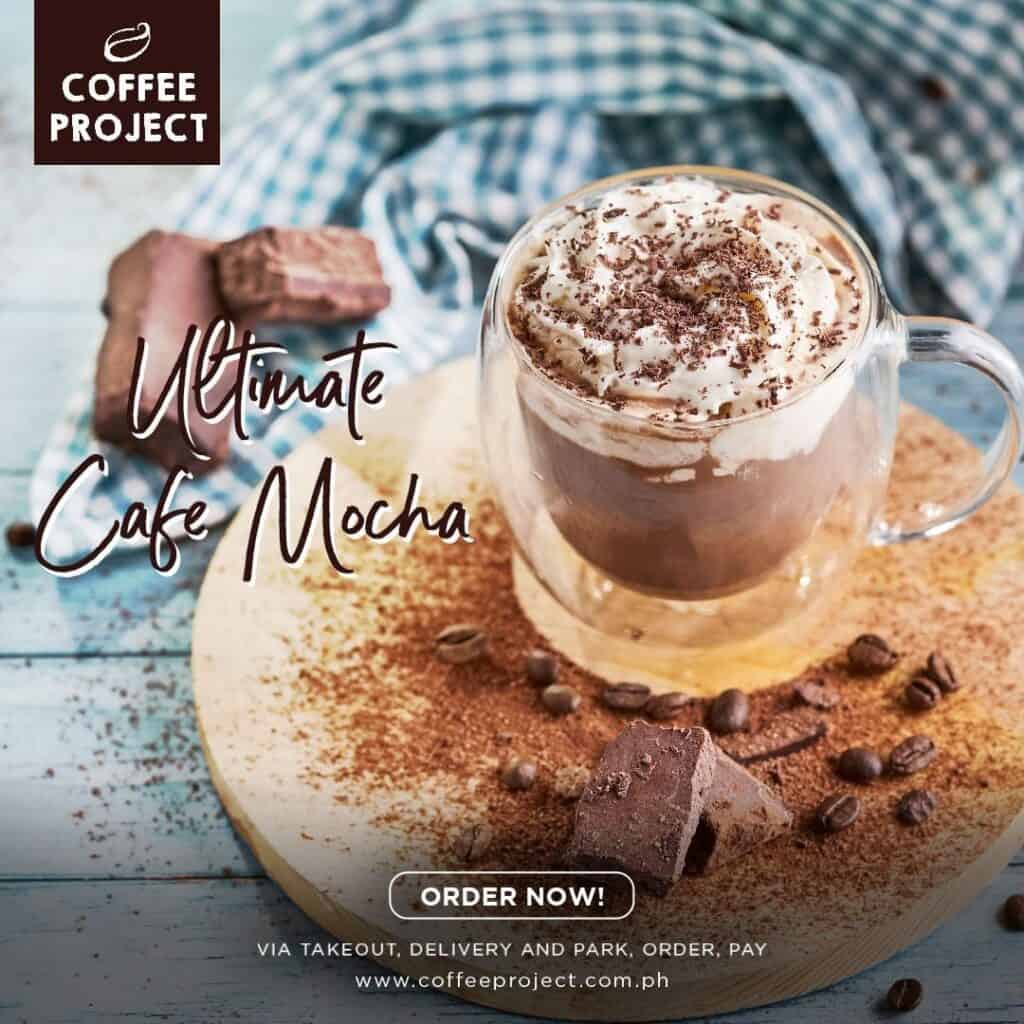 Iced Drinks
Coffee Project also offers an Iced drinks menu for their customers who dine in with them. It is composed of different flavors of milk tea and yogurts.
Okinawa Milk Tea – A variety of milk tea was inspired by the Japanese island Okinawa. Okinawa milk tea is a delicious concoction of black tea, milk, and sugar.
Wintermelon Milk Tea – This cold drink is mainly composed of Winter Melon syrup, milk, tea, and ice cubes. It has a very distinctive light and almost grassy flavor. Its unique flavor comes from the brown sugar that was used to sweeten it.
Strawberry Yogurt – This cold drink is packed with Vitamin C and a good amount of Vitamin A. It uses low-fat milk, sugar, strawberries, modified food scratch, and sugar for its ingredients.
Coffee Project Menu Cakes
What is best to pair your cold or hot drinks with? Of course, cakes! The Coffee Project offers many varieties of cakes menu that you can choose from.
Oreo Cheesecake – This rich cheesecake that is covered with Oreo chocolate filling is topped with whipped cream and covered in a gorgeous chocolate ganache. A cheesecake that is beyond delicious!
Taro Cheesecake – Everything you could possibly want in your taro dessert is in this cheesecake, a rich taro filling that is layered over a crisp coconut cookie crust and finished with whipped cream.
Chocolate Cheesecake – For chocolate lovers, this is a must-try cheesecake! This delicacy is a double chocolate dessert dream that is completed with a chocolate cookie crust.
Rice Meals
Coffee Project also offers rice meals for dine-in and take-out for their coffee-loving customers. The items on their rice meal menu include Beef Tapa, Boneless Bangus, Longganisa, Corned Beef, and Chicken Parmigiana. All of them include one serving of rice.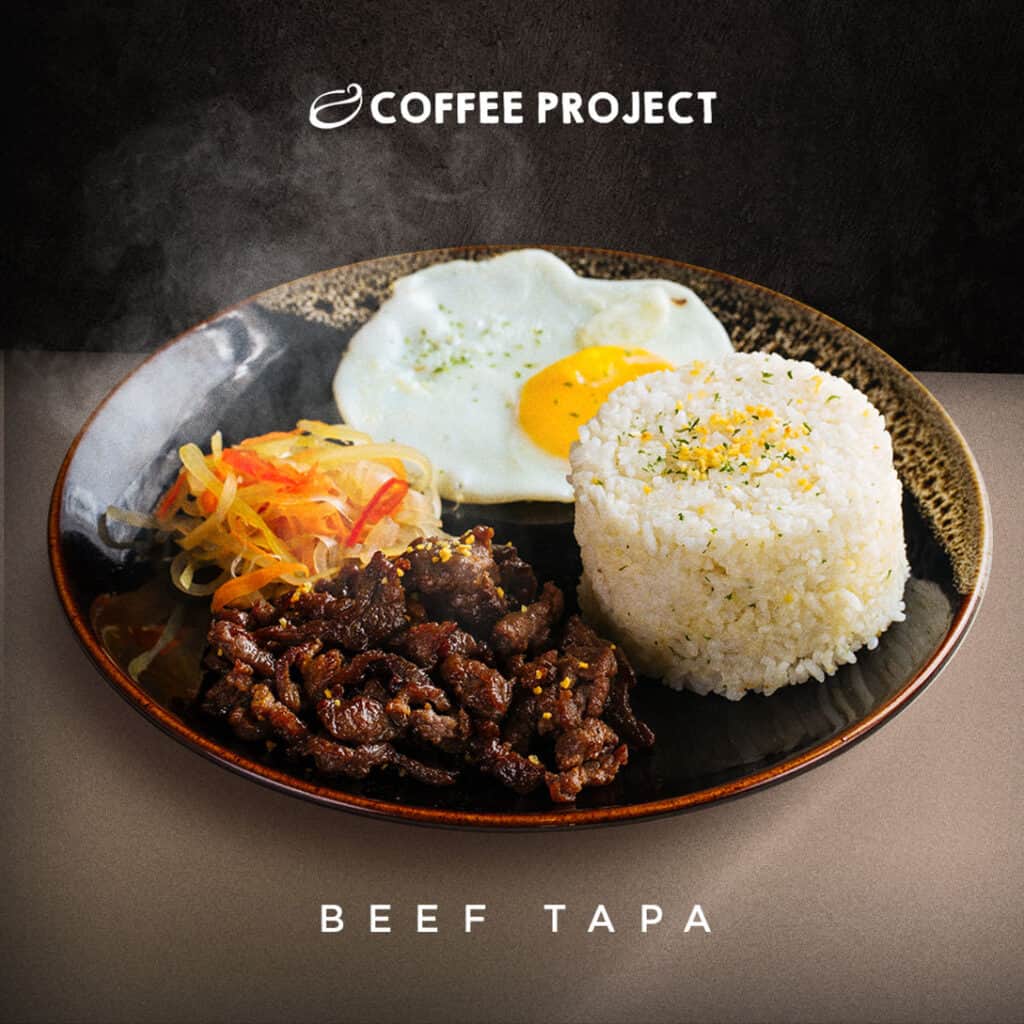 Pasta
An unleavened dough of wheat, flour, water, and eggs is commonly used to make pasta. The dough is then molded into sheets or various shapes and baked by boiling. Wheat flour may occasionally be substituted with rice flour or legumes like beans to provide a distinct flavor and texture. Coffee Project's most popular pasta includes Carbonara, Arrabiata, Chicken Alfredo Penne, and Mushroom Creamy Pesto pasta.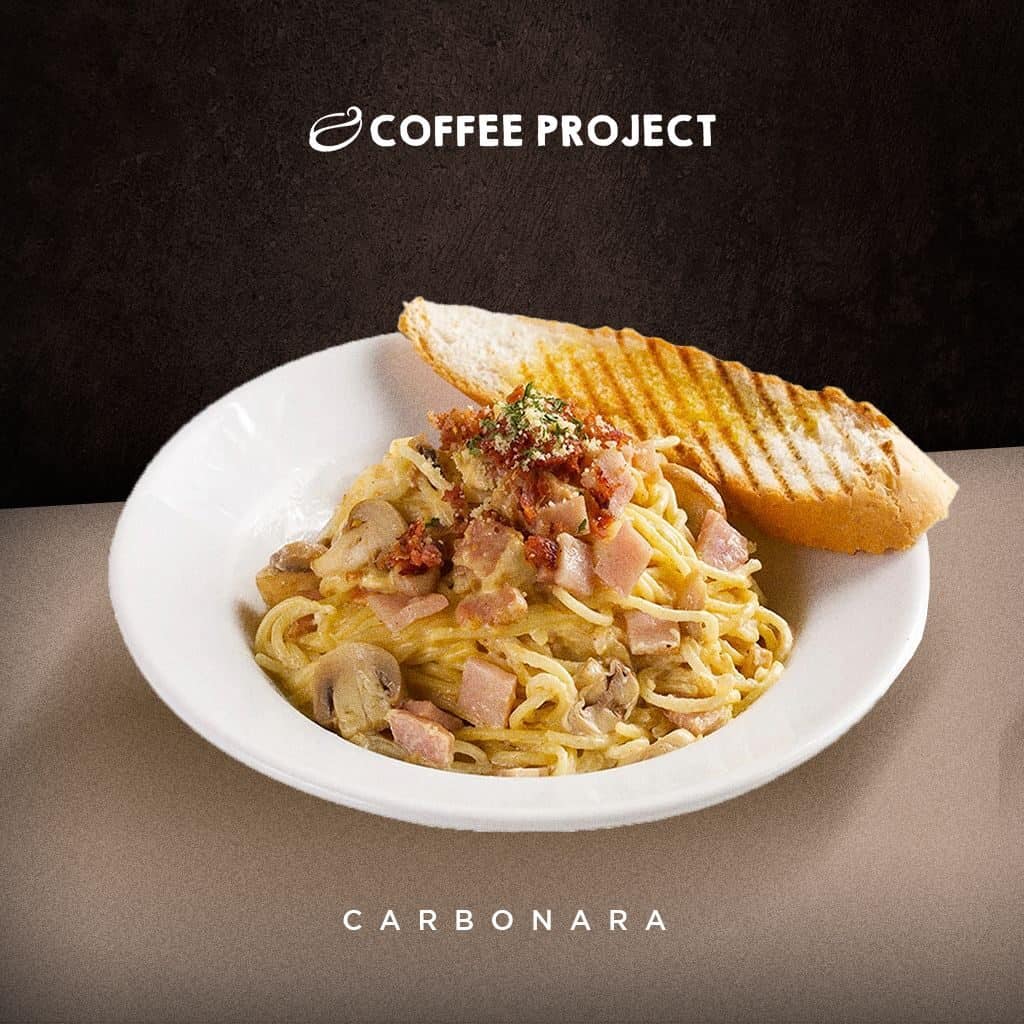 Party Tray
Coffee Project also serves party trays for their customers' parties and get-togethers. The items on the menu include Party Sardine Pasta, Carbonara Party Tray, Chicken Alfredo Party Tray, Chicken Parmigiana Party Tray, and more!
Coffee Project Menu Delivery
Coffee Project offers delivery services for its customers. To order, download the GrabFood or FoodPanda application and find the Coffee Project store. Browse the menu and order. For more information about online orders and deliveries, visit their official social media pages.
Social Media Pages
For more information about their promos, discounts, and news on their menu, I highly recommend you follow their social media pages or directly email them for other concerns. Links are provided below:
Facebook: https://facebook.com/coffeeprojectofficial/
Instagram: https://www.instagram.com/coffeeprojectofficial/
Twitter: http://twitter.com/CoffeeProjectMP
Email: [email protected]
Conclusion
The Coffee Project's menu has different kinds of delectable items on it. However, what stands out the most is their tasty coffee! Not to take anything away from the other items on their menu, but their coffee is just different! It is a go-to coffee shop if you are a coffee lover. The ambiance is warm, inviting, and comfortable. The serving time is okay, and the staff is very accommodating.