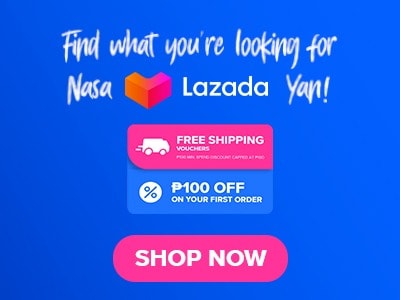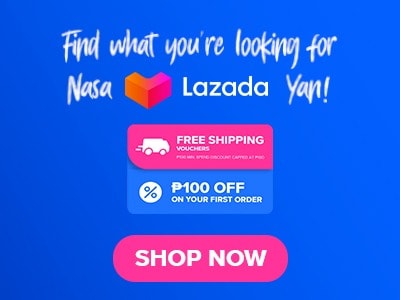 Menu Items
Price (PHP)

Soup

Bulalo Batangas
150
Siomai Soup
65
Wanton Soup
65

Rice Meals

Pares
115
Beef Steak Rice
100
Pork Ampalaya Rice
90
Chicken BBQ
100
NK Chicken Rice
100
Chopsuey Rice
85
Daing na Bangus Rice
85
Asado Plain Rice
90
Adobo Rice w Egg
90

Rice Toppings

Asado Toppings
100
Fish Fillet Toppings
100
Lechon Toppings
100

Short Orders

Beef Kalderta
110
Buttered Chicken
120
Sweet n Sour Fish
95
Fish Tausi w tofu
95
Shanghai Roll
90
Lechon Kawali
85
Sliced Beef
100
Garlic Wings
95
Chopsuey Plain
100
Pork Ampalaya Rice
100

Sizzling

Sizzling Beef Tapa Rips
75
Sizzling Tocino Tips
70
Sizzling Liempo
70
Sizzling Porkchop
65
Sizzling Sisig Topping
80

Mami

Asado Mami
85
Chicken Mami
75
Wanton Mami
75
Siomai Mami
75
Beef Mami
80
Beef Wanton Mami
95
Special Mami
105
Super Mami
110

Noodles

Bihon Guisado
85
Miki Bihon
85
Pancit Canton
85
Lomi
85
Chami
85

Silog Meals

Tapsilog
75
Pork tocino
70
Hotsilog
60
Longsilog
65

Side Orders

Siopao
40
Siomai
45
Tokwa Plain
45
Tokwa't Baboy
60
Fried Rice
25
Steamed Rice
20
Fried Egg
20

Food tray

Buttered Chicken sa Bilao
595
Shanghai sa Bilao
455
Garlic Wings sa Bilao
670
Lauriat meals
140

Lugao

Lugao
40
Arrozcaldo
55
Goto
60
About Noodle King
Noodle King is a Filipino-style pares and mami house located in Metro Manila. They have three branches in total that are spread strategically in Manila. Each of these is strategically placed to provide convenience to their loyal customers, the people living in Metro Manila and the nearby areas. Noodle King strives to provide not just Manilanos but also people from outside Manila and even foreigners with high-quality Filipino dishes that are also budget-friendly.
Noodle King Menu best seller
These dishes are the ones that are ordered the most by people who visit Noodle King because of their familiarity in terms of taste.
Lechon Kawali – This dish is a deep-fried pork dish whose exterior is quite salty and extra crispy. While its exterior is crisp, the interior of this dish is juicy and tender because of its fat. This dish goes perfectly when paired with rice and dipped in an extra-hot vinegar-based sauce.
Sweet and Sour Fish – The sweet and sour fish recipe originally came from Asia, mostly of Chinese origin. It is composed of bite-sized fish that are fried to perfection until they are golden in color. After deep frying, it is then tossed in a sweet and sticky sauce that is colored by bell peppers to further enhance the dish's flavors.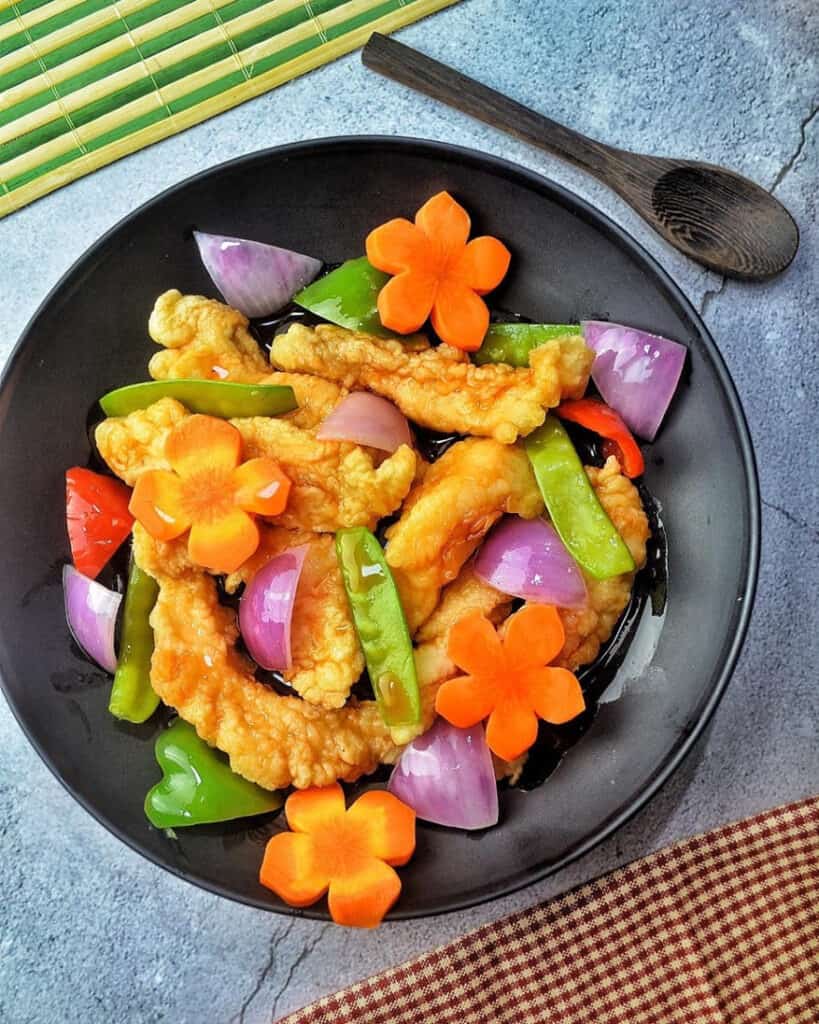 Beef Mami – This Noodle King menu is a sort of beef noodle soup with Filipino-Chinese roots. It is made with noodles and soft beef brisket as its main ingredients. Boiled eggs and other kinds of toppings are also thrown in the hot and aromatic beef stock to make it more hearty.
Tapsilog – Tapsilog is made of three different varieties of food thrown on one plate, tapa, sinangag, and itlog, hence the name. Tapa is beef meat that has been dried and preserved, sinangag is a variety of garlic rice; and itlog is literally an English term for an egg.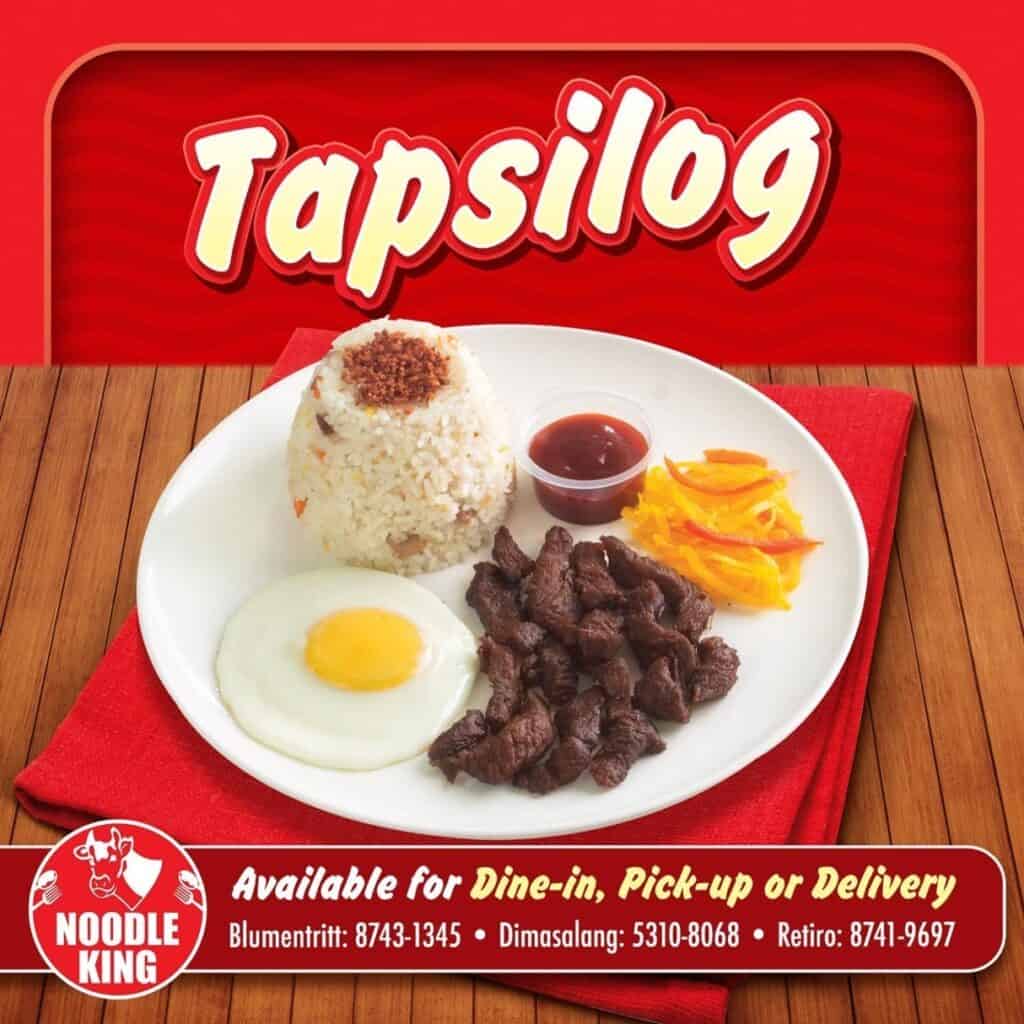 Rice Meals
We Filipinos won't be fully content with our meals without rice. Hence, on this menu, Noodle King offers staple Filipino dishes that customers can order for their meals.
Beef Steak Rice – This is a beef steak meal that has a Filipino twist of its own. This Filipino-style beef steak consists of thin slices of beef and a lot of onions. These are simmered in a blend of soy sauce and lemon juice until the meat is completely tender. It is best enjoyed with warm rice on the side.
Pork Ampalaya Rice – This recipe calls for bell peppers and ground pork thrown in sauteed ampalaya. Compared to the typical ampalaya with eggs, it is a great variation and is more creative. The tastes of two main ingredients, which are ampalaya and pork, blend really well, creating a unique taste that goes well with rice.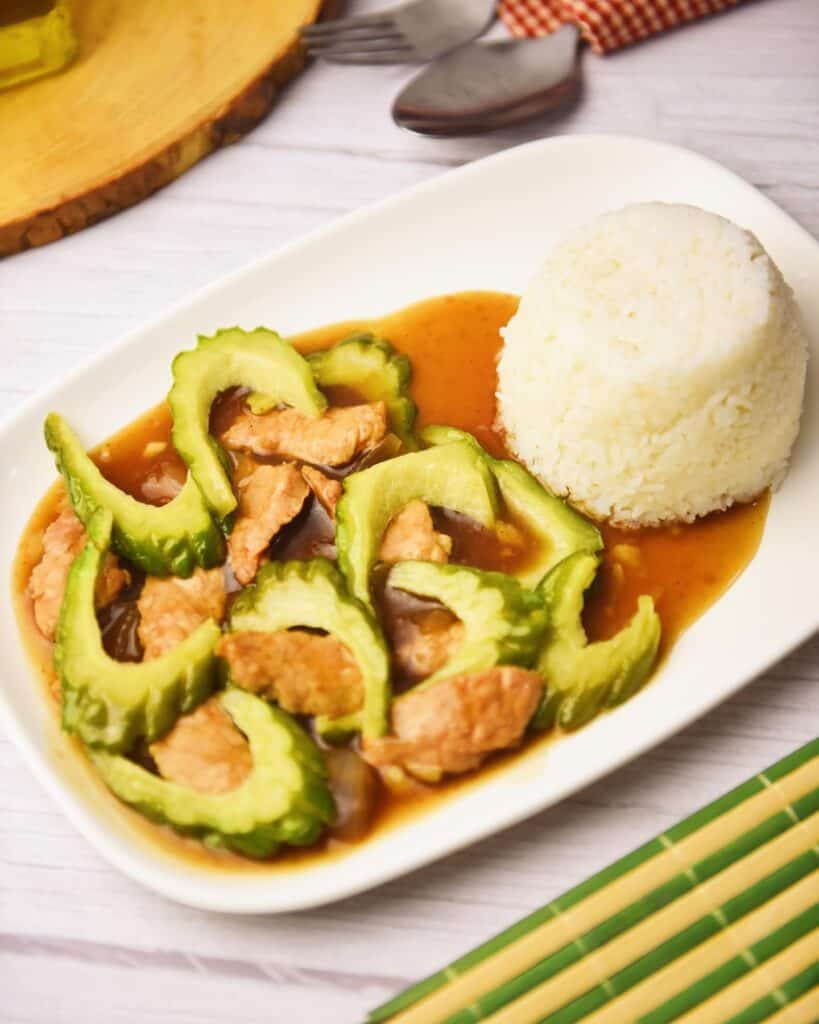 Chicken BBQ – Also known as chicken inasal, it is a Filipino-style chicken barbecue that uses chicken meat as its main ingredient, skewered and grilled over charcoal. And when done right, this dish oozes the perfect aroma and overflowing juices that will make customers drool. This juicy and delicious dish is best paired with rice.
Noodle King Short Orders Menu
This menu is composed of dishes that are easily prepared and quickly served. Perfect for customers who are gunning for just a quick meal.
Beef Kaldereta – The staple dish in every Filipino kitchen is this beef kaldereta. It is a particular variety of beef stew that is made using the liver spread and tomato sauce. When preparing this dish, additional ingredients, including potatoes, carrots, bell peppers, and olives, are used.
Buttered Chicken – The sauce is crucial when making authentic butter chicken. You will be astounded to discover that with just some spices such as onion, garlic, a can of crushed tomatoes, ginger, and other easily found spices, you can preserve the sauce's excellent aroma.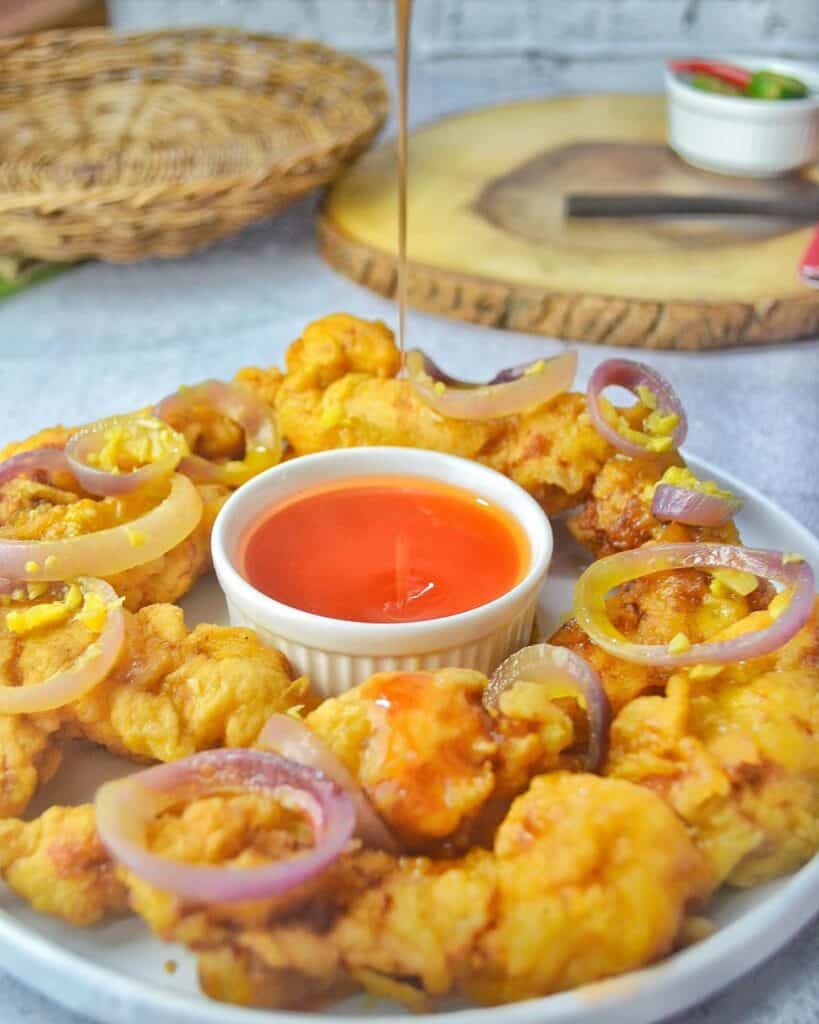 Shanghai Rolls – Filipino spring rolls, known as Lumpiang Shanghai, are cooked with ground beef, chicken, or hog filling and are encased in thin crepes known as lumpia wrappers. The meat-filled wrappers from this Noodle King menu are formed into thin, cylinder forms, sliced into bite-size pieces, and deep-fried until perfectly golden.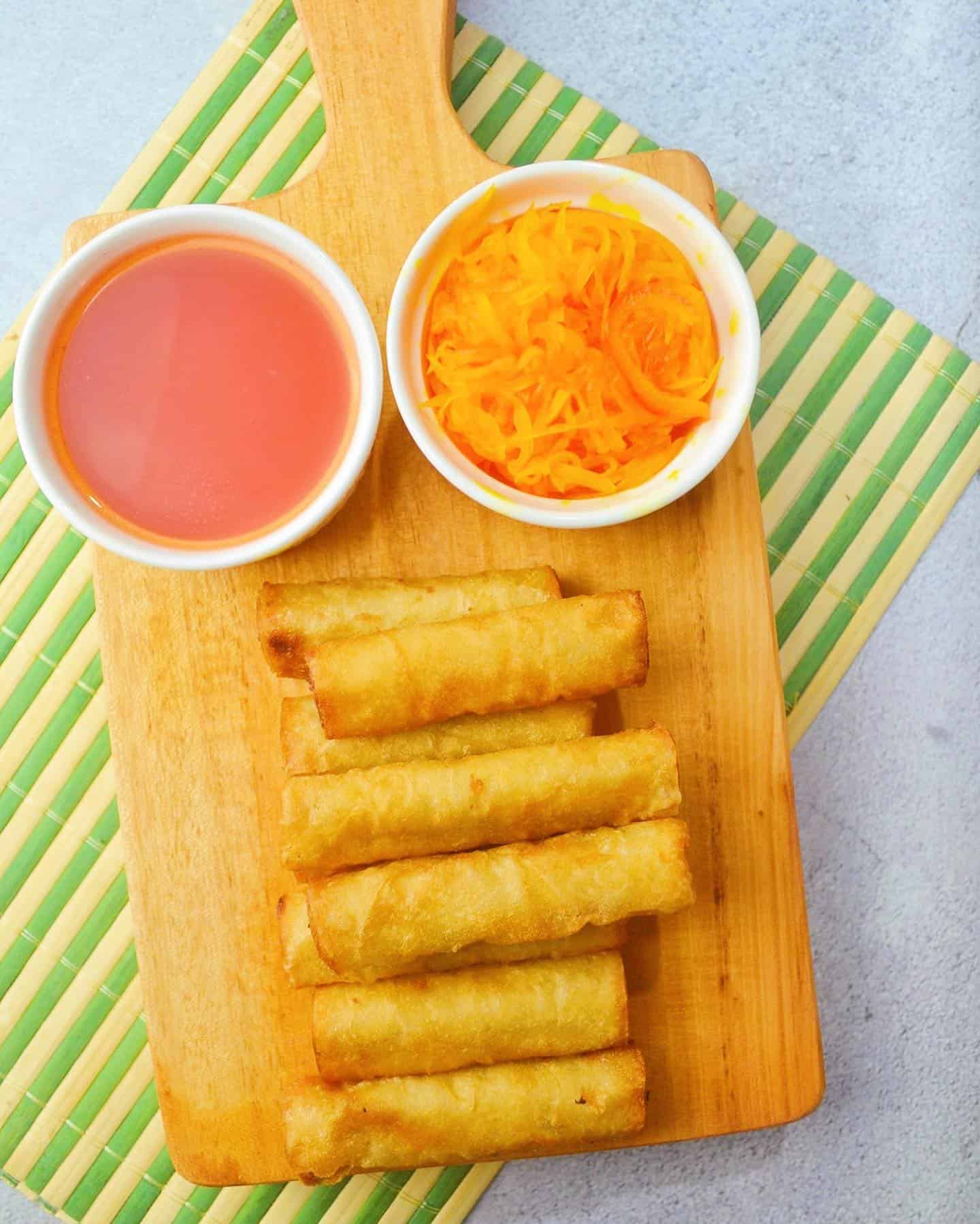 Rice Toppings
This menu is composed of dishes that enhance the flavor of your rice meals. It is composed of lechon toppings, asado toppings, and fish filet toppings, which are very popular among Filipinos. These dishes are served on top of a box or a plate of rice.
Sizzling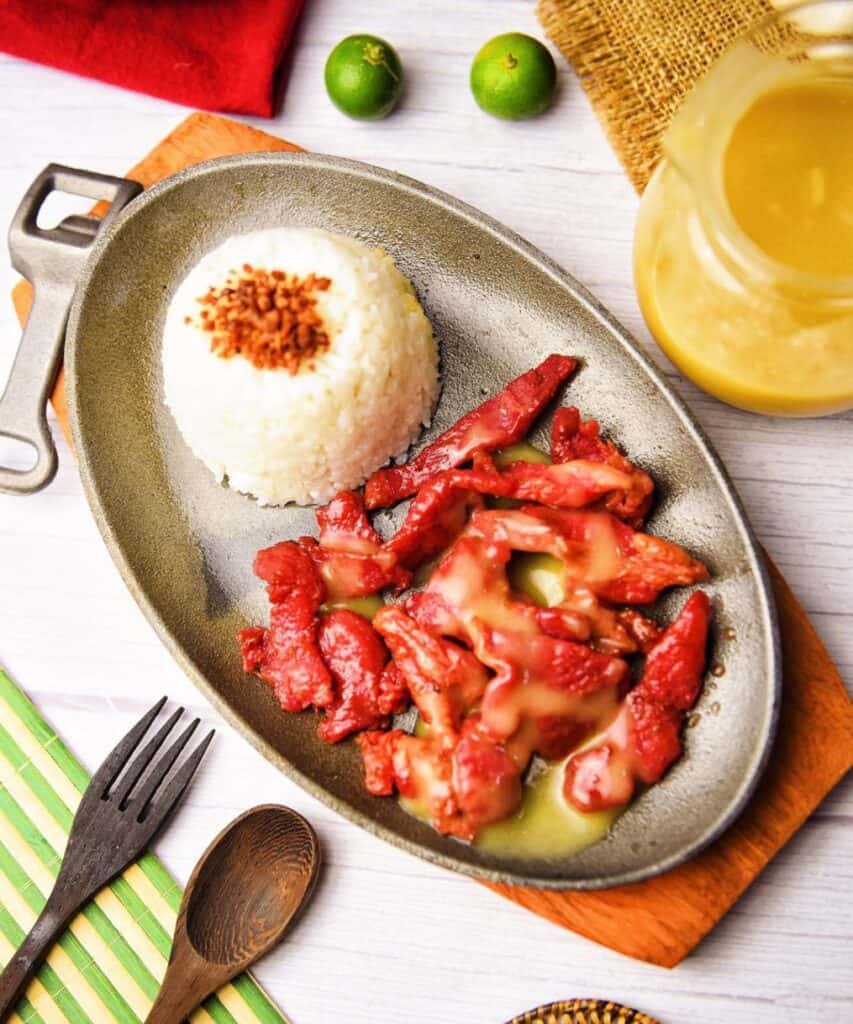 The dishes that are part of this menu are prepared and served on a hot metal plate that is set on a wooden base. The sizzling dishes are grilled on a very hot metal griddle to keep their interiors wet and their exteriors crisp.
Mami
A common Filipino noodle dish called mami is made with wheat flour noodles, broth, and either meat or wonton dumplings. It belongs to the pancit family of noodles, and the noodles themselves are occasionally referred to as mami.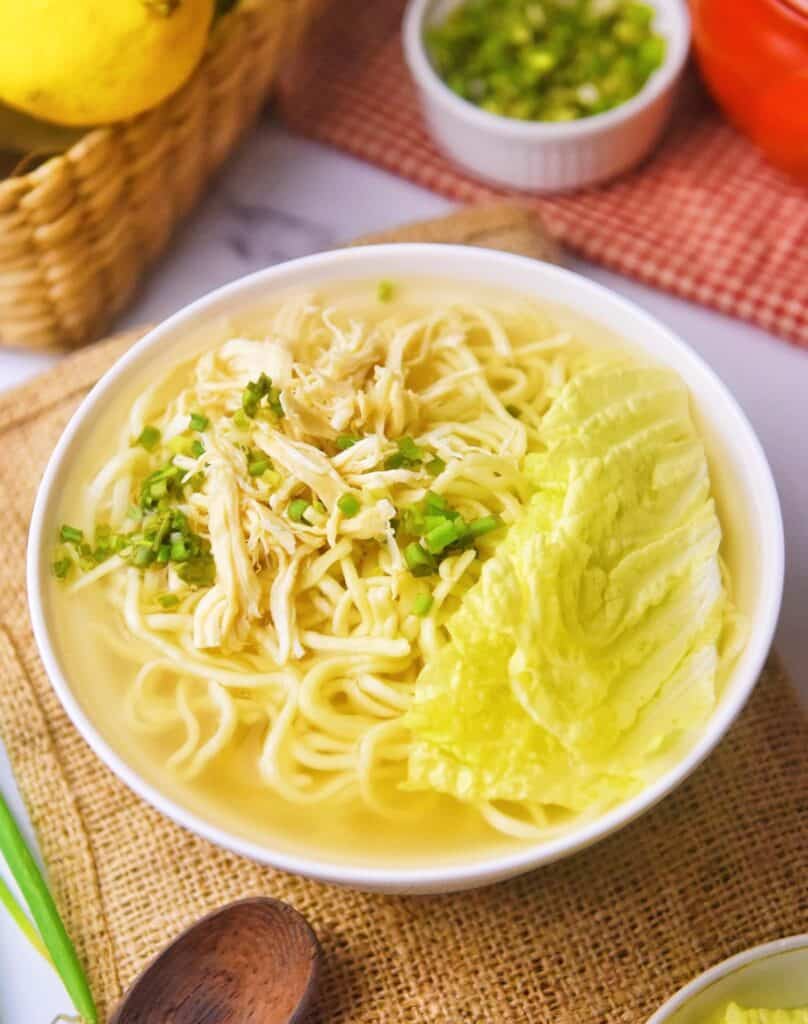 Noodle King Menu Delivery
All of Noodle King's delectable and filling dishes are offered for delivery. Their menu delivery makes satisfying your cravings for daily Filipino meals more convenient. For additional information about their delivery services and menu, you can send them a message through their social media pages.
Noodle King Social Media Pages
If you're keen to explore the world of Noodle King and stay abreast of its products, promotions, and discounts, then look no further than its social media channels. To begin, simply click on the links below and follow their social media accounts. This way, you'll stay up-to-date with all of their latest products and never miss a beat.
Facebook: https://www.facebook.com/noodlekingsouphouse/
Instagram: https://www.instagram.com/noodleking.ph/
Conclusion
Contrary to its name, the Noodle King menu is composed of not just noodle dishes but a variety of traditional Filipino dishes. They are the best restaurant to find both a relaxing place and delicious food. Customers would feel at ease and calm while dining because of the restaurant's casual atmosphere. Another thing to note is their friendly staff, who are very accommodating and quick to meet the customer's demands.