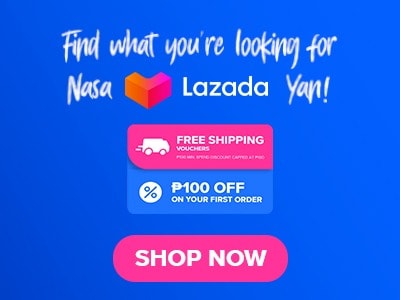 Kubo Restaurant's menu gives you a peek at Philippine history through the various dishes that they serve. Because almost every Filipino dish was inspired, if not directly copied, from a variety of colonizing countries. You can try dishes that have a hint of Chinese, Spanish, and American flavors on Kubo's menu. Kubo Restaurant is aesthetically designed to please both foreigners and locals alike.
Menu Items
Price (PHP)

Ala Carte' Items

Soup of the Day
80
Pork BBQ
75
Chopsuey
110
Pinakbet
110
Sizzling Tofu
120
Pork Sisig
210
Tuna Sisig
230
Calamares
199
Inihaw na Pusit
199
Fried Chicken
210
Beef Steak
250
Lechon Kawali
250
Sweet and Sour Fish fillet
210
Sinigang na Bangus
250
Sinigang na Baboy
260
Inihaw na Bangus
220
Sinigang na Tanuige
250
Sinigang na Hipon
300

All-time Favorites

Tawilis
250
Kare-Kare
310
Chicken Pork Adobo
230
Bistek Tagalog
230
Bulalo
450
Crispy Pata
399
Patatim
499

In Can

Coke
65
Sprite
65
Royal
65
Coke Zero
65

Juice

Iced Tea
32
Bottomless Iced Tea
60
Iced Tea Pitcher
180

Snacks (Good for 2 persons)

Lomi
120
Pancit Canton
120
Pancit Bihon
120
Spaghetti
150
Carbonara
150

Sandwicheswith Fries and Drinks

Ham Sandwich
110
Chicken Sandwich
110
BLT
110
Tuna Sandwich
110

Kubo Salo-Salo Meals

SET A (Soup of the Day, Fried Chicken, Chopsuey, Rice Platter, Iced Tea)
319
SET B (Soup of the Day, Sizzling Sisig, Pinakbet, Rice Platter, Iced Tea)
319
SET C (Soup of the Day, Sinigang na Baboy, 3 pcs Pork BBQ, Rice Platter, Iced Tea)
319
SET D (Soup of the Day, Inihaw na Pusit, Ensaladang Talong, Rice Platter, Iced Tea)
319

Kubo Sulit Meals

1 pc Chicken
69
Porkchop
69
2 pcs BBQ
69
Tocino
69
Lumpiang Shanghai
69
Fried Bangus
69

New Rice Topping Selections

Beef Stir Fry
99
Chicken Stir Fry
99
Pork Stir Fry
99
Bicol Express
99
Sweet and Spicy Adobo
99
Creamy tofu
79

Kubo Silog Meals

Tapsilog
79
Tocilog
79
Longcilog
79
Bangsilog
79

Kubo Sizzlers Meals with Rice

Sizzling Sisig
120
Tuna Sisig
120
Sizzling Porkchop
120
Sizzling Lechon Kawali
120
Sizzling Chicken
120

Kubo PR Chicken

Half
210
Whole
399

Snacks

Spaghetti
79
Carbonara
79

Fruit Shake

Mango
99
Green Mango
99
Papaya
99
Watermelon
99

Hot Drinks

Small Cofee
55
Big Coffee
70
Lipton Tea
45
Tarragon Tea
45

Beers

Red Horse
60
Pale Pilsen
60
SMB Light
60

Bucket of Beer

Red Horse
310
Pilsen
310
SMB Light
350

Desserts

Fresh Fruits in Season
115
Turon with Chocolate Drippings
60
Halo-Halo
79

Extras

Half Rice
15
Rice Platter
25
Rice Platter
150
French Fries
70

Bilao

Spaghetti Large
900
Spaghetti Medium
500
Carbonara Large
900
Carbonara Medium
500
Pancit Bihon Large
950
Pancit Bihon Medium
550
Pancit Canton Large
950
Pancit Canton Medium
550
Pancit Mixed Large
950
Pancit Mixed Medium
550
About Kubo Restaurant
A simple yet beautiful place in Olivarez Plaza, Aguinaldo Highway, Tagaytay City is the Kubo Restaurant. The place is a mixture of native and modern design that is well-suited for families to make memories and spend meaningful time together.
Kubo Restaurant's menu introduces foreigners and locals alike to the best Filipino dishes. In addition to their tasty dishes, they also take pride in the kindness of their very accommodating staff, which perfectly represents the nature of us Filipinos.
Kubo Menu Best Seller
Pancit Bihon
It is a particular Filipino noodle dish consisting of rice noodles that are swiftly stir-fried with shrimp and chicken, sauteed garlic and onion, and simmered carrots, bell peppers, and cabbage.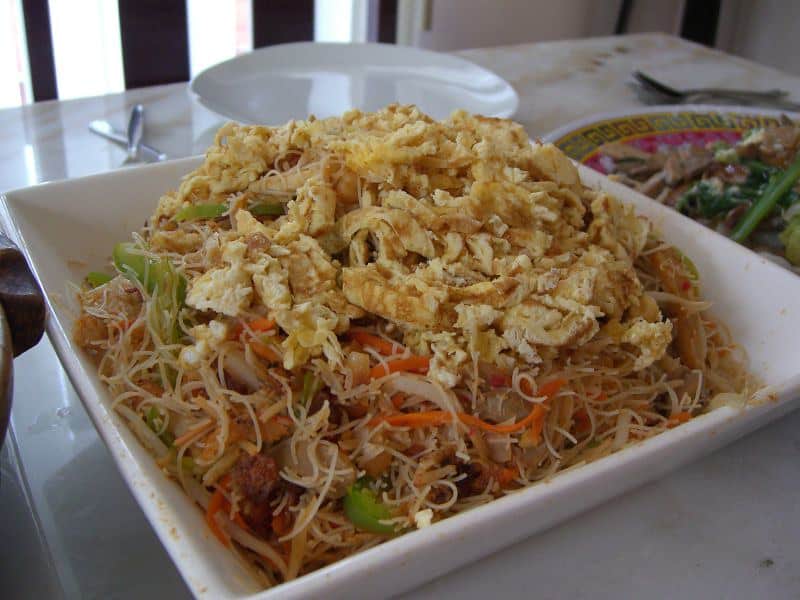 Crispy Pata
Similar to lechon kawali, Crispy Pata will appear pink after cooking, but despite its appearance, the food is perfectly cooked. This deep fried pork shank is brined in bay leaves, lemongrass, salt, and ginger for an entire night before cooking. After brining, it will result in a much better flavor profile for the pork.
Sinigang na Baboy
A native Filipino dish that is characterized by its sourness and savory taste. The distinct sourness that you taste from this Kubo menu mostly comes from the tamarind and other souring agents that are mixed into the stew pot. This dish is best paired with rice.
Sinigang na Isda
Another variation of the sinigang dish that uses fish as its base, mostly bangus or maya-maya, is cooked in a sour broth mixed with various vegetables. Sinigang na Isda is best served hot and pairs well with rice.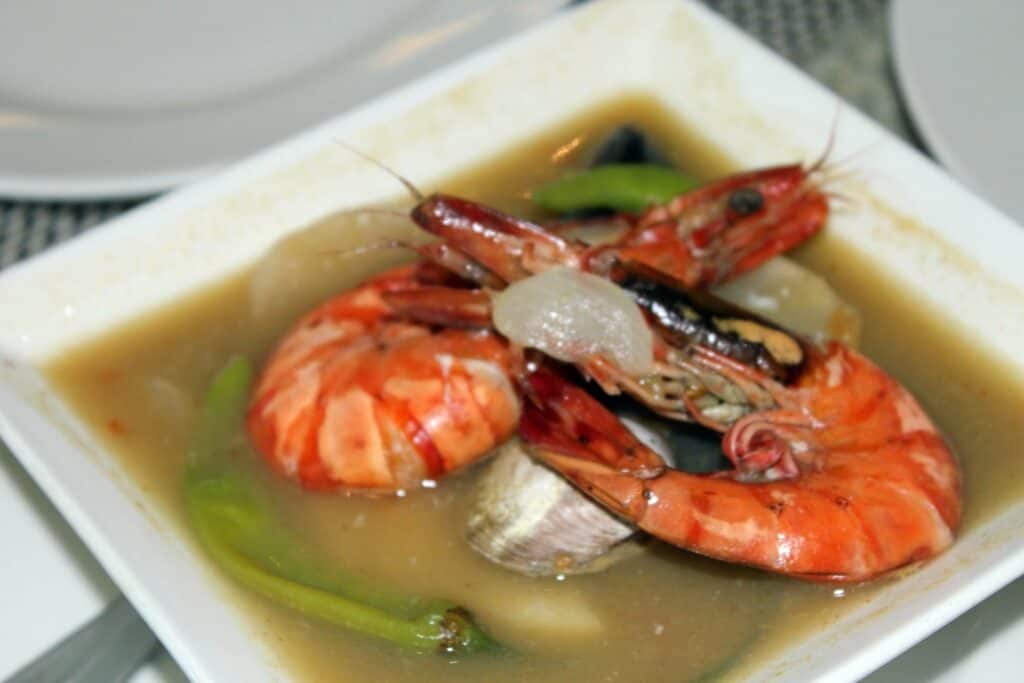 Sinigang na Hipon
It is a Filipino sour soup that uses shrimp as its base. The souring ingredients that are added to the stew pot depend on the preference of the cook. Artificial and natural souring ingredients like tamarind are often used when cooking sinigang na hipon.
A La Carte
Chop Suey
This is originally an American Chinese dish that is very famous and is treated as part of Filipino cuisine. It consists of quickly cooked vegetables such as beans, cabbage, and celery and meat that is mixed with a thick sauce.
Pakbet
Pakbet is a traditional Filipino dish from the northern regions of the Philippines. It is composed of mixed vegetables that are sauteed in fish or shrimp sauce. A highly recommended Kubo menu for those who want to eat a vegetable.
Pork Sisig
Another traditional Filipino dish that is made of chicken liver, pig's skin and belly, calamansi, onions, and chili peppers.
Beef Steak
Also a popular Filipino dish that is famously known as bistek, is made of thinly sliced beefsteak cooked with calamansi juice, soy sauce, garlic, and black pepper, and topped with onion rings. This dish is also best paired with white rice.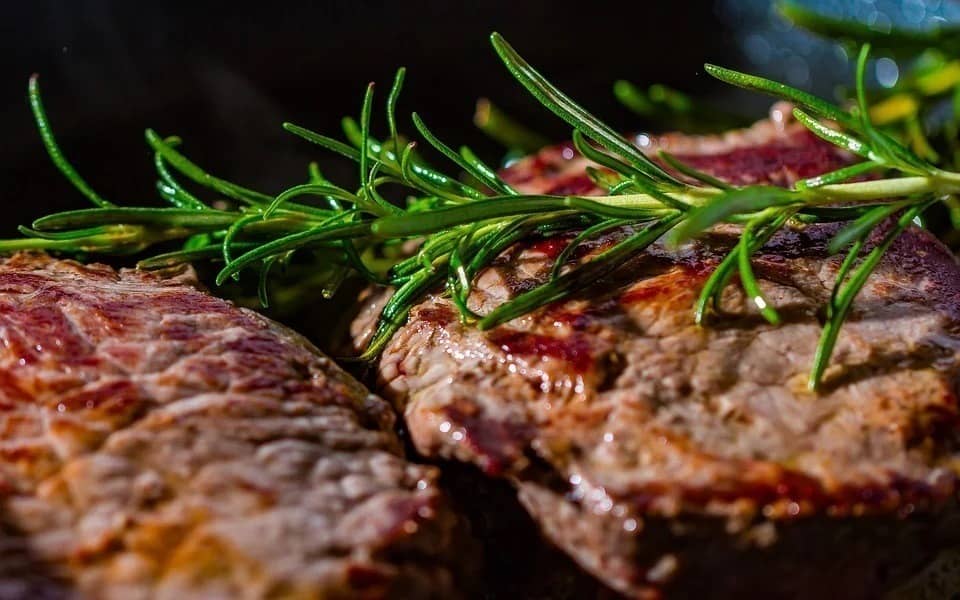 Lechon Kawali
It is a Filipino dish made of slabs of deep-fried pork belly cooked in a wok. Lechon Kawali mostly uses a full pork leg, seasoned, and deep fried. After becoming golden yellow, it is taken from the wok and served in cubes.
Kubo All-time Favorites Menu
Kare-Kare
This is a traditional Filipino dish that has a rich peanut flavor because of its sauce. This dish uses stewed oxtail, beef tripe, calves' or pigs' feet, beef stew meat, and offals as a base.
Chicken Pork Adobo
A Filipino Classic! This dish is one of the most famous in the Philippines, a chicken that is marinated in a sauce mix made from vinegar, salt, garlic, paprika, and oregano.
Bulalo
A beef dish that originated in the Philippines uses beef shanks as a base and is cooked until the collagen and fat are visibly melted into the broth.
Kubo Salo-Salo Menu
Set A
Is composed of the soup of the day, fried chicken, chop suey, a rice platter, and iced tea. This set of meals brings out the epitome of Filipino cuisine at a very affordable price.
Set B
Composed of the soup of the day, sizzling sisig, pinakbet, rice platter, and iced tea, this full meal was specially made for the guests that want to have a taste of the full experience of Filipino dishes.
Set C
Composed of soup of the day, sinigang na baboy, 3 pcs pork bbq, rice platter, and iced tea, this set is a heavy one that is very good for guests who want to have the experience of being completely full.
Set D
Composed of soup of the day, inihaw na pusit, ensaladang talong, rice platter, and iced tea, this set was made to be soft for the guests who have difficulty chewing or swallowing due to dental problems or other weaknesses.
Sulit Meals
Porkchop
This is a rib portion of pork that is deep-fried until it becomes golden brown and is served as an individual portion.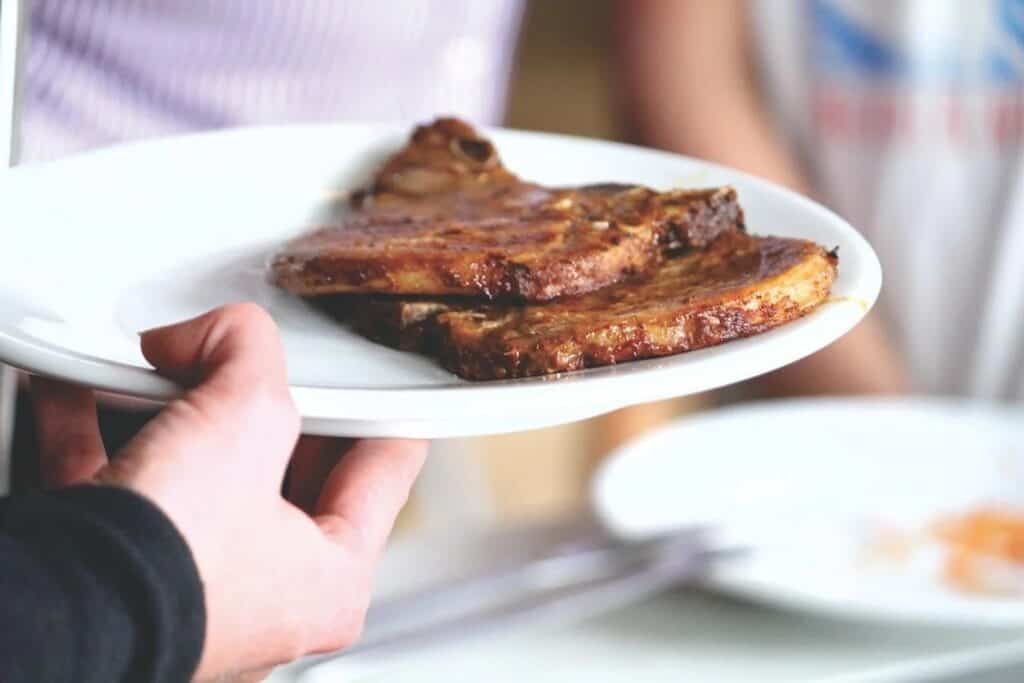 Lumpiang Shanghai
It is an egg roll that is filled with ground pork, minced onions, carrots, and seasonings.
Fried Bangus
A straightforward dish that bursts with flavor. Before deep frying, the bangus is dipped into a specially made marinade to give it a sweet and spicy flavor that will complement the naturally rich taste that it has.
Talk to Kubo Philippines Staff
In case you want to ask the Kubo Staff for something or you want to send them your suggestions, you can talk with them via social media. In this way, you can ask them about the latest news, promotions, and events that Kubo Restaurant offers. Click these links to be redirected to their official social media accounts or website.
Website: https://www.tagaytaycountryhotel.com.ph/
Facebook: https://facebook.com/TagaytayCountryHotel
While you are also browsing their website, we recommend you like some of their posts and to subscribe them to show your support.
Conclusion
Every dish that Kubo Menu serves reflects the history of the Philippines. It is a place where you can try and experience Filipino dishes and figure out how different countries inspired them. It is a perfect place to host special occasions like birthday parties, weddings, and other family events or gatherings.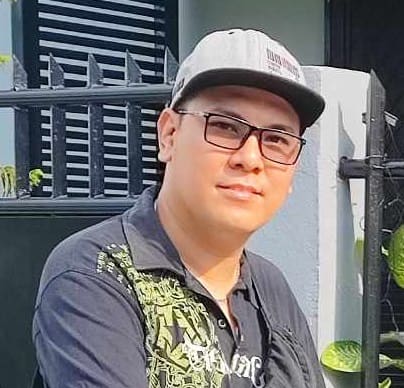 Hi! I'm Nivek Strife, the person who made MenuPH. I'm the one who added most of the popular menus you see on this website, and I really hope you enjoy them! Feel free to check them all out.
Growing up, I was surrounded by lots of tasty foods, like the classic Adobo and the sweet Leche Flan. That love for the many flavors of the Philippines is what got me excited about adding to MenuPH. When I learned how to make websites, I saw the need for a place to show off all the amazing Filipino dishes, and that's how MenuPH started.
MenuPH isn't just a website; it's like a fun journey into food. I've teamed up with famous chefs and found great places all over the Philippines to bring you a bunch of menus that show off the best of Filipino cuisine. Whether you're into the usual dishes or new twists, MenuPH is here to guide you through the rich world of Filipino flavors.
With MenuPH, my aim is to help local businesses, talk about good food choices, and make a group of friends who love food. No matter if you like fancy restaurants or street food, MenuPH has something for you. Come join me on this food adventure as we find great places, taste real flavors, and enjoy the unique food traditions that make the Philippines awesome.