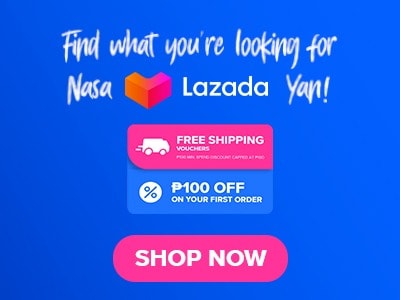 The Lido Cocina Tsina menu aims to take Filipinos back to the late 1930s when calesas were still roaming the busy streets and eskinitas of Binondo. Lido Cocina Tsina was the first known eatery that serves authentic Chinese food and immediately became famous for its specialty, the succulent and savory Pugon Roasted Asado, which was made by the founder of the restaurant, Mr. Lido himself. The original recipes for their dishes are still followed by Lido Cocina Tsina, even though it has been decades since their first diner was opened.
Below, you'll find the updated list of Lido Cocina Tsina menu prices.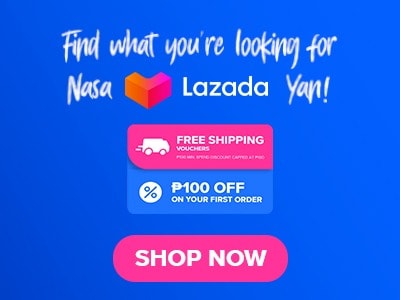 Menu Items
Price (PHP)

Breakfast

Filipino Breakfast Longganisa
314
Filipino Breakfast Laig na Bangus
314
Filipino Breakfast Beef Tapa
314
Filipino Breakfast Corned Beef
314
Classic Breakfast Medley
325
Chinese Breakfast Medley
341
Breakfast Primera
325
Scrambles Breakfast
314
Asado Smoked Sausage
325
SChinese Chorizo
303
Omelette Breakfast
292
Shrimp and Mushroom
314

Pork

Pugon Roasted Asado
462
Asado with Plum Sauce
501
Drunken Lechon Macau
479
Lechon Macau and Mushrooms in Plum Sauce
501
Hong Ma with Cuapao
561
Shantung Prk
424
Sweet and Sour Pork
424
Sparribs Salt and Pepper
435
Lumpiang Shanghai
314

Chicken

Manchurian Wings
424
Buttered Chicken
391
Chinese Fried Chicken
391
3 cups chicken
435

Fish

Sweet and Sour fish
369
Steam fish Fillet with House Soy
380
Braised Fish Filelt with Beancurd
369

Shrimp

Shrimp Foo Yong
534
Camaron REbosado
523
House Sichuan Shrimp
534
Shrimp Balls
446

Squid

Sauteed Squid in Seafood Sauce
479
Squid Chili Taosi
479
Squid in Salt and Pepper
402

Mami

Beef Brisket
171
Beef Brisket Wanton
171
Chicken Mami
171
Asado Mami
204

Vegetable

Broccoli Garlic
270
Chopsuey
314
Stir Fried Seasonal Vegetables
314
Braised Tofu with Mushrooms
314
Sichuan Eggplant
314

Dimsum and Sides

Tofu
138
siopao
121
Mini Asadopao
242
Cuapaoi
77
Buchi
149
pork Siomai
138
Dumplings
138
Stemaed Pork Ribs
138
Chicken Feet
121
Chicharon
61
About Lido Cocina Tsina
There stood a modest eatery called Panciteria Lido on one of the narrow alleys of Binondo that was owned by a Cantonese chef known as Mr. Lido. It was the first known eatery that serves authentic Chinese food and immediately became famous for its specialty, the succulent and savory Pugon Roasted Asado which was made by Mr. Lido itself. Even now, the Lido legacy still continues. Lido Cocina Tsina has been serving outstanding dishes made with fine ingredients for more than 80 years now.
Lido Cocina Tsina Menu Best Seller
The best and most popular items on Lido Cocina Tsina's menu. These are the most common orders that regular diners want every time they visit.
Drunken Lechon Macau – Lido Cocina Tsina's most popular dish and is already considered their legendary dish that diners must try whenever they get a chance to visit the said restaurant. It is a premium pork belly, also known as "Liempo" in Filipino, that is cured in wine and spices for more than 60 hours before being fried to perfection! It is served on a sizzling plate with a savory sauce added.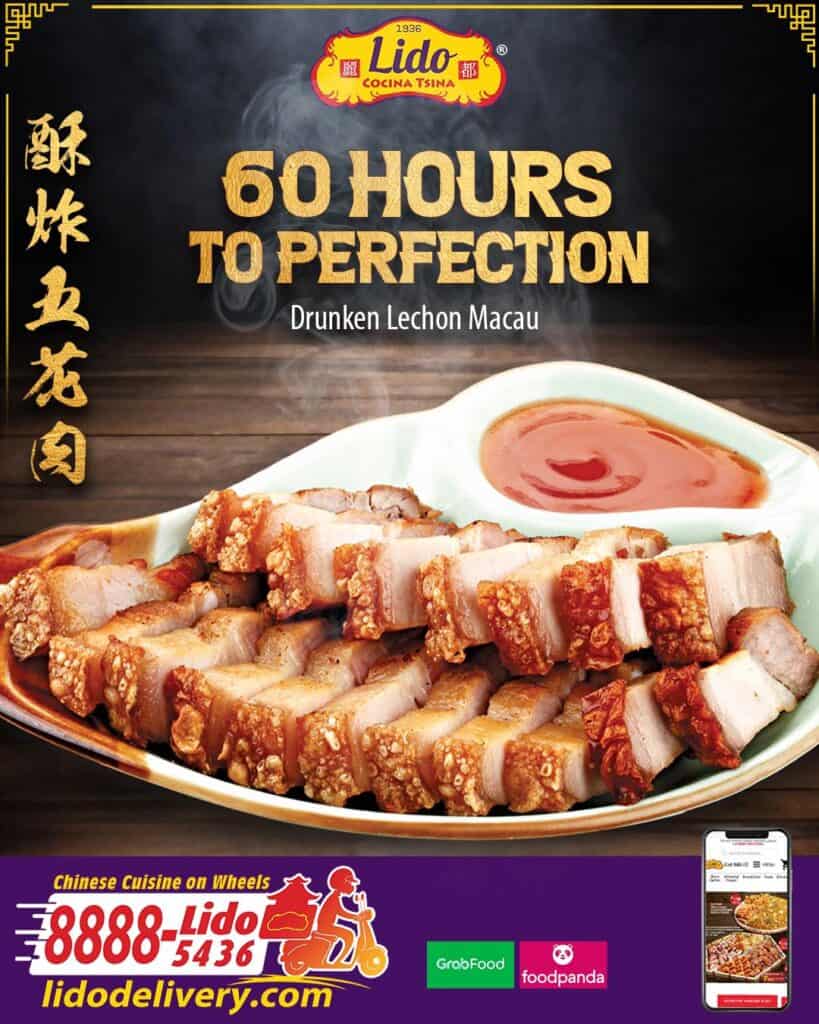 Pugon Roasted Asado – A very well-known and one of the all-time favorite dishes of Manileños. Pugon Roasted Asado is one of those classic dishes from the Lido Cocina Tsina menu that has consistently survived the test of time. It is an old cured pork loin that has been around for about 80 years or more. This recipe from Lido is freshly roasted until the pork loin becomes tender over firewood in a brick oven.
Sweet and Sour Fish Fillet – For those who want to eat fish without the little fish bones, this dish is a wonderful one that was made for you! Sweet and Sour Fish Fillet is made with carrots, onions, and bell peppers that are added to the sweet and sour sauce with the fried fish fillet.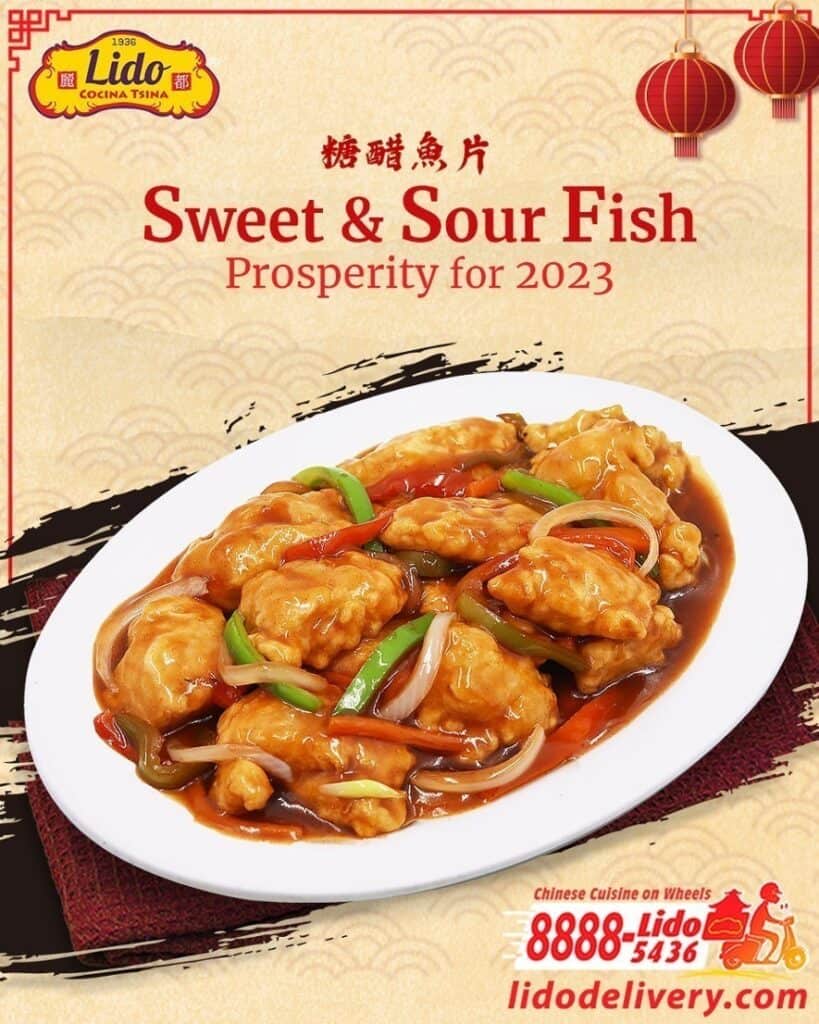 Manchurian Wings – A common Indonesian-Chinese meal, chicken Manchurian Wings are deep fried with batter after being dipped in a sweet and sour sauce for marinating. A gingery, sweet, and hot oriental sauce is applied to these crispy chicken wings.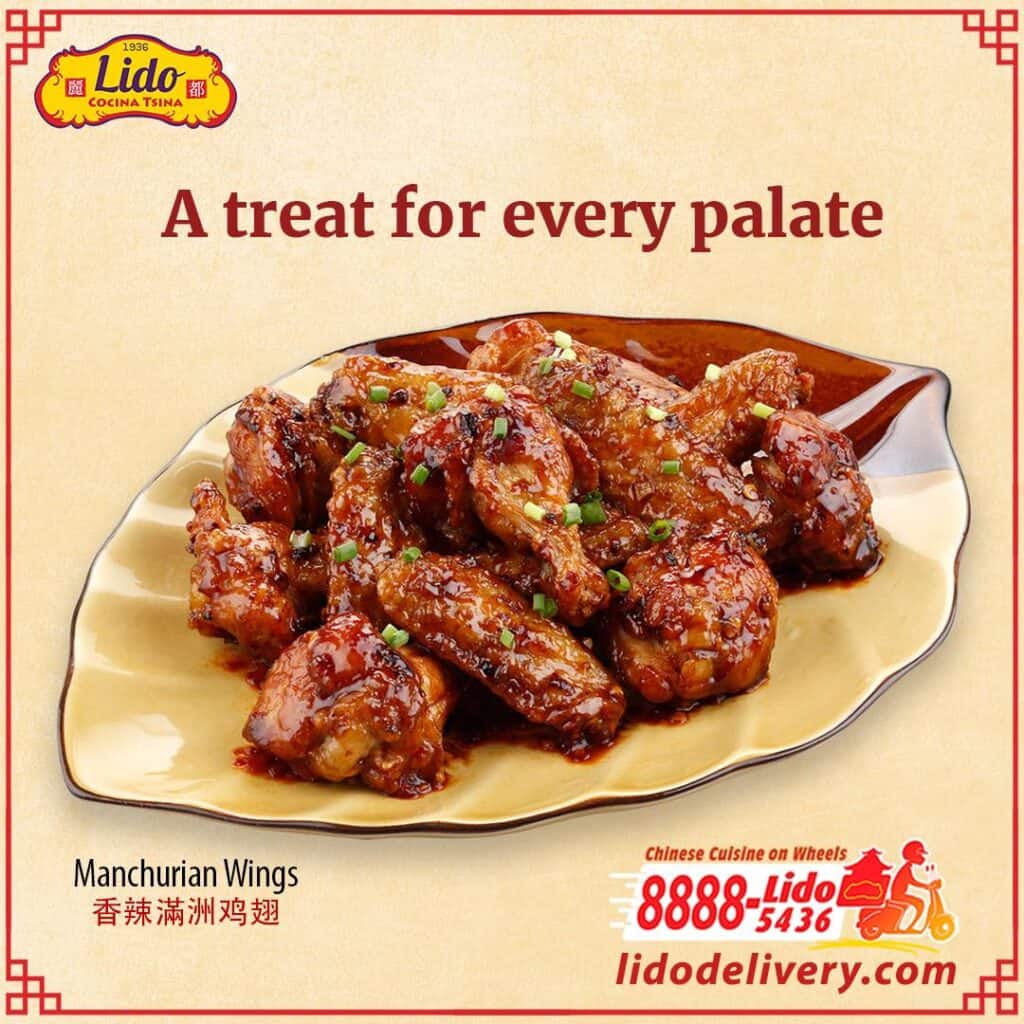 Chami Special – Guest's favorite dish in Lido Cocina; is thick Chinese noodles sauteed with veggies, shrimp, and pork. The native dish of China consists of thick noodles, chicken, pork, or shrimp—or maybe all three of them combined—and a wide variety of veggies. Vegetables that have been stir-fried go incredibly well with these tasty components.
Breakfast Menu
I recently had the pleasure of trying out the breakfast menu at Lido Cocina Tsina and let me tell you, it did not disappoint! The menu is packed with delicious choices that are sure to energize your day. From their mouthwatering breakfast specials to their satisfying start-up options, there's something for everyone.
Filipino Breakfast Longganisa – Longganisa, a sunny-side-up egg, plain or garlic rice, and a free Lido Siphon coffee make up this breakfast in the Filipino style. Longganisa is usually fresh or smoked sausages, commonly produced with varied ratios of lean meat and fat.
Filipino Breakfast Daing na Bangus – A hearty breakfast meal that is prepared in Filipino style. This breakfast meal is made up of fried daing na bangus, sunny-side-up egg, your choice of plain or garlic rice, and a free cup of Lido Siphon brewed coffee. Daing na bangus is fried milkfish that is marinated in a vinegar mixture before being fried until it becomes crispy and brown.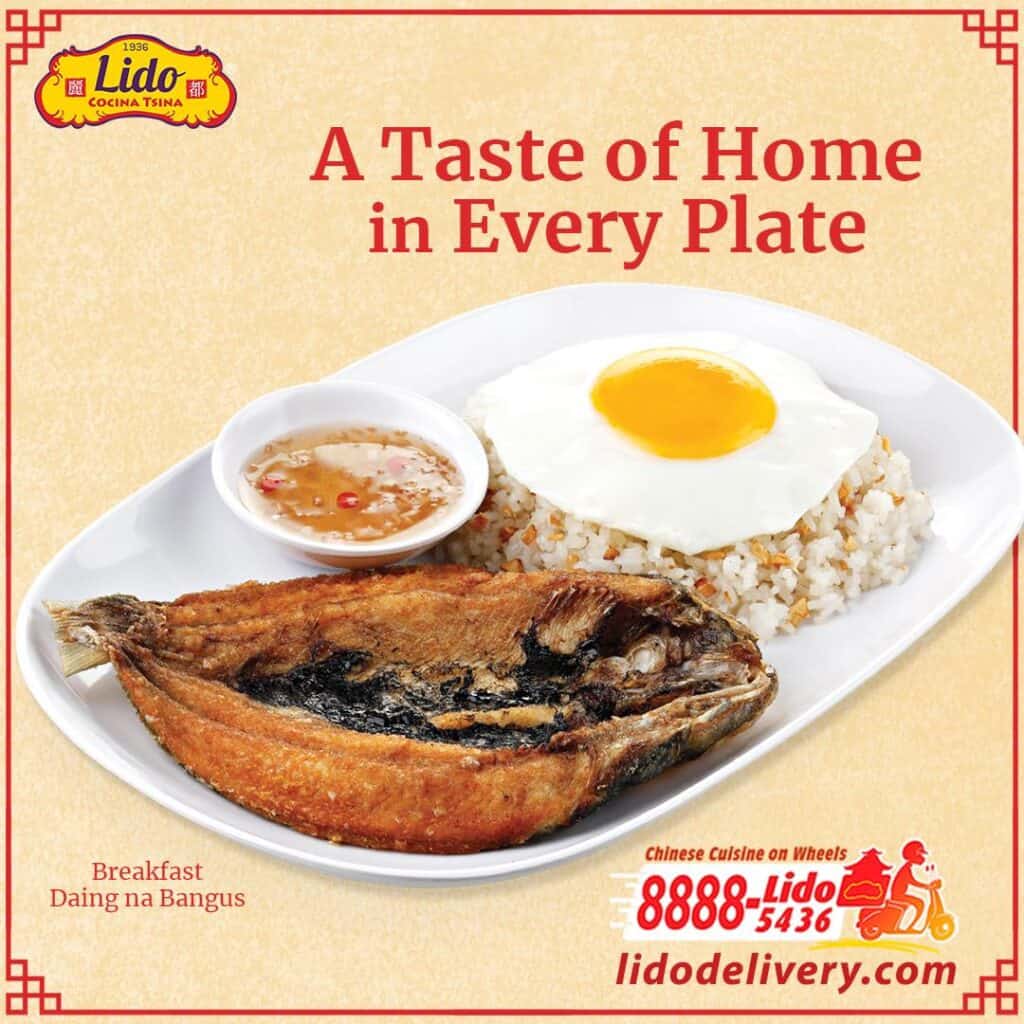 Filipino Breakfast Beef Tapa – A filling breakfast meal that was prepared in the traditional way of Filipino style cooking. In addition to a free cup of Lido Siphon brewed coffee, this breakfast meal comes with a sunny-side-up egg, beef tapa, and the customer's choice of plain or garlic rice. Tapa is a Filipino dish that is made of thinly sliced beef. As a preservation method, the meat is first cured with salt and spices before it is dried or smoked.
Chinese Breakfast Medley – This breakfast dish offers a selection of South-East Asian, Western, and American foods in addition to traditional Chinese and international favorites such as meatball congee, four pieces of pork siomai, and crispy tofu in a Chinese vinegar sauce that is prepared in the Chinese manner.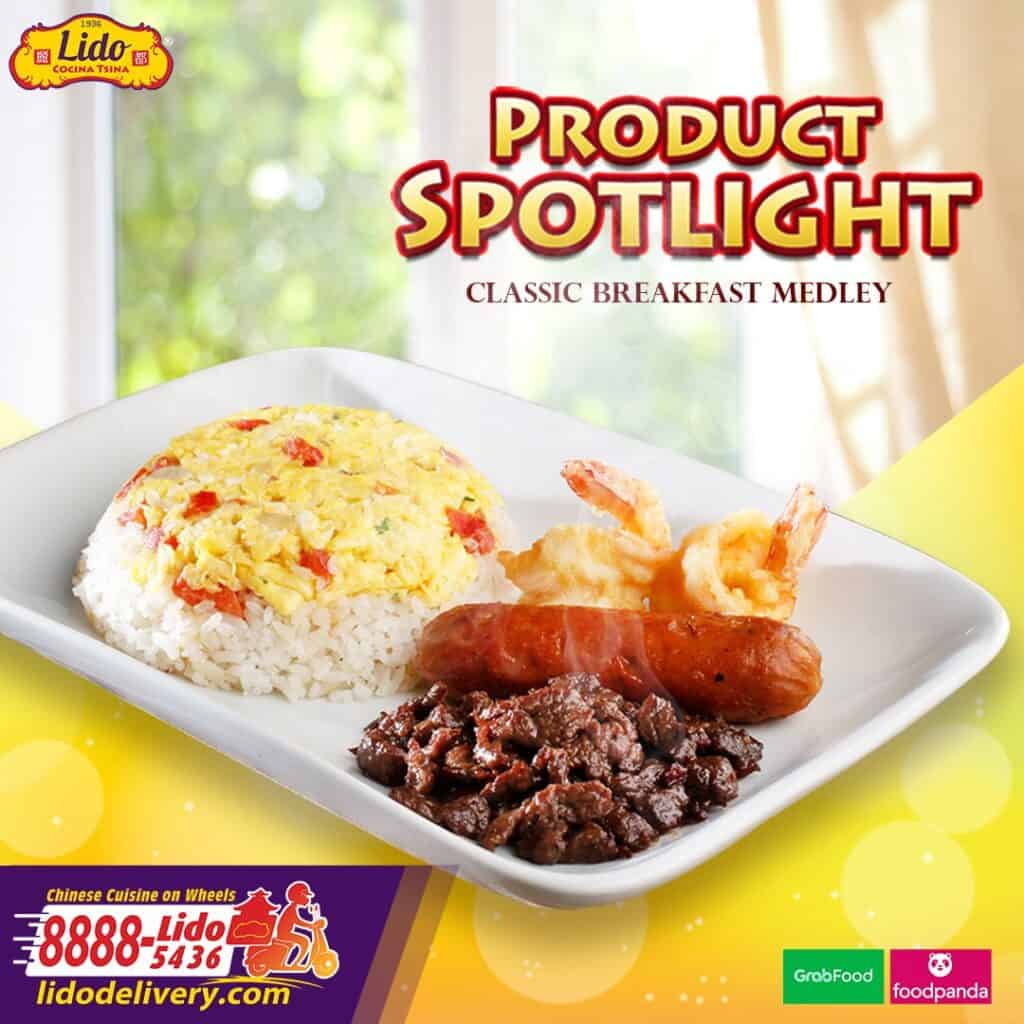 Breakfast Primera – Lido Cocina Tsina's roasted asado is served over a bed of scrambled eggs, rice, and a unique Macau sauce. A free cup of Lido Siphon brewed coffee goes excellently with this particular breakfast meal.
Chicken Menu
All Filipinos love chicken, and Lido Cocina Tsina knows that. They offer tasty and delicious Chinese-style, Western-style, and American-style chicken recipes. Their chicken menu includes Manchurian Wings, Buttered Chicken, Chinese Fried Chicken, and 3 Cups of Chicken.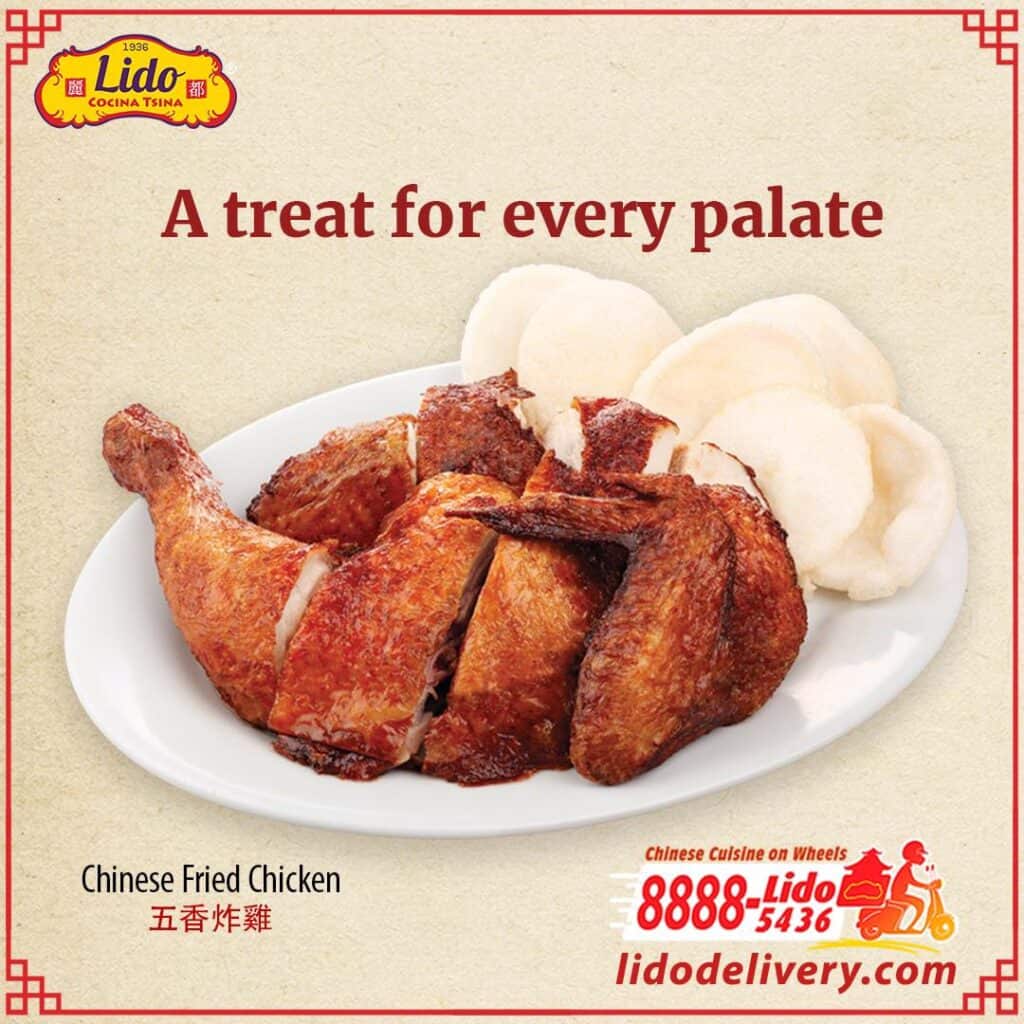 Pork Menu
Western, Chinese, or Filipino, we all love pork. That is why pork is one of the most popular dishes on the menu at Lido Cocina Tsina! Their pork menu includes dishes like Pugon-Roasted Asado, Asado with Plum Sauce, Drunken Lechon Macau, Lechon Macau and Mushrooms in Plum Sauce, Hong Ma with Cuapao, Shantung Pork, Sweet and Sour Pork, Spareribs Salt and Pepper, and Lumpiang Shanghai.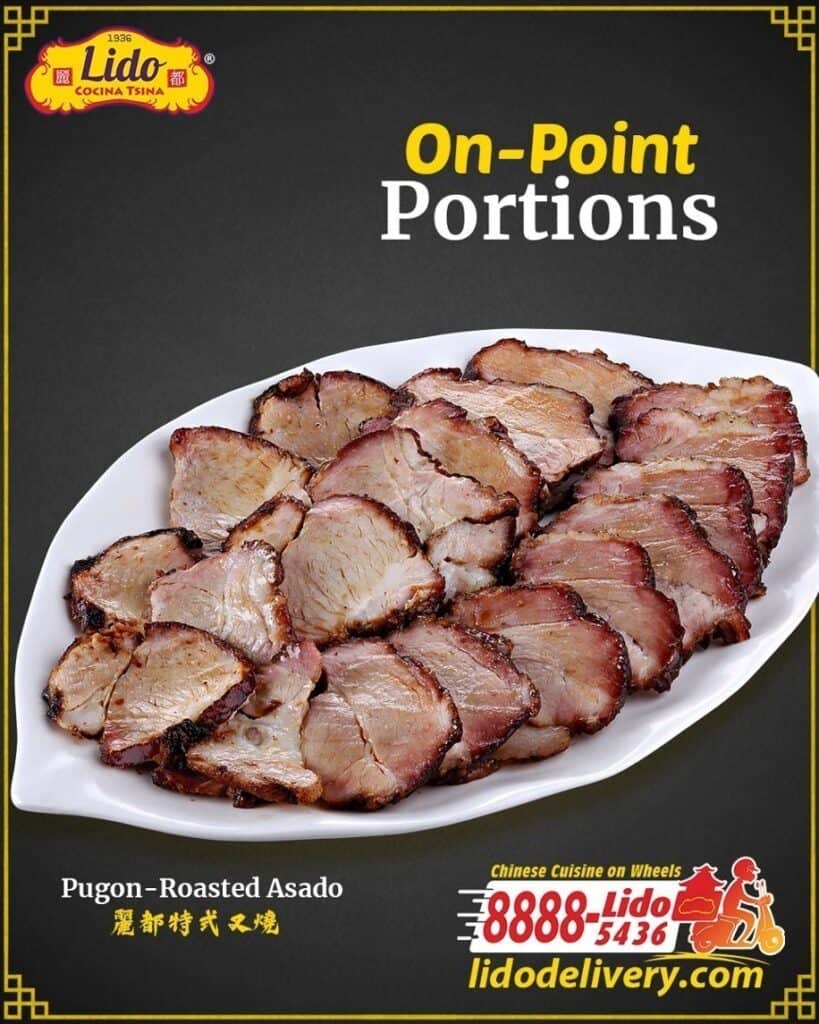 Lido Cocina Tsina Menu Delivery
All of the items on Lido Cocina Tsina's menu are available for delivery. However, all customers who are within 1.5 kilometers of the store, can expect their delivery to arrive in 45 minutes, and the minimum order would be at least 300 pesos. The delivery time and minimum amount of purchase may change depending on the distance of the customer from the store. Customers can order through the FoodPanda and GrabFood applications on their mobile phones. Or they could visit Lido Cocina Tsina's official website. Please click the link below.
Website: https://www.lidodelivery.com/
Social Media Pages
They have several social media pages that you can choose from to boost and support their restaurant. I highly recommend you follow their pages to get updated. The links to their social media pages are provided below.
Facebook: https://www.facebook.com/LidoCocinaTsina/
Instagram: https://www.instagram.com/lidococinatsina/
Twitter: https://twitter.com/lidococinatsina
Conclusion
Lido Cocina Tsina has a lot of different dishes on its menu. This allows diners to have a lot of options to choose from during their visit to their restaurant. Their menu does not only have a variety of dishes, but every item on it is very tasty and filling! The service crew is friendly, and the restaurant is clean and cozy. The cuisine is not simply good, but also very affordable.