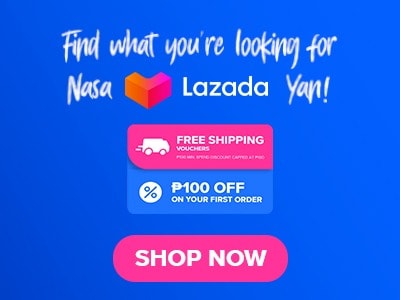 We Filipinos are knowledgeable regarding different cuisines. We are familiar with Italian cuisine, Korean cuisine, Japanese cuisine, and most especially American cuisine. I believe that the reason why we Filipino are knowledgeable about the different cuisine that this world can offer is that, we have been colonized by a lot of countries before. Not only they colonized us, but they also introduced to us their variety of cultures. Since Filipino are very adaptive, we also had an idea of how to cook their dishes up until this time. However, I am not here to talk about the different cuisine that we can find across the globe. I am here to introduce to you the Crisostomo restaurant menu that offers pure Filipino cuisine.
Below, you'll find the updated list of Crisostomo menu prices.
Menu Items
Price (PHP)

Appetizers

Bagumbayan Lechon
360
Bolas de Fuego
295
Caracol
360
Kinilaw Ni Custodio
325
Lourdes
325
Lucas
415
Macaraig
295
Mang Pablo
425
Protacio's Pride
380
Sinuglaw Tarsilo
380

Soups

La Paz Bulalo
735
Munggo De Mariano
325
Sinigang Burgos
605
Sinigang Gomez
525
Sinigang Mestizo
745
Sinigang ni Kapitan
545
Tinolang Matanglawin
435

Salad and Vegetables

Bonifacio
545
Crazy Sisa
305
Ensaladang Erehe
260
Kangkong con Selo
315
Noli me Talong
325
Pilosopong Pinakbet
360
Sinang con Laing
305
Soledad
360

Entree/Main Dish

Adobo Damaso
470
Anastacio
425
Bella Bandida
360
Binagoongan ni Pia
470
Bistek Pelaez
935
Callos de Aguinaldo
545
Corregidor
425
Don Filipo
470
Don Geronimo
495
Don Juan
415
Don Rafael
935
Dona Victorina
580
Emilio
545
Ka Plaridel
435
Kare-kare ng Kura
745
Kare-kare ng Mestizo
765
Kare-kare ni Simon
655
KKK Barbecue
415
Leandro
470
Liwayway
470
Manok ng Diablo
415
Paella Filipino
535
Paella Negra
470
Paella Visayas
470
San Gabriel
415
Ventura
655

Sizzling

Beaterio
250
Bracken Tofu
215
Carriedo
435
Joaquin
765
Lengua Laruja
545
Salome's Secret
385
Saturnina's Secret
435
Seta's Salpicao
270
Sisig Linares
325
Victoria
525

Merienda

Arroz Caldo Halo-Halo
360
Bam-i-guisado
435
Cervantes
435
Escolta
435
Ginataang Bilo-Bilo
325
Ginataang Halo-Halo
360

Platters

Paterno
2195

Rice

Adobo Rice
305
Binagoongan Rice
360
Garlic Rice
85
Pandan Rice
75
Taba ng Talangka Rice
405
Tinapa and Salted Egg Rice
305

Desserts

Campeon Turon
180
Choleng
180
Cospel de Leche
95
Halo-halo ni Crisostomo
150
Kapitan Tika
160
Maria Clara
235
Narcissa
235
Sago't Gulaman
125

Beverages

Bottled Water
95
Lemon Iced Tea
98
Soft Drink in Can
95
About Crisostomo
Since we are fond of eating samgyupsal, burgers, and pizza; we tend to neglect the food that we used to have in our diners as Filipino. Our diner lacks this Filipino dishes that are indeed tasty and colorful. With that, Crisostomo restaurant made its move and created an eatery that will solely focus on Filipino dishes.
There is actually a plethora of dishes that Crisostomo's menu can offer. There are appetizers, soups, entrée – such as Paella Filipino, sizzling, salads, and a lot more. So, if you are craving a Pinoy dish that you long for, then Crisostomo restaurant is just one block away from your location. To know where they are located, you can jump to the "Crisostomo Menu Delivery" section.
Crisostomo Menu Best Seller
We all know for a fact that Filipinos loves to eat right? And I can definitely say that we Filipino tend to buy those dishes that are certainly best seller. From the Crisostomo menu list, they cut it down and gave us a list of their best sellers. And to cut this long story short, here are some of Crisostomo's best-selling dishes.
Bagumbayan Lechon – this is a well-known appetizer in the Philippines. It is basically made up of pork belly which is undeniably crunchy. This Lechon Kawali chip also comes with liver sauce and spicy vinegar dip. 
La Paz Bulalo – This beef soup dish, which is made by simmering beef shanks and bone marrow in a flavorful broth, will set you back approximately 695 pesos for one bowl.
Crazy Sisa – if you love a little bit of craziness on your vegetable salad, then I highly recommend Crazy Sisa. You can enjoy this green salad with crispy Hito flakes.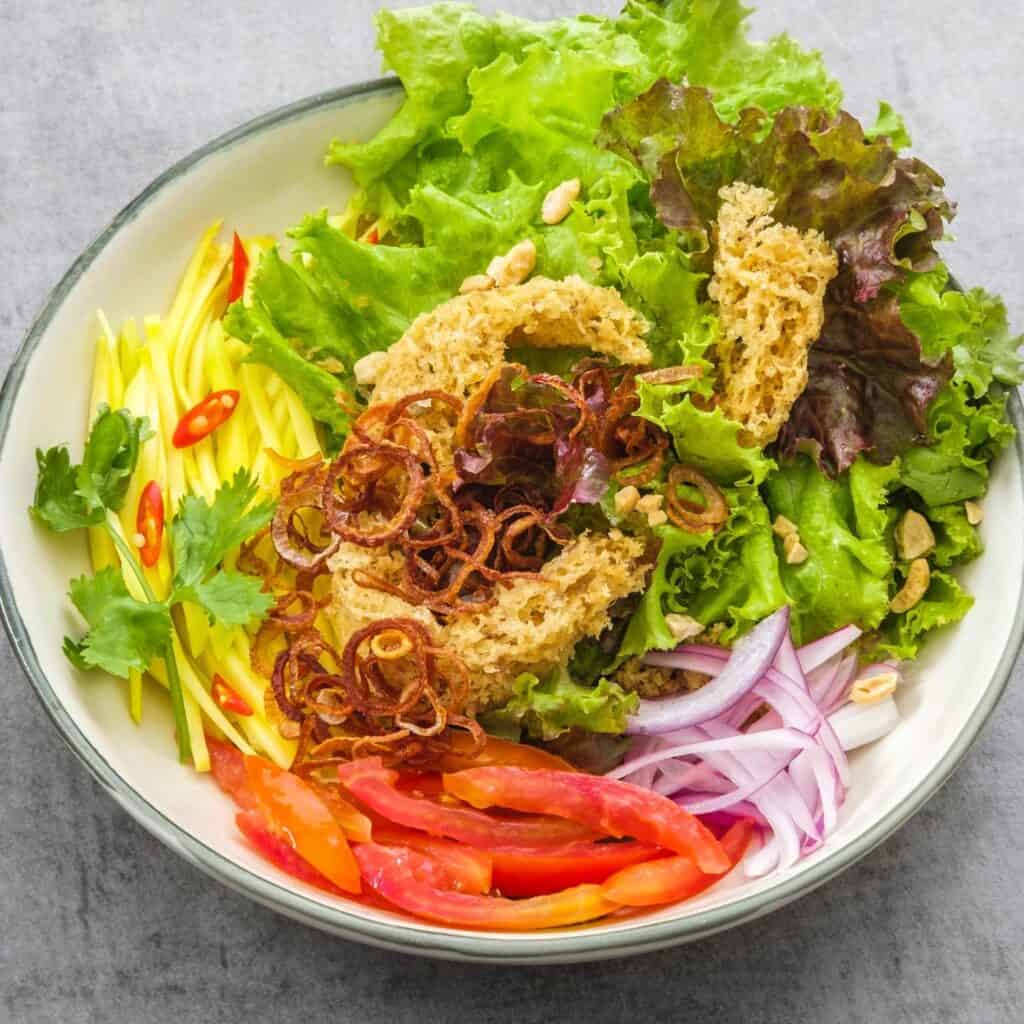 Adobo Damaso – our classic Filipino adobo won't give you any embarrassment, not because it is only healthy, but because it can also bring you back in time as you reminisce about your childhood memories.
Paella Filipino – here in the Philippines, we've also created our own version of the Spanish rice dish. Our Paella Filipino contains grilled pork belly, prawns, chicken, and chorizo.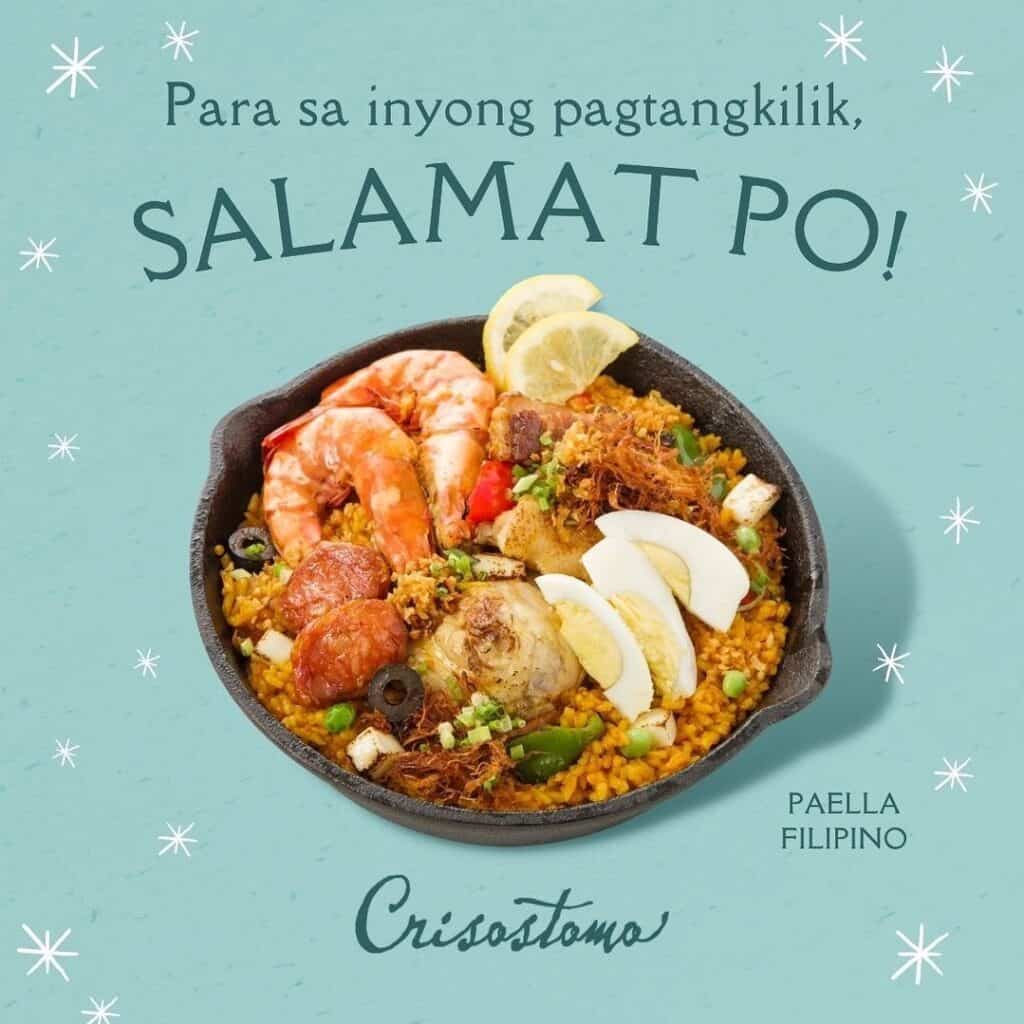 Appetizer
We all know that appetizers are small dishes or food items served prior to a meal to stimulate the appetite and prepare the palate for the main course. Here at Crisostomo, they also had a mouth-watering appetizers menu that can seriously boost your appetite. 
Bagumbayan Lechon – The Lechon Kawali chips are a delicious snack that is made from a crispy pork belly. These chips are paired with a rich and flavorful liver sauce, as well as a spicy vinegar dip that adds a tangy kick to every bite.
Bolas de Fuego – This menu from Crisostomo consists of fish and squid balls. It comes with three sauces – garlic vinegar, sweet chili, and fish ball sauce. The taste is really great when you dip it in any of these sauces.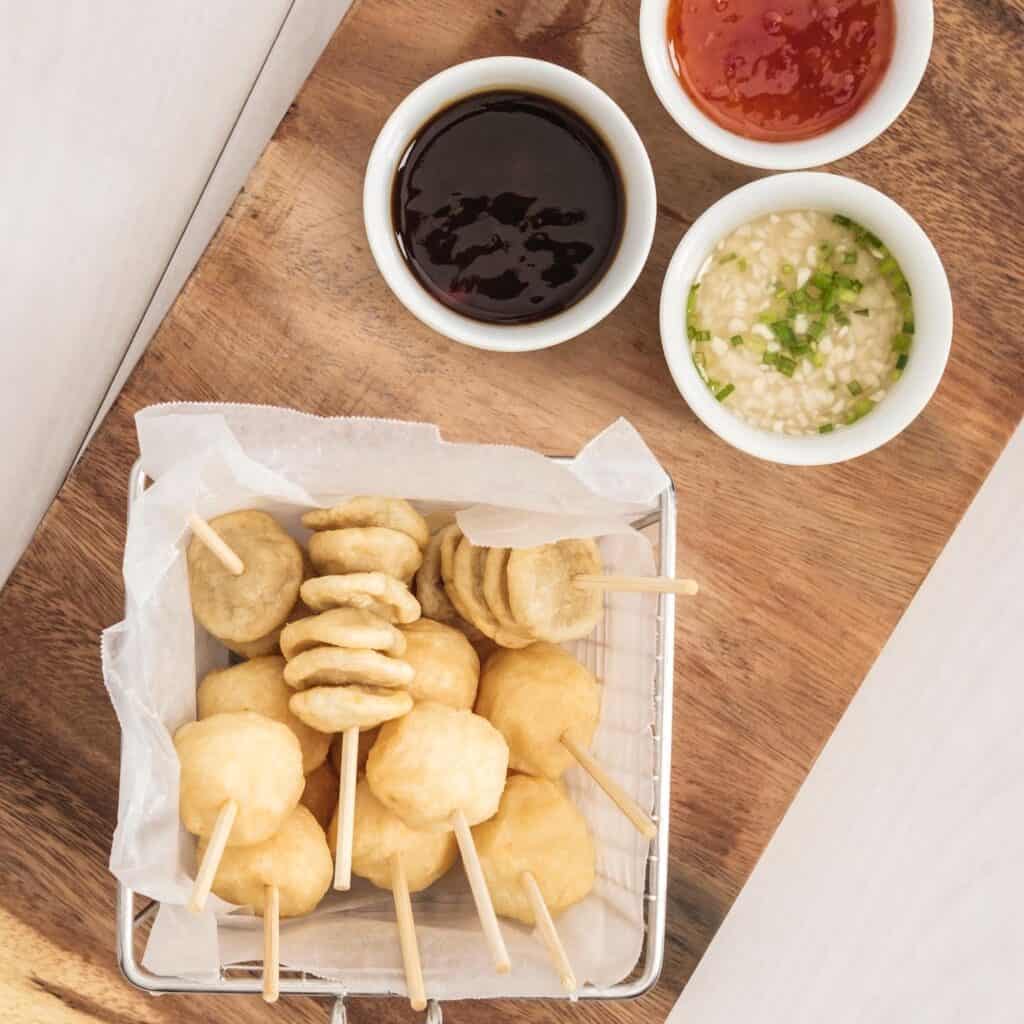 Caracol – It is an apple snail with coconut milk sided with water spinach. This particular dish can be bought for as low as 325 pesos only.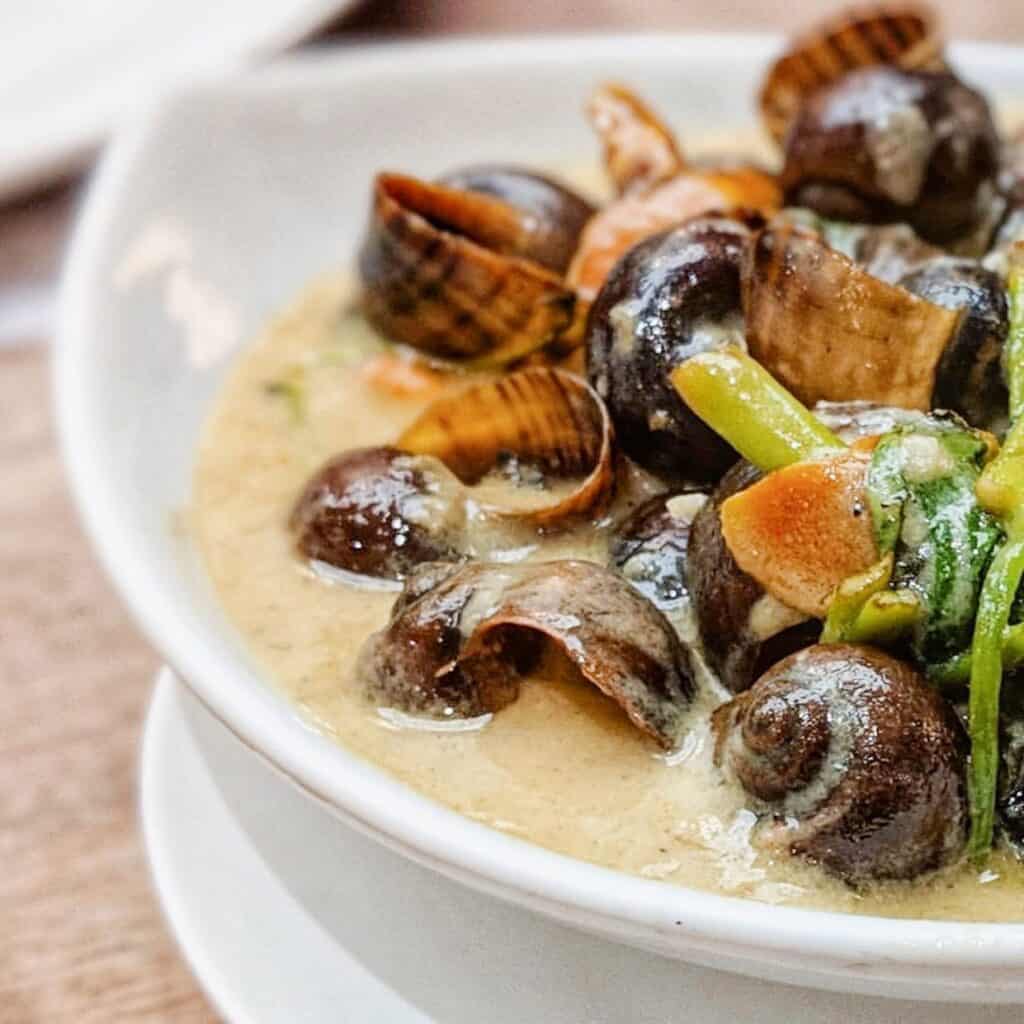 Kinilaw Ni Custodio – This ceviche is dipped in coconut milk and topped with tuna flakes that give different textures to this dish.
Lourdes – If you are allergic to seafood, then this appetizer is not suited for you. These deep-fried baby crabs can only be purchased for 295 pesos only.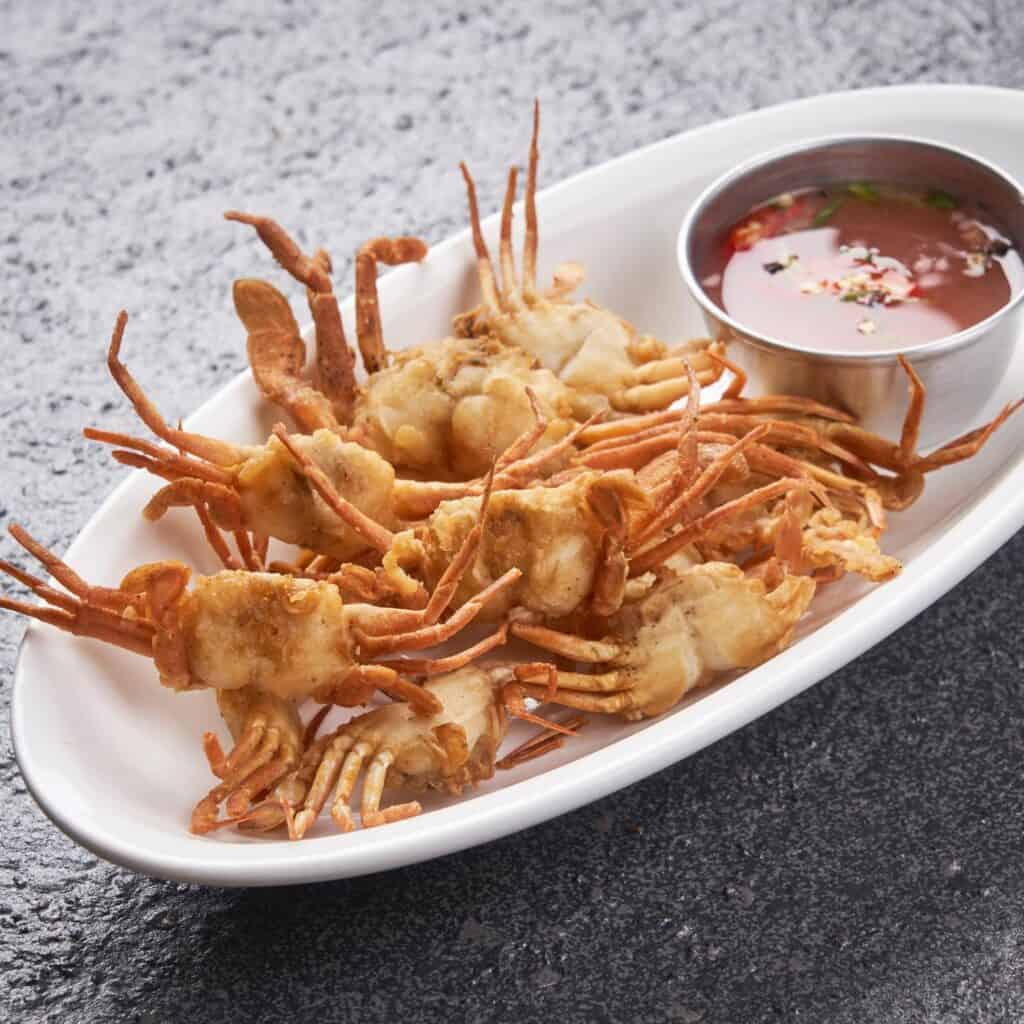 There are other appetizers that can be bought at Crisostomo such as Lucas, Macaraig, Mang Pablo, Protacio's Pride, and Sinuglaw Tarsilo.
Main/Entree
If there's an appetizer, then definitely there would be main dishes. These main dishes can certainly cure your hunger because Crisostomo's main dishes menu are consisting of a wide platter that can be enjoyed by two individuals. 
Adobo Damaso – Not only is our traditional Filipino adobo healthy, but it can also transport you back in time as you recall your childhood memories. You can actually enjoy this meal for 450 pesos only.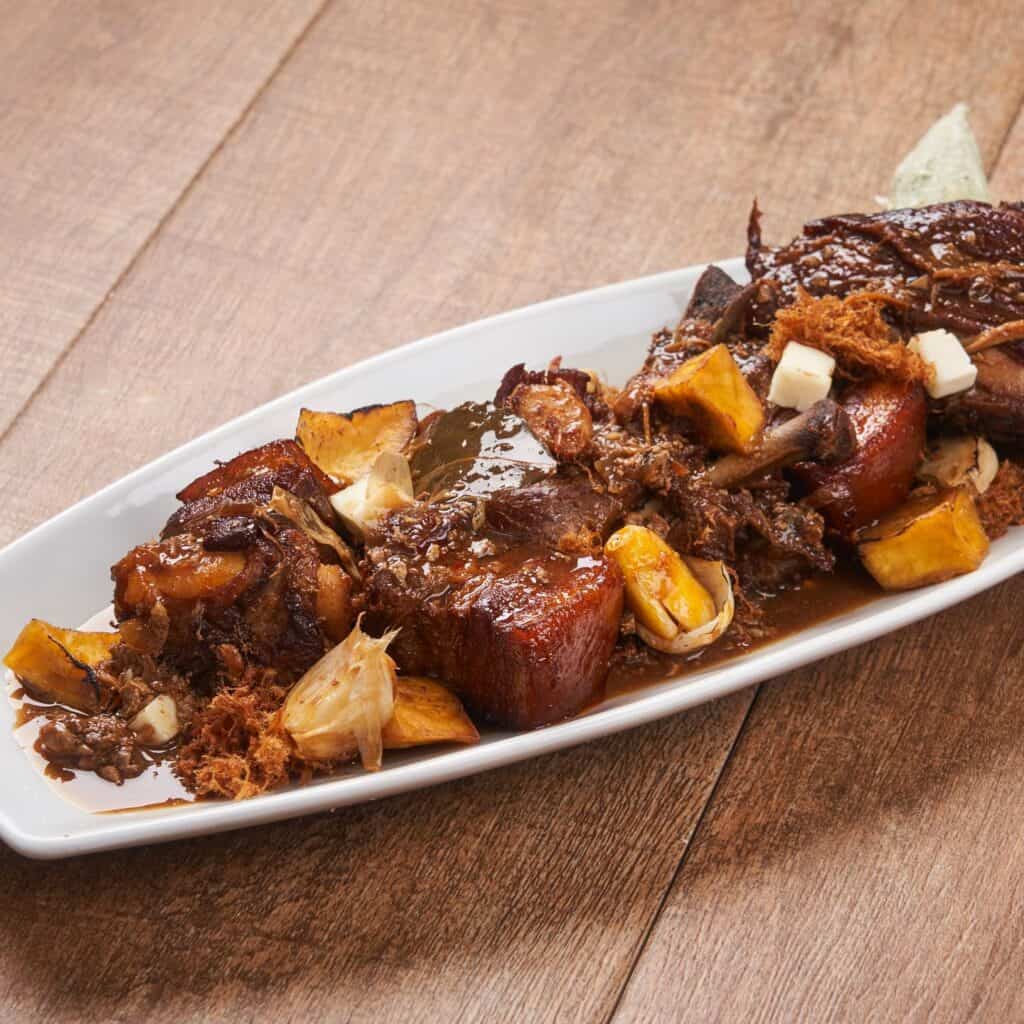 Anastacio – This fried catfish with mango slices and fermented rice shrimp on mustard-green leaves (mustasa) can be enjoyed at Crisostomo for as low as 385 pesos only.
Bella Bandida – It is prepared similarly to a beefsteak. The milkfish, however, substitutes for the beef. In Filipino, we usually call it "Bistek na Bangus".
There are really a wide variety of main dishes that can be purchased at Crisostomo. So if you wish to know more about their main dishes then here is a list of remaining dishes that can be bought at Crisostomo: Corregidor, Binagoongan ni Pia, Bistek Pelaez, Callos de Aguinaldo, Don Filipo, Don Geronimo, Don Juan, Don Rafael, Dona Victorina, Emilio, Ka Plaridel, Kare-Kare ng Kura, Kare-Kare ng Mestizo, Kare-Kare ni Simon, KKK Barbecue, Leandro, Liwayway, Manok ng Diablo, Paella Filipino, Paella Negra, Paella Visayas, San Gabriel, and Ventura.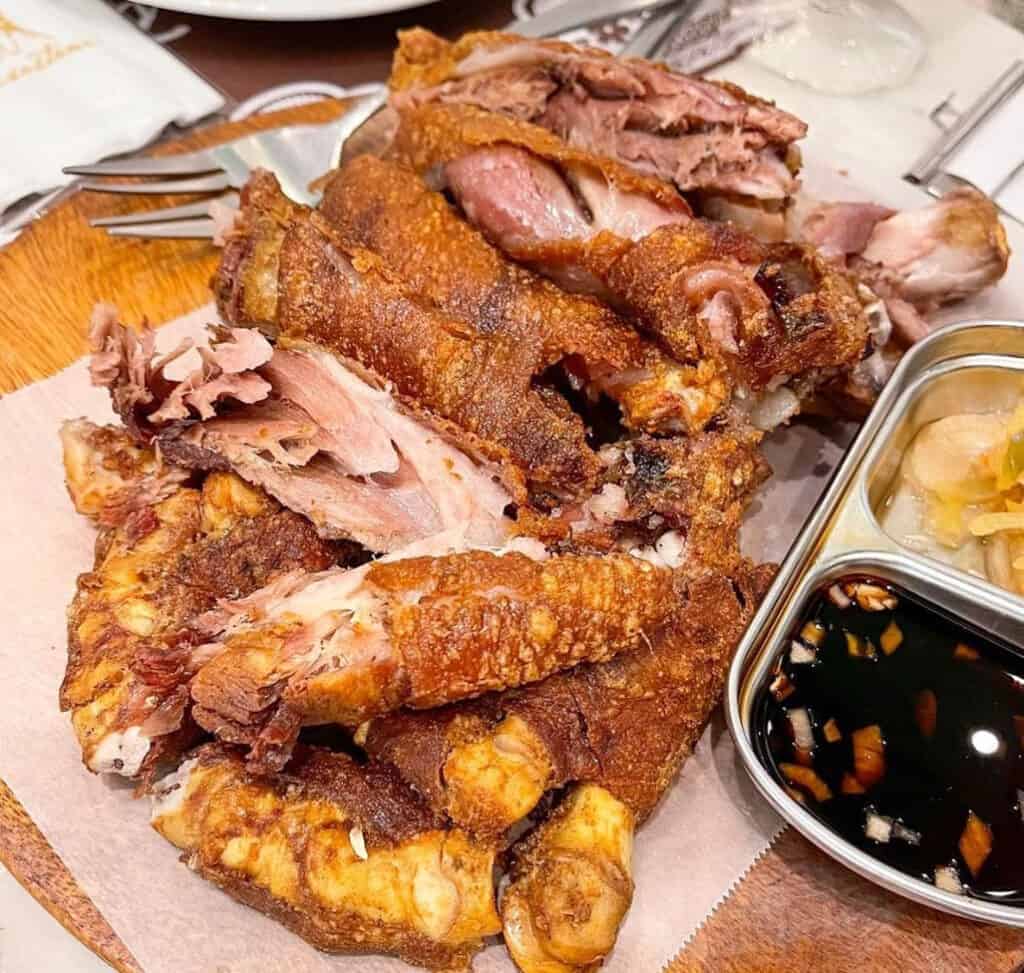 Crisostomo Sizzling Menu
If you missed the sound of food being cooked on a sizzling plate, then the set of Sizzling dishes that the Crisostomo menu offers is indeed a well-suited meal for you! 
Joaquin – Indulge in a generous serving of melt-in-your-mouth Beef Bulalo, paired with velvety mushroom gravy. This delicious platter is now available for you to savor and enjoy.
Sisig Linares – We Filipinos used to indulge in our classic sizzling pork sisig. In line with that, Sisig Linares is certainly the classic sizzling pork sisig that you long for.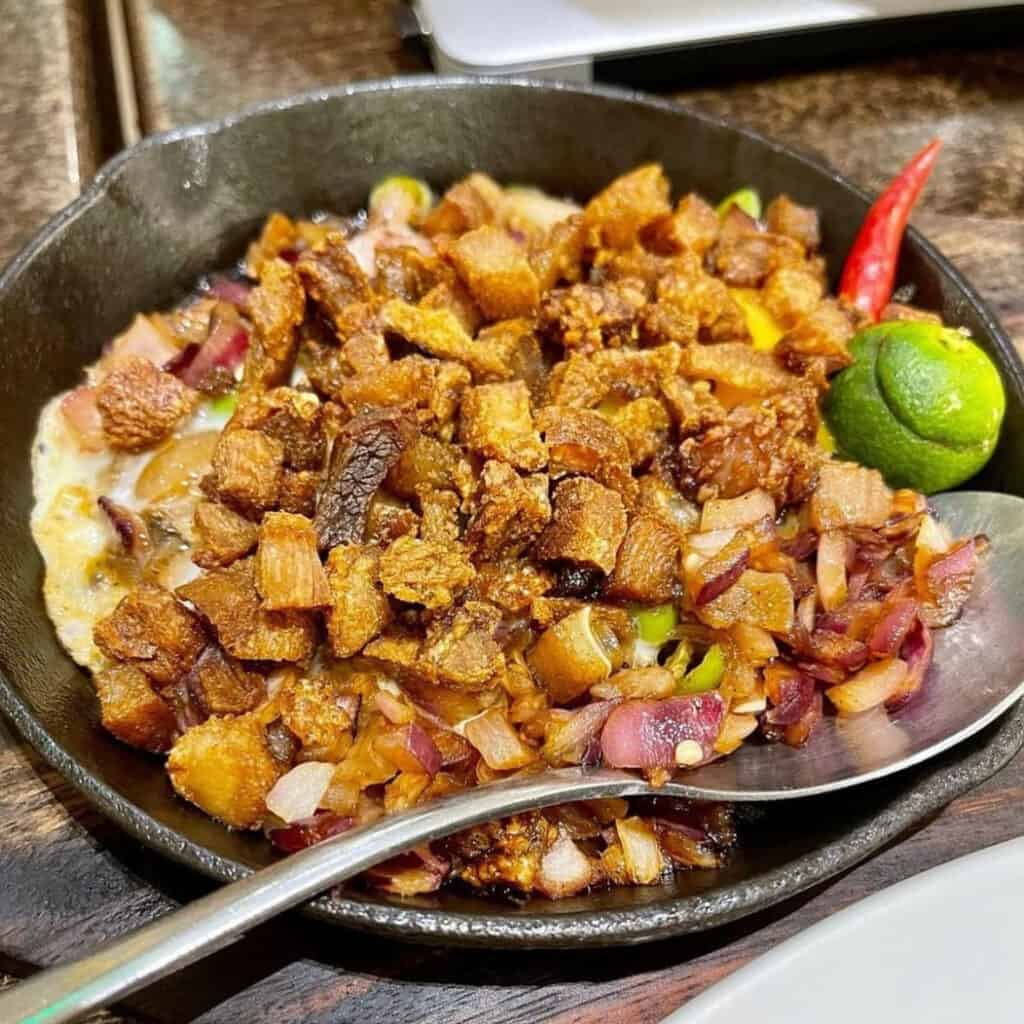 Victoria – If you're mindful of your health but still want to experience the sizzle and flavor of the Crisostomo menu, then the Victoria dish is the ideal choice for you.
There are actually a lot more, so to give you a glimpse on what are the other sizzling menu that Crisostomo offers, then here is a list for you. 
Beaterio
Salome's Secret
Bracken Tofu
Saturnina's Secret
Carriedo
Seta's Salpicao
Lengua Laruja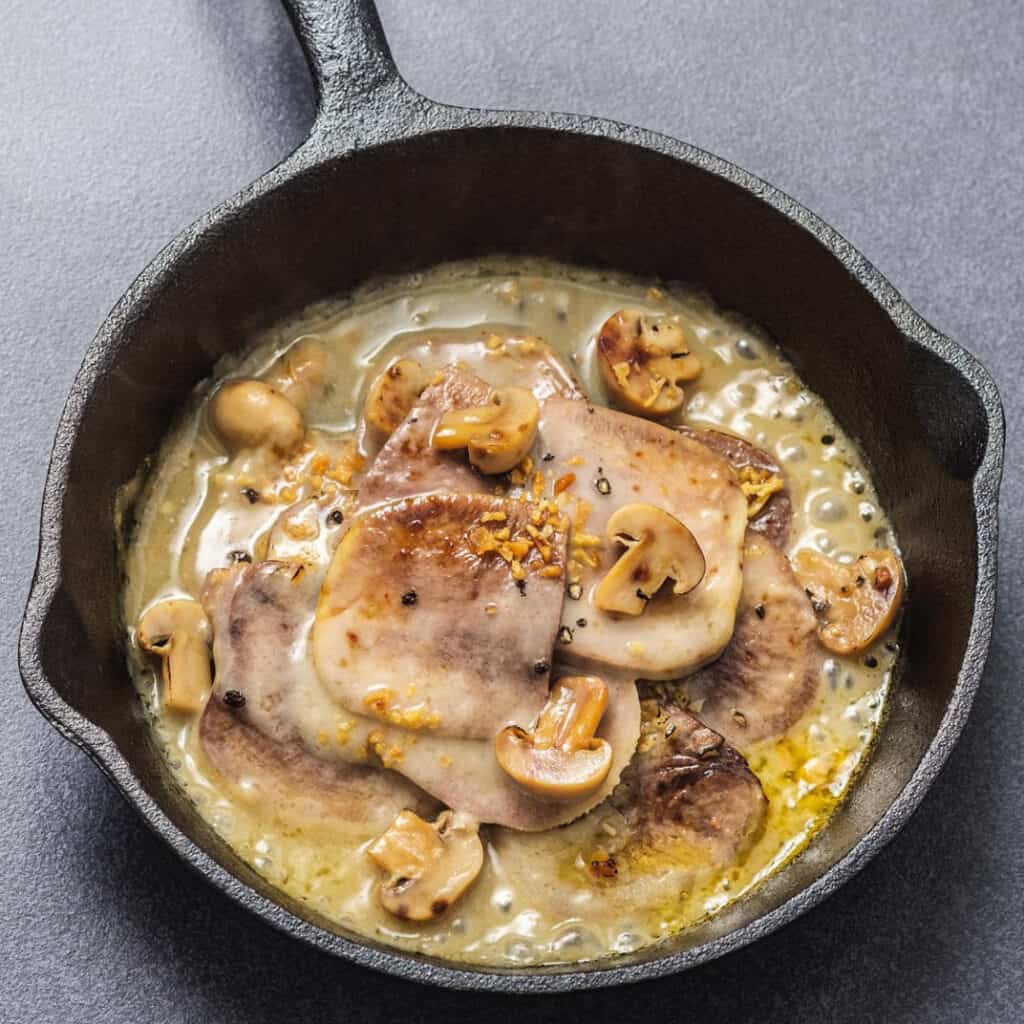 Soup
After eating those heavy meals, we usually want that hot soup that will serve as a thruster on the food that we ate. At Crisostomo, there are actually a variety of soups that can be bought for a much cheaper price. You can end your meal now with a large sip of hot soup from their list of soups. So, to give you knowledge of how much this soup is, then here is a breakdown for you. 
La Paz Bulalo
Munggo De Mariano
Sinigang Burgos
Sinigang Gomez
Sinigang Mestizo
Sinigang ni Kapitan
Tinolang Matanglawin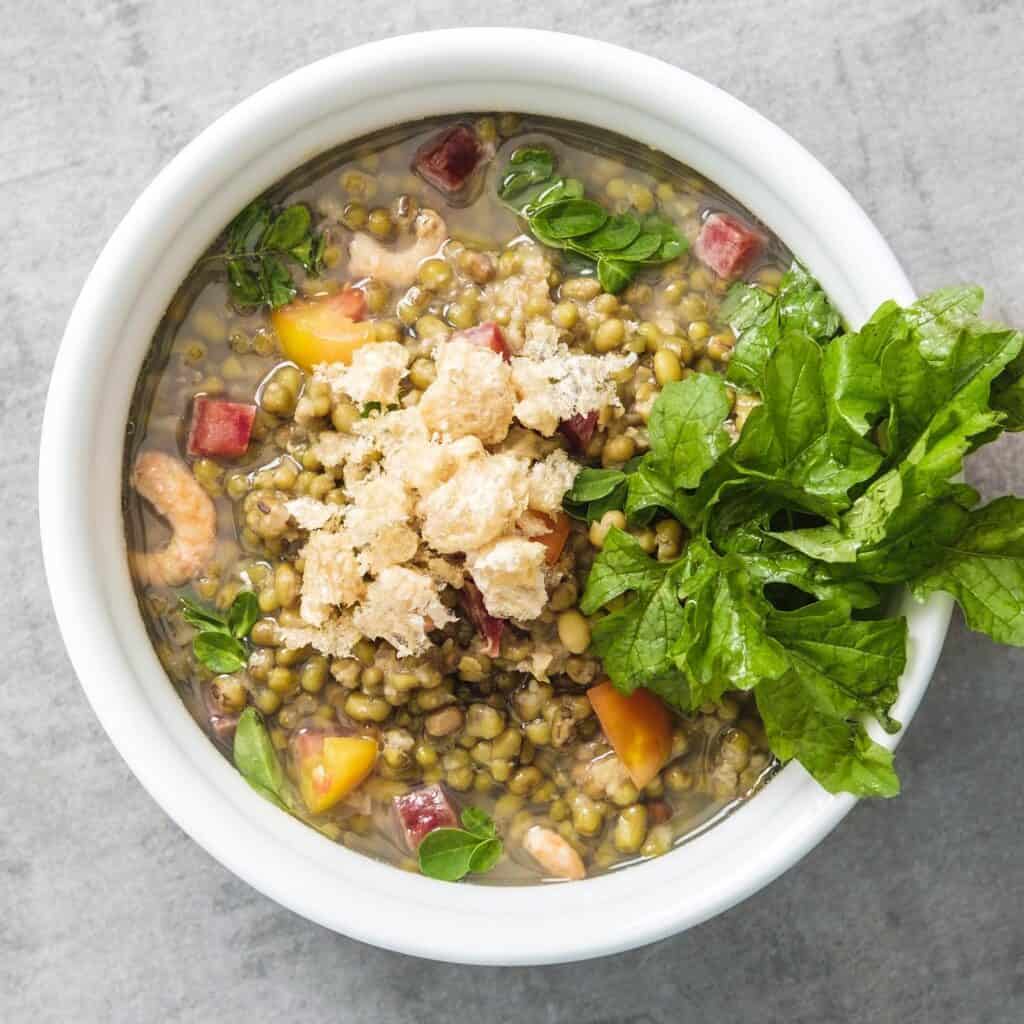 Merienda
If you are not yet satisfied after sipping your hot but delicious soup, then Crisostomo's restaurant got your back. Here, aside from those delectable soups, there are also "Miryendas" or Filipino delicacies that can surely put an end to your infinite hunger. Crisostomo is serving the famous Arroz Caldo Halo-Halo, Bam-I-Guisado, Cervantes, Escolta, Ginataang Bilo-Bilo, and Ginataang Halo-Halo.
You are curious about what they look like right? I may suggest that you should visit the nearest Crisostomo Restaurant in your area so that you can actually take a sneak peek at them and might as well taste them. So, to know the location of different Crisostomo branches, you can now scroll down and read "Crisostomo Menu Delivery".
Crisostomo Menu Delivery
As Filipinos, we tend to try these new restaurants that are indeed famous for their low-cost but quality meals. If you are looking for a Crisostomo branch that is near your place, then I can say that this portion of the review is highly suited for your cause. So, without further ado, let me give you a list of where can you find Crisostomo restaurant.
Crisostomo Alabang Town Center
Address
Ground Floor, The Garden, Alabang Town Center, Metro Manila
Operating Hours
MON-FRI: 11 AM TO 9 PM
SAT & SUN: 10 AM TO 9 PM
Contact Information
02 8869-0988 0917-8371345
Crisostomo Blue Bay Walk
Address
Blue Bay Walk, Macapagal Avenue Corner EDSA, Libertad, Pasay City, Metro Manila
Operating Hours
MON-THURS: 11 AM TO 11 PM
FRI-SUN 11 AM-12 MN
Contact Information
02 8832-6592 0917-8262535
Crisostomo Bonifacio Global City
Address
7th Avenue corner 30th street, Bonifacio Global City, Taguig
Operating Hours
MON-THURS: 11 AM TO 10 PM
FRI & SAT: 11 AM-11 PM
SUN: 11 AM-10 PM
Contact Information
02 7621-3276 02 7621-31950917-8178290
Crisostomo Eastwood
Address
2nd Floor, Veranda, Eastwood Mall, Brgy. Bagumbayan, Quezon City, Metro Manila
Operating Hours
MON-THU: 11 AM-10 PM
FRI-SAT: 11 AM-11 PM
SUN: 10 AM-10 PM
Contact Information
02 8710-1693 02 8709-2049 0917-8814768
Crisostomo UP Town Center Katipunan
Address
Unit B231 & B232 UP Town Center, Katipunan Avenue, UP Diliman Campus, Quezon City 1118, Metro Manila
Operating Hours
MON-THU: 11 AM-9 PM
FRI-SUN: 10 AM-10 PM
Contact Information
02 8990-0287 0917-8371346
Crisostomo Newport Mall
Address
2nd Floor. Unit F & B 3A Newport Mall, 100 Andrews Avenue, Brgy. Cybertouris, Newport City, Pasay City, Metro Manila
Operating Hours
MON-FRI: 11 AM-12 MN
SAT & SUN: 10 AM-12 MN
Contact Information
02 8846-9275 0917-8814868
Crisostomo Nuvali
Address
Solenad Lakeside Evozone, Nuvali Sta. Rosa City, Laguna
Operating Hours
MON-FRI: 11 AM-9 PM
SAT & SUN: 10 AM-10 PM
Contact Information
049 8502-8106 0917-8632568
Crisostomo Robinsons Galleria
| | |
| --- | --- |
| Address | Level 2, Robinsons Galleria, EDSA, Corner Ortigas Avenue, Quezon City |
| Operating Hours | DAILY: 10 AM – 10 PM |
| Contact Information | 02 8257-1657 0917-1892460 |
Crisostomo Robinsons Magnolia
Address
Upper Ground Floor, New Manila, Quezon City
Operating Hours
MON-THU: 11 AM-9 PM
FRI-SUN: 10 AM-10 PM
Contact Information
02 8961-0339 02 8546-7977 0917-5869895
Crisostomo Ayala Malls Vertis North
Address
Level 1, Vertis North, Phase 1 & 2, Corner North Avenue, Quezon City
Operating Hours
MON- FRI: 11 AM-10 PM
SAT-SUN: 10 AM-10 PM
Contact Information
02 8288-3386 0917-1565453
Crisostomo Ayala Malls Manila Bay Area
Address
Diosdado Macapagal Blvd, cor Aseana Ave, Paranaque City, 1701 Metro Manila
Operating Hours
MON-THURS: 11 AM-9 PM
FRI-SUN: 10 AM-10 PM
Contact Information
02 7752-1535
Social Media Pages
They are actively posting their news on their menu so I highly recommend you follow their pages to get updated. Below, are the links provided for you to redirect to their social media pages and website.
Facebook: https://www.facebook.com/www.florabelgroup.com.ph/
Instagram: https://www.instagram.com/crisostomoph
Website: https://www.crisostomo.ph/
Conclusion
Eating around a happy table with friends and family is undoubtedly widespread in the Philippines. Filipinos are constantly beaming as they eat, regardless of where they go to eat — a fine dining restaurant, an Italian restaurant, or even at a Filipino food kiosk. Those smiles can be a result of the mouthwatering food that was served or the people they are chatting with at that certain table.
You see, it's nice to share memories with a lot of people. There are certain everyday dishes on Crisostomo's menu that can genuinely revive a key memory from your past. And now, I highly encourage you to pay a visit to Crisostomo restaurant because it is indeed worthy of your every penny.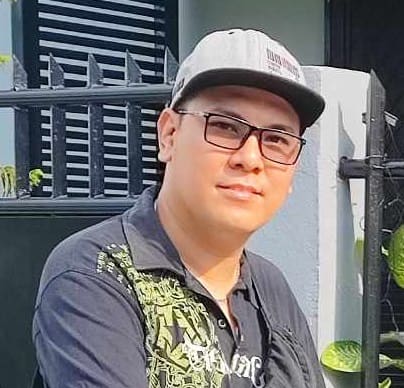 Hi! I'm Nivek Strife, the person who made MenuPH. I'm the one who added most of the popular menus you see on this website, and I really hope you enjoy them! Feel free to check them all out.
Growing up, I was surrounded by lots of tasty foods, like the classic Adobo and the sweet Leche Flan. That love for the many flavors of the Philippines is what got me excited about adding to MenuPH. When I learned how to make websites, I saw the need for a place to show off all the amazing Filipino dishes, and that's how MenuPH started.
MenuPH isn't just a website; it's like a fun journey into food. I've teamed up with famous chefs and found great places all over the Philippines to bring you a bunch of menus that show off the best of Filipino cuisine. Whether you're into the usual dishes or new twists, MenuPH is here to guide you through the rich world of Filipino flavors.
With MenuPH, my aim is to help local businesses, talk about good food choices, and make a group of friends who love food. No matter if you like fancy restaurants or street food, MenuPH has something for you. Come join me on this food adventure as we find great places, taste real flavors, and enjoy the unique food traditions that make the Philippines awesome.