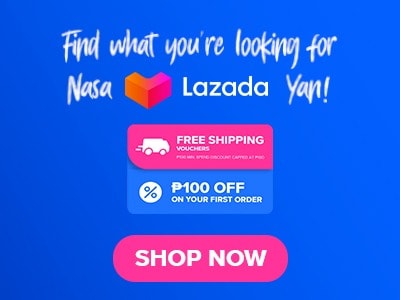 Fish2Go wants to take you on a delicious adventure focused on seafood. As a seafood fast food, Fish2Go prides itself on presenting a diverse menu that centers around using the ocean's bounty, prepared with skill and finesse to showcase its natural flavors. Dive into a world of culinary delight as you explore our diverse menu, a tapestry of seafood wonders that cater to every palate. From the iconic Bangus Relleno, a Filipino favorite that combines tender milkfish with a medley of vegetables and spices, to the innovative Tuna Bicol Express that marries fiery coconut milk with tender tuna, our dishes celebrate the beauty and diversity of seafood.
Below, you'll find the updated list of Fish2Go menu prices.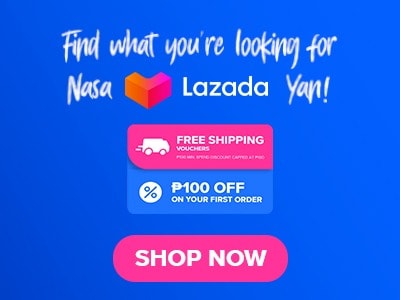 Menu Items
Price (PHP)

Ready-2-Eat

Bangus Relleno
515
Bangus Sisig
265
Tuna Sisig
305
Tuna Bicol Express
305
Ginataang Santol
195
Laing
205
Tinomok
229

Fish2Go's Grilled Dish

Grilled Tuna Panga - 500g
389
Grilled Tuna Panga - 400g
315
Grilled Tuna Belly - 500g
575
Grilled Tuna Belly - 300g
359
Grilled Boneless Bangus - Biggie
385
Grilled Boneless Bangus - Middie
255

Ready-2-Cook

Bangus Lumpiang Shanghai (Fish Roll)
285
Bangus Skinless Longganisa
245
Bangus Embutido
265

Bottled Delis

Chili Sauce
135
Burong Isda
125
Burong Hipon
125
Bagoong Alamang
159
Spicy Bagoong Alamang
175
Bagoong Isda
125
About Fish2Go
Fish2Go is a seafood eatery located mostly in Cavite that specializes in offering a wide variety of freshly prepared fish and seafood dishes. The menu at Fish2Go is diverse and features an array of seafood options, including various types of fish, shellfish, and other aquatic delights ranging from classic fish and chips to creative seafood pasta dishes. With these diverse and delicious offers, customers can expect a fusion of flavors that highlight the natural taste of the ocean's bounty giving them a memorable and satisfying dining experience centered around seafood.
Fish2Go Menu Best Seller
The best-selling items at Fish2Go are those multiple seafood dishes that are considered to be Fish2Go's signature items and best-sellers. Aside from the seafood listed below, there are still many items that can be included in this menu like the Laing, Bangus Skinless Longganisa, ad Chili Sauce.
Bangus Relleno – The bangus relleno is a very popular Filipino dish that brings out the best of bangus, also known as milkfish. The milkfish is expertly deboned and stuffed with a pleasing mixture of vegetables, ground meat, and aromatic spices resulting in a harmonious blend of flavors and textures.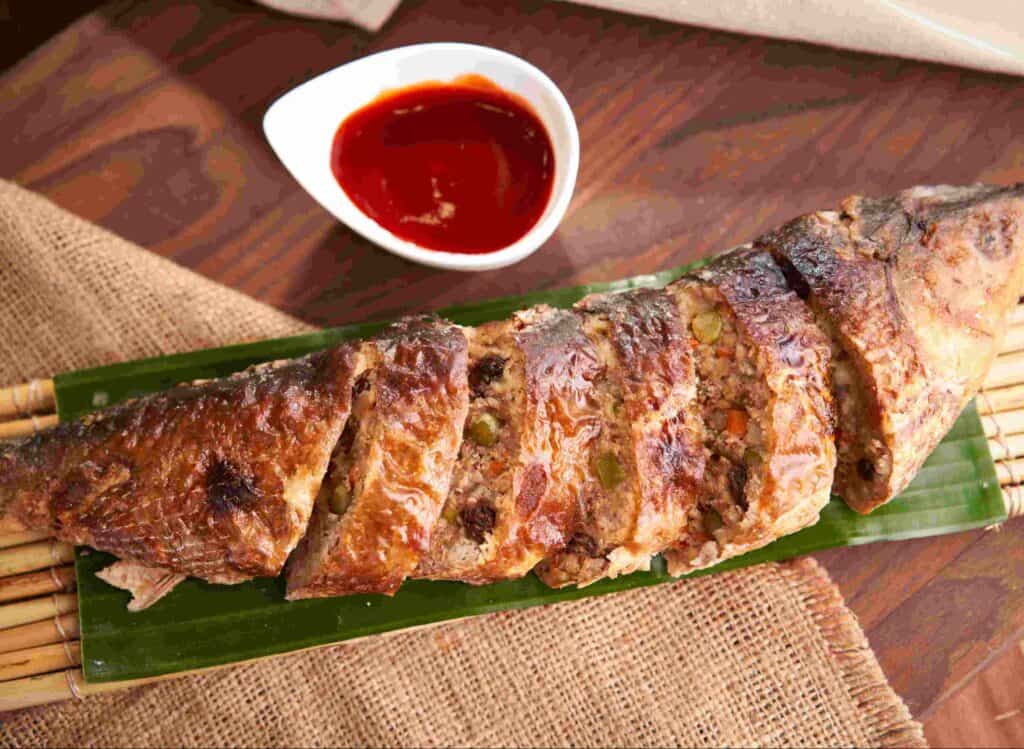 Bangus Sisig – Fish2Go's take on the classic sisig gives it a unique and enjoyable twist by featuring the tender and flaky bangus or milkfish. The bangus sisig dish has a burst of flavors due to the fish complemented by the richness of the sauce and the boldness of the spices. It is considered by many a creative variation that delivers the same satisfying sizzle and punch as traditional pork sisig.
Tuna Sisig – Fish2Go's tuna sisig is a must-order by many seafood lovers that visit Fish2Go as it offers fresh and tender tuna which is a bit lighter but an equally flavorful option. The tender chunks of tuna are cooked to perfection and sauteed with onions, peppers, and special seasonings resulting in a nice combination of flavors that brings out the best in the tuna.
Tuna Bicol Express – It is a unique dish at Fish2Go which has a fusion of flavors that brings the fiery kick of Bicolano cuisine to Manila. The tender tuna is drenched in a creamy and spicy coconut milk sauce that packs a punch of heat and depth resulting in a delicious blend of creamy and spicy that showcases the complexity of Filipino flavors.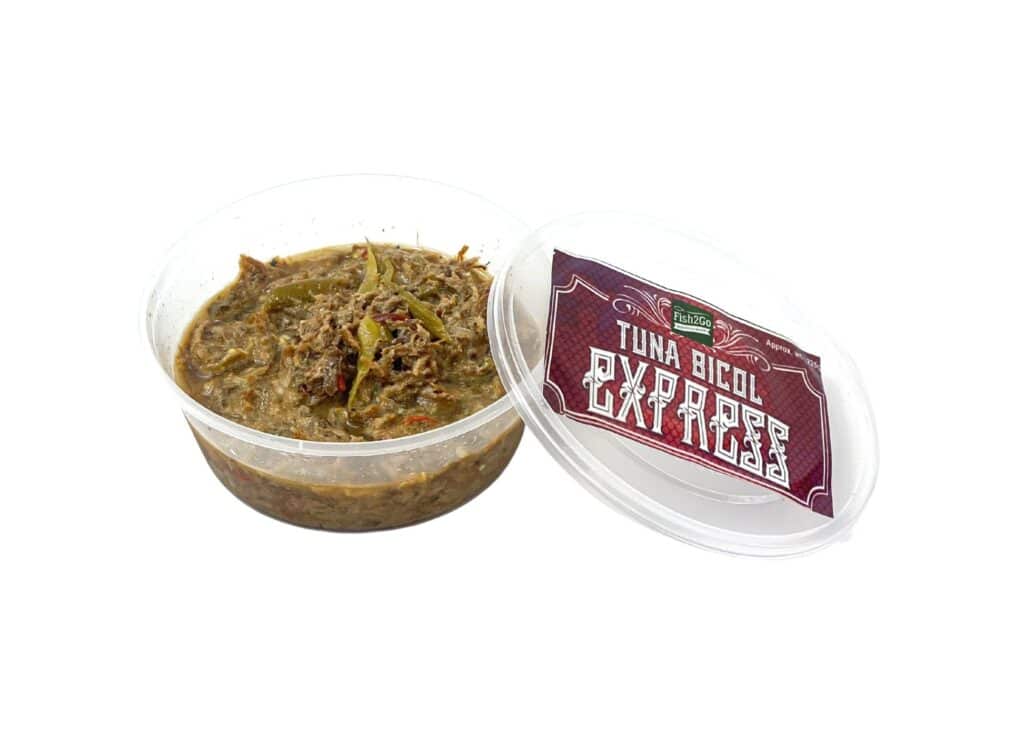 Laing – A classic Filipino dish that is made up of taro leaves that are cooked until tender in rich coconut milk, creating a creamy and satisfying dish that's both comforting and flavorful. The gentle heat from the chili perfectly balances the richness of the coconut milk, creating a harmonious medley of flavors that represents Filipino comfort food.
Fish2Go Grilled Dish Menu
Fish2Go's Grilled Dish menu is made up of different kinds of grilled seafood dishes that are perfect for those that want to try something new and unique. Each of the items that are part of this menu is sure to satisfy anyone that is looking to indulge in unique and flavorful grilled dishes on their table.
Grilled Tuna Panga – The Grilled Tuna Panga from Fish2Go is a generous portion of tuna jaw that is expertly grilled to perfection, resulting in a dish that is smoky, flavorful, and tender. The juicy and tender meat is complemented by the charred textures, creating a nice and pleasing contrast of textures.
Grilled Tuna Belly (500g) – A luxurious dish made up of a 500g portion of a grilled dish that features tender and fatty cuts of tuna belly, marinated and grilled to create a dish that is both equally mouthwatering and satisfying.
Grilled Boneless Bangus (Biggie) – The grilled boneless bangus is a Filipino classic with a generous serving which ensures customers that they will be able to enjoy a hearty and satisfying meal made from boneless milkfish that was marinated with a special blend of seasonings and then grilled to perfection.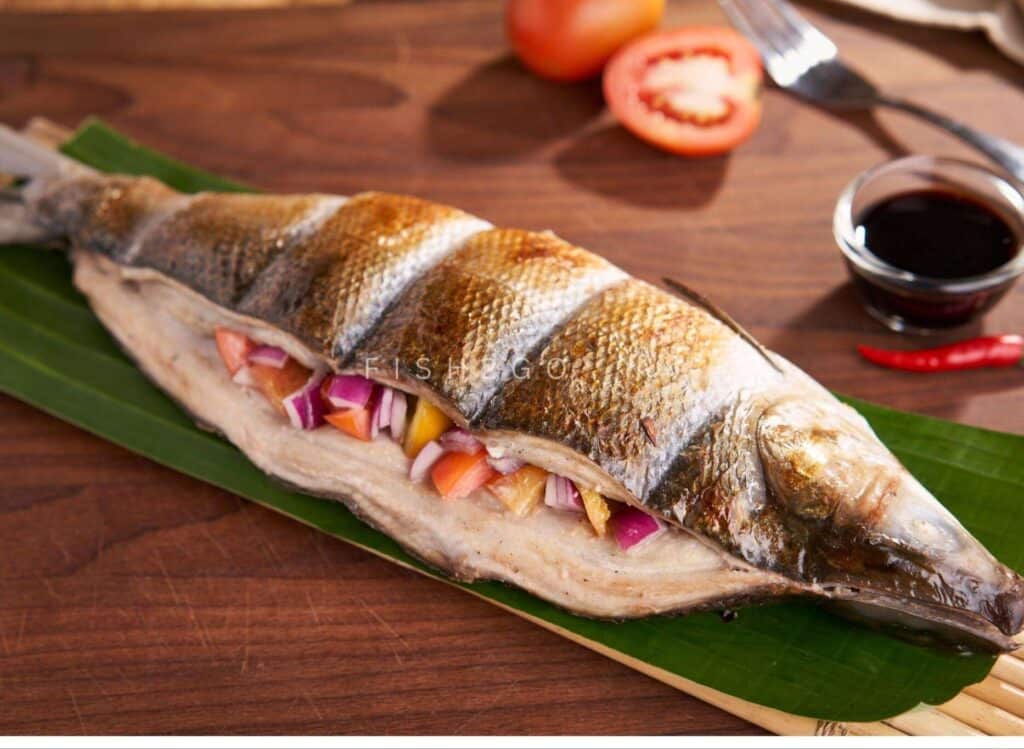 Ready-2-Cook
Fish2Go's Ready-2-Cook menu is made up of a different variety of ingredients that are ready to be cooked anytime and anywhere the customers want. It would make the perfect item to order for those that want to have a customizable meal at Fish2Go.
Bangus Lumpiang Shanghai (Fish Roll) – The roll offers a unique twist on the classic lumpiang Shanghai by using flavorful bangus as the main ingredient. The fish is finely minced and combined with a blend of seasonings and vegetables, creating a filling that's savory and satisfying.
Bangus Skinless Longganisa – It is a unique longganisa dish made from bangus and seasoned with a well-balanced blend of spices offering a healthier twist by being skinless. The unique combination of flavors, including the natural sweetness of the bangus, makes this a tasty and savory option for breakfast or any meal of the day.
Bangus Embutido – Bangus Embutido is a Filipino-style meatloaf made with a mixture of bangus, ground pork, vegetables, and seasonings, creating a flavorful and hearty dish. It is then rolled and steamed to perfection, resulting in a savory and tender embutido that is perfect for special occasions or as a satisfying meal.
Ready-2-Eat
Fish2Go's Ready-2-Eat menu offers a variety of delectable options that are conveniently prepared and ready to be enjoyed ranging from classic Filipino dishes bangus relleno that delivers the freshness and bounty of the Philippines to innovative seafood creations like tuna Bicol express that highlights the creativity of Fish2Go's chefs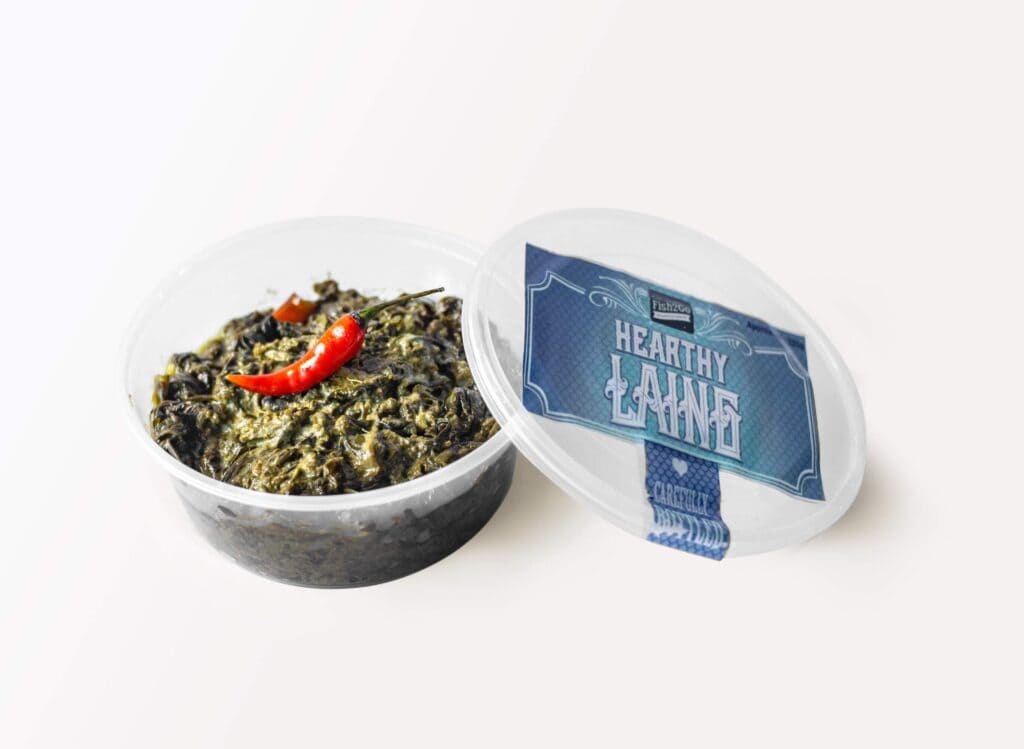 Bottled Delis
Fish2Go's Bottled Delis menu offers a selection of bottled goodness that you can take home and enjoy at your convenience. Some of the most popular items on this menu are the Chili Sauce which elevates the flavor of every seafood dish at Fish2Go and Bagoong Alamang which can be enjoyed with a side of rice or as a side for the other offerings at Fish2Go.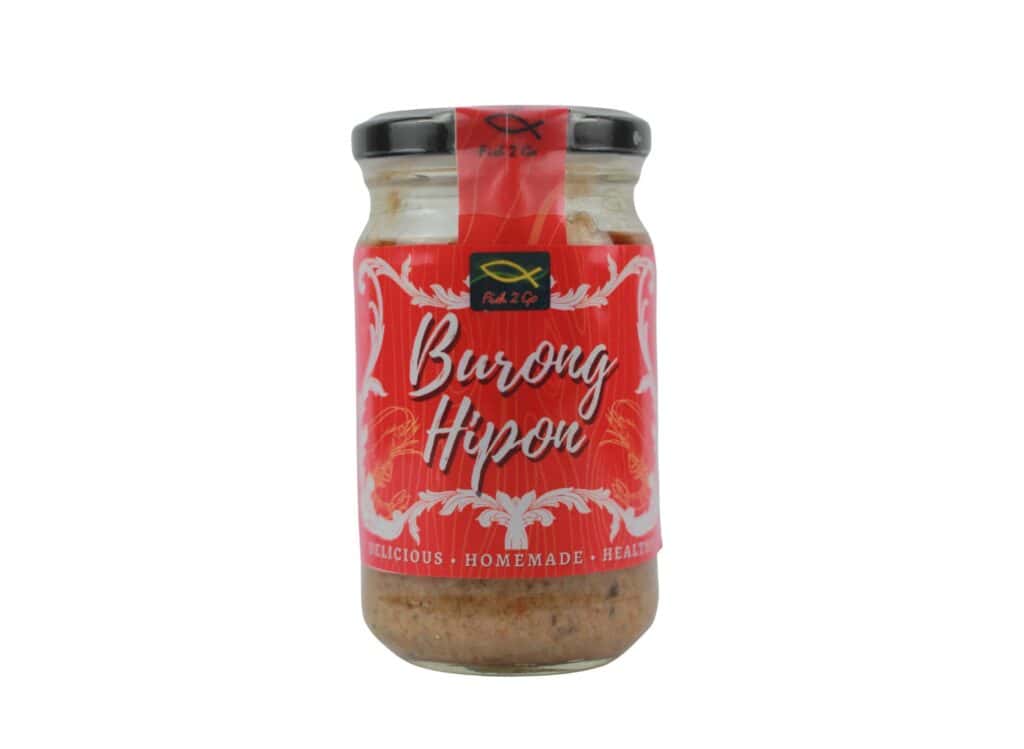 Fish2Go Menu Delivery
Fish2Go's menu delivery service has been thoughtfully designed with your convenience in mind. This streamlined approach enables you to relish your preferred seafood dishes without leaving the comfort of your home, thanks to user-friendly delivery platforms like FoodPanda.
Social Media Pages
Stay linked with the captivating world of Fish2Go – spanning enticing seafood delights, thrilling promotions, and culinary ideas that spark inspiration. Your active engagement on social media ignites their enthusiasm to provide you with top-tier seafood creations of unmatched quality.
Facebook: https://www.facebook.com/fish2gometroSikatuna
Instagram: https://www.instagram.com/fish2gometro
Website: https://fish2go.weebly.com/contact-us.html
YouTube: https://www.youtube.com/@fish2go
FAQs
What is Fish2Go?
Fish2Go is a fast food in the Philippines that specializes in seafood-centric Filipino dishes.
Where are the locations of Fish2Go?
Fish2Go has multiple branches set up all over the Philippines like in Cebu, Laguna, and in Cavite.
What types of fish do they serve at Fish2Go?
Fish2Go serves different kinds of fish, some of the most popular ones are bangus and tuna.
What are some popular dishes on the menu at Fish2Go?
Fish2Go offers a range of popular and flavorful dishes that highlight the freshness and taste of different fish varieties like the bangus relleno, tuna sisig, tuna bicol express, and more!
Conclusion
Fish2Go is the best place to go if you are looking for a place with a unique but cozy ambiance and provides a menu with a wide variety of seafood dishes. With a menu that ranges from classic seafood dishes to more creative dishes, Fish2Go never fails to provide customers with a satisfying and memorable dining experience, especially for seafood lovers. So whether you are in the mood for grilled fish, ready-to-eat shellfish, or unique seafood dishes, Fish2Go's menu is a place that you should visit.