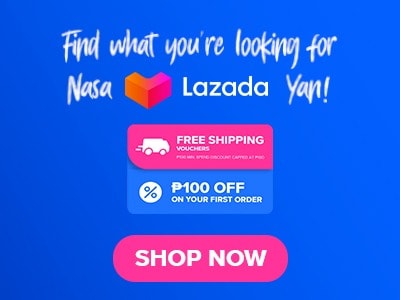 If you're looking for a cool meal on a warm day, the Icebergs menu has everything for you! Serving you not just excellent, brilliant cold desserts, but amazing, succulent, main dishes as well. Icebergs will definitely be nothing, if not an amazing experience that you will remember for the days to come.
Below, you'll find the updated list of Icebergs menu prices.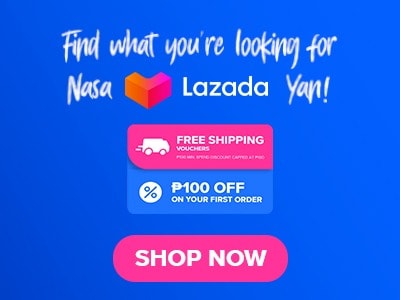 Menu Items
Price (PHP)

Soups & Salads

Cream of Mushroom
88
Mediterranean Salad
198
Minestrone
88
Caesar Salad w/ Grilled Chicken
268
Crab & Corn Soup
88
Icebergs Mango Apple Vinaigrette Salad
198

Sandwiches

Icebergs Chilidog
228
Icebergs Club Sandwich
248
Tuna Melt Special
188
Grilled Chicken Rosemary Sandwich
228
Icebergs Philly's Cheesesteak
258
Mighty AJ's Beef Burger
198
Classic Chicken Sandwich
188
Hungarian Sausage
238

Merienda Treats

Mexican Tacos (2pcs)
240
Southern Style Fried Chicken (4pcs)
390
Mexican Tacos (1pc)
125
Country Fries w/ Chili con Carne & Melted Cheese
248
3 Eggs Omelette
188
Icebergs Palabok Special
218
Buffalo Wings (6pcs)
248
Fish n' Chips
258
3 Cheese Beefy Nachos
248
Southern Style Fried Chicken (2pcs)
220
Country Fries
168
Buffalo Wings (8pcs)
298

Pasta

Baked Penne w/ Crumbled Sausage & Feta Cheese
288
Shrimp & Mushroom Pomodoro
278
Pesto Penne w/ Grilled Chicken
258
Pesto Penne w/ Grilled Shrimp
288
Hungarian Sausage & Mushroom Carbonara
258
Cheesy Beef Lasagna
258
Home-Style Spaghetti
228

Great Meals

Tofu Teriyaki Steak
178
Boneless Chicken BBQ
258
Arroz ala Cubana
258
Spicy Pork Chop (1pc)
198
Chicken Cordon Bleu
258
Grilled Pork Liempo
258
Icebergs Famous Sisig
238
Korean Beef BBQ
288
Spicy Pork Chop (2pcs)
298

Meals

Ribeye Tapsilog
258
Tenderloin Beef w/ Mushrooom
328
Boneless Bangus glazed in Adobo Mango Sauce
248
Tenderloin Steak
428
Crispy Fish Fillet glazed in Adobo Mango Sauce
248
Shrimp Gambas
348
Tenderloin Salpicado
338
Salisbury Steak
218
Golden Lechon Kawali
258

Icebergs Special

Caramel Flan con Hielo
168
Super Mais con Hielo
148
Mango con Hielo
158
Melon Strawberry Mango con Hielo
228
Kiwi con Hielo
178
Strawberry Mango con Hielo
198
Kiwi Mango con Hielo
198
Halo-halo
128
Saba Banana Langka con Hielo
128
Mais con Hielo
128
Mais con Saba
148
Super Halo-Halo
148

Splits

Boracay Tropical
278
Classic Banana Split
228
Oreo Brownies Split
298
Chocolate German U-Boat Split
288
Peach Banana Split
258
Mango Tango Split
278

Parfaits

Oreo Choco Parfait
248
Strawberry Parfait
218
Chocolate Chips Parfait
218
Black Forest Parfait
248
Mango Peach Parfait
248

Crepes

Choco Banana
268
Nutella Banana
278
Mango Banana Nutella
298
Mango Loco
268
Blueberries and Cream
268
Strawberry Banana Nutella
298

Super Sundaes

Oreo Cookies Sundae
218
Peach Berry Sundae
218
Kahlua Chocolate Sundae
208
Cappuccino Sundae
208
Chocolate Sundae
198
Strawberry Sundae
198

Cool Seductions

Kahlua Double Espresso
228
Icebergs Drizzle
328
Buco Fiesta
328
Icebergs Tower
268

Big Appetites

King Kong's Revenge
498
Sugar-Free Ice Cream (1 Scoop)
98
Belgian Chocolate Fondue
488
Godzilla Grandslammer
498

Thick 'N Rich Milkshakes

Oreo Cookies and Cream
188
Mango Banana
188
Choco Banana
188
Mango
188
Vanilla
188
Strawberry
188
Mocha Choco Peanut Butter
188
Chocolate
188
Choco Banana Peanut Butter
188

Fruit Shakes

Dalandan
158
Peach Mango
158
Melon
158
Strawberry Pineapple
158
Strawberry Peach
158
Mango Melon
158
Peach
158
Mango Strawberry
158
Mango
158

Float

Strawberry
138
Rootbeer
138

Coffee

Cafe Mocha
138
Bewed Coffee
118
Twinning Teas
78
Hot Chocolate
138
Cafe Latte
138
Cappuccino
138

Drinks

Fresh Mango Iced Tea
98
Softdrinks
68
Orange Juice
78
Fresh Dalandan Juice
108
Iced Tea (reg)
78
Freshly Squeezed Lemonade
108
Fresh Buco Juice
108
Fresh Mango Juice
108
Mineral Water
48
About Icebergs
Open every day from 11 AM to 7:30 PM and located in Quezon City, with plenty of branches, Icebergs has an extensive menu with different sections. They offer deliveries, as well. Open since 1986, they have made customer loyalty and satisfaction their strengths, and where they get it from. They practice safe measures to provide their customers with high-quality, amazing, and clean food.
Icebergs Menu Best Seller
Best Sellers are quintessential to be seen and available in the Icebergs menu. They are arrays of meals and dishes that are delicious and worth all the time and effort to buy. 
Super Halo-Halo – The Super Halo-Halo is not just any Halo-Halo. For PHP 150, you can get a bite out of a huge piece of halo-halo made with special ingredients, and served in a huge bowl. This is not only a delicious meal that hits all the spots but does it over and over again until you've had your fill.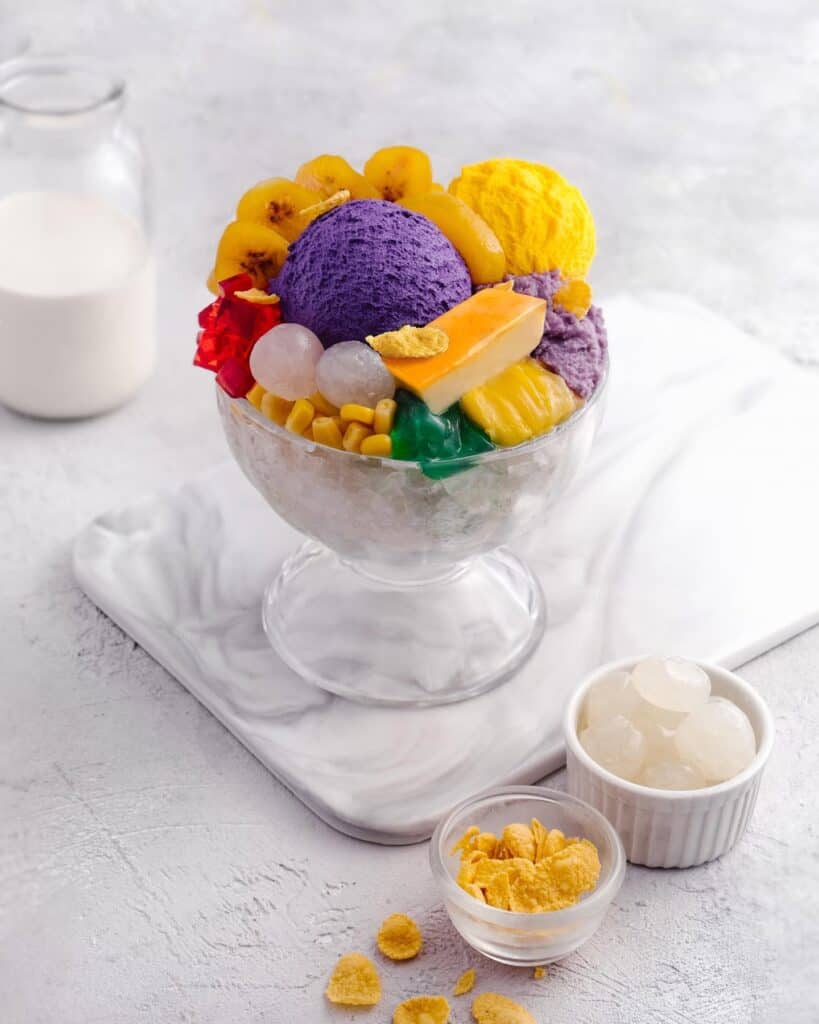 Boracay Tropical – The Boracay Tropical is under the splits menu. This is served with strawberry, vanilla, and mango ice cream scoops that are topped with cherries and nuts, pineapple slices, peaches, and of course, bananas!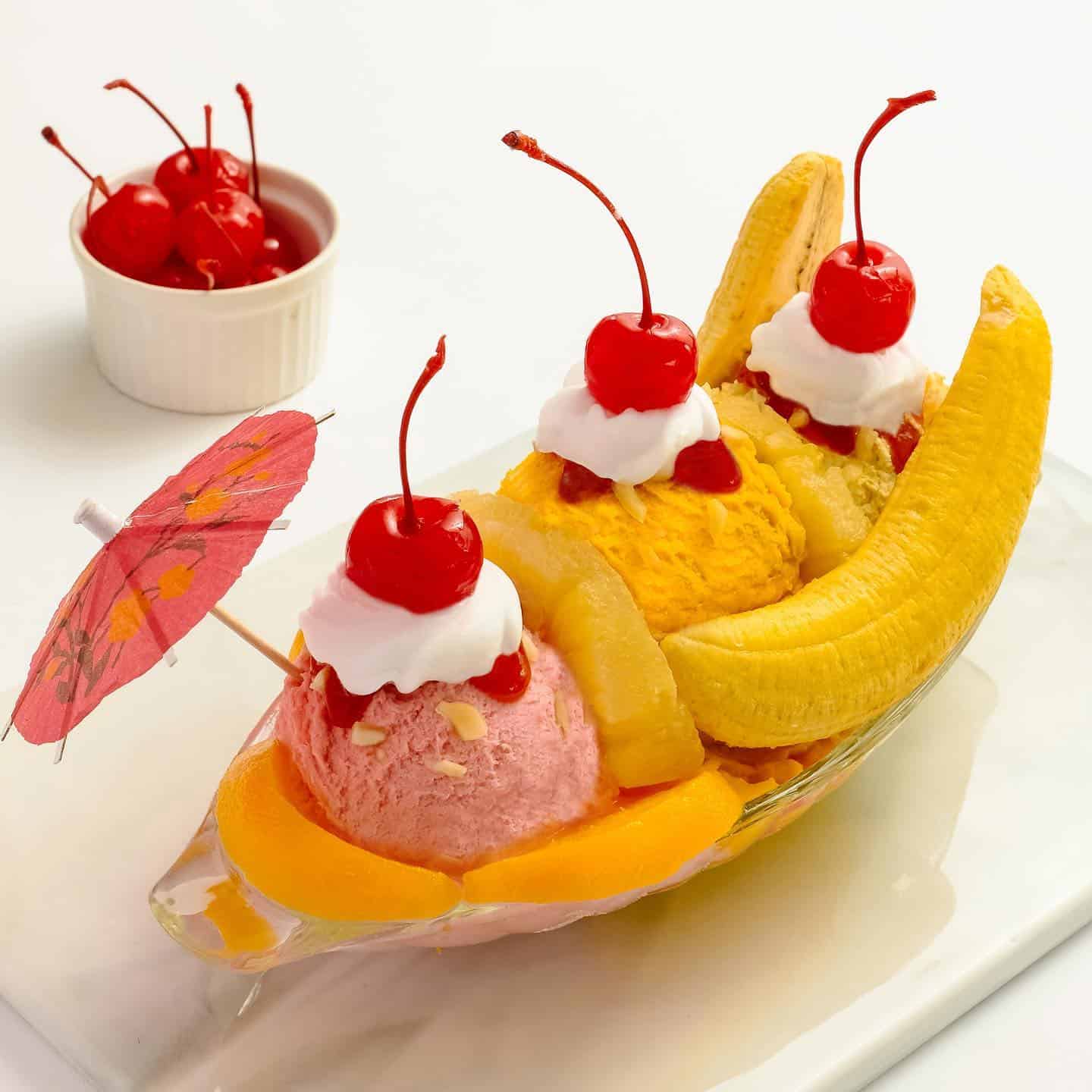 Saba Banana Langka con Hielo – The Saba Banana Langka con Hielo is served with- you guessed it, plenty of banana slices, and saba, with ice cream in the middle, all of this, on top of the ice.
Korean Beef BBQ – With slices of veggies like carrots and a huge cup of rice, is the Korean Beef BBQ seasoned and cooked only for everyone's liking. It is served on a sizzling plate to show how hot it is, and how pleasurable it is to sink your teeth into.
Icebergs Club Sandwich – The Club Sandwich is a huge crowd favorite, having three sandwiches with ham, egg, bacon, a chicken salad, tomatoes, lettuce, and of course, creamy, delicious cheese!
Icebergs Sundae Menu
Sundaes are a wonderful ice cream-based dessert consisting of different scoops of ice cream and topped with some favorites – whipped cream, sprinkles, marshmallows, syrup, fruits, and so much more. This is a wonderful dessert that children of all ages adore, but it is no reason why adults wouldn't. Try out Icebergs' Super Sundae Menu for prices from 200 to 220.
Strawberry Sundae – The strawberry sundae is absolute strawberry heaven for strawberry lovers. It consists of strawberry ice cream with lots and lots of strawberry syrup, topped off with Icebergs' whipped cream, and a healthy and delicious, aesthetically pleasing cherry on top.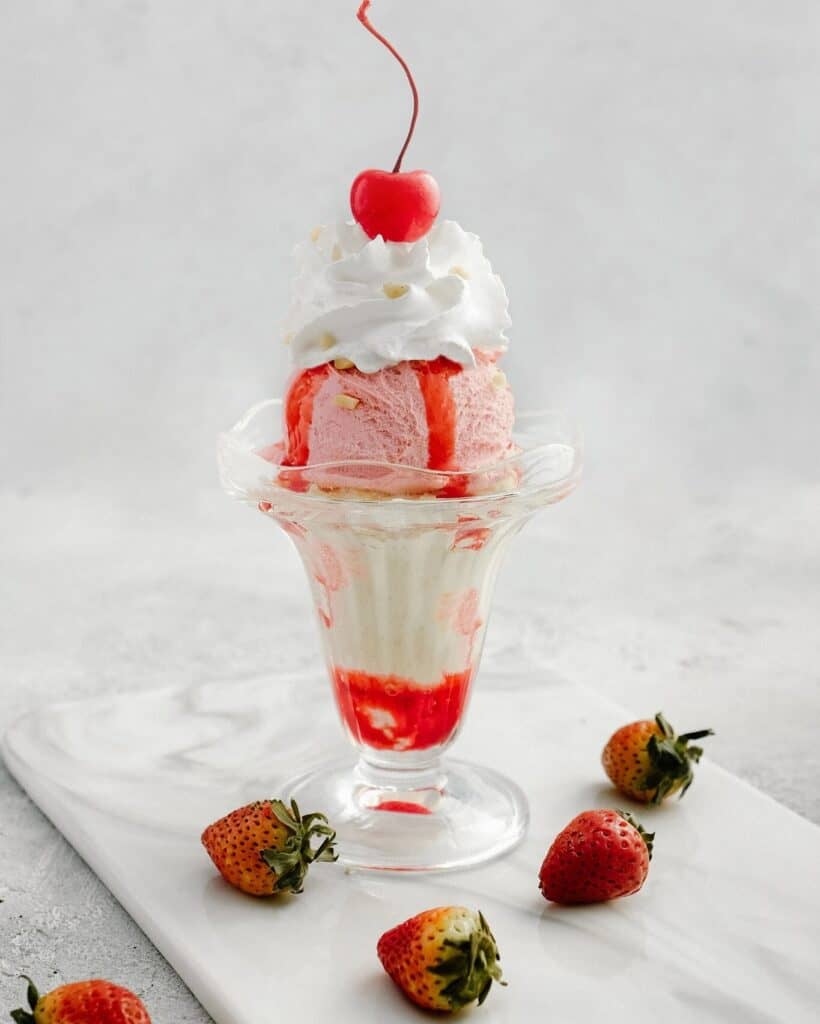 Chocolate Sundae – This is a lovely super sundae that doesn't just focus on chocolates, but so many more. It consists of different chocolate ice creams, some with nuts and add-ons, and chocolate syrup topped off with some lovely whipped cream and a cherry on top.
Cappuccino Sundae – Coffee or Cappuccino lovers might not know this, but there is a sundae that is just waiting for you to grab a bite of. This is Icebergs' Cappuccino Sundae with a price of PHP 208. This is essentially a group of ice creams flavored by the lovely cappuccino with syrups for your liking, soft, lovely marshmallows, a hint of whipped cream, and a shiny cherry for added measure. 
Kahlua Chocolate Sundae – Kahlua is a certain ingredient widely used in many cocktails that the world enjoys and loves. This Icebergs menu is created with Arabica coffee beans, sugar, and some good old-fashioned rum. Unlike Baileys, this isn't as creamy, but it is delicious in a dark, succulent way. When we turn this into one of the most unique sundaes ever, this is one that'll surely turn heads.
Peach Berry Sundae – To get a tropical feel in any weather, try the peach berry sundae! It is filled with fruit-flavored sauces that have ice creams together. The ice cream on top has another sauce – strawberry. With whipped cream and a cherry, we might think that that is where this ends, but Icebergs give us the best experience out of everything they offer, and that is sliced peaches and sliced strawberries as more toppings!
Oreo Cookies Sundae – Oreo Cookies represent our childhoods. Sundaes represent the best parts of them! Now, mix that and we might just get to be a kid again. This is piles of ice cream dripping with chocolate sauce, with whipped cream that has chocolate sprinkles, a cherry on top, and for another 'cherry on top', a real, whole, oreo cookie!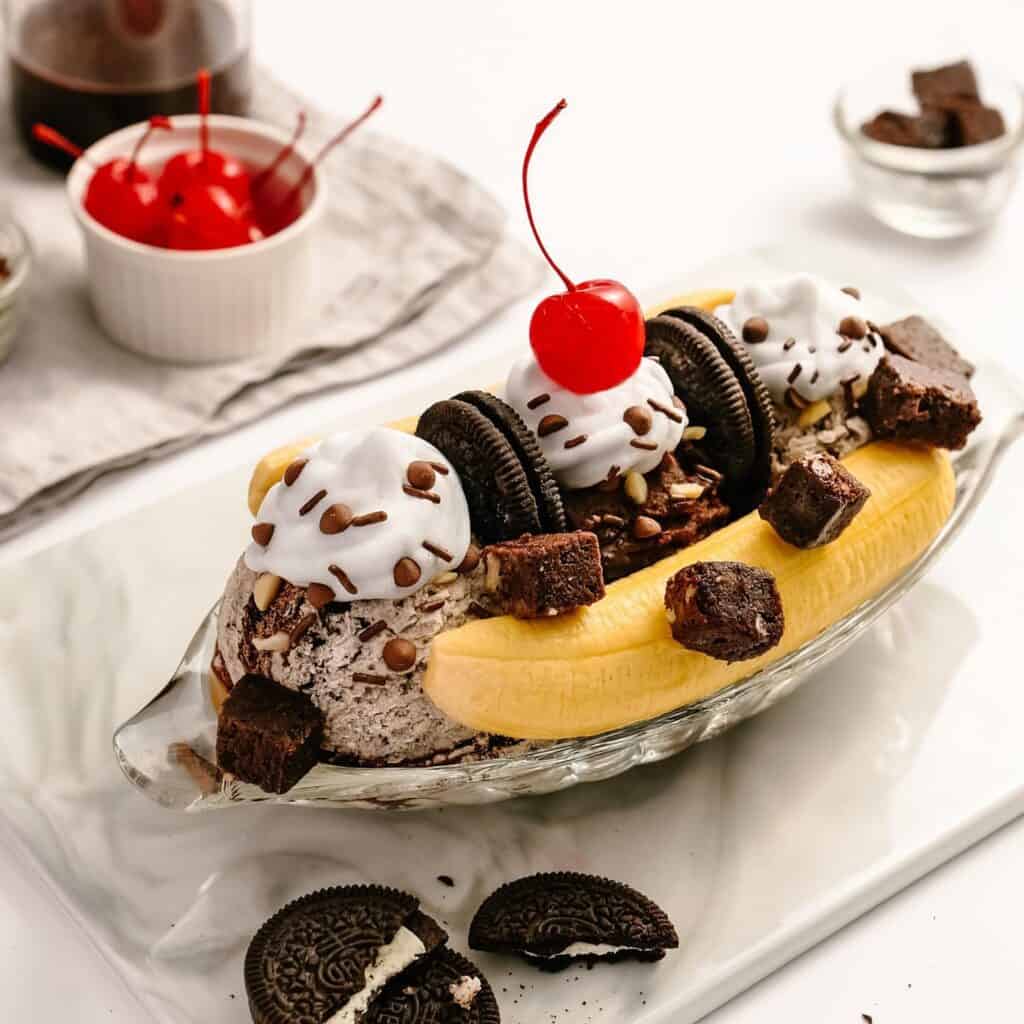 Parfait Menu
When we think of 'Parfait', we think of the French. Most likely because of the word's origin, but that is accurate nonetheless. Parfait means 'Perfect' in French, and it is never wrong. This meal is custard, layers of ice cream, fruits, and more. Yes, it is similar to that of Sundaes, but it differs in the process. One of their key differences is usually, parfait has eggs as a component, and the other doesn't. Either way, it is no reason not to get indulged in the perfect parfaits Icebergs has to offer.
Oreo Choco Parfait – Our first Parfait is the one and only Oreo Choco Parfait. From the name itself, it is certain that this is a wonder for those with a sweet tooth. This parfait does not have one oreo, but two pieces of it dipped amongst the most delicious ice creams and sauces you will ever get a bite of.
Strawberry Parfait – The Strawberry Parfait is one of the absolute favorite menu from Icebergs, as it captures the essence of strawberries themselves. Matter of fact, this parfait also contains strawberry slices lining the sides on top of the stacks of ice creams and sauces that are an absolute wonder.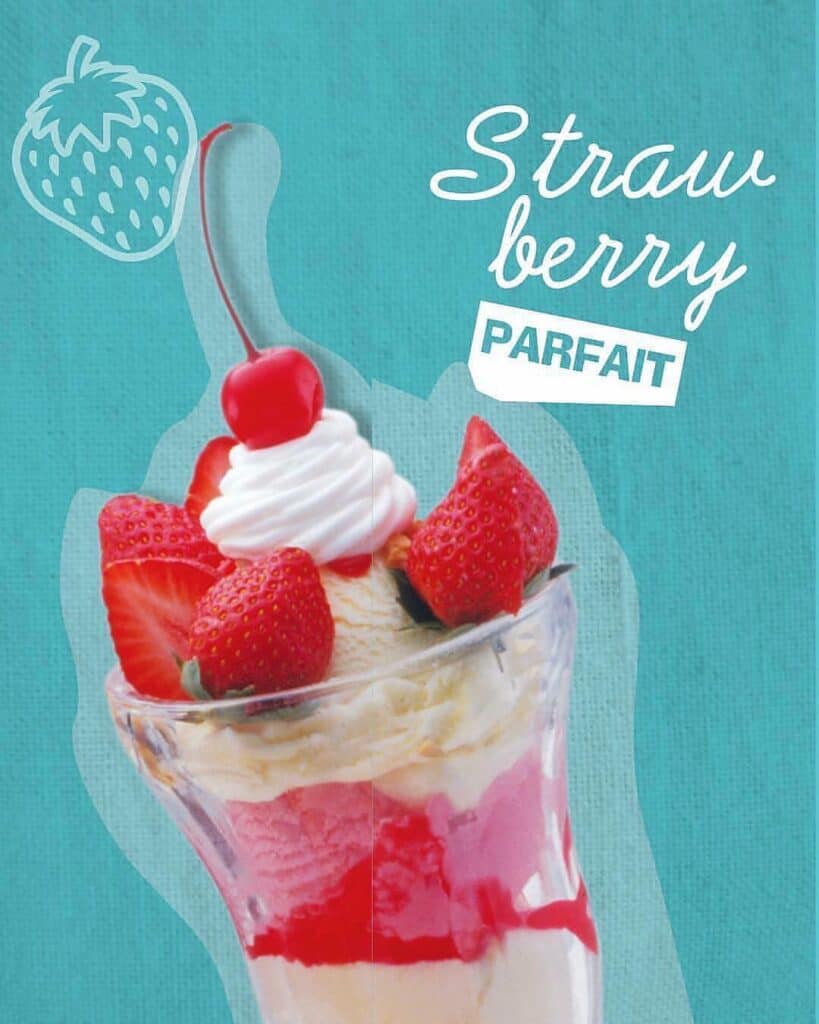 Chocolate Chips Parfait – This is another dish that will wow all the people with sweet tooths. This is a chocolate overload with chocolate chips themselves for texture and taste on top of the creamy whipped cream and shiny, delicious cherry on top.
Black Forest Parfait – Finally, the Black Forest Parfait. This is one that will surprise everyone with its uniqueness in texture and presentation. It has an overload of chocolate brownie chips and drips in the sauces. The color coordination with this meal will ensure you of how mouthwatering it is.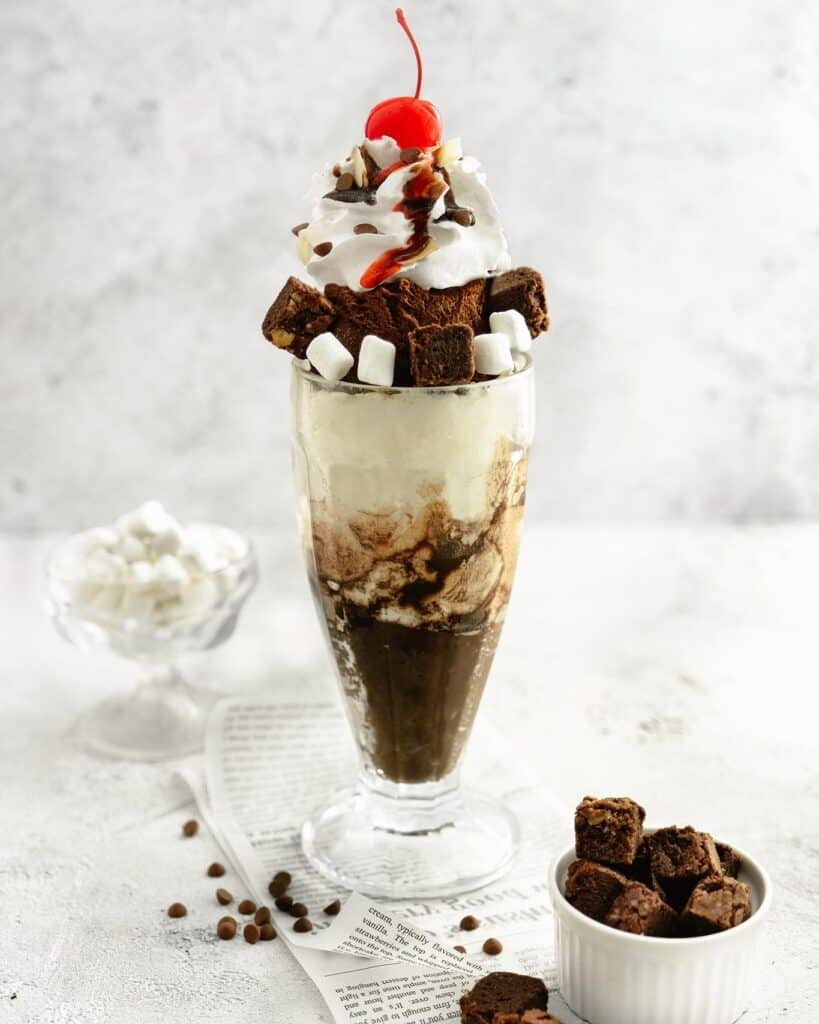 Icebergs Special Menu
Icebergs produce special meals all the same, but there are some that are as exceptional as they are unique. For a price range of a hundred to two hundred Pesos, here are only some of the Icebergs' Special Menu.
Caramel Flan con Hielo – Caramel Flan or Leche Flan is a dessert that we all know and love. Make it a Caramel Flan con Hielo and not only is it a dessert we adore, but it is one that also refreshes us to the maximum level! Amazing, isn't it?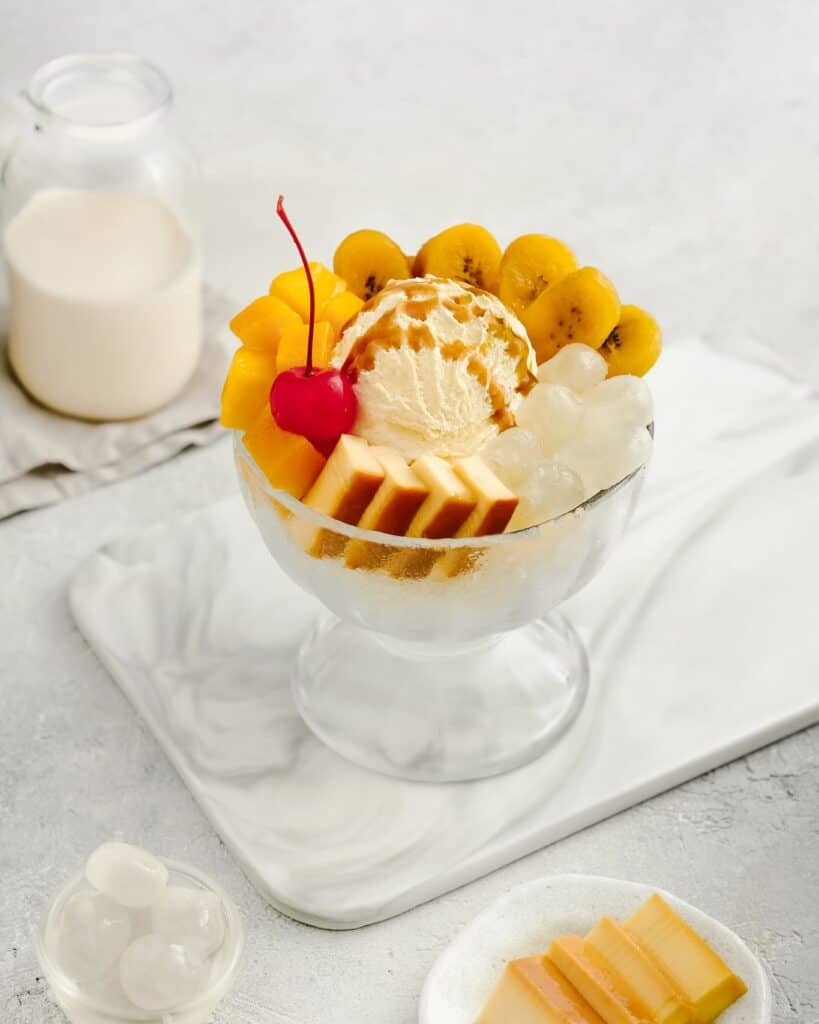 Mango con Hielo – This is a meal that is refreshing and delicious, with hints of sweetness from the flavor, it never loses the original mango flavor it has. It also has a wonderful mango ice cream on top of the diced mango slices and shaved ice below.
Melon Strawberry Mango con Hielo – This is an absolute favorite for its taste, its health benefits, the absolutely majestic visuals it has, and more. There is an equal distribution of the fruit slices on top, surrounding an ice cream and garnish. All the ingredients are fresh and made with love and care. Personally, I love and recommend this Icebergs menu.
Kiwi Mango con Hielo – The final for our example is the Kiwi con Hielo, another fruity meal. With a flavor profile that plays in between sweetness, tanginess, and sourness, this is surely one that begs for another look, with the Kiwi alone. But paired with the succulent, sweet taste of mangoes, it is more than convincing of deserving another bite.
Famous Sisig Menu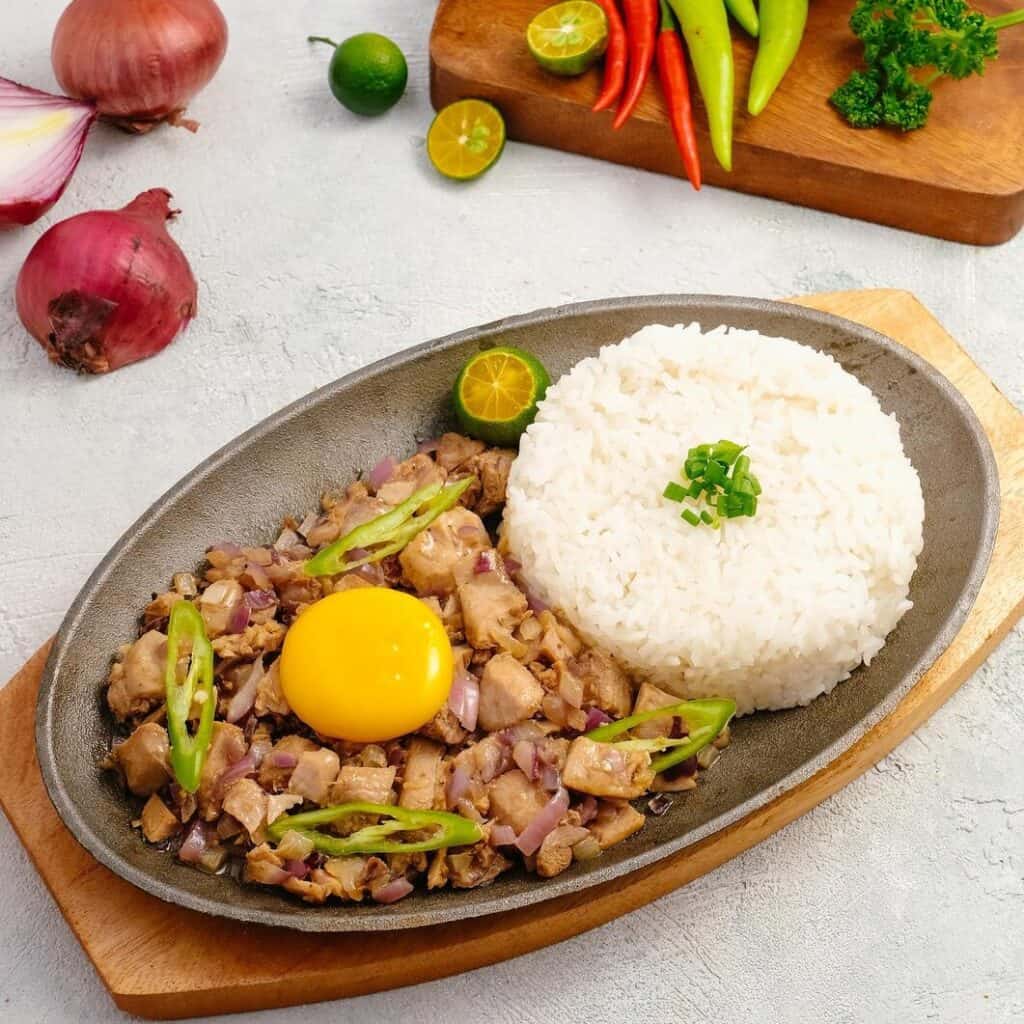 No one can ever go wrong with some delicious sisig, and no one can ever be mistaken, for loving the taste of Icebergs' Famous Sisig! Having a place in Spot.PH's Top 10 Best Sisigs in Manila, you are sure to be welcomed with one of the greatest dishes to ever graze your tastebuds. A sizzling hot sisig topped off with an egg, paired with freshly steamed rice, and could be possibly paired with any of Icebergs' wonderful ice cream dishes, and so, so much more, there is no reason why you shouldn't get a bite for only 238 Pesos.
Sandwiches
Sandwiches are lovely snacks, and they can even turn into meals. It is mindblowing, how certain restaurants can elevate a simple food choice like a sandwich, and make it into something so delicious, so mouthwatering, that calling it a sandwich might seem incorrect. Icebergs are one of the main restaurants that do this, and their menu contains not just one, but three amazing sandwiches that will wow you from the first bite for 200 to 250 Pesos.
Icebergs Club Sandwich – Secured by cocktail sticks and sliced into heavenly quarters is a crowd favorite – The Icebergs Club Sandwich. It is composed of two pieces of bread covering layers and layers of goodness! Original sauces from Icebergs' kitchen, freshly sliced vegetables, delicious ham and bacon, cheese, and more! This is a lovely meal for groups who'd want to eat and chat lightly, with the warm welcome of Icebergs.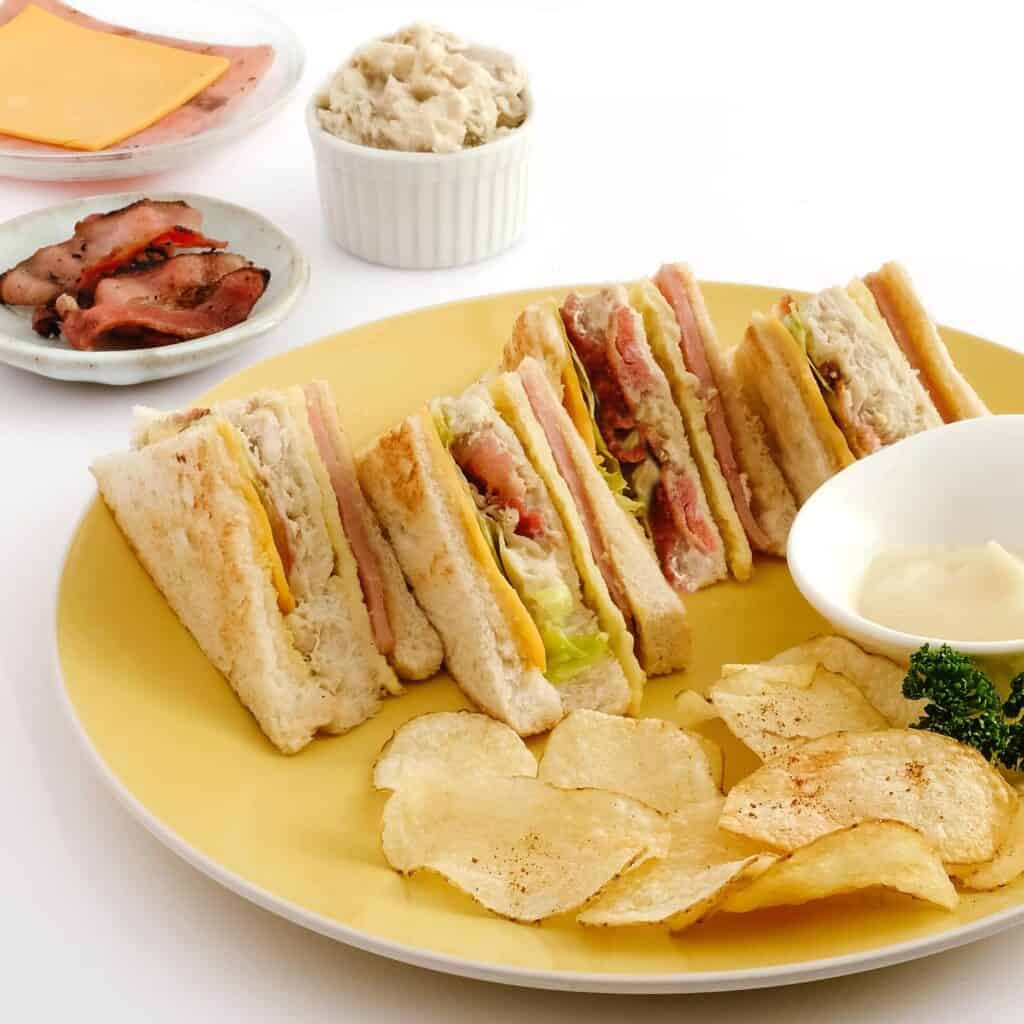 Grilled Chicken Rosemary Sandwich – Chicken Rosemary is a lovely meal in itself. It is a chicken cooked with rosemary that complements the taste – resulting in a piny, delicious one. At best, chicken and rosemary are grilled together. Inside two slices of ciabatta bread are fresh lettuce with cheese slices, grilled chicken rosemary (in slices), mustard, and deliciously sliced mangoes! In addition to this, rosemary has a strong flavor that can overpower a taste, but icebergs' showcases its technique with the fact that its products such as this one will not be too much, too little, but just right!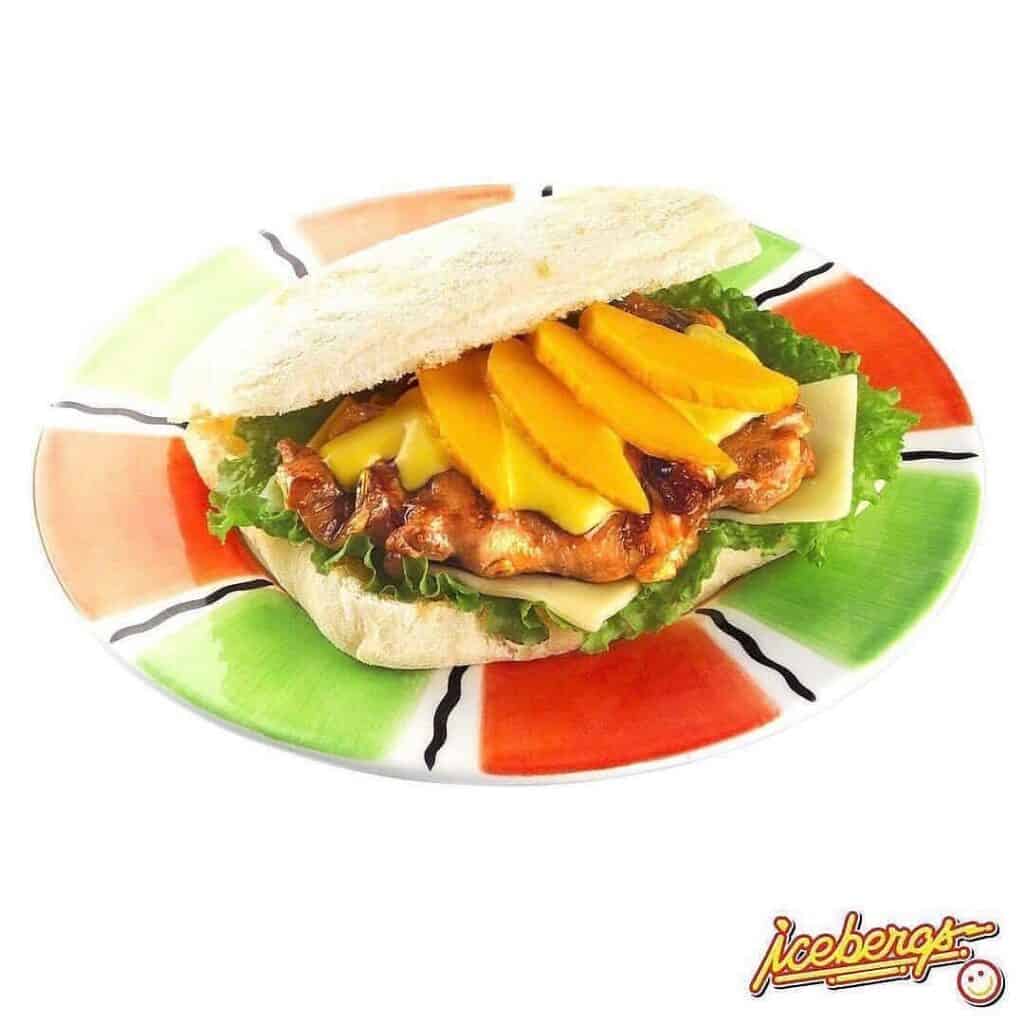 Classic Chicken Sandwich – Comfort food is a term Icebergs know not only it is in the trend but also they represent it as a whole. One of these comfort foods is the Classic Chicken Sandwich. This is a slightly toasted sandwich sliced in two diagonally to reveal the treasures inside: mayonnaise, varieties of fresh vegetables, moist chicken in pieces, and more.
Merienda Treats
Primarily, Merienda is the meal children all wake up in the day for. It is the meal where we stop all our tasks midday, and return to the kitchen to converse and have fun while getting our fill of food. Icebergs offer an array of Merienda Treats for everyone to get a bite of, and their prices range from 100 to 300 Pesos. Here are some;
Country Fries w/ Chili con Carne & Melted Cheese – This is an amazing twist on simple french fries. This menu from Icebergs has so many flavors that don't just go together but complement each other all the same, with a hint of spiciness from the meat and creaminess of the melted cheese with different variations. It has plenty of aromatics and is not overwhelming whatsoever. 
3 Cheese Beefy Nachos – Topped with different garnishes and chili-flavored beef con carne is this meal, served with not one, but three types of cheese, namely Monterey Jack cheese, cheddar, and melted American cheese. This also has two types of nachos as they have two types of color and has a tomato salsa to serve as a dip.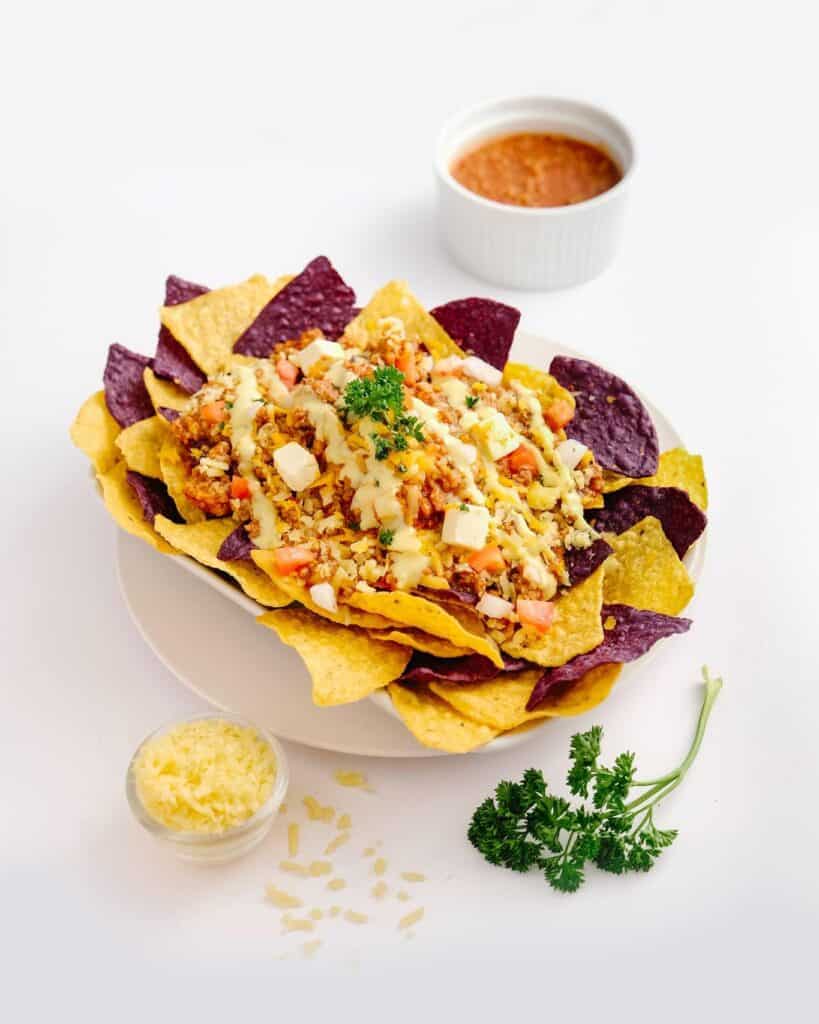 Mexican Tacos – This is a taco that is as authentic as authentic gets. It consists of ground beef, lettuce, tomatoes, cheese, and onions, served as a pair. There is also a Mexican Taco tray good for 4 to 6 people.
Chili Fries – These are fries that serve with melted cheese and beef chili con carne, guaranteed to "wow" you with the taste and the crunchiness of each fry.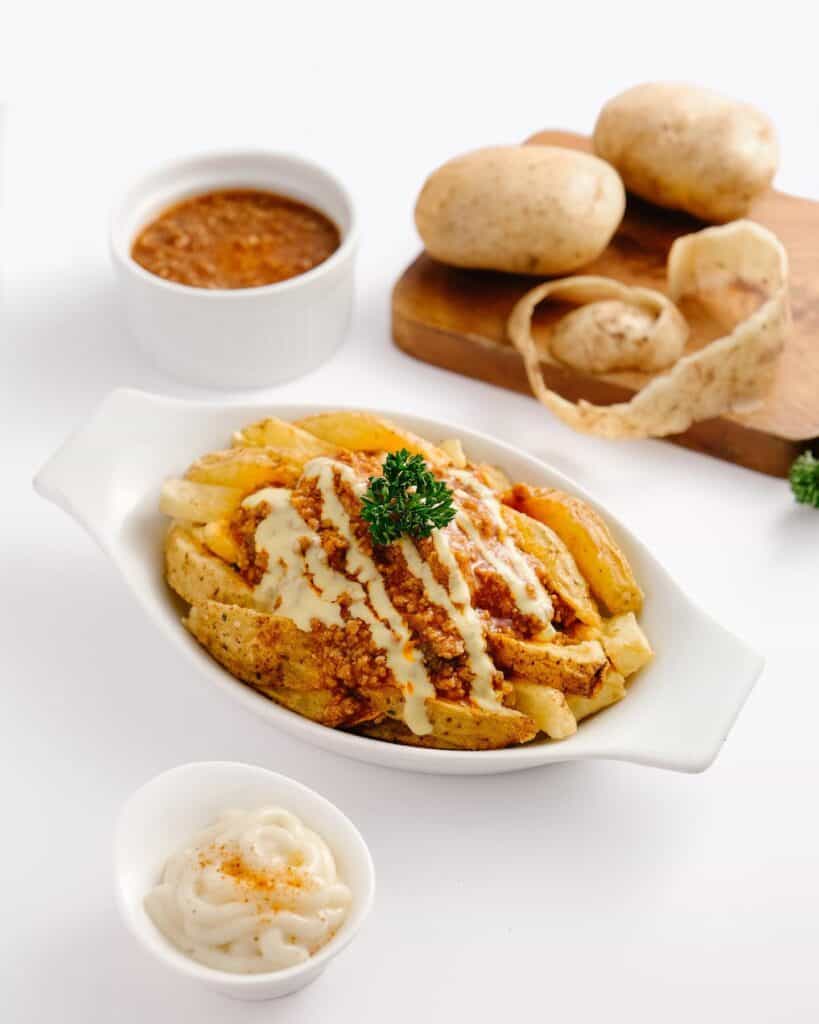 French Fries – Plain french fries cut into thick, delicious slices of goodness, served with garnishes, and cooked to perfection. A soft interior, and a lovely crunchy exterior.
Icebergs Menu Delivery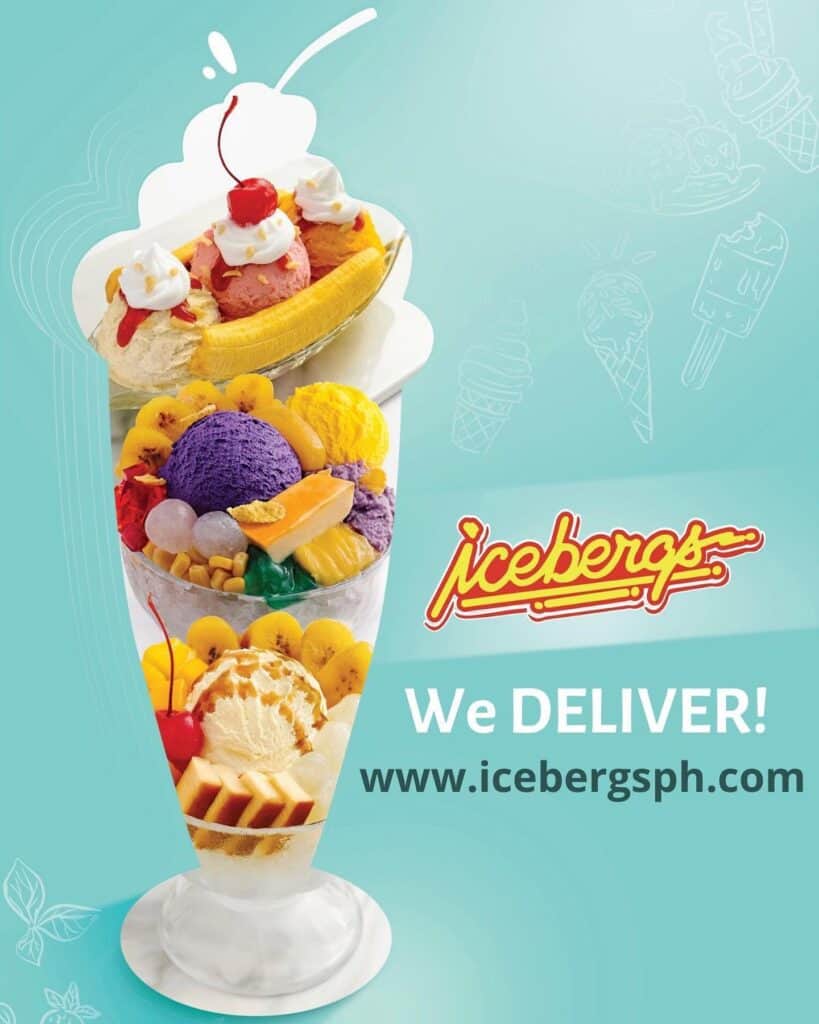 Icebergs can deliver to nearby places for everyone's convenience. They are available on different apps. For inquiries about deliveries, check their website by clicking this link. They provide promos and more, and their menu remains the same if one orders via their physical stores. 
Social Media Pages
To know more about the latest updates about their menus, promotions, and events, you may like and follow their social media accounts to support them by clicking the links below;
Facebook: https://www.facebook.com/icebergsph/
Instagram: https://www.instagram.com/icebergsph/
Conclusion
The Icebergs menu is nothing but inclusive and extensive. They offer plenty of services, and that includes deliveries. They have plenty of branches, including their Quezon City branch. Grab a taste of their best sellers, their famous parfaits, a few of their sundaes, and most probably, their famous sisig! Grab a taste of anything that tickles your fancy.