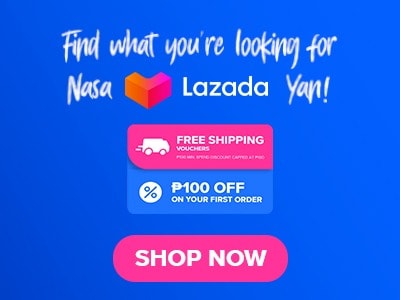 We Filipino love to have gatherings over a huge and even at a small table; we love to celebrate different occasions and we truly treasure the memories we had created over that table. We love to share food with the community, and we Filipino loved the idea of a boodle fight in order for us to tighten the social bond which we had already established. The idea of sharing food over a table became the inspiration for Tablo Kitchen. They establish this unique fine Tablo Kitchen Menu that aims to foster and tauten the relationship amongst Filipino families.
Tablo Kitchen offers a variety of food variations which varies from modern Filipino comfort food to fine dining quality food. Dining at Tablo Kitchen will surely give you that satisfying feeling that you will find comfortable. If you wish to see the list of food menus that can be purchased and enjoyed at Tablo Kitchen, then below is a list of Tablo Kitchen's Menus.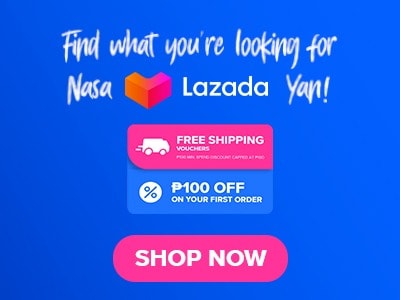 Below, you'll find the updated list of Tablo Kitchen menu prices.
Menu Items
Price (PHP)

Beverages: Ice Blended

Fresh Mango Smoothie
180
Frozen Dark Hot Chocolate
190
Frozen Dark Mocha
180
Frozen Signature Ice Tea
150
Frozen Ube Cream
180
Frozen White Chocolate Caramel Mocha
230
Grape Slush
180
Lychee Slush
180
Lychee Strawberry Smoothie
195
Strawberry Cream
190
Triple Java Chocolate Mocha
210

Beverages: Ice Shaken

Caramel Rootbeer Float
170
Fresh Orange Lemonade
165
Lychee Lemonade
175
Old Fashioned Lemonade
155
Signature Iced Tea
120
Strawberry Lemonade
175

Beverages: Others

Aqua Panna Still Water (750ml)
260
Bottled Water
70
Bundaberg
180
Coke/Sprite
95
Juices (Orange/Pink Guava/Mango)
140
San Pellegrino Sparkling Water (750ml)
260
Soda/Tonic Water/Ginger Ale
95

By the Glass

Black Coke
190
Jameson/Ginger
190
Kurantn Sprite
160
Tablo Sangria (Red & White)
285
Tanqueray + Tonic
300

Cerveza

Belale Blonde Ale
160
Cerveza Negra
130
Crazo Carabao
160 - 190
Encanto Craft Beer
170 - 190
Heineken Beer
110
Hoegaarden
150
San Miguel Premium Malt
130
San Miguel Super Dry
120
Stella Artois
170

Dessert

Caramel Banana Cake ala Mode
180
Fresh Strawberry Nutella Tostada
295
Homemade Cakes (Moist Chocolate Caramel, Blueberry Cheesecake, Strawberry Cheesecake, Ferrero Cake, Salted Caramel Cake, Cashew Sansirval)
230

Flame Grilled Platters

Bourbon BBQ Pork Belly
420
Grilled Peri-peri Chicken
385
Grilled Peri-peri Pork Chop
395 - 485
Herb Butter Pork Chop
395
Herb Lemon Chicken Steak
385
Salt + Pepper Pork Steak
420
Texas BBQ Pork Steak
475

Handcrafted Cocktails

Anne
260
Bea
270
Dan
300
Drew
250
Joey
300
Mark
270

Handcrafted Coffee (Hot)

Capuccino
160 - 180
Caramel Latte
175 - 195
Classic Latte
160 - 180
Crème Brulee
190 - 210
Dark Mocha
175 - 195
Dulce De Leche
190 - 210
French Press Single Origin
180
Hand Poured Single Origin
175 - 195
Long Black
140 - 155
Roasted Hazelnut Latte
175 - 195
Tablo Dark Chocolate
160 - 180
White Chocolate Caramel Mocha
190 - 210
Yogi Organic Tea
125

House Highlights

Beef Pot Roast Ranchero
455
Roast Beef Ala Pobre
595
Seafood Gambas
595
Signature Salmon Salpicao
595
Sinigang Beef Roast
495
Spicy Butter Adobo
490
Texas BBQ Baby Back Ribs Platter
1690

House Made Pasta Platter

Chicken Pesto Alfredo
480
Puttanesca
380
Roast Beef Marinara
410
Salted Egg Carbonara
395
Shrimp + Sundried Tomato
580
Signature Chicken Parmigiana
480

Liquor + Spirits

Absolut Kurant
120 - 2000
Bailey's Irish Cream
120 - 2000
Beefeater Gin
120 - 2000
Captain Morgan
110 - 1600
Hendrick's Gin
300 - 5000
Jack Daniel's Whiskey
150 - 2750
Jameson Irish Whiskey
150 - 2750
Jim Beam Whiskey (1L)
150 - 2800
Johnie Walker Black Label (1L)
150 - 2950
Johnie Walker Red Label (1L)
1800
Maker's Mark Buorbon
150 - 3000
Olmeca Tequila
120 - 2000
Singleton 12 Single Malt
280 - 4800
Smirnoff Vodka
110 - 1600
Tanqueray London Dry Gin
120 - 1950
Tanqueray No. 10 Gin
180 - 3500
The Glenlivet 12 Single Malt
290 - 4990

Pica Pica

Cajun Chicken + Chips
295
Cream Cheese Wedges
395
Parmeson Pesto Potato Chips
260
Tablo Nacho Grande
380

Salad and Greens

Bacon Tomato Chowder
280
California Chicken
425
Smoked Salmon Salad
390
Summer Salad
390

Signature Sandwiches + Paninis + Toasts

BBQ Chicken + Mozzarella Panini
275
Cream Cheese French Toast
290
Grilled Herb Chicken Sandwich
340
Grilled Three Cheese and Ham
285
Spicy Honey Fried Chicken Sandwich
320
Tablo Cheesesteak Sandwich
340

Signature Shared Meals

Tofu + Lechon Kawali
370
Bangus Belly Ala Pobre
395
Buttered Corn
60
Cajun Rice | Garlic Rice
70
Cucumber Ensalada
75
Garlic Butter Vegetable
75
Pan Fried Chicken + Chips Platter
720 - 1090
Roast Beef Adobo Cream
495
Roasted Potatoes
95
Signature Coleslaw
75
Stir Fried Tofu + Veggies
280
White Rice
60

Starters

Buffalo Cream Cheese Wings
285
Chili Cheese Chicken Fingers
296
Salt + Pepper Calamari
380
Soy Caramel Chicken Pops
325

Tablo Originals

Creamy Beef Salpicado
455
Honey Garlic Chicken Chops
295
Pork Steak Ranchero
410
Spicy Chicken Salpicao
360
Tablo Pan Fried Chicken
340

Wines

Delas Cotes Du Rhone French Red Wine
1790
Gato Negro Chardonnay
890
Grand Verano Merlot
890
Grand Verano Sauvignon Blanc
890
Yellow Tail Chardonnay
990
Yellow Tail Merlot
990
Yellow Tail Moscato
990
Yellow Tail Pink Moscato
990
About Tablo Kitchen
As per my research, the word Tablo based on their official website came from the word "table". We all know for a fact that a table is commonly known as one of the kitchen necessities because I believe that table has a huge impact on promoting family relationships. There are a lot of memories that we can share over a dining table, there are indeed memorable memories that we can treasure that happened in our kitchen dining.
Tablo Kitchen today had rebranded its name and changed it into Tablo Kitchen x Café, the idea of rebranding its name is hidden from the public; nevertheless, the dining experience is still the same. The extra miles that have been accomplished by Tablo Kitchen x Café are indeed worth it, so if you wish to visit Tablo Kitchen then skip the other part of this food review and go directly to "Tablo Kitchen Menu Delivery" I'll encode the different branches which you can visit to experience Tablo Kitchen x Café menu.
Tablo Kitchen Menu Best Seller
Living with food restrictions can literally decrease your appetite, however, due to the flexible and wide food variations at Tablo Kitchen x Café, you will never lose food choices to pick. If you are a vegan then this restaurant can still give you that one-of-a-kind experience as they offer salads and other vegetables that can boost your appetite. So if you are eager to know what is the best seller that Tablo Kitchen x Café offers, then below is your best guide!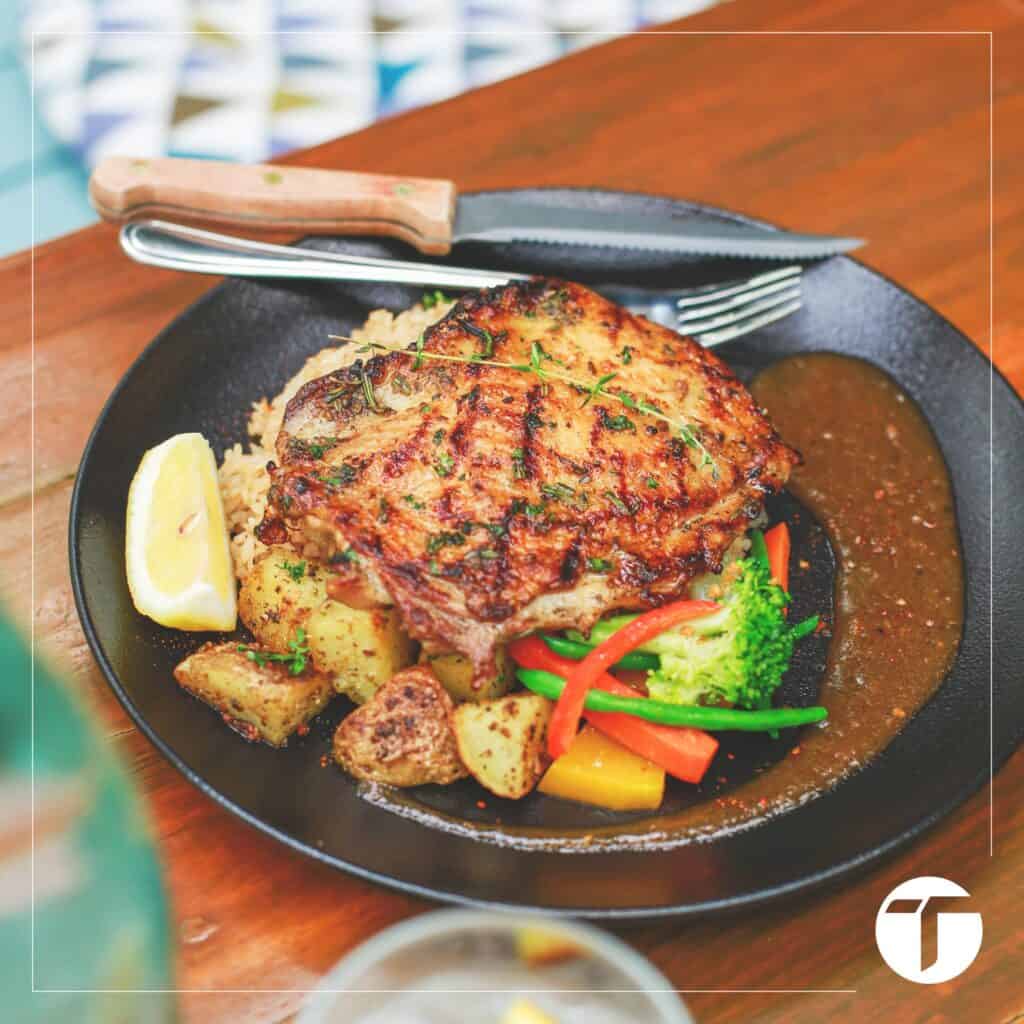 Herb Lemon Chicken Steak – This savory steak is composed of the fresh marinated chicken leg quarter, roasted potatoes, topped with pepper gravy, side veggies, and a cup of garlic rice. This meal is literally amazing as Tablo Kitchen x Café offers this meal for 320 pesos only!
Smoked Salmon Salad – If you love salad with a twist, then this Tablo Kitchen menu is your best meal! This meal includes: Chilled BBQ Chicken Slices, cucumber slices, fresh tomatoes, and red onions plus purple cabbage, olives, and mixed green veggies and is crowned with BBQ mayo dressing with shaved cheddar cheese.
Shrimp + Sundried Tomato Cream – For those who love seafood and find themselves ordering seafood meals wherever they are, then this is literally your paramount food! To give you an idea what are the things that you can taste in this meal, it is composed of the following: of course shrimp, zucchini plus mushrooms, sundried tomato, pasta, with some garlic bread as a side dish, basil, and creamy house-made tomato cream sauce with parmesan cheese on top.
Sinigang Menu
One of the best viand that our mothers and parents present to us is the most famous and comfortable Filipino food – Sinigang. You cannot argue with me because sinigang is literally my favorite meal! It gives me that huge satisfaction because of its sour flavor that can linger on my taste buds!
Of course, Tablo Kitchen won't miss this opportunity and made their own concept of sinigang. Meet Tablo Kitchen x Café Sinigang Beef Roast! This meal belongs to the house highlight meals which you can only experience at Tablo Kitchen x Café. This meal is composed of signature sinigang gravy, roast beef slices, French beans, and veggies just like eggplant. Sinigang Beef Roast can be bought in a single platter which only costs you about 495 pesos only! This meal is surely best for families who love to try Filipino comfort meals.
Tablo Kitchen Creamy Beef Salpicado
You will never get tired of the set of meals that Tablo Kitchen x Café offers, however, if you are the type of person who loves to try new beefy things then I suggest that you should taste the Tablo Kitchen x Café Creamy Beef Salpicado.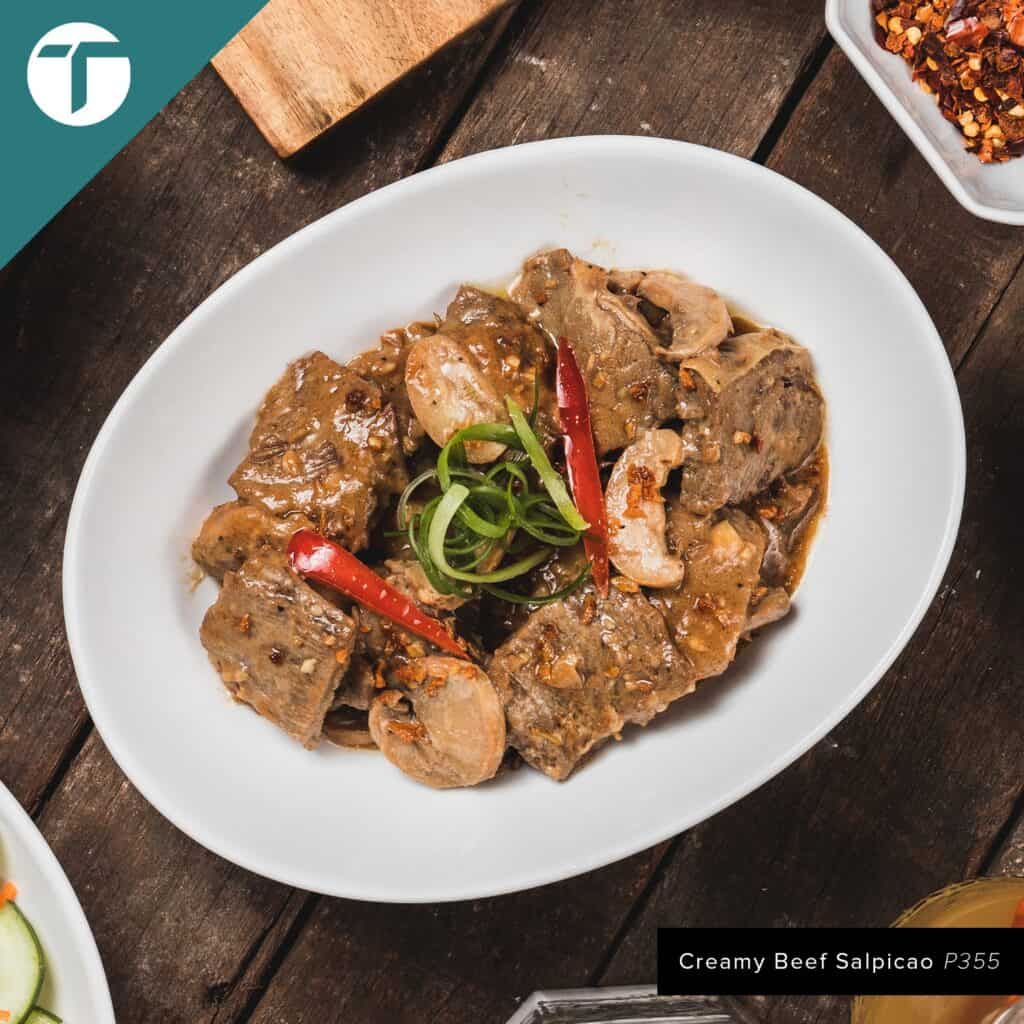 This menu is made from young and fresh beef meat put into a bowl, and seasoned with different herbs and spices which can surely satisfy your palate. This 380 pesos menu is composed of tender beef, mushrooms, buttered veggies, pepper sauce, and lastly a cup of plain rice. If you love garlic that much then you can change your plain rice into garlic rice, expect that there would be changes in the price the moment you convert your plain rice to garlic rice. But no worries because they don't cost that much!
Cake Menu
 After those appetizers and main dishes of course we love to have that little sweetness to alleviate the lingering taste of the main dishes. At Tablo Kitchen x Café they offer a wide variety of desserts that you will truly enjoy. You can choose between cakes, shakes, tostada, and many more that can seriously give you the best dining feeling. So without further ado let me introduce to you the cakes which you can purchase at Tablo Kitchen x Café.
Caramel Banana Cake Ala Mode – This Tablo Kitchen banana cake menu is drizzled with sweet caramel and vanilla ice cream with candied walnuts on top. A slice of this cake will only cost you 295 pesos only!
Homemade Cakes – Homemade cakes come in different flavors, and each slice of this homemade cake will only cost you 180-230 pesos only. Note that some cakes won't be available when you visit their stores. To give you an idea what are the flavors that they offer, then it is a pleasure on my end to state them for you. They offer the following flavors: Moist Chocolate Caramel Cake, Blueberry Cheesecake, Strawberry Cheesecake, Ferrero cake, Salted Caramel cake, and Cashew Sansirval cake.
Tablo Kitchen Menu Delivery
Due to the rise of popularity of Tablo Kitchen, x Café people are curious about where they can visit the store. I am pretty sure that you hop into this section of the article just to know the nearest Tablo Kitchen x Café branch from your place. So to cut this introduction short, let me give you the details prior to the branches of Tablo Kitchen x Café.
Tablo Kitchen x Cafe Timog QC
| | |
| --- | --- |
| Address | 14a Scout Borromeo St, Diliman, Quezon City, Metro Manila |
| Operating Hours | 10AM – 12AM |
| Contact Details | 0270015646 |
Tablo Kitchen x Cafe | BF Homes Parañaque
| | |
| --- | --- |
| Address | 224 A Aguirre Ave, Parañaque, 1700 Metro Manila |
| Operating Hours | 10AM – 11PM |
| Contact Details | N/A |
Tablo Kitchen x Cafe South | Las Piñas
| | |
| --- | --- |
| Address | C2P6+3FX, Liderato Hernandez Ave, Almanza Uno, Las Piñas, 1747 Metro Manila |
| Operating Hours | 12PM – 10PM |
| Contact Details | 0282884160 |
Tablo Kitchen x Café BF Resort
| | |
| --- | --- |
| Address | 1 Abel Nosce cor BF Resort Drive, BF Resort Village, Las Piñas, Metro Manila |
| Operating Hours | 11AM – 10PM |
| Contact Details | N/A |
Social Media Account :
Tablo Kitchen Website: https://www.tablokitchenxcafe.com/
Tablo Kitchen Facebook: https://www.facebook.com/tablokitchenxcafe/
Tablo Kitchen Instagram: https://www.instagram.com/tablokitchenxcafe/
Conclusion
Going through the fine dining experience at Tablo Kitchen x Café can be your most memorable dining memory. Tablo Kitchen x Café can seriously tighten the bond between families, their tables are really comforting and add value to the memory that you are about to treasure.
The set menu at Tablo Kitchen x Café is flexible and extravagant and what can I say? I believe they really put great effort into creating their menu because they considered different aspects that the world of dining. They considered those who are vegan, those who only eat chicken, and the possible allergies that a customer may experience if they won't recite the ingredients that they've put in their meal.
What I love about them is the idea of putting the ingredients on their menu plate/card. That idea is indeed conventional because you will instantly consider the food to avoid due to allergies.
So if you want to experience the set of menus that Tablo Kitchen x Café offers then I suggest that you should visit the nearest branch from your place of residence! Good luck with your journey folks!