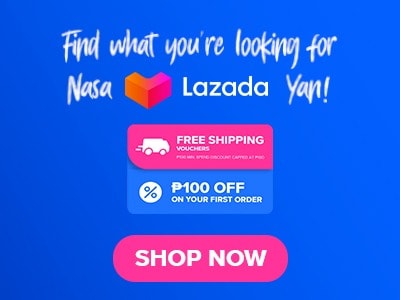 Hawker Chan Menu serves exquisite food that won't make earning a Michelin Star a question. They serve food all around Asia! From the country that is Singapore to The United Arab Emirates, it is no wonder that this restaurant is successful as it is known. They serve food with signature, unique flavors, and tender meat, and all with fresh, deluxe ingredients only. The serving of consistent great-quality food is the prime reason for this restaurant's success, and this restaurant to thrive. Curious about the history? Well, aren't we all? Get a meal at Hawker Chan and experience their food yourself.
Below, you'll find the updated list of Hawker Chan menu prices.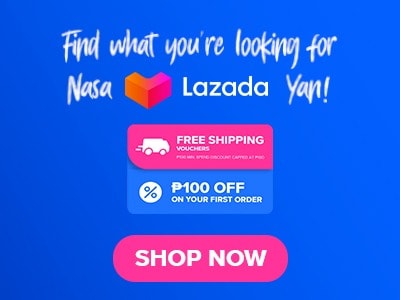 Menu Items
Price (PHP)

Soya Sauce Chicken

Fragrant Chicken Rice
193
Rice
168
Vegetable Noodles
228
Noodles
208

Poached Chicken

Vegetable Noodles
228
Noodles
208
Rice
168
Fragrant Chicken Rice
193

Roasted Duck

Rice
318
Vegetable Noodles
338
Fragrant Chicken Rice
343
Noodles
318

Char Siew

Fragrant Chicken Rice
223
Vegetable Noodles
258
Noodles
238
Rice
198

Roasted Pork

Noodles
228
Rice
188
Fragrant Chicken Rice
213
Vegetable Noodles
248

Beef Brisket

Vegetable Noodles
258
Noodles
238
Rice
198
Fragrant Chicken Rice
223

Roast Meat Combination

Any Three (Served w/ Rice)
290
Any Two (Served w/ Rice)
250
Any Three (Served w/ Noodles)
348
Any Two (Served w/ Noodles)
308

Roast Duck Combination

Roast Duck + 2 Items
418
Roast Duck + 1 Item
360

Sides

Soya Bean Sprouts
99
Braised Tofu w/ Marinated Egg & Seasonal Vegetable
159
Wonton Soup
109
Dumplings (Fried / Boiled)
140
Seasonal Vegetable
109
Tofu w/ Apple Slaw
185

Chef's Fried Pork

Ala Carte
220
Rice
160

Roast Platter

1/4 Roast Duck Platter w/ Dumplings
1099
Chicken & Pork Platter (Large)
1499
Half Roast Duck Platter w/ Dumplings
1799
Chicken & Pork Platter (Medium)
999

Large Order

Char Siew (600 G)
949
Buchi
280
Poached Chicken (Half)
448
Chicken (Whole)
888
Tofu w/ Apple Slaw (Large)
370
Roasted Pork (400 G)
629
Poached Chicken (Whole)
888
Seasonal Vegetable (Large)
300
Vegetable Noodle w/ Sambal (Large)
300
Roast Duck (Whole)
1500
Braised Tofu w/ Marinated Egg & Seasonal Vegetable (Large)
300
Beef Brisket (Large)
1170
Char Siew (400 G)
649
Dumplings (Fried / Boiled) (Large)
330
Roasted Pork (600 G)
929
Chicken (Half)
448
Braised Tofu (Large)
290
Roast Duck (Half)
750
Plain Noodle w/ Sambal (Large)
280
Beef Brisket (Medium)
590

Special Noodles

Roast Duck Noodle Soup
318
Seafood Laksa
280
Beef Brisket Noodle Soup (Petit)
149
Beef Brisket Noodle Soup
249
Char Kway Teow
249
Seafood Laksa (Large)
380
Wonton Noodle Soup
149
Stir Fry Char Siew Noodle
249
Char Siew Noodle Soup
228
Soya Chicken Noodle Soup
198
Fishball Laksa
240
Chicken Laksa
240
Fishball Laksa (Large)
340
Chicken Laksa (Large)
340

Add Ons for Special Noodles

Plain Noodles w/ Sambal
90
Plain Rice
30
Vegetable Noodles w/ Sambal
99
Fragrant Rice
45
Rice w/ Soya Sauce
35

Dessert

Buchi (2 pcs)
49
Buchi (4 pcs)
98
Chendol
59
Ice Kachang
59

Beverages

Soft Drinks in Can
88
Milk Tea
98
Houseblend Iced Tea
70
Roselle Tea
70
Mineral Water
40
Honey Citron Soda
80
Barley w/ Calamansi
70
About Hawker Chan
Hawker Chan's chef and main man – Chef Chan Hon Meng began all this. Raised by farmer parents in Malaysia, his culinary life began as he prepared food for his family, and because of his early introduction to this, his love has culminated in it. Singapore is where he moved at the ripe age of 15 in quest of employment. He created the soy sauce chicken dish as he was training under a chef. Furthermore, 2009 saw the opening of Chef Chan's Liao Fan Soya Sauce Chicken Rice and Noodle in the Chinatown Complex Food Centre.
He was awarded the Michelin Star in July 2016, and that pride improved more and more, it nurtured the restaurant further and resulted in the restaurant receiving more praise. In the same year, in the month of October, he formed a partnership with Hersing Culinary to change the hawker food stall and turn it into a restaurant. Formed Hawker Chan and has thus far opened 12 franchised eateries in 6 nations.
There are several branches in the Philippines for Hawker Chan, including SM North EDSA, SM City Fairview, SM San Lazaro, SM Grand Central, SM Megamall, Glorietta 3, SM Mall of Asia, Ayala Malls by the Bay, Food District Signatures in BGC, SM City Baguio, and SM City Sorsogon. Other than the exquisite food they have to offer, they offer delivery services, along with other unique menu items and food that honor Chef Chan Hong Meng's life's work and creations.
Hawker Chan Menu Best Seller
Being a restaurant that earned a Michelin Star, and being one that has more than one branch worldwide, it is without question that they will earn best sellers, that the Hawker Chan restaurant will have an excellent menu of the best quality.
Soya Sauce Chicken – This is the dish that earned the Michelin Star for the restaurant. A simple yet stunning dish, with original flavors and a homely vibe that just begs to be tasted. The chicken is cooked in an original and intricate way only Hawker Chan knows and honors, and for a cheap price of PHP 168, what more reason could there be to try this?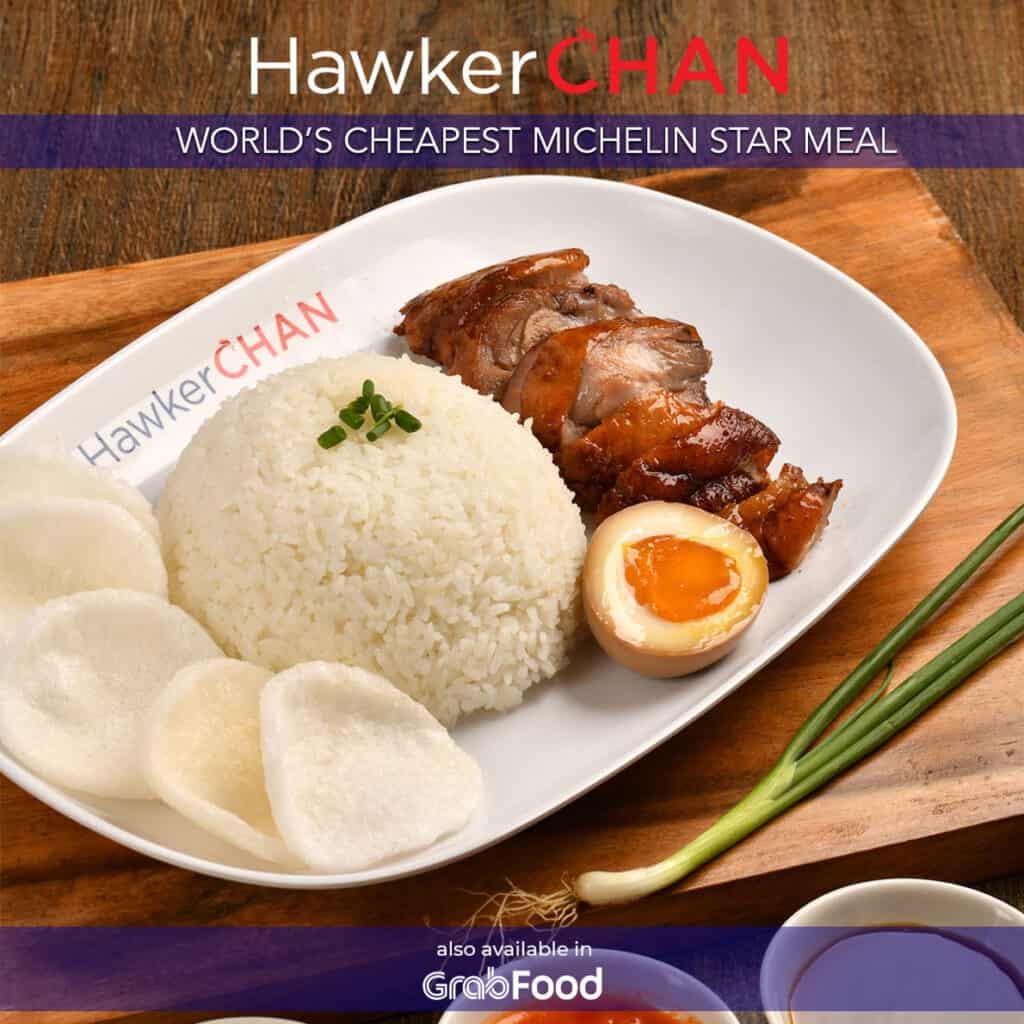 Half Roast Duck Platter with Dumplings – With a meal that can accommodate 5 to 6 customers, it is no wonder that this is a best seller. This is half of a roasted duck, with salted eggs, delicious, fried dumplings, a choice of pork that can be either roasted or char siew, and soya or poached chicken – another choice.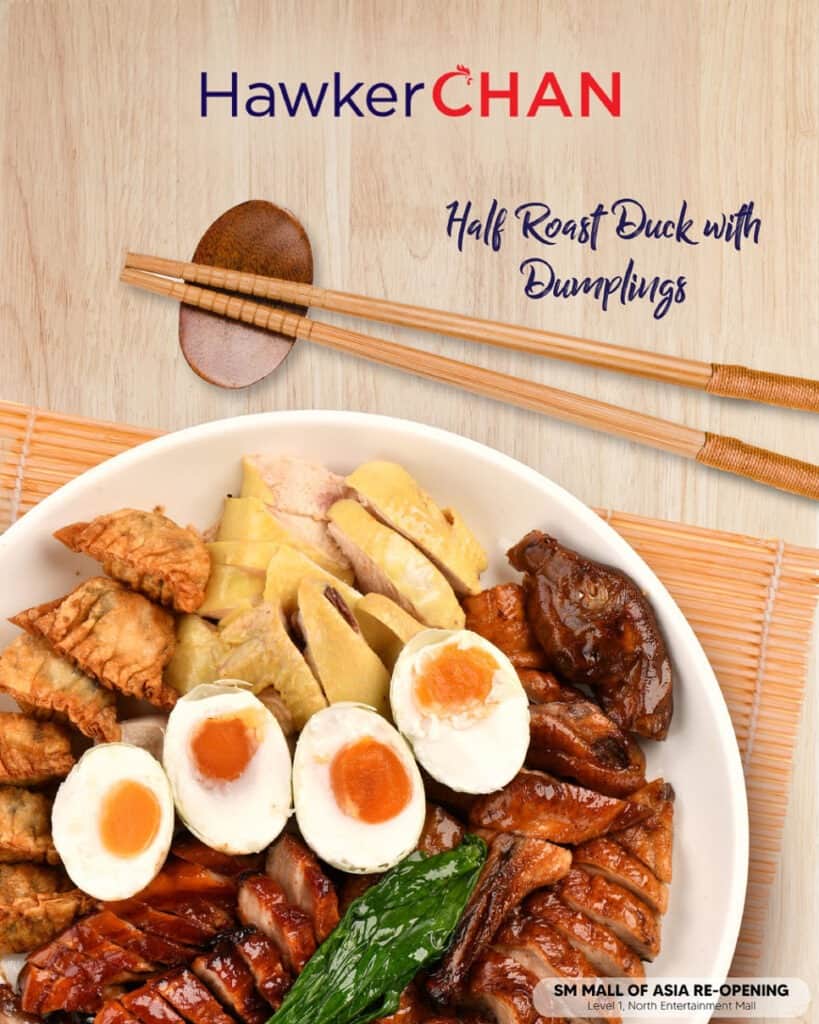 Roast Meat Combination – The Roast Meat Combination menu from Hawker Chan has a great array of choices. This is where you could get noodles or rice, served with either two or three of a classic soya sauce chicken, char siew, roasted pork, or even poached chicken, prices vary depending on the choice, but rest assured, all are so much more than "meals". With delicious tastes and premium quality.
Tofu with Apple Slaw – Apple Slaw is a great variation of coleslaw that is composed of slivered almonds, parsley, carrots, and apples. This has a great taste of crunchy, nutty, and sweet, all combined. This will have steamed tofus among it, adding up a delicious taste.
Vegetable Noodle with Sambal – Sambal is described as a deliciously spicy food, it is a red or green chile paste, with shallots, lemongrass, shrimp paste, tomatoes, and more, and adding it with delicious amounts of vegetable noodles cranks up a great, great notch.
Roast Meat Combination
The Roast Meat Combination has two choices amongst other sub-choices. The first set of them is the chance to choose whether your meal will have deliciously cooked rice or amazing strings of amazing noodles. With that, meats could be served, from two to three, and their choices include the Soya Sauce chicken and Poached chicken, the Char Siew, and Roasted Pork.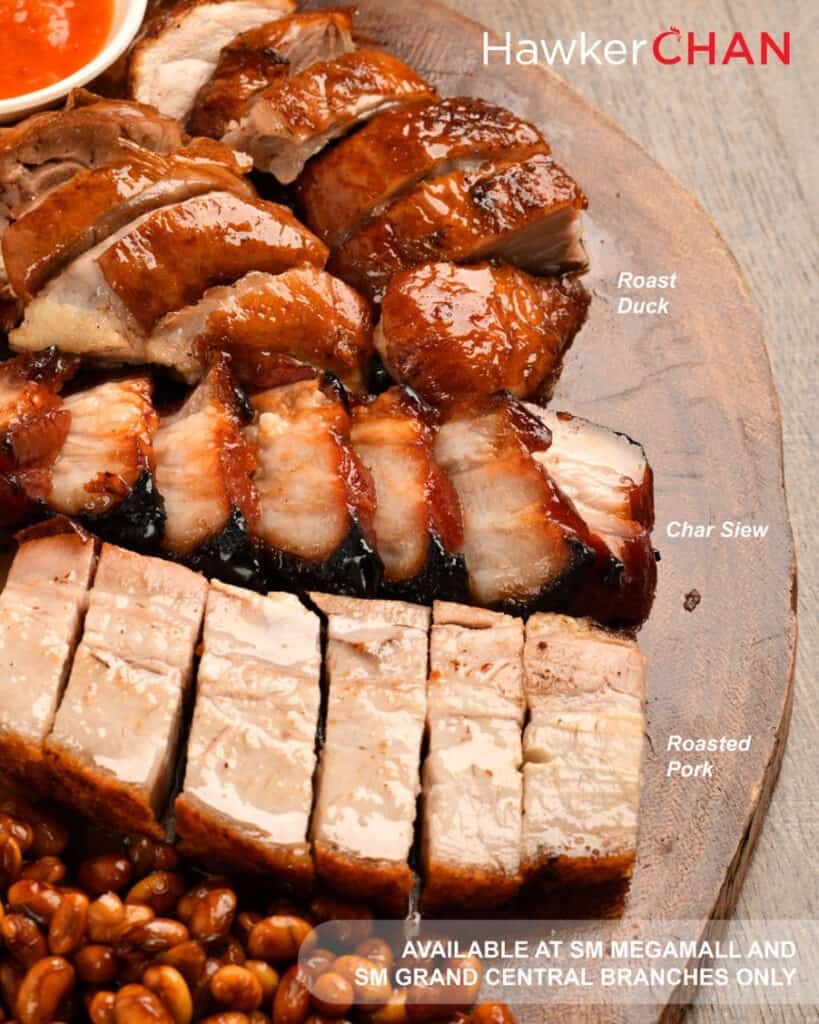 Roast Duck Combination
This Hawker Chan menu is served with rice, unlike the Roast Meat Combination which has the option of being served with noodles. Their prices vary depending on one of two choices – a roast duck with one, or two items, which are priced from PHP 360 to PHP 418. The choices of 'items' are either poached chicken, soya sauce chicken, char siew, or even, roasted pork.
Hawker Chan Large Order Menu
The Large Order serves a variety of, yes, Large Food, from the add-ons to the meats themselves, almost the whole order is available under this category, of course, in large amounts. This is perfect for eaters who have a huge appetite, as Hawker Chan has a huge menu to pair it with. It is a match made in heaven.
12 Pieces of Buchi – Originating from China, Buchi is known quite a lot in Asia, even in the Philippines. Php 280 is the price of 12 pieces of Buchi. These are also known as sesame balls with a red bean filling that has a chewy texture to go with the interesting taste and look. It is a great way to eat dessert, as it has fiber and plenty of nutrients linked to it.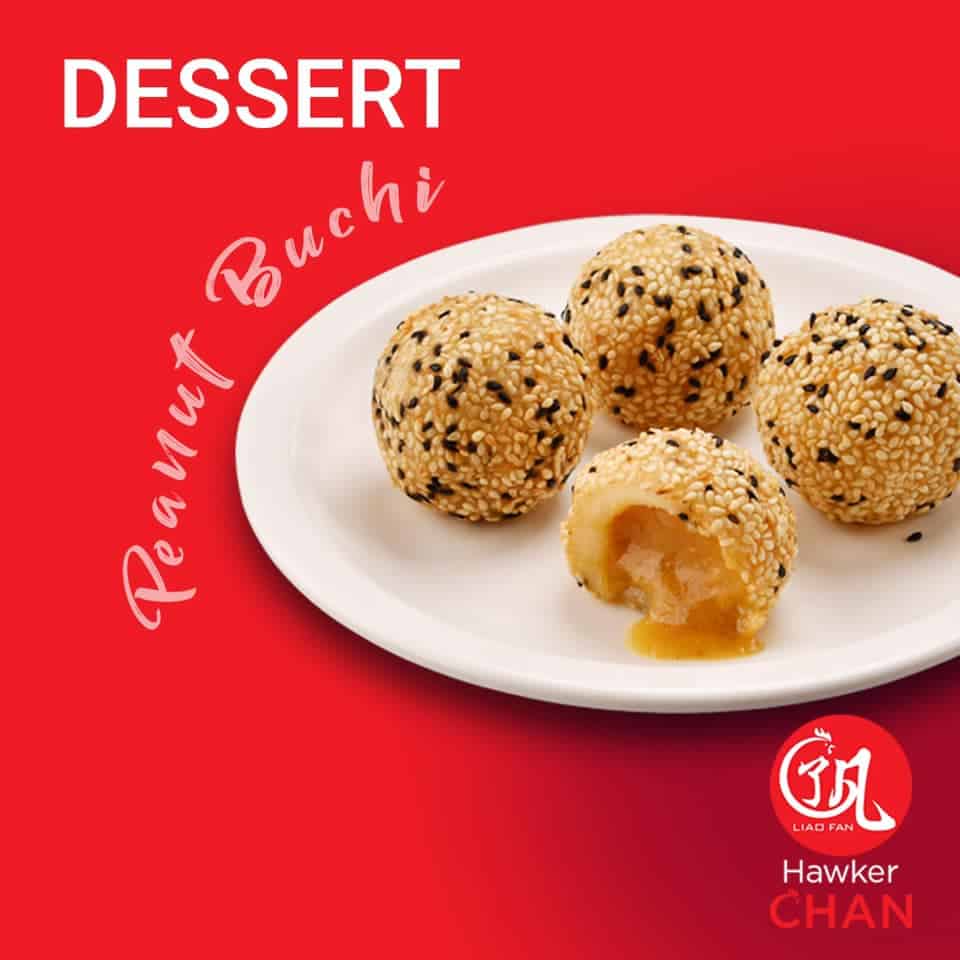 Large Braised Tofu – The Large Braised Tofu is a great dish that is prepared by searing tofu in braising liquids as they develop a golden and thicker crust, and then, shall be seasoned and served juicy and tender, especially in large portions, for Php 290.
Poached Chicken – It is something you can order for half or whole, and their prices come in Php 448 or Php 888, depending on the said size. This Hawker Chan menu is a cooked chicken that is not common when compared to roasted or fried ones, but, it is to cook chicken in oil, wine, or milk, interestingly, it results in a deliciously moist and seasoned chicken.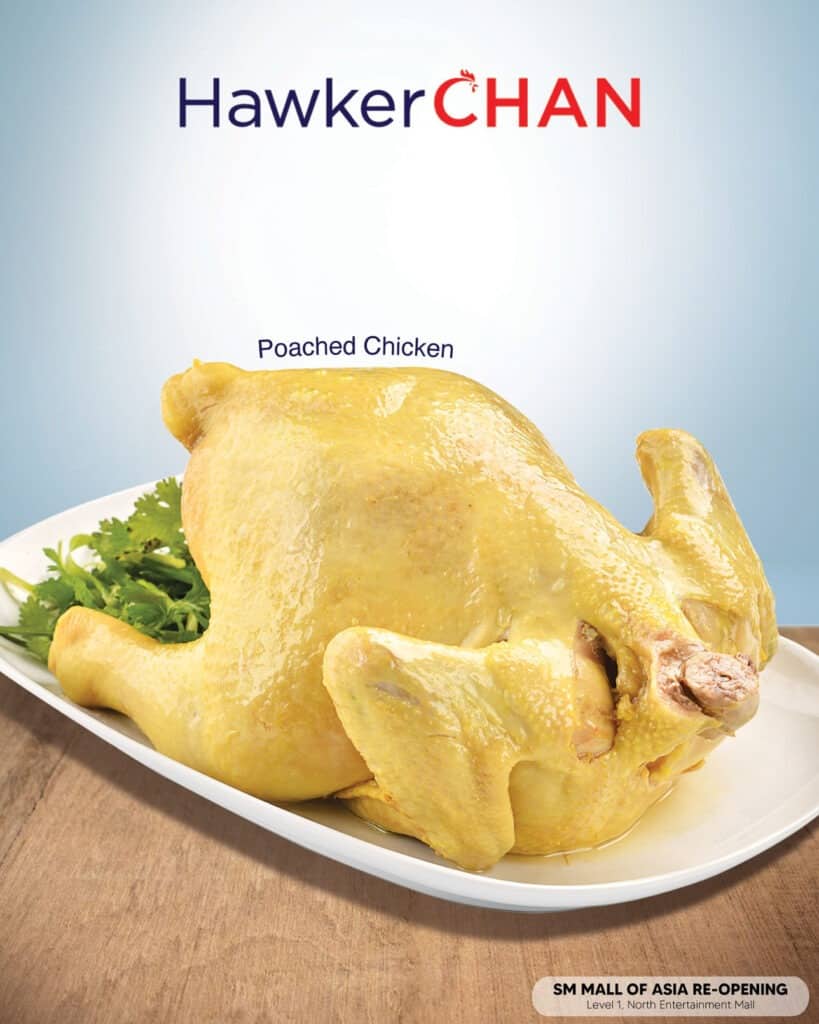 Hawker Chan Menu Roast Platter
The Roast Platter is a great clump of roast meat, either pork, chicken, or duck, that is great for group gatherings as they will cater to multiple people! These platters serve everything you want and more in meals and will be sure to give that feeling that you want more.
Roast Duck Platter with Dumplings (Large) – This Hawker Chan menu consists of salted eggs, Soya or Poached chicken, Fried Dumplings, Choices of either char siew or roast pork, and a delicious roast duck, which shall cater to a group of 5 to 6 people and leave them with full stomachs.
Roast Duck Platter with Dumplings (Medium) – This is another variation of the aforementioned Roast Duck Platter with Dumplings, and it serves the same types of food, but the difference, is this is better for a smaller group of three to four, as it has lesser amounts of food distribution.
Chicken and Pork Platter (Large) – The Chicken and Pork Platter is one that can cater to 5 to 6 people with salted eggs, fried dumplings, poached or soy chickens, roast pork, and char siew.
Chicken and Pork Platter (Medium) – This is the same platter, with fewer and lesser servings that are fit for three to four people.
Special Noodles Menu
The Special Noodles menu from Hawker Chan is either simple noodle soups or Laksa – a spicy noodle dish with different components. Laksa Noodles are created from rice flour and have a spicy and a bit of tang flavor. Their price ranges come from Php 200 to Php 300, where Php 100 is added for a larger serving, and Php 30 is added for extra 2 pieces of Wonton.
Chicken Laksa – The Chicken Laksa is a spicy take on poached chicken, served in a great amount that is sure to fill you up, with add-ons such as veggies inside.
Roast Duck Noodle Soup – A deliciously cooked roast duck with seasonings and tastes that are only there for pleasure and taste, amongst vegetables and a delicious noodle soup that will leave the customers consuming the whole bowl entirely.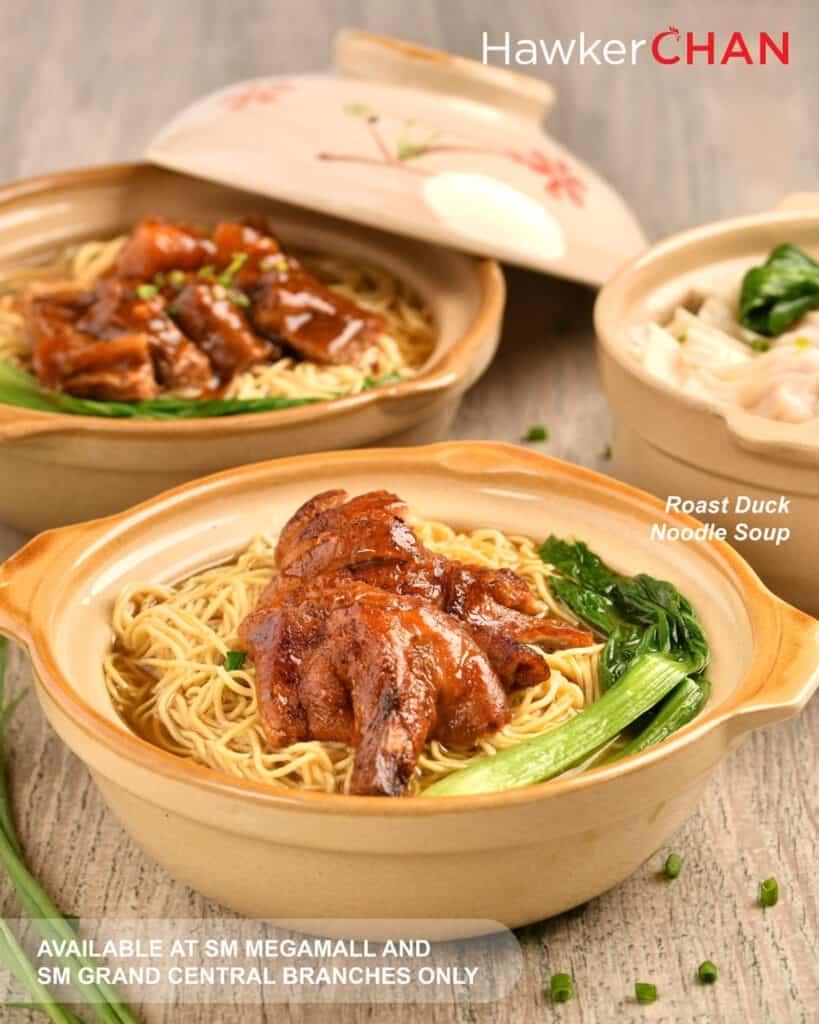 Wonton Noodle Soup – The Wonton Noodle Soup is another variation of the aforementioned delicious noodle soup with pieces of wonton that are delicious as they are sufficient for one's stomach. This is where the additional two pieces of wonton are available for eating, too.
Hawker Chan Menu Delivery
Hawker Chan is a restaurant with esteemed meals available, and it is no question that their services extend to deliveries. Customers could call or message the number 0966 263 1434 for bulk orders, or they could join the Viber Community and order with the numbers; 0945 330 3345, 0945 330 3340, and (02) 8253 4162. Hawker Chan is also available at Food Panda, Grab Food, and Pick a roo.
Social Media Pages
Hawker Chan has several promotions and discounts awaits for their customers who want to dine in their restaurant. These things can be searched if you follow them through their social media pages. They are actively updating the latest news about them to get you informed. Follow the links below to be redirected through their channels.
Facebook: https://www.facebook.com/HawkerChanPhilippines
Instagram: https://www.instagram.com/hawkerchanphilippines
Website: https://www.liaofanhawkerchan.com/contact
FAQs
What is Hawker Chan famous for?
Hawker Chan is famous for many things, with their signature menu, incredible service, and original meals prepared and served to have original flavors, but, the most defining signature that Hawker Chan has is the title of "World's Cheapest Michelin-starred Meal" because of the delicious Soya Sauce Chicken. It is a staple in this restaurant, and customers from all around the world are dying to grab a bite out of this meal and witness the Michelin Star meal at its finest.
How many Michelin stars does Hawker Chan have?
Because of the undeniably good Soya Sauce Chicken Hawker Chan serves and offers, it gained one Michelin Star in the year 2016, in the month of July. With that, comes the titles "The World's First Hawker Michelin-starred Meal" and "The Cheapest Michelin-starred Meal in The World". They received this award from the Michelin Guide in Singapore, and ever since, the restaurant has been thriving more and more.
What country did Hawker Chan come from?
Hawker Chan, with its fruitful history, came from the humble and culture-filled country of Singapore, and through the years, as the leaves fall, as the sun and moon rise and set, Hawker Chan came to the doorsteps of other countries.
Conclusion
If authenticity, quality, and world-class are what you're looking for, and at homely prices, The Hawker Chan menu is perfect for you. They serve food wherein a Michelin Star is given, with food that is delicious, not only to look at but to feast on, too. Their food is perfect for gatherings and even for people who are solo. Basically, their food fits everywhere. With culture and history, efforts and lessons, this is Hawker Chan. If you ever come across one of their many branches, be sure to try them! Be sure to get the experience.