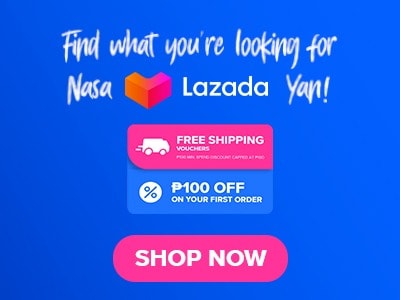 Are you tired of the typical burger that you usually find in the market nowadays and still looking for something loaded to fulfill your burger cravings? Looking for something new to try? Or are you the kind of customer that will try everything until you found the restaurant that can satisfy your tastebuds? Great news people. Look no more since I found an interesting burger shop that offers delicious and the most loaded burger that you can find. Have you heard about Zark's burger? If not then this is the right article for you. If you love burgers I definitely have your interest by now. Let's get to know them a little bit more, how they started their business, what are Zark's Burger menu foods, how can we get into their shop, and some facts about them. I'm actually excited for this one since they are my personal favorite on where to go when I'm craving burgers since 2009 when their location is in Taft avenue I've been an actual fan of their delicious and overloaded burgers, just thinking about it makes me crave and later ill get some for sure. So much for the long introduction, I'm being talkative already haha, Lets's start now without further ado.
Below, you'll find the updated list of Zark's Burger menu prices.
Menu Items
Price (PHP)

Minor League

Zark's Ultimate
189
Floyd chicken sandwich (ranch or cajun dressing)
169
Zark's bacon bbq burger (honey bbq or spicy chipotle)
169
Ragin cajun
149
Zark's classic
144

Major League

Stunner
269
Double chili and cheese burger
259
Double cheeseburger
239
Jaw breaker
349

Cheesy Burgers

Thunder mac n cheese
259
Grilled chicken burger
209
Three pointer
179

Meal Deal

Meal A- Zark's classic, fries or nachos, iced tea or lemonade
194
Meal B-Zark's bacon bbq burger,fries or nachos, iced tea or lemonade
219
Meal C- Three pointer, fries or nachos, iced tea or lemonade
229
Meal D- Zark's ultimate, fries or nachos, iced tea or lemonade
239
Meal E- Grilled cheeseburger, fries or nachos, iced tea or lemonade
264
Meal F- Thunder mac n cheese, fries or nachos, iced tea or lemonade
289

Pre Game

Buffalo wings
289
Chicken fingers
289
Cheesy bacon fries
169
Cheesy nachos
109
Seasoned fries
99

Rice or Fries

Buffalo wings (choice of rice or fries)
189
Chicken fingers (choice of rice or fries)
189
Signature burger steak
169

Drinks

Iced tea
49
Lemonade
49
1.5 Coke
109
About Zark's Burger
Zark's burger is one of the fastest-growing Filipino burger brands here in the country. They started to operate on 2009, he opened a 16-seater burger joint along Taft after a failed noodle business.
Rolandrei Victor Varona (zark to his friends) is the one who started this business, a former overseas Filipino worker that works on a cruise ship. He comes up with the idea of a "fresh, huge and great" loaded, delicious, and quality burger to serve to his customers.
By then Zark's attracted students since his location is near the university. It attracts students for its delicious and affordable burgers to offer. As of now Zark's has 60 franchise branches nationwide and they are still continuing to grow, providing their customers with the best tasting and quality burgers from the beginning up to these days.
Zark's Burger Menu Best Seller
Though most of their food products are delicious, the Jaw Breaker is the one to consider as Zark's Burger best-selling menu. This burger consists of spam, bacon, cheese, and two burger patties plus tomatoes and their special sauce. Loaded is the best word to describe their jaw-breaker burger, though it's a bit pricey and worth it since this burger will never leave you still craving for more because it is actually big.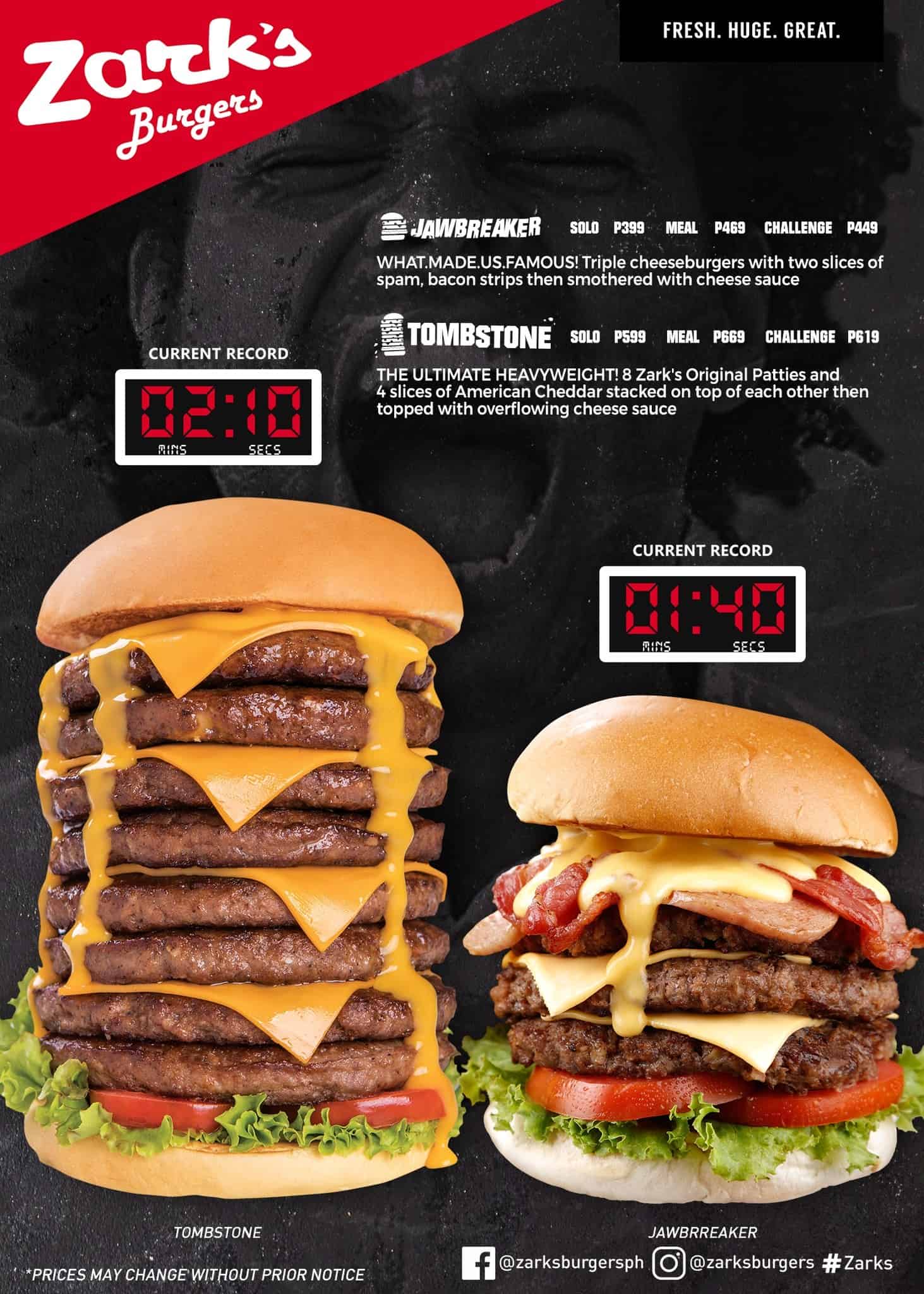 It is obviously not your choice for healthy food but their burgers are always good fresh and delicious, highly recommended if you're stress eating too as they serve huge portions of food that for sure make you full.
Zark's Burger Promo
Zark's Burger is generous when it comes to a promo they have a lot of money-saving promos to offer just follow their social media accounts to be updated.
One of their promotions is about vaccination. All you have to do is to present your vacation card and you will have your free iced tea and fried for any burger purchase.
Another one is the Go Big which means you can get fries and iced tea for only 11php with any burger purchase.
They also have midnight deals where you can save as much as 25% off on your order thru grab foods delivery. They also have flash sales and just wait for the promo on their social media. Talking about value for your money right?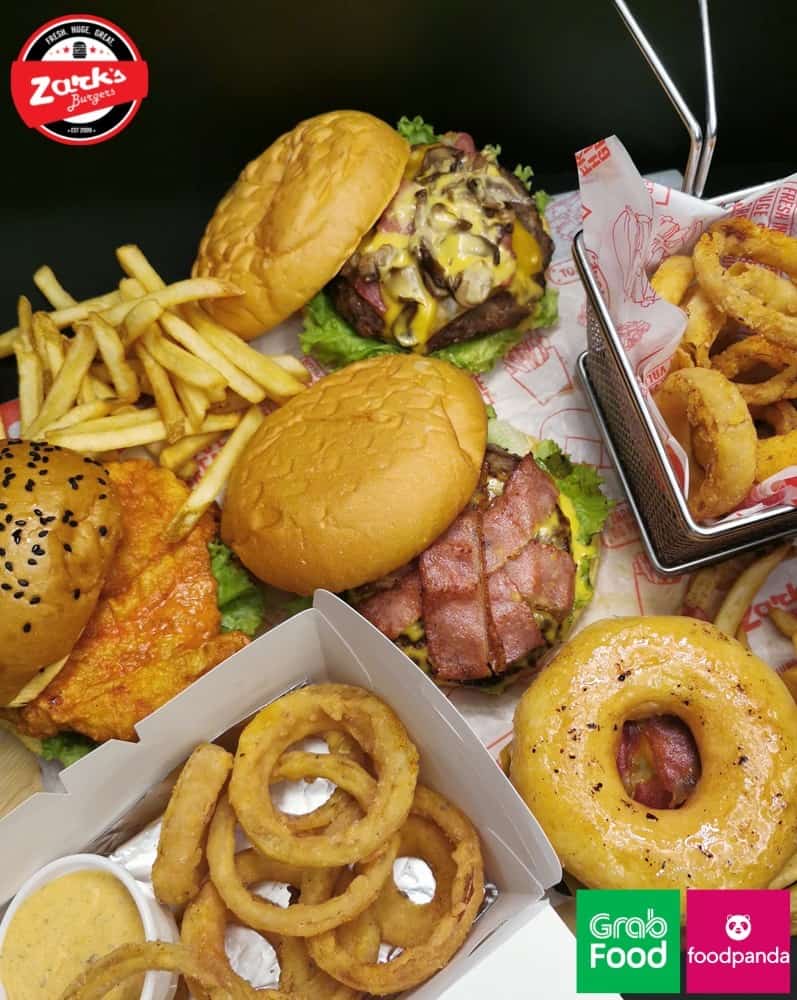 FAQs
How many calories does Zark's Burger have?
Zark's Burger has 850 calories but many customers are ignoring the fact and what's in their burger because it is absolutely delicious. Eating something good like Zark's burger will make you forget that you're counting calories and besides eating it occasionally is fine. Just eat moderately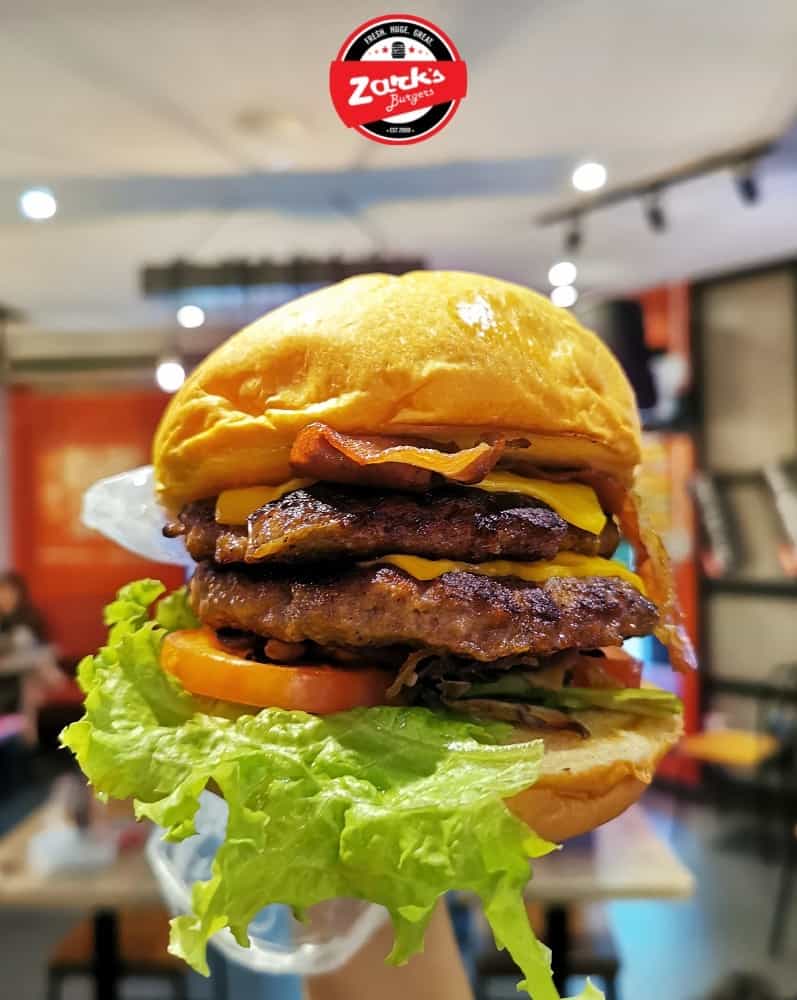 What is the jaw-breaker in Zark's Burger menu?
Zark's jaw-breaker burger menu is the greasiest meatiest and most loaded burgers that they can offer. It will literally break your jaw at 5 inches tall for only 290 pesos, talking about overload? It's the jawbreaker burger. you will have a burger made with spam, bacon, double beef patties, some cheese, and sliced tomatoes. The great thing here is the serving also comes with fries and a blue-colored lemonade or iced tea, your choice.
How to Contact Zark's Burger via Social Media?
If you have suggestions, questions, and feedback on their products you can reach them thru their social media accounts. For Facebook, it's https://facebook.com/ZarksBurgersPH/ and for Instagram https://www.instagram.com/zarksburgers/, and for Twitter https://twitter.com/zarksburgers/.
Zark's Burger Menu Delivery
If you are craving Zark's burger but you cannot go outside because of your busy schedule or you're someone who's avoiding traffic and long queues great news since you can order them in the comfort of your own home, they offer delivery service so you don't have to go out if you like your burger cravings to be satisfied.
All you have to do is to go to their website at zarksburgers.ph they offer delivery or pick-up orders. Also, you can use third-party delivery services like Food Panda, Grab Foods, and other delivery services in the market.
Conclusion
Not just an ordinary burger. Their burgers are excellent and because of their big serving portions, they'll surely satisfy your cravings. Zark's Burger menu has a lot of interesting foods. The service was good, their crews are friendly and they will actually explain anything that you ask. The place is neat with a very welcoming atmosphere though sometimes they have long queues and you have to wait but waiting time is worth it. Highly recommended for burger lovers and for those with a big appetite. I don't want to be biased but based on my personal experience their burgers are one of the best-tasting big burgers that I tried so far. The innovations, the quality, and the excellent taste of their burgers make them popular. Highly recommended, and a great place to go for burger lovers. Thumbs up and five stars for me.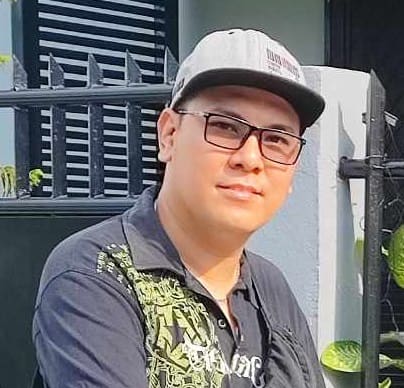 Hi! I'm Nivek Strife, the person who made MenuPH. I'm the one who added most of the popular menus you see on this website, and I really hope you enjoy them! Feel free to check them all out.
Growing up, I was surrounded by lots of tasty foods, like the classic Adobo and the sweet Leche Flan. That love for the many flavors of the Philippines is what got me excited about adding to MenuPH. When I learned how to make websites, I saw the need for a place to show off all the amazing Filipino dishes, and that's how MenuPH started.
MenuPH isn't just a website; it's like a fun journey into food. I've teamed up with famous chefs and found great places all over the Philippines to bring you a bunch of menus that show off the best of Filipino cuisine. Whether you're into the usual dishes or new twists, MenuPH is here to guide you through the rich world of Filipino flavors.
With MenuPH, my aim is to help local businesses, talk about good food choices, and make a group of friends who love food. No matter if you like fancy restaurants or street food, MenuPH has something for you. Come join me on this food adventure as we find great places, taste real flavors, and enjoy the unique food traditions that make the Philippines awesome.