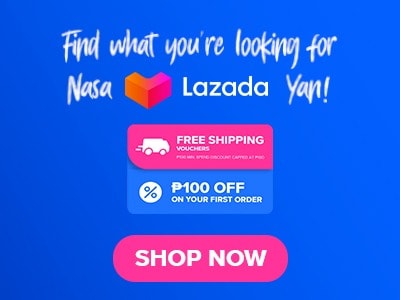 Enbu as a Japanese restaurant served its piping hot meal with love and passion. We can clearly see on the Enbu menu that they put effort into every dish that they serve due to its aesthetics and deliciousness.
Today, Enbu can only be found at Okada Manila but Filipino still goes back and forth to this restaurant due to its uniqueness. Enbu can be found at the Crystal Corridors of Okada manila. So, if you wish to have that Japanese sentiment then Enbu restaurant can satisfy your sentiments. Come and visit today and let's have a wonderful meal together!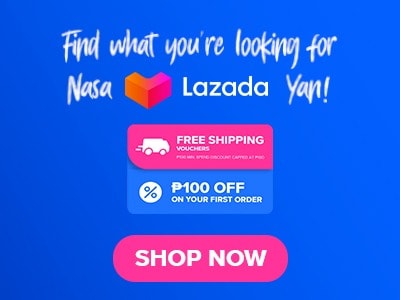 Below, you'll find the updated list of Enbu menu prices.
Menu Items
Price (PHP)

Appetizers

Boiled Organic Vegetables in Japanese Broth
240
Chef's Choice of Assorted Appetizers
780
Edamame
200
General Santos Tuna and Salmon Salad Tartar-style served with Shiso Dressing
560
Homemade Smoked Pickles with Cream Cheese
480
Seasonal Deep-fried Fish Marinated in Tosa Vinegar
300
Smoked Homemade Dried Fish
480

Salad

Organic Green Salad with Sesame Dressing
380
Sashimi Salad with Onion Dressing
480

Robatayaki - Fish & Meat

Grilled Fish of the Day
PMP
Beef Hoba Miso-yaki
1800
Black Cod
1200
Charcoal-grilled Crab and Kani Miso in Crab Shell
680
Charcoal-grilled Wagyu Steak
3800
Chicken Leg Teriyaki with Japanese Sansyo Sauce
680
Duck Breast Grilled and Smoked Over Rice Straw
980
Grilled Prime Beef Sirloin Steak
1900
Grilled Squid
480
Grilled Toro Mackerel
580

Robatayaki - Vegetable

Grilled King Oyster Mushroom
120
Grilled Onion with Bacon
220
Grilled Pumpkin
90
Grilled Shiitake Mushroom
120
Sweet Corn
160
Sweet Potato, Corn, Pumpkin, Mushroom and Tomato Baked in Foil
980
Zucchini
120

Hot Dishes

Fisherman-style Fish Broth with Vegetable Soup
680
Japanese-style Miso Soup
180
Sake-steamed Fish of the Day with Assorted Vegetables
800
Simmered Fish Head of the Day with Vegetables
990
Vegetable Hot Pot
680

Rice & Noodles

Grilled Eel Mixed with Rice
1480
Grilled Rice Ball with Tea
380
Steamed Rice
160
Tempura and Noodles
550
Vegetables with Noodles
600

Sashimi

Gion
2220
Tenjin
1380

Sushi - Assorted

Fish of the Day
110
Kanda
700
Maguro (Tuna)
110
Nebuta
1300
Salmon
120
White Fish
110

Fried Dishes

Assorted Tempura
780
Marinated Fried Chicken
720
Prawn Tempura
520
Vegetable Tempura
580

Desserts

Enbu Dessert Platter
780
Japanese Sweets of the Day
320
Japanese-style Halo-halo
450
Premium Japanese Roll Cake with Fruits
420
Seasonal Ice Cream
300

Signature Set

Enbu Set
1500
Jumbo Chicken Katsu Curry
650
Kid's Plate
600
Sushi
980
Tempura
690
Tendon
620
Vegetarian Sushi
800
About Enbu
Invoking ancient Japanese cooking methods, Chef Yuji Abe and his staff invite guests to have a seat and watch as they slowly grill the best meats and freshest produce over charcoal, producing dishes that are beautifully charred, flavorful, and filled with smokey scents.
Enbu Menu Best Seller
We Filipinos are accustomed to consuming commonly requested meals. We had a tradition that the most popular dishes were those that were delicious, affordable, and exceptional. Therefore, if you came to learn about Enbu's greatest sellers, I won't take up much more of your time and will instead provide you with a list of those items.
Stamina – This Enbu menu might help you increase your stamina and satisfy your hunger while also fixing your low stamina. Fresh noodles are combined with black bean sauce, garlic chives, and a dash of chili in this ramen.
Cheese Tempura – When eating cheesy tempura, the combination of crispy breaded shrimp and creamy cheese can ultimately make you feel hungry.
Salmon – You may get this 120 peso sushi whenever you want. Salmon is wrapped in a roll of rice and nori and served as nigiri, which is a little ball of seasoned rice topped with a slice, or as a maki roll (dried seaweed).
Enbu Set – Despite the Enbu Set's 1500 price tag, you will actually receive more value from this dish than you would expect. Salmon yuanyaki, beef houba yaki, sashimi, pickles, fruits, rice, miso soup, and tempura are all included in the Enbu Set.
Jumbo Chicken Katsu Curry – Take pleasure in this 650 peso dish that combines a sizable piece of chicken katsu with savory stewed pork.
Enbu Signature Set Menu
In the Enbu menu, you can find this signature set that consists of different platters that are basically aesthetically pleasing and mouthwatering. Signature sets are frequently viewed as a means to emphasize the restaurant's advantages and provide patrons the chance to try a variety of dishes all at once. Here are some of Enbu's Signature set:
Enbu Set – You may overwhelm yourself with the price of this Enbu Set which is 1500 but, this dish can really provide you more over its price. Enbu Set consists of beef houba yaki, sashimi, fruits, pickles, salmon yuanyaki, rice, miso soup, and tempura.
Jumbo Chicken Katsu Curry – Enjoy this 650 peso dish which contains one large chunk of chicken katsu combined with flavorful stewed pork.
Tempura – To those seafood lovers out there, please enjoy this tempura signature set that can be bought for 690 pesos only. This signature set contains rice, miso soup, pickles, fruits, and salad.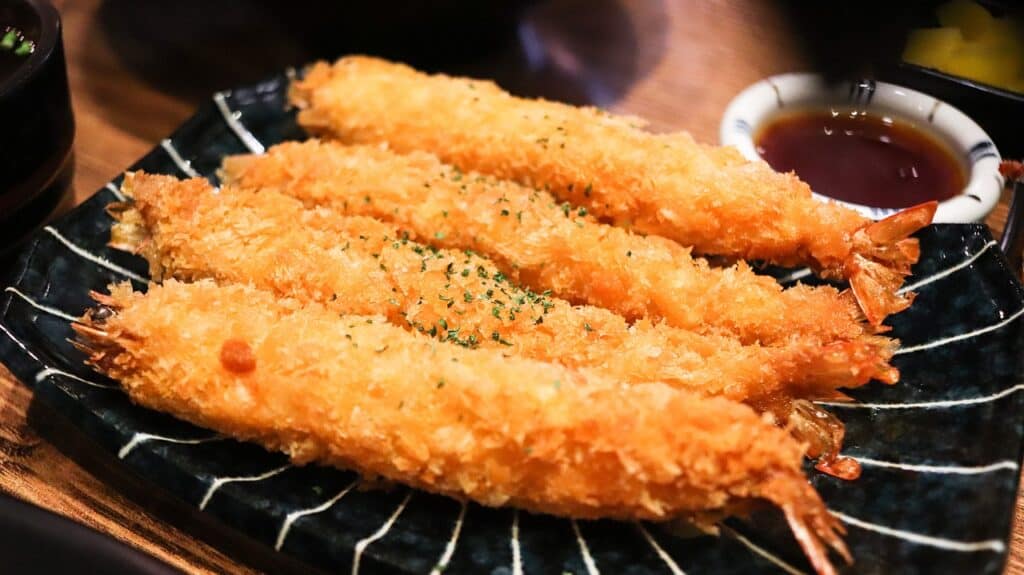 Sushi – Enjoy this set which consists of nigiri, dragon rolls, tempura, salad, pickles, fruits, and miso soup.
Kid's Plate – To those kids out there and our young at hearts adults, this signature set suits you very much! Enjoy this set for 600 pesos only!
Enbu Ramen Menu
Ramen is a popular and comforting dish, known for its rich, savory flavors and satisfying texture. At Enbu, you can purchase a ramen menu that contains rich noodles which can godly satisfy your Japanese cravings. If you wish to know more about the ramen that is being offered at Enbu, then please continue reading. 
Shoga Shoyu – This 420 peso dish contains fresh noodles combined with pork chashu which is best partnered with soy sauce dipper.
Miso – If you want your ramen to have a bean sprout but still want to taste the taste of the original ramen, then you can purchase this Miso Ramen. Miso Ramen consists of fresh noodles plus pork chashu plus bean sprouts.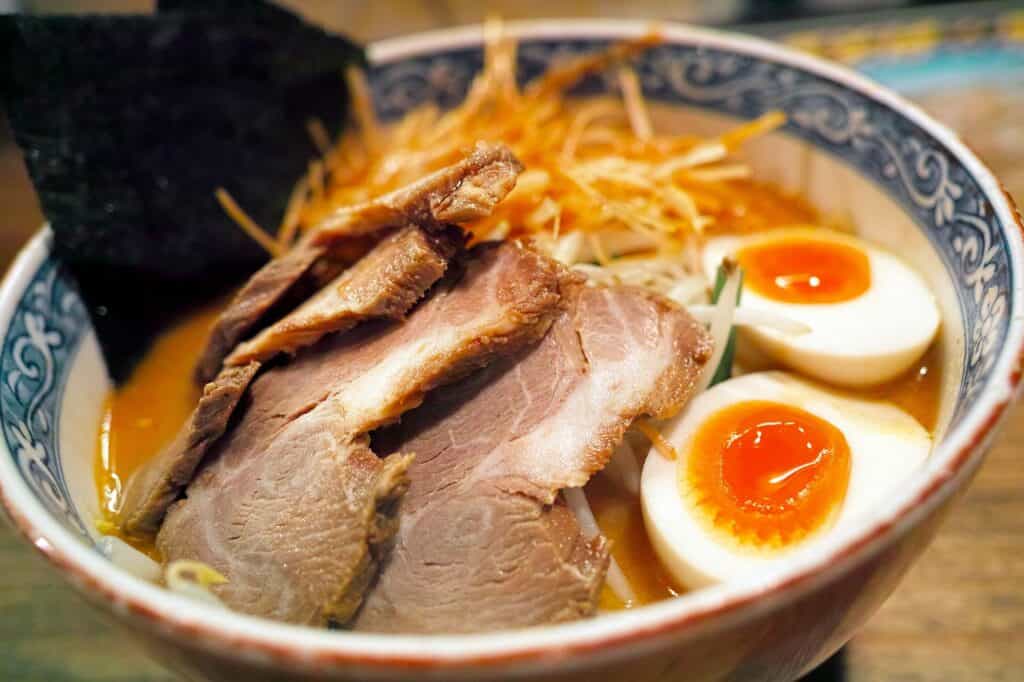 Stamina – To boost your stamina and cure your hunger, this 480 peso bowl can help you fix your low stamina. This ramen consists of fresh noodles with black bean sauce plus garlic chives and has a kick of some chili.
Appetizer
To stimulate our appetite, we usually ate this bite-sized meal that can help us to boost our hunger. On Enbu's Menu, you can clearly find mouth-watering appetizers that you would like to taste before jumping to your main course. So to give you background on what appetizer you would purchase, here are some of the descriptions of their appetizers.
Hiyayakko – This 120 peso dish consists of cucumber, leeks, tofu, ginger, and tomato.
Edamame – Edamame is a popular appetizer at Enbu as it can give you choices of Sio, Norisio, and Spicy. 
Cheese Tempura – Shrimp covered with crunchy breading plus creamy cheese can ultimately give you the feeling of hunger as you munch on every inch of cheesy tempura.
Enbu Sushi Menu
Small amounts of seasoned rice are paired with a range of foods, such as raw or cooked seafood, vegetables, and occasionally eggs or meat, to create the Japanese dish known as sushi. Sushi is frequently served with soy sauce, wasabi, and pickled ginger and is typically rolled in nori (dried seaweed). A famous and upscale cuisine, sushi was first developed in Japan in the 7th century as a technique to preserve seafood.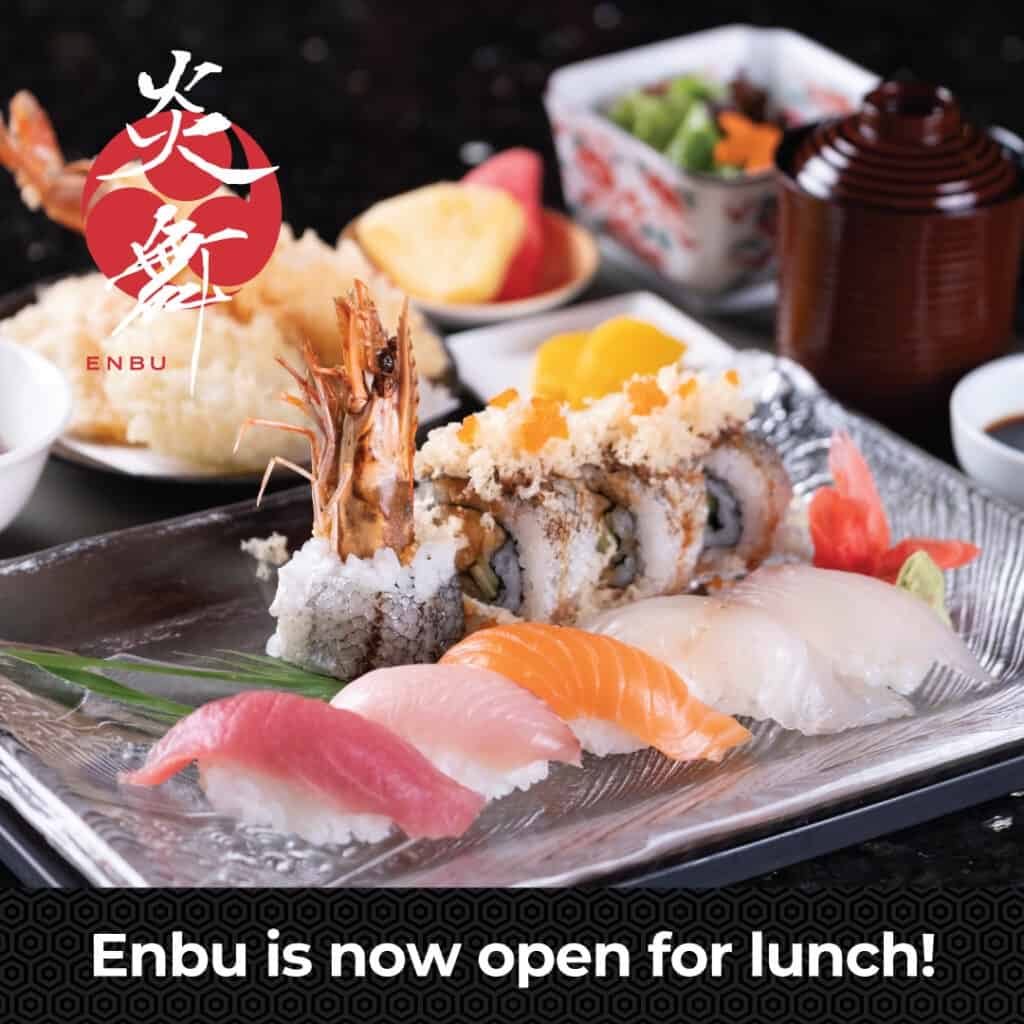 Sushi comes in a wide variety of forms, such as maki (rolls), nigiri (rice with fish on top), sashimi (raw fish without rice), and others. They also served different sushi that can satisfy your palate, so here are some sushis that you can choose from the Enbu menu.
Salmon – This 120 peso sushi can be available anytime you want. It is served as nigiri, which is a little ball of seasoned rice topped with a slice, or as a maki roll, which encloses the salmon in a roll of rice and nori (dried seaweed).
Maguro – Though it simply refers to tuna sushi, Maguro is a popular ingredient in Japanese cuisine and is considered a delicacy for its rich flavor and tender texture.
Whitefish – Enjoy a platter of white fish sushi for 110 pesos only! Sushi made from white fish is highly regarded for its delicate flavor and sensitive texture. Soy sauce, wasabi, and pickled ginger are common toppings for this dish. Snapper, sea bass, and amberjack are a few of the common white fish kinds utilized in sushi.
Fish of the Day – You may ask yourself what fish is included in this meal. However, if you want to find out what fish you will taste for this day, then why not spend 110 pesos on this secret meal?
Maki
Japanese delicacy called maki is made of rice and other items like vegetables, eggs, or shellfish that have been wrapped in nori (dried seaweed) and then cut into bite-sized rounds. Popular meal Maki is available in a range of tastes and fillings and is frequently served as an appetizer or main dish. California roll, tuna roll, and cucumber roll are a few kinds of maki that are frequently used (Kani Kama Maki). Maki is a common ingredient in Japanese food and is frequently eaten with soy sauce, pickled ginger, and wasabi.
Sashimi
Thin slices of raw fish or meat are served with soy sauce, wasabi, and pickled ginger as sashimi, a traditional Japanese meal. The term "sashimi," which translates to "pierced body," refers to the custom of pricking the fish to verify its freshness. Sashimi is a specialty dish of Japanese cuisine that uses premium, fresh ingredients and is regarded as a delicacy. Salmon, tuna, and yellowtail are frequently used in the preparation of sashimi, but other meats, such as beef or horse meat, may also be used.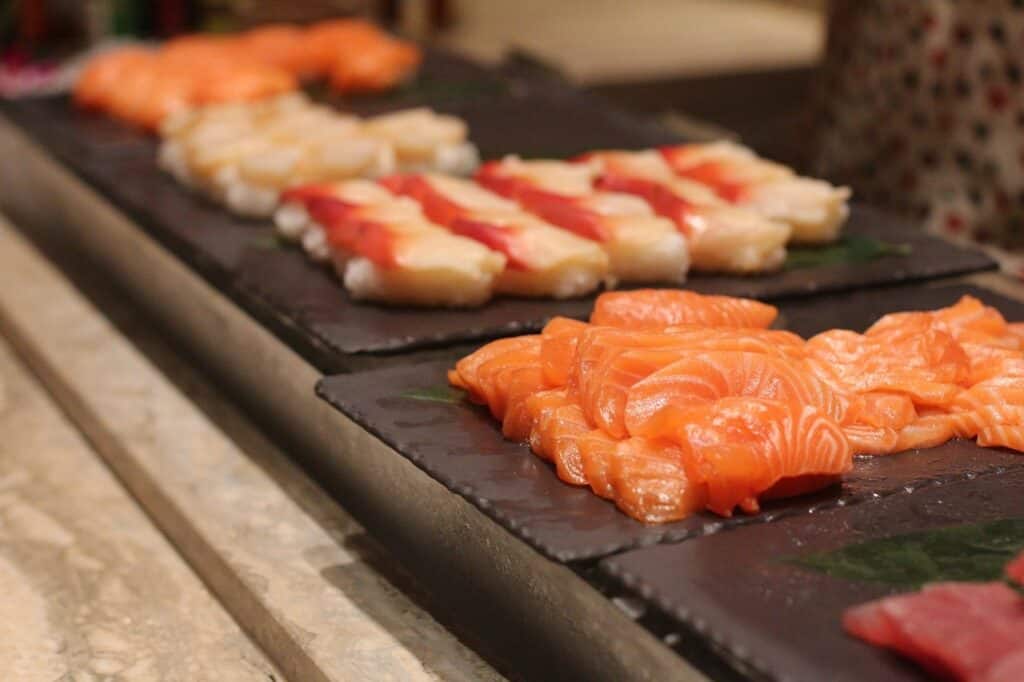 Kushiyaki Plate
This platter of happiness menu from Enbu consists of bite-sized pieces of grilled meat, fish, or vegetables. The word "Yaki" means "grilled," while the word "Kushi" refers to the skewer. Salt, soy sauce, or other seasonings are frequently used to season kushiyaki platters. Typical kushiyaki ingredients include chicken, beef, shrimp, and vegetables like bell peppers and mushrooms. It is frequently consumed in a laid-back, informal setting with sake or beer.
Agemono
Deep-fried delicacies like tempura, katsu, and croquettes are a staple of this Japanese cuisine. Due to its crispy texture and salty flavor, it is frequently served as a side dish or as a main course. The Japanese words "age" and "mono," which together mean "object," are the roots of the English word "Agemono."
Enbu Menu Delivery
Enbu is truly magical and pristine, why? Simply because you can only find its one-of-a-kind restaurant at the heart of Okada Manila. So far, Enbu has this one strong branch but it is favored by many due to its plethora of dishes that can be served to anyone. Without further ado, here are the details to locate and contact Enbu.
Address: Crystal Corridor, New Seaside Dr, Okada, Tambo, Parañaque, Metro Manila
Operating Hours: M-Su: 11 AM-2 PM, 5 PM-10 PM
Contact Information: (02) 8555-5799
Social Media Pages
As the guests partake in a delectable and exciting experience, the whole thing is boosted by the spectacle of dancing flames and vibrant entertainment. Please refer to the following information for their social media accounts and contact information.
Facebook: https://www.facebook.com/OkadaManilaPH 
Instagram: https://www.instagram.com/okadamanila/ 
Website: https://www.okadamanila.com/dine/casual-dining/enbu 
Email: [email protected]
Contact Number: +632 8888 0777
Conclusion
Japan really has a special place in every Filipino's Heart. On the Enbu menu, we can literally find numerous Japanese dishes that can give satisfaction our Japanese cravings. I cannot clearly say that thanks to their colonization we have adopted their cuisine, many Filipino also suffered from the Japanese Colonization. Nonetheless, we Filipinos survived and adopted some of their tradition which includes their cuisine.