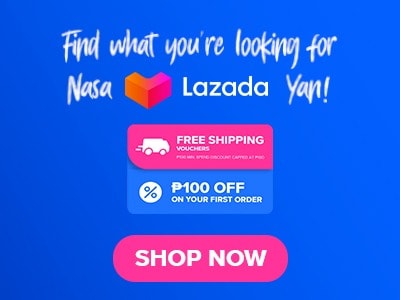 Many people have preferred seafood restaurants for special dates to have a new dining experience to common meals with meat items. One of the many restaurants in the Philippines that specialize in seafood dishes is The Orange Bucket. The Orange Bucket offers a diverse menu filled with delectable seafood options and flavorful dishes. As a seafood-focused restaurant, their menu features a variety of seafood boils, where you can choose your preferred seafood, such as shrimp, crab, mussels, and clams, and have them cooked in a flavorful broth of your choice. The menu also includes tasty side dishes like corn on the cob, fries, and garlic butter rice to complement your seafood feast.
Below, you'll find the updated list of The Orange Bucket menu prices.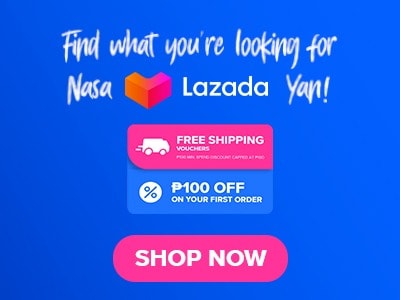 Menu Items
Price (PHP)
Japanese Cuisine
Ebi Tempura (6 Pieces)
512
Ebi Tempura (12 Pieces)
956
California Maki Roll
336

Korean Cuisine

Yangnyeom Fried Chicken Half
525
Honey Soy Garlic Half
525
Korean Fried Chicken Half
450
Yangnyeom Fried Chicken Whole
912
Honey Soy Garlic Chicken Whole
912
Korean Fried Chicken Whole
837
Beef Bulgogi
762
Kimchi Tang
748
Kimbap
262
Ramyeom Korean
225

Western Cuisine

Baby Back Ribs Whole Slab
1587
Crab and Corn Soup
300
Seafood Chowder
473
Salmon Steak
743
Tuna Steak
681
The Big Bang Seafood Fried Rice
525
Baby Back Ribs Half Slab
837
Rosemary Roasted Chicken
1056

Appetizers and Salad

Garden Salad
336
Chef Salad
443
Potato Chips
287
Cajun French Fries
287
Fish and Chips
498
Calamares Pritos
337
Tob Buffalo Wings 12pcs
593

Desserts

Signature Brownies
188
Thai Mango Sticky Rice
325

Superb Super Trays

Super Tray Classic
2248
Super Tray Premium
2873
Super Tray Supreme
3748

Singaporean Cuisine

Chao Fan
325
Salted Egg Chicken
562
Salted Egg Crab
1623
Black Pepper Crab
1623
Cereal Prawn
748
Sotong (Crispy Baby Squid)
487
Laksa Noodles Soup
473

Thai Cuisine

Tom Yang Goong Soup
473
Thai Bagoong Rice
473
Thai Spring Roll
300
Pad Thai
525

The Big Bang Seafood Bucket

The Big Bang Seafood Bucket Classic
2498
The Big Bang Seafood Bucket Premium
2873
The Big Bang Seafood Bucket Supreme
4123
About The Orange Bucket
The Orange Bucket is a popular restaurant in the Philippines that specializes in seafood boils and other seafood dishes that pairs with the restaurant' vibrant and lively atmosphere. The restaurant's menu features an array of seafood options, including shrimp, crab, mussels, clams, and more that are cooked in a flavorful broth or sauce, infused with various herbs, spices, and seasonings to enhance their natural flavors. The Orange Bucket is known for its generous portions and interactive dining style, where customers are encouraged to roll up their sleeves, dig in, and enjoy a hands-on seafood feast.
The Orange Bucket Menu Best Seller
This menu is composed of The Orange Bucket's most popular dishes as well as their best-selling items.
Korean Fried Chicken Whole – This dish features a whole chicken that is expertly fried to perfection, creating a crispy and flavorful outer layer, and then coated in a delicious Korean-style sauce, a combination of spicy, sweet, and savory flavors, which results in a mouthwatering dish.
Seafood Chowder – It is a hearty blend of various seafood ingredients, such as shrimp, fish, clams, and mussels, cooked in a flavorful broth with cream and aromatic spices. The chowder is known for its rich and indulgent texture, packed with the flavors of the sea.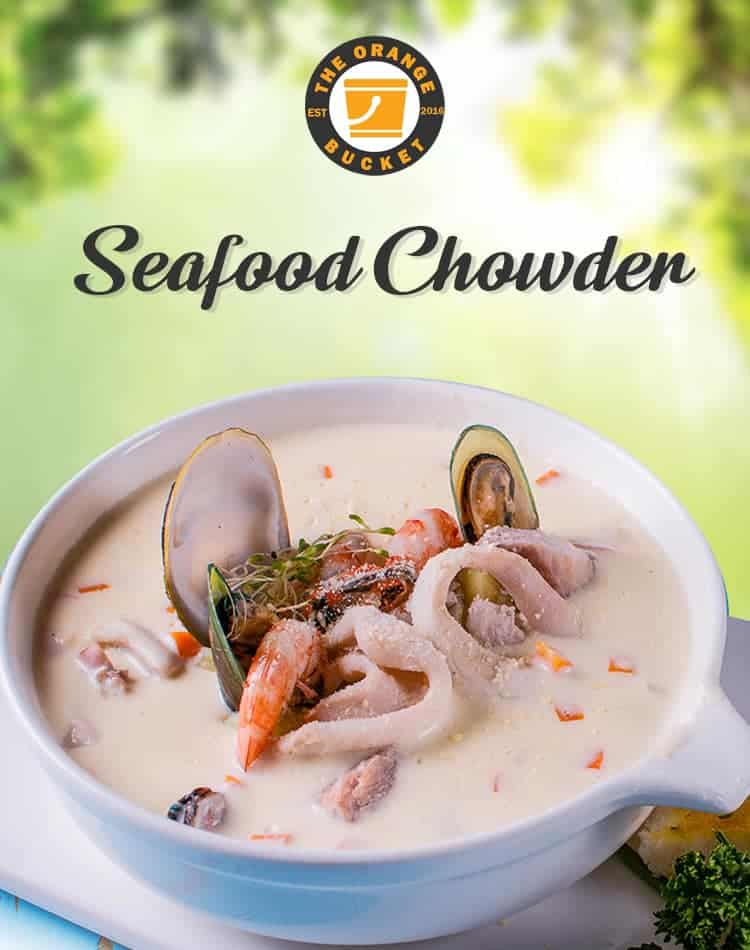 Salmon Steak – This dish uses a fresh and juicy salmon fillet that is expertly grilled or pan-seared as its base to give this dish a natural flavor. The salmon steak is typically served with a side of vegetables and a choice of sauce or glaze, such as lemon butter or teriyaki.
Tuna Steak – It showcases a thick and juicy cut of tuna from The Orange Bucket menu, often grilled or seared to perfection. The dish is known for its firm and meaty tuna that was seasoned with herbs and spices, enhancing the natural flavors of the fish.
Baby Back Ribs Half Slab – This dish features tender and juicy pork ribs that are slow-cooked to achieve a fall-off-the-bone tenderness. The ribs are typically marinated in a flavorful sauce, often a tangy and sweet barbecue glaze, before being grilled or roasted to perfection.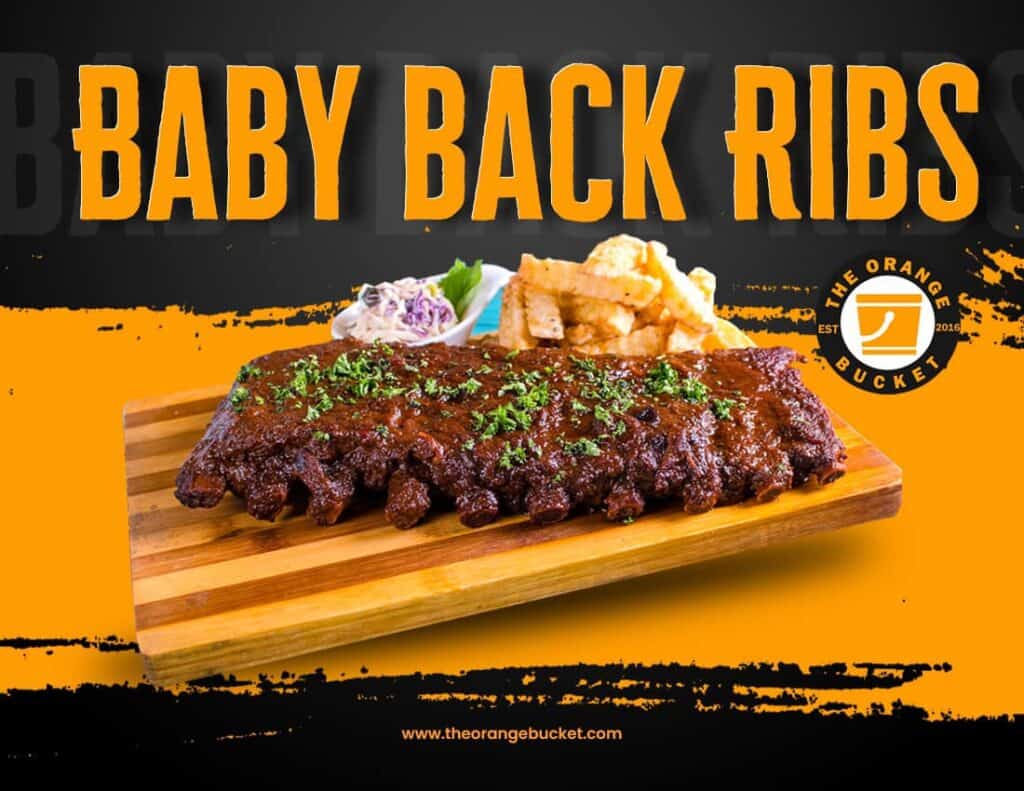 The Orange Bucket Menu Korean Cuisine
This menu is composed of a selection of Korean dishes that are sure to leave anyone filled and satisfied.
Yangnyeom Fried Chicken Half – The dish uses half a portion of their Korean-style fried chicken that is coated in a delicious and savory yangnyeom sauce. The chicken is first fried to a crispy golden brown and then tossed in the flavorful sauce, which typically includes ingredients like soy sauce, garlic, ginger, and spices.
Honey Soy Garlic Half – The chicken is fried to perfection, creating a crispy outer layer, and then coated in a delightful sauce made with honey, soy sauce, and garlic while the combination of the sweet honey, savory soy sauce, and aromatic garlic creates a perfect balance of flavors that perfectly complements the juicy chicken.
Korean Fried Chicken Half – It consists of a half portion of fried chicken that is prepared in the Korean style, known for its extra crispy and crunchy texture. The chicken used in this dish is seasoned with The Orange Bucket's specially blended spices and then cooked until it is a perfect golden brown.
Japanese Cuisine Menu
This menu takes a unique twist on the typical Japanese dishes to make them more exciting and enjoyable.
Ebi Tempura (6 Pieces) – The Ebi Tempura is a popular dish at The Orange Bucket, featuring six pieces of crispy and succulent tempura-battered prawns that are served with a dipping sauce.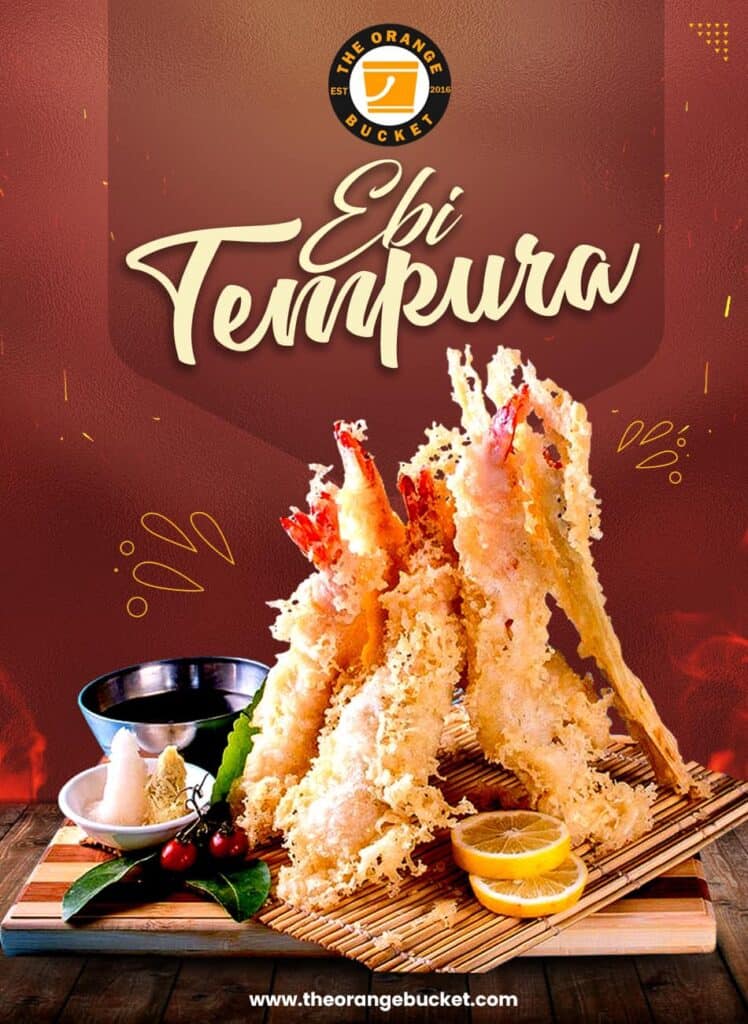 Ebi Tempura (12 Pieces) – For those craving more of the delicious Ebi Tempura, The Orange Bucket offers a larger portion of 12 pieces. This generous serving of tempura is an ideal option for those who plan to share it with friends and family.
California Maki Roll – The California Maki Roll menu of The Orange Bucket is a classic sushi roll that is a favorite among sushi lovers that consists of a nori (seaweed) sheet wrapped around a filling of sushi rice, crab stick, avocado, and cucumber. 
Western Cuisine
This menu presents a variety of dishes that blend flavors from the Western culinary tradition, drawing inspiration from high-quality ingredients and employing distinctive cooking methods. These delightful creations offer a harmonious fusion of tastes, where the rich heritage of Western cuisine meets inventive culinary craftsmanship. Each dish on this menu promises to deliver a truly remarkable and unforgettable dining experience.
Singaporean Cuisine
Singaporean Cuisine proudly presents a diverse selection of beloved local favorites, encompassing a delightful medley of signature dishes and iconic street food gems. From fragrant and boldly spiced curries to savory noodle creations and irresistible seafood delicacies, this menu is a true tribute to the rich tapestry of Singaporean culinary heritage. Embark on a gastronomic journey that captures the essence of Singapore, where every bite tells a story of vibrant flavors, aromatic delights, and the remarkable depth of its culinary traditions.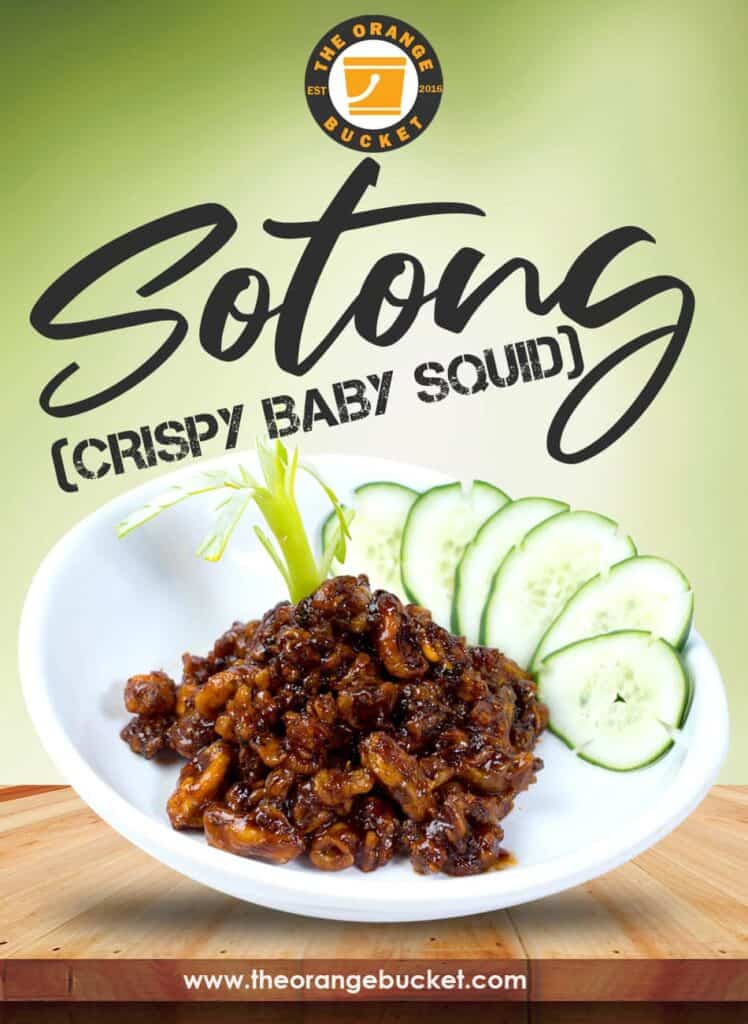 Appetizers and Salads
This menu is composed of a tantalizing selection of starters and refreshing salads to kick off your dining experience at The Orange Bucket. Both menu offers a range of options from crispy and flavorful chicken wings to nutritious salad bites that are sure to satisfy your cravings.
The Orange Bucket Menu Delivery
The Orange Bucket offers a hassle-free menu delivery service, granting customers the opportunity to effortlessly explore a wide range of delectable dishes from the comfort of their own homes. Through popular delivery platforms like FoodPanda and GrabFood, individuals can easily peruse the menu and place orders, ensuring a convenient and enjoyable dining experience without ever stepping outside. Embrace the convenience and simplicity of The Orange Bucket's menu delivery, bringing the culinary delights directly to your doorstep with just a few clicks.
Social Media Pages
Calling all seafood lovers! Dive into a world of flavor at The Orange Bucket. Follow their social media pages to stay in the loop with our latest catches, mouthwatering seafood dishes, and irresistible promotions. Stay tuned for exclusive deals, behind-the-scenes glimpses, and exciting events.
Facebook: https://www.facebook.com/TheOrangeBucket/
Instagram: https://www.instagram.com/the_orange_bucket
Youtube: https://www.youtube.com/@theorangebucketrestaurant
Website: https://theorangebucket.ph/contact/
Twitter: https://twitter.com/theorangebucket
TikTok: https://www.tiktok.com/@theorangebucket
FAQs
What kind of food does The Orange Bucket serve?
The Orange Bucket has a wide selection of seafood dishes that are cooked in various ways.
What is The Orange Bucket's signature dish?
The Orange Bucket's signature dish is their Seafood Boil.
Where are The Orange Bucket locations?
You can visit The Orange Bucket at 6385 Cagayan Valley Road, Sitio Centro, Plaridel, 3004 Bulacan.
Do I need a reservation to dine at The Orange Bucket?
Reservations aren't required at The Orange Bucket as they also operate on a walk-in basis.
What is the ambiance at The Orange Bucket?
The ambiance at The Orange Bucket is casual and vibrant with a laid-back atmosphere.
Conclusion
The Orange Bucket is a must-visit restaurant for seafood lovers in the Philippines with a diverse menu filled with seafood boils, fried seafood baskets, grilled seafood platters, and more. The dishes that they offer provide a delightful dining experience filled with flavors and freshness. The Orange Bucket's menu is complemented by its offering of delicious side dishes and the restaurant's welcoming atmosphere creates a memorable dining experience. So if you're looking for a place to satisfy your seafood cravings and enjoy a fantastic meal, The Orange Bucket is the perfect destination.