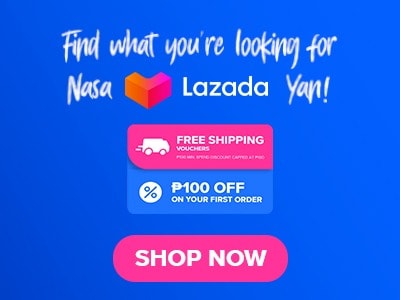 A lot of delicious food is made in our time some they just created for a trend and others are food from the past that they only popularized today. Egg drop sandwiches are one of the most popular food nowadays, especially for youngsters. In this article, we are going to know a food establishment that offers egg drop sandwiches. The Egg Stop menu has a lot to offer if we are going to talk about egg drop sandwiches. This restaurant has been around for some years now and continues to gain popularity thru social media which is widely used by younger generations now. Let's take a deep dive into the food items that they offer, let's see how much is their food and what are their best sellers. Let's go!
Below, you'll find the updated list of Egg Stop menu prices.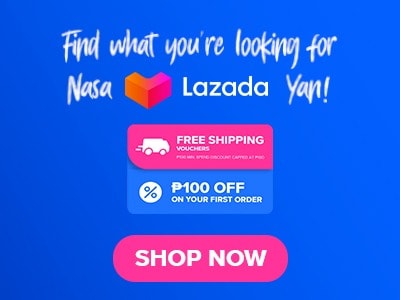 Menu Items
Price (PHP)

Premium egg drop sandwiches

Egg Cheddar sandwich
99
Egg salad sandwich
129
Double ham, egg and cheese
139
Hungarian sausage egg drop
149
Bacon, egg and cheese
149
Spam and egg
149
Premium beef bulgogi sandwich
159
Tuna melt
149

Sides

Criss cut fries
99
Teokbokki with egg and cheese
120

Drinks

Orange juice
70
Korean iced coffee
99
Iced tea
70
Mineral water
30
About Egg Stop
Egg stop in the Philippines is the number one seller of egg drop sandwiches in the country. They are selling a variety of Korean egg drops sandwiches like egg salad, egg cheddar, bacon egg and cheese, and many more. One of their best-selling food items is the bacon egg drop sandwich. This is made with special ingredients that made this sandwich deliciously good. Aside from egg drop sandwiches egg stop also serves side dishes like fries, tteokbokki, juices, and other delicious food items. As of today, Egg Stop has more than 20 branches nationwide including major malls like SM Megamall and SM Clark, Pampanga. Gerald Her is the co-founder of this establishment, They are still continuing to grow, and for them to do that they are now open for franchising. 
Egg Stop Cheddar Sandwich Menu
This is made with a freshly baked brioche bun which I think is very fluffy and delicious. All by itself then they put scrambled eggs mixed with sweet corn, their scrambled eggs are creamy and have the right flavors on them. Then they layer it with cheddar cheese with dazzled special sauce. I like how simple this egg drop sandwich but when it comes to the taste it's absolutely delicious.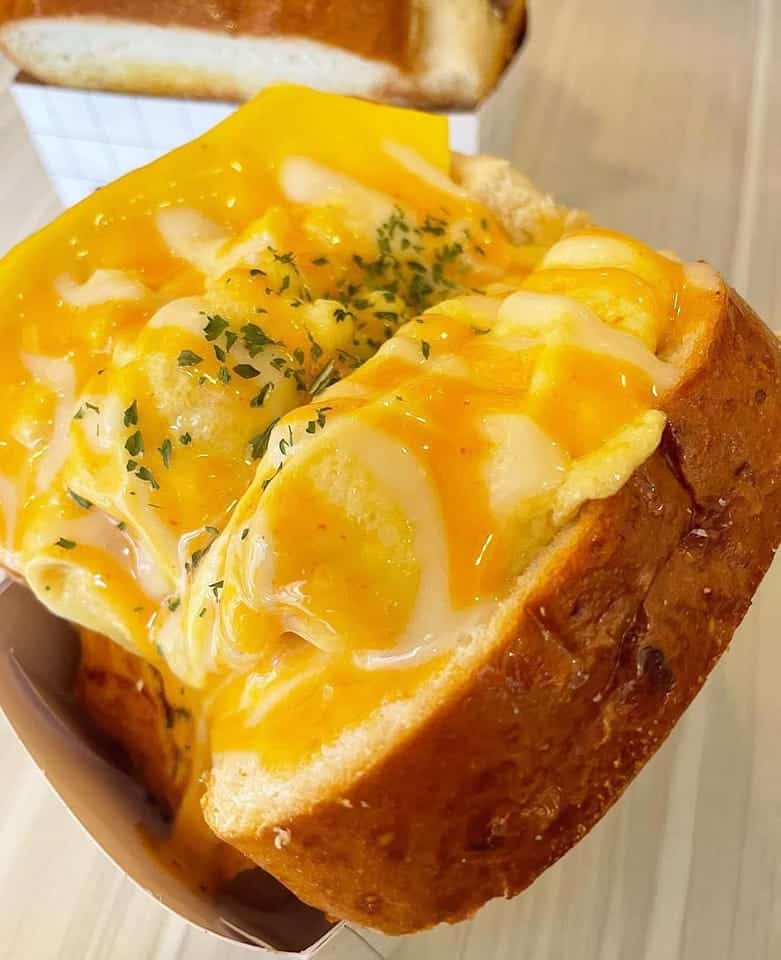 Egg Salad Sandwich
This delicious sandwich is made with freshly baked brioche buns as well. Then they stuffed it with creamy and light egg salad for the filling. They also put a sliced boiled egg on top with some reddish spices that I think are paprika correct me if I'm wrong. Their egg salad sandwich is the perfect definition of light, creamy, and delicious. If you're a fan of eggs for sure you're gonna love this one.
Double Ham, Egg & Cheese
The Egg Stop double ham, egg, and cheese menu are also made with freshly baked brioche buns, some sweet corn that made this sandwich so good, and fluffy and creamy scrambled eggs. Some cheddar cheese and American ham that tasted a bit sweet to me then dazzled with their extra delicious signature sauce. This one is a bit heavier than the previous two sandwiches because of the American ham and when it comes to the taste this is also definitely delish. If you want a heavier sandwich this is the best choice that I can recommend for you.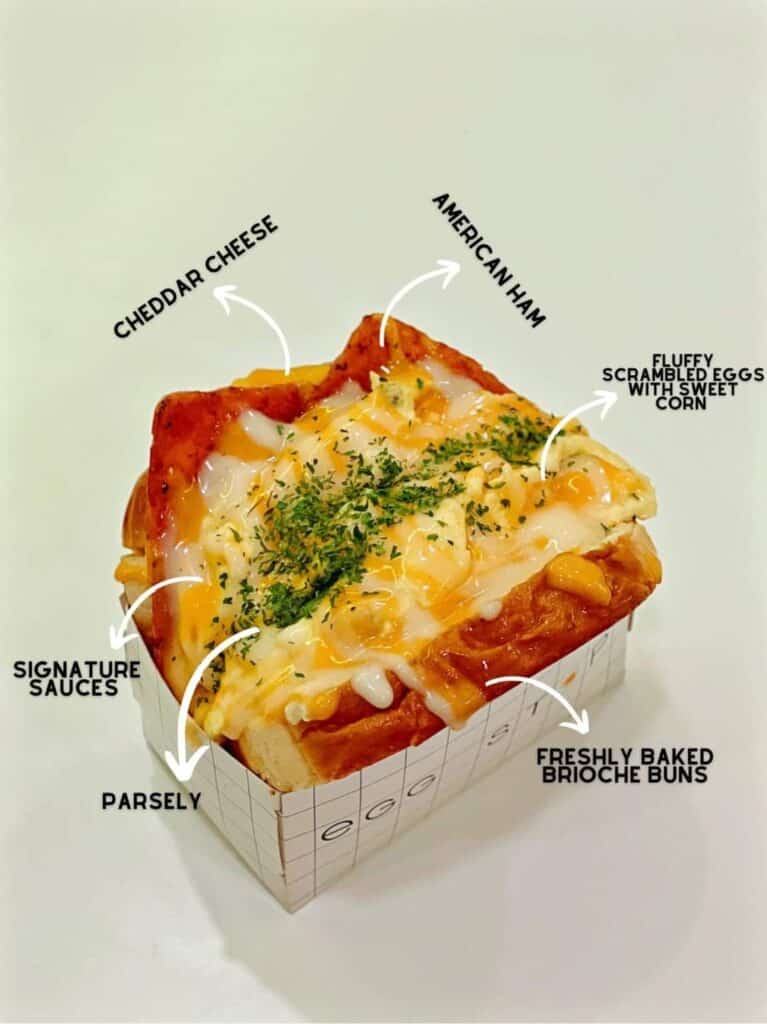 Egg Stop Hungarian Sausage Drop
Just like the previous sandwiches this one is also made with freshly baked brioche buns, it also has sweet corn, their signature fluffy and creamy scrambled eggs. One whole Hungarian sausage that they sliced and fried then dazzled with their special sauce. The sauce really compliments the stuffings of this Hungarian sausage egg drop, this is an absolutely delicious Egg Stop menu so if you want something heavier than American ham this is the right choice for you. 
Bacon, Egg & Cheese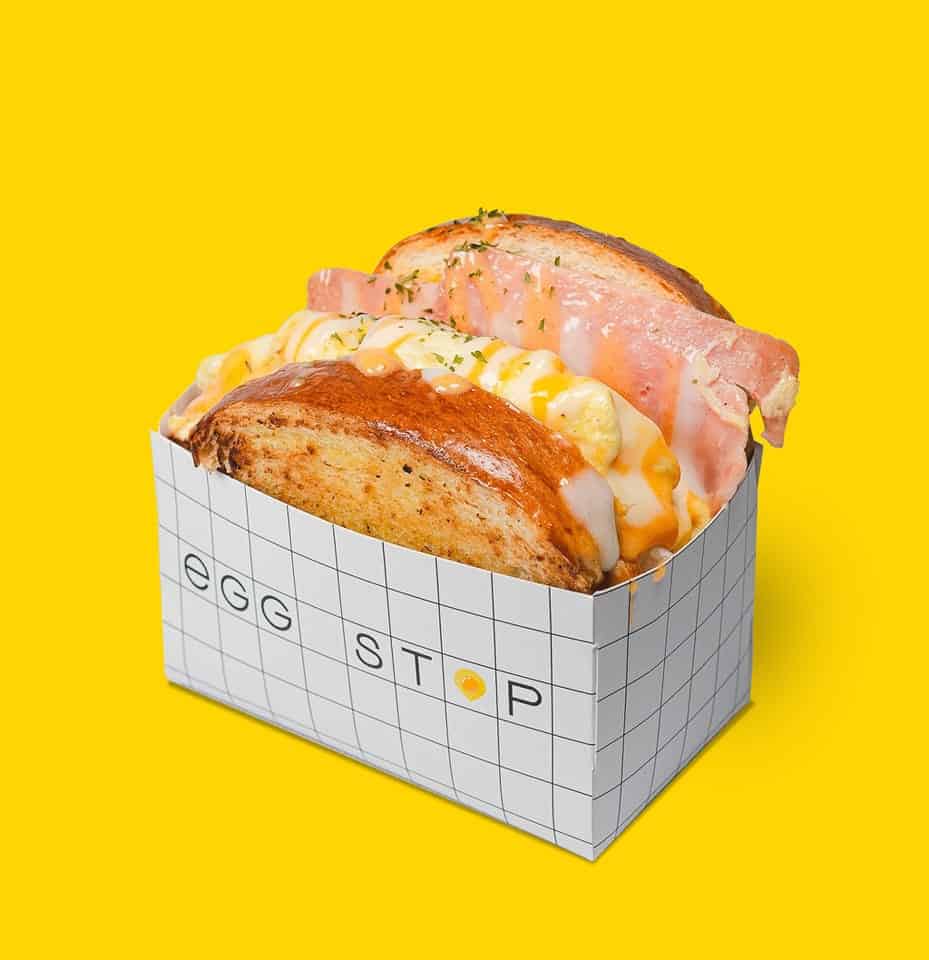 This one is made with freshly baked brioche buns as the base then they put their creamy and fluffy scrambled eggs. Some sweet corn then layered with Canadian bacon and cheddar cheese for a more appetizing taste then dazzled with their special sauce. This one is not light as well just like the previous two sandwiches but this is also good. I like how good their bacon is with their scrambled eggs. Great for breakfast or any time of the day.
Spam & Egg
This classic favorite menu of Egg Stop is also really good. Made with freshly baked brioche bun, mayonnaise with sweet corn, two slices of spam, fluffy scrambled eggs, and their delicious homemade sauce. This is recommended for spam lovers out there. Not too salty as expected with the spam because of their sweet corn mayo.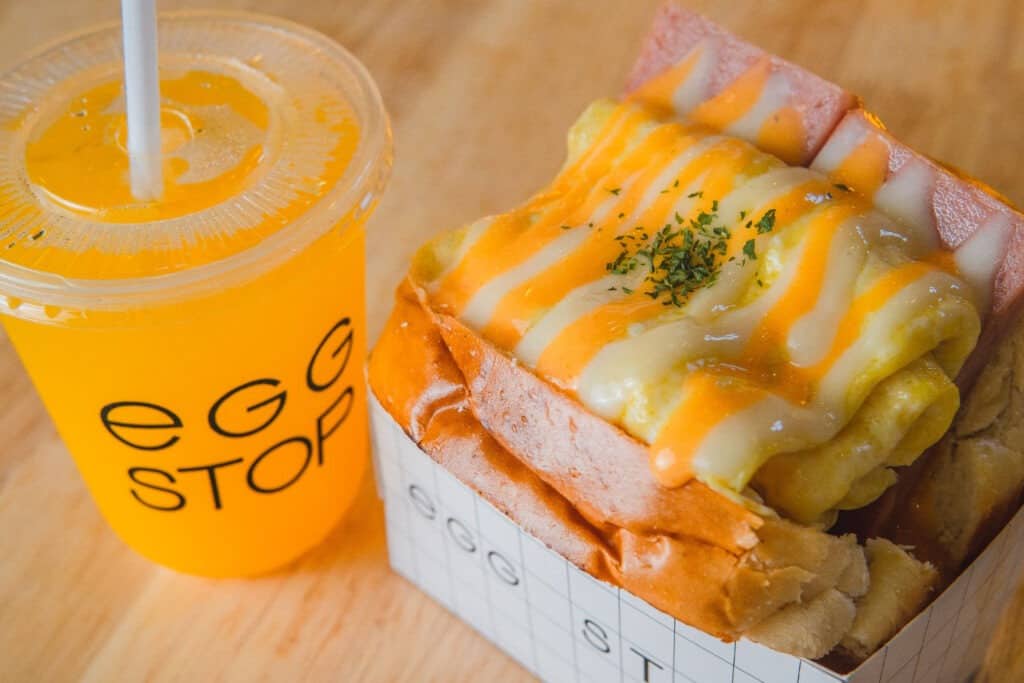 Premium Beef Bulgogi
This one is a lot heavier than the previous sandwiches listed above. This is a must try and this is actually their signature egg stop sandwich. Made with freshly baked brioche bun, cheddar cheese, quality beef bulgogi that is really delicious, and scrambled eggs with their special sauce. Among all of their sandwiches, this one is my favorite since I love beef bulgogi, it's creamy, a bit sweet and salty, and everything is nice.
Egg Stop Menu Tuna Melt
This simple yet satisfying sandwich is made with their freshly baked brioche buns, really delicious tuna and mayo combination, a slice of cheddar cheese, onion, and pickles, and of course their creamy and fluffy scrambled eggs. They also put their special sauce on this sandwich making it so delicious, it will leave you satisfied because of how good this sandwich is.
Sides
Egg stop not only offer egg drop sandwiches but also sides for your sandwich. On their side menu they have criss cut fries that are served with mayo and sriracha its up to you which one you like or you can combine the two sauces to make it even better. Aside from that they also have Tteokbokki with egg and cheese a traditional Korean street food that is a bit spicy and sweet but definitely delicious.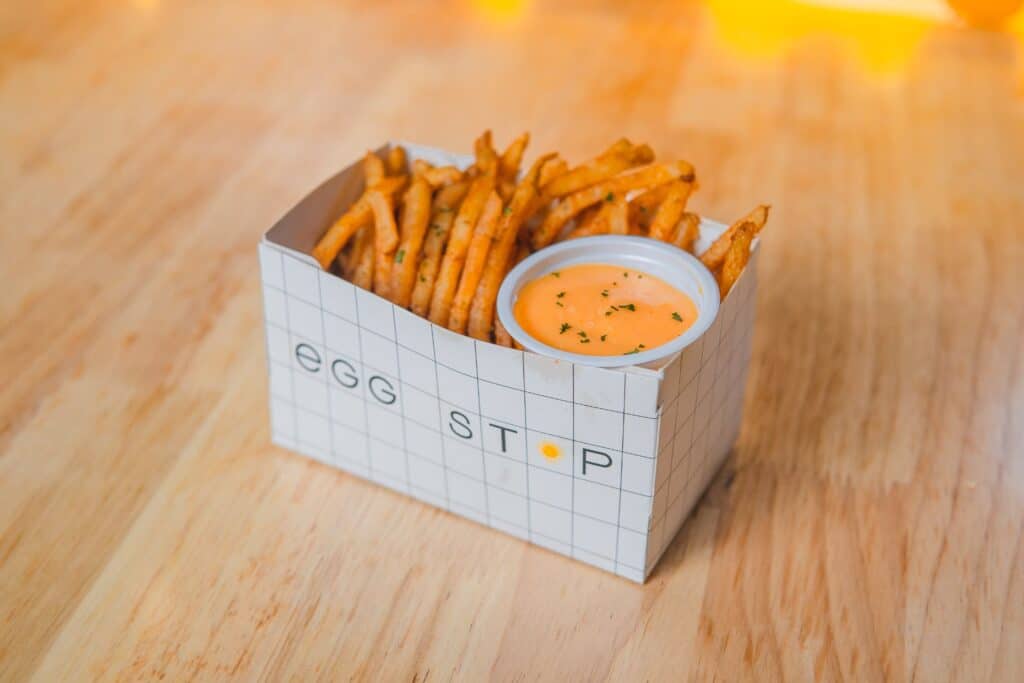 Drinks
On their drinks menu, they offer orange juice, which goes well with their sandwiches and this one is freshly squeezed, then Korean iced coffee if you needed a boost on your day, iced tea if you want it lighter than iced coffee, and bottled water.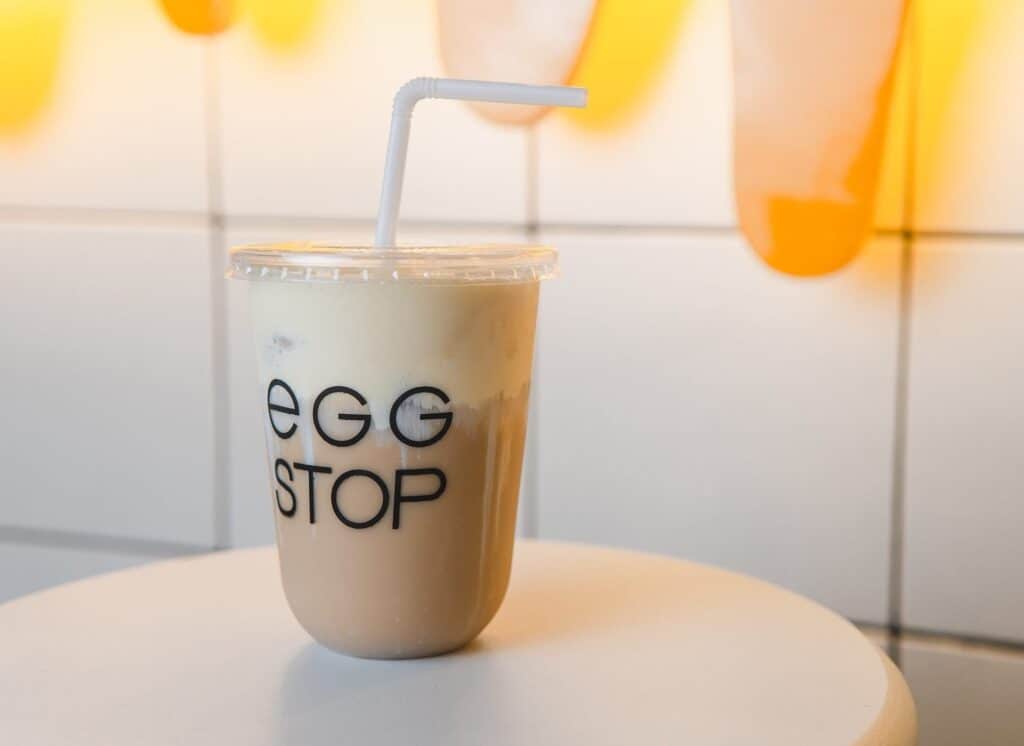 Egg Stop Menu Delivery
If you are craving their delicious egg drop sandwiches nothing to worry about since I gather the cellphone numbers of their branches that offer delivery all you have to do is call these numbers below:
Egg Stop Valenzuela: 09693844351
Egg Stop Trece Martires: 0991 564 6732
Egg Stop Laguna: 09052684917
Egg Stop UST: 0916 556 1923
Egg Stop Metro Santa Rosa: 09691959592
Egg Stop Taytay: 09636281533
Egg Stop Pangasinan: 09109374577
If the egg stop branch in your area is not at those locations above maybe you can book a carrier for your online orders.
Social Media Pages
You can reach Egg Stop's social media pages to get updated about their new food items, promotions, and even discounts. You can message them if interested in franchising their shop. The links are provided below:
Facebook: https://www.facebook.com/EggStopPH
Instagram: https://www.instagram.com/eggstop.ph
Website: http://eggstop.ph/index.php?page=Franchise
Conclusion
One of the best when it comes to egg drop sandwiches that are available in our country. I like how tasty their sandwiches are though I can't tell that their sandwiches are cheap but it's worth it. Their crews are okay they serve fast. The Egg Stop menu has a lot to offer so if you are looking for a good quality and delicious sandwich their place is what I can recommend. Great place as well. This place is definitely for friends to meet up or catch up with and is also great for takeaways. Good-tasting sandwiches.