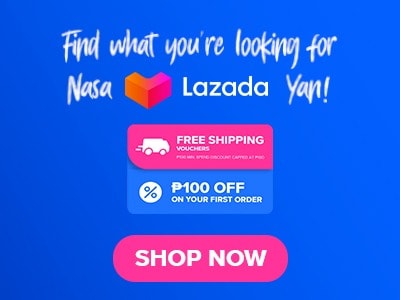 Olive Garden menu, which is renowned for its Italian hospitality, is well-known for its Never-Ending Garden-Fresh Salad, handcrafted soups, and freshly baked garlic bread sticks. The new Olive Garden will be friendly and inviting, with warm features made bright by traditional olive-green accents. It will be 382 square meters and have a 300-seat capacity as well as an al fresco space. The interior design is a reinterpretation of the traditional bistro using natural textures and earth tones that allude to the Italian countryside. Intimate eating in its booths, huge family-style groups, and simple tables will all be possible in the new restaurant. Even solitary diners will feel at ease entering for a meal or a drink in the bar area.
Below, you'll find the updated list of Olive Garden menu prices.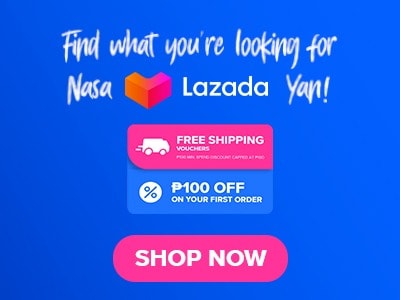 Menu Items
Price (PHP)

Entrees

Tour of Italy
1245
Chicken Parmigiana
675
Lasagna Classico 
595
Shrimp Scampi
695
Grilled Chicken Margherita
645
Eggplant Parmigiana
595
Five Cheese Ziti Al Forno 
645
Chicken Scampi 
695
Herb-Grilled Salmon 
950
6-oz Sirloin with Fettucine Alfredo
1295
Chicken & Shrimp Carbonara 
740
Chicken Carbonara
725
Chicken Marsala
695
Stuffed Asiago Tortelloni Alfredo with Grilled Chicken 
695
Never-Ending Soup, Salad, & Breadsticks
495
Fettucine Alfredo
645
Seafood Alfredo
695
Shrimp Alfredo
695
Chicken Alfredo
725
Create Your Own Pasta
745
Shrimp Fritto Misto
625
Lasagna Frita 
450
Stuffed Ziti Fritta
695
Calamari 
595
Spinach-Artichoke Dip
550

Beverages and Cocktails

Purple-White
220
Peach Butterfly Pea
150
Strawberry Passionfruit Limonata 
195
Hibiscus Butterfly Pea Tea
195
Raspberry Lemonade
150
Classic/ Peach Raspberry Iced Tea
150
Mango Strawberry Iced Tea
150
Hibiscus-Oh! 
250
Italian Margarita 
275
Olive Gin on the Rocks
250
Italian Rum Punch
250
Strawberry or Peach Bellini 
395
Amaretto Sour 
250

Desserts

Strawberry or Mango Cheesecake
475
Italian doughnut Zeppoli 
395
Tiramisu
475
Chocolate Brownie Lasagna
475
About Olive Garden
The Bistro Group, who most recently brought in LA doughnut franchise Randy's Donuts in May, introduced Olive Garden to the Philippines. In 2023, the regional restaurant chain will also introduce Fogo de Cho, a renowned steakhouse in Brazil, to the nation. With more than 880 locations worldwide, Olive Garden is one of the biggest American-Italian restaurant companies. Its corporate headquarters are in Florida. General Mills once owned Olive Garden as a division.
Olive Garden locations were always busy, and the chain's sales per shop quickly caught up to those of its previous sibling business Red Lobster. The business eventually grew to become the largest chain of full-service Italian restaurants in the country. The parent company declared its intention to open more than 200 Olive Garden outlets in the ensuing several years as part of a Darden analyst presentation in February 2011.
As a result of the maturity of the North American market, the business had previously said that it will be expanding into possible new overseas markets for the chain, such as the Middle East and Asia. The business also disclosed that it will start issuing licenses for franchising agreements, marking a change in strategy for the chain and its parent, which had previously relied only on company-owned outlets to expand.
Olive Garden Menu Best Seller
Warm Italian Doughnuts – When ordered, doughnuts are prepared and dusted with vanilla sugar. served with chocolate or raspberry sauce The doughnut itself is soft on the inside and has a somewhat crusty outside. It has a pleasant vanilla sugar taste. They can be covered with chocolate for a tasty finish. When ordering dessert, ask for a Nespresso coffee.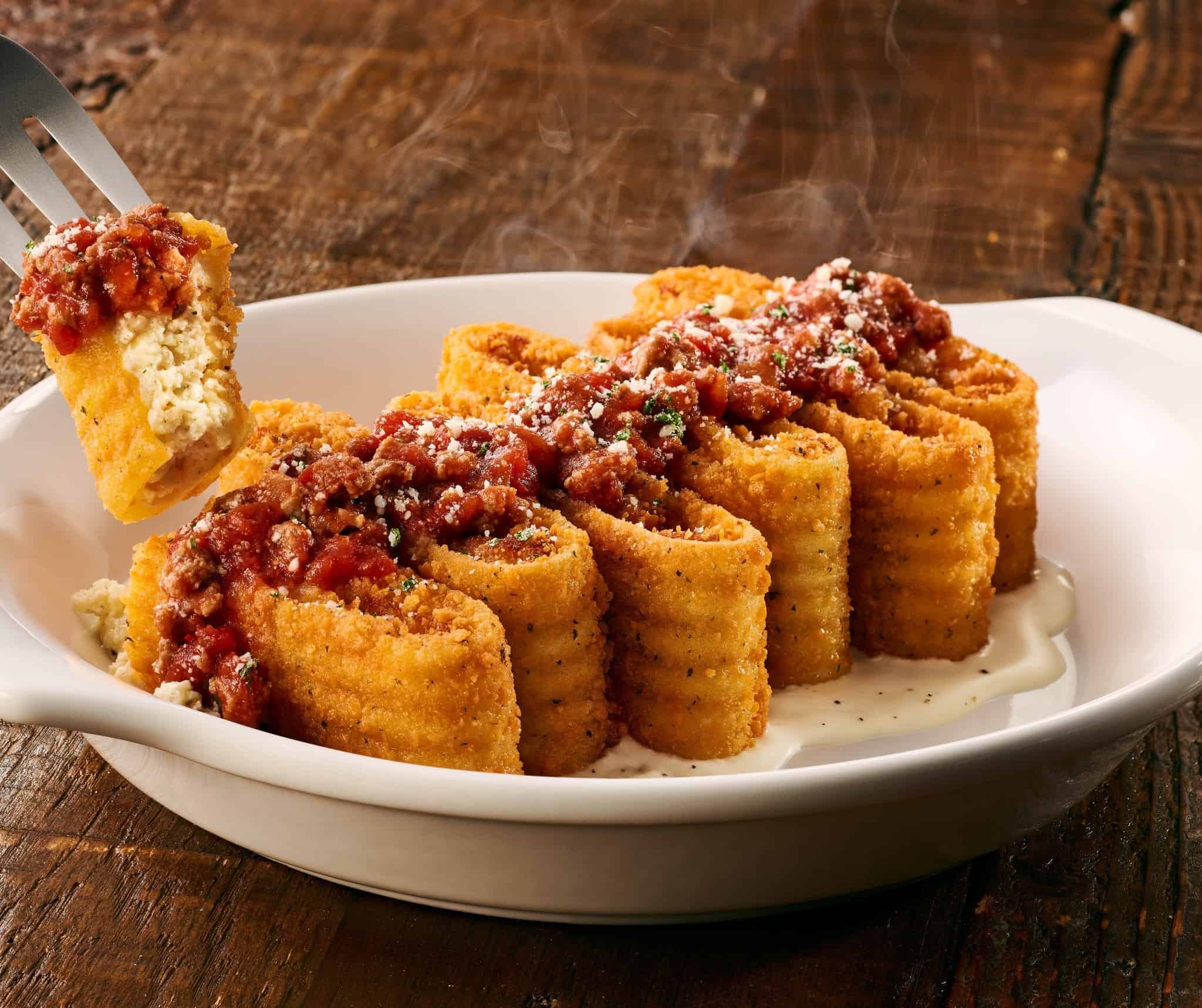 Lasagna Fritta – Handmade alfredo and beef sauce are served with parmesan-breaded lasagna. One of the most famous Olive Garden menu. Imagine lasagna, but with fried bits of marinara sauce, alfredo sauce, and parmesan cheese on top. Heavy yet delicious.
Shrimp Scampi – This has tomato, crisp asparagus, angel hair pasta, and bell peppers together with luscious shrimp sautéed in a light, slightly spicily sauce. If you're searching for something light, it's a fantastic option.
Grilled Chicken Margherita – This Olive Garden menu is made of grilled chicken breast served with a side of parmesan-crusted zucchini and a fresh topping of mozzarella, cherry tomatoes, lemon garlic sauce, and basil pesto.
Eggplant Parmigiana – One of those recipes that makes you feel like you're dining at your Italian grandmother's table is the classic eggplant parmigiana. Rich cheese seeps out of the eggplant, which is wonderfully balanced by the marinara sauce's tangy flavor.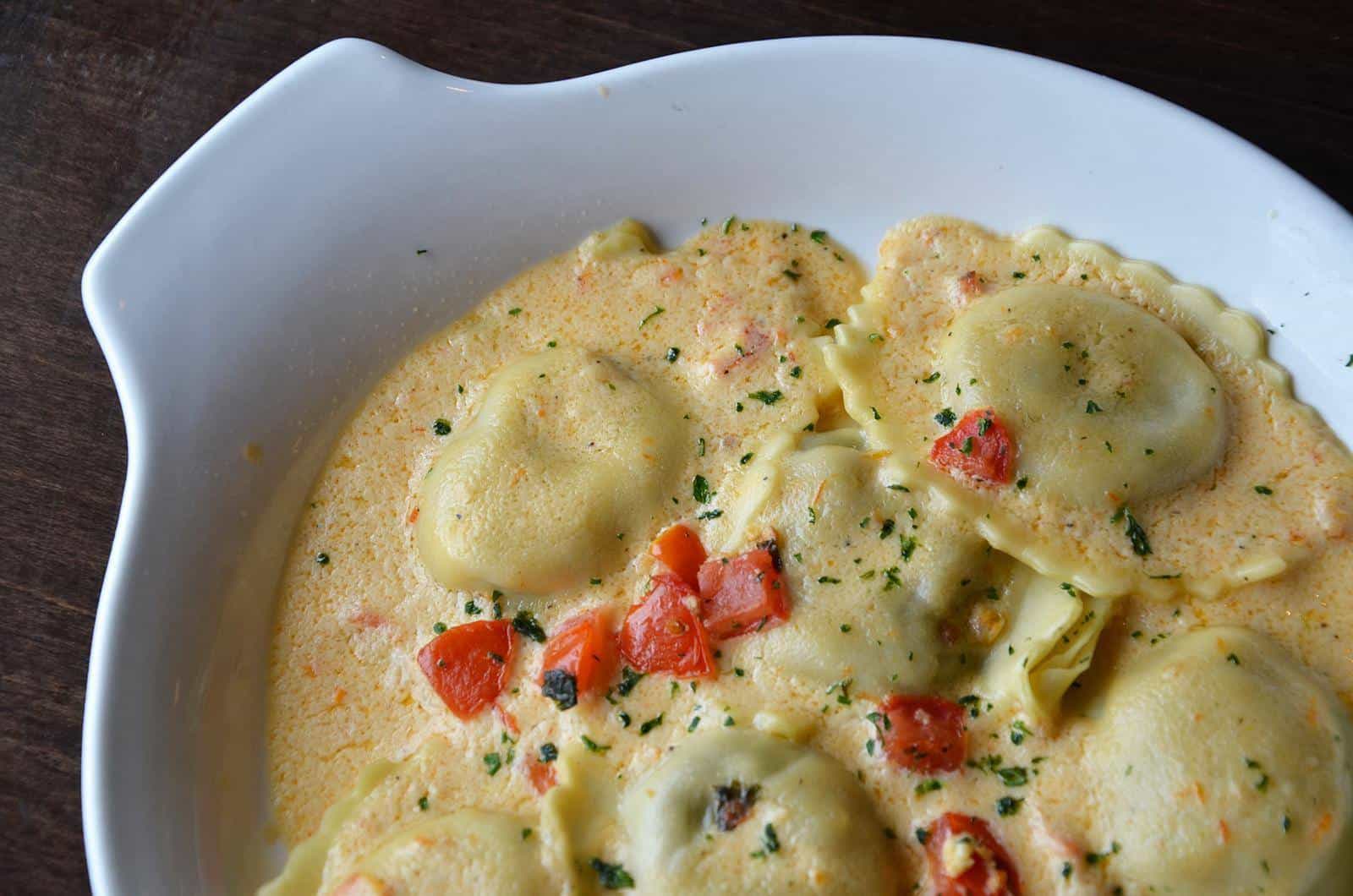 Raviolo di Portobello – You won't even miss meat with the ravioli di portobello because it is such a sophisticated and intriguing meal. The ravioli is served with sun-dried tomatoes, a mild Pinot Noir sauce, and a smokey cheese filling.
Zeppoli – These are the first sweet dish on the list and clearly belong. For those of you who have never had a zeppoli, picture a fluffier beignet with an Italian twist. It's a delicious dish to enjoy alone or with others.
Olive Garden Menu Specials
House Salad – It is as traditional as it gets, with croutons for extra crunch and lettuce, tomatoes, and red onions combined with a tangy, garlicky dressing.
Chicken & Gnocchi – A creamy base and chewy gnocchi for textural contrast, is like a warm embrace in a bowl. You may choose to have cheese grated on top; take advantage of the possibility.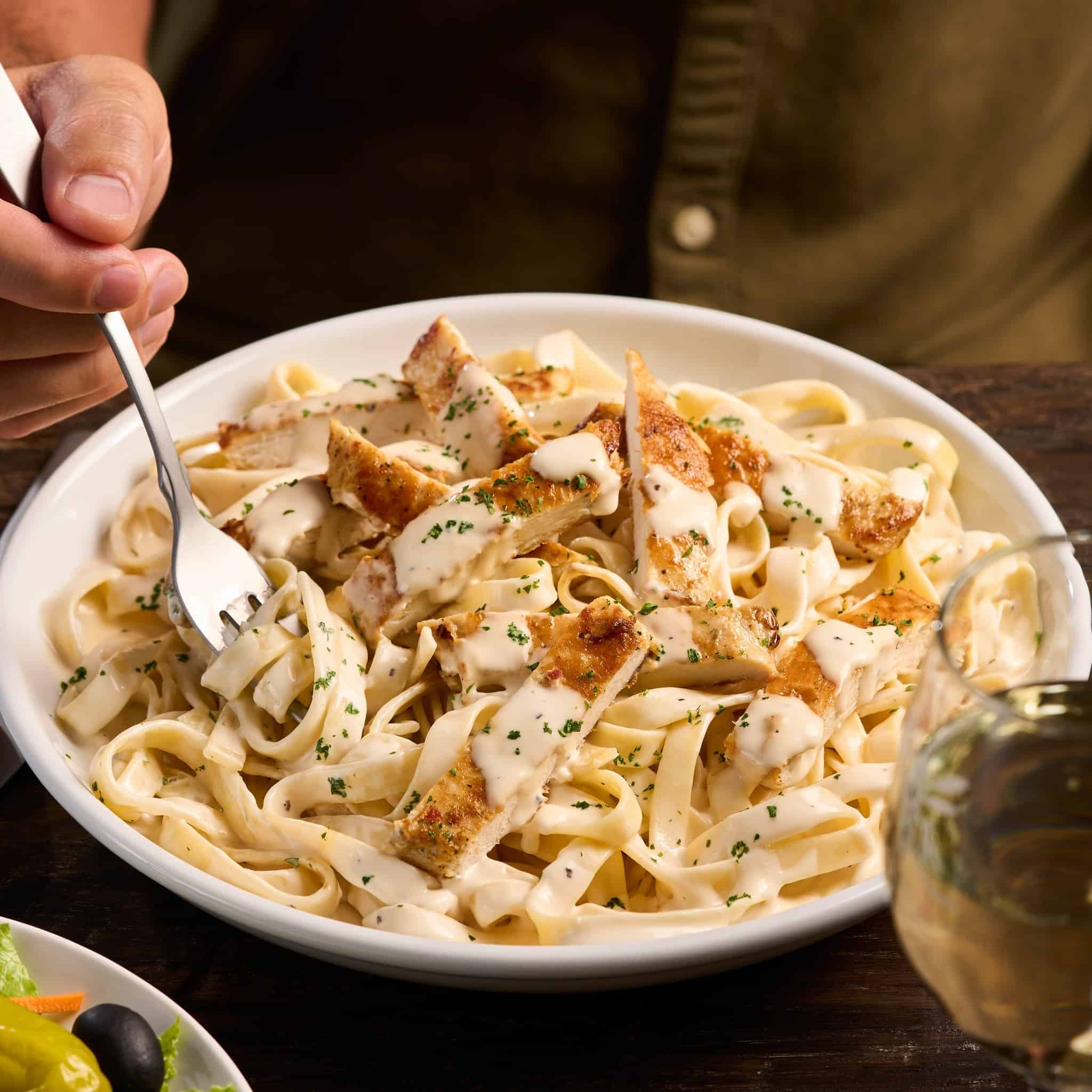 Chicken Alfredo – Is a brand cult favorite; this creamy Olive Garden menu is definitely a delicious dish served with a rather thin chicken cutlet, which helps offset the white sauce's richness. —long strings of spaghetti tossed with soft chunks of lean protein, all topped with a creamy white sauce.
Shrimp Fritto Misto – was a substantial half-pound plate of shrimp that was hand-breaded and softly fried till golden and crispy, along with vegetables including zucchini, bell peppers, and eggplant. It comes with spicy ranch and marinara.
Olive Garden Menu Delivery
Olive Garden is still new in the Philippines. It is something that Filipinos have yet to discover. Therefore, it still does not offer delivery on its menu items via the Grabfood and Foodpanda app. However, you can always visit them on their Facebook page and contact them on the number they have placed there.
Talk to Olive Garden Philippines Staff
If you need to ask the Olive Garden Philippines Staff about their menu, prices, and promo, you can send them your message on their official Facebook, or Instagram page. You can also call them on their hotline as well. If you are inside their official social media pages, we highly encourage you to subscribe to them so you can always get the latest news whenever they update their pages.
Facebook: https://www.facebook.com/OliveGardenPhilippines/
Instagram: https://www.instagram.com/olivegardenphilippines/
Contact No: (02) 8637-9634
FAQs
Who is the owner of Olive Garden?
The biggest American-Italian restaurant chain in the US, Olive Garden, has finally opened in Manila. It is a part of Darden Locations (DRI), which operates more than 900 restaurants worldwide.
What is endless at Olive Garden?
For nine weeks, the Pasta Pass entitles the holder to unlimited in-restaurant access to Olive Garden's Never Ending Pasta Bowl menu.
Does Olive Garden give free appetizers?
When you join the Olive Garden eClub, you'll receive a voucher for a free birthday appetizer or dessert when you buy two entrees.
Conclusion
Due in large part to the breadsticks, one of those national chains, the Olive Garden menu, will always hold a special place in the hearts of the majority of people. The Italian American restaurant company is renowned for its limitless salad options, and variety of pasta dishes, and it is renowned for warm, soft breadsticks that make patrons feel at home. The trick is that they must be constructed flawlessly. The chain's famous appetizers are cooked in countless batches each day and brought fresh to every location, and its soups and sauces are never frozen. Customers are drawn in by the endless spaghetti dish as well.