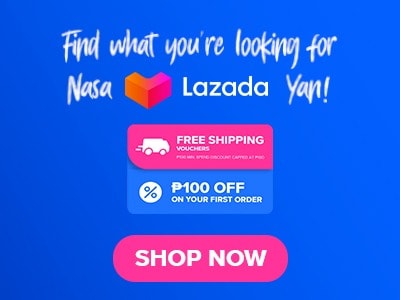 Are you looking for a good-tasting milk tea? There are a lot of places that offer milk teas since milk tea shops are mushrooming all over the country nowadays but Do you want to satisfy your cravings for milk tea without having to spend too much? I got you on this one since I discovered a new place for you. Sebu cha menu offers a lot of milk tea flavors and other non-milk tea items to truly satisfy your cravings.
If you are living in Cebu you're more likely to at least hear about them. Have you bumped into one of their branches? Interested in our topic for today? If yes and you want to know more about this brand all you have to do is to stay with me here as we are going to get to know them more, their best sellers that we should try and of course the price that they offer in every item. Without further ado let's start!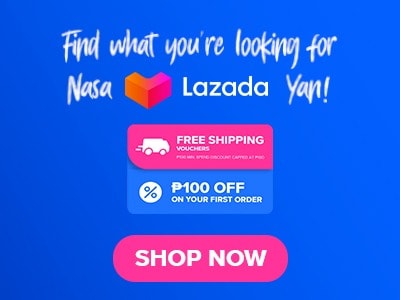 Below, you'll find the updated list of Sebu Cha menu prices.
Menu Items
Price (PHP)

Premium series

Matcha Cheesecake
118
Mango Cheesecake
118
Oreo Cheesecake
118
Double Hazelnut Nutella
118
Cheesecake
118
Taro Cheesecake
118
Strawberry Choco Nutella
118
Thai Cheesecake
118

Frappes

Strawberry Frappe
132
Taro Frappe
132
Matcha Frappe
132
Mango Frappe
132
Choco Hazelnut
132
Green Coffee Hazelnut
132
Green Coffee Vanilla
132
Coffee Mocha Vanilla
132
Chai Coffee Latte
132

Hot deals

Special Green Coffee
92
Wintermelon
92
Okinawa (Hot)
92

Snacks

Beef wrap
105
Corndog
87
Cheesy Beefsteak Sandwich
99
Potato Chips
75
Ham & Cheese Pizza
72
Hawaiian Pizza
72

Healthy fruit

Popping Strawberry
118
Blue Lemonade
118
Cucumber Lemonade
118
Lvchee
118
Passion
118
Red Roselle
118

The classic

Uji Matcha
118
Wintermelon
118
Hokkaido
118
Classic MT
118
Okinawa
118
Thai MT
118

Latte series

Coffee Mocha
118
Choco Cream Cheese
118
Red Valentine
118
Chocolate Oreo Cake
118
Black Sugar
118
Strawberry
118
About Sebu Cha
Sebu cha or Cebu Tea is a local brand that originated in Cebu City. This shop offers a wide selection of milk teas and other trending beverage that has great quality but at an affordable price. Aside from those Sebu Cha also offers nonmilk tea items such as beef wrap, corndog, potato chips, and more. Carmen branch of Sebu Cha is their first ever branch that concentrates on delivery and operates at home. In just 2 short months the business grew consistently and they have managed to create more branches in Northern and Southern parts of Cebu.
Their goal is to have at least one branch in every Municipality of Cebu and other places in the country too. Luck combined with success they already have branches in every Municipality of Cebu, aside from that they even have branches in Leyte, Bohol, and Negros and soon in Luzon as well. Customers keep on coming back for more because of how delicious their products are, and the quality of their goods is never compromised. Sebu cha is truly Cebu's beloved milk tea shop that forever be loved by locals and even non-locals who try visiting Cebu.
Sebu Cha Menu Best Sellers
Here are samples of Sebu Cha's best-selling items that are quite popular on their menu. 
Thai Cheesecake – The Thai cheesecake version of Sebu Cha is the perfect drink if you love the taste of cheesecake and milk tea combined. Their Thai cheesecake is sweet but moderate and not too much. It has a strong cheesecake flavor that I'm sure everyone who would try this will definitely like it.
It is sweet and creamy at the same time. The texture of their Thai cheesecake is thick something that I am looking for a cheesecake-based drink. This is one of their best-selling products and is a must-try.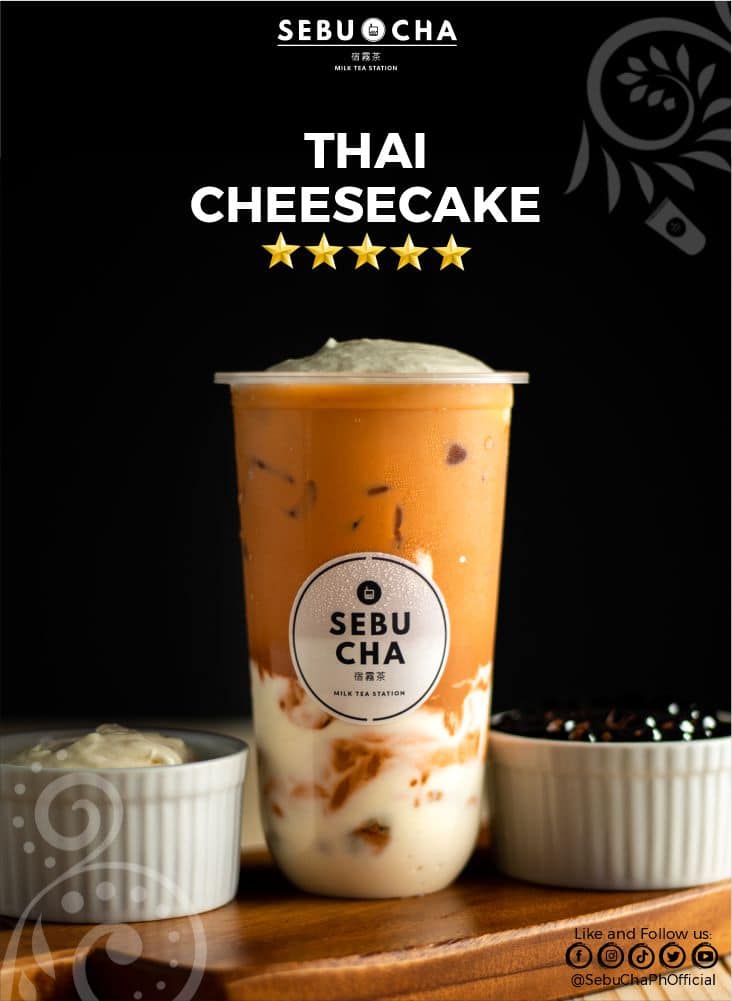 Taro Cheesecake – Taro cheesecake is the perfect option for you if you love a real creamy and delicious treat. I see their taro cheesecake as a dessert and not just a drink since this is really delicious. The flavors of taro and cheesecake combined create a masterpiece no wonder this is also included in their best sellers because who wouldn't want a delicious drink right? Very creamy and sweet at the same time, it reminds me of the taro pinchilin nai cha that I always had when I was still in Taiwan. Definitely a treat in a cup.
Strawberry Choco Nutella – The combination of strawberry and chocolate in this Sebu Cha menu is delicious and this is my favorite from them since I love strawberry and chocolate at the same time. Strawberry choco nutella has that nutty, chocolatey taste that has been boosted since the addition of strawberry.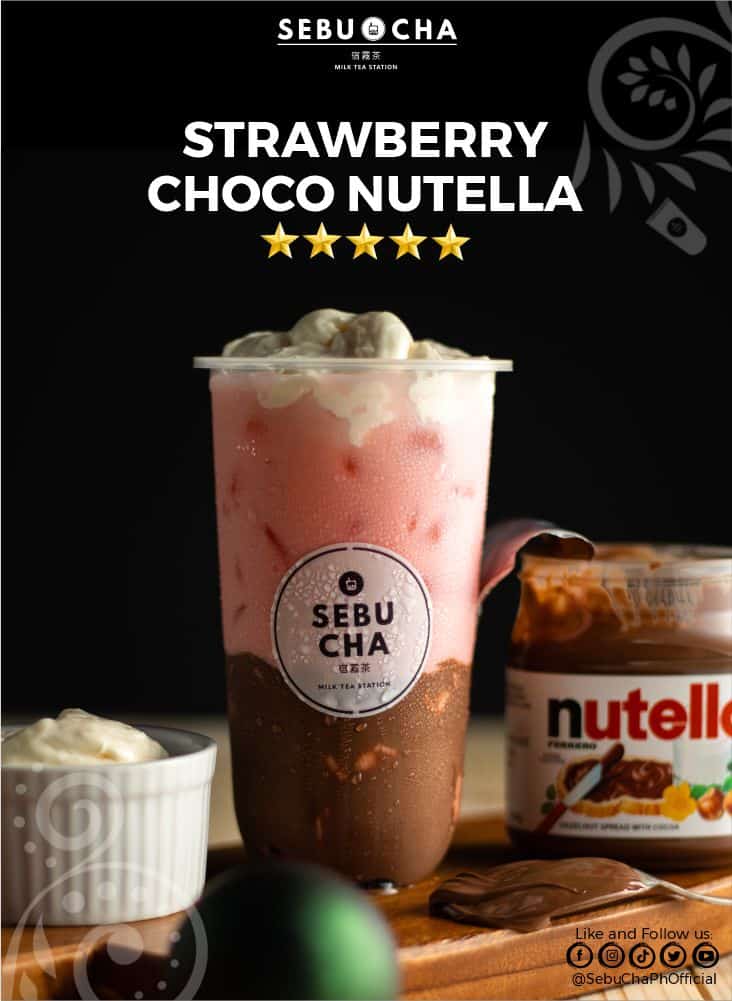 This drink can also pass as a dessert, to be honest. It is creamy and has a strong strawberry flavor that will definitely satisfy your sweet cravings. This is also included on their best-selling list and if you are a strawberry lover you shouldn't miss this one.
Oreo Cheesecake – The Oreo cheesecake is made for Oreo lovers! You'll definitely love this for sure. It has a strong Oreo taste that they mixed with cheesecake and it's perfect! Very creamy and delicious.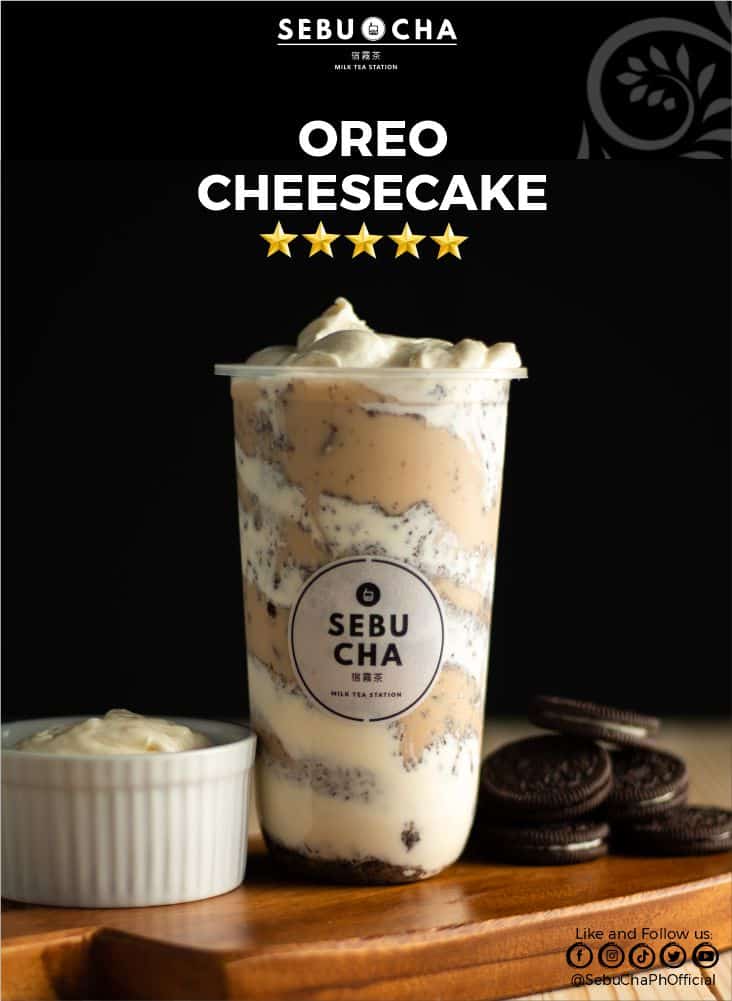 The Oreo cheesecake of Sebu Cha is sweet you'll taste the Oreo crumbs in every sip of their Oreo cheesecake. Their Oreo cheesecake is the right choice for you if you are looking for a nice beverage. This is also a popular item on their menu.
Mango Cheesecake – A strong taste of ripe and sweet mango combined with a creamy and a bit salty cheesecake means a perfect match! The Mango cheesecake menu of Sebu Cha is a crowd's favorite especially those who love the sweet taste of local Mangoes.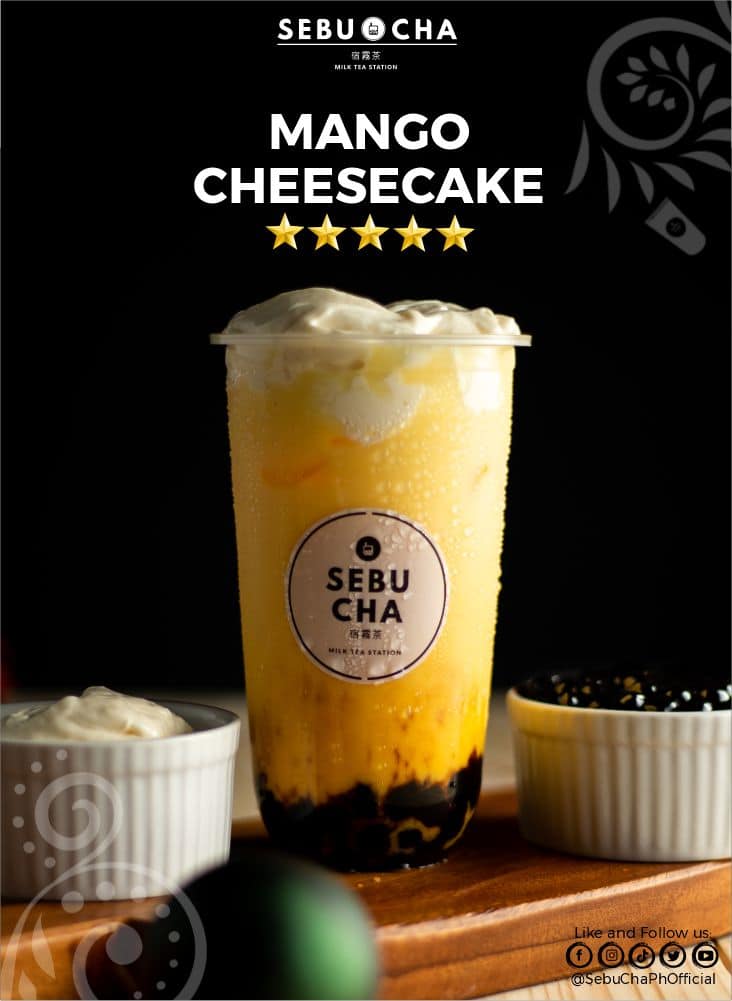 Sebu Cha Menu Delivery
Indulging in your favorite Sebu Cha milk tea and other delicious items is a breeze! Just hop on Grab or Foodpanda for a seamless and effortless ordering process. It's worth mentioning that there is a small delivery fee associated with each order, but the best part is there's no minimum order requirement, so you can enjoy your favorites without any worries.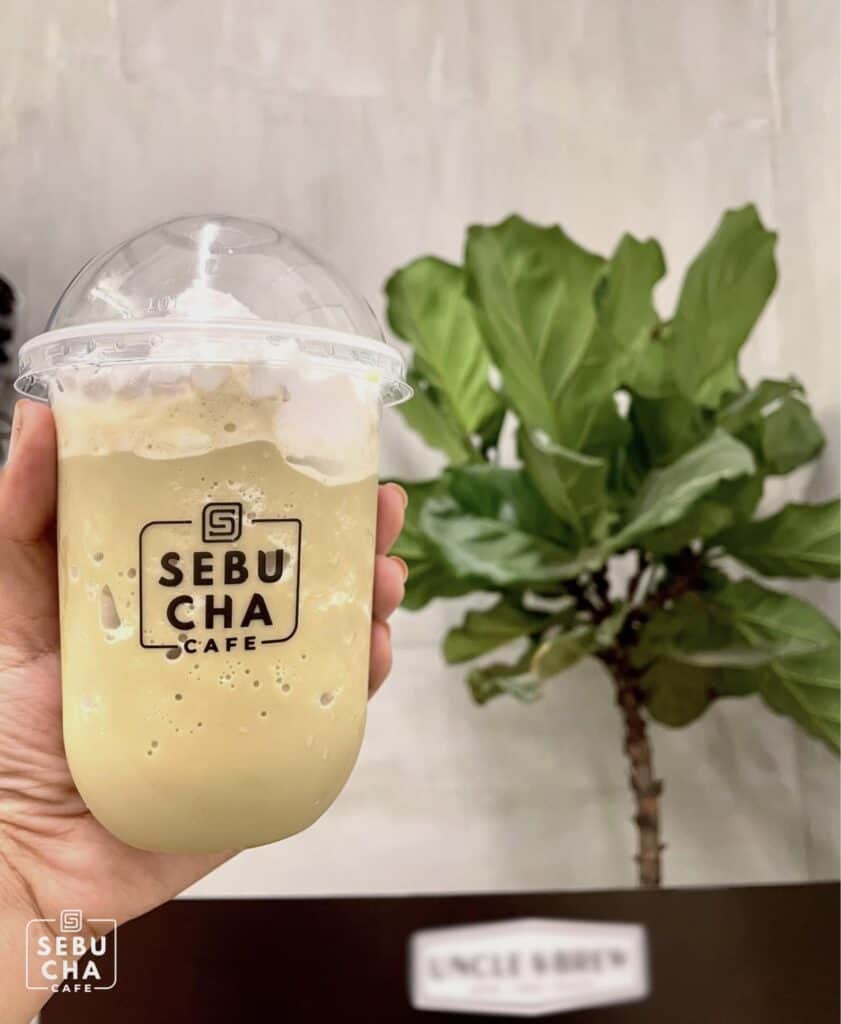 Sebu Cha Social Media Pages
Sebu Cha is a must-visit for bubble tea lovers and those who enjoy Filipino cuisine. Don't miss out on the opportunity to experience the best of bubble tea and Filipino cuisine. Follow Sebu Cha on social media today!
Facebook: https://www.facebook.com/SebuChaPhOfficial
Instagram: https://www.instagram.com/sebuchaphofficial
TikTok: https://www.tiktok.com/@sebuchaphofficial
Twitter: https://twitter.com/sebuchaph
YouTube: https://www.youtube.com/@sebuchapanglao
Facts
What are the operating hours of Sebu Cha?
Sebu Cha is open daily. From Sunday to Thursday, they are open from 10 in the morning until 10 in the evening and on Fridays to Saturday, they are open from 10 in the morning until 11 in the evening.
Where can I find Sebu Cha branches?
This milk tea shop can be found in every municipality of Cebu. They also have Bohol, Negros, and Leyte branches and soon planning on going to Luzon and Mindanao. 
Are there any other products of Sebu Cha aside from milk teas?
Yes, actually they also have other items such as ham & cheese or Hawaiian pizza, potato chips, corndogs, and beef wrap.
Is Sebu Cha open for franchise?
Yes. Sebu Cha is open for franchise. You may contact 09272345404 or email them at [email protected] for more details.
Conclusion
A great place to go especially if you are looking for great tasting drinks. The Sebu Cha menu offers a wide variety of different flavors of drinks and other items that will surely satisfy your cravings and fill your hunger. The service that they provide is superb plus their products are quality. Sebu Cha is the perfect milk tea cafe that you need. Overall experience is good, and highly recommended for everyone.