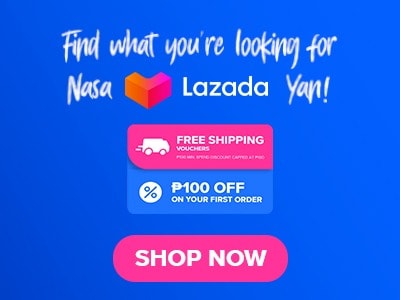 But First Coffee menu features some energizing options, fresh coffee aromas can help you get through the day. This collection of deserving coffees will gratify all coffee connoisseurs. They use premium local coffee beans to assist Filipino coffee farmers and, with the help of their combined technical know-how, produce a premium product that rivals the best-known brands while remaining reasonably priced so that every Filipino may enjoy it. Anyone looking for a nice cup of coffee, anytime, anyplace, can find it accessible thanks to the best-tasting coffee and free delivery service.
Below, you'll find the updated list of But First Coffee menu prices.
Menu Items
Price (PHP)

Milk Based

Iced Milky Choco
120
Iced Milky Caramel
120
Iced Milky Salted Caramel
120
Iced Milky Butterscotch
120

Snacks and Pastries

Revel Bar
55
Banana Bread
55
Blueberry Cheesecake
170
1 pc Choco Chip Cookie with Walnut
40
4 pcs Choco Chip Cookie with Walnut
120
8 pcs Choco Chip Cookie with Walnut
175
Lasagna
130
Coffee Bun
90

Drip Based

Plain Black (12oz) Hot
55
Plain Black (16oz) Iced
60
Plain Black (500ml) Jar Iced
100
Plain Black (1L) Bottle Concentrate
190
Vietnamese Classic (12oz) Hot
65
Vietnamese Classic (16oz) Iced
70
Vietnamese Classic (500ml) Jar Iced
110
Vietnamese Classic (1L) Bottle Concentrate
210
Caramel (12oz) Hot
85
Caramel (16oz) Iced
100
Caramel (500ml) Jar Iced
140
Caramel (1L) Bottle Concentrate
240
Vanilla (12oz) Hot
85
Vanilla (16oz) Iced
100
Vanilla (500ml) Jar Iced
140
Vanilla (1L) Bottle Concentrate
240
Hazelnut (12oz) Hot
85
Hazelnut (16oz) Iced
100
Hazelnut (500ml) Jar Iced
140
Hazelnut (1L) Bottle Concentrate
240

Espresso Based

Americano Hot (12oz)
100
Americano Iced (16oz)
110
Americano Iced (500ml) Jar
150
Americano Iced (1L) Bottle Contentrate
430
Café Latte (12oz)
120
Café Latte (16oz)
130
Café Latte (500ml) Jar
170
Café Latte (1L) Bottle Contentrate
460
Spanish Latte (12oz)
120
Spanish Latte (16oz)
130
Spanish Latte (500ml) Jar
170
Spanish Latte (1L) Bottle Contentrate
460
Caramel Machhiato (12oz) Hot
120
Caramel Macchiato (16oz) Iced
130
Caramel Macchiato (500ml) Jar Iced
170
Caramel Macchiato (1L) Bottle Concentrate
460
Salted Caramel Latte (12oz) Hot
120
Salted Caramel Latte (16oz) Iced
130
Salted Caramel Latte (500ml) Jar Iced
170
Salted Caramel Latte (1L) Bottle Concentrate
460
Butterscotch Latte (12oz) Hot
120
Butterscotch Latte (16oz) Iced
130
Butterscotch Latte (500ml) Jar Iced
170
Butterscotch Latte (1L) Bottle Concentrate
460
Café Mocha (12oz) Hot
120
Café Mocha (16oz) Iced
130
Café Mocha (500ml) Jar Iced
170
Café Mocha (1L) Bottle Concentrate
460
White Chocolate Mocha (12oz) Hot
120
White Chocolate Mocha (16oz) Iced
130
White Chocolate Mocha (500ml) Jar Iced
170
White Chocolate Mocha (1L) Bottle Concentrate
460
About But First Coffee
In her position as manager of credit and finance solutions for a Makati-based software company, Anna Magalona was content, but when COVID-19 struck, she began to have many doubts. She was aware that she would require a fallback strategy. She made the choice to have coffee since she likes it. When Anna posted the online launch of But First, Coffee, she had no idea how to run a firm. With her initial investment of P6,000, she purchased a coffee maker, branded cups and packaging, as well as basic goods like coffee grounds, milk, and sugar syrup.
Some people informed her that her passion was only a phase, which made her worry if it was really something she could accomplish on a long-term basis. The ideal coffee mix had to be developed by Anna, who also had to market it online and personally deliver orders.
This resulted in a number of disasters, such as her car's battery dying while she was in the middle of delivering the package, but she persisted. She gradually picked up the skills necessary, and as word of mouth worked its magic, she was able to add more flavors and desserts to the menu.
But First Coffee Menu Best Seller
Vietnamese Classic – Even while robusta is still used to make traditional Vietnamese coffee today, blends of robusta and arabica can still deliver the strong, bitter, and chocolaty flavors that go great with condensed milk. The Vietnamese Arabica in the But First Coffee menu has a medium body and robust flavor, with vibrant and rich flavors of caramel, vanilla, and chocolate. Vietnamese Arabica is noted for its smoothness and lower acidity, making it the ideal bean variety for both novice and ardent coffee drinkers. They offer more antioxidant characteristics than arabica beans and 60% less sugar and fat, which results in a bolder and smoother drink.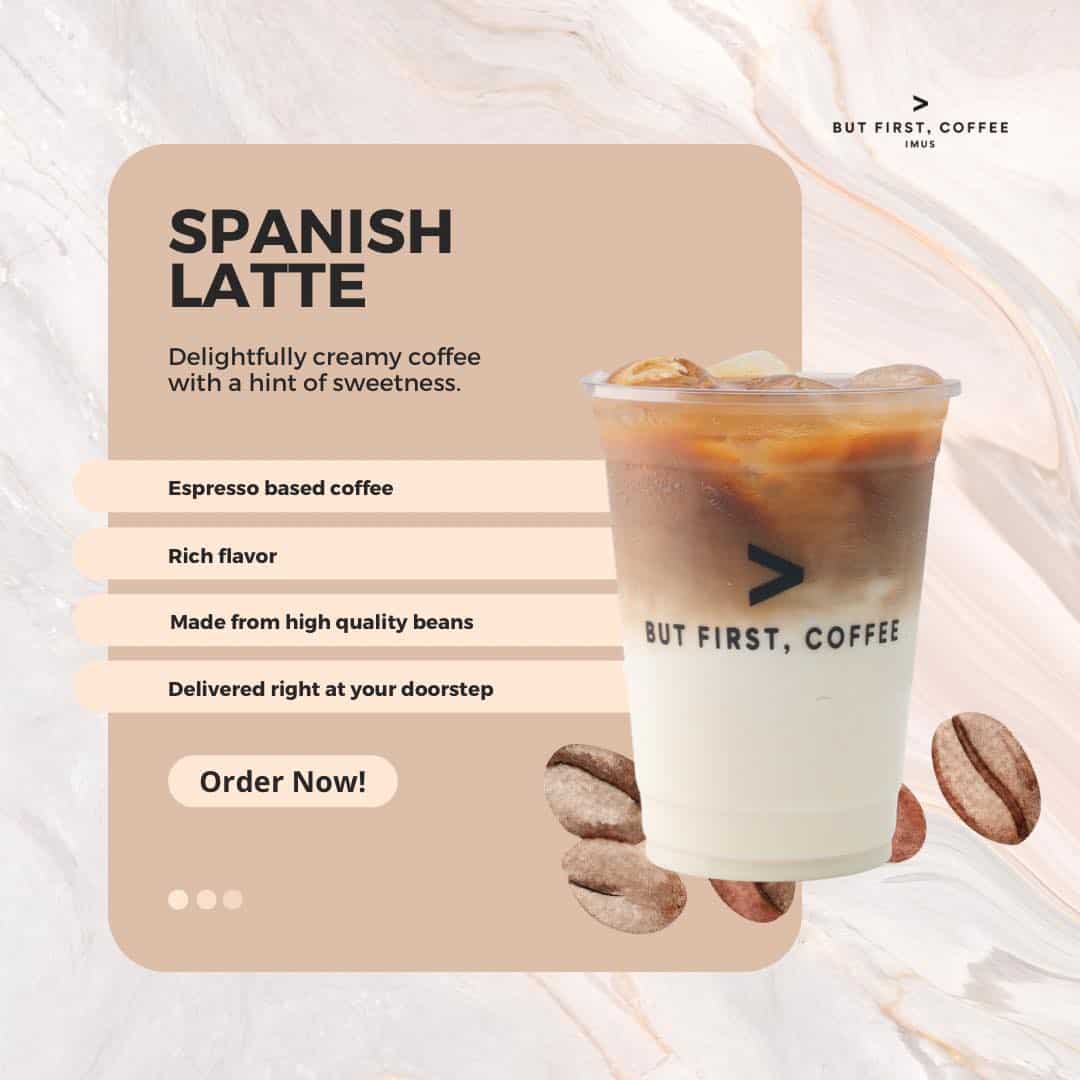 Spanish Latte – It is a beloved breakfast beverage of Spaniards and is prepared similarly to lattes from regions of Italy and France with hot, scalded milk.
Caramel – The ratio of milk to coffee in a Spanish latte is one-to-one, giving it a pleasantly creamy texture and a somewhat sweet flavor. Due to the inclusion of sugar, a Spanish latte is typically sweeter than a conventional latte. An espresso-based beverage in the But First Coffee menu that contains a regular milk and condensed milk is known as a Spanish latte, or Café with Leche. The Spanish latte is typically consumed by Spaniards with breakfast. A simple espresso-based beverage that may be created with water, espresso, and milk are referred to as a Spanish latte or a Café with Leche. The origin of this latte is Spain, as the name suggests. However, it has recently become more well-liked in the Philippines, Florida, and most of Latin America.
Caramel Macchiato – In its most basic form, caramel macchiato is simply coffee with a lot of milk. The beverage is creamy and delightful because of the eight ounces of milk and the potent espresso. Although it is sweet, the macchiato has a lovely texture. You can always use less caramel and vanilla syrup to lessen the sweetness. It is created with steaming milk, espresso, caramel sauce, and vanilla syrup. The milk is topped with espresso, which leaves a dark stain on the milk foam.
Salted Caramel Latte – This But First Coffee menu is a rich, creamy beverage with a dash of sea salt and sweet caramel. A flavored coffee beverage called a salted caramel latte is created with caramel sauce and sea salt. The addition of vanilla syrup and sweet caramel sauce makes an iced caramel taste rather sweet.
White Chocolate Mocha – Whether enjoyed as a pleasure or on a regular basis, white chocolate mocha drinks are delightful. It tastes delicious and rich.
Iced Milky Choco – This decadent, summer-appropriate Iced Chocolate is great for entertaining or just enjoying on a warm night. You'll detect a chocolatey flavor initially, followed by a tea flavor and a tinge of sweetness. With flavors of heated milk, caramelized sugar, and a vanilla aftertaste, milk chocolate frequently has a flavor profile that can be characterized as sweet and chocolatey. Decent middle-of-the-road chocolate is thought to be milk chocolate. Highly recommended But First Coffee menu to try on.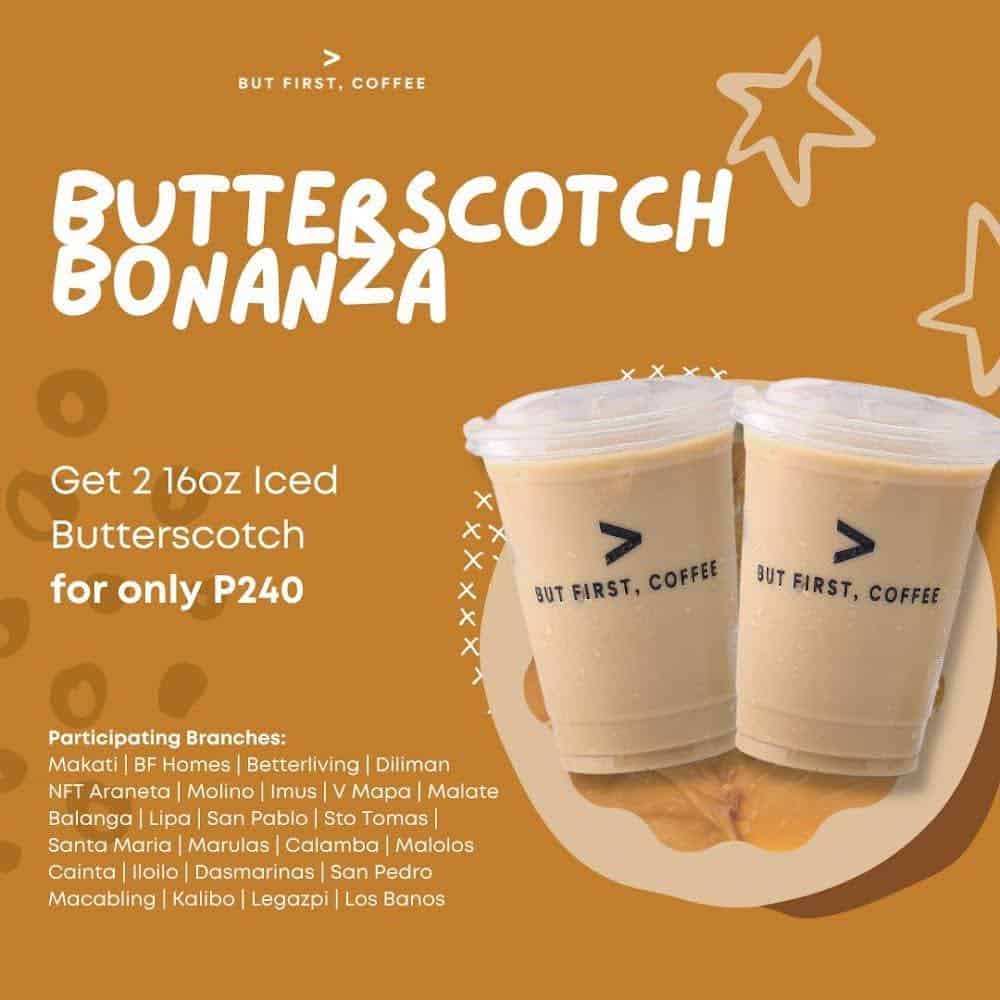 Iced Milky Butterscotch – The flavor of butterscotch is highly distinctive. It is frequently mistaken for caramel or even toffee, but they are extremely different. We must first understand what butterscotch is in order to comprehend its flavor. Butterscotch is a cooked sugar similar to caramel, and brown sugar rather than white is always used to make it. To make it properly, you must first melt the butter and brown sugar together, which aids in the granules dissolving evenly and melting gently.
But First Coffee Promo
But First Coffee offers a discounted price for its first twenty customers. The price of each coffee would only be eleven pesos. It also offers free coffee for its first fifty customers if a new branch has opened.
But First Coffee Menu Delivery
To get a taste of this delicious coffee, you need not go to a physical store. You could always do it via delivery to enjoy it at your home before you start your day or while taking a break from a stressful day. You could order via their website or Facebook page which they charge no delivery fee. They are also available on the Grab food and Foodpanda app.
Social Media Pages
For more information on this delicious start-up coffee shop, here are some of its social media pages:
Facebook: https://www.facebook.com/butfirstcoffeeph/
Instagram: https://www.instagram.com/butfirstcoffeeph/
Website: https://butfirstcoffee.ph/
Conclusion
Anna, the owner of the But First, Coffee eventually found success online, which allowed her to create a kiosk and rent a small area beneath her condo. It also helped to increase their credibility, which led to increased sales. But First, Coffee's menu steadily grew in popularity, and numerous people expressed interest in franchising the company. By the end of 2021, But First, Coffee had 15 locations because to perseverance and hard effort. Anna reflects on her path and how it taught her more about her own talents while pursuing her passion. She had to remain true to their goals, which were to help people start their own businesses or to provide jobs for people. They get to provide consumers with high-quality, yet reasonably priced, coffee.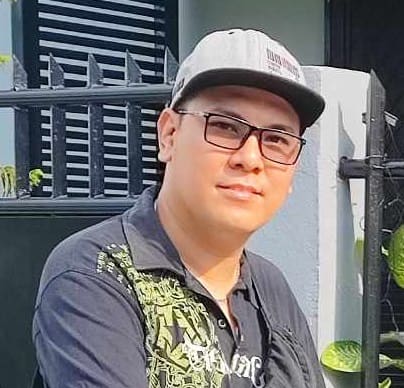 Hi! I'm Nivek Strife, the person who made MenuPH. I'm the one who added most of the popular menus you see on this website, and I really hope you enjoy them! Feel free to check them all out.
Growing up, I was surrounded by lots of tasty foods, like the classic Adobo and the sweet Leche Flan. That love for the many flavors of the Philippines is what got me excited about adding to MenuPH. When I learned how to make websites, I saw the need for a place to show off all the amazing Filipino dishes, and that's how MenuPH started.
MenuPH isn't just a website; it's like a fun journey into food. I've teamed up with famous chefs and found great places all over the Philippines to bring you a bunch of menus that show off the best of Filipino cuisine. Whether you're into the usual dishes or new twists, MenuPH is here to guide you through the rich world of Filipino flavors.
With MenuPH, my aim is to help local businesses, talk about good food choices, and make a group of friends who love food. No matter if you like fancy restaurants or street food, MenuPH has something for you. Come join me on this food adventure as we find great places, taste real flavors, and enjoy the unique food traditions that make the Philippines awesome.