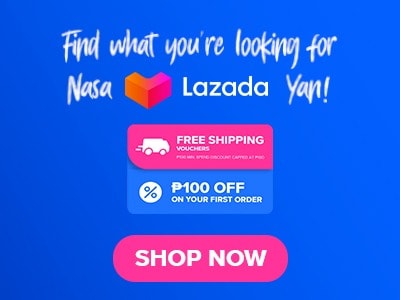 All4U menu offers an unlimited grill and shabu-shabu that is inspired by Korean cuisine and culture. Dishes are made of fresh ingredients and cooked using infrared grills to make them healthier. It allows you to grill and prepare food based on your preference. It offers unlimited rice, soup, sauce, side dish, vegetables, shrimp, beef brisket, Korean fishcake, pork belly, and marinated chicken. Packs of Korean noodles are also offered and you can cook them in your choice of soup.
Below, you'll find the updated list of All4U Unlimited Grill menu prices.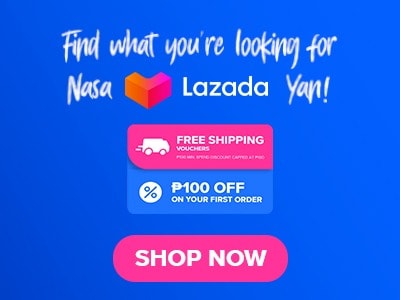 Menu Items
Price (PHP)

Unlimited

Unlimited Set
599

Promo

Regular
599/head
PWD
479/head (20%)
Senior
350/head (40%)
Below 4.5
350/head (Kids)
Below 3.5
Free (Kids)
Birthday
350/head

Party Set

Party Set
2799
Family Set
1599

Roasted Seaweed

Roasted Seaweed (1 pc)
20
Roasted Seaweed (5 + 1 pc)
100

Yopokki (Cheese / Sweet & Spicy)

Cup (120g)
85
Pouch (240g)
120

Ramen

Kimchi Ramen (1 pc)
39
Jin Ramen (1 pc)
39

Ala Carte

Pork Samgyupsal (500 g)
299
Pork Samgyupsal (1000 g)
499
Marinated Moksal (500 g)
299
Marinated Moksal (1000 g)
499
Spicy HangJungsal (500 g)
299
Spicy HangJungsal (1000 g)
499
Premium Aged Beef (500 g)
399
Premium Aged Beef (1000 g)
750
Bulgogi Beef (500 g)
450
Bulgogi Beef (1000 g)
820
Fresh Shrimp (500 g)
399
Fresh Shrimp (1000 g)
750
Korean Fishcake (500 g)
150
Korean Fishcake (1000 g)
299
Korean Smoke Ham (500 g)
250
Korean Smoke Ham (1000 g)
400
Kimchi (500 g)
150
Kimchi (1000 g)
299

Add On

Spicy Sauce (200 g)
199
SsamJang Sauce (200 g)
199
Korean Soju
120
Flavor Soju
130
Melona (Ice Cream)
39
YoPoKki Cup (120 g)
85
YoPoKki Cup (240 g)
120
Roasted Seaweed (1 pc)
20
Roasted Seaweed (5 + 1 pc)
100
About All4U
Bryan Lucky Park studied oriental medicine when his mother got lung cancer. He thinks that his mother is too old for chemotherapy, so he took the food-as-medicine approach by creating a healthy dish for his mother. This approach was successful because years later, his mother became cancer-free. With his research, he was able to discover cooking techniques to make dishes healthier, and that is how All4U was born.
All4U Menu Ala Carte
Ala Carte is ready-to-cook meals that you can cook at home with your friends and family.
Pork Samgyupsal – This All4U menu is made up of thinly sliced pork belly. It has meats and fats on it. The meat is fresh but has a bland flavor so it is best to order additional sauce to spice it up.
Kimchi – Kimchi is one of the most popular dishes in Korea. It is made of fermented and seasoned with various ingredients. Its distinct and savory flavor makes it a versatile dish that can be complemented with other dishes.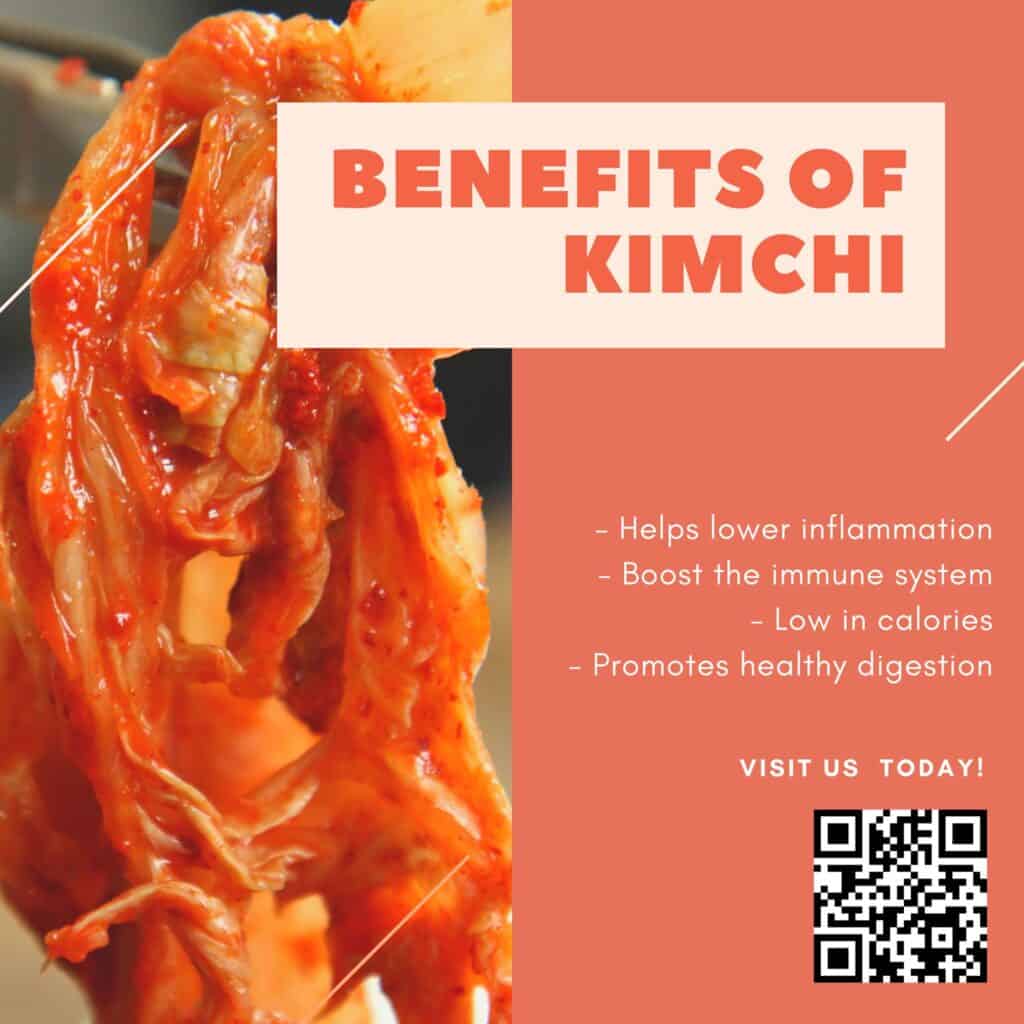 Fresh Shrimp – Fresh shrimp can be grilled or cooked in soup. If you will grill it, it is best to dip it in a sauce to enhance its flavor.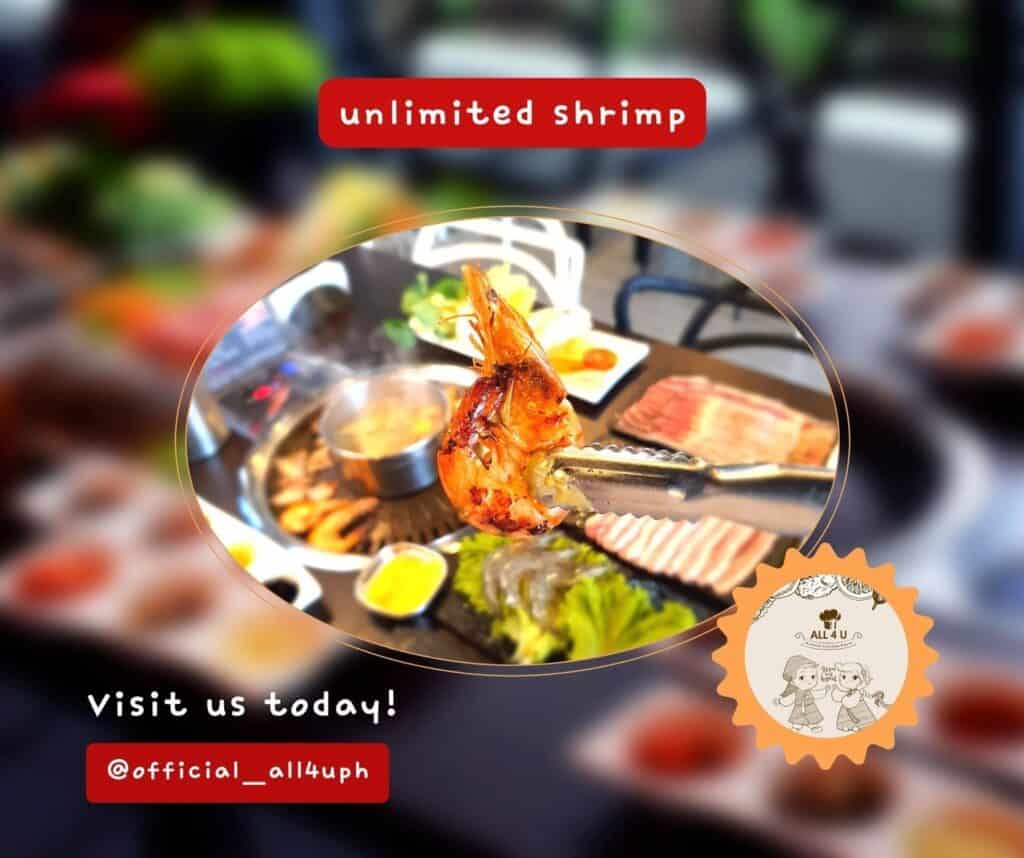 Add Ons
All4U offers sauce and other items that you can add to level up your dining experience. Spicy and Ssamjang are the two sauces that All4U offers. It adds flavor to grilled pork belly, beef, and shrimp.
To level up your Korean dining experience, it also offers Soju, Ice Cream, YoPoKki in cup and pouch, and Roasted Seaweed. Korean and Flavor Soju are the available alcoholic drinks that you can choose from. It is perfect to be paired with any dish and it doesn't have a strong alcoholic taste. For dessert, you can have Melona Ice Cream if you want to indulge yourself with something sweet.
Roasted Seaweed
Roasted Seaweed from the All4U menu is sold per piece. You can order 5 pieces to get an extra pack of it. It is a nutritious and delectable dish because it is produced from organic ingredients. It is made up of organic ingredients that make it a nutritious and delectable dish. This is also beneficial to health as it contains essential nutrients such as iodine, fiber, and vitamins.
Yopokki
Cheese and Sweet & Spicy are the two flavors of Yopokki. It is available in a 120 grams cup and 240g pouch. It is a popular snack in Korea that is bursting with flavors. This instant rice cake dish is easy to cook and convenient to eat. Its distinct texture and flavor make it one of the most-sought Korean snacks.
Family Set
The family set is good for 5 to 7 people. It consists of 500 grams of Shrimp, Beef Samgyupsal, Pork Samgyupsal, Marinated Pork, Marinated Chicken, and Fresh Kimchi. There are also 4 kinds of sauce in 2 sets, one ramen, and lettuce. You can also choose one from the four available soups. The soup options are Bulgogi Soup, Fishcake Soup, Kimchi Jjigae, and 500 grams of Kimchi.
This menu from All4U is perfect if you want to eat your favorite All4U dishes in the comfort of your home with your family. If your family is a fan of Korean culture, this family set is a must-try. Cooking, preparing, and eating this family set is a good quality time that you can enjoy with your loved ones.
Party Set
The Party set is good for 13 to 15 people. The includes 1000 grams of Shrimp, Beef Samgyupsal, Pork Samgyupsal, and Marinated Pork; 500 grams of Marinated Chicken, Korean Fishcake, and Fresh Kimchi; 4 sets of 4 Kinds of Sauce; and Two Ramen and Lettuce. You can choose two soups from the 4 kinds of soup that it offers. The soup selections are Fishcake Soup, Bulgogi Soup, Kimchi Jjigae, and 500 grams of Kimchi.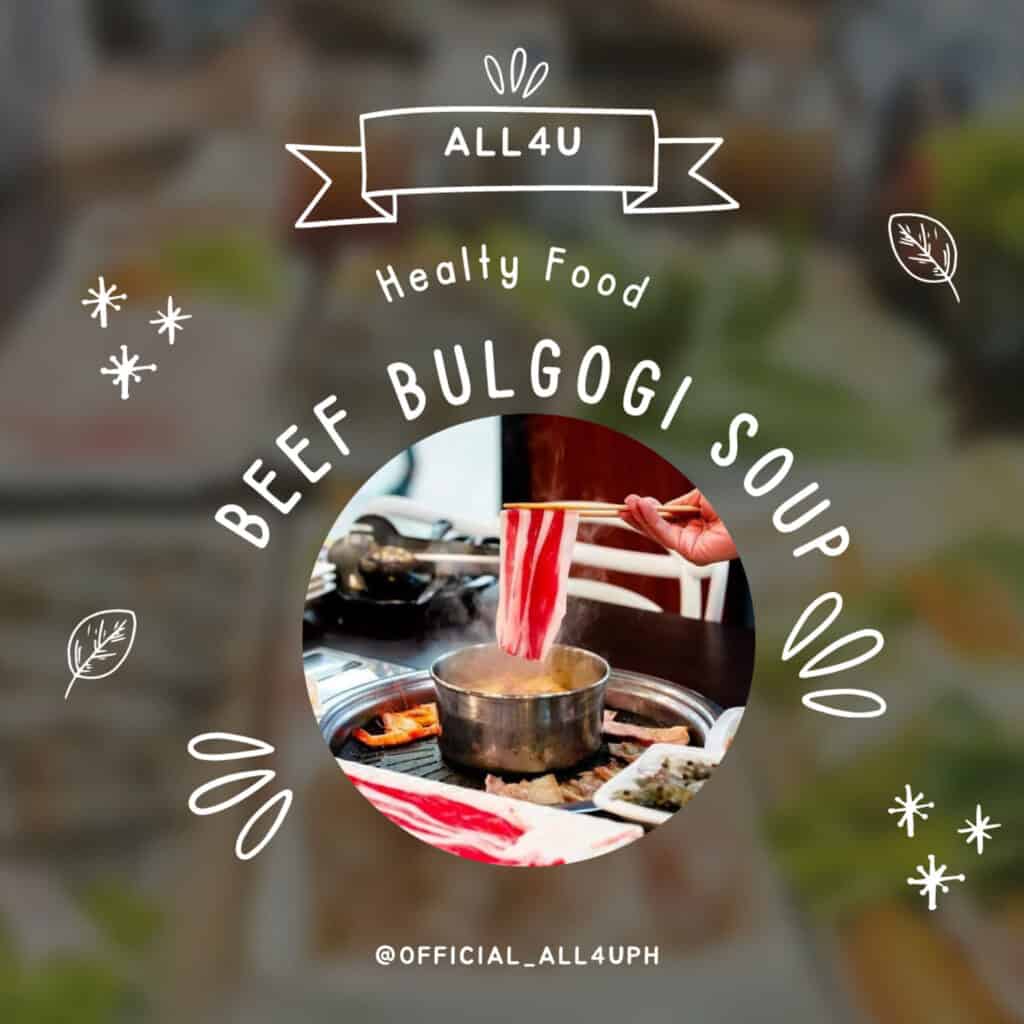 This party set is ideal for small gatherings or celebrations with your family or friends. If you want to make a Korean-themed celebration, this party set is perfect for you.
All4U Menu Unlimited
The unlimited set that it offers costs Php 599 per head. It offers unlimited Fresh Shrimp, Pork Belly (Samgubsal, Korean Cut), Beef Brisket (Chadol, Korean Cut), Korean Fishcake (Busan), Marinated Chicken in Korean Tradition Sauce, Soup, Vegetable, Rice, Sauce, and Side Dish.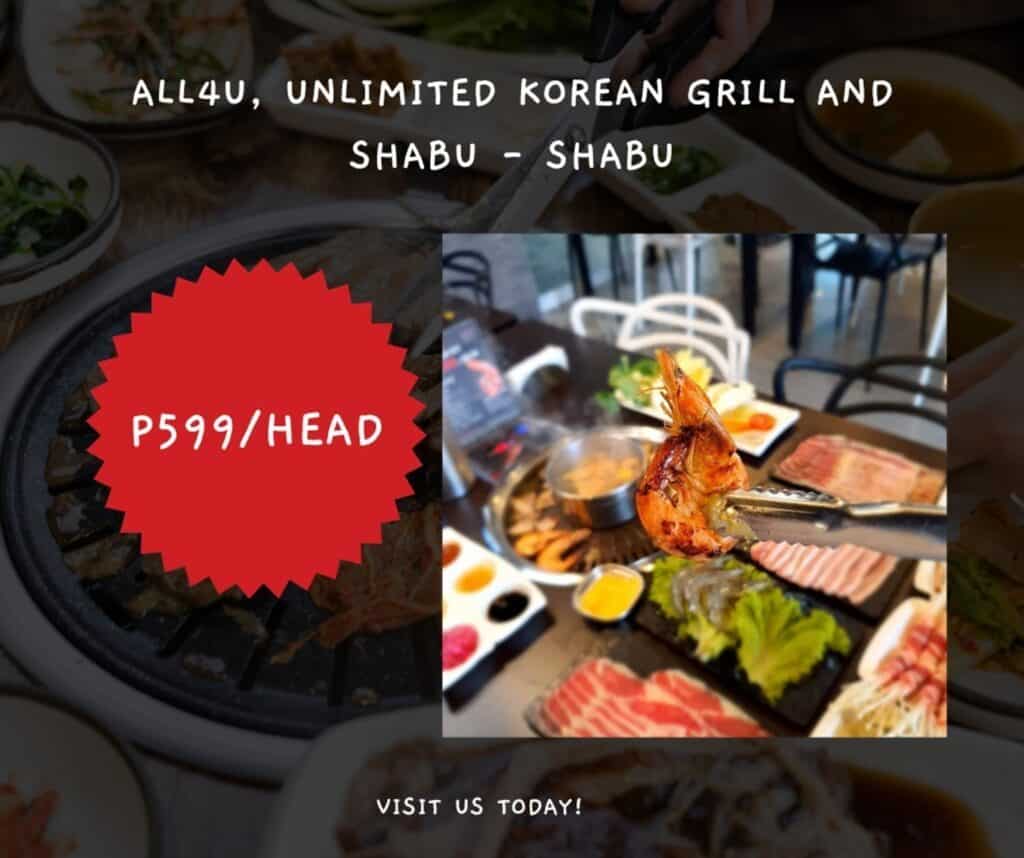 The additional offer consists of Korean Ramen, Bottomless Iced Tea, and 1 Korean Ice Cream. The soup options are Organic Shabu-Shabu, Kimchi Jjigae, Fishcake Soup, and Bulgogi Soup.
Bulgogi flavor is the most sought and recommended soup because of its sweet and savory flavor. Kimchi flavor is an ideal soup if you want something hot and spicy. A pack of ramen is mixed with your choice of soup. You can disregard the powder pack or put only a little if you don't want spicy soup. You can also request a cup of rice for a complete meal. The unlimited meal is only available for dine-in.
All4U Menu Delivery
All4U menu is not available through online delivery platforms. Delivery is only available in selected branches. Visit their social media pages to check their store directory, know if they deliver in your area, and arrange your orders.
Talk to All4U PH Staff
You can visit their social media accounts and talk to their staff about your concerns, reservations, or reviews about their services and they will respond back to you. They are actively posting about their promotions, and new food menu alerts so might as well like or follow their pages by referring to the links below.
Facebook: https://www.facebook.com/hiall4u
Instagram: https://www.instagram.com/official_all4uph/
Conclusion
All4U menu is ideal for those who want to indulge themselves with unlimited grill and shabu-shabu. The restaurant has fast service and its staff are attentive. With unlimited food, you'll have more food to enjoy and stories to share with your friends or family as it allows customers to stay in the restaurant for three hours. It may be expensive for some, but the quality of food and the time with your loved ones are priceless. It also offers promotions and discounts to kids, senior citizens, PWDs, and birthday celebrants.