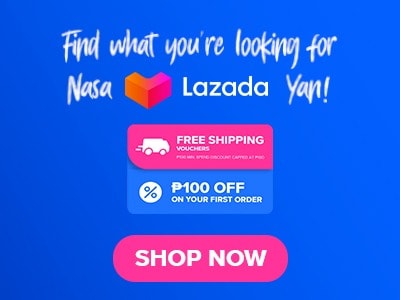 Ever since Filipinos were introduced to Korean culture, we have been wanting to follow what they do and what they eat. The trend of samgyeopsal here in the Philippines has not yet stopped. It still has been trending among young people. The Samgyupsalamat menu offers a delicious Korean unlimited barbecue. It gives people a glimpse of Korea. Samgyeopsal gained popularity in the Philippines after Korean dramas and movies arrived there. Many locals and Filipinos, in general, were interested in them and spent more time viewing these kilig Korean movies while confined to the community until such a pattern caught the public's interest.
About Samgyupsalamat
Samgyupsalamat, a Korean Unlimited BBQ restaurant, is owned by YHK F&B Incorporation. The restaurant now has 7 locations, 5 are undergoing restoration and will likely open this year, and more than 10 more are planned for Metro Manila in 2018. The result of combining the two is Samgyupsalamat. Although it is sort of a language prank, it also has a meaning: Thank you for eating Samgyupsal.
Korean barbecue is a well-liked technique for grilling meat in Korean cuisine, usually beef, hog, or chicken. Such foods are frequently cooked on barbecues using gas or charcoal that are integrated into the dining table. Korean barbecue is a well-liked technique for grilling meat in Korean cuisine, usually beef, hog, or chicken. Such foods are frequently cooked on barbecues using gas or charcoal that are integrated into the dining table. Customers can utilize portable stoves at their tables at some Korean restaurants that don't have built-in grills. Alternately, a chef will create items that are made to order on a grill that is prominently displayed.
Samgyupsalamat Menu Best Seller Meat
It offers 5 types of pork and 6 types of beef slices. Here are some of its best sellers:
Pork
Daepae – This Samgyupsalamat menu is made of a thinly sliced pig belly that has been marinated in a flavorful spice sauce resembling Yangnyum Beef Samgyupsal Naturally. The belly of the pig is where the flesh from the pork belly is sourced. It typically has some fat on it and when cooked, resembles thick-cut bacon almost exactly. Although it doesn't have quite as much flavor as bacon, it is still really tasty.
Gochujang – It tastes quite salty, flavorful, and a little bit hot. It's not a one-note hot sauce you add to a dish after the fact; gochujang traditionally receives its mild sweetness from its fermentation process, which lasts for several years and sees the starches in the rice transform to sugars. Promote gochujang as the new Sriracha to see Korean cooks bristle.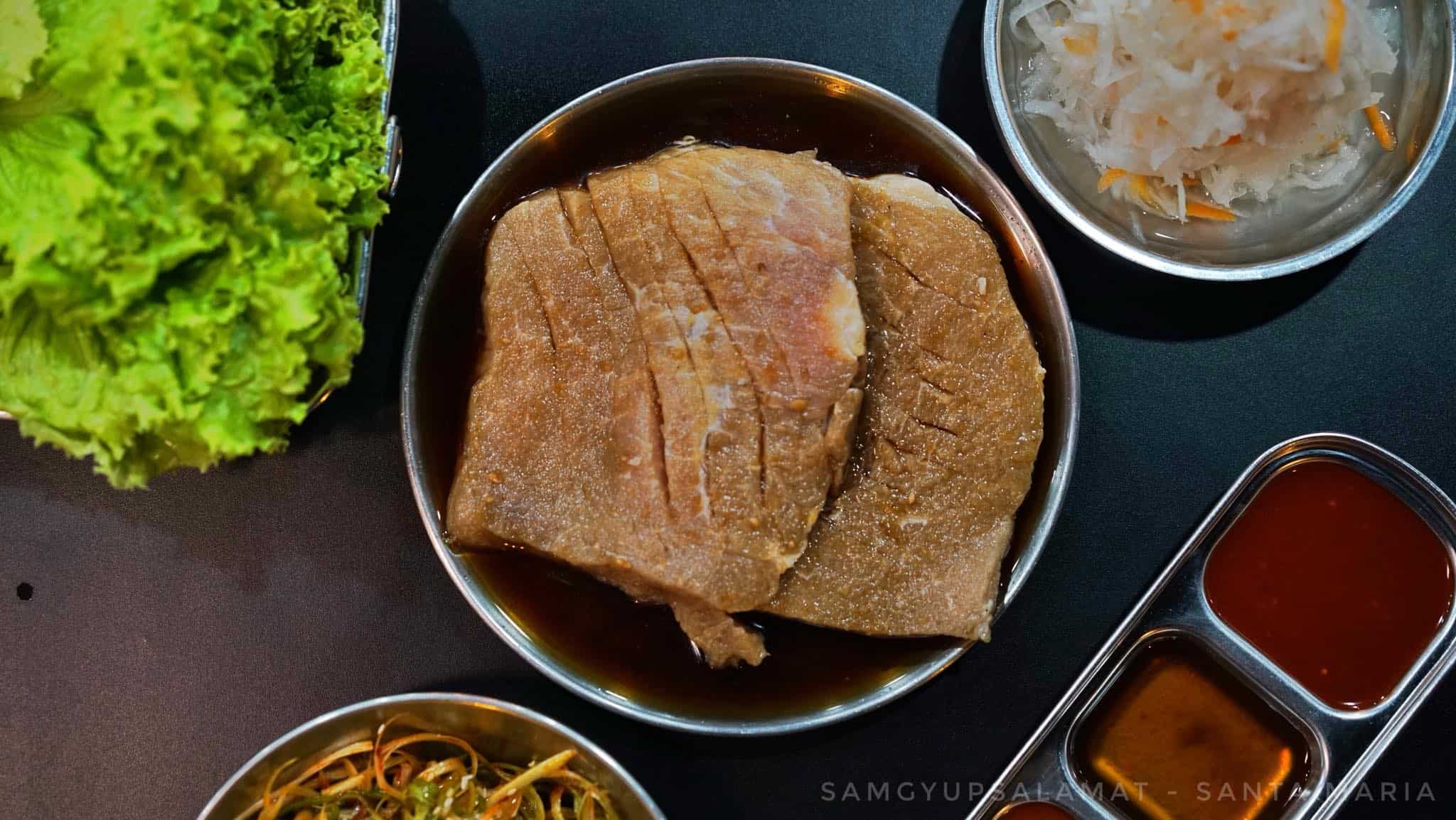 Yangnyum Moksal – The neck end or collar, which rests above the shoulder, can be divided into the blade and the spare rib to differentiate from the short ribs that are so common on barbecues. It is mildly fatty and widely utilized to produce inexpensive chopped, minced, or bacon from pigs.
Beef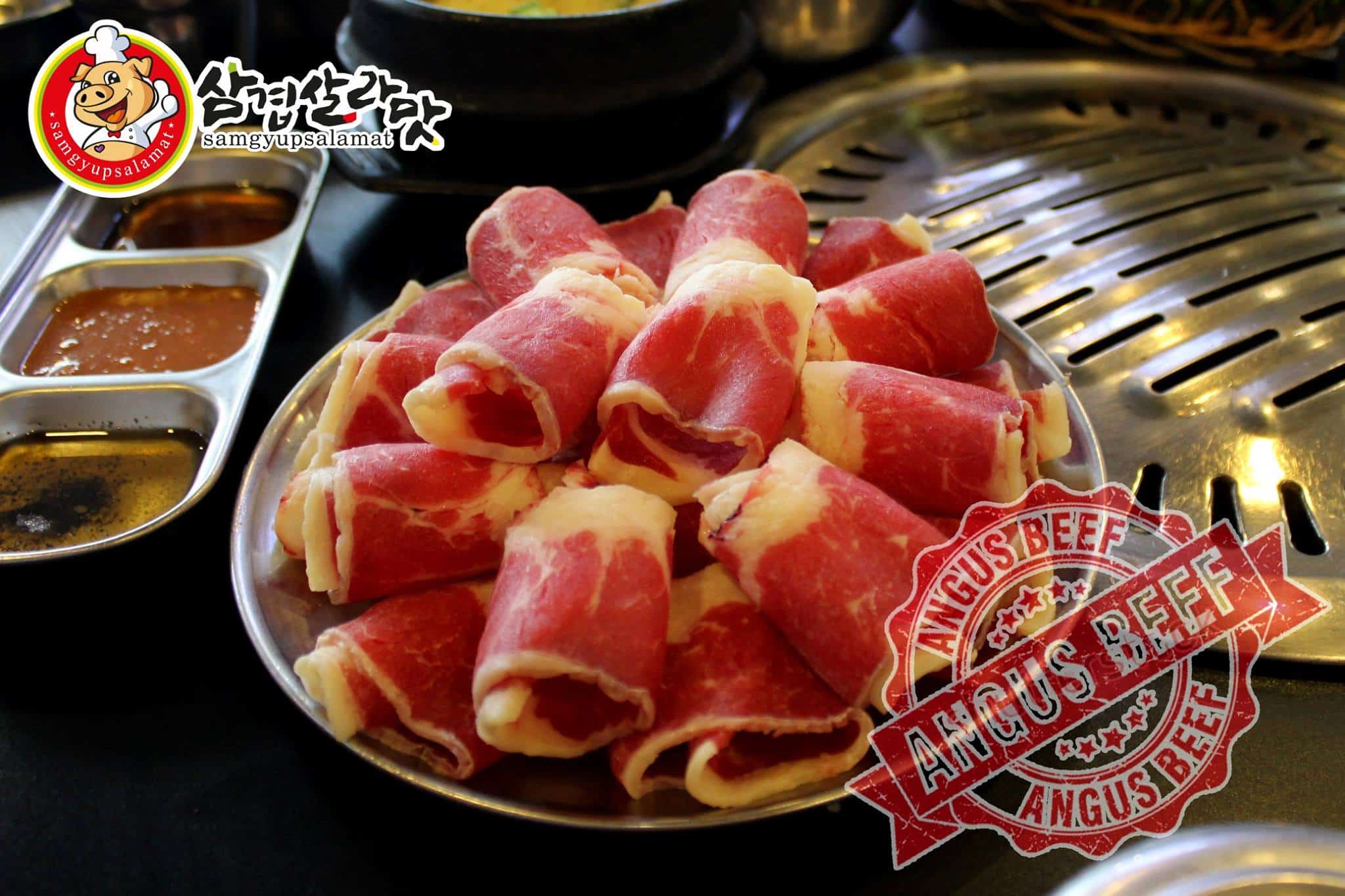 Beef Samgyup – The food in this Samgyupsalamat menu looks like bacon but hasn't been properly cured, so it doesn't taste like bacon. It has a lot stronger meaty, earthy flavor than bacon flavor. In any event, the sensation is visceral, and the flavors are extraordinary. Is a dish served as part of a Korean barbecue? It is the region of the abdomen that extends from the fifth or sixth rib to the hind limb beneath the loin. Similar to how the word galbi, which means ribs, frequently refers to galbi-gui grilled beef ribs, the word samgyeop-sal, which means pork belly, frequently refers to samgyeop-sal-gui grilled pork belly in Korea.
Yangnyum Beef – Short ribs of beef marinated in a flavorful spice sauce. All Samgyupsalamat branches use European-imported Angus beef.
Sarsa beef – Beef is served with a sweet Filipino sauce.
Samgyupsalamat Side Dishes
Onion – A side dish made with onion that has been thinly sliced. seasoned with vinegar, sugar, and soy sauce.
Radish – This is a side dish that uses radish that has been julienned. seasoned with salt, sugar, and vinegar.
Kimchi – A hot side dish from Korea made with salted, fermented vegetables like cabbage and radishes.
Marble Potato – Potatoes with a sweet-and-salty sauce coating
Fish Cake – Fish cake with spice sauce is stir-fried.
Japchae – Made with noodles made in Korea using sweet potato starch and vegetables
Pamoochim – Contains juliened green onions. seasoned with sesame oil, red pepper flakes, and vinegar.
Samgyupsalamat Drinks Menu
Any restaurant will have the same cocktails that Samgyupsalamat offers. They have a Korean wine called Soju that sticks out. Soju has a taste similar to sweet vodka and is generally flavorless. It doesn't exactly have the same burn as vodka because of its modest alcohol content. It does have a mildly bitter aftertaste, which some individuals could find unpleasant. Soju can also be compared to fruit juice with alcohol because it has a sweet flavor.
Samgyupsalamat Menu Delivery
Samgyupsalamat rapidly changed to include delivery options for their delectable menu. They do not have a website, but you can arrange a pick-up by calling the branch that is closest to you. You might also place an order using the Foodpanda or Grabfood apps.
Social Media Pages
To make sure that you get the latest news about their restaurant, you need to subscribe to their newsletter or simply follow their social media pages in the following:
Facebook: https://www.facebook.com/Samgyupsalamat/
Instagram: https://www.instagram.com/samgyupsalamatph/
FAQs
Is Samgyupsalamat unlimited?
Samgyupsalamat has an ala carte menu in addition to endless possibilities.
Is there a time limit in Samgyupsalamat?
It may offer unlimited food, but it does not offer unlimited time this is due to strong demand in its stores. There is a time limit of 100 minutes.
Can I eat alone at Samgyupsalamat?
There must be a minimum of 2 guests per table. Even if you're traveling alone, you'll have to pay for two passengers.
Conclusion
From fewer clients per day to line-waiting customers. This is the tale from the Samgyupsalamat menu. Like many enterprises, they experienced many difficulties in the beginning, but they persisted. We made everything possible so that their financial difficulties did not prevent them from pursuing what they truly desired, which was to make their consumers happier and more fulfilled. They worry about the food quality even if they serve an endless supply of meat. The greatest meats, including imported meats, are served to our customers along with the best-tasting sides and a unique sauce that only Samgyupsalamat can provide.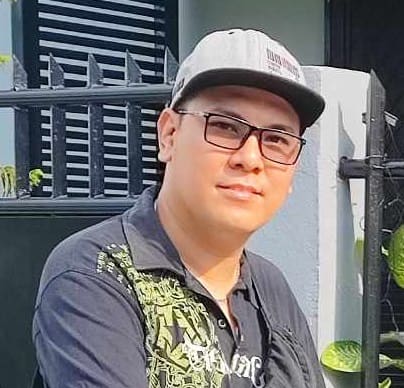 Hi! I'm Nivek Strife, the person who made MenuPH. I'm the one who added most of the popular menus you see on this website, and I really hope you enjoy them! Feel free to check them all out.
Growing up, I was surrounded by lots of tasty foods, like the classic Adobo and the sweet Leche Flan. That love for the many flavors of the Philippines is what got me excited about adding to MenuPH. When I learned how to make websites, I saw the need for a place to show off all the amazing Filipino dishes, and that's how MenuPH started.
MenuPH isn't just a website; it's like a fun journey into food. I've teamed up with famous chefs and found great places all over the Philippines to bring you a bunch of menus that show off the best of Filipino cuisine. Whether you're into the usual dishes or new twists, MenuPH is here to guide you through the rich world of Filipino flavors.
With MenuPH, my aim is to help local businesses, talk about good food choices, and make a group of friends who love food. No matter if you like fancy restaurants or street food, MenuPH has something for you. Come join me on this food adventure as we find great places, taste real flavors, and enjoy the unique food traditions that make the Philippines awesome.