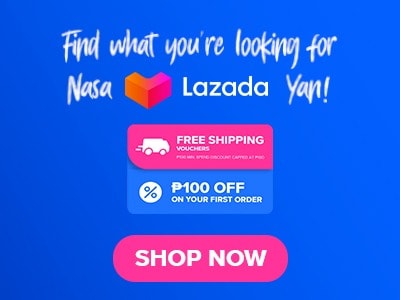 Yakumi menu features authentic and finest Japanese cuisine. It offers appetizers, salad, soups & chawanmushi, tempura & agemono, sashimi & sushi, live lobster, makimono, seafood, rice, noodles, meat, and desserts. It also provides special teppanyaki dishes created by Chef Norimasa. These dishes are cooked using traditional and contemporary Japanese cooking methods to create cuisines that are flavorful and unique. There are also Sunday brunch and seasonal dishes such as its best tairagi, a Japanese pen shellfish.
Below, you'll find the updated list of Yakumi menu prices.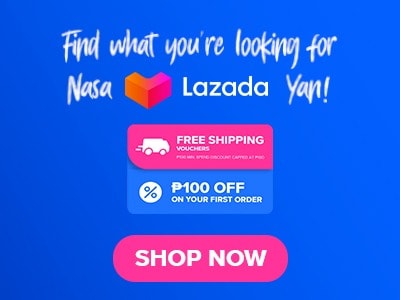 Menu Items
Price (PHP)

Appetizers

Agedashi
520
Ebi mayo
880
Edamame
280
Gillardeau oyster with yuzu ponzu (3 pcs)
2650
Hamaguri sakamushi
1280
Ika karaage garlic soya
680
Nasu dengaku
980
Usuzukuri of the day
980

Salad

Kani salad
1180
Mushidori banbanji
880
Salmon skin
680
Tofu and avocado
650

Soups and Chawanmushi

Akadashi
270
Chef 's daily soup
220
Egg custard 'Chawanmushi'
370
Lobster miso
860
Salmon ishikari shiru
680

Tempura & Agemono

Ebi tempura
1280
Hotate tempura
1280
Ika tempura
680
Seafood kakiage
1120
Soft shell crab tempura
880
Tempura moriawase
1120
Yasai tempura
480

Sashimi & Sushi

Tuna (Sashimi)
980
Tuna (Sushi)
380
Salmon (Sashimi)
980
Salmon (Sushi)
380
Ebi (Sashimi)
980
Ebi (Sushi)
380
Red Lapu-Lapu (Sashimi)
980
Red Lapu-Lapu (Sushi)
380
Sawara (Sashimi)
790
Sawara (Sushi)
280
Ebiko (Sashimi)
580
Ebiko (Sushi)
280
Tamagoyaki (Sashimi)
490
Tamagoyaki (Sushi)
179
Unagi (Sushi)
530
Jokkaido Hotate (Sashimi)
1780
Jokkaido Hotate (Sushi)
560
Sushi sampler (seven types)
1980
Sashimi Sampler (five types)
1980

Live Lobster

Sashimi
Market Price
Tempura
Market Price
Grilled
Market Price
Teppanyaki
Market Price

Makimono

California special (4 pcs)
690
Fantastic 4 (6 pcs)
5800
Grilled salmon roll (6 pcs)
780
Salmon lover (4 pcs)
880
Seafood tartare roll (6 pcs)
1280
Soft shell crab roll (4 pcs)
820
Spicy tuna roll (6 pcs)
670
Takuwan (small size 6 pcs)
380
Unagi mango roll (6 pcs)
880
Veggie maki (6 pcs)
380
Volcano roll (8 pcs)
1180

Chef Norimasa Special Teppanyaki Dishes

Cherry blossom smoked black cod
2050
Chilean sea bass tsutsumiyaki
2480
Fresh black tiger prawns teppanyaki
1680
Hamachi teppanyaki
1780
Hokkaido hotate teppanyaki
2880
Ika teppanyaki
1180
Japanese Ohmi wagyu beef strip loin 9+ (100 grams)
7200
Japanese Ohmi wagyu beef tenderloin (100 grams)
8150
Soy mirin sous-vide duck breast
1780
U.S. prime beef tenderloin (150 grams)
2580
Yasai itame
480

Meat

Beef miso katsu
2480
Esguerra Farm kurobuta kakuni
1280
Crispy fried chicken with Yakumi dressing
680
Gyunabe hot pot 'sukiyaki' (for 1 person)
1980
Esguerra Farm kurobuta tonkatsu
1180
Tori teriyaki
800
Wagyu beef hobayaki
3650

Rice

Unadon
2300
Gyudon
1280
Mixed fried rice
880

Seafood

Chilean sea bass teriyaki
2480
Grilled fish of the day
2100
Grilled salmon head with salt
1930
Kampachi kama robatayaki
2480
Lapu-lapu karaage
3800
Sake steamed fish of the day with ponzu
2100
Salmon harasu shioyaki
880
Salmon head teriyaki
1930
Yosenabe seafood mixed hotpot
1180

Noodles

Hiyashi chasoba
980
Hokkaido miso butter ramen
680
Niku udon or soba
1320
Seafood ramen
1280
Shoyu ramen
680
Spicy tonkotsu ramen
680
Tempura udon or soba
980

Desserts

Chestnut mont blanc, salted caramel ice cream
380
Ice cream, or sorbet (3 scoops): matcha, mango, raspberry, yuzu
380
Japanese imported fruits, mango sorbet
Market Price
Matcha tiramisu, black sesame ice cream
380
Oreo ice cream mochi
380
Strawberry cheesecake macaron, white chocolate soil, strawberry ice cream
380
Tonka bean mousse, sweet corn cream gelato, hazelnut caramel
380

Yakumi Sunday Brunch

Yakumi Sunday Brunch (per person)
3888+

Season's Best: Tairagi (Pen Shell)

Tairagi teppan isobeyaki
2480
Tairagi sushi
780
Tairagi carpaccio
2180
Tairagi shinryoku age
2280
About Yakumi
Yakumi is a restaurant located at Solaire Resort and Casino that serves authentic and mouthwatering Japanese dishes. The top chefs of this restaurant expertly create Japanese cuisine using the finest and freshest seafood. Its stylish hardwood furnishings, well-lighted space, and luxurious ambiance create an ideal environment that sets the atmosphere for a special dining experience.
Yakumi Menu Best Seller
These are blockbuster dishes of Yakumi that will give you a special Japanese dining experience.
Agedashi – It is made up of deep-fried organic tofu, warm fragrant broth, and vegetables. This dish is perfect for health-conscious diners as it provides a lot of nutritional value.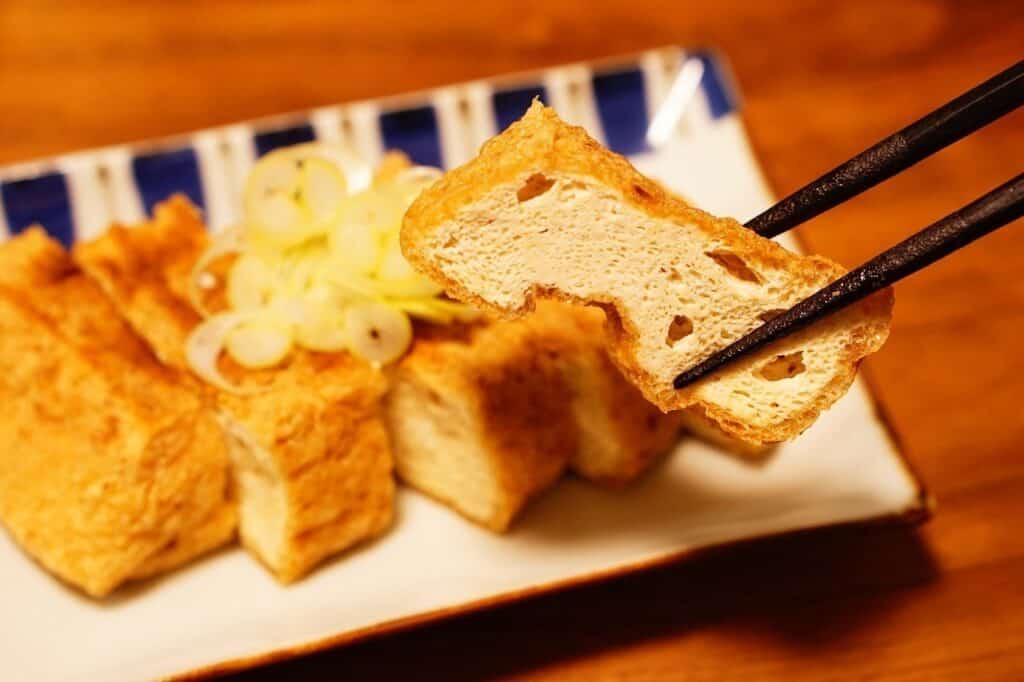 Tofu and Avocado Salad – This is a gluten and vegetarian dish that consists of silk tofu, avocado, and mixed greens dressed in sesame soya. It is a nutritious and healthy salad that will delight your taste buds in every bite making your dining experience more satisfying.
Ebi Tempura – This menu of Yakumi is made up of prawn tempura. It is one of the dishes that can be paired with other Japanese cuisines as its crispy texture and delicious flavor complements well with it.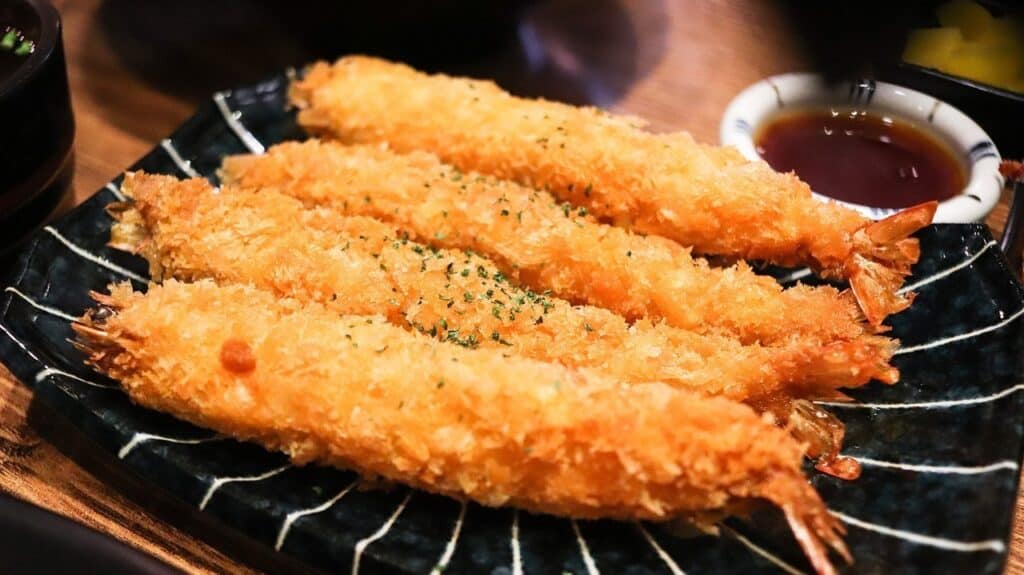 Volcano Roll – It is a signature roll of Yakumi that is made up of salmon, tuna, unagi, spicy mayo, cream cheese, and sweet soy. Volcano roll is one of the most recommended dishes of Yakumi as it is rich in flavor and texture.
Hotate Tempura – A seafood dish made with scallop tempura. Its tender meat and delicate texture are the special features of this dish that makes it one of the most loved dishes.
Yakumi Menu Appetizers 
Start your meal with these flavorful appetizers of Yakumi that are packed with goodness to stimulate your appetite.
Edamame – It is a vegetarian dish made with boiled, salted young soya beans. This dish is a good source of antioxidants, calcium, protein, vitamin K, magnesium, and fiber.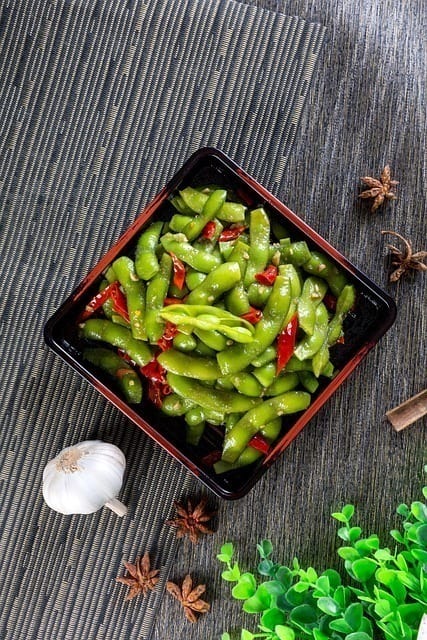 Ika Karaage Garlic Soya – Squid is deep-fried and served with garlic soya sauce. The aroma of squid and the savory taste of sauce are combined perfectly resulting in a simple yet delectable dish.
Ebi Mayo – Tiger prawn tempura is fried and coated with wasabi mayonnaise and micro herbs.
Hamaguri Sakamushi – Hamaguri clams are steamed and seasoned with garlic butter, tomato, and onion leeks.
Nasu Dengaku – It is a traditional Japanese cuisine made with deep-fried eggplant garnishes with gluten cake, tiger prawn, dengaku miso, and micro herbs.
Noodles & Rice
These are the comforting noodles and rice menu offered by Yakumi that are loved for their delectable taste. 
Spicy Tonkotsu Ramen – This noodle dish is made with ramen noodles, spicy pork stock, and pork belly.
Seafood Ramen – Seafood ramen is a flavorful dish that is made up of scallops, tiger prawns, squid, pork, and seafood stock.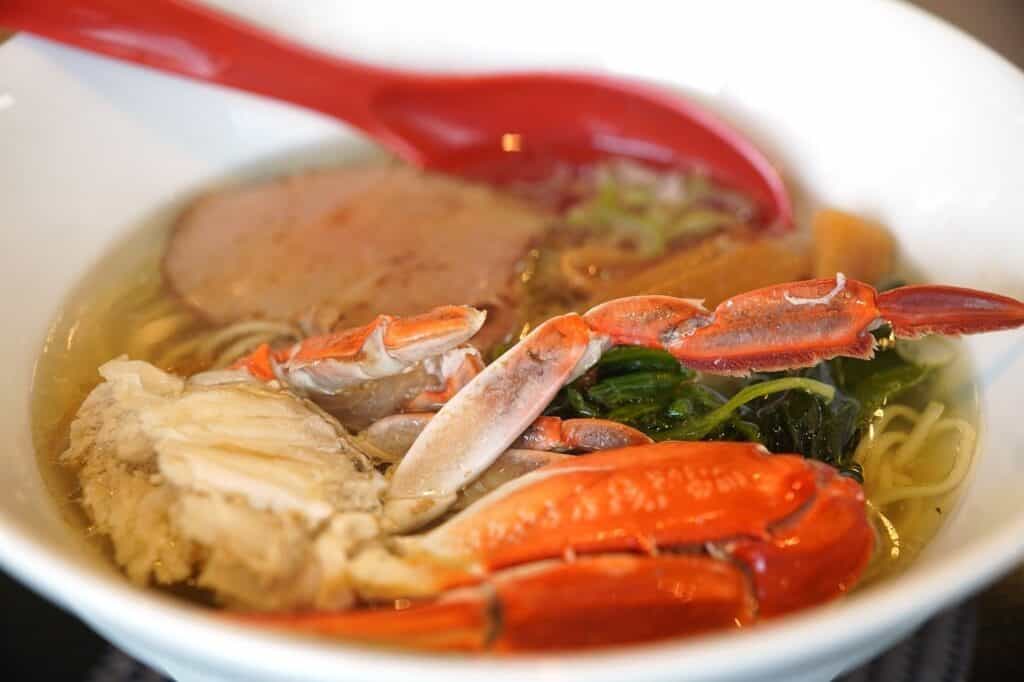 Hiyashi Chasoba – It is a delectable noodle made with cold green tea soba noodles and tempura.
Unadon – This rice bowl is topped with delicious unagi kabayaki. It is a traditional Japanese dish that has a firm texture, a pleasant aroma, and a sweet and savory flavor.
Mixed Fried Rice. A hearty and flavorful rice bowl topped with seafood, wagyu beef, and vegetables.
Salads
Yakumi offers delicious seafood, gluten, and vegetarian salad menu. The seafood salad that it offers are Salmon Skin, which is made up of crispy salmon skin and organic mixed greens dressed in sesame soya; and Kani Salad, a gluten seafood salad made with blue crab meat, mango, mixed greens, and tobiko dressed with Japanese mayonnaise. 
The gluten salad that it provides is Mushidori Banbanji which is made up of steamed chicken beast, cucumber, and mizuna with soy onion dressing. It also offers Tofu and Avocado, a vegetarian and gluten salad dish that is loved for its delicious flavor.
Each ingredient of these salad dishes has a special aspect that enhances their flavor making them healthy and delicious. It can be consumed on its own or as an appetizer or side dish.
Jet Fresh Fish & Seafood
The fresh fish that Yakumi offers is the live lobster which is available in sashimi, tempura, grilled, and teppanyaki. The seafood dishes that it offers are grilled fish of the day, grilled salmon head with salt, kamoachi kama robatayaki, lapu-lapu- karaage, sake steamed fish of the day with ponsu, salmon harasu shioyaki, salmon head teriyaki, and yosenabe seafood mixed hotpot. It also provides Chilean sea bass teriyaki, a Chef's recommended dish that is worth trying. These are the dishes that seafood lovers should not miss out on as they are made from the finest, fresh, and authentic ingredients that are skillfully cooked.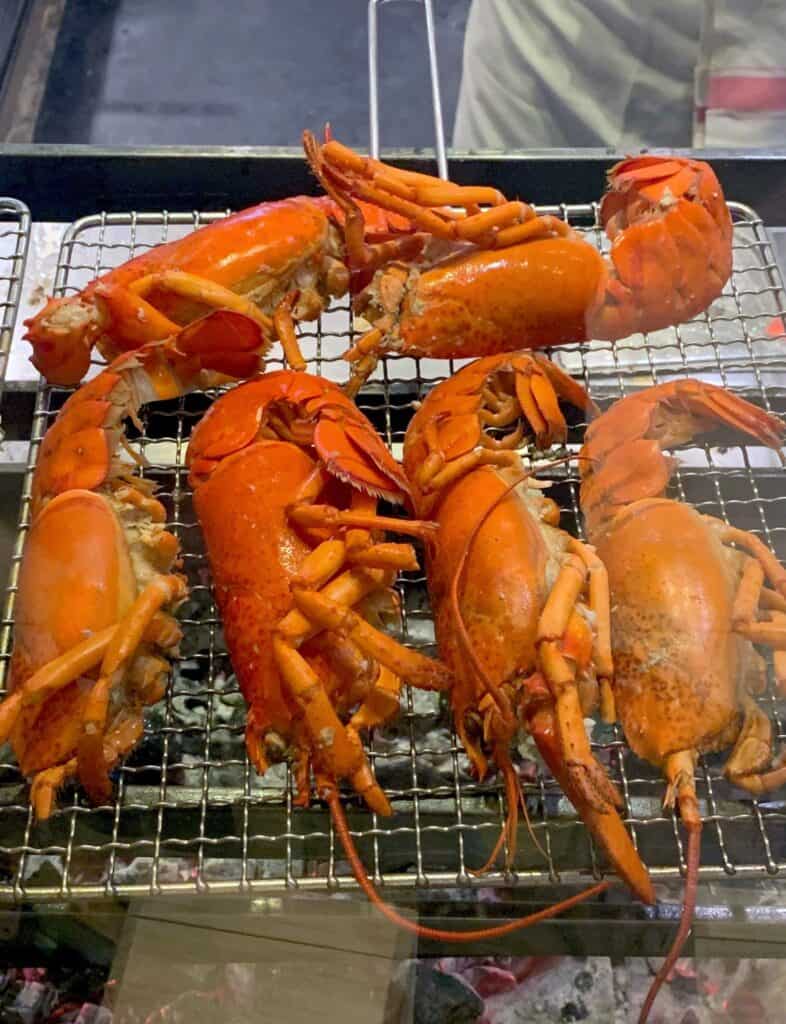 Sashimi and Sushi
Sashimi and sushi are two of the famous Japanese dishes that are well-loved for their delectable taste. The dishes that it offers are tuna, salmon, ebi, red lapu-lapu, sawara, ebiko, tamagoyaki, unagi, and Hokkaido hotate. It also provides a sushi sampler that consists of seven types of sushi; and a sashimi sampler, which includes five types of sushi dishes. Fresh and quality ingredients are used to make these dishes flavorful. These delicious sashimi and sushi menu of Yakumi are great options for those who want a light, healthy, and convenient meal. The taste of these well-known Japanese cuisines never fails to impress the crowd.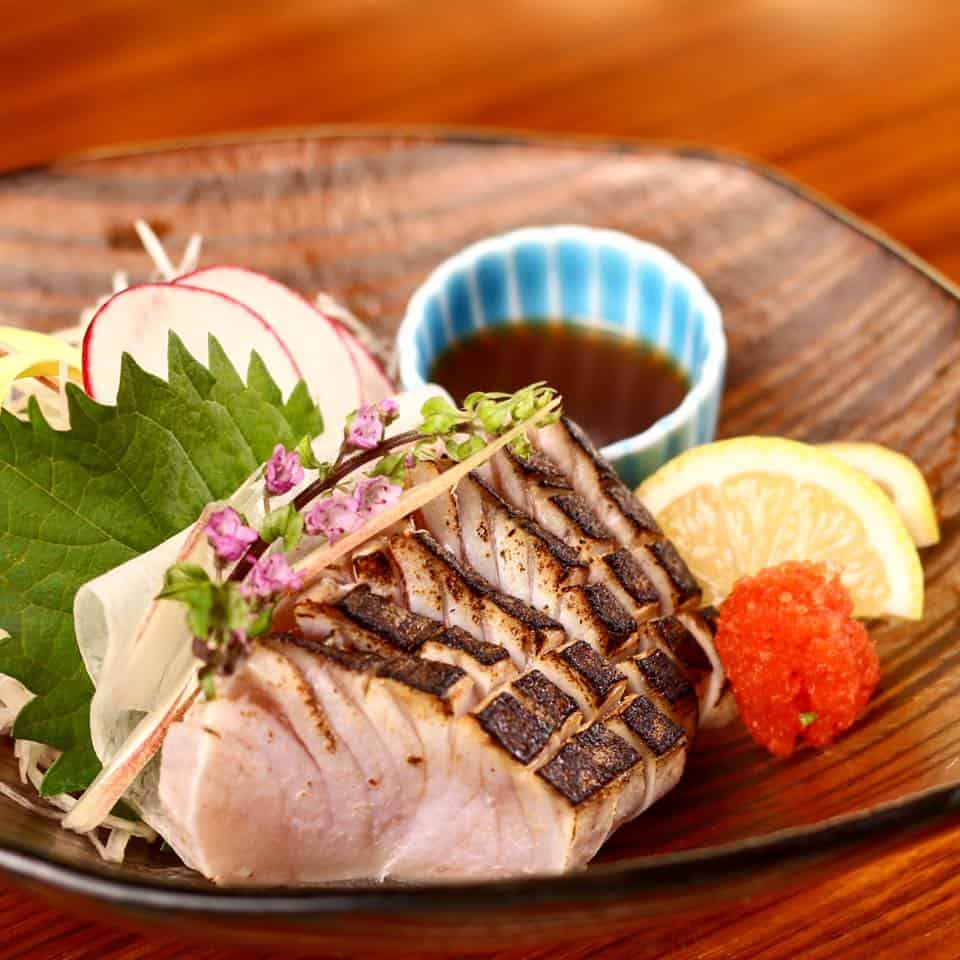 Yakumi Menu Delivery
Unfortunately, this restaurant does not currently provide delivery services and their menu is solely available for dine-in customers. However, you can relish their delicious meals by dining in during their lunch hours from 11:30 AM to 2:30 PM or during dinner hours from 5:30 PM to 10:30 PM, which are offered daily. Come and indulge in their mouth-watering dishes while enjoying the restaurant's ambiance.
Social Media Pages
Check out Yakumi Restaurant's social media pages to get hooked on their latest updates and promotions. Make sure to follow their pages to help them grow their online presence and keep up with their delicious offerings.
Facebook: https://www.facebook.com/YakumiAtSolaire
Instagram: https://www.instagram.com/solaireresort/
Twitter: https://twitter.com/solaireresort
Email: [email protected]
Website: https://www.solaireresort.com/dining/yakumi
Conclusion
The Yakumi menu showcases the art of Japanese cuisine. The superb dishes and top-notch service that it provides will make you come back for more. This is the perfect place for those who love authentic Japanese and seafood dishes. It is considered one of the best Japanese restaurants as it has impressive dishes, friendly and welcoming staff, stunning views, and a luxurious ambiance.