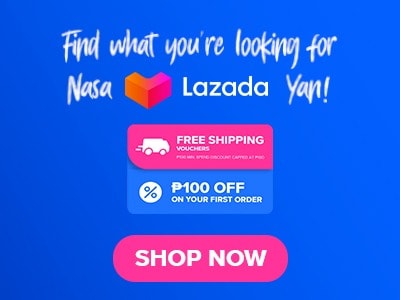 Get ready to taste the incredible flavors of Japan with the super-duper awesome Omakase menu! Inside, you'll find a bunch of yummy dishes like starters, sushi, noodles, and more! Each dish is made using special and secret Japanese cooking tricks passed down through generations! How cool is that?
And wait, there's even more fun! Omakase doesn't just stop at regular meals; they've got something for everyone! They can cater to your parties and celebrations, making them extra special and unforgettable! So, whether it's a birthday bash, a family get-together, or any other super-duper exciting event, Omakase has got your back! Don't miss out on these unique and authentic Japanese flavors – they're waiting just for you! Yum!
Below, you'll find the updated list of Omakase menu prices.
Menu Items
Price (PHP)

Best Sellers

Katsudon
320
Dynamite Roll
380
California Maki
260
Gyudon
390
Salmon Sashimi
420
Beef Teppanyaki
490
Ebi Tempura
435
Pork Gyoza
250
Spicy Tuna Salad
395
American Dream
310
Miso Soup
85

Starters

Miso Soup
85
Omakase Soup
105
Seaweed Salad
255
Spicy Tuna Salad
395
Seafood Crepe Salad
365
Mikado Salad
365

Small Plates

Beef Gyoza
270
Pork Gyoza
250
Salmon Vegetable Gyoza
250
Seafood Dumplings
275
Okonomiyaki
305
Oyster Butteryaki
395
Salmon Skin Crunch
250
Seared Salmon
405
Gyu Chisu Maki
270

Sushi

Salmon Sashimi
420
Salmon Nigiri
360
Salmon Aburi Nigiri
220
Tuna Sashimi
420
Tuna Nigiri
420
Ebi Sashimi
385
Ebi Nigiri
405
Kani Sashimi
260
Kani Nigiri
240
Uni Sashimi
360
Uni Nigiri
290
Tamago Sashimi
250
Tamago Nigiri
230
Mix Sashimi
230
Mix Nigiri
650
Chirashidon
495
Shakedon
510

Makimono

California Maki
260
California Crunch
270
American Dream
310
Crazy Maki
345
Rock N' Roll
330
Salmon Skin Roll
250
Philadelphia Roll
320
Tempura Maki
340
Boston Roll
340
Rising Sun
340
Omakase Roll
345
Spicy Maguro Roll
350
Sunset Roll
345
Dynamite Roll
380
Singaporean Roll
385
Kenji Maki
385
M2
385
Seabreeze Roll
405
Green Dragon Roll
420
Mount Fuji Roll
420
Jurassic Maki
425
Deep Blue Sea
465
Spider Roll
580

Boats

Sushi Boat
1580
Sar Boat
860
BDR Boat
1030
JSC Boat
1150

Main Entrees

Tonkatsu
280
Torikatsu
280
Tori Karaage
295
Chicken Teriyaki
355
Salmon Teppanyaki
405
Seafood Teppanyaki
590
Chicken Teppanyaki
355
Beef Teppanyaki
490
Salmon Head Teppanyaki
400
Yasai Itame
220
Tofu Steak
330
Saga Tofu
230
Agedashi Tofu
230
Salmon Shioyaki
400
Saba Shioyaki
395
Ebi Tempura
435
Kani Tempura
270
Kisu Tempura
270
Softshell Crab Tempura
750
Kakiage
280
Mix Tempura
395

Donburi

Katsudon
320
Salmon Katsudon
320
Tonkatsudon
320
Torikatsudon
320
Karaagedon
320
Salmon Belly Don
350
Teriyakidon
355
Tendon
370
Gyudon
390
Salmon Teriyakidon
400

Bento Box

Seafood Bento
690
Beef Bento
650
Chicken Bento
580

Noodles

Shhoyu Ramen
330
Tonkotsu Ramen
390
Tempura Soba
360
Zaru Soba
290
Tenzaru Soba
360
Cha Soba
290
Sukiyaki
420
Yakisoba
330

Rice

Steamed Rice
85
Fried Rice
95
Garlic Rice
90
Salmon Fried Rice
105

Sumo Bento

Sumo Bento A
1599
Sumo Bento B
1599
Sumo Bento C
1599

Party Trays

Regular Party Tray
2450
Special Party Tray
3100
Deluxe Party Tray
3100
About Omakase
Omakase is a Japanese restaurant founded in 2002. It starts as a small counter that offers take-out service. Since then, they offer authentic and delightful Japanese cuisines that satisfy the cravings of their customers. With the passion and dedication of the
management, it has grown into a full-service restaurant after twenty years and was able to build more branches in Metro Manila.
Omakase Menu Best Seller
These are some of the best-selling Japanese dishes of Omakase that are lauded for their delightful taste.
Katsudon – A delicious meal where rice is topped with pork, egg, scallions, and onions. The crispy breading and juicy tonkatsu go well with rice and other ingredients making this dish delightful.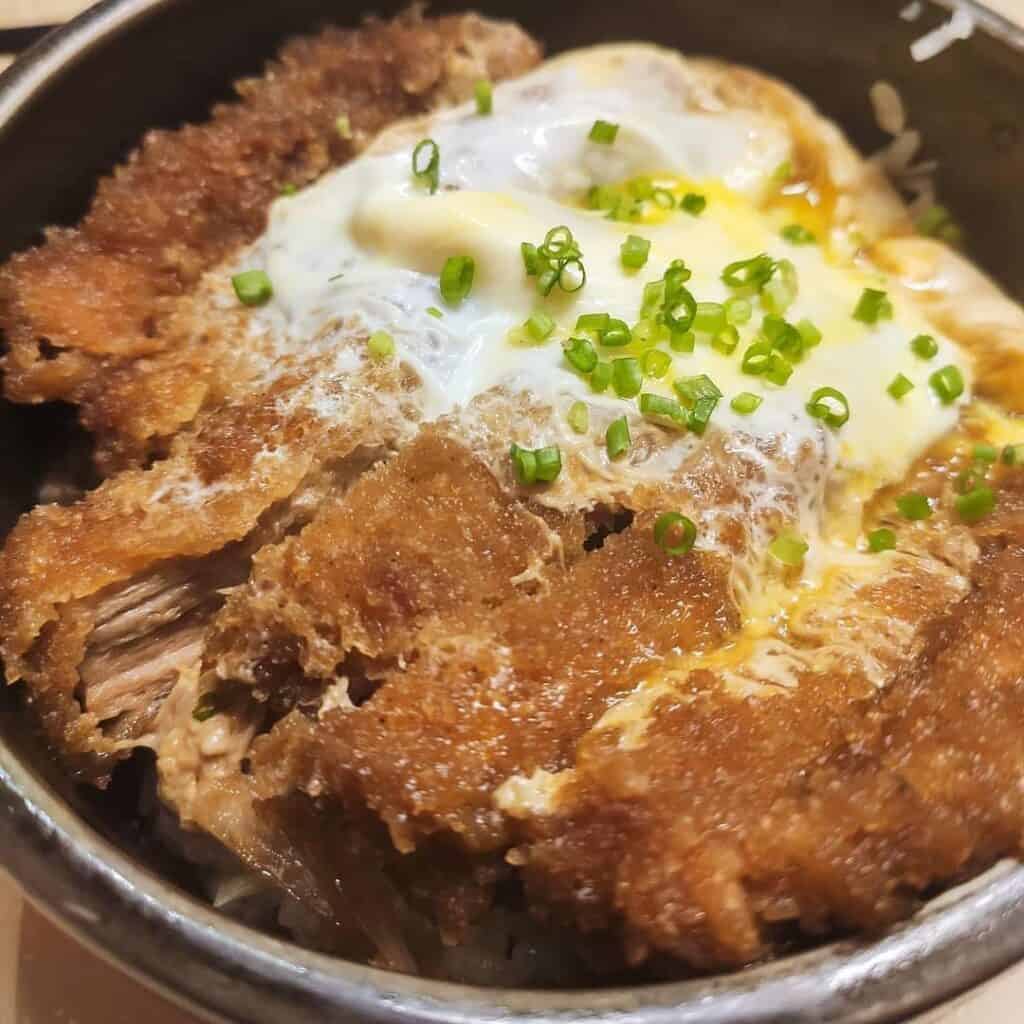 Gyudon – It is one of the well-known Japanese rice bowls as it is flavorful and tastes great. The aroma and flavors of beef, mushroom, onion, and egg over rice please the crowd making it one of the restaurant's best-selling dishes.
Spicy Tuna Salad – Spice up your meal with this salad menu from Omakase that consists of raw tuna cubes and other special ingredients with spicy dressing. The simplicity and savory goodness of this salad make it a great choice.
Beef Teppanyaki – It is a delightful dish that comes with tenderloin steak and sauteed vegetables. The special sauce that comes with makes it extra delicious. This fancy entrée never fails to please diners with its flavorful ingredients.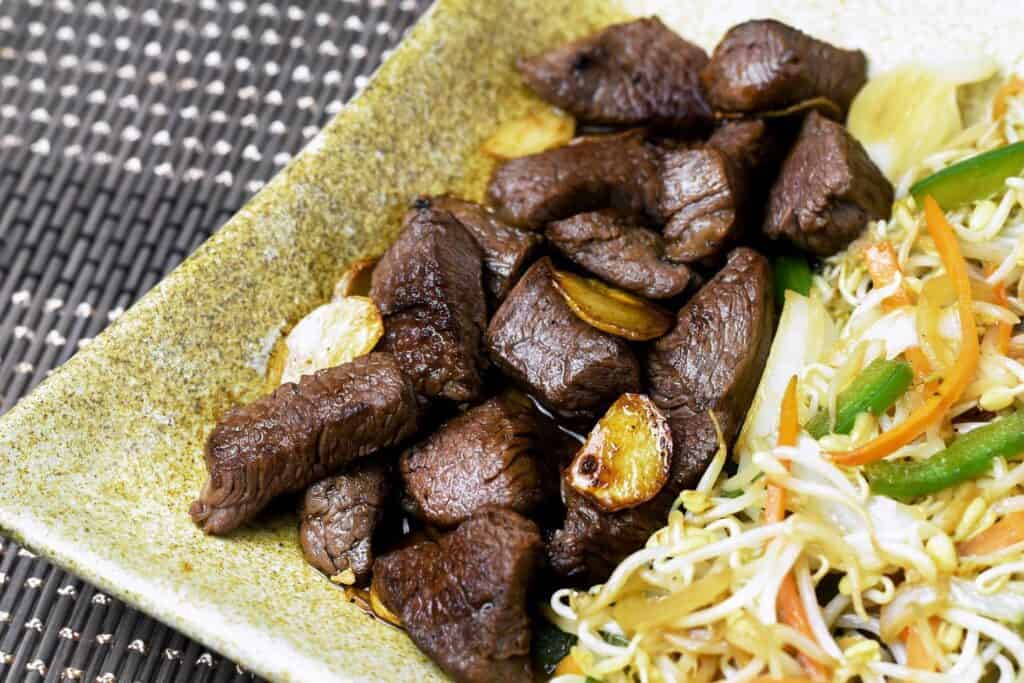 Dynamite Roll – This bite-sized and flavorful roll is made up of unagi tempura with a choice of spicy tuna or salmon. The spicy flavor of this dish always wakes up the senses and stimulates the appetite of diners.
Omakase Menu Starters
The starters of Omakase consist of comforting soup and flavorful salad dishes that will boost your appetite.
Miso Soup – A comforting soup made with tofu, seaweed, and spring onions. Aside from being healthy and delicious, it is also good for health as it contains protein and has low calories.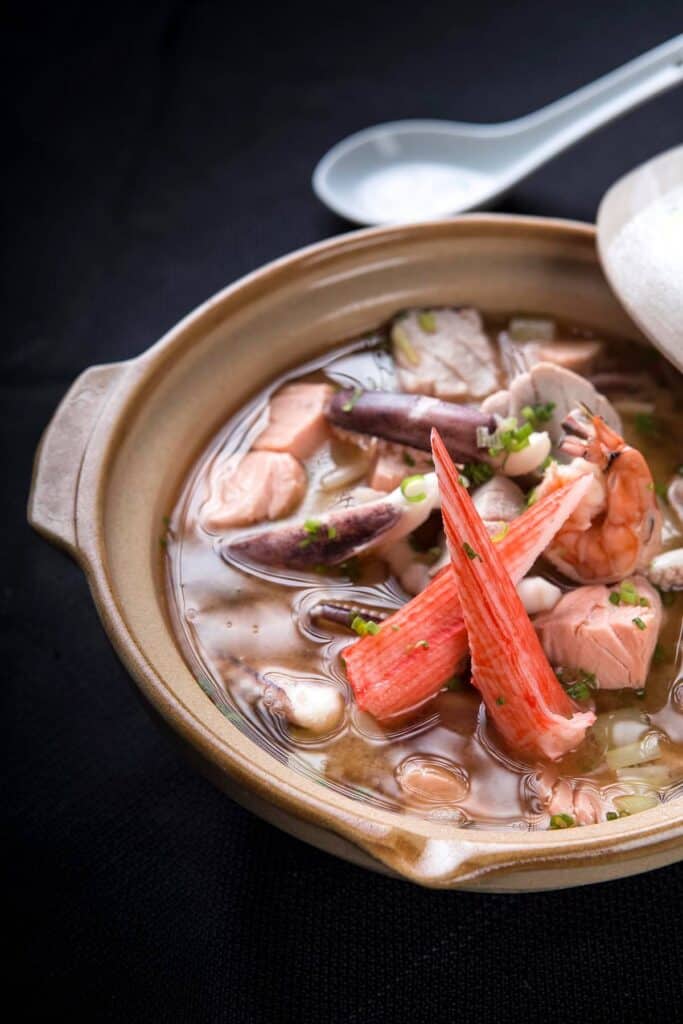 Omakase Soup – This is a special soup menu of Omakase that consists of seaweed, egg, and crab stick. Its warmth and comfort stimulate the taste buds making the whole dining experience satisfying.
Seaweed Salad – It is a salad made with shredded seaweed and vinaigrette. It provides a lot of health benefits as it is packed with nutrients such as iodine, vitamins, and minerals.
Seafood Crepe Salad – The ingredients of this salad such as tuna, squid, kani, shrimp, mayo, and chili oil makes this salad delicious and look festive. It is best to mix it well with crepe to enhance its texture making it crunchier and more fulfilling.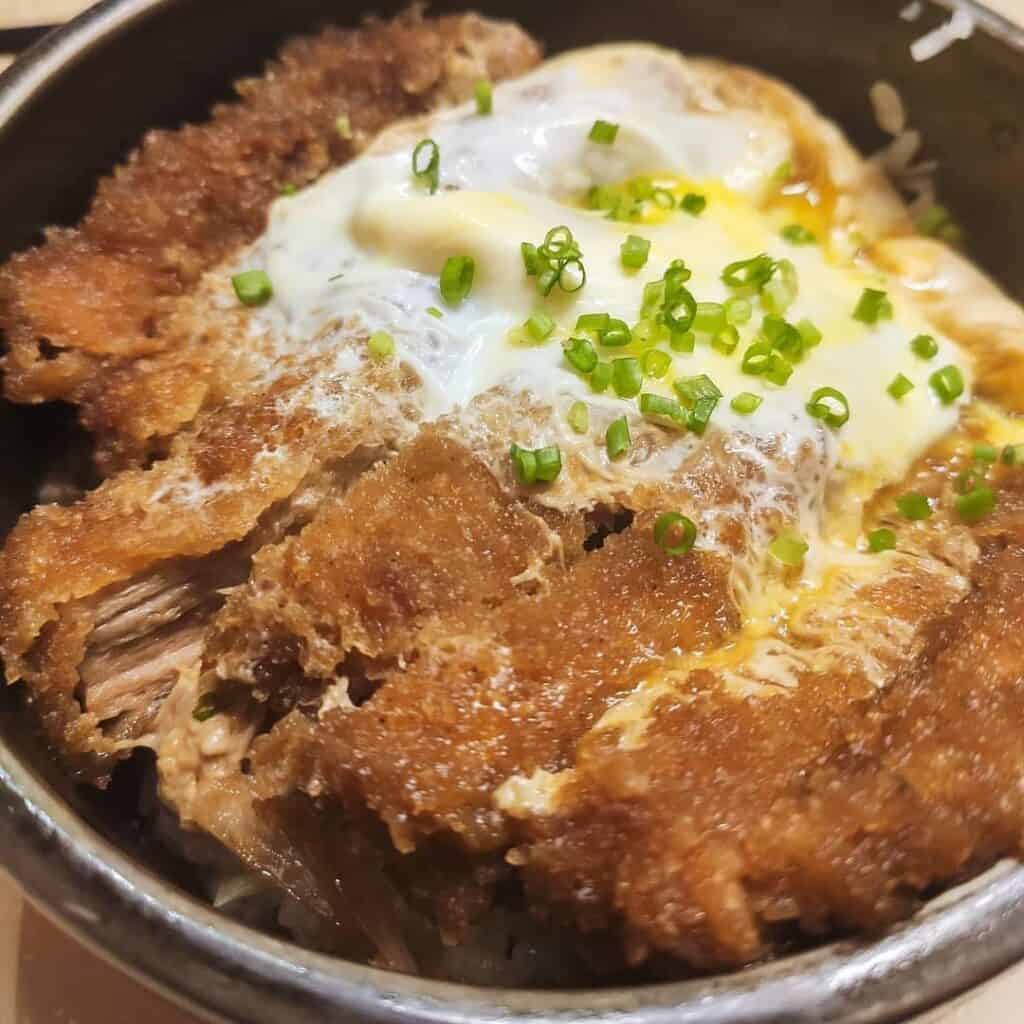 Mikado Salad – A salad dish that is packed with delectable flavor and texture as it consists of kani, apple, chicken, mango, cabbage, and lettuce. The colors of its fresh ingredients make this dish visually appetizing.
Omakase Small Plates Menu
The small plates of Omakase consist of bite-sized and flavorsome Japanese dumplings that are perfect for a quick snack.
Salmon Vegetable Gyoza – These deep-fried dumplings are made with salmon and vegetables. It is one of the must-try dumplings as its flavor will make you crave more.
Seafood Dumplings – This Japanese dumpling is made with deep-fried seafood wrapped in nori. Its fresh seafood and special seasonings create an exceptional flavor that never fails to delight customers.
Oyster Butteryaki – A delicious dish where oysters with butter are grilled and served with a special dipping sauce. The butter enhances the taste of this dish making it incredibly delicious.
Pork Gyoza – It is one of the best-selling dishes of Omakase that consists of savory minced pork wrapped in a dumpling dough. The exceptional and classic taste of this dumpling makes it a perfect dish that can be enjoyed at any time of the day.
Gyu Chisu Maki – This is an appetizing dish where beef fillet with soft cheese is coated with a crunchy golden batter and cooked to perfection. The savory goodness of this maki will make you come back for more.
Omakase Sushi Menu
The sushi of Omakase menu consist of sashimi and nigiri such as salmon, tuna, ebi, kani, uni, and tamago. It also offers mixed sashimi and nigiri for those who want to try its different variants. The sushi rice bowl that it offers are Chirasidon, where raw seafood is laid over rice; and Shakedon, where rice is topped with fresh salmon. These rice bowls are served with the restaurant's best-selling miso soup. These sushi dishes are highly recommended to be added to your meals as they will make your Japanese dining experience more pleasurable.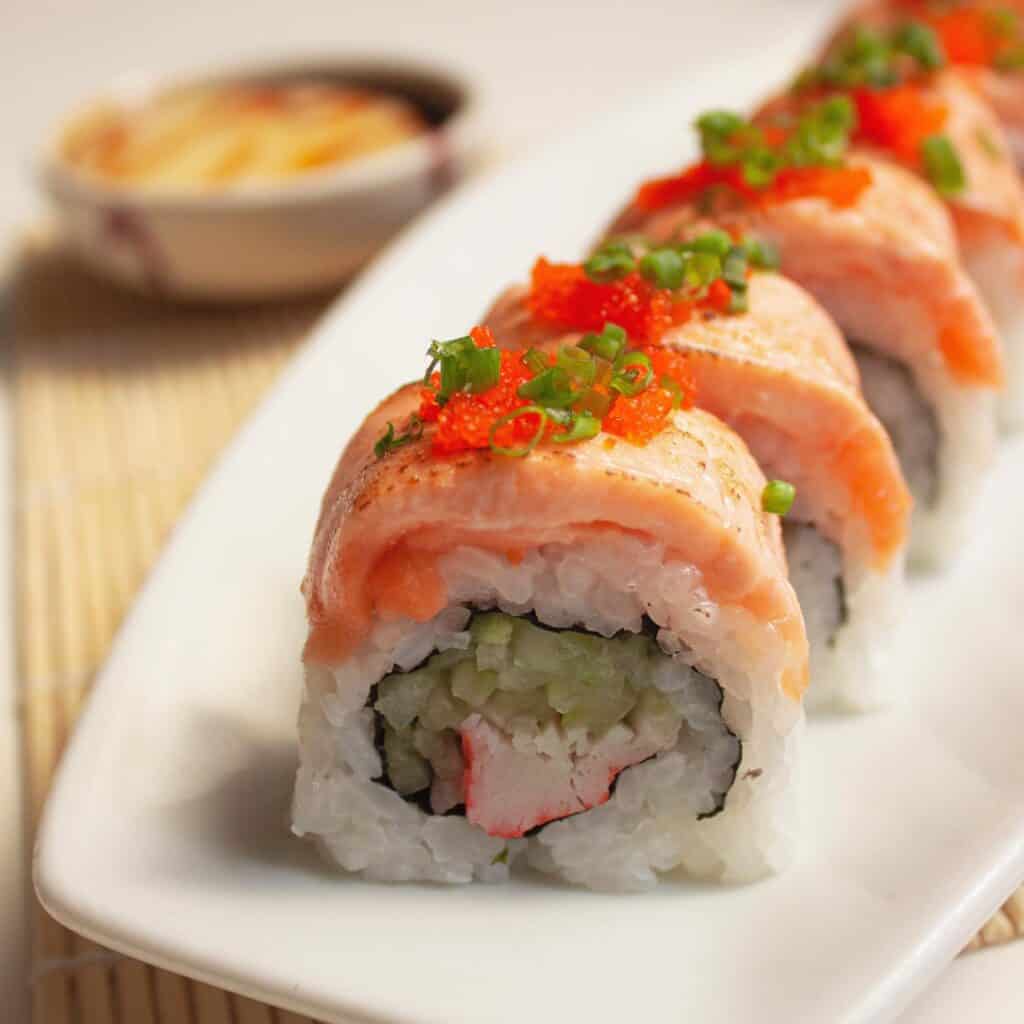 Boats
Experience the fresh flavors of the sea with these Japanese cuisines that are served on a boat-like food container. It offers Sushi Boat, which consists of Mount Fuji Roll, Sunset Roll, Salmon and Tuna Sashimi, Salmon and Tuna Nigiri, Ebi, Kani, and Tamago Nigiri; SAR Boat, which includes Salmon Skin Roll, American Dream, and Rock 'N' Roll; BDR Boat, which is composed of Boston Roll, Dynamite Roll, and Rising Sun; and JSC Boat, which consists of Jurassic Maki, Seabreeze Maki, and Crazy Maki. These boats are perfect for those who want a beach-themed celebration as they will take your loved ones on a fun seafood adventure.
Sumo Bento
Omakase offers three sets of Sumo Bento that are good for sharing of three to five people. It serves Sumo Bento A consists of Japanese Fried Rice, Tori Karaage, Beef Teppanyaki, Saga Tofu, and Ebi Furai; Sumo Bento B, which includes Garlic Rice, Tori
Karaage, Salmon Teppanyaki, Katsuni, and Tofu Steak; and Sumo Bento C that is composed of Yakisoba, Seafood Dumplings. Kakiage, Tonkatsu, and Chicken Teppanyaki.
These boxes will make your bonding with your loved ones more enjoyable as it consists of dishes that every member of the group will surely love.
Omakase Menu Delivery
Enjoy the flavors of Japan from the comfort of your home or office through online delivery. These authentic and classic dishes of Omakase are available on Grabfood. It is also available on its easy-to-use website at omakase.ph.
Social Media Pages
Following Omakase's social media pages are advisable so that you can stay up to date with their promos and discounts. Links are provided below.
Facebook: https://facebook.com/OmakasePH/
Instagram:https://www.instagram.com/omakase_ph/
Twitter: https://twitter.com/iwantomakase/
Conclusion
The Omakase menu is known for its authentic and mouthwatering Japanese cuisines. These dishes are crafted using fresh ingredients cooked by integrating a variety of Japanese culinary methods. It never fails to impress customers as the flavors of the
dishes that it serves blend perfectly. Its flavorful and wide array of products encourages its diners to come back and bring their loved ones to share a satisfying Japanese dining experience.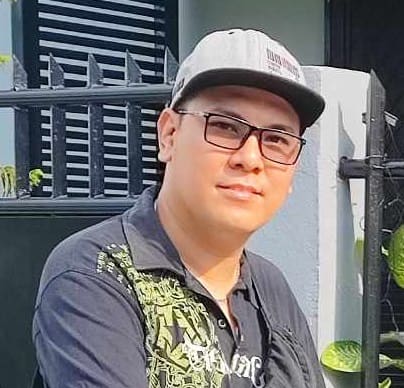 Hi! I'm Nivek Strife, the person who made MenuPH. I'm the one who added most of the popular menus you see on this website, and I really hope you enjoy them! Feel free to check them all out.
Growing up, I was surrounded by lots of tasty foods, like the classic Adobo and the sweet Leche Flan. That love for the many flavors of the Philippines is what got me excited about adding to MenuPH. When I learned how to make websites, I saw the need for a place to show off all the amazing Filipino dishes, and that's how MenuPH started.
MenuPH isn't just a website; it's like a fun journey into food. I've teamed up with famous chefs and found great places all over the Philippines to bring you a bunch of menus that show off the best of Filipino cuisine. Whether you're into the usual dishes or new twists, MenuPH is here to guide you through the rich world of Filipino flavors.
With MenuPH, my aim is to help local businesses, talk about good food choices, and make a group of friends who love food. No matter if you like fancy restaurants or street food, MenuPH has something for you. Come join me on this food adventure as we find great places, taste real flavors, and enjoy the unique food traditions that make the Philippines awesome.