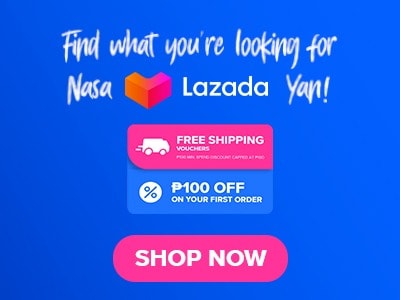 Japanese cuisine is the inspiration for the Tendon Kohaku menu. The items that are included in its menu are tendon, donburi, teishoku, sashimi, sushi roll, ala carte, udon, udon curry, tempura, dessert, and drinks. Its dishes are made up of fresh and healthy ingredients. Its oil, rice, batter, and sauce are expertly chosen and prepared to create authentic, delicious, and nutritious dishes. Tendon is one of its most popular dishes because of its freshness, light coating, secret sauce, and special cooking method.
Below, you'll find the updated list of Tendon Kohaku menu prices.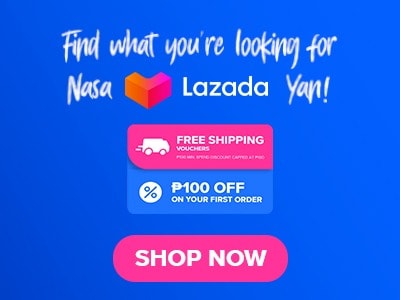 Menu Items
Price (PHP)

Tendon

Kohaku Tendon
420
Sashimi Aimori Don
590
Anago Tendon
695
Shrimp Tendon (5 pcs)
380
Shrimp Tendon (8 pcs)
450
Kakiage Tendon
410
Seafood Tendon
520

Donburi

Kaisen Don
590
Unagi Kaisen Don
895
Sushi Don
650
Hanakatsu Don
430
YakiButa Don
390

Teishoku

Tempura Teishoku
590
Tonkatsu Teishoku
560
Hirekatsu Teishoku
560
Mixed Seafood Katsu Teishoku
840
Pork Yakiniku Teishoku
540
Grilled Pork & Kimchi Teishoku
540

Sashimi

Sashimi Moriawase
695
Ikura Sashimi
360
Salmon Sashimi
490
Scallop Sashimi
450
Tuna Sashimi
395

Sushi Roll

Wild Tiger Roll
290
Red Chili Tuna Roll
280
Salmon Cream Cheese Roll
295
Volcano Ebi Roll
310

Ala Carte

Cheesy Gyoza
420
Kohaku Special Gyoza
370
Pork Kimchi Cheese Omelette
290
Spicy Sweet Fried Chicken
260
Cheesy Spicy Sweet Fried Chicken
310
Sashimi Salad
320
Grilled Pork & Kimchi
290
Pork Yakiniku
290
Potato Salad
220
Agedashi Tofu
220
Tamago Roll with Mentaiko Sauce
240
Chuka Wakame
170
Kohaku Multi-grain Rice
70
Kohaku Japanese White Rice
50

Udon

Wild Tiger Prawn Tempura Udon
440
Kakiage Ugon
560
Niku Udon
410

Udon Curry

Kohaku Curry Udon
570
Pork Katsu Curry Udon
660
Wild Tiger Prawn Tempura Curry Udon
595

Tempura

Ebi Tempura
320
Onsen Egg Tempura
80
Seafood Tempura
410
Vegetable Tempura
290

Dessert

Coffee Jelly
120
Vanilla Ice Cream
100
Matcha Ice Cream
100

Drinks

Coke Regular
90
Coke Light
90
Sprite
90
Calamansi Iced Tea
100
Lemon Iced Tea
100
Coffee (Hot / Iced)
100
SMB Pilsen
120
SMB Light
120
ASAHI Beer
160
Cold Sake
400
Bottled Water
60
About Tendon Kohaku
Tendon Kohaku is a Japanese restaurant that has branches in different parts of Asia such as Singapore, Japan, Taiwan, and the Philippines. Its first branch was opened in Singapore because it is a country with multiple ethnicities. The name of this restaurant is derived from Tendon, a combination of tempura (tempura) and donburi, and Kohaku, which means Amber. Dishes are prepared in amber perfection to continuously delight its customers.
Tendon Kohaku Menu Best Seller
The best sellers of Tendon Kohaku are the popular Japanese cuisines that capture the taste of Filipinos.
Tempura Teishoku – This Tendon Kohaku menu is a set of meals that consists of chicken breast, squid, wild tiger prawns, crab stick, shiitake, young corn, green beans, tuna, pumpkin, tamago roll, and potato salad. 
Kohaku Tendon – A tendon bowl that consists of wild tiger prawns, crab sticks, squid, chicken breast, shiitake, green beans, pumpkin, and young corn. It is available in spicy and original flavors. This is a perfect meal if you want to indulge yourself with something light, flavorful, and crispy dishes.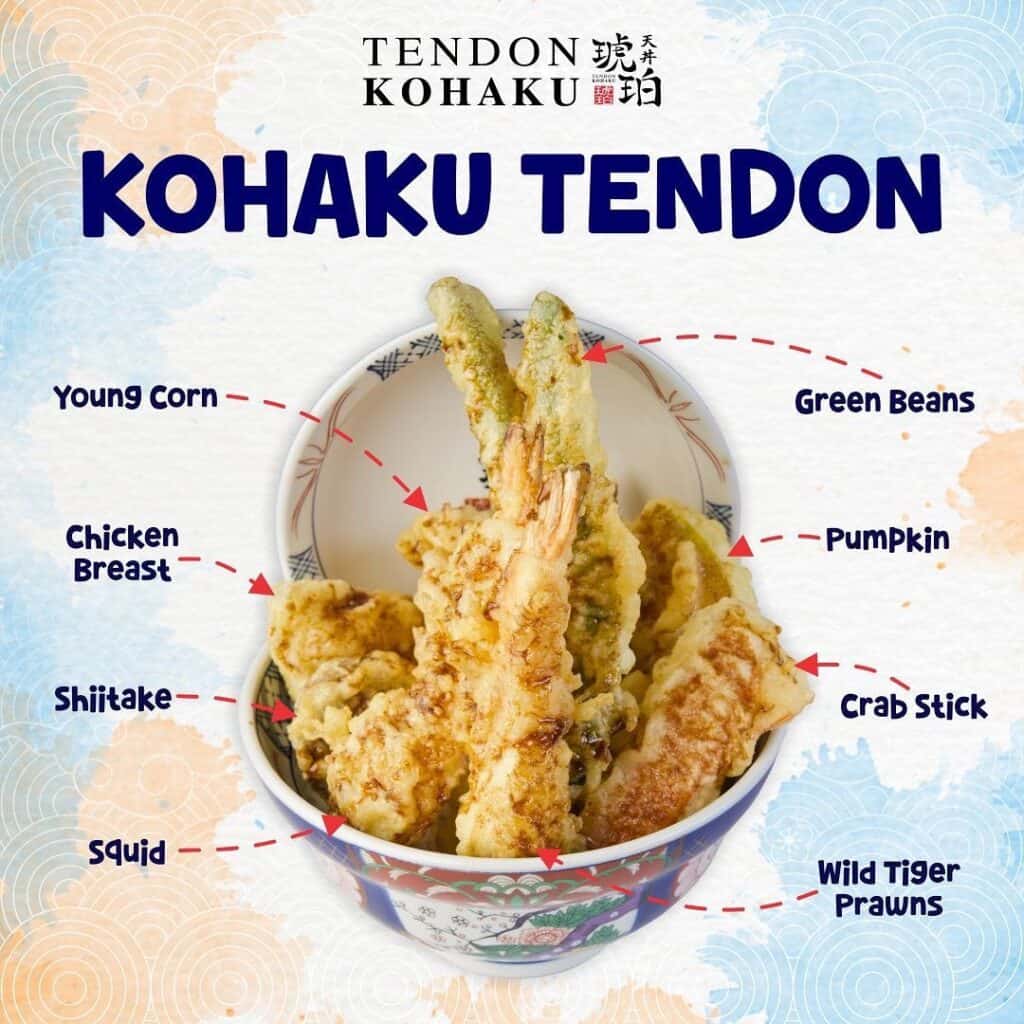 Seafood Tendon – Various seafood such as wild tiger prawns, squid, oyster, kisu tuna, scallops, and crab sticks are included in this tendon bowl. It is perfect for those who love different seafood tempura.
Wild Tiger Sushi Roll – This sushi roll is a masterpiece, showcasing the perfect fusion of flavors and textures. It boasts a filling made of wild tiger prawn tempura and is generously topped with the savory goodness of Cod Roe. The prawn tempura lends a crispy, satisfying crunch, while the Cod Roe brings a burst of umami flavor that lingers on the palate.
Wild Tiger Tempura Udon – A Japanese noodle that is topped with three pieces of wild tiger tempura. This is a perfect menu from Tendon Kohaku that will comfort you in cold weather.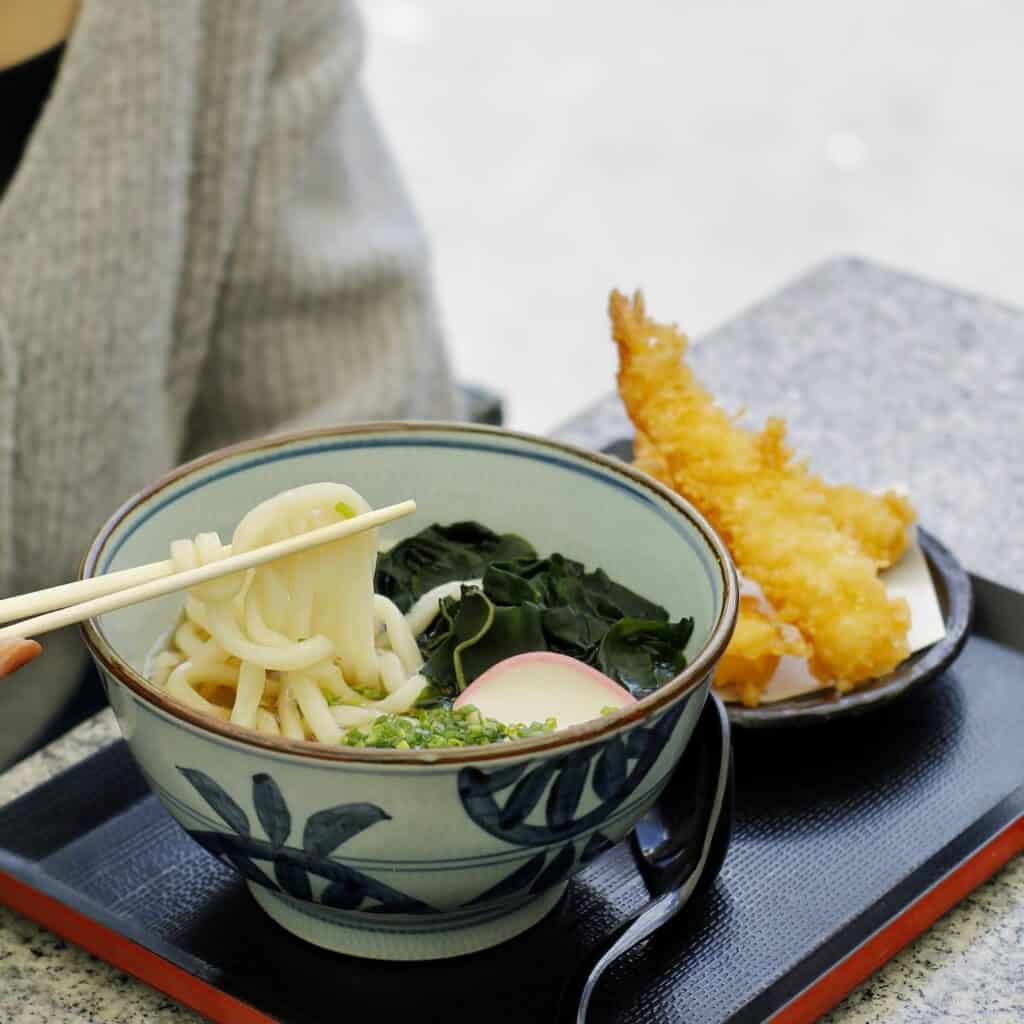 Teishoku
Teishoku is a Japanese type of meal set where main and side dishes are served together. Multi-grain rice, ikura, and onsen egg tempura can be added to these teishoku meals.
Tonkatsu Teishoku – This delicious dish consists of Tonkatsu, Tomago Roll, Tuna Sashimi served in two styles, and comes with rice and miso soup. The Tonkatsu adds a satisfying crunch, the Tomago Roll is creamy and soft, and the Tuna Sashimi delivers a refreshing burst of flavor. Together with the rice and miso soup, this dish offers a wholesome and satisfying meal that's sure to please.
Hirekatsu Teishoku – This Tendon Kohaku menu is a hearty and delicious option that's sure to satisfy your hunger. It includes Hirekatsu, creamy Tomago Rolls, and tasty Potato Salad, as well as refreshing Tuna Sashimi. With a combination of crunchy, soft, and flavorful components, this dish is a treat for your taste buds.
Mixed Seafood Katsu Teishoku – Breaded and deep-fried Amago, Shrimp, and Tuna Fry are served in this dish. It also comes with Tuna Sashimi, Potato Salad, and Tomago Roll.
Pork Yakiniku Teishoku – Tender grilled pork is expertly sliced into bite-sized pieces and served alongside creamy Potato Salad, delicate Tamago Roll, and fresh Tuna Sashimi. This dish offers a delicious balance of flavors and textures, with tasty pork pairing perfectly with creamy and refreshing sides. 
Grilled Pork & Kimchi Teishoku – An ideal set of meals for fanatics of pork and kimchi. Grilled pork, Kimchi, Tuna Sashimi, Tamago Roll, and Potato Salad come with this dish.
Ala Carte
Ala Carte is ideal for those who want to create their own set of meals. These dishes can be eaten as an appetizer or a main dish.
Cheesy Gyoza – These delicious Gyoza dumplings are fried in a pan until golden and crispy, and then elevated with a serving of flavorful cheese on top. The combination of the dumpling and melted cheese is sure to tantalize your taste buds and leave you wanting more.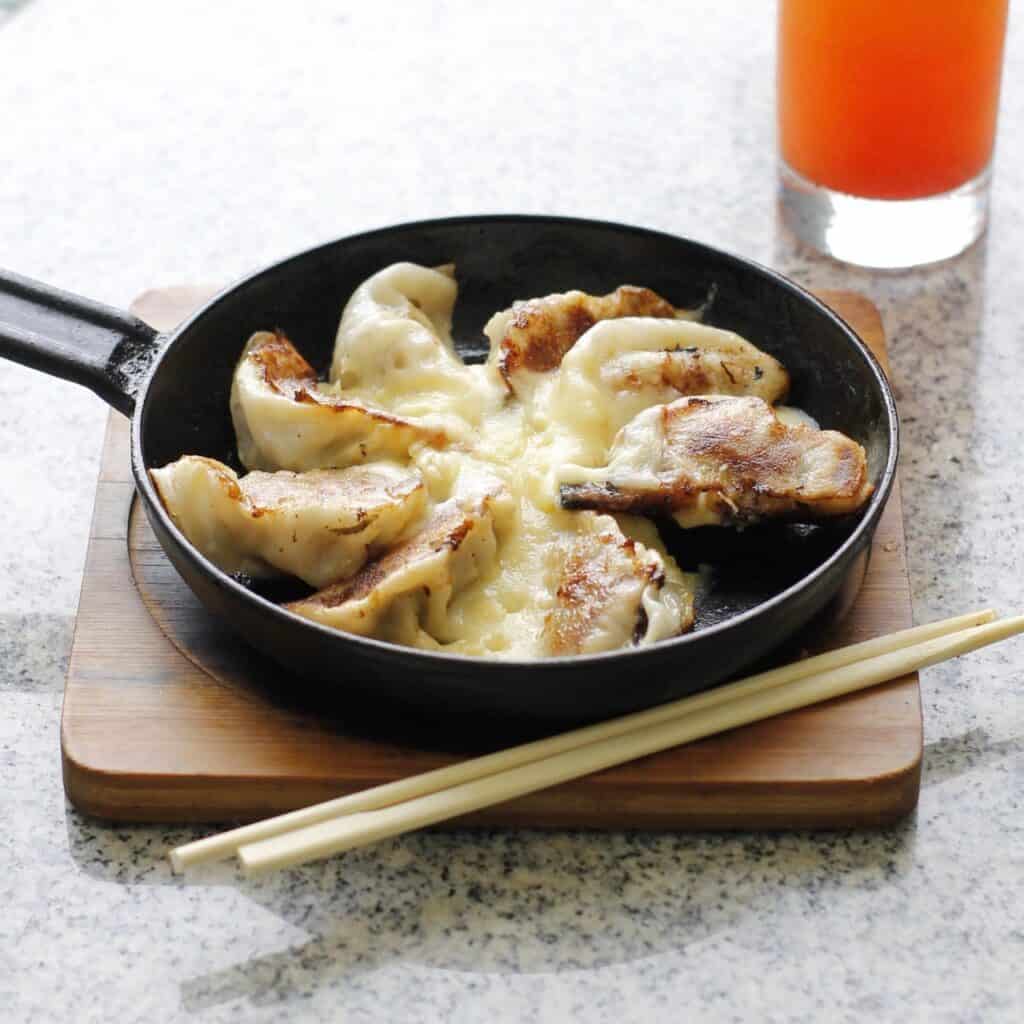 Pork Kimchi Cheese Omelette – This omelet menu from Tendon Kohaku is anything but ordinary. Made with eggs, pork, kimchi, mushroom, and cheese, each bite is bursting with flavor. Enjoy it for breakfast or any time of day for a satisfying meal that's sure to please.
Cheesy Spicy Sweet Fried Chicken – An ala carte dish that is bursting with flavors. Its cheesy, spicy, and sweet flavors are blended perfectly which makes fried chicken extraordinary.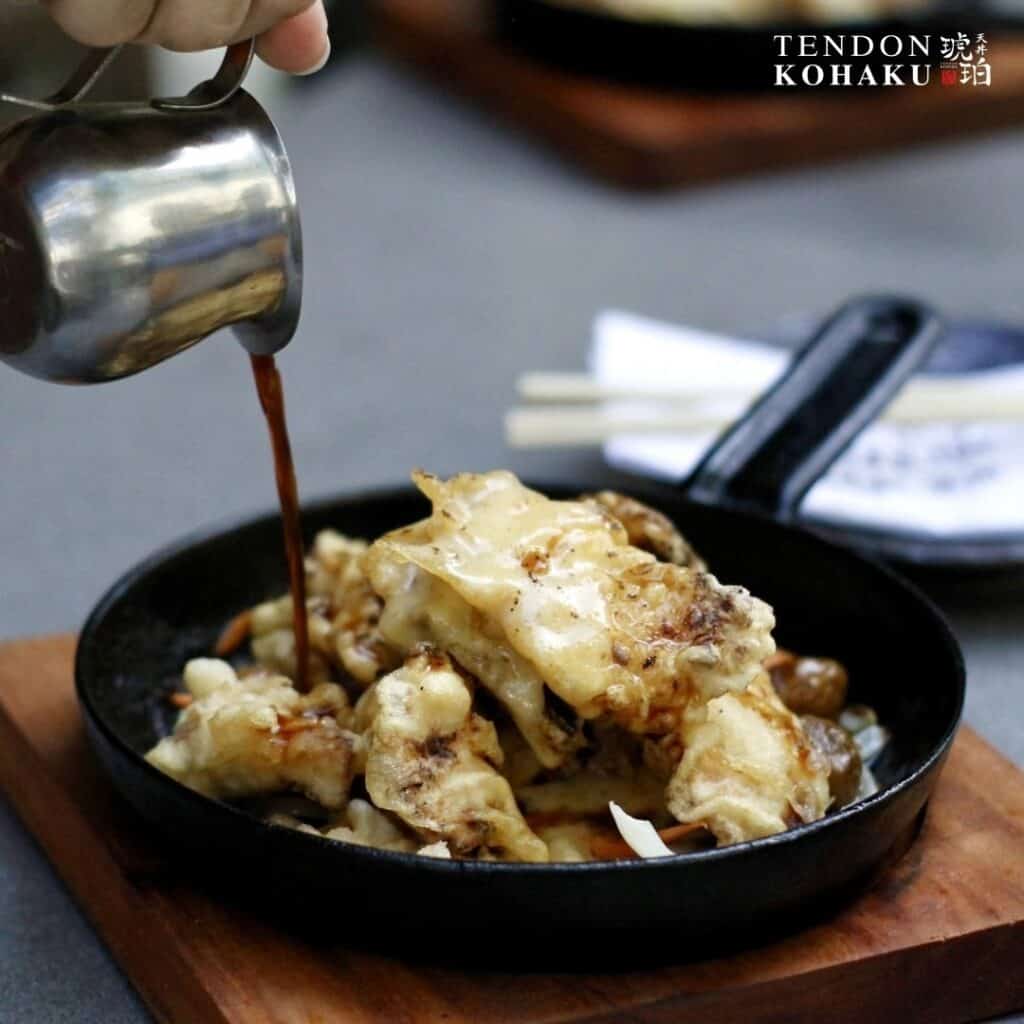 Sashimi Salad – Various kinds of seafood and vegetables make it a healthy option for those who follow a strict diet. It consists of mixed vegetables and slices of Ikura, Tuna, Scallops, and Salmon garnished with Japanese Dressing.
Tendon
The tendon bowl consists of various kinds of seafood and vegetables. These are all served with pickled yuzu radish and miso soup. Multi-grain rice, onsen egg tempura, and ikura can also be added to these bowls to satisfy your cravings. These are also available in original and spicy flavors.
Kohaku Tendon is one of the restaurant's bestsellers. Sashimi Aimori Don, Anago Tendon, Seafood Tendon, Kakiage Tendon, and Shrimp Tendon are the other tendon bowls this restaurant offers.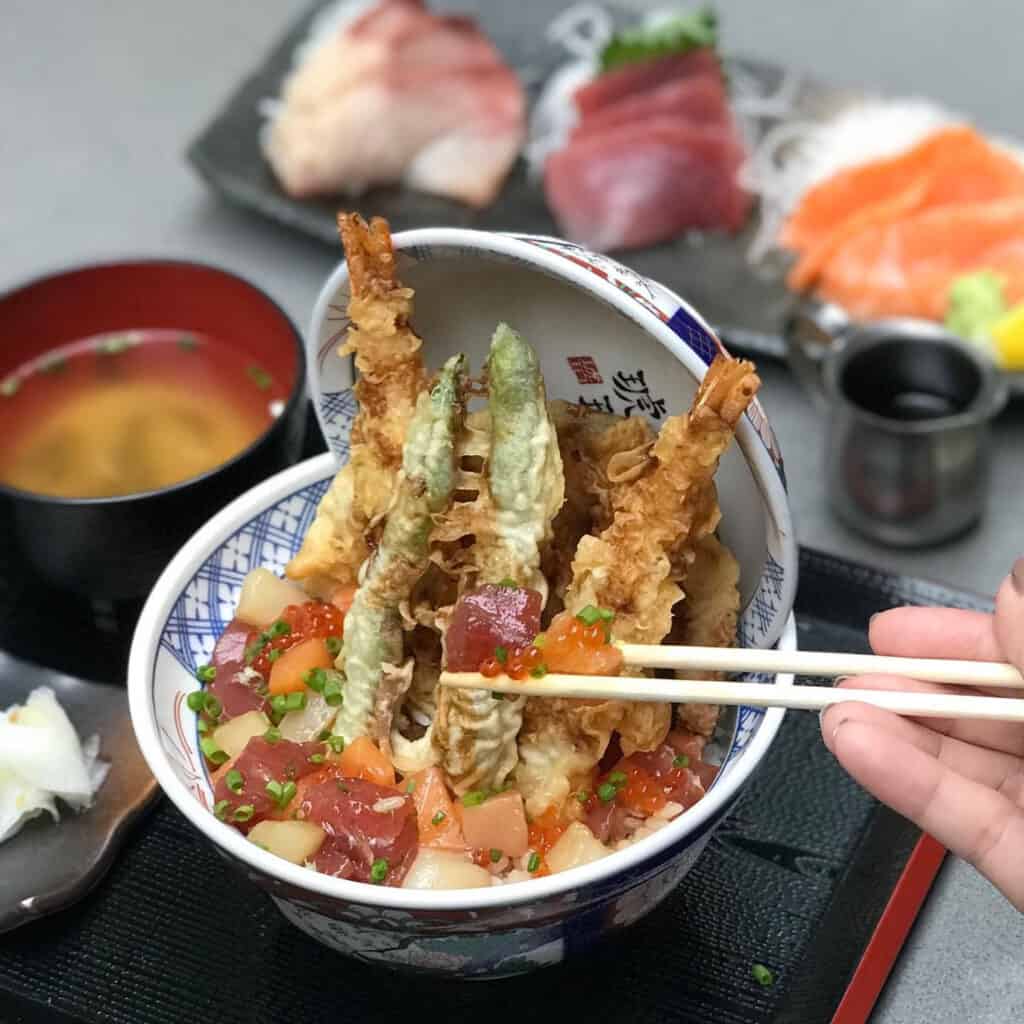 These tendon bowls are ideal for seafood fanatics. It is covered with a light coating that makes it crispy and delectable. For those health-conscious customers, upgrading to multi-grain rice is a healthier option.
Tendon Kohaku Sushi Roll Menu
Sushi rolls are one of the dishes that are popular in Japan. This is one of the cuisines that must be on your list when you dine in or order via delivery.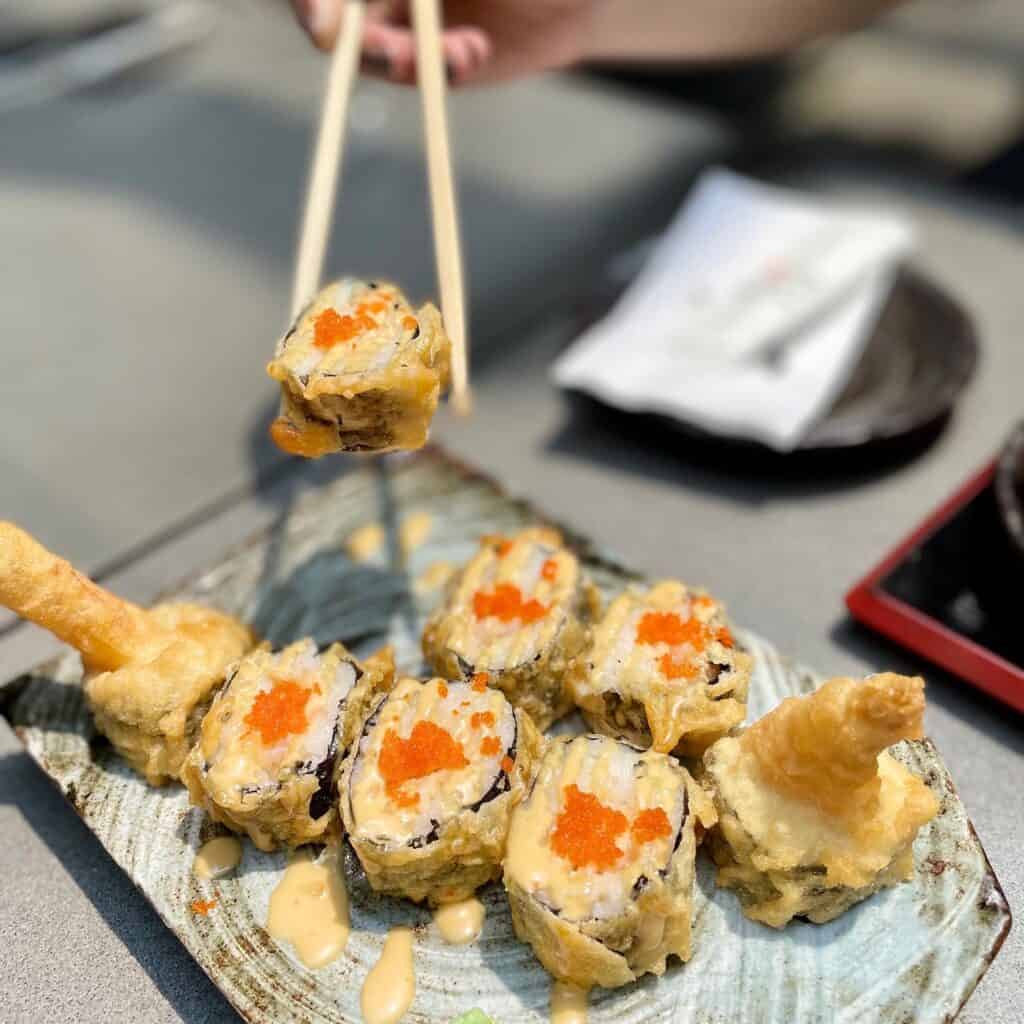 Wild Tiger roll is one of its best sellers because of its delectable taste. There is also Red Chili Tuna Roll, spicy tuna with red chili sauce; Volcano Ebi Roll, a sushi roll that is made up of Ebiko Roe, Wild Tiger Prawn Tempura, Tanuki Bits, and topped with spicy cheese sauce; and Salmon Cream Cheese Roll, sushi filled with Cream Cheese, Fresh Salmon, and other ingredients.
These sushi rolls are appealing to diners because it is also light, easy, and comfortable to eat. Its visual presentation and delectable taste will boost your energy and appetite. Aside from being delicious, it is also nutritious which makes it a healthy option.
Udon
Udon is a popular Japanese Style noodle that brings comfort and delight to diners. Tendon Kohaku added a twist on this menu by pairing it with various breaded and deep-fried seafood. 
Udon is available in hot and cold. The udon dishes that it offers are wild tiger prawn tempura, kakiage udon, and niku udon. It also offers udon curry are Kohaku curry udon, pork katsu curry udon, and wild tiger prawn tempura curry udon.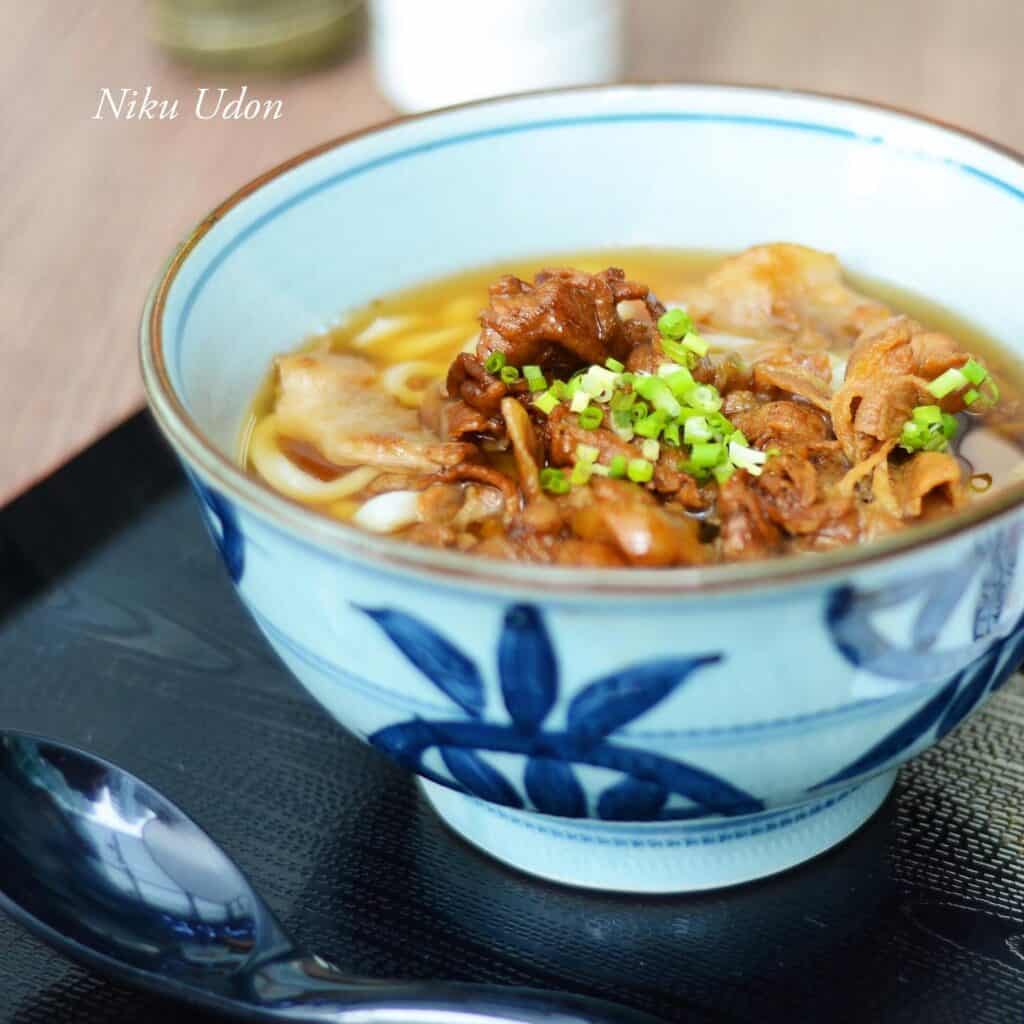 This is a must-try dish if you want to explore new noodle recipes. These soft and chewy noodles can be eaten hot or cold which makes them perfect for any type of weather. It is ideal for those who prefer dishes with a simple taste.
Donburi
Donburi is a rice bowl dish that originated in Japan. The Donburi dishes that Tendon Kohaku offers are Kaisen Don, plain rice topped with a cube cut of fresh Scallop, Ikura, Tuna, and Salmon and mixed with Kaisen sauce; Unagi Kaisen Don, a rice bowl topped with Unagi Kabayaki, Scallop, Tuna, Salmon, and Kaisen sauce; and Sushi Don, sushi rice topped with fresh Tuna, Scallop, and Salmon slices.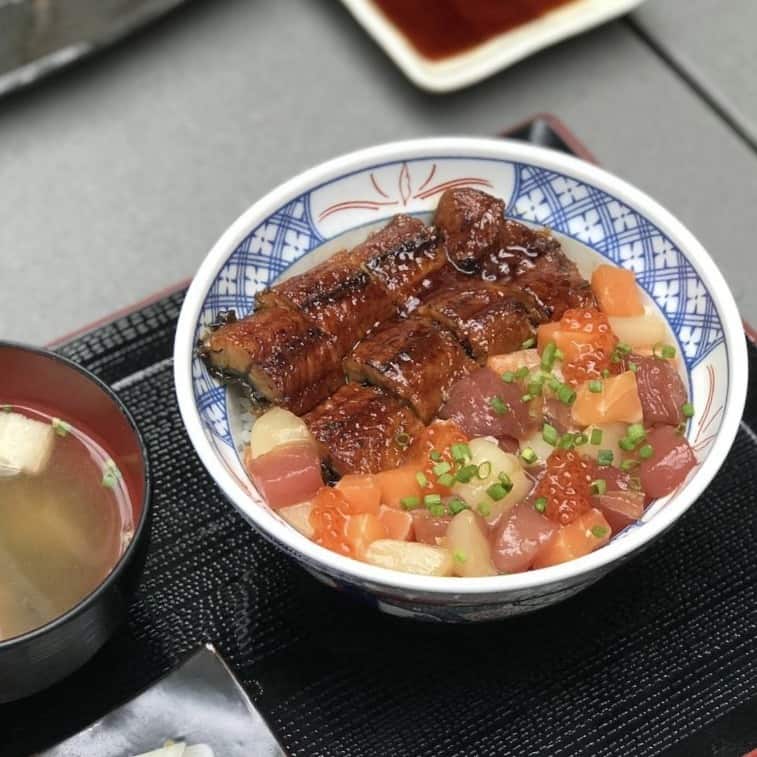 The other donburi dish that it offers is Hanakatsu Don, a bowl of Kohaku Japanese White Rice topped with breaded and deep-fried pork tenderloin served with potato salad and ankake sauce.
This is one of the Japanese dishes that you will surely enjoy because its toppings and side dishes perfectly complement the rice. Its serving size is good for sharing which makes it a great meal for family and friends.
Tendon Kohaku Menu Delivery
Tendon Kohaku delivers through online delivery platforms such as Booky, Foodpanda, Grabfood, and Pickaroo. Deliveries depend on your location so it is better to check if they deliver in your area before you order. If these platforms are not available in your location, you may order directly through text or Viber and have your food picked up by the restaurant's chosen courier.
Tendon Kohaku Vertis North: 0927 500 5977
Tendon Kohaku Uptown: 0956 279 2961
Tendon Kohaku Burgos: 0956 279 2966
Social Media Pages
Stay updated with Tendon Kohaku's latest news once you follow them through their social media pages. Check out their pages to get you to hook up with their upcoming promotional offers if you're planning to visit their restaurant. The links are provided below, so you might as well like or follow their pages to support them.
Facebook: https://www.facebook.com/tendonkohaku
Instagram: https://www.instagram.com/tendonkohaku/
Website: https://www.mugengroup.ph/
Conclusion
The Tendon Kohaku menu will level up your Japanese cuisine dining experience. It serves expertly cooked tempuras that will surely satisfy your cravings. It has a relaxing and welcoming ambiance that will make you feel like you are in Japan. Don't miss out on their amazing deals and discounts by following their social media pages so you can have your favorite Japanese cuisines at a lower price.