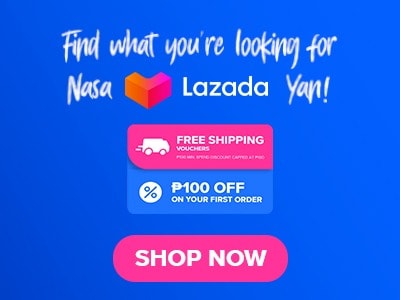 Find a restaurant in the center of the commercial area where you can indulge in a delicious degustation while taking your taste buds on an exciting trip and learning what it means to have good taste. Ogetsu Hime menu exclusively delivers the finest products from the Land of the Rising Sun, staying away from elaborate fusions or decorations. The restaurant honors Ogetsu Hime, the Japanese goddess of food, and offers only dishes that are Japanese in order to take you back to the essentials. Understanding this Japanese approach to cuisine, Ogestu Hime aims to provide a dining experience that is as authentic as possible, possibly even the genuine deal but on Philippine soil.
Below, you'll find the updated list of Ogestu Hime menu prices.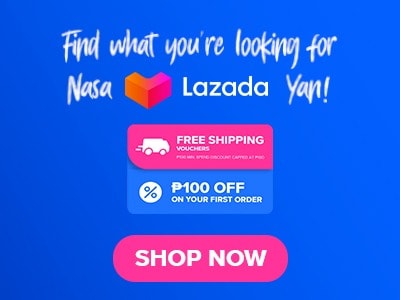 Menu Items
Price (PHP)

Aburi Sushi

Ebi Aburi Sushi with Mayo Ebiko
175
Ika Aburi Sushi with Mayo Wasabi Sauce
225
Shake Aburi Sushi with Mayo Gochujang
120
Ika Aburi Sushi with Izuzukuri Sauce
230
Unagi Tamago Aburi Sushi
245
Shake Aburi Sushi with Izuzukuri Sauce
120
Shake Aburi Sushi with Japanese Mayo
140
Shake Aburi Sushi with Goma Unagi Sauce
120

Aburi Rolls

Spicy Seared Shake Roll
230
Grilled Ika Tomato and Lettuce Roll
245
Salmon Skin Aburi Maki
240
Ebi Mozarella
175
Ebi and Emoki Aburi
180
Kani Aburi Maki
160
Crispy Ika Aburi
170
Togarashi Niku Aburi Maki
140
Kani and Uni Maki
150

Special Rolls

Ogetsu Hime Roll
415
Tokubetsu California Roll
335
Shake Kawa Roll
200
Karai Ebi Aburi Maki
240
Goma Ebi Tempura Roll
220
Kaisen Fried Roll
310
California Maki
280

Tempura

Tempura Kumiawase
410
Prawn Tempura
390

Teppanyaki

Matsusaka Beef
6400
U.S Ribeye Teppan
100
U.S. Tenderloin Teppan
840
Ninniku Roll
790
Shake Teppan
510
Prawn Teppan
380
Seafood Moriawase
620
Chicken Breast Teppan
280
Chicken Thigh Teppan
280
Yasai Itame
200

Nabemono

Matsusaka A5
6400
US Ribeye Sukiyaki
1100

Tofu

Agedashi Tofu
170
Tofu Tereni
170

Appetizer

Ogetsu Home Salad
290

Agemono

Prawn Furai
390
Tonkatsu
360

Nimono

Shake Kabutoni
370

Ju-Mono

Una-Ju
860
Ten-Ju
320
Katsu-Ju
420

Gyoza

Gyoza
145
Miso Soup
70

Robatayaki

Gyuniku Teriyaki
89
Roru Gyuniku
380
Gyu Ninniku
380
Shake Kama Shio
380
Unagi Kabayaki
800
Chicken Breast Teriyaki
280
Chicken Thigh Teriyaki
280

Rice

Matsusaka Chajan
260
Chajan Moriawase
150
Gyu Chajan
140
Seafood Chajan
140
Gohan
90

Buffet

US Angus Tenderloin and Ribeye with Sushi
1188
About Ogetsu Hime
Vicvic Villavicencio, the creator of the renowned Japanese company Saisaki, is the owner of Ogetsu Hime. He invited renowned chef Isao Takada to work with his son on developing fresh menu items that might appeal to the more adventurous palates of discerning diners. The proprietor saw the expanding need for a fuss-free, authentic Japanese restaurant with a menu that only offered the freshest, cleanest, and most natural tasting items. Ogetsu Hime was founded with the sole mission of providing the freshest and greatest foods so that their visitors might enjoy the ideal dinner after realizing its potential. It deserves praise for its extensive choice of meals to explore, with extravagance being the norm.
Ogetsu Hime is a Japanese food goddess, and the restaurant bears her name in her honor. Ogetsu Hime offers a variety of delectable gastronomic options, including top-notch Sukiyaki cuts and sumptuous ala carte menus, which will satisfy even the most discerning diners. Ogetsu Hime is undoubtedly a must-visit location for everyone who is in the area of Bonifacio Global City or SM Aura Premier in Taguig.
Ogetsu Hime Menu Best Seller
Kaisen Fried Roll – Each layer of flavor in the Kaisen Roll may be tasted in just one mouthful. This crispy fried salmon sushi roll is covered in a variety of seafood toppings, such as camellia buri, salty caviar, and mayonnaise made from cod roe.
Soft Shell Crab Roll – This Ogetsu Hime menu is successful in every manner. The tempura-fried crab's crispness is the ideal counterpoint to soft Japanese rice. The space inside the roll serves as a lesson in proportion sharing, with each component adding flavor and texture.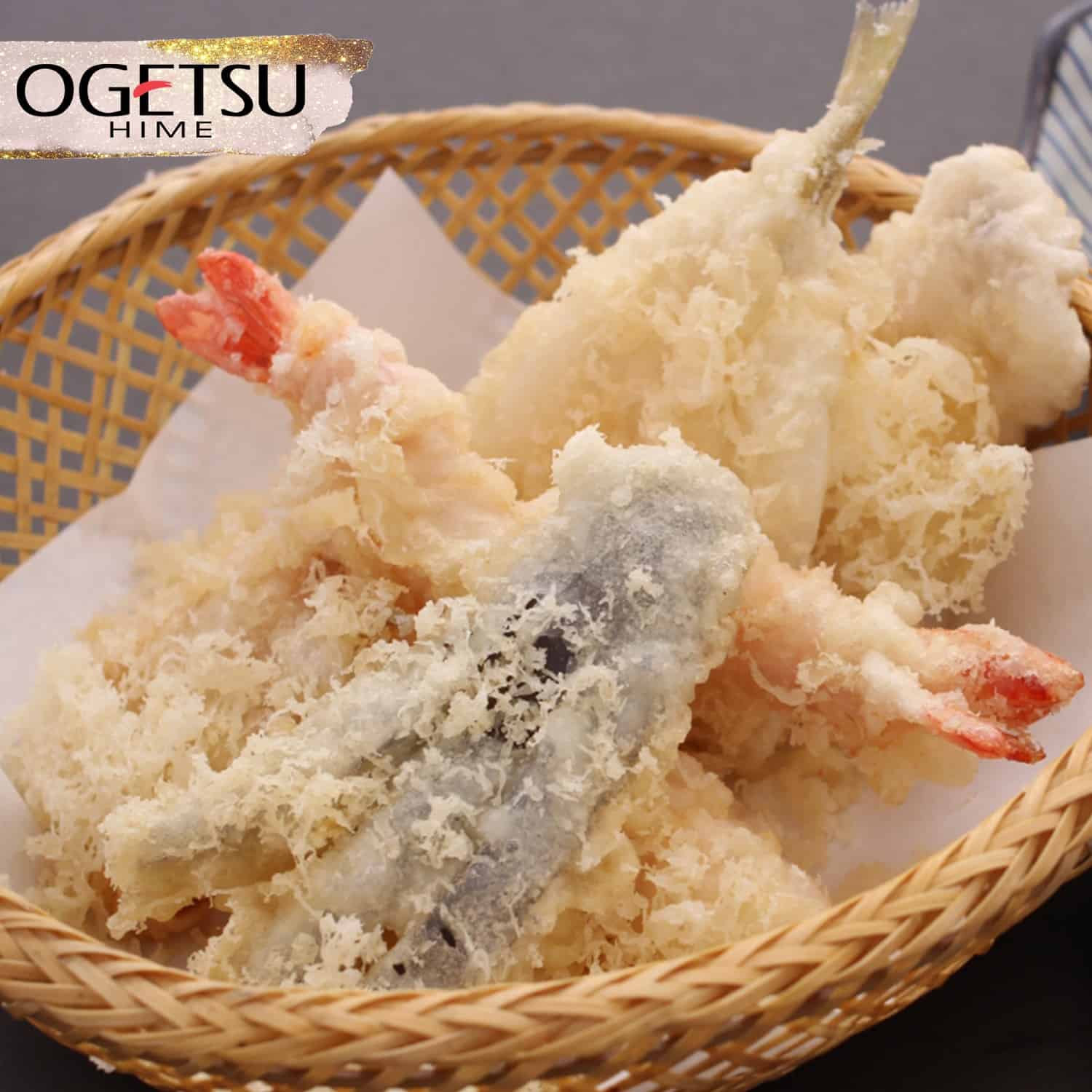 Ebi Tempura – It has succulent shrimp that have been coated in a thin tempura batter and cooked till crispy and golden. It makes a fantastic side dish or appetizer for any Japanese meal and is surprisingly simple to prepare.
Ribeye Sukiyaki – Has a somewhat sweet, delicious character that tempts you to dip in for the thin beef slices and the abundant servings of enoki, shiitake, and yam noodles. You may choose to have the beef cooked all at once or have it served separately, dipped in raw egg yolk for that rich mouthfeel as you slurp your soup. You'll be coming back for more in any case.
Ogetsu Hime Buffet Menu
U.S. Angus Rib Eye – On their teppanyaki grill, it is soft, juicy, and perfectly prepared by a chef who only prepares it in tiny quantities. This guarantees that the rib eye you receive on a platter is always freshly grilled and dripping with juice and taste.
Prawn Tempuras – One of their greatest offers from the Ogetsu Hime menu that won't let you down. The fact that the shrimp is somewhat sweet and meaty and that the breading is crispy is a given, but what makes it great is that you get the right amount of prawn to bread in every mouthful. Typically, the flavor of tempura is similar to a lightly fried version of the underlying food. The most widely used alternatives are typically shrimp and prawns.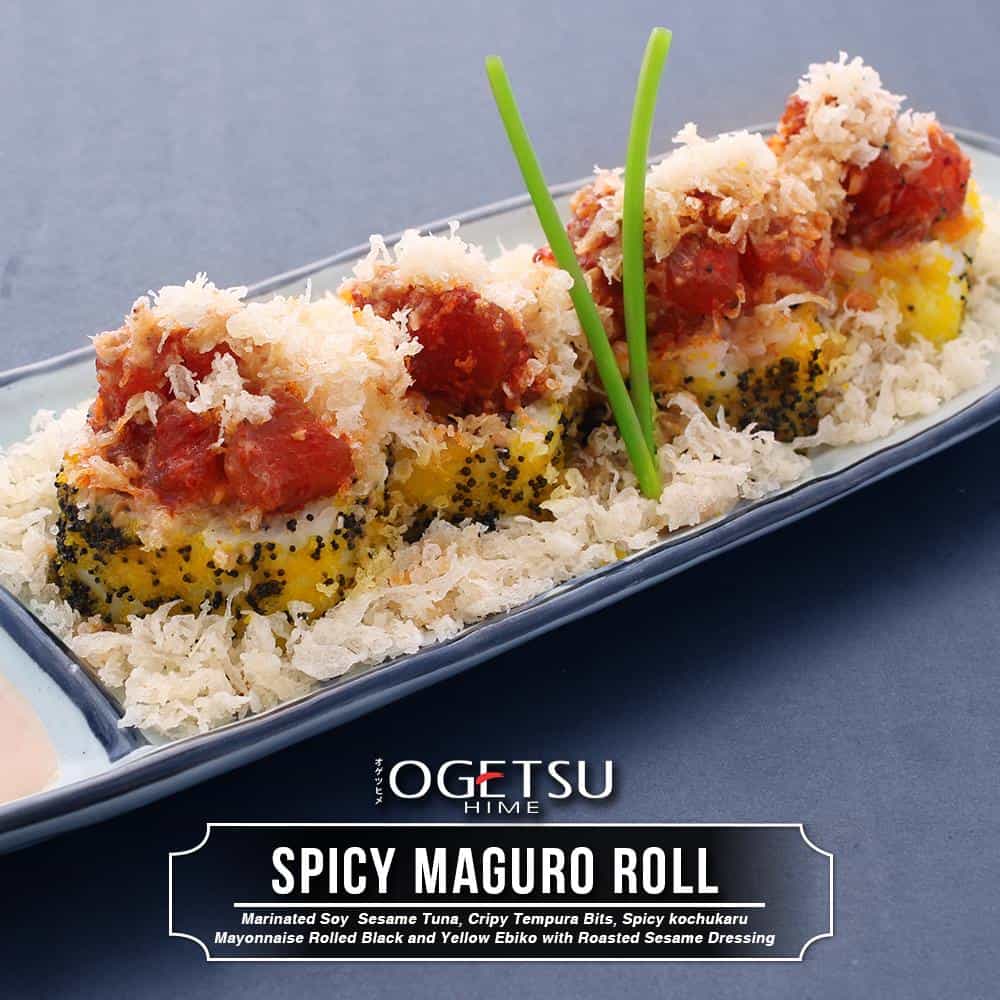 Spicy Maguro Roll – It has marinated soy-sesame tuna and crunchy tempura pieces that have been mixed with hot kochukaru mayonnaise on top. It is regarded as the most expensive akami because it has a strong tuna flavor and relatively few layers of sinew. It is a particularly well-liked component for hand-shaped sushi or sashimi because of its consistently dark color and velvety texture.
Kochukaru Shake – This is a tempura-fried salmon sashimi salad dressed with kochukaru and hot toasted sesame oil.
Ogetsu Hime Promo
Ogetsu Hime offers several promos on its menu items. During the past month, it has already given three different promos. It had its 45th anniversary and gave all dine-in customers a 45% discount. It also gave 45 different winners of a free buffet to 45 different people. It also gave a discount on grandparents' day. There were many promos in the past and there are more to come. All you need to do is to follow them on their Facebook page @OgetsuHime.
Birthday Promo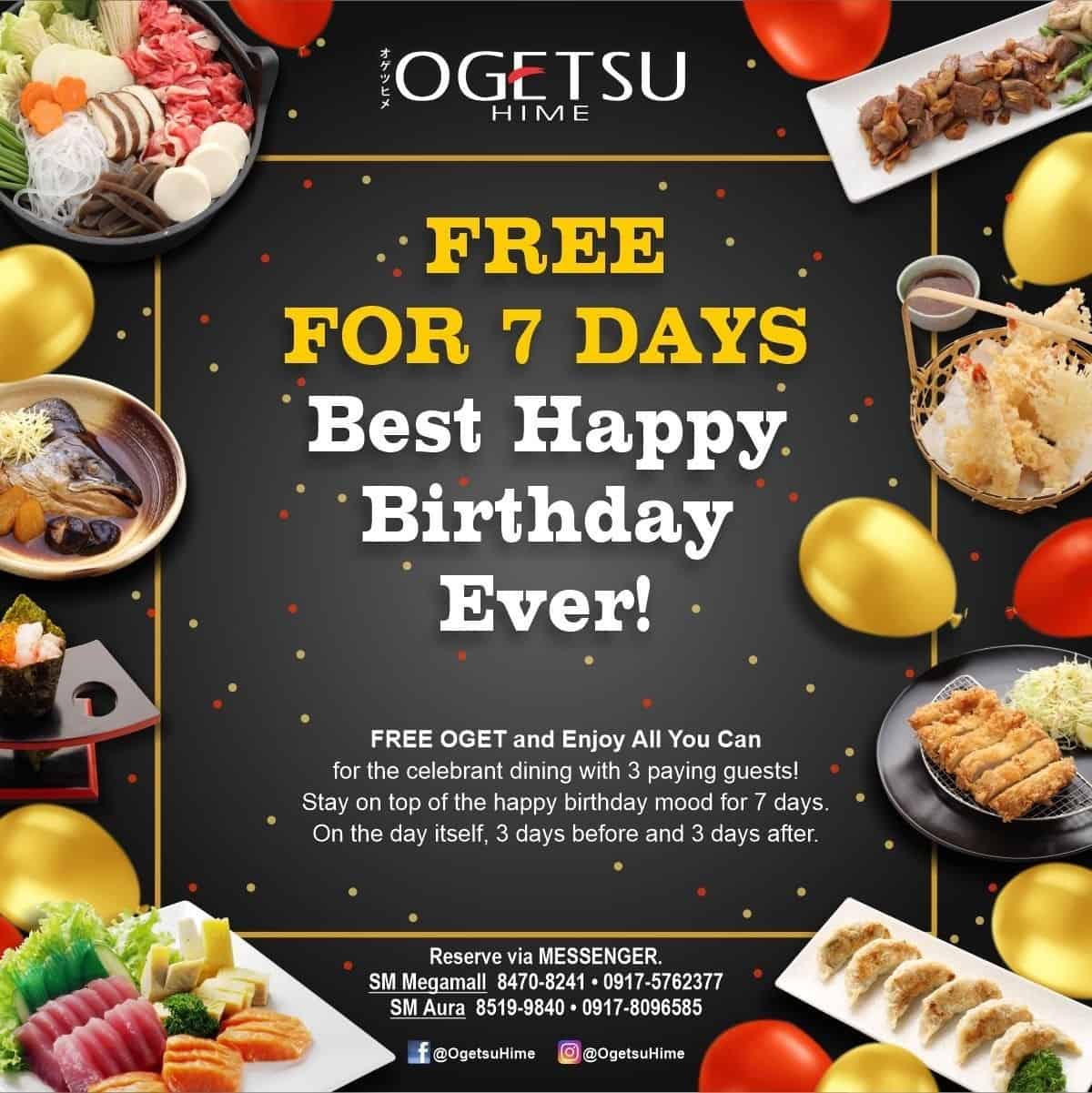 Ogetsu Hime has already offered two different birthday promos. The celebrant gets to dine in at free of cost, however, they must have at least 3 adult companions paying a total of 1,288 PHP per person. The first birthday promo offered was free for 7 days which meant that a celebrant could avail of the promo 3 days before or after their birthday. The more recent promo was free for 15 days which meant that a celebrant could avail of the promo for 7 days before or after their birthday.
Ogetsu Hime Menu Delivery
To enjoy top-notch Japanese cuisine, one does not need to fly to Japan because Ogetsu Hime, which is located at the Skypark on SM Aura Premier, is only an hour's drive away. However, you could also enjoy it in the comfort of your home through delivery by contacting these numbers:
SM Aura Premier: (02) 8519 9847
SM Megamall: (02) 8470 8241
Social Media Pages
For updates, you can always check their social media pages. They always update their page for the latest promo, menus, and prices. To view them, check the following pages below:
Facebook: https://www.facebook.com/OgetsuHime/
Instagram: https://www.instagram.com/ogetsuhime/
Twitter: https://twitter.com/ogetsuhime/
Conclusion
While maintaining the fact that Japanese food is regarded as one of the greatest in the world, the Ogetsu Hime menu demystifies it to make it more approachable and less daunting. Sukiyaki is also prepared using a table cooking service. Because the staff goes above and beyond to help you, Ogetsu Hime's service is also extremely good. Staff members are polite and well-trained, which is vital because clients prefer to be treated nicely. One quality of Ogetsu Hime is that they never provide anything of inferior quality, even when the client demands it. Visit Ogetsu Hime for yourself to discover more delectable treats. It is one of the finest justifications for making the long drive to Taguig.