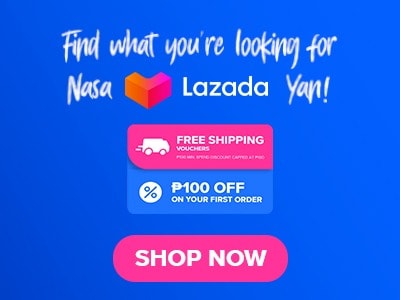 Embark in another flavorful adventure as we savor the finest flavor of the seas here at Crabs N Crack. This restaurant is famous for the pure indulgence it offers creating an unforgettable dining experience. Experience the finest and freshest bites of their iconic dishes and seafood delights from the tender meat of crabs, and lobster, and a variety of seafood delicacies that will plunge you deeper into the deep blue sea.
Below, you'll find the updated list of Crabs N Crack menu prices.
Menu Items
Price (PHP)

All In Promos

All In 1
1,428
All In 2
1,818
All In 3
2,888
All In 4
2,337
Free Scallop
1,948
Early Bigtime
2,629

Buy 1 Get 1

Buy 1 Get 1 Mix Seafood
1,849

Cnc Bilao

Crabs & Shrimp Bilao
1,884
Crabs Bilao
1,949
Shrimp Bilao
1,689

Salads

Cnc Salad
259
Shrimp Salad
324
Chicken Caesar Salad
285

A La Carte

Chicharon Bulaklak
246
Fish & Chips
220
Calamari
298

Soup Specials

Pork Tamarind
480
Crab & Corn
389

Meaty Entries

Crispy Pata
857
Sisig de Kapampangan
259
Baby Back Ribs
779
Lechon Kawali
350

Special Paluto

Stuffed Squid
384

Rice Specials

Aligue Rice
324
Seafood Yangchow
311

Sides

Potato Wedge
207
Chicken Wings
337
Plain Rice
39

Cnc Homemade

Cajun Sauce
260
Pure Crab Paste
351
Special Vinegar
195
Chili Garlic Sauce
260
Buttered Garlic Sauce
260
Lemon Butter Sauce
260
Salted Egg Sauce
260
About Crabs N Crack
Crabs N Crack specializes in an outstanding collection of seafood dishes that are served in various sets and platters. Coming from its name, this restaurant takes crabs on a higher level of meals and delightful dishes such as their CNC Bilao and more. Aside from seafood, Crabs N Cracks also offers various entrees such as Chicharon Bulaklak, Calamari, and their famous House Bulalo. There is so much to love in this restaurant and it is the perfect place for seafood lovers. It also provides a delightful collection for people who want to savor the finest bite of meat entrees.
Crabs N Cracks Menu Best Seller
Mixed Seafood – Let's dive into the flavorful world of this mixed seafood that features your favorite assortment of various seafood delights such as shrimp, crabs, mussels, and more.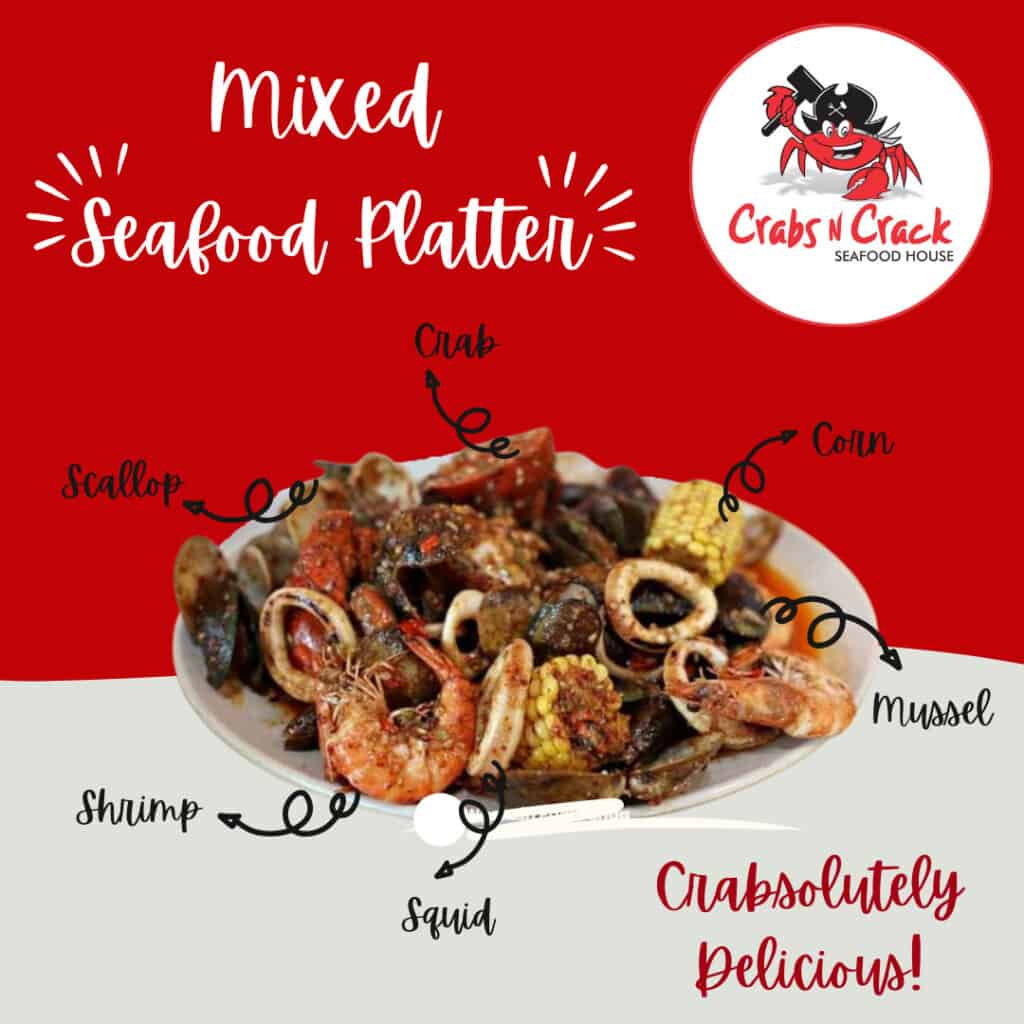 Sinigang Na Hipon – This classic Filipino dish menu of Crabs N Crack is here to give you succulent shrimp in tangy and tamarind-based soup. It is served with an array of vegetables which elevates the entire soup of this Sinigang na Hipon.
House Bulalo – A comforting bite of this Filipino dish is rich and flavorful. It is a perfect soup, especially during the rainy season. Their version of this classic favorite is made perfectly with its brimming in flavor bone marrow creating a hearty flavor of the broth.
Buy 1 Get 1 – This special offer features a delightful medley of seafood including shrimp. It offers you a 1.5 Mix of seafood and 1.5 Shrimp mix seafood in a very reasonable amount.
Chicharon Bulaklak – A very popular dish at Crabs N Cracks that features a crispy pork that is perfectly deep fried and well seasoned giving you a burst-in-the-mouth flavor in every delightful crunch.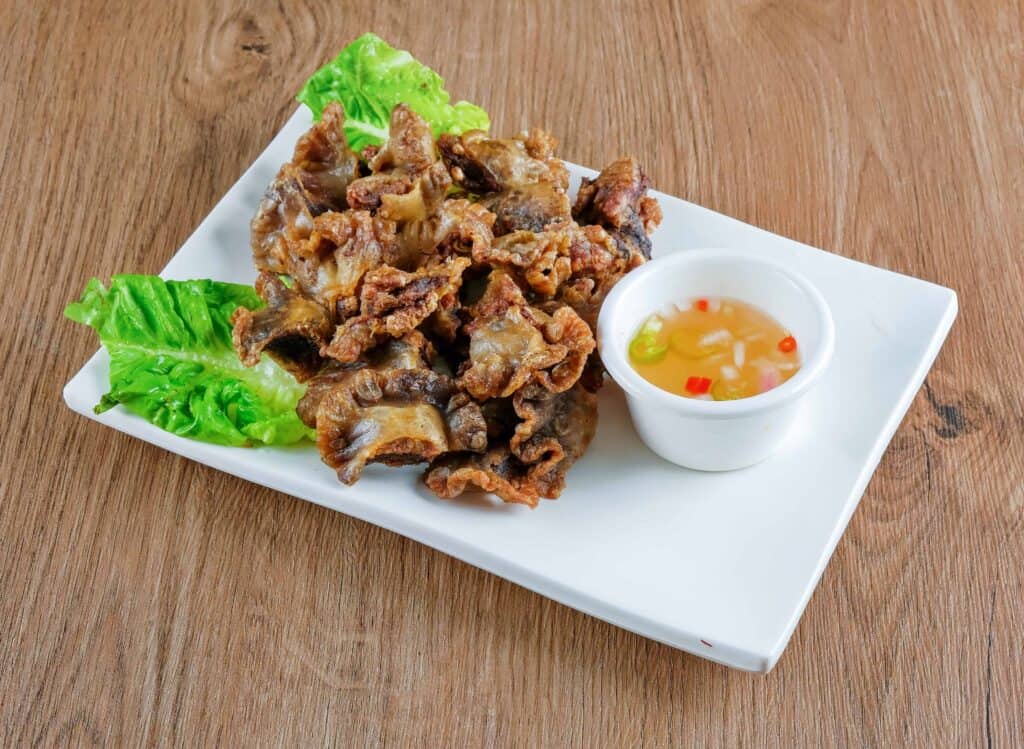 All in Sets
Start the seafood feast in this enticing collection of All in Sets that will surely amaze you with the variety of seafood delights that are perfect to share with your barkada or family.
All in 1 – Dive into a seafood feast with 1.5 kg of prawn mixed seafood, three plain rice dishes, iced tea to satisfy your thirst, and a delectable leche flan for dessert.
All in 2 – Enhance your dining experience by ordering a 1.5 kg seafood platter, an appetizer, four servings of plain rice, iced tea, and a decadent leche flan.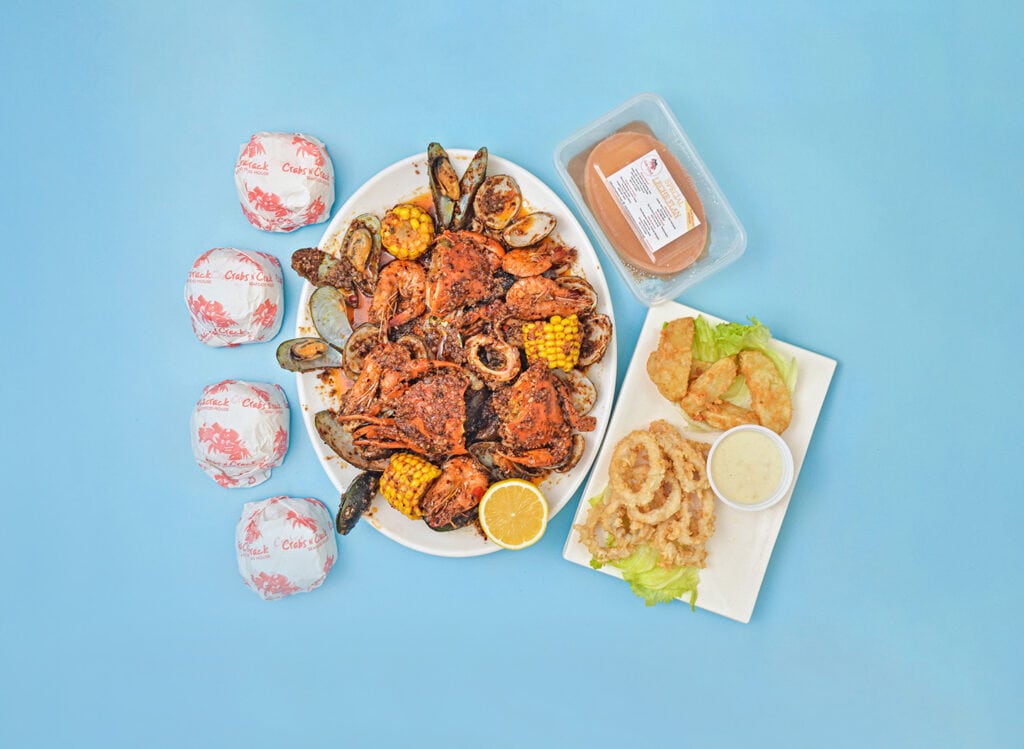 All in 3 – A 1.5-kg seafood platter, crab and corn soup, baby back ribs, stuffed squid, a 1.5-liter cola, and six plates of plain rice are all included.
All in 4 – A 1.5 Kg seafood platter, crispy pata, a 1.5-liter coke, and six serves of plain rice are included in this surf and turf pleasure.
Main Entrees
Enjoy a fulfilling meal with this Main Entrees menu of Crabs N Crack that showcases the classic Filipino dishes that are beloved among Filipinos. From the amazing aroma of Baby Back Ribs to the iconic flavor of Sisig de Kapampangan.
Baby Back Ribs – Crabs N Cracks' version of Baby Back Ribs is made extra special making it a true delight for every meat lover out there. It is tender and juicy with perfectly seasoned meat that is utmostly cooked to perfection.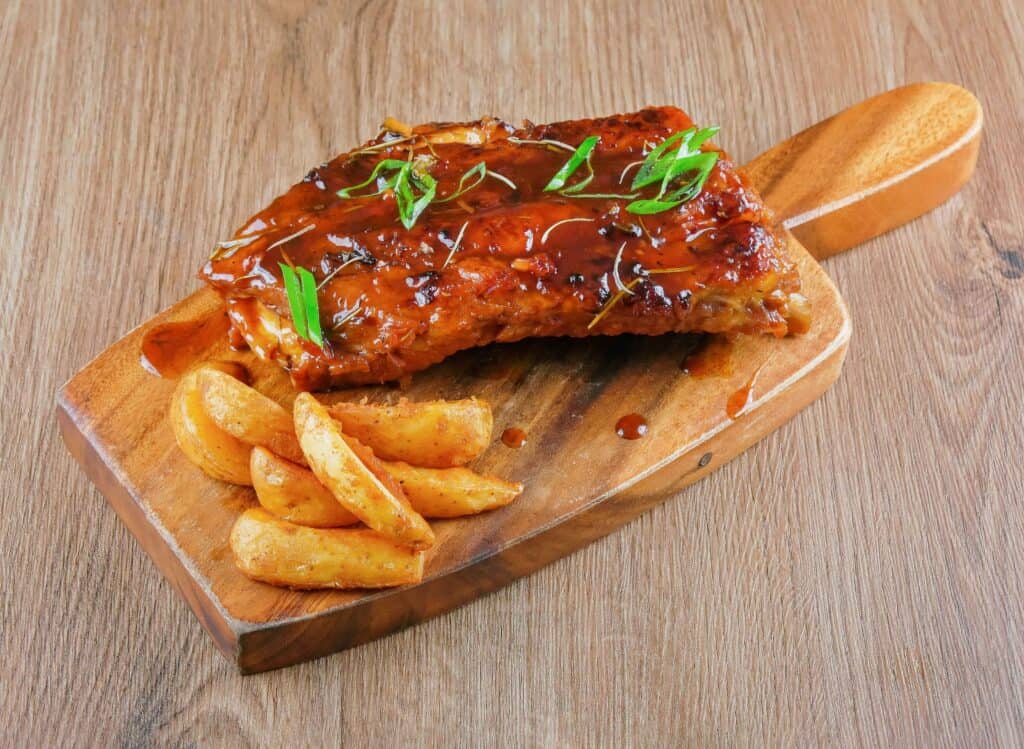 Crispy Pata – Don't miss savoring the finest crunch of this culinary masterpiece here at Crbs N Crack featuring a deep-fried pork knuckle that is perfectly seasoned and intricately cooked to give you the crispy texture outside and juicy bites on the inside.
Lechon Kawali – Savor the delightful fusion of crispiness and tenderness in this amazing dish of Lechon Kawali featuring a mouthwatering juiciness of meat and a satisfying crunch of the perfectly fried pork.
Sisig de Kapampangan – A beloved at Crabs N Crack that provides a comforting flavor of sizzling chopped pork. It is delightfully served in a hotplate giving you an aromatic flavor and defined textures.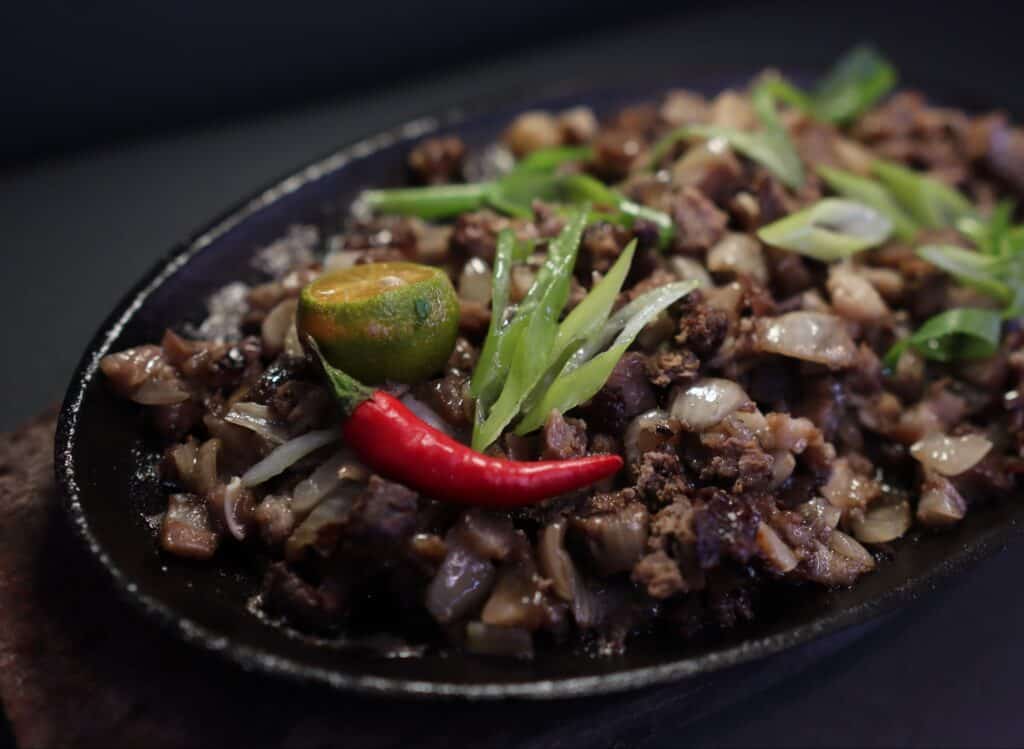 Crabs N Crack Menu Delivery
Order this delightful collection through online food delivery services such as FoodPanda Philippines. You will surely love this delightful and you will love it even more that you get to indulge with them in the greatest comfort of your home. You can also check out the availability of GrabFood PH if FoodPanda is not available; because it provides a wider range of covered areas.
Social Media Pages
Join them on social media, and embark on a culinary voyage like no other. The aroma of freshly cracked crab, the sight of sumptuous seafood, and the buzz of delighted diners await you at Crabs N Crack.
Facebook: https://www.facebook.com/crabsncrack
Instagram: https://www.instagram.com/crabsncrackph
TikTok: https://www.tiktok.com/@crabsncrack_ph
Frequently Asked Questions
What type of cuisine does the Crabs N Crack offer?
Crabs N Crack offers a flavorful dive into the finest flavors of the ocean with their amazing collection of Mixed seafood delights and enticing Sets that provide comfortable seafood bites. They also offer meat entrees perfect for people who are not in the mood for seafood.
What is the Crabs N Crack known for?
It is famous for its CNC Bilao and Their Sets which are definitely a true delight. They are also popular for their Siningang na Hipon and more.
What are the operating hours of Crabs N Crack?
Crabs N Crack has various operating hours depending on every branch. However, they are open to serve you the typical operating hours which are from 10 AM until 10 PM.
Where is the Crabs N Crack located in the Philippines?
Crabs N Crack is available on the Friendship Highway at Angeles City Pampanga as well as at San Fernando Pampanga.
Conclusion
In conclusion, Crabs N Cracks is a restaurant that offers a gateway to the seafood and culinary heaven. The dining experience they offer from the quality of the food with a very diverse menu concept to the accommodating staff is top-notch. I love how they went crazy in giving us various platters by taking Crabs to a higher level. I also want to commend how they provide a menu option for people who are not into seafood, considering that they added that option and it was already evident that this restaurant is perfect for all. From pure indulgence, the sets offer their main entrees such as Baby Back Ribs and Crispy Pata, Indeed Crabs and Cracks is the perfect restaurant for your next barkada bonding.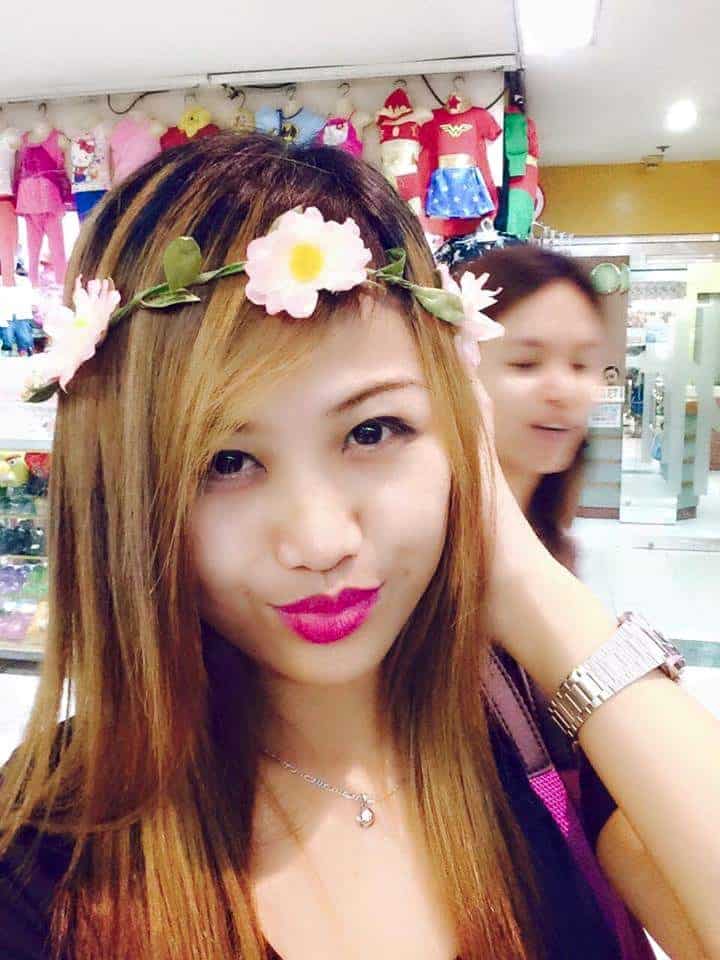 Hello! I'm Shaoyeu Cassandra, a mom who spends most of my time at home, and when I'm not busy, I enjoy writing blogs. I live in Cavite, and I really love talking about the menus of different restaurants.
So, I decided to share my thoughts on the menus of some fast-food places. I'm hoping my take on them can be like a helpful guide for you to decide what tasty treat to go for next. I hope you discover something you really enjoy! Thanks for stopping by!