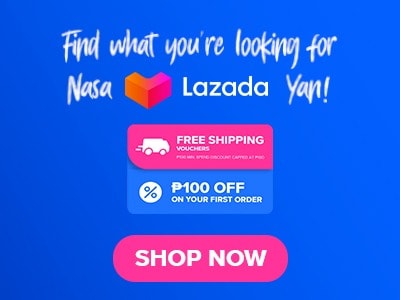 Filipino people have a generally positive view of ramen. The dish has become increasingly popular in the Philippines in recent years, due to its delicious flavor and versatility. At Ukokkei, they had this set of Japanese dishes on their Ukokkei menu that can literally soothe your hunger. Ukokkei Japan started in the last quarter of 2015. They have established their name since their first launch in the corners of SM Megamall, Mandaluyong. Due to their great customer service and their efforts to feed the cravings of Filipino, they manage to grow more and built three more branches – for a total of four strong branches.
Below, you'll find the updated list of Ukokkei menu prices.
Menu Items
Price (PHP)

Salads

Egg Salad
150
Green Salad
130
Kani Salad
170

Side Dishes

California Roll - 4 pcs
70
California Roll - 8 pcs
130
Ebi Tempura
210
Gyoza(pork) - 5 pcs
180
Pork Katsu
189
Rice
50
Teba Karaage
179
Tori Karaage
160

Ramen

Aka Ajitama Ramen
239
Aka Chashu Ramen
269
Aka Ramen
199
Kuro Ajitama Ramen
239
Kuro Chashu Ramen
269
Kuro Ramen
199
Midori Ramen
210
Shiro Ajitama Ramen
239
Shiro Chashu Ramen
269
Shiro Ramen
199
Special Aka Chasu Ramen
350
Special Aka Ramen
320
Special Kuro Chashu Ramen
350
Special Kuro Ramen
320
Special Shiro Chashu Ramen
350
Special Shiro Ramen
320

Tsukumen

Tsukemen - Shiro (Large)
250
Tsukemen - Shiro (Regular)
220

Rice Bowls

Beef Yakiniku Don
250
Chahan
150
Gyudon
250
Pork Katsudon
299
Teriyaki Chasu Don
200
Tori Karaage Chahan
230

Curry Rice

Curry rice
180
Hamburg Curry rice
280
Omu rice
200
Pork Katsu Curry rice
299

EXTRAS

Chasu
25
Egg
40
KIKURAAGE
40
Noodles
50
Nori
15
Rice
50

Beverages

Bottled Water
50
Coke
50
Coke Zero
50
Sprite
50
About Ukokkei
The creators of Ukokkei Ramen – Mr. Funatsu – have launched a new project called Ukokkei Japan, which offers specialty ramen from 10 different Japanese locales. Their most-selling dish is ramen which is loved by most Filipinos.
In Japan, ramen has established itself as a staple dish, and it is also readily accessible in many other nations. It is frequently enjoyed as a quick and inexpensive supper and is noted for its warm and soothing flavor. Foodies and culinary lovers who value the dish's complexity of flavor and adaptability have also taken an interest in it.
Ukokkei Menu Best Seller
At Ukokkei, their most popular foods are difficult to choose because Ukokkei can really serve flavorful, fragrant, and intense meals. Nonetheless, for the benefit of our lovely, devoted readers, here are some of Ukokkei's best-selling dinners which will feature most of Ukokkei's Special Dishes.
Special Shiro Ramen – It is indeed special because the broth of this Ramen was made for about 15 hours to bring out the best flavor that the pork can emit.
Special Kuro Chashu Ramen – Ramen menu from Ukokkei is truly special because it consists of two large pork bellies, 2 perfectly cut half-egg, and a spring onion black fungus with seaweed.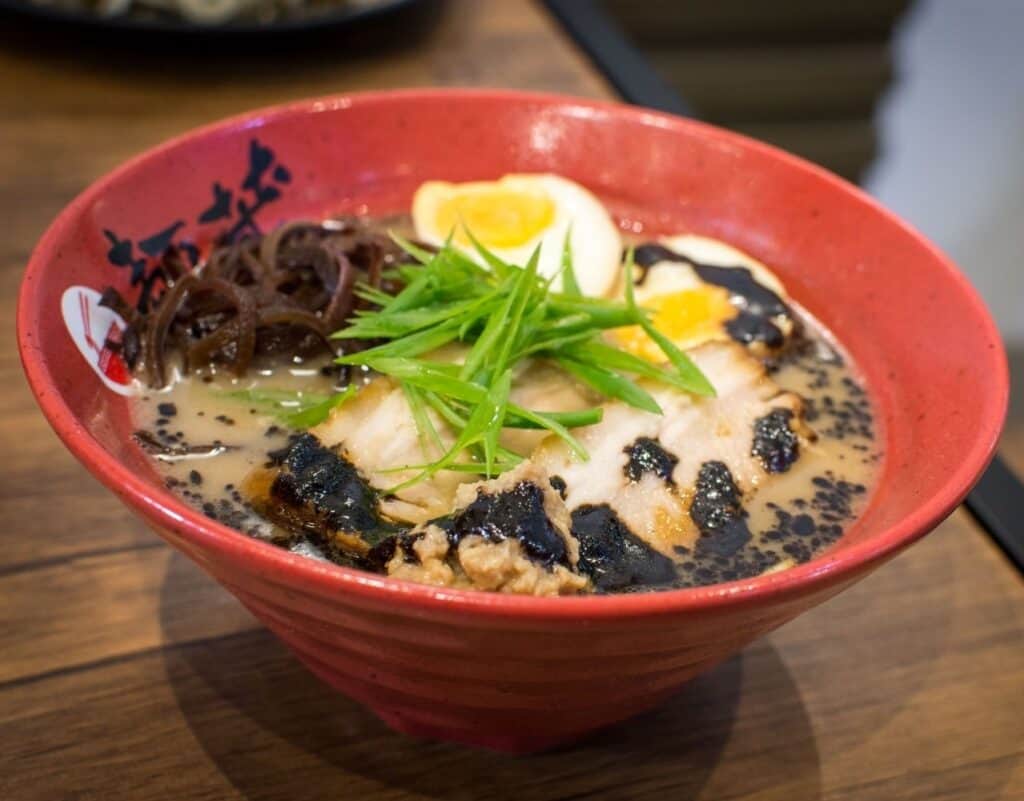 Special Aka Ramen – Slices of pork belly, spring onions, and other fresh toppings are placed on top of a mildly spicy chili noodle soup that can be perfectly enjoyed Special Aka Ramen for only 320 pesos.
Shiro Ajitama Ramen – This meal consists of 1 piece of big pork loin, spring onion, two half eggs, and the famous black fungus that can ultimately add flavor to the broth.
Special Aka Chasu Ramen – You can now get a two-piece pork belly, two half-eggs, and a garnish of spring onion with black fungus and seaweed for as little as 350 pesos.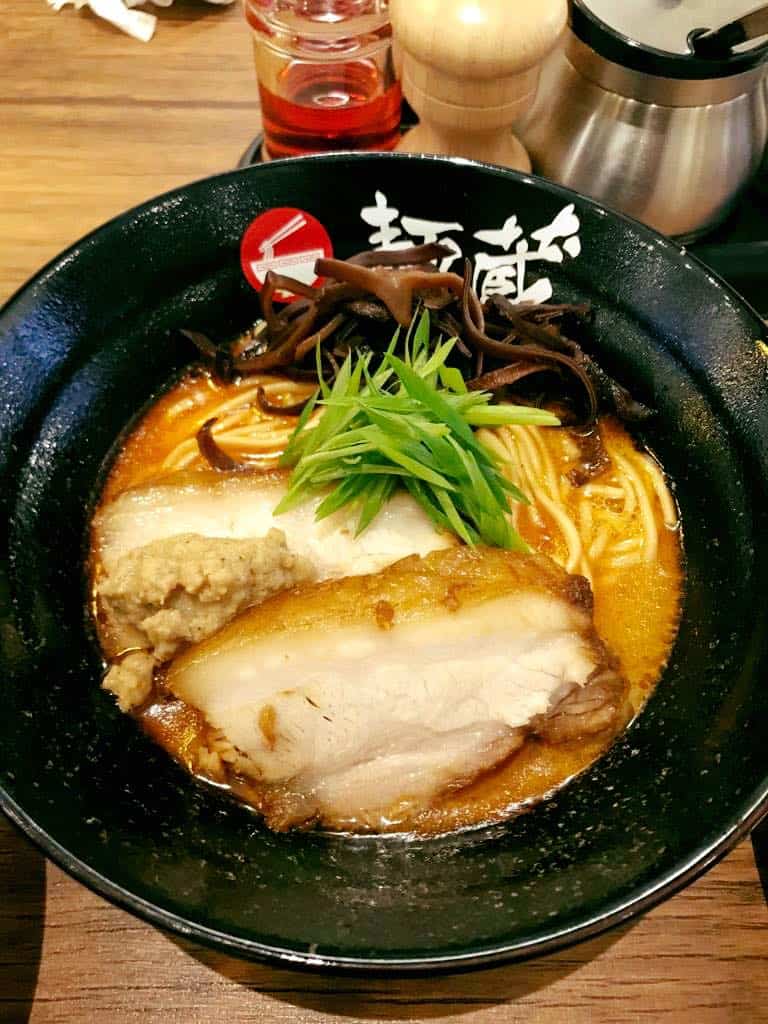 Ukokkei Ramen Menu
A popular soy sauce or miso-flavored soup with wheat noodles prepared in the Chinese style is called ramen. Sliced pork, dried seaweed, and green onions are among the common toppings. This dish is famously served at Ukokkei, so here's some of the ramen that can be found on their Ukokkei Menu.
Kuro Chashu Ramen – This ramen has the rich taste of bone soup combined with 2 half slices of eggs, black fungus, three huge cuts of pork loin, and a strong flavor of black sesame added that resulted in an extravagant taste. 
Aka Ramen – For those who love a bit of heat in their ramen, look no further than this tantalizing dish. Bursting with bold flavors and a fiery kick, it's sure to satisfy any spice lover's palate. So why not treat yourself to this delicious bowl of goodness and experience the perfect blend of heat and flavor?
Aka Ajitama Ramen – Treat yourself to a delightful combination of juicy pork loin, perfectly boiled half egg, flavorful spring onion, and savory black fungus. With each bite, you'll savor the exquisite blend of textures and flavors that make this dish a standout. So why not give yourself the gift of culinary bliss and dig into this delicious meal today?
Midori Ramen – Indulge in a culinary masterpiece that combines fresh and healthy ingredients to create a truly satisfying meal. This dish features tender green beans, paired with the subtle yet delightful flavor of basil leaves, and a hearty pork bone soup that's rich in flavor. Topped off with other fresh and delectable ingredients, each bite is a symphony of flavors that's sure to leave you feeling satisfied and content.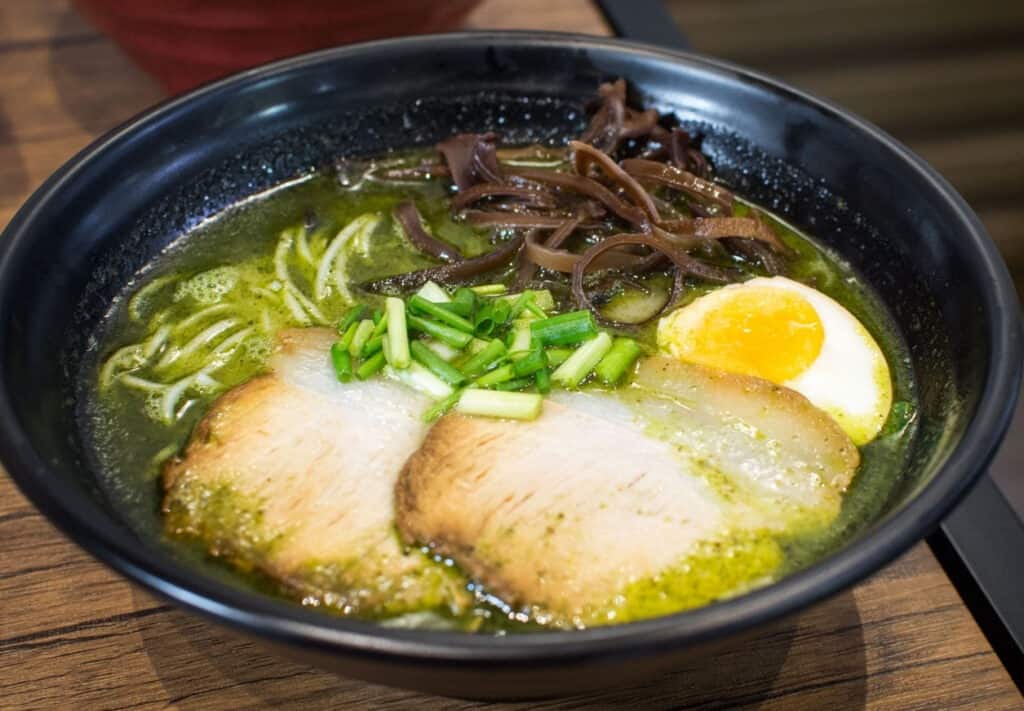 Kuro Ajitama Ramen – This pork bone soup is elevated to new heights with the addition of luscious black sesame garlic oil. The infusion of this oil brings out a delightful smokiness, a tantalizing fragrance, and a burst of flavor that tantalizes the taste buds. Every spoonful of this soup is a savory treat that will leave you craving more.
Tsukumen
Ukokkei, a renowned restaurant known for its mouth-watering culinary delights, presents one of its most coveted menu items. The dish comes in two sizes – Regular and Large – and boasts a trio of delectable dippers to choose from: Tonkatsu Shiro, Kuro Mau, and Kara Tonkatsu. Indulge in the rich flavors of this savory dish and savor each delectable bite.
Rice Bowl
Bibimbap in Korean cuisine and donburi in Japanese cuisine are two examples of the many names for rice bowls, which are used in many cultures. At Ukokkei, there are six different types of rice bowls that you can purchase. These include Beef Yakiniku Don, Chahan (also known as Yakimeshi in Japan), Teriyaki Chasu Don, Gyudon, Pork Katsudon, and Tori Karaage Chahan.
Chahan – Also known as Yakimeshi, a beloved dish in Japan, is renowned for its delicious fried rice that is cooked to perfection and seasoned with an array of tantalizing flavors. This culinary masterpiece has captured the hearts and taste buds of people worldwide, with many variations and styles to choose from.
Beef Yakiniku Don – Enjoy a culinary adventure with a pan-grilled beef entrée menu from Ukokkei that is perfectly cooked and served with a delicious sauce made from a unique blend of soy sauce, sake, mirin, sugar, garlic, fruit juice, and sesame oil. This dish is a true masterpiece, with its rich flavors that will make you craving for more.
Gyudon – Donburi, a popular Japanese dish, is traditionally made by combining stewed beef, onions, and rice in a bowl. This hearty and comforting meal has become a staple in Japanese cuisine, with various restaurants and home cooks adding their unique twists to the classic recipe. With its warm and savory flavors, donburi is the perfect meal for any occasion, and its popularity continues to grow beyond the borders of Japan.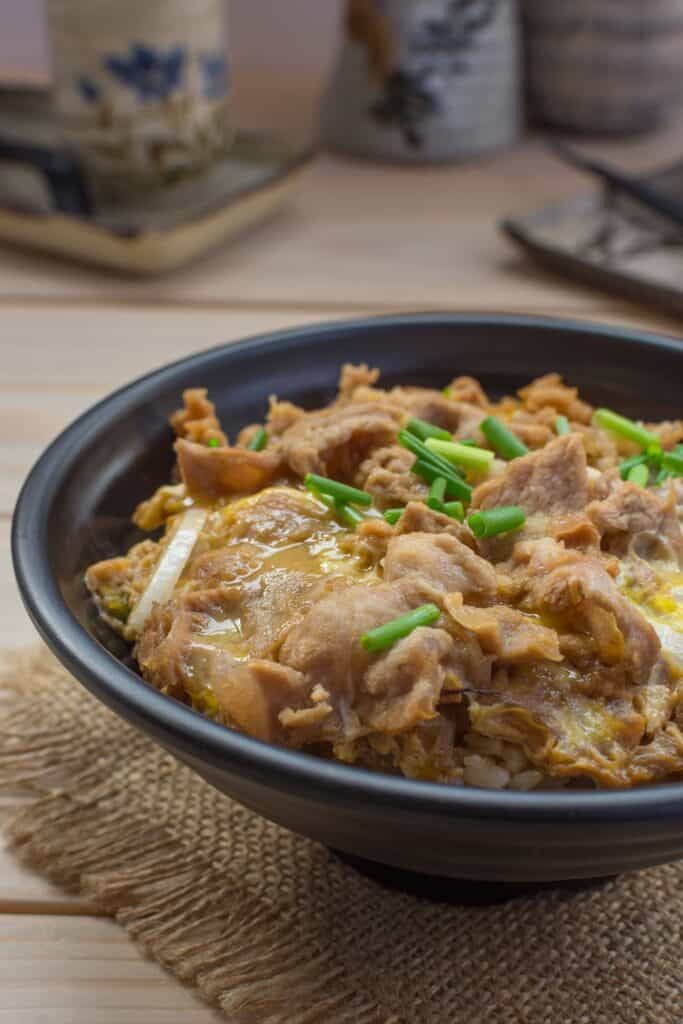 Pork Katsudon – It is a combination of a crispy fried pork cutlet served on a bed of perfectly seasoned and dressed rice. The flavors of the pork meld effortlessly with the taste of the rice, making it a comforting and satisfying meal. It has become a popular choice for many people worldwide, thanks to its crispy texture and rich flavor
Teriyaki Chasu Don – This Ukokkei menu comprises a simple yet delicious combination of tender and flavorful pork served on a bed of plain rice. The pork is cooked to perfection, and simmered to bring out its rich and savory flavor, making it a hearty and satisfying meal.
Ukokkei Curry Rice Menu
While it is a staple food in Japan, curry actually originated in India. This renowned dish has since become a global sensation, with different variations and cultural influences giving it a unique flavor and versions of its own. It is characterized by the use of aromatic spices such as turmeric, coriander, and cumin, which give it a warm and distinct flavor. Curry dishes can range from mild to spicy and can be made with various ingredients such as meats, vegetables, and legumes, making it a versatile and popular meal enjoyed by many.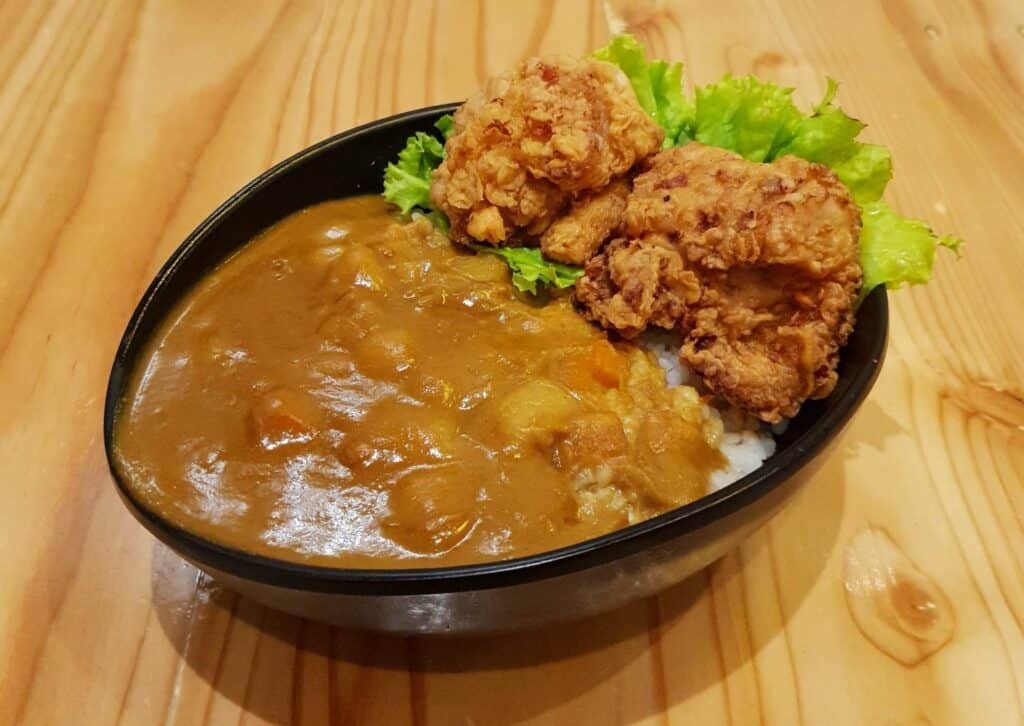 Side Dishes
At Ukokkei, the side dishes are not your typical afterthoughts. The restaurant offers a wide variety of options including Tempura, California roll, Tori Karaagee, Gyoza, and many more, each carefully crafted to complement and enhance the flavors of the main dishes, such as their famous ramen. These side dishes are more than just accompaniments; they are an essential part of the meal that completes the dining experience. Whether you're looking to add some extra flavor or just want to try something new, the side dishes at Ukokkei are a must-try for anyone seeking a delicious and well-rounded meal.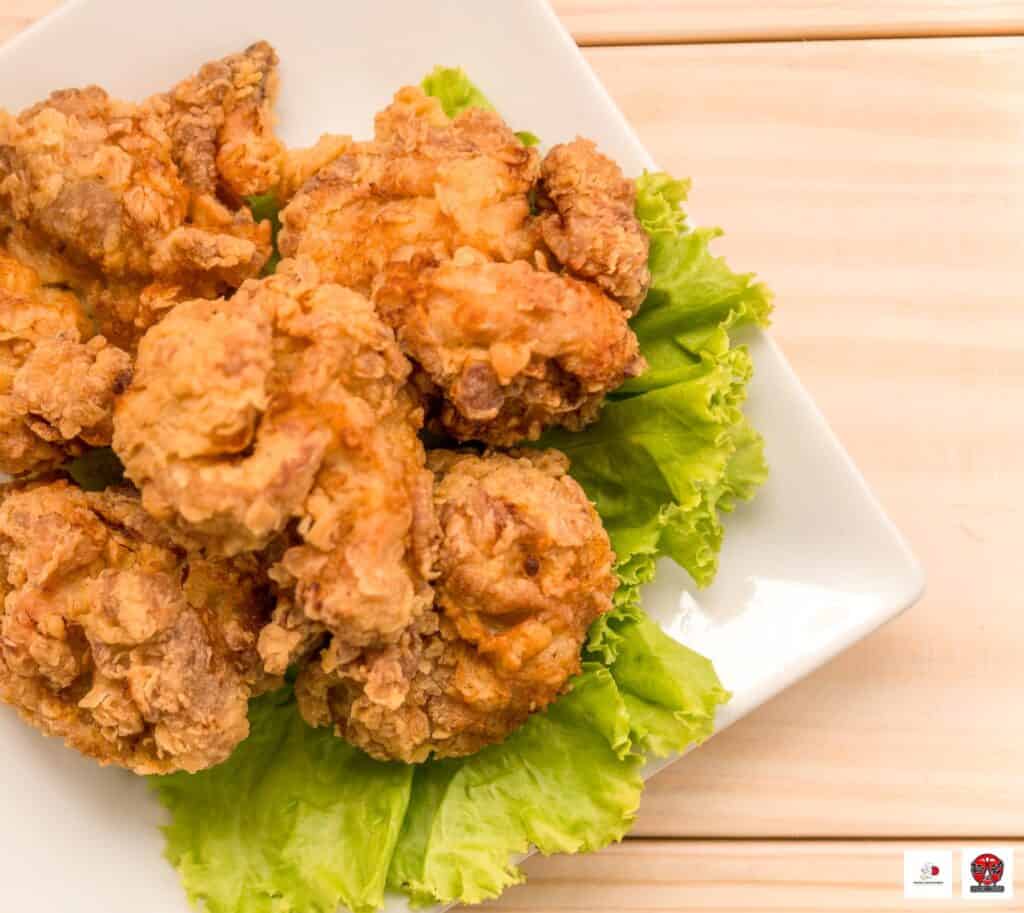 Ukkokei Menu Delivery
The new technology really helps us in making our daily lives easier. With the assistance of social media, Ukkokei became really famous! Due to their influence and how they magnetize people, they now had their fifth branch found in Maginhawa street. If you want to know more about their branches, then below is your best guide.
Market! Market!
| | |
| --- | --- |
| Address | 4/F Food Court, McKinley Pkwy, Market! Market!, Fort Bonifacio, Taguig, Metro Manila |
| Contact Information | (0917) 846-1069 |
| Operating Hours | M-Th, Su: 10 AM-9 PM, F-Sa: 10 AM-10 PM |
SM City North EDSA
| | |
| --- | --- |
| Address | G/F Food Court, North Ave cor EDSA, SM City North EDSA, Bagong Pag-Asa, Quezon City, Metro Manila |
| Contact Information | (02) 8354-1657(0917) 324-4321(0905) 305-3668 |
| Operating Hours | All Day from 10 AM-9 PM |
SM Megamall
| | |
| --- | --- |
| Address | LG/F Bldg A, Doña Julia Vargas Ave cor EDSA, SM Megamall, Wack-Wack, Mandaluyong, Metro Manila |
| Contact Information | (02) 8636-5238 |
| Operating Hours | All Day from 10 AM-10 PM |
Maginhawa Street
| | |
| --- | --- |
| Address | Doña Zenona Suites, 54 Maginhawa St cor Mahusay St, Maginhawa Street, UP Village, Quezon City, Metro Manila |
| Contact Information | (0906) 574-0183(0918) 572-0922 |
| Operating Hours | M-Th, Su: 11 AM-10 PM,F-Sa: 11 AM-11 PM |
Social Media Pages
Interested in dining here in Ukokkei? Message them through their social media pages and email to get more information about their menu and services. Check out the links provided below to redirect you to their pages, website, and email.
Facebook: https://www.facebook.com/ukokkeijapan
Instagram: https://www.instagram.com/ukokkeijapanramen/
Website: https://www.ramenmenzo.com/pages/contact-us
Email: [email protected]
Conclusion
The Ukokkei menu makes clear how innovative it is when it comes to food. Your palate can be truly satisfied by their wide variety of Japanese dishes. A well-known cuisine that can be purchased at Ukokkei is ramen. In actuality, ramen has gained popularity all over the world and is widely available in many nations. So, grab your friends and clear some time from your hectic schedule if you wish to visit Ukokkei! When you arrive, we'll get the trays ready for you and your companion!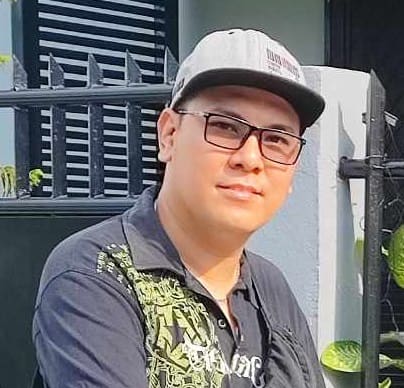 Hi! I'm Nivek Strife, the person who made MenuPH. I'm the one who added most of the popular menus you see on this website, and I really hope you enjoy them! Feel free to check them all out.
Growing up, I was surrounded by lots of tasty foods, like the classic Adobo and the sweet Leche Flan. That love for the many flavors of the Philippines is what got me excited about adding to MenuPH. When I learned how to make websites, I saw the need for a place to show off all the amazing Filipino dishes, and that's how MenuPH started.
MenuPH isn't just a website; it's like a fun journey into food. I've teamed up with famous chefs and found great places all over the Philippines to bring you a bunch of menus that show off the best of Filipino cuisine. Whether you're into the usual dishes or new twists, MenuPH is here to guide you through the rich world of Filipino flavors.
With MenuPH, my aim is to help local businesses, talk about good food choices, and make a group of friends who love food. No matter if you like fancy restaurants or street food, MenuPH has something for you. Come join me on this food adventure as we find great places, taste real flavors, and enjoy the unique food traditions that make the Philippines awesome.