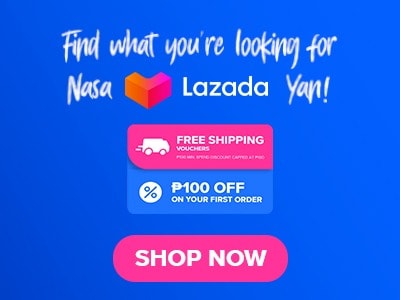 The Royal Indian Curry House menu is composed of authentic Indian dishes that Filipinos have started to love. Their dishes' foundations are heat and very potent spices. Each of the dishes that they serve has a strong flavor profile that is warming, spicy, earthy, and frequently sweet and smoky. They aim to provide their customers with the best Indian dining experience by only using the freshest and highest quality ingredients in the dishes that they serve.
Below, you'll find the updated list of Royal Indian Curry House menu prices.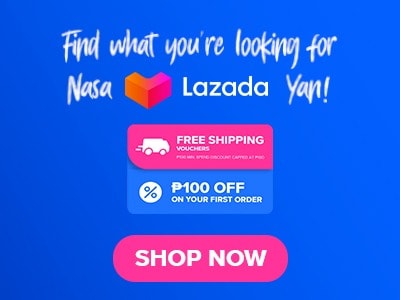 Menu Items
Price (PHP)

Hot and Sour Soup

249
Munchow Soup
249
Dhal Soup
249
Tomato Soup
249
Seafood Soup
349
Sweet Corn Soup
249
Rasam
249

Salads and Chaat

Mango Salad
399
Kavhumber Salad
299
Green Salad
299
Aloo Chaat
299
Papdi Chaat
359
Samosa Chaat
359
Raita Mix
249
Papad Plain
199

Appetizers

Samosa
249
Salt and Pepper
399
RICH Special Crispy Corn
399
Crispy Potatoes and Honey Chilli
399
Fish Salt and Pepper
429
Aloo Tikki
299
French Fries
249
Chollay vhature
499
Momos Chicken
349
Prawn Pakora
599
Frankies
329
Chicken
399
Veg Pakoda
399
Kathi Roll
499
Roti Chennai
399
Fish and Chips
429
Chilli Pakod
399

Tandoori Dishes

Chicken Tikka
599
Tanoodri Chicken
599
Afghani Chicken
649
Tangri Kebab
599
Chicken Malai Tikka
599
Shami Kebab
599
Khaas Seeekh Kebab
649
Fish Tikka Hara
699
Fish Tikka Hara
599
Fish Malai Tikka
599
Tandoori Prawn
649
Roast Lamb
2999
RICH Grand Tandoori Grilled Platter
2499
RICH Special Tangri Kebab
799
Flaming Mutton
799

Veg Kebabs

Bhatti Paneer
599
Tandoori Phool
499
Veg Seekh Kebab
499
Hara Bhara Kebab
499
Vege Chicken Tikka
499
RICH Veg Grand Platter
1999

Curries Non Veg

Chicken Lababdar
599
Chicken Dal Saag
599
Chicken Home Made Curry
599
Chicken Kali Mirch Masala
599
Chicken Vindaloo
599
Murg Makhani
599
Murg Tikka Butter Masala
599
Murg Hyderabadi
599
Chicken Korma
599
Matki Chicken
649
Methi Murg
599
Murg Bara
649
Kadhai Chicken
599

Mutton Dishes

Kadghai Gosht
699
Mutton Rajwari Kofta
799
Mutton Rogan Josh
699
Rara Mutton
749
Laal Maas
749
Saag Gosht
749
Mutton Curry
699
Handi Meat
749
Mutton Vindaloo
759
Mutton Korma
749
Bhuna Ghost
799
Mutton Hyderabadi Curry
799
Keema Mutton
799

Feast From The Sea

Fish Tikka Masala
549
Fish Curry
549
Goan Style Fish Curry
549
Goan Style Prawn Curry
749
Prawn Masala
749
Prawn Curry
749

Vegetarian Delights

Paneer Lababdar
549
Shahi Paneer
549
Lahori Kadhai Paneer
549
Paneer Makhani
549
Palak Paneer
549
Malai Kofta
549
Vegetable Kofta
549
Mixed Vegetable Curry
549
Shabnam Curry
549
Vege Chicken Curry
549
Chana Masala
449
Banarsi Dumaldoo
449
Aloo Jeera
449
Bhinda Do Pyaza
449
Aloo Bhindi Dry
449
Aloo Palak
449
Aloo Gobhi Dry
449
Baigan Ka Bharta
499
Vege Chicken Kadai Masala
499

Dal Specialties

Dal Tadka
499
Dal Makhani
549
Sambhar Dal
499
Moong Dal
499

Biryani's Rice

Hydearabadi Biryani
799
Chicken Biryani
649
Nawabi Tarkari Biryani
549
Prawn Biryani
799
Mutton Biryani
749
Fish Biryani
699
Rich Special Keema Biryani
849
Egg Biryani
599
Kashmiri Pulao
349
Peas Pulao
299
Curd Rice
349
Jeera Rice
299
Plain Basmati Rice
219
Saffron Rice
369
Plain Biryani Rice
399
Steamed Rice
119

South Indian Dishes

Dosa Plain
449
Masala Dosa
599
Cheese Dosa
649
Chilli Dosa
599
Paneer Dosa
649
Idly Sambhar
499
Uttapam
599

Indo Chino

Indo Chino Fried Rice
449
Chilli Paneer
529
Chilli Chicken Dry
499
Chilli Miushrooms
499
Veg Manchurian
479
Veg Meat Indo chino Style
479
Hakka Noodles
399
Egg Noodles
399
Schezwan Fried Rice
499
About Royal Indian Curry House
Royal Indian Curry House is a restaurant that serves authentic Indian cuisine and is located at General Luna, Makati, Philippines. It is the first Indian sports bar and restaurant in Manila. They provide northern Indian dishes as well as Pakistani dishes like chicken korma. They have an Indian chef from New Delhi, and the proprietors are Nepalese who were raised in India. Royal Indian Curry House, or RICH, ensures that the food they serve is as opulent and lavish as the abbreviation of their name suggests.
Royal Indian Curry House Menu Best Seller
These dishes are what made RICH the way it is now. Below are the most ordered and most liked dishes in the said restaurant.
Chicken Tikka
It is essentially a boneless variation of tandoori chicken. It is traditionally made up of small pieces of boneless chicken that are roasted using skewers on a brazier over charcoal.
Veg Seekh Kabab
This delicious vegetarian kabab menu from Royal Indian Curry House is made with soy granules or chunks of vegetables like potatoes, peas, and other textured vegetable proteins. It is often prepared using minced beef and cooked on skewers in a charcoal oven.
Dhal Soup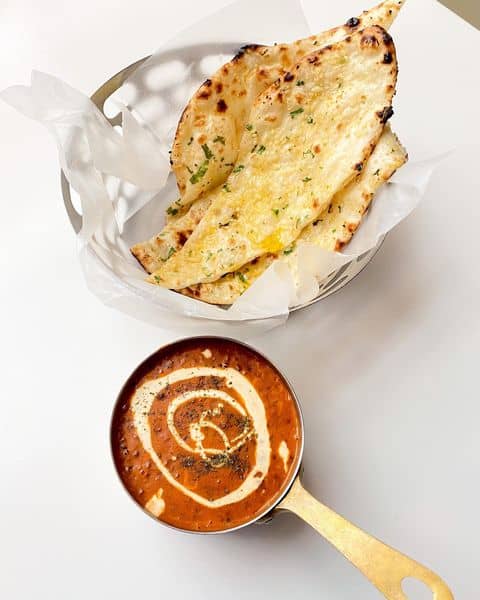 Even if it is a simple dish, their dhal soup is very delicious and budget friendly. This is why it is one of the best sellers in this restaurant. Their Dhal Soup uses red lentils, which are easy on the stomach, and lemon juice, which provides a delightful zest.
Appetizers
This menu is composed of small dishes that are served before the guests' main course arrives. Here are the samples of appetizers from the Royal Indian Curry House menu that you should definitely try.
Samosa
A Samosa, also known as Singara, is a fried pastry from South Asia that uses peas, onions, and spiced potatoes as its filling.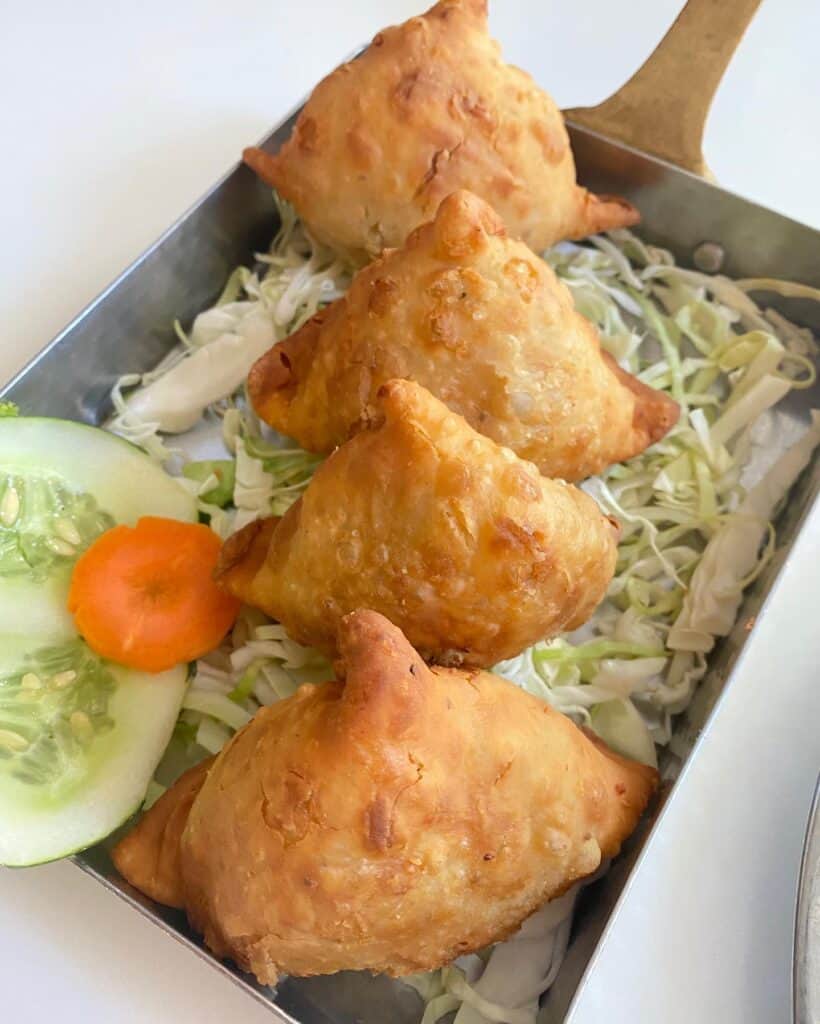 Fish and Chips
Fish and chips is a well-known hot dish that consists of crispy, battered fish served with fries. A side of gravy elevates your meal to a whole new level, while salt and vinegar sprinkled on it would also bring out its flavor.
Kathi Roll
It is a famous Indian street food that originated in West Bengal. It is a paratha-wrapped kebab that is skewed and then roasted.
Tandoori Dishes
It is composed of dishes that are cooked over a charcoal fire inside a tandoor, which is what Indians call a cylindrical clay oven.
Tandoori Chicken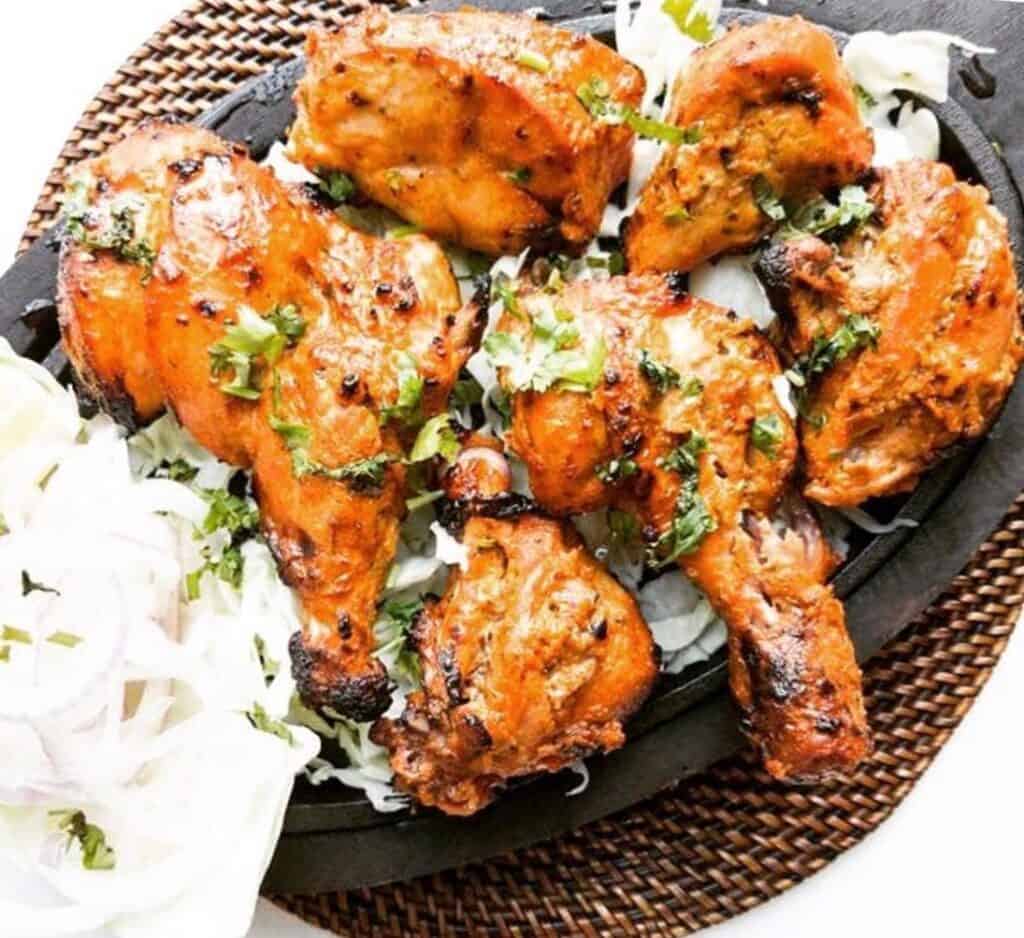 This menu from Royal Indian Curry House is a South Asian dish that uses marinated chicken, yogurt, and spices and is cooked in a cylindrical oven called a tandoor.
Tangri Kebab
Chicken drumsticks are marinated in a mixture of different varieties of spices to bring out the drumstick's flavors.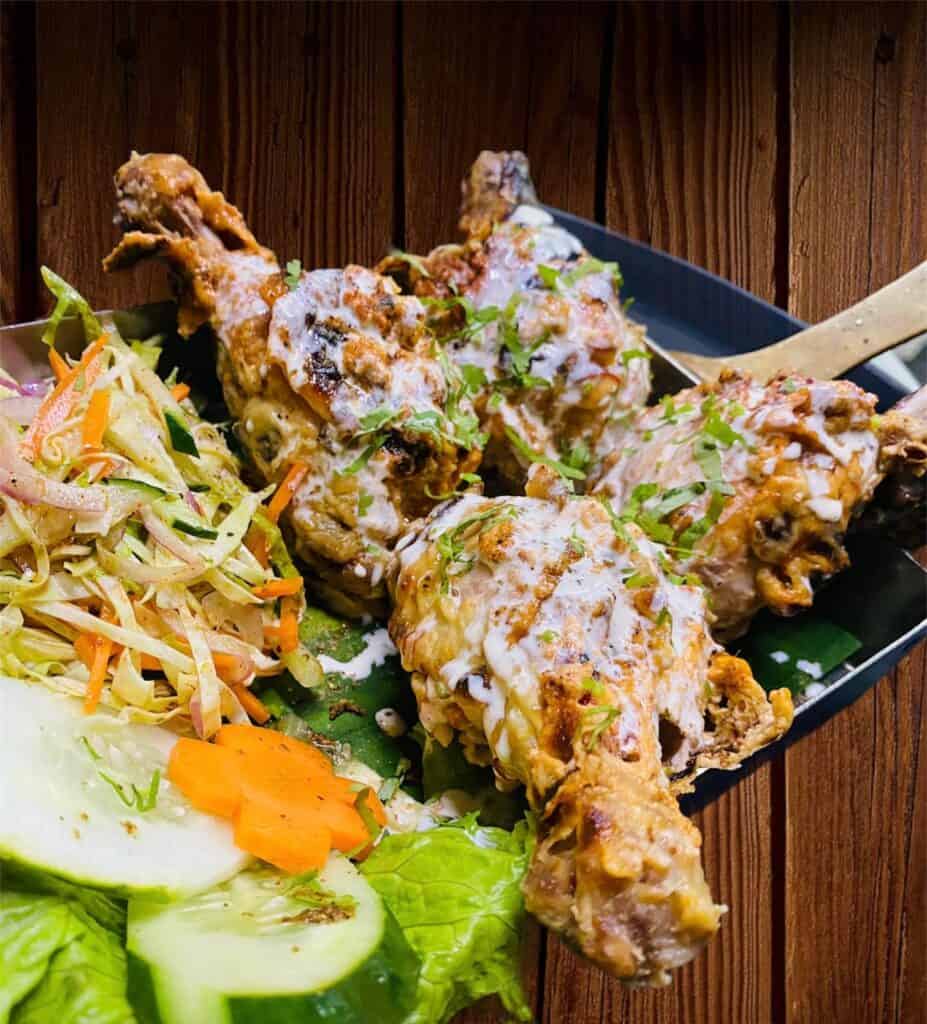 Shami Kebab
It is an indigenous kebab dish from the Indian subcontinent. Shami Kebab is one of the most popular meals in contemporary Indian cuisine.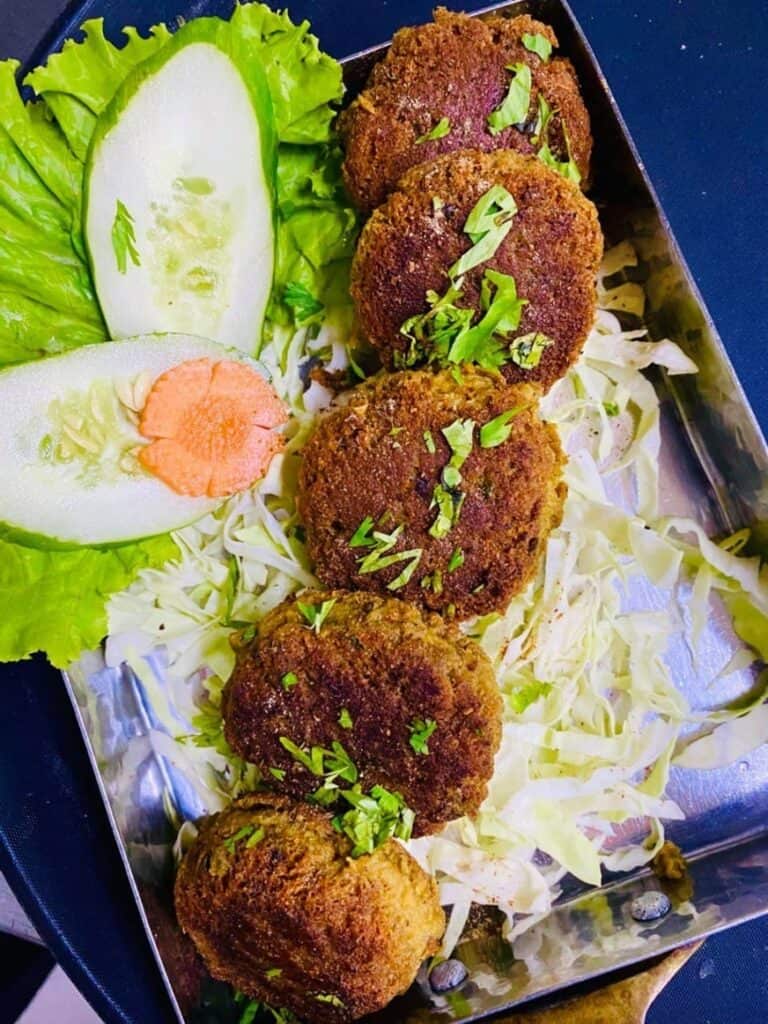 Curries Non-Veg
This menu is composed of curry dishes that use meat, or more specifically, chicken, as their main ingredient.
Chicken Lababdar
This simple chicken meal is made by using boneless chicken pieces and other ingredients such as onions, tomatoes, butter and cream, mustard, and a variety of other spices. This is a hearty and creamy dish that can be enjoyed at small to large gatherings, such as parties or buffets.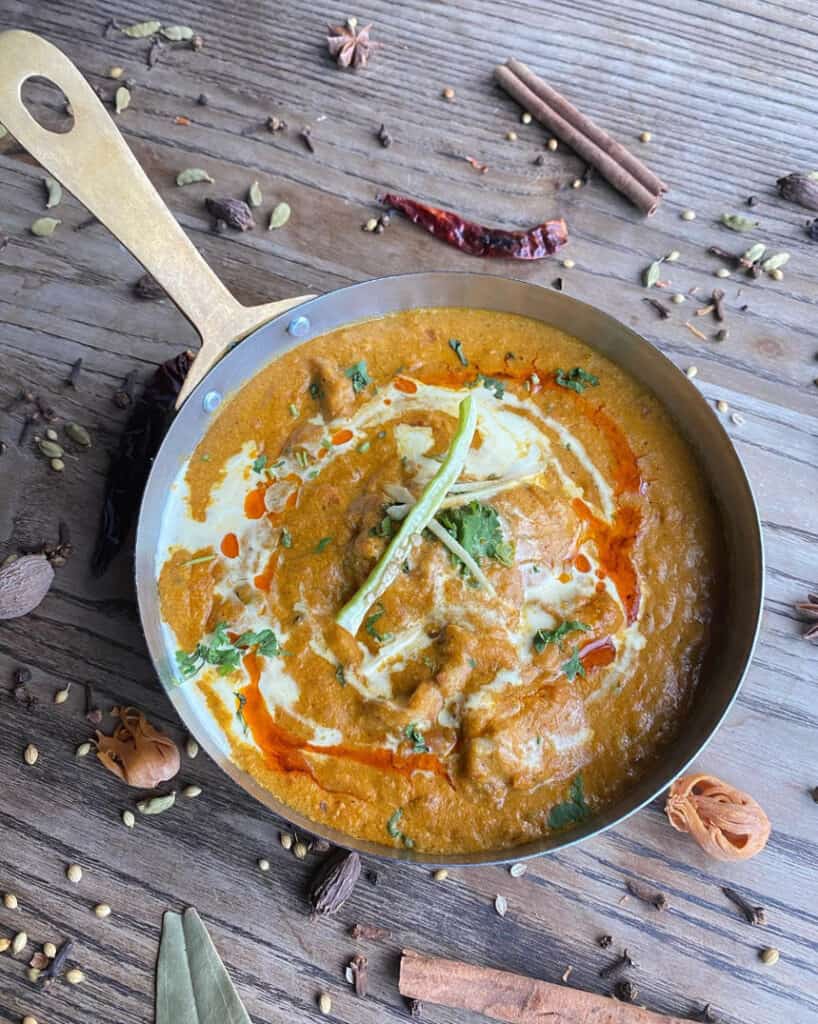 Chicken Dal Saag
This Royal Indian Curry House menu is a traditional Indian meal that uses chicken, spinach, herbs, and sour cream as its ingredients. Royal Indian Curry House's Dal Saag meals are mild with a moderate quantity of gravy and are served with basmati rice. Their chicken vindaloo is typically prepared with vindaloo sauce, which is made from caramelized onions, curry paste, coconut milk, and other ingredients. This dish is super spicy but has a lot of bright, acidic, and a tinge of vinegar.
Feast from the Sea
All of the dishes that are part of this menu use seafood as their main ingredient. Perfect for guests who have already grown tired of chicken and meat.
Fish Curry
It is a Goan and Indian dish that uses sardines as an ingredient. The sardines are semi-steeped in a curry made in the style of Kerala with a variety of vegetables, including okra or onions. The most popular accompaniments for this dish include rice, naan, or bread.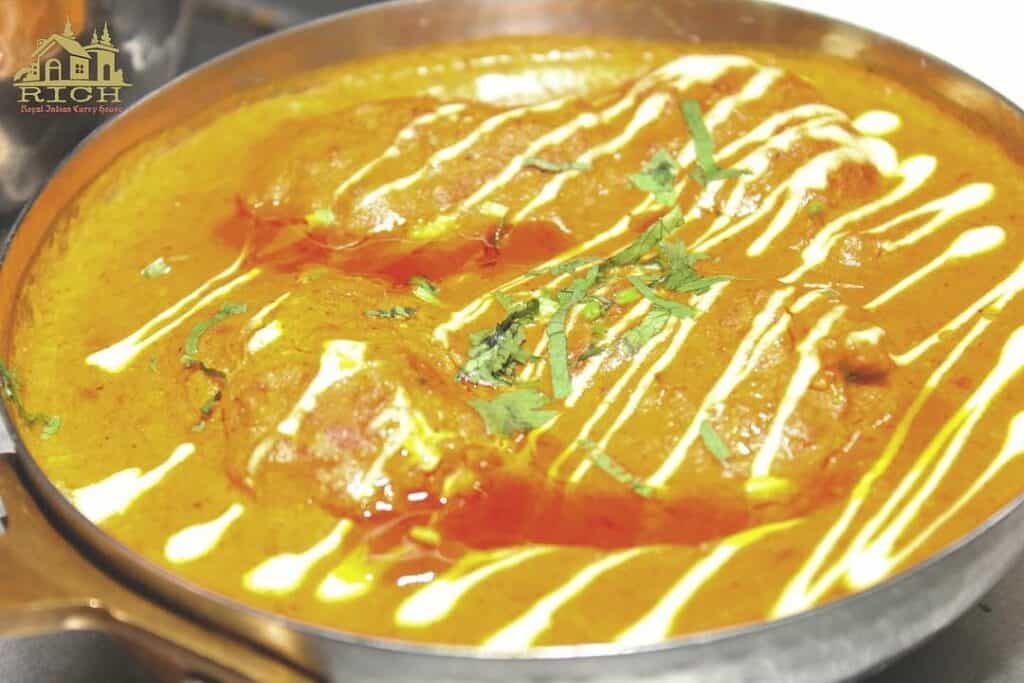 Goan Style Prawn Curry
Goan Style Prawn Curry is a hot, sour meal from Goa. A meal should always begin with some Goan Prawn Curry cooked with coconut, which will soothe the diner and make them feel at home, warm, and safe.
Prawn Masala
Masala is a flavorful, fragrant, and spicy food that is served simply. It is best consumed with roti or rice, as these two really enhance and bring out each other's flavors. This dish goes well as a starter or a side dish.
Dal Specialties
There are many varieties of dal dishes menu that Royal Indian Curry House considers their specialties. They are mostly made of dry, split pulses, such as lentils, peas, and beans, that may be cooked right away without soaking. They are known as dal in Indian cuisine. Additionally, the word is used to describe many kinds of soups produced with this variety of pulses. These pulses are among the most prominent staple foods in South Asian countries and have been a vital part of their cuisine.
Royal Indian Curry House Biryani and Rice Menu
Biryani is a type of Persian pilaf that originated among Muslims in the subcontinent of India. Biryani and rice are frequently made with Indian spices and some sort of meat as their main ingredients. However, some variants can also be made without any meat. Eggs and potatoes are commonly added to this dish. It is one of the most popular dishes in South Asia and is enjoyed by the majority of people living there.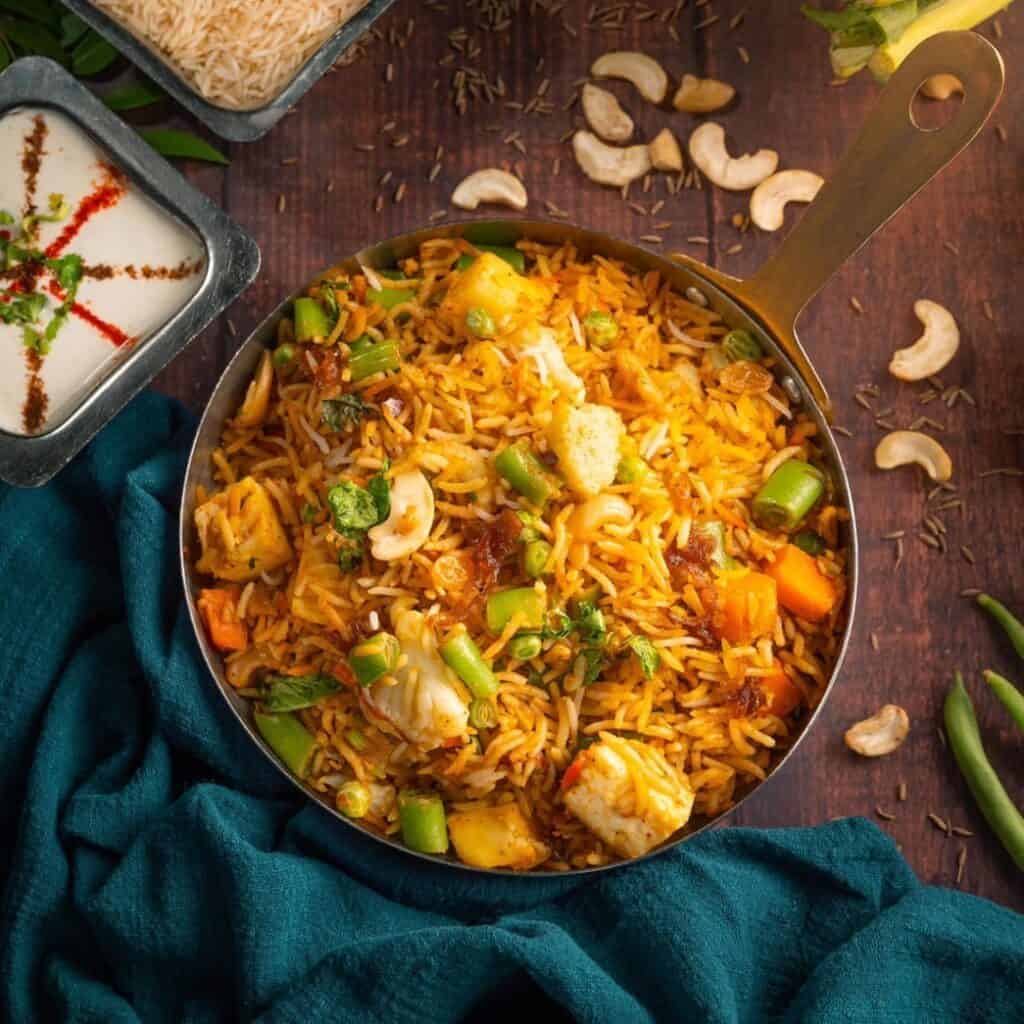 Social Media Pages
Craving Indian dishes will be satisfied once dine in here. To know their schedules of openings, promotions, delivery, or menu, then stay connected with their social media pages. You will not miss a chance for updates if you also follow their pages to promote the restaurant. The links are provided for you to get redirected and start following them.
Facebook: https://www.facebook.com/Royal.Indian.Curry.House.15
Instagram: https://www.instagram.com/royalindiancurryhouse.ph/
Conclusion
Royal Indian Curry House's menu is probably the fanciest and most enormous menu that you'll ever see. It is one of the best Indian restaurants in the Philippines. The restaurant itself is pleasant and has many beautiful decorations from India. They have a pleasant and attentive staff that is very accommodating and fast. Overall, if you are in the mood for some authentic Indian food, Royal Indian Curry House is one of the places that you should consider visiting.