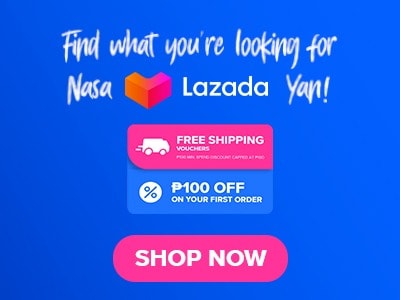 Looking for a great place to quench your thirst and cravings for some great drinks? Look no further as I have a place to recommend. Have you heard about Driptea? I know some of you already have information about them but for those who don't have the slightest idea let me give that to you. Driptea's menu offers a variety of milk tea drinks flavors, cheesecake-based drinks, and fruity drinks. So if you're down for it I won't take this introduction for too long and let's start.
Below, you'll find the updated list of Driptea menu prices.
Menu Items
Price (PHP)

Popular

Oreo Cheesecake
104
Okinawa Milk Tea
94
Wintermelon Milk Tea
94
Nuttela Milk Tea
104
Cookie Dough
89
Chocolate Mousse
104

Cold Brew Coffee - New

Caramel Macchiato
135
Dark Mocha
135

Cocoa Series

Supreme Cocoa
89
Cocoa Milktea
99

Signature Drinks

Cookie Dough
89
Taro Cheesecake
89
Haw Haw
89
Cherry Ball Gum
89

Fusion

Aurora Passion
79
Northern Yogurt
79
Sunrise Lychee
79
Mango Sunset
79

Classic

Wintermelon Milk Tea
94
Okinawa Milk Tea
94
Pearl Milk Tea
94
Thai Milk Tea
94
Uii Matcha Milk Tea
94
Hokkaido Milk Tea
94

Premium

Chocolate Mousse
104
Oreo Cheesecake
104
Nutella Milk Tea
104
Red Chocolate
104
Cheese Milk Tea
104
Brown Sugar Latte
104
Black Wintermelon
104
About Driptea
2019 is the year when Driptea started, this milk tea shop is located in Quezon City. They offer tasty and unique drinks and a variety of flavors for their customers. High-quality drinks are what they offer at Driptea and because of that a lot of customers have begun to recognize them, after several successes this milk tea shop started to expand in different locations in our country and they are still open for franchise to expand their service. They also offer high-quality drinks at a very affordable price so it's not surprising that they gain the loyalty of a lot of customers.
Lester Gomez is the man behind this successful milk tea shop and though they are new to the market we can say that Driptea is already popular. They are still trying to improve their products and create delicious items for their customers even with all the success, their goal is to deliver the best Milktea products possible without overpricing so anyone can enjoy their products.
Driptea Best Seller Menu
Here are sample best-selling items of Driptea for your reference once you decide to try their products. Best sellers are based on research.
Nutella Milktea – Nutella Milk tea is one of the top favorite items on the Driptea menu. A lot of people love Nutella that's why they have it. This delicious drink has a real Nutella on it. It's luscious and really good, especially for those who love the famous hazelnut spread. Enjoy the delicious Nutella goodness in every cup just make sure to mix it very well before consuming it to enhance the flavor of this drink. This is also my top favorite and I really want to recommend this one to all of you milktea lovers who are looking for something different in a good way.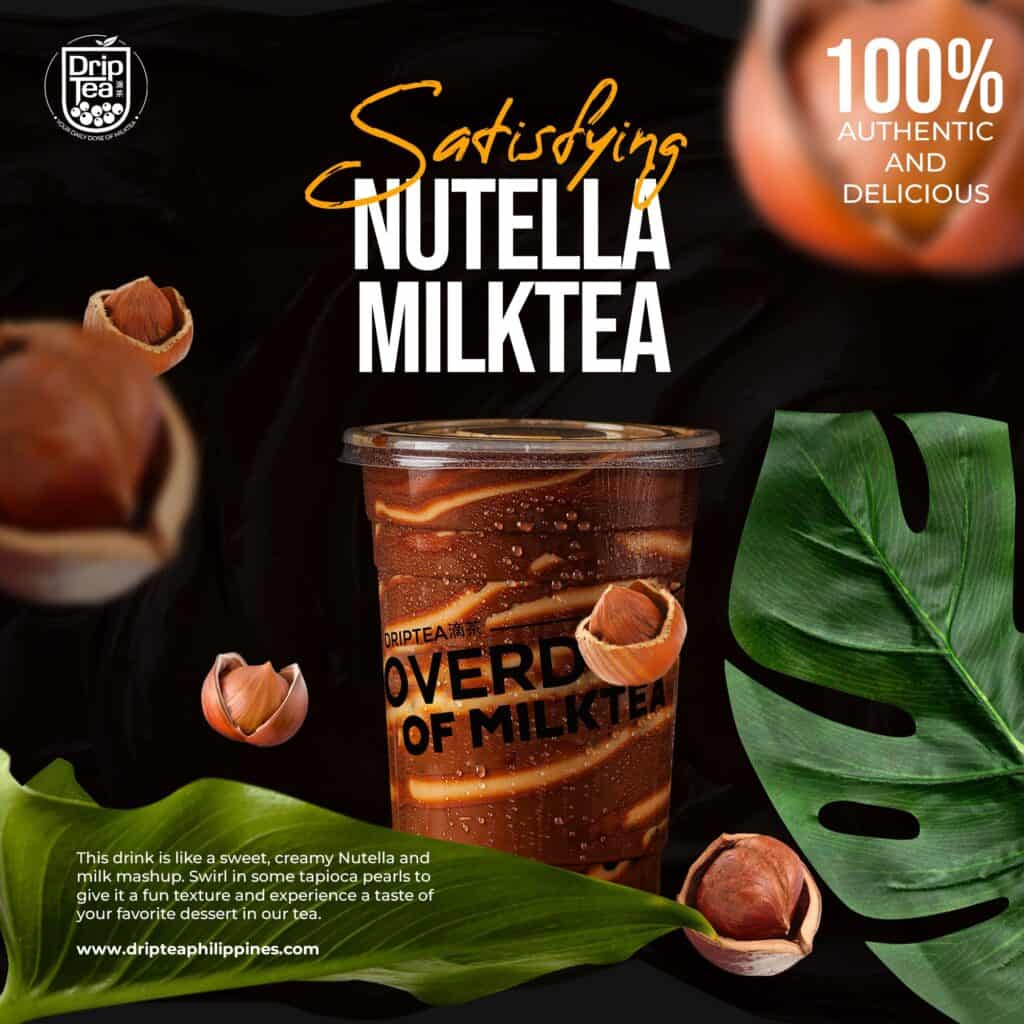 Oreo Cheesecake – The Oreo cheesecake version of Driptea has a very generous amount of cheesecake cream that's why this drink is delicious and also quite popular on their menu. It also has a strong flavor of Oreo biscuits which is delicious and definitely a treat. If you're looking for something sweet, creamy, and delicious this is the right item to order. Also, their Oreo cheesecake is one of their top-selling product. Taste it yourself to understand why I'm really biased about this drink. This one is a must-try.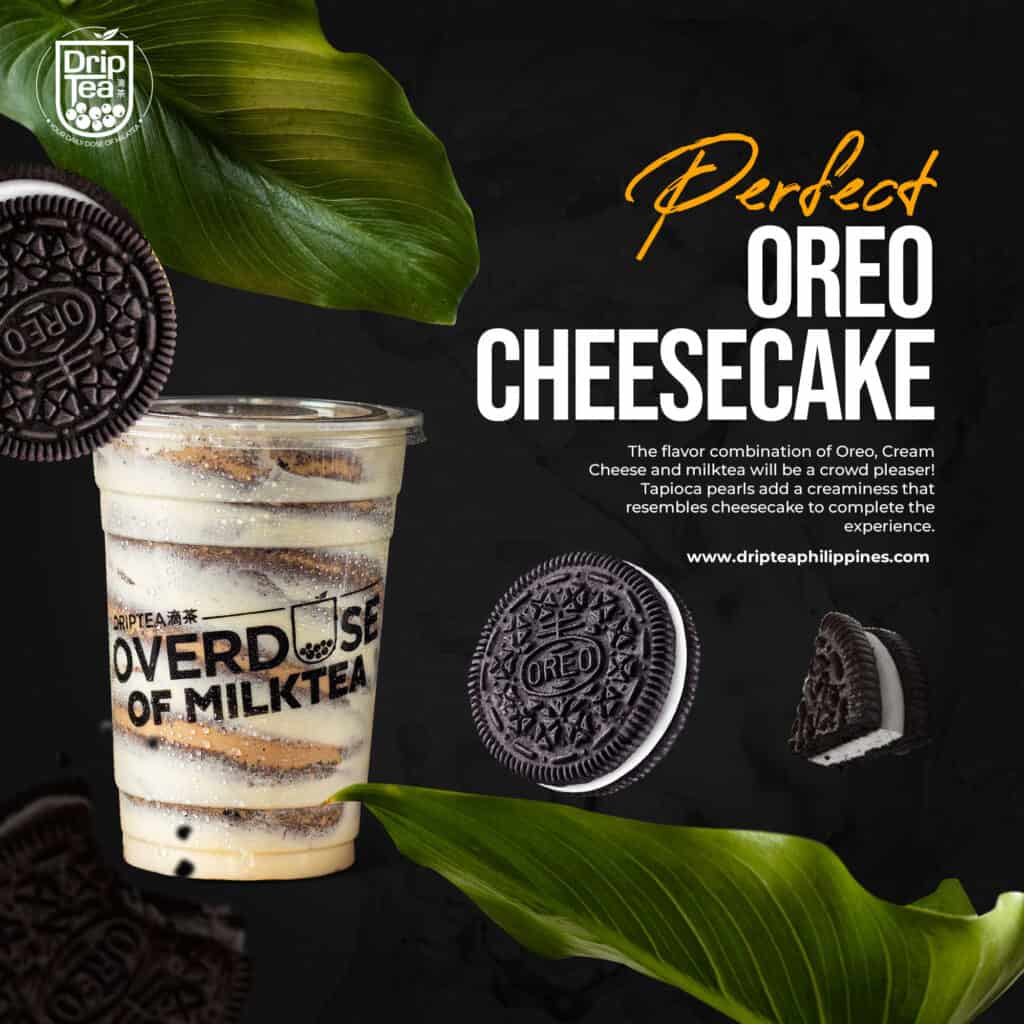 Red Chocolate Milktea – Red chocolate milk tea is one of Driptea's best flavors and best seller, this premium milk tea flavor tastes like a Red Velvet Cake with some cream cheese frosting and this is definitely delicious. This reminds me of eating the actual red velvet cake as this has a strong flavor of that specific cake, the cream cheese flavor is also strong but in a nice way. Very creamy and delicious not to be biased or anything but you will surely enjoy the flavor of this drink.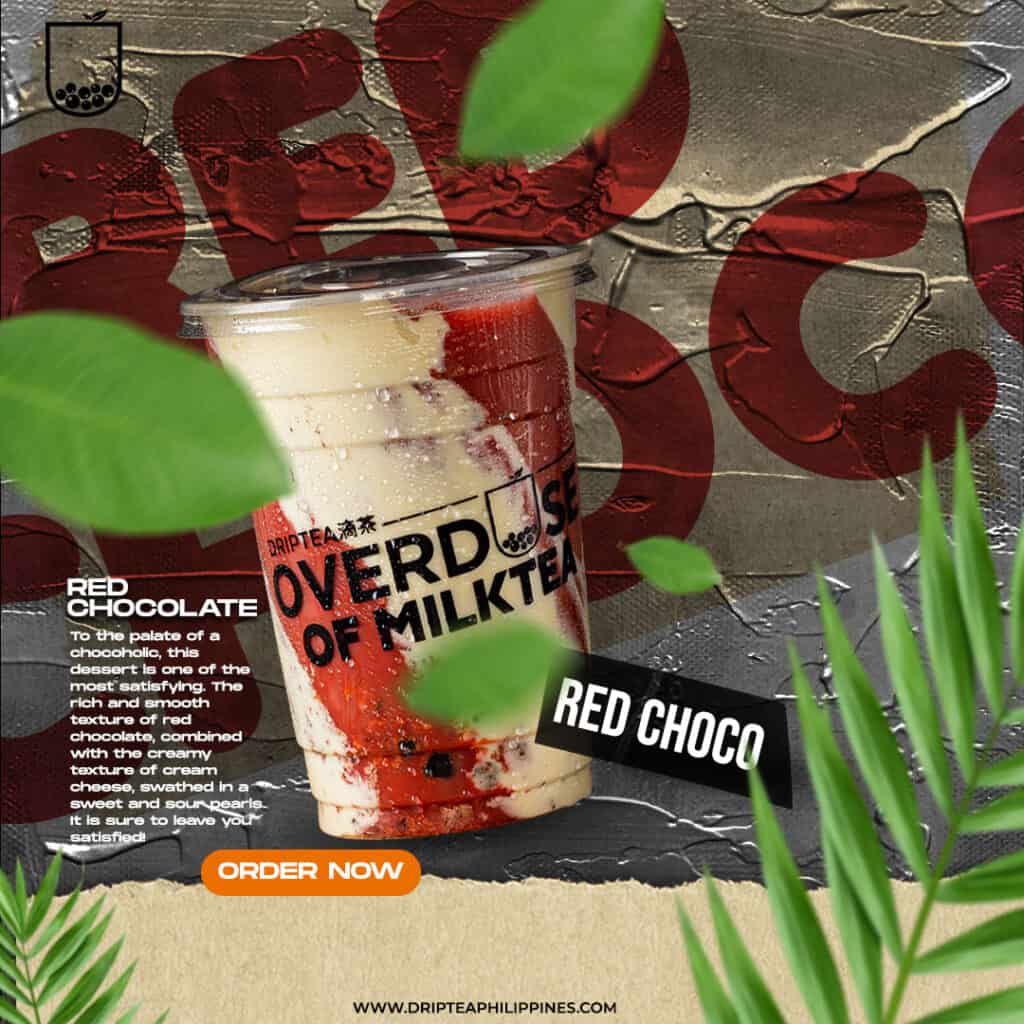 Black Wintermelon Milktea – Black Wintermelon milk tea is perfect especially if you're having a hangover after drinking too much alcohol the other day. The reason behind it is just that it has edible charcoal that relieves the effects of hangover and since it has edible charcoal it also helps clean toxins out of your body making your kidneys healthier. This one tastes just like a normal milk tea but the benefits are great for your health.
Signature Drinks
Driptea is known for its unique signature drinks, On this menu they have 4 delicious drinks to choose from. The first item on this menu is their cookie dough drink. This one tastes exactly like cookie dough for some reason, and for sure you'll definitely love this. They also have taro cheesecake, this one also tastes great it has the perfect blend of taro and cheesecake, velvety and really good.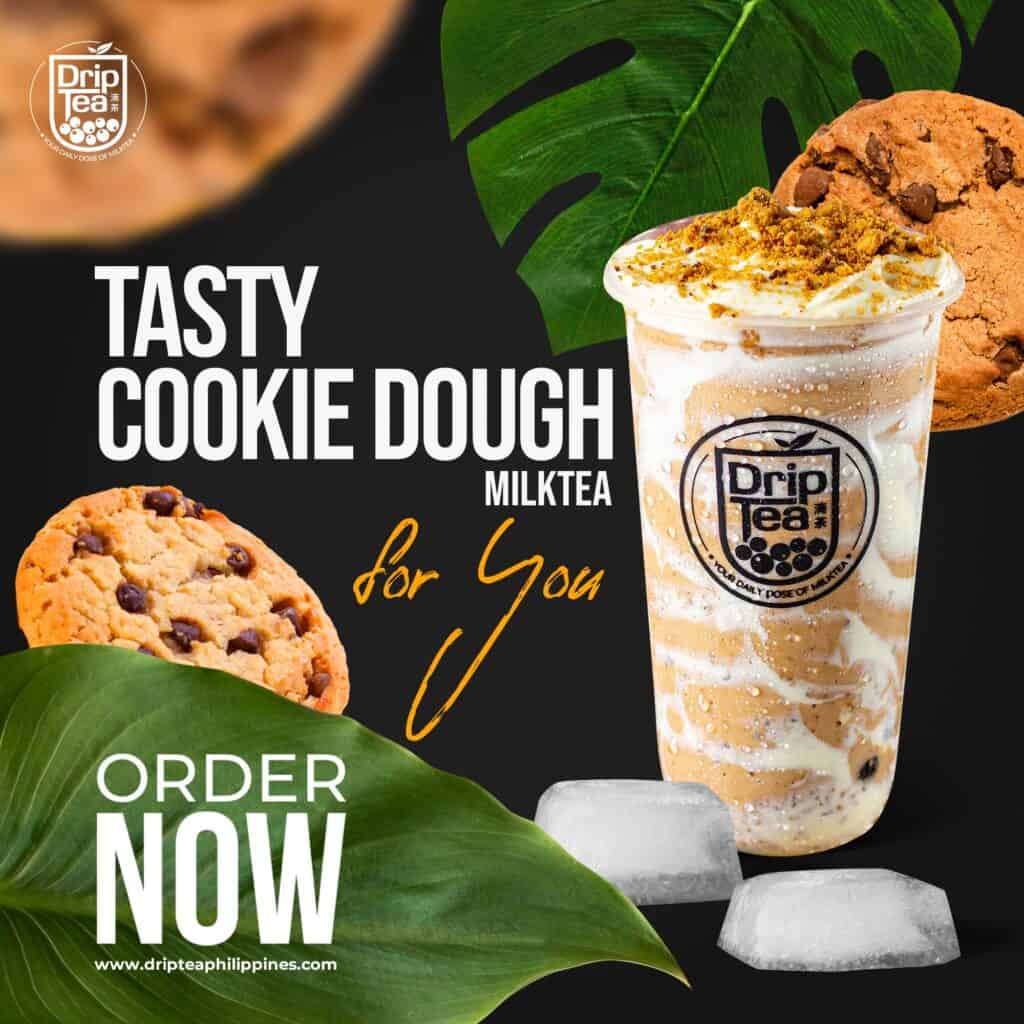 They also have haw haw flavor on their signature drinks, which will give you nostalgia about your childhood, creamy milky, and delicious. The last item on this menu is their cherry ball gum, is is also one of their unique flavor, and just like the haw haw this will bring you back to your childhood, one of my favorites as well.
Cocoa Series
The cocoa series menu is for those who love chocolate-flavored drinks. They only have two options on this menu, the first one is their supreme cocoa which is so chocolatey and very refreshing. Another option is their cocoa milk tea which has the right blend of chocolate and milk tea combined together.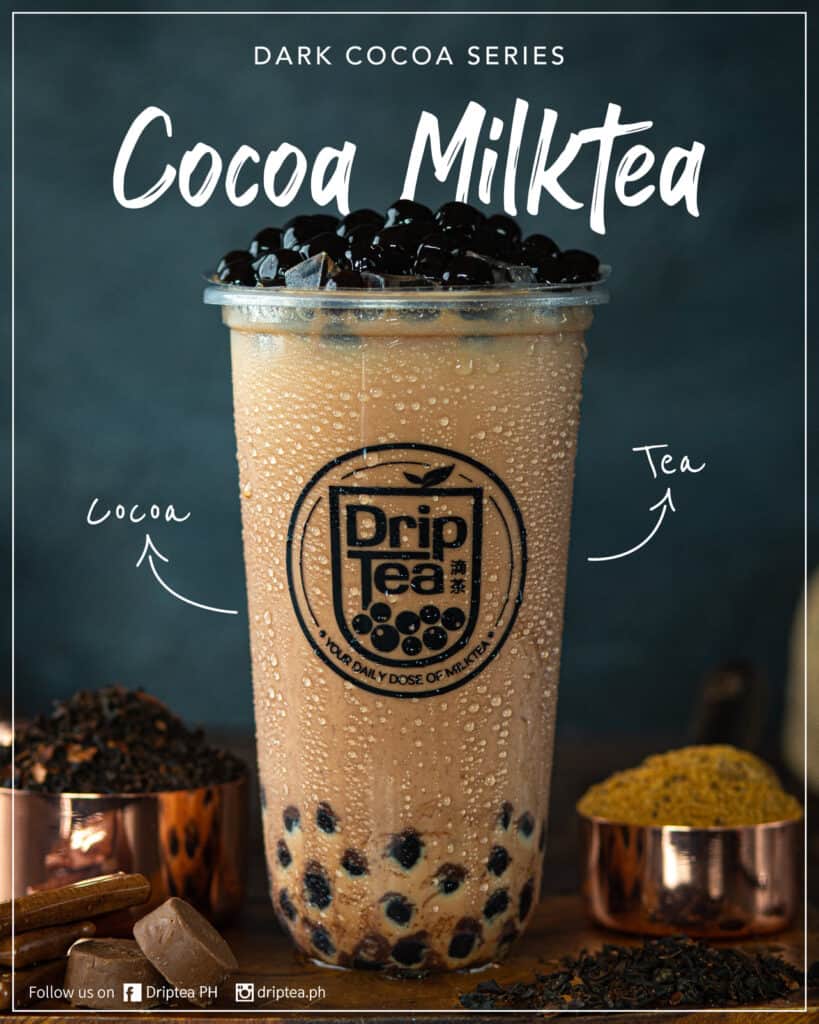 Driptea Menu Delivery
Ordering your favorite Driptea products is an easy task, simply call them directly or you can also use your favorite local delivery service such as Foodpanda, Grab, or any other delivery service that is serviceable in your location.
Social Media Pages
Immerse yourself in a world of delightful flavors and stay updated on the latest trends by following Driptea, the Philippines' premier destination for refreshing beverages and irresistible snacks.
Facebook: https://www.facebook.com/dripteaPH
Instagram: https://www.instagram.com/driptea.philippines
Twitter / X: https://twitter.com/dripteaph
FAQs
How to contact Driptea and what is their office location?
Driptea's office location is at 68 Airforce Road, Veterans Village, Barangay Holy Spirit, Quezon City. You may call them at 09087998786 or email them at [email protected].
Does Driptea have a social media account?
Yes, Driptea does have social media pages.
What is Driptea's business hours?
It depends on the location of their branch. Some branch is open as early as 9:00 a.m. some open at 10:00 a.m.
Is Driptea a halal-certified shop?
Though Driptea does not offer any haram products it is not indicated on their website if this place is halal or not so you can assume that they are not halal-certified shop.
What is the payment method of Driptea?
Driptea accepts cash payment only.
Conclusion
Great place to go to quench your thirst. Driptea's menu has a lot of delicious drinks to offer, they have a variety of milk teas, cream cheese-based drinks, and fruity drinks that will surely satisfy your cravings. Their products are delicious and really flavorful unlike other brands especially their cream cheese-based drinks as it has a generous amount of cream cheese on them. Their place as I remember is clean as well and their staffs are nice and knowledgeable about their products. Highly recommended place to go and the overall experience is great.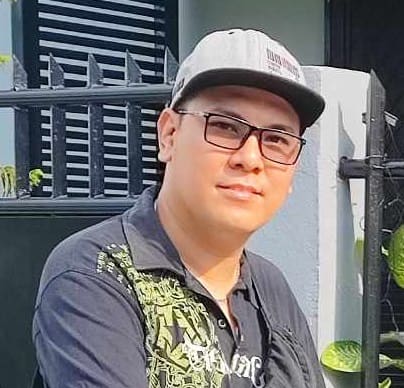 Hi! I'm Nivek Strife, the person who made MenuPH. I'm the one who added most of the popular menus you see on this website, and I really hope you enjoy them! Feel free to check them all out.
Growing up, I was surrounded by lots of tasty foods, like the classic Adobo and the sweet Leche Flan. That love for the many flavors of the Philippines is what got me excited about adding to MenuPH. When I learned how to make websites, I saw the need for a place to show off all the amazing Filipino dishes, and that's how MenuPH started.
MenuPH isn't just a website; it's like a fun journey into food. I've teamed up with famous chefs and found great places all over the Philippines to bring you a bunch of menus that show off the best of Filipino cuisine. Whether you're into the usual dishes or new twists, MenuPH is here to guide you through the rich world of Filipino flavors.
With MenuPH, my aim is to help local businesses, talk about good food choices, and make a group of friends who love food. No matter if you like fancy restaurants or street food, MenuPH has something for you. Come join me on this food adventure as we find great places, taste real flavors, and enjoy the unique food traditions that make the Philippines awesome.