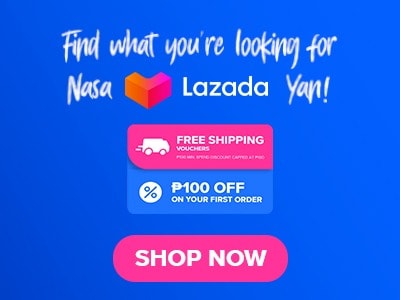 Are you craving some Japanese-inspired food recently and do you don't know where you should go to get it? Are you the type of person who considers the price first before going to a restaurant at the mall? or just trying to look for something different to try? Great news since I found a restaurant for your Japanese food cravings. They have a lot of different foods to offer and the price is awesome and affordable. Ever heard about Tokyo-Tokyo? If not, let me introduce you to this restaurant, and let's see if you'll consider them for your next food escapade. Now, let us tell you about the Tokyo Tokyo menu and its food without any further delay.
Below, you'll find the updated list of Tokyo Tokyo menu prices.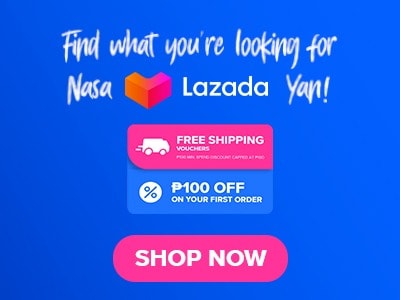 Menu Items
Price (PHP)

Best Seller Trays

Mixed Beef Misono & Chicken teriyaki tray
1400
All fried Ultima party tray
1400
All grilled ultimate party tray
1400
Mixed pork tonkatsu & chicken karaage tray
1400
24 pc California maki tray
330
All beef misono tray
1300
All chicken teriyaki tray
1300
All chicken karaage tray
1300
All pork tonkatsu tray
1300
Rice tray
330
Chicken menchi katsu tray
1300
Wagyu rice tray
550

Donburi

Chicken Oyakodon with red iced tea
150
Pork Katsudon with red iced tea
150
Beef Gyudon with red iced tea
210
Salmon teriyaki donburi with red iced tea
250
Chicken oyakodon
110
Pork Katsudon
110
Beef Gyudon
170
Salmon teriyaki donburi
210
Chicken menchi katsu donburi with red iced tea
144
Chicken karaage donburi with red iced tea
144
Pork tonkatsu donburi with red iced tea
144
Gyoza donburi
80
Chicken menchi katsu donburi
104
Chicken karaage donburi
104
Pork tonkatsu donburi
104
Gyoza donburi with red iced tea
120

Imperial Feast

Tokyo Fried Chicken Feast for 4
870
Orange Yesu Feast for 4
870
Wings Feast for 4
870
Imperial Feast for 4
830

Ramen

Seafood Ramen
220
Seafood Ramen special upgrade
290
Seafood Ramen premium upgrade
300
Spicy chicken ramen
190
Spicy chicken ramen special upgrade
260
Spicy chicken ramen premium upgrade
270
Braised pork ramen
190
Braised pork ramen special upgrade
270
Braised pork ramen premium upgrade
260

Maki and sides

4 pc California maki
80
Mixed maki ultimate party tray
550
8 pc California maki
120
8 pc Tempura dragon maki
160
Cheesy California crunch sushi bake
360
Salmon teriyaki sushi bake
560
Miso soup
50
Rice
35

Platters

4 pc Prawn tempura platter
225
4 pc tokyo fried chicken platter
495
6 pc Prawn tempura platter
300
Beef Misono platter
240
Best Chicken teriyaki platter
325
Pork tonkatsu platter
290
9 pc orange yuzu chicken platter
270
6 pc chicken karaage platter
160
6 pc orange yuzu chicken platter
220
9 pc chicken karaage platter
230
9 pc honey chicken teriyaki platter
270
6 pc sriracha tokyo wings platter
235
6 pc teriyaki tokyo wings platter
235
6 pc wasabi cheese tokyo wings platter
235
12 pc tokyo wings sampler platter
460
4 pc chicken menchi katsu platter
365
12 pc chicken karaage platter
290

Ready to Cook Packs

Ready to cook beef misono
700
Ready to cook beef yakiniku
350
Ready to cook chicken gyoza
200
Ready to cook chicken karaage
400
What's Special About the Tokyo Tokyo Menu?
We all know that Japanese cuisine is something that everyone craves though others may not try it yet for sure the curiosity will kick in whenever you pass their stores, this Japanese-inspired restaurant did its best innovation about their food to adapt to the country's like infusing Japanese cuisine with festive Filipino flavor and offering unlimited rice, they knew exactly that Filipino consumers are rice eaters.
They also modernized their brand while of course honoring its Japanese inspiration in the biggest way possible. Though they don't claim to be authentic they are very proud to say that they are a Filipino-based company that customized their Food to meet the Filipino people's tastes.
Want to try Chinese foods instead? Why don't you try Chowking to satisfy your needs?
Tokyo Tokyo Menu Best Sellers
Tokyo Tokyo menu best sellers are their rice meals also called Donburi "which literally means bowl" these are bowls of rice or sometimes Japanese fried rice with delicious toppings to choose from. They offer different kinds of Donburi for example beef donburi which includes beef gyudon, beef yakiniku wagyu rice, and beef pepper donburi.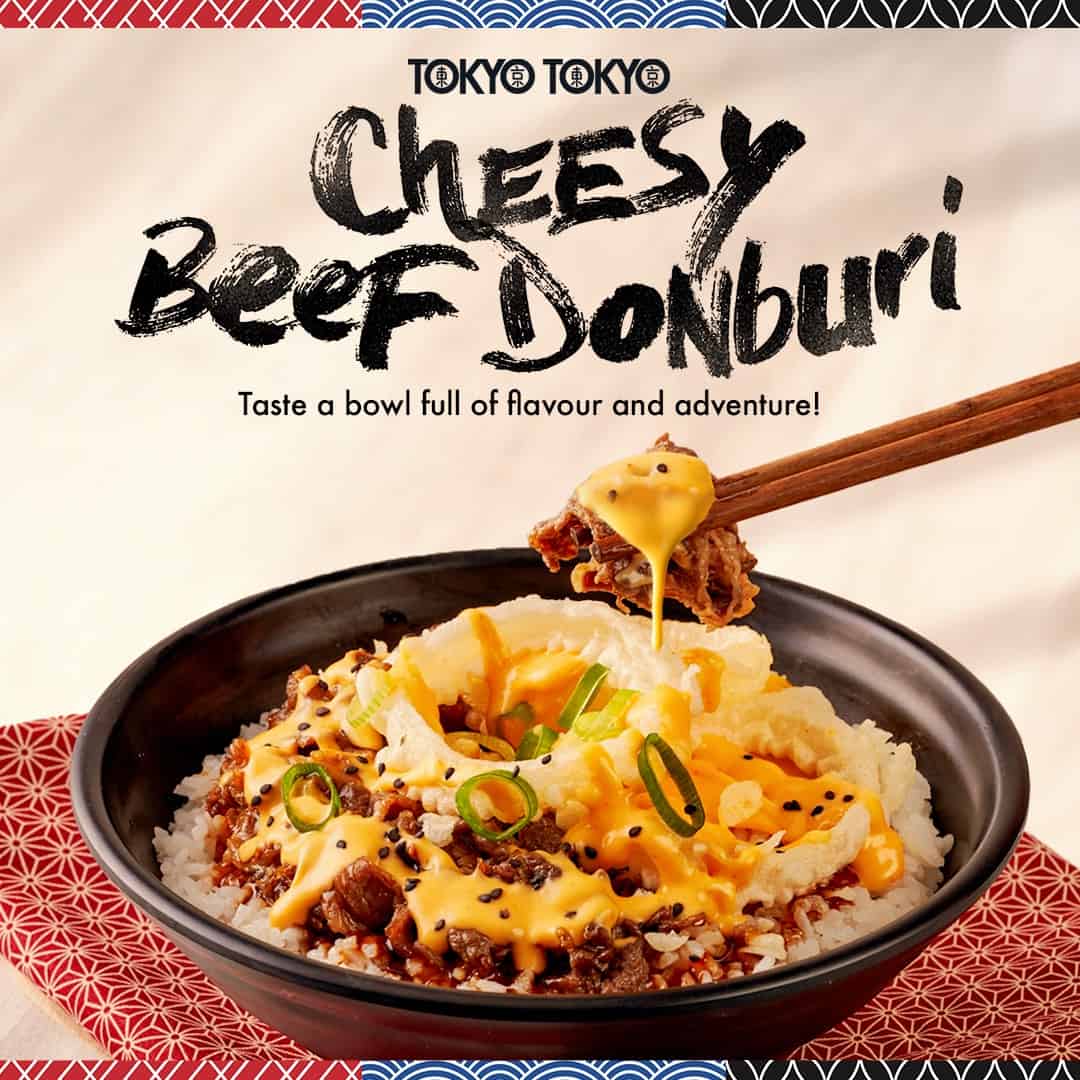 For their Chicken donburi, they offer chicken pepper donburi, chicken teriyaki wagyu rice, and chicken oyakudon donburi. For their pork donburi, they offer pork katsudon donburi, and lastly for their seafood donburi what they can offer is Tempura wagyu rice.
Tokyo Tokyo Best Ramen
Here is the list of the best ramen that you can find in Tokyo Tokyo to serve as a guide for you if you are new to their restaurant.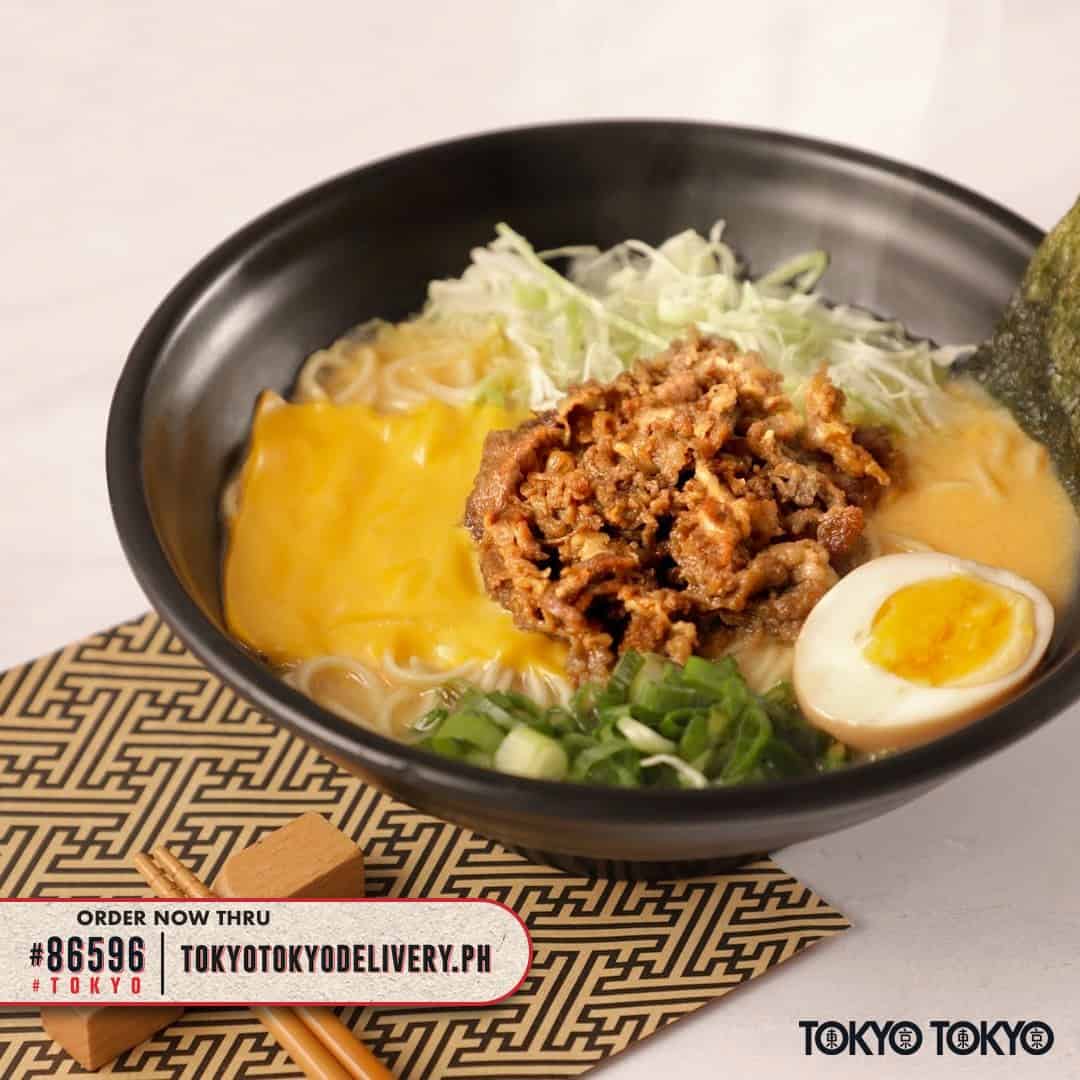 Cheesy Beef Ramen – Delicious and tender beef strips in a savory cheese broth. Who can say no to that? Sounds delish? Yes, it is. This is a must-try on their ramen list. You can also upgrade this order with 3 pieces of fried gyoza (you can also choose steamed gyoza whichever suits your taste) and a glass of red iced tea.
Spicy Chicken Ramen – Who likes their soup to be a little extra? This one is for you. This Tokyo Tokyo menu is made with chicken karaage in a pork broth and fresh noodles topped with onion leeks, cabbage, nitamago egg, and nori. You can also replace the cabbage with corn if you're not a cabbage eater but take note that it depends on the location and availability. you can also upgrade this ramen with 3 pieces of fried gyoza (you can also choose steamed gyoza whichever suits your taste) and a glass of red iced tea. This is actually my personal favorite among their ramens.
Seafood Ramen – Tonkatsu broth is freshly made noodles topped with their delicious tempura with Kani crab sticks and tofu. Just like spicy chicken ramen you can also replace the cabbage with corn and can also upgrade this ramen with 3 pieces of fried gyoza (you can also choose steamed gyoza whichever suits your taste) and a glass of red iced tea.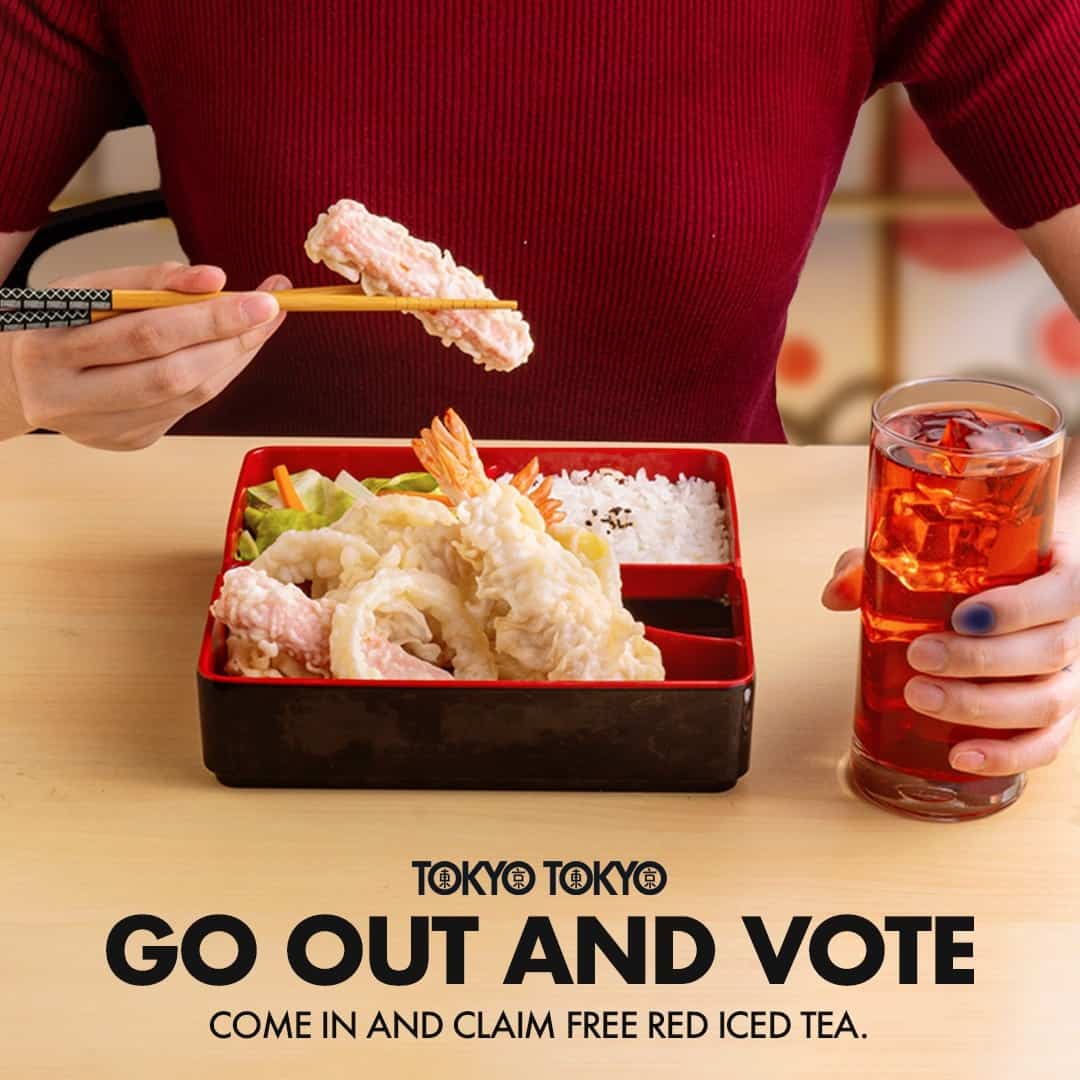 Chicken Teriyaki Ramen – This is made with tonkatsu broth topped with fresh vegetables with their chicken teriyaki with spicy rayo oil. Sounds good night? But you can also upgrade this ramen with 3 pieces of fried gyoza (you can also choose steamed gyoza whichever suits your taste) and a glass of red iced tea.
FAQs
Is bento meal in Tokyo Tokyo offer unlimited rice?
The answer is yes. In fact, Tokyo Tokyo is the only Japanese restaurant that serves unlimited rice since they knew that most Filipino consumers love their rice so much. Though this is only available with dine-in orders and not on delivery but at least right? Hooray for the rice lovers
Does Tokyo Tokyo have ramen on its menu?
The answer is a big yes and actually, for me, their ramen is the item that you really should try. They offer different flavors of ramen that can suit your taste and cravings. They actually have 4 kinds of ramen for you to try. They have cheesy beef ramen, chicken teriyaki ramen, spicy chicken ramen, and lastly seafood ramen.
How to order online in Tokyo Tokyo?
Ordering your favorites in Tokyo Tokyo while you are at work or home could be as very easy. Especially for those of you that don't have much time to go outside. This is also very good for people who want to avoid traffic when going out. All you have to do is to get to their website at https://www.tokyotokyodelivery.ph/ or you can call their hotline number at 477-1000. There is also an option to order online using Food Panda and Grab Foods.
Get in Touch with Tokyo Tokyo Staff
If you wish to talk with their customer service about your concerns or suggestions or if you wanted to franchise you can send an email to [email protected] or you can message them on their social media accounts.
Facebook:
https://facebook.com/tokyotokyophilippines/
Instagram:
https://www.instagram.com/tokyotokyophilippines/?hl=en
Twitter:
https://twitter.com/tokyotokyophl
Conclusion
Tokyo Tokyo has been doing excellent work and innovation about the meals that they offer to meet the standard of the delicate Filipino taste and to be honest I am surprised dining in their restaurant on my first visit with them. The Tokyo Tokyo menu such as ramen is delicious and has savory tender meat that is really something that you should try. Donburi meals are also bombed. Overall a great experience and highly recommended for your Japanese food cravings. One thing that I can never forget is the cleanliness of their restaurant and the good customer service and friendly ambiance inside. Thumbs up for the awesome food and great service.