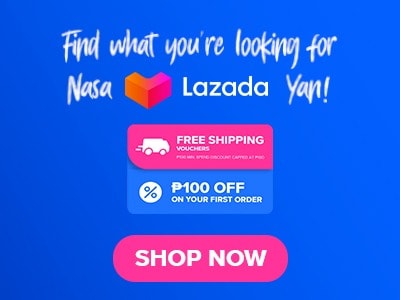 The greatest okonomiyaki may be found on the Dohtonbori menu. In fact, it claims to have the greatest okonomiyaki on the menu. Even though it tastes so commonplace, you won't soon forget it. They were inspired by the food that our parents made. They are reminded of the sweetness of their parents' hopes for long-lasting happiness and health through the food. They've lately realized that by offering naturally healthy okonomiyaki that includes a variety of nutritious components for a well-balanced diet, they too can care about the futures of our consumers. Therefore, they made the decision to start over as a company that wishes for our customers' short-term happiness and long-term health, utilizing the new concept of Tasty-Healthy that emphasizes okonomiyaki's savory appeal.
Below, you'll find the updated list of the Dohtonbori menu prices.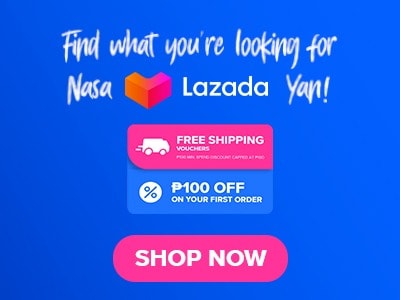 Menu Items
Price (PHP)

Okonomiyaki

Butatama
295
3 Meat
365
Pepper Kalbi
295
Deluxe
425
Kiwami Seafood Special
545
Cheesy Pork
345
Four Cheese
345
Veggie Supreme
295
Hamburg Cheese Steak
425

Yaki Mix

Hiroshima Yaki
455
Hiroshima Yaki Mix
495
Modern Yaki Mix
455

Salad

Bacon Caesar Salad
215
Radish and Seaweed Salad
245

Appetizers

Gyoza
220
Ebi Tempura
365
Fried Calamri
270
Chicken Karaage
295
Ultimate Cheese Tempura
335
Kimchi
115
Edamame
120
Tofu
120

Teppan Pizza

Quattro Formaggi
325
Dohtonbori Pizza
425

Yakiniku

Kalbi
310
Tonteki
325
USDA Angus Striploin
785
Chicken Shio
220
Kimchi and Pork
315
Pork Yakiniku
310
Grilled Salmon Chanchan
400

Yakisoba

3 meat
365
Mix Yakisoba
435
Pork
335
All Seafood
499
Omelette
305

Noodles

Tonkutsu Ramen
295
Shoyu Ramen
295
Spicy Tonkotsu
355
Ajitama
410
Chashu
495

Japanese Soba

Tempura Soba
395
Tempura Zaru Soba
355
Zaru Soba
229
Sukiyaki
215
Grilled Garlic
135
Cheesy Garlic
175
Corn and Butter
105
Cheesy Corn and Butter
135

Rice Bowls

Butatama-don
225
Tempura
329
Katsu
225
Gyudon
225

Fried Rice

Salmon Fried Rice with Lettuce
410
USDA Striploin Steak Fried Rice
495
Kimchi Pork Fried Rice
290

Monjayaki

Kimchi Pork Fried Rice
180
Mochi Mentaiko
260
Four Cheese
260
Deluxe
280

Drinks

Bottomless
150
Canned
75
Bottled Water
55
Houseblend Iced Tea
80
UCC Drip Sumiyaki Coffee
100
Chu High
185
Kirin Ichiban
199
Asahi
199
Sapporo
249
San Miguel Pilsen
135
San Miguel Light
135

Dessert

Coffee Jelly
99
Ice Cream
80
About Dohtonbori
Dohtonbori is regarded as the best okonomiyaki restaurant chain in Japan and was founded in Tokyo in 1990. With more than 300 locations globally, including several in Manila, Dohtonbori has demonstrated that its okonomiyaki meals are unmatched. The restaurant specializes in okonomiyaki, also known as a Japanese pancake, which is similar to a western pancake in shape but differs in that it contains bonito, cabbage, seaweed flakes, and flour as fundamental ingredients. Additionally, the pancakes may be cooked on whatever you desire on the tables, allowing consumers to get involved with their cuisine. These are frequently drizzled with mayonnaise and a unique brown sauce on top.
As implied by the name, you may customize your okonomiyaki at this location by choosing from a variety of toppings and meats, including fish and bacon, to put on your Japanese pancake. They have created more than two hundred menus on their specialties and offer a large selection of okonomiyaki and monjyayaki, a pancake that is like okonomiyaki but has a distinct texture. Since Dohtonbori launched, it has become the metro area restaurant with the largest selection of make-your-own okonomiyaki.
Dohtonbori Menu Best Seller
Pork Yakisoba – It is a traditional stir-fry meal from Japan prepared with bacon, savory pork, soft noodles, and a variety of veggies. It is an excellent noodle meal. A Japanese-style Worcestershire sauce is the secret ingredient in this well-known Japanese street snack and what gives yakisoba its delectable, distinctive flavor. Yakisoba is served in a variety of variations in many American restaurants as well as in Asia.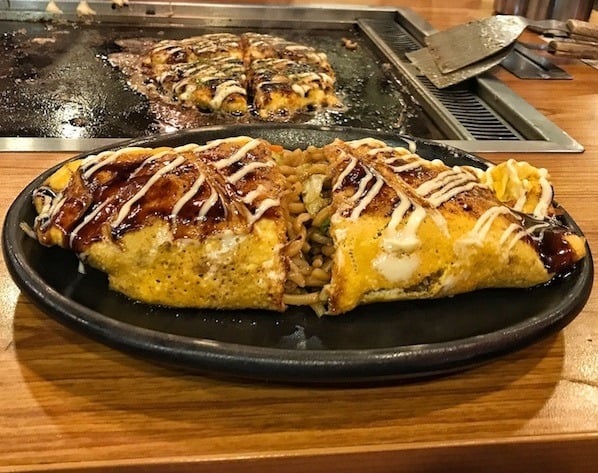 Omelette Yakisoba – A common dish in many "family restaurants" and izakayas, or Japanese brasseries, is omusoba. It's a dish for traditional yakisoba stir-fried noodles topped with a sweet and savory brown sauce and wrapped in an omelet. On a chilly day, this Japanese omelet is a perfect example of comfort food done well.
Seafood Yakisoba – a zingy, energizing take on the traditional Japanese yakisoba. Contains crisp asparagus, fresh shrimp, and stir-fried noodles that have been drizzled with a tart lemon sauce. Dry Yakisoba noodles that have a sweet and sour taste. garnished liberally with squid and shrimp.
Striploin Steak Fried Rice – The best of all worlds in terms of texture and flavor may be found in the striploin steak. In terms of softness, it is comparable to the traditional tenderloin steak, and in terms of that robust, juicy beef flavor, it is comparable to ribeye steaks.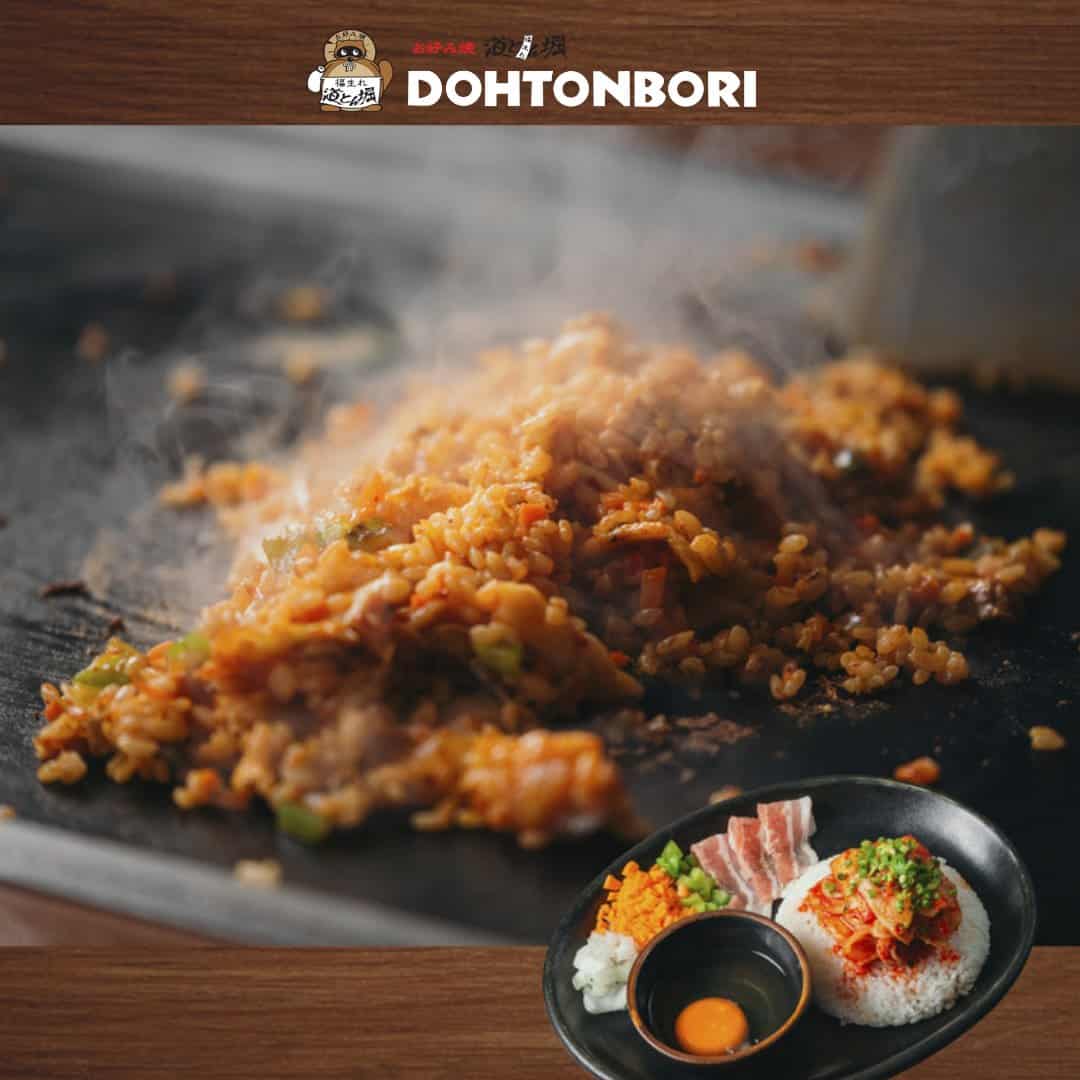 Kimchi Pork Fried Rice – For a distinct texture, the bottom of the rice becomes nicely crispy.
Dohtonbori Menu Okonomiyaki
A teppan is used to cook the wheat flour batter and other ingredients that make up the Japanese savory pancake meal known as okonomiyaki. Similar to Takoyaki, another well-known street snack in Japan, okonomiyaki is a type of pancake. Both are made of batter, but okonomiyaki is served in the form of a pancake, whilst Takoyaki comes in a cylindrical shape. Dohtonbori's top okonomiyaki menu must be sampled before leaving.
Kare Kare Okonomiyaki – The tastes of the okonomiyaki were the ideal compliment to the kare-components. Kare's Beef, eggplant, and string bean chunks are mixed with okonomiyaki batter before being lavishly drenched in kare-kare sauce. The meal is finished with a sprinkling of peanuts and a dollop of bagoong.
Bicol Express Okonomiyaki – You can count on this fusion okonomiyaki to liven up your day. Bicol Express is adored for its blend of sour, salty, and sweet flavors. This recipe has a bite to it and a kick to it.
Sisig Okonomiyaki – If you were of the opinion that okonomiyaki couldn't possibly sizzle on the griddle any more than it currently does, then you probably haven't considered pairing it with sisig. Fortunately, Dohtonbori's smart and diabolical minds are committed to destroying your diet. The most decadent of them all, with crispy bits of that well-known drizzle of Japanese mayonnaise, fried egg, and pork on top.
Dohtonbori Menu Yakiniku
Japanese yakiniku is incredibly delectable because it is made with tender and delicate slices of beef. The lean, juicy flesh has a subdued sweetness to it. It is frequently served with large chunks of meat. Japanese yakiniku is typically served with flavorful yakiniku sauce. The karubi is more marbling-rich than roast cuts and is incredibly tender and juicy.
Dohtonbori Noodles
Tonkutsu Ramen – Tonkotsu ramen is a type of Japanese noodle soup prepared with a bone broth from a pig. Ton means bone in Japanese.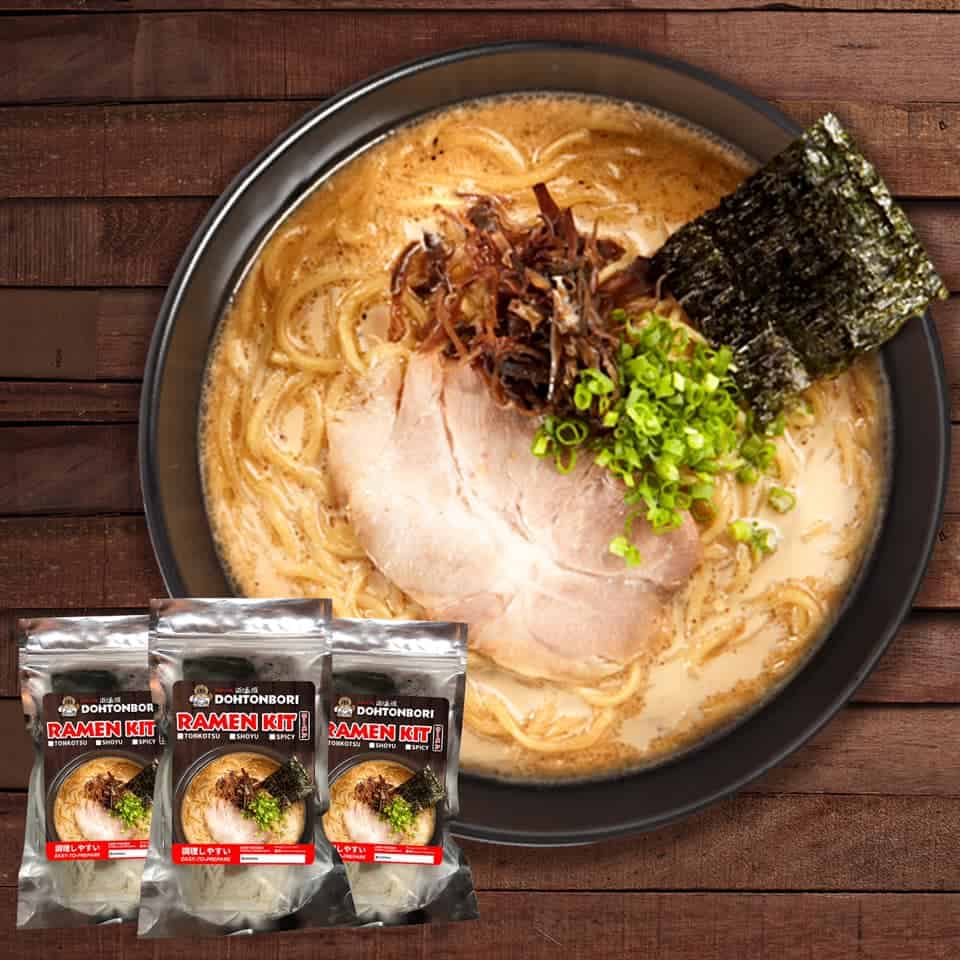 Shoyu Ramen – Shoyu ramen is a kind of ramen with soy sauce broth. To put it simply, shoyu is soy sauce in Japanese. The soup's base is made up of vegetables and chicken, with soy sauce liberally added. The soup has a subtle herbal flavor and a clear brown color.
Chashu Ramen – Chashu don is a meal that features delicate, flavorful chashu over hot rice and a sauce created especially for it. It has a sweet and salty flavor. Chashu which has been burned emits a very tasty scent. Chashu, a term that denotes grilled or fried pork, is a typical name for the pork used in ramen. The Kanji script is written in both Chinese and Japanese as Chashu; the Japanese reading is Yakibuta.
Dohtonbori Promo
It offers an eat all you can for a discounted price of six hundred ninety-nine pesos (699 PHP). This is only valid from 11 am to 5 pm. Some branches also offer a thirty pesos discount from 2 pm to 5 pm. They also offer a discount on their deluxe okonomiyaki, provided, you activate a toktok wallet. Most promos of Dohtonbori are on a limited period. Sometimes they even offer flash sales, which is why it is best to check their social media pages for more updates.
Dohtonbori Menu Delivery
To taste their delicious best sellers, okonomiyaki, yakinu, and noodles, you don't need to go to their physical store especially during busy hours for there surely are a lot of people and you might not get to eat on time. With this, you can always eat in the comfort of your home and just order via the Grabfood or Foodpanda app.
Social Media Pages
To get the current news about the trending Dohtonbori food menu, you can always subscribe to them. You can start following their social media account in the following:
Facebook: https://www.facebook.com/dohtonboriph/
Instagram: https://www.instagram.com/dohtonbori_ph/
Twitter: https://twitter.com/dohtonbori_ph/
Conclusion
Dohtonbori menu is distinctive in that it has created more than 200 versions throughout the course of its existence in its flagship shop in Japan, and the same variants may be anticipated when the Manila branch opens. Okonomiyaki is a local cuisine from Osaka, a city in western Japan where people are known to enjoy fine food and drink, especially when they have family or friends along for the ride. Okonomiyaki is one of the greatest of the many well-known street meals that can be found in Osaka. In this post, we discussed Dohtonbori's many greatest sellers and what makes it special. With that said, if you have a hankering for mouthwatering okonomiyaki, head to the Dohtonbori which is the closest to you.