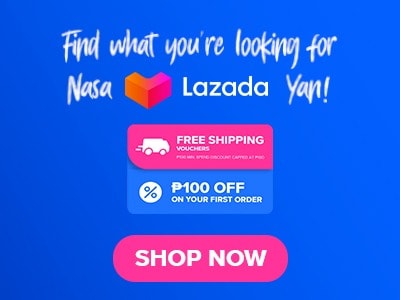 Spanish and Mediterranean cuisine are known to be delicious and tasty since they use a lot of flavorful spices and ingredients. Are you interested in going to this kind of restaurant? If yes then I have a place that I honestly just discovered and I want to recommend it to all of you especially those foodies like me. The Terraza Martinez menu offers a wide variety of delectable food items that will surely satisfy your hunger. In this article, we are going to talk about Terraza Martinez's menu, some of their best sellers, and of course the prices of their items plus other important things that you should know about them. Interested in our topic? If yes then let's start!
Below, you'll find the updated list of Terraza Martinez menu prices.
Menu Items
Price (PHP)

Tapas Frias / Cold Appetizer

Foie Gras Mi-Cuit De Paro
1200
Bombas De Salmon Curado Y Trufa
650
Carpaccio De Trucha Antartica
695
Tiradito De Snapper
750
Boquerones
495
Atun Marinado
480
Selección De Charcuteria Y Quesos
1850

Ensaladas / Salad

Ensalada De Pollo Campero
435
Ensalada De Queso De Cabra
750

Tapas Calientes / Hot Appetizers

Pimientos De Padrón Y Cherry
750
Huevos Rotos Con Gulas & Gambas
795
Pulpo
580
Tacos De Confit De Pato
450
Tacos De Panceta
320
Vieiras A La Plancha
520
Chipirones En Su Tinta
450
Gambas Al Ajillo
695
Terraza Manitas De Cerdo
775
Piquillo Relleno De Bacalao Y Gambas
325
Croquetas De Calamares
320
Croquetas De Espinacas Y Gorgonzola
280
Croqueta De Jamon Iberico
425
Chopitos
350
Ravioli De Marisco
320
Almeias Marinera
350
Calamari Plancha
750
Navajas Plancha
850
Chistorra Y Chorizo Picante
495
Terraza Patatas Bravas
350
Rabo De Cerdo Fritos
350
Martinez Nachos
550
Fish & Chips
695
Chori
295

Mains - Pescados / Fish & Seafoods

Pescado Del Dia
1150
Zarzuela De Pargo
1250
Bacalao Confitado
1650

Mains - Carnes / Meats

Chuleton
5995
Chuleton De Cerdo Ingles
1950
Confit De Pato
1200
Cordero Lechal
9980
Cochinillo
6995
Costillas De Cerdo Ibérico
1150
Presa Ibérica De Cerdo
1150

Paellas

Paella De Langosta
2800
Paella De Langosta
7990
Paella De Vaca
1650
Paella Valenciana Con Alcachofas Frescas
995
Paella De Cangrejo Azul
1500
Paella De Chorizo
1395
"Fidefoie"
1500
Paella De Verduras
950
Paella Negra
1200

Postres / Desserts

Chocolate Coulant
495
Crujiente De Manzana
450
Sorbete De Mango Y Pistachio
350
Tarta De Queso Manchego
320

Coffee

Chemex
280
Espresso
150
Carajillo
295
Bombon
180

Teas

Hot Teas
150
Iced Teas
150

Specialty Drinks

Strawberry Basil Lemonade
220
Jasmine And Basil Smash
180
Mediterranean Mule
180

Other Beverages

Other Beverages
250
Maeloc Cider (330ml)
220
Fever Tree Tonic Water (200ml)
225
Stanford Shaw Ginger Ale (290ml)
250
Solan De Cabras Con Gas
250
Cabreiroá Natural Still (750ml)
250
Perrier Sparkling Water (330ml)
180
Coke Regular / Light / Zero, Sprite
110

Craft Cocktails

Sangria Blanco
350
La Chica Margarita
595
Tiki Terraza
595
Terraza Margarita
450
Raspberry Granita
495
Spiced Amaretto Sangria
395
Espresso Martini
350
Gin And Basil Smash
495
Almond Gimlet
350
Terraza Mule
295

Red Wine

Marques De Riscal 1860
1500
Ramón Bilbao Crianza
1950
Emilio Moro Finca Resalso
3200
Masia Oliveda Negre Jove
1800
Ulls Negres 2020
3200
Arzuaga La Planta 2020
2200
Franck Massard Humilitat 2017
3500
Terrazas Reserva Malbec
2500
Terrazas Reserva Cabernet Sauvignon
2500
Penfolds Koonunga Hill Shiraz Cabernet
1995
Can Sumoi Sumoll Garnatxa 2019
2800
Bodegas Numanthia
5995
Marques De Riscal Reserva
2995
Errazuriz Max Reserva Cabernet Sauvignon
2800
Grant Burge 5th Generation Shiraz
2995
Bodegas Emilio Moro - Malleolus
8500
Bodegas Roda - Roda
9870
Bodegas La Horra - Corimbo I
9090
Bodegas Habla - Habla Del Silencio
3200
Bodegas Habla La Tierra
1995
Château Montreblant Saint Emillion 2016
4950
Torremoron Reserva
4650
Vina Promesa Rioia Reserva
3900
Arzuaga Reserva 2019
6995
Cruz De Alba Crianza 2019
3500
Bodegas Emilio Moro - Malleolus Valderramiro 2014 Tempranillo
16995
Bodegas Emilio Moro - Clon De La Familia 2010 Tempranillo
42500
Bodegas Roda - Cirsion 2017, Tempranillo
28500

White Wine

Tierra De Castilla Códice Blanco Temparanillo
1500
Pago Mota Chardonnay
1500
Château Gantonnet Bordeaux Blanc 2019
1500
Lionel Osmin Villa Cote D'argent Sauvignon Blanc
1500
Casamaro Rueda Verdejo
2350
Mar De Frades Albariño Atlantico 2021
2750
Terrazas Reserva Chardonnay
2500
Schloss Vollrads Sommer Riesling
2250
La Fura Sauvignon Blanc
2995
Cloudy Bay Sauvignon Blanc
3995
Grant Burge Chardonnay
2995
M.S.B. "Blanca" 2020, Terra Alta
6995

Sparkling

Franck Massard Mas Sardana Cava Brut Nature Nv
1980
Codorníu Rosado Cava Brut Nv
1800
Chandon Garden Spritz Nv
2500
Pol Roger Brut Reserve
8950

Rose

Can Sumoi La Rosa 2020
2800
Minuty M Rose
2995

Vodka

Absolut Blue
150
Belvedere Premium
350
Beluga Russian
595

Gin

Beefeater
180
Tanqueray London Dry Gin
200
Tanqueray No. 10
450
Nordés Gin
495
Botanist Gin
550
Bombay Sapphire
220
Saint George Botanivore
580
Christian Drouin
395
Citadelle Jardin D'ete
350
Martin Miller's
350

Rum

Havana Club 3 Years
160
Don Papa 7 Years
295
Luisita Oro
150
Plantation Dark Rum
250
Pyrat Xo
300

Tequila

Olmeca Reposado
200
Volcan Blanco
495
Jose Cuervo Especial Gold
180
Jose Cuervo Especial Silver
220
Patron Silver
450
•Arette Blanco
450
Don Julio 1942
2200

Craft Beers

Crazy Carabao Pale Ale Draft
195
Engkanto Live It Up Lager
250
Engkanto High Five Honey Ale
250

Beers

Stella Artois
220
Heineken
165
Estrella Galicia
195
Mahou Cinco Estrellas
280
Moritz Original
250
Moritz Epidor
250
About Terraza Martinez
Nikkei Group is the one responsible for creating a Spanish Mediterranean restaurant in Manila which is the Terraza Martinez. This restaurant started in Spain then to the beautiful place of Siargao and now in Shangri-La at BGC Taguig. Their valencian chef Louis Martinez only serves authentic dishes using only the freshest ingredients, they also have seafood straight from Spain. A lot of food offerings that this restaurant serves are delicious and mouthwatering with very tasty and picture-perfect servings.
They feature Spanish soul foods while considering the customers that they will serve which are Filipinos. This place also has a great ambiance and an open kitchen for customers to view the foods that will be served to them. They also have a wide selection of tapas and some cocktails and of course, their main courses like meat dishes and different kinds of paella. This place though doesn't have a function room so for those who love a good table it's recommended to reserve your seats before going.
Terraza Martinez Menu Best Sellers
Here is the list of terraza manitas sample best-selling products that everyone should try.
Tiradito de Snapper – Tiradito de Snapper version of Terraza Martinez is made with cured Cured Snapper EVOO, grated fresh tomato, red onion, fried capers, and lime zest. This is also served with signature rosemary crackers for added texture and flavor. This is light and delicious. Tiradito de snapper is one of my favorite appetizers on their menu. This one is also a must-try item and also one of their best sellers. This one is also great for sharing.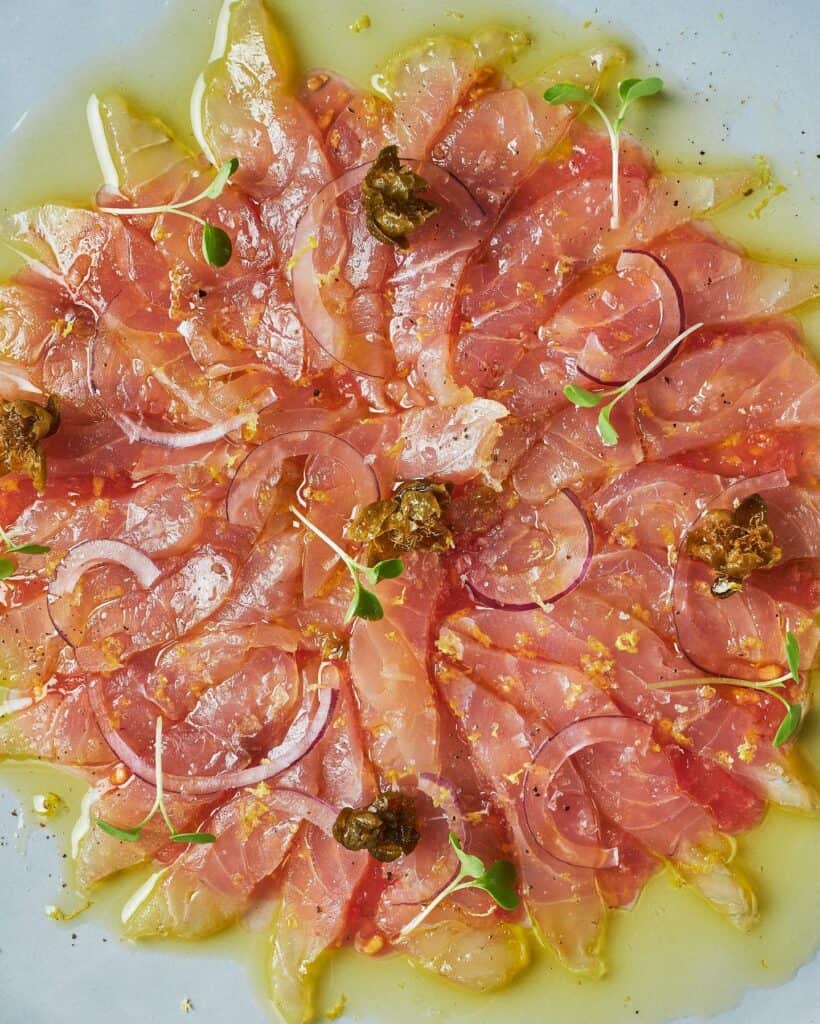 Terraza Manitas de Cerdo – Terraza manitas de cerdo menu version of Terraza Martinez is a pork para callos style that they actually get from esguerra farms. The pork pata is mixed with spicy chorizo and poached egg. In this dish you will experience a lot of texture and flavors in the sauce plus the huge serving size of kurobuta pork will make you really full. It is advisable to use their complimentary bread to dip into the sauce for added excitement and flavor. This has pork pata bits as well on top. This is also great for sharing.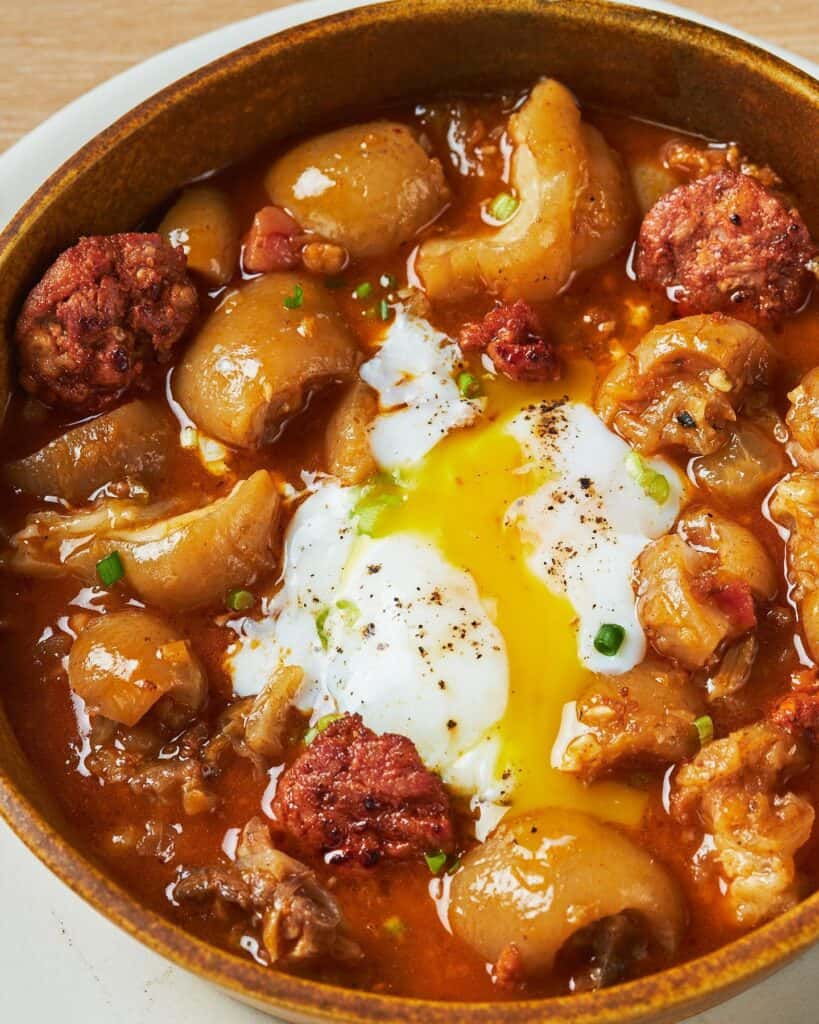 Rabo de Cerdo Fritos – Rabo de Cerdo Fritos' version of Terraza Martinez is basically a fried pork tail that they also got from Esguerra farm. This kurobuta pork tail has a bone in the middle and thick meat around it. This according to some research is one of the best beer matches in Spain and tasted really delicious. The pork tail is tender and crispy at the same time. One of their best sellers as well and if you're down for it a must-try appetizer as well.
Paella de Vaca – Paella de vaca is a beef dish that is actually tender and bone marrow in paella with some wild mushrooms, bone marrow, fresh artichoke, and a kind of rice that they cooked in Valencian style. This one is also a signature paella of their chef and is usually served with lemon. The combinations of flavors are insanely good. The bone marrow and rice combination is tasty and delicious, paella de vaca is also included in their best sellers as well.
Crujiente de Manzana – For those who love desserts, this Terraza Martinez menu is for you. Made with apple, apricot, streusel, raisins, filo pastry, and some cinnamon ice cream with caramel sauce on top. This one is sweet so for those with a sweet tooth out there this item is a must-try. I love how crispy is the pastry but not hard but easy to crumble. The apple fillings are soft and the cinnamon ice cream made this one so creamy and delicious you will surely love this in every bite.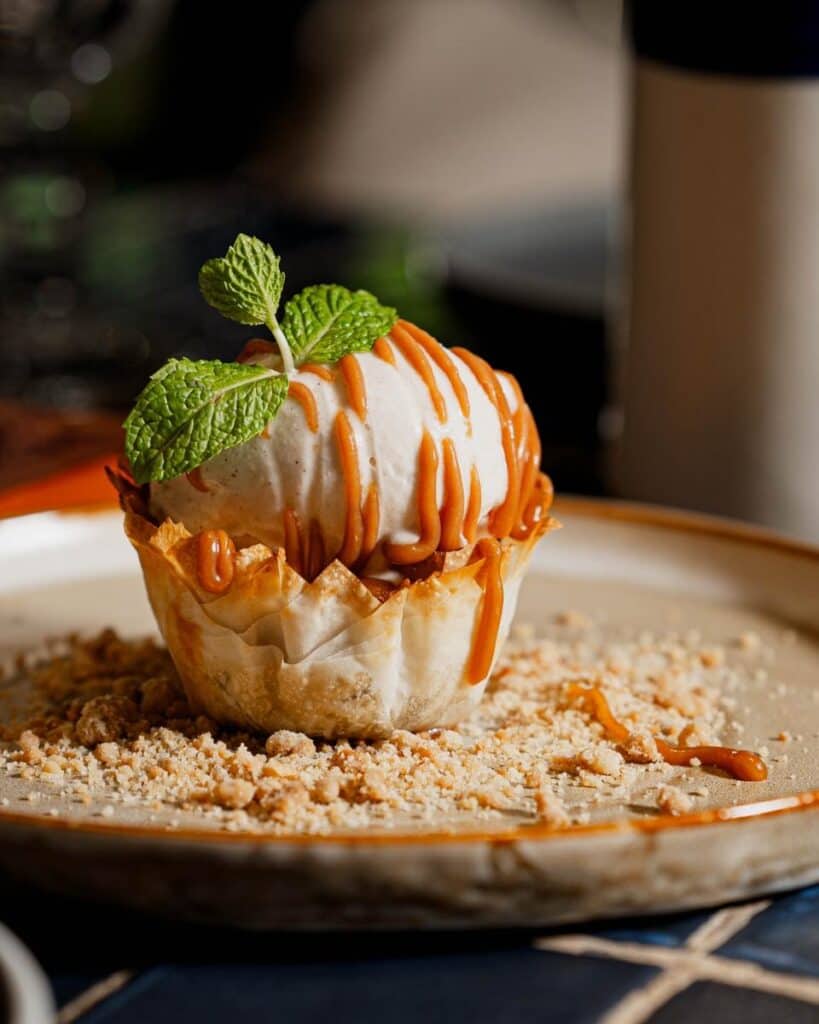 Ensaladas/Salad
Ensaladas or Salad menu of Terraza Martinez has 2 options. The first one is their Ensalada de Pollo Campero, this one is a chicken mango salad with some seared free-range chicken, some fresh greens, cheery tomatoes, ripe mango, sesame seeds, blue cheese, garlic croutons, and honey curry vinaigrette. This one tastes amazing and light at the same time.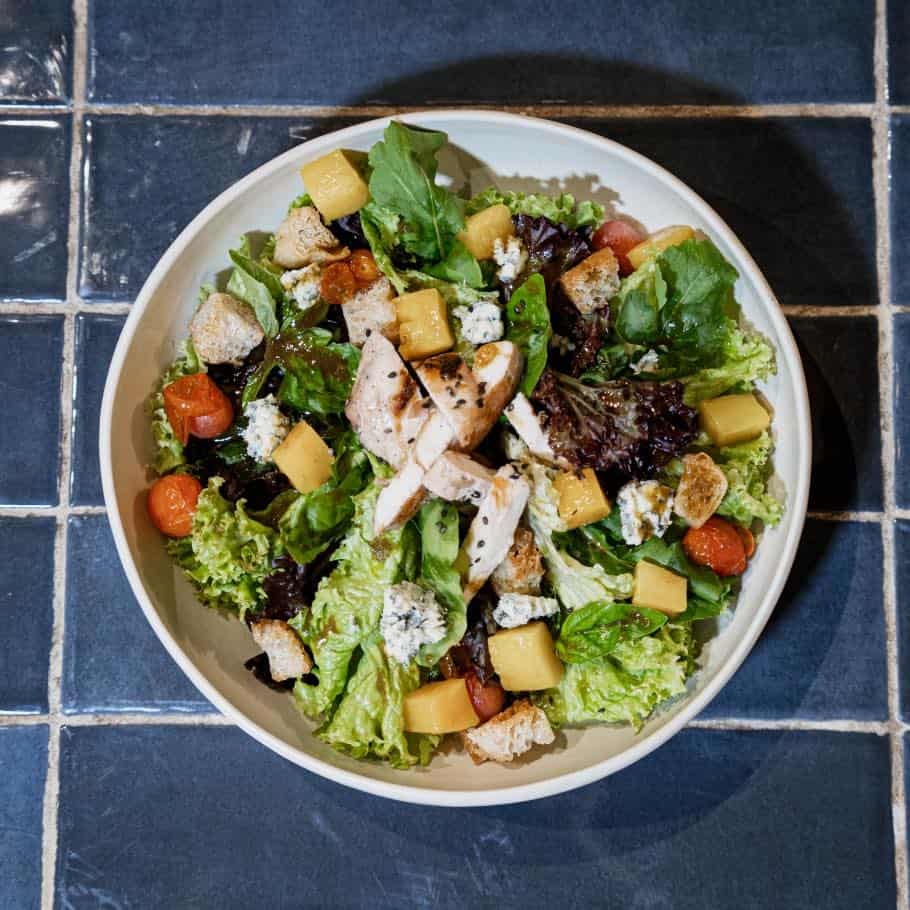 The other item is their Ensalada de Queso de Cabra or their Melted Goat Cheese Salad, this one is made from button mushrooms, cherry tomatoes, grapefruit, pumpkin seeds, fresh greens, goat cheese, garlic bread, and red berries vinaigrette. You can also inform your server about any of your allergies so they to get rid of the ingredients for you.
Terraza Martinez Mains Menu
On their Mains, they have 3 delicious options. The first one is their Pescado del Dia which is made from their Grilled "Catch of the Day" with some marble squid ink potatoes, EVOO herbs, and hollandaise sauce. They also have Zarzuela de Pargo, this one is actually a Snapper and Seafood Stew made from cuttlefish, mussels, snapper, squid, shrimp, clams, some potatoes, and prawn bisque.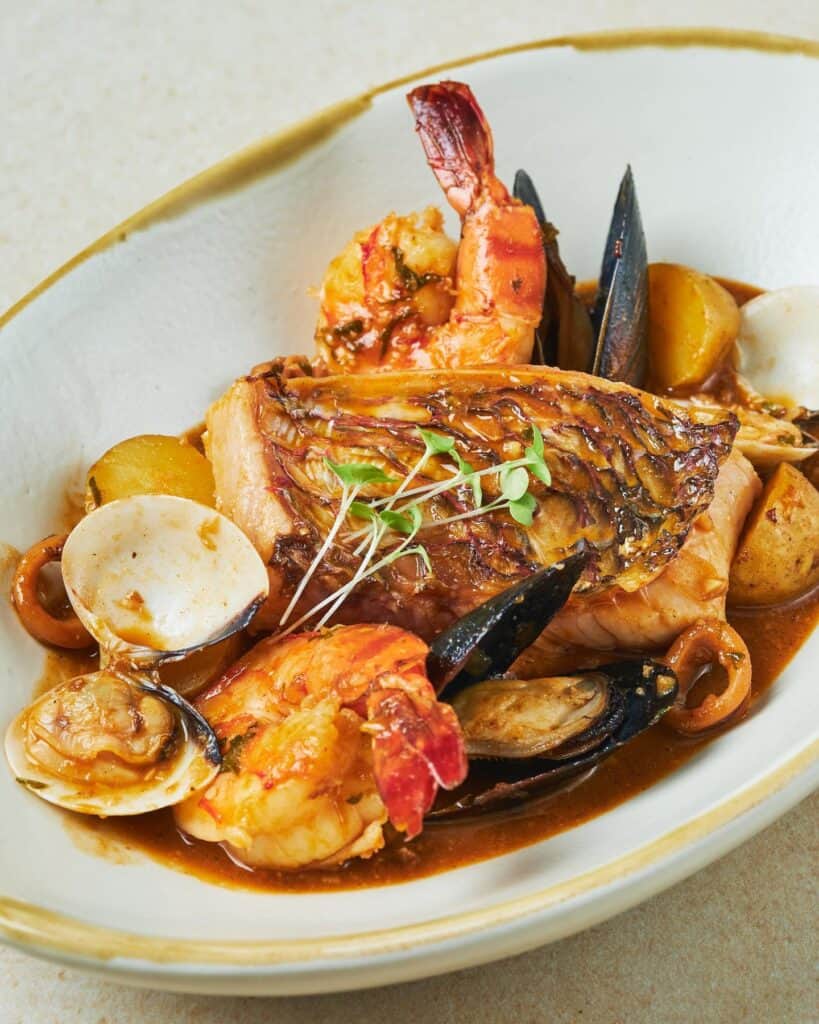 Last but not the least is their Bacalao Confitado or a Spanish-style cod confit. Made from mashed potato, crispy jamon iberico flakes, french green beans, and bacalao with garlic confit and some chili flakes. This one is also flown in fresh from Spain and is really good.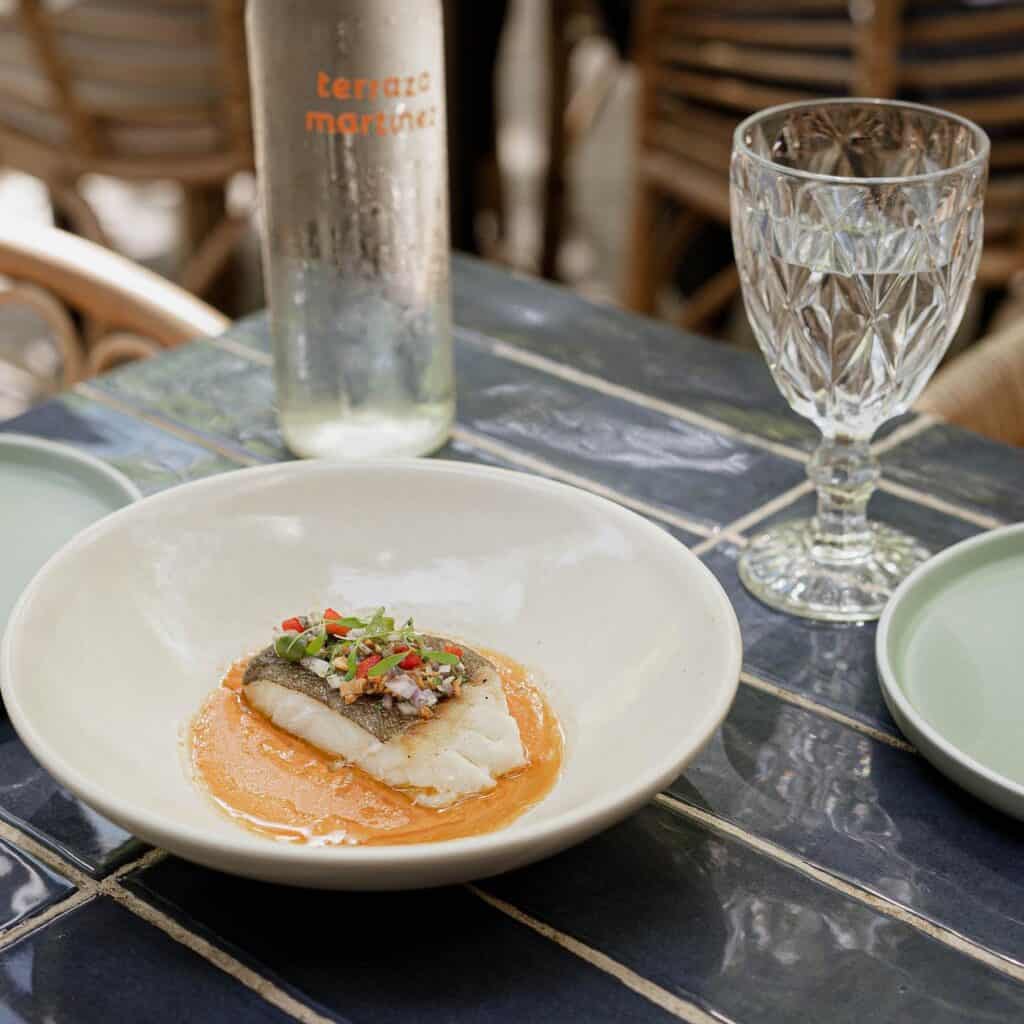 Terraza Martinez Menu Delivery
If you're craving your favorite Terraza Martinez food items but can't go outside no worries since they also offer delivery service. Now you don't have to go out to enjoy their food items, All you have to do is to call their number at 09667005801. You can also use other platforms such as third-party food delivery services that are available on your location.
Social Media Pages
Join them in celebrating the flavors of Terraza Martinez by hitting that follow button! You're securing your front-row seat to a gastronomic adventure that will tantalize your taste buds and transport you to the Mediterranean coast.
Facebook: https://www.facebook.com/Terraza-Martinez
Instagram: https://www.instagram.com/terraza.martinez
FAQs
What type of cuisine does Terraza Martinez offer?
Terraza Martinez offers Mediterranean and Spanish cuisine made by chef Luis Martinez.
Where is Terraza Martinez located?
They are located at Ground floor, Shangrila, The Arcade, 5th Avenue, Bonifacio Global City, Taguig. 
What are Terraza Martinez's business hours?
Terraza Martinez is open daily from 11:09 in the morning until 12:00 midnight.
How to contact Terraza Martinez for reservations or inquiries?
You may contact Terraza Martinez at 09667005801 or 09454098120 or you can also go to their website.
Does Terraza Martinez have social media accounts?
Yes, Terraza Martinez has social media accounts that you can check above the Social Media Pages section of this article.
Conclusion
Terraza Martinez's menu has a lot of offerings, especially those dishes that are native to Spain and the Mediterranean. This place has really great interiors making it relaxing to visit and dine at their place. Their crews are fast and will prioritize serving the guests. The foods are all delicious but I love the desserts since I'm a sweet tooth. Clean and luxurious place very comfortable giving you peace of mind while relaxing at their place. Prices are not affordable though but reasonable. One of the best places I've been to after the pandemic. Overall experience with this place is awesomely good. Highly recommended for anyone who loves to try different foods and great places at the same time. Cocktails are also nice.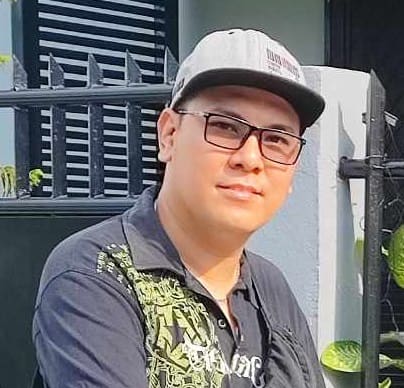 Hi! I'm Nivek Strife, the person who made MenuPH. I'm the one who added most of the popular menus you see on this website, and I really hope you enjoy them! Feel free to check them all out.
Growing up, I was surrounded by lots of tasty foods, like the classic Adobo and the sweet Leche Flan. That love for the many flavors of the Philippines is what got me excited about adding to MenuPH. When I learned how to make websites, I saw the need for a place to show off all the amazing Filipino dishes, and that's how MenuPH started.
MenuPH isn't just a website; it's like a fun journey into food. I've teamed up with famous chefs and found great places all over the Philippines to bring you a bunch of menus that show off the best of Filipino cuisine. Whether you're into the usual dishes or new twists, MenuPH is here to guide you through the rich world of Filipino flavors.
With MenuPH, my aim is to help local businesses, talk about good food choices, and make a group of friends who love food. No matter if you like fancy restaurants or street food, MenuPH has something for you. Come join me on this food adventure as we find great places, taste real flavors, and enjoy the unique food traditions that make the Philippines awesome.