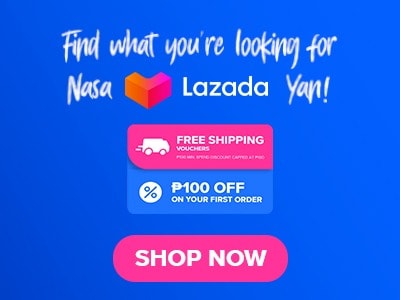 Looking for a tasty and delightful dining experience? At SALO, you can enjoy delicious lechon belly dishes that bring a burst of flavor. The menu includes a variety of Filipino favorites like kare kare, sinigang, sisig, paksiw, and kilawin, all prepared using lechon belly. There are also other Filipino classics like Caldereta, Kare Kareng Baka, Pinakbet, Siningang na Bangus, Sinigang na Salmon Belly, Sinigang na Baboy, Bulalo, Papaitan, Pork & Chicken Barbecue, Liempo, and Fried Chicken. Come and savor a unique twist on familiar flavors with your loved ones at SALO!
Below, you'll find the updated list of SALO menu prices.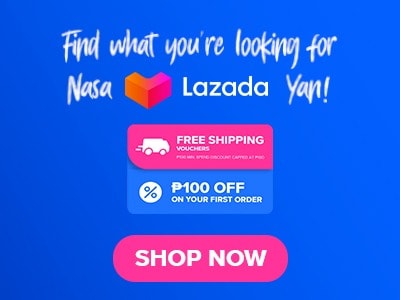 Menu Items
Price (PHP)

Lechon Belly to Share

Lechon Belly to Share (250g)
399
Lechon Belly to Share (500g)
798
Lechon Belly to Share (1kg)
1500
Lechon Belly to Share (2kg)
2850
Lechon Belly to Share (3kg)
4200
Lechon Belly to Share One Slab (4kg)
5500

Lechon Belly Sets

Lechon Belly Set
199
Lechon Belly Kare Kare Set
249
Lechon Belly Kilawin Set
249
Lechon Belly Paksiw Set
249
Lechon Belly Sinigang Set
249
Lechon Belly Sisig Set
279
Lechon Belly with Kare Kare and Rice
299
Lechon Belly with Papaitan and Rice
299
Lechon Belly with Sinigang na Baboy and Rice
299
Lechon Belly with Sinigang na Salmon and Rice
299
Lechon Belly with Sisig and Rice
299

Filipino Favorites Sets

1/4 Chicken Barbecue Set
259
Bulalo Set
390
Caldereta Set
199
Fried Chicken Set (2 pcs)
189
Inihaw na Liempo Set
229
Kare Kareng Baka Set
229
Papaitan Set
229
Pork Barbecue Set (2 pcs)
159
Sinigang na Baboy Set
229
Sinigang na Bangus Set
229
Sinigang na Salmon Belly Set
229

Dishes to Share (for 2)

Bulalo
369
Caldereta
259
Kare Kare
259
Lechon Belly Kare Kare
269
Lechon Belly Kilawin
269
Lechon Belly Paksiw
269
Lechon Belly Sinigang
269
Lechon Belly Sisig Set
269
Papaitan
239
Pinakbet
179
Rice
40
Sinigang na Baboy
289
Sinigang na Bangus
289
Sinigang na Salmon Belly
289
About SALO
SALO serves authentic and unique lechon belly and other traditional Filipino cuisines. The name of this restaurant is derived from the Filipino word "salo," which means to eat together; that is why most of its dishes, especially lechon belly, are perfect for sharing. Its branches are primarily located in malls, making it more convenient and easier to access.
SALO Menu Best Seller
SALO is known for the delicious and distinctive lechon belly cuisines it offers. The best sellers of this restaurant consist of traditional Filipino cuisines such as sinigang, kare kare, bulalo, and sisig.
Sinigang na Salmon Belly – It is one of the best Filipino stews with sour and savory flavors. This sinigang na salmon belly is a nutritious cuisine as the fish is packed with Omega 3, and the vegetables contain essential nutrients.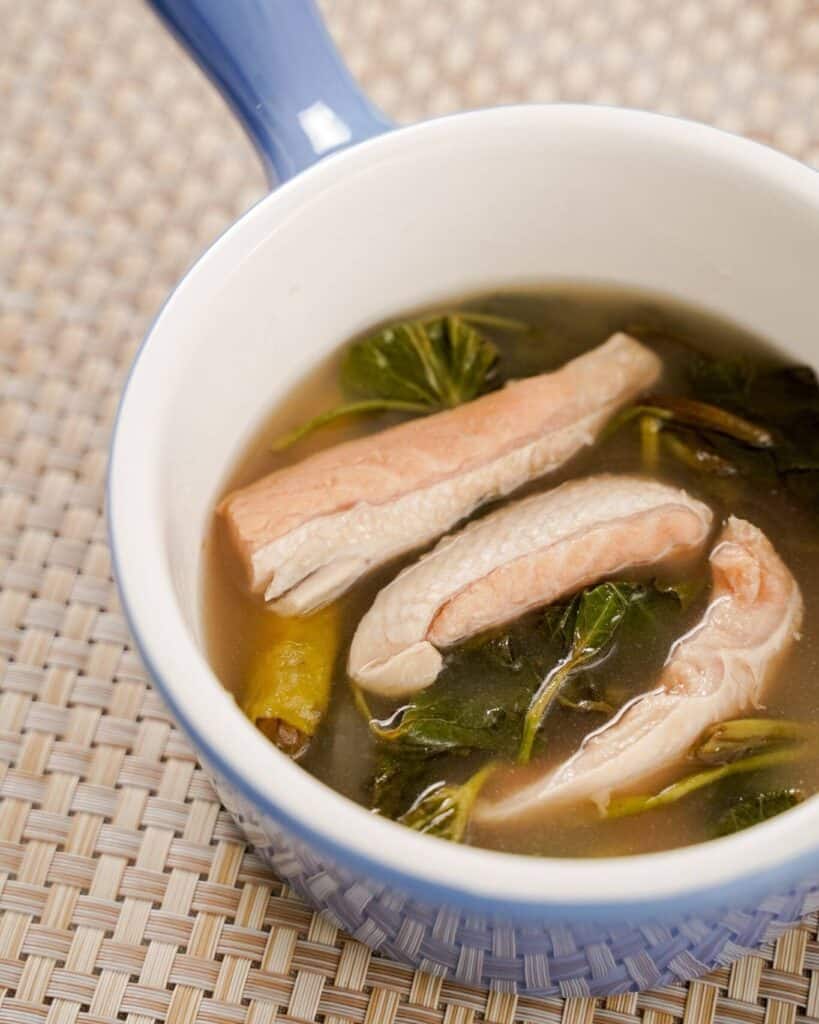 Sinigang na Baboy – Sinigang na Baboy is one of this restaurant's popular and best-selling dishes, as this is commonly prepared in Filipino households. This heartwarming soup is well-loved for its appetizing sour taste that will boost your appetite.
Lechon Belly Kare Kare – Traditional Filipino cuisine with meat and vegetables cooked in a hearty peanut sauce. This Kare Kare menu from SALO has a special twist as it is made with a lechon belly that gives a crispy texture and satisfying crunch in every bite. 
Bulalo – Bulalo is a famous dish in the Philippines as it consistently impresses diners with its delicious taste and appetizing flavor. This classic stew comprises beef shanks, bone marrow, and vegetables cooked in a satisfying broth.
Lechon Belly Sisig – This sisig cuisine served by this restaurant is unique as it is made with lechon belly, red and green chilies, onions, and other special ingredients. It is served with calamansi and a piece of red chili on the side to make it more flavorsome.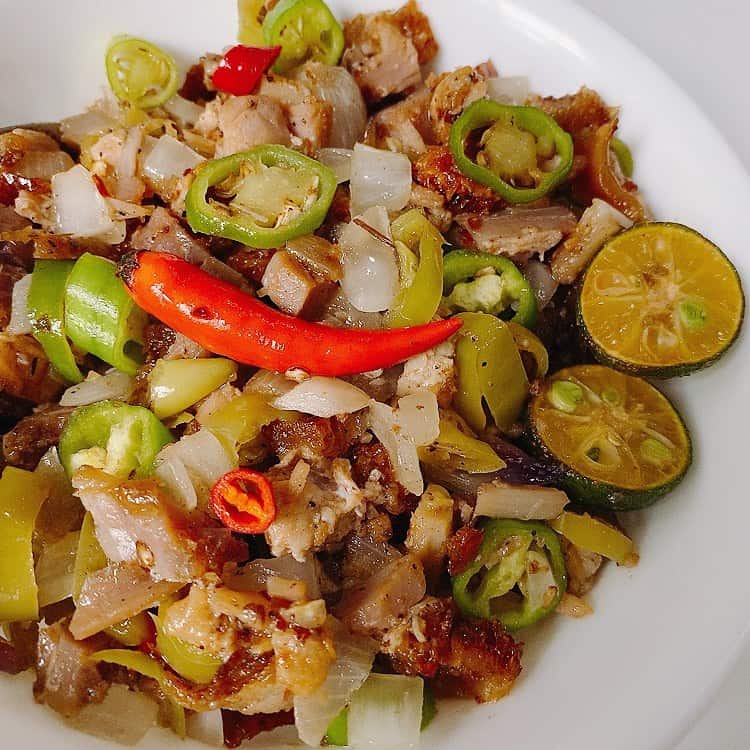 SALO Lechon Belly to Share Menu
The lechon belly to share offered by SALO consists of 250g, 500g, 1kg, 2kg, 3kg, and 4kg servings, making them perfect for sharing and different kinds of events. These lechon bellies are known for their mouthwatering goodness.
Lechon Belly to Share (250g) – This 250g of lechon belly is an excellent choice for those dining in small groups with two to three members. The crunchiness, tenderness, and delicious taste of this lechon belly will surely satisfy the palate of everyone in the group.
Lechon Belly to Share (500g) – It is ideal for those dining in with four to six members. This lechon belly is well-loved for its salty and savory flavors as well as for its crunchy, tender, and oily texture that makes each bite satisfying. Its taste and texture also go well with the homemade dip served with it.
Lechon Belly to Share One Slab (4kg) – This restaurant's 4kg one-slab lechon belly is perfect for being prepared for different events. This lechon belly will make your loved ones and guests enjoy their meal as it is gratifying and mouthwatering.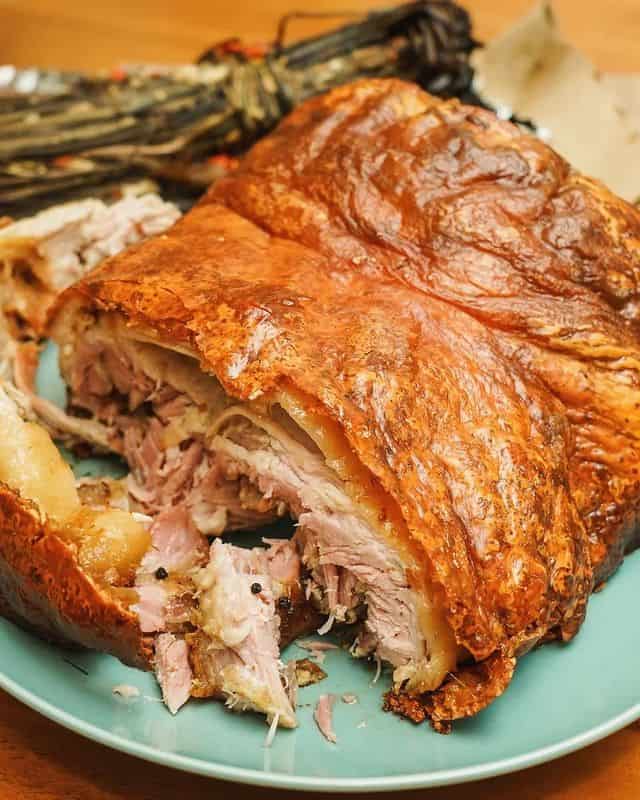 Lechon Belly Sets Menu
SALO restaurant serves lechon belly sets consisting of special lechon belly cuisine, pinakbet or soup, and rice. These distinctive cuisines are well-crafted to give customers a filling and satisfying meal.
Lechon Belly Paksiw Set – The lechon belly is simmered masterfully in vinegar and other special spices, resulting in delicious and sour cuisine. This is a must-try dish as it has a unique taste that makes it luscious and heartwarming.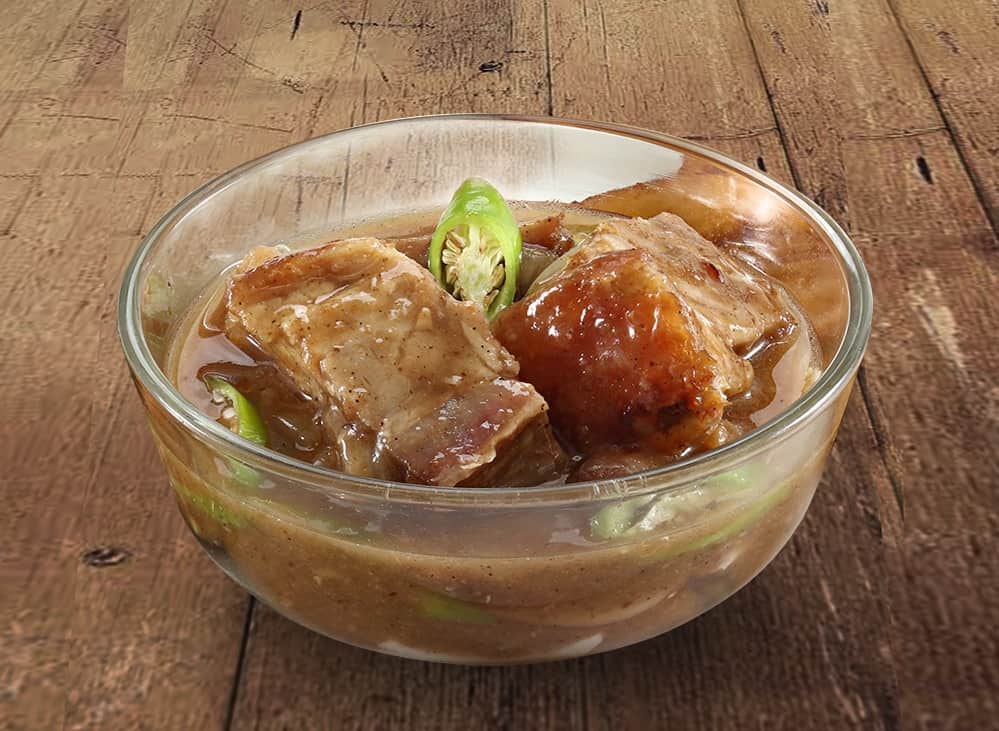 Lechon Belly Kilawin Set – This is a special variation of kilawin made with lechon belly cooked in vinegar and spices. The sour taste of vinegar, the umami flavors of spices, and the scrumptious taste and texture of lechon belly are combined perfectly in this menu of SALO, which is why people love it. 
Lechon Belly with Papaitan and Rice – Papaitan is a popular classic Ilocano dish made with goat or cow's innards. It is known for its bitter and unique flavor that showcases the vibrant culture of Ilocos. This cuisine is served with the restaurant's special lechon belly and white steamed rice.
Dishes to Share
Meals are more enjoyable when shared, which is why SALO restaurant also serves menu that is suitable for two people. These good-for-sharing cuisines have generous servings that will fill you up and give you a memorable experience. 
Caldereta – This stew is made with beef, carrots, potatoes, and bell pepper simmered in a rich and flavorful tomato sauce. It has a savory and beefy flavor with a hint of spicy and sweet taste, making it appealing to the senses.
Sinigang na Bangus – Sinigang na Bangus is a delicious Filipino stew where bangus or milkfish and fresh vegetables are cooked in a flavorsome broth. The broth in this dish is flavored with tamarind, imparting an appetizing sour taste.
Pinakbet – It is a crowd-pleasing and famous vegetable dish in the Philippines with a pleasant taste. This cuisine is made with fresh vegetables, such as bitter gourd, squash, eggplant, string beans, and tomato, sauteed in the restaurant's special shrimp sweet sauce.
Filipino Favorites Sets
SALO offers all-time Filipino favorite cuisines served with rice and other dishes. These sets menu will give you a satisfying meal experience as it consists of your well-loved comfort foods. It provides hearty dishes such as caldereta, kare kareng baka, bulalo, papaitan, barbecue, liempo, and fried chicken. For those who love sinigang it offers bangus, pork, and salmon belly cuisines packed with delicious flavors.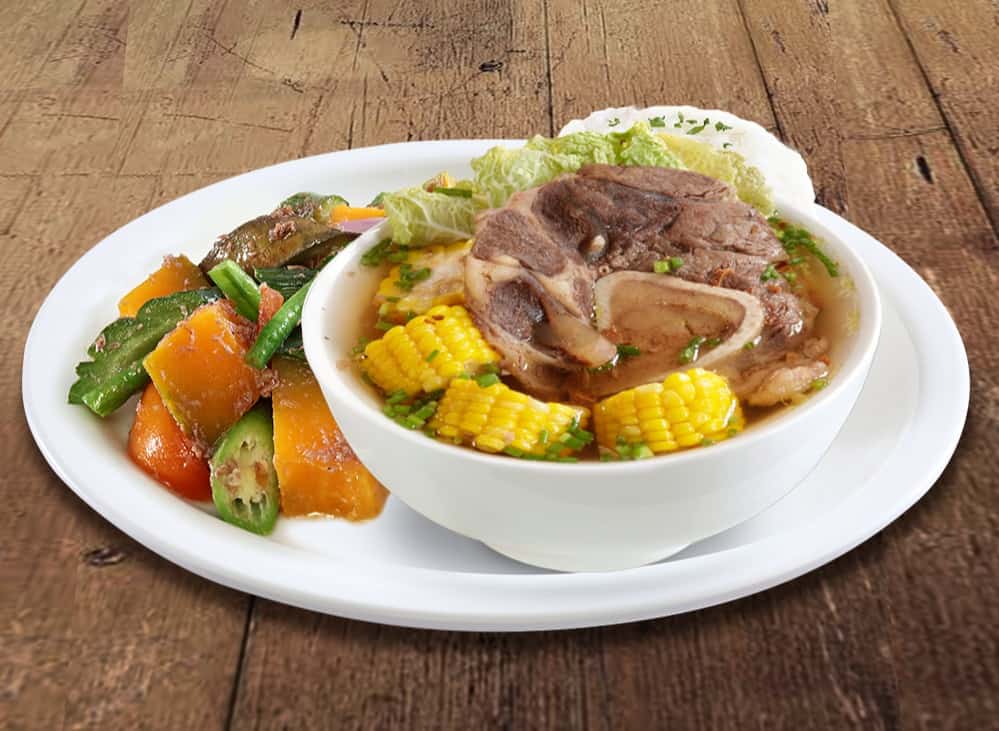 SALO Menu Delivery
Craving your preferred dishes from SALO restaurant? Now you can get them delivered straight to your home. Just like the messy and exciting dining experience at The Orange Bucket, SALO offers the flavors you love. You can have a taste of Filipino classics like kare kare, sinigang, sisig, and more, delivered through GrabFood, Foodpanda, and SM Malls Online. Enjoy the convenience of enjoying your favorites wherever you are!
SALO Social Media Pages
Explore a delicious journey into the flavorful Filipino tradition of lechon belly by following their official social media pages. Join a community of fellow food lovers who are enthusiastic about tasty dishes and genuine flavors. Just like The Orange Bucket's exciting dining experience, this culinary adventure celebrates rich traditions and mouthwatering delights. Stay connected and savor the joy of authentic flavors together!
Facebook: https://www.facebook.com/salolechonbellykitchen
Instagram: https://www.instagram.com/salolechonbelly
FAQs
Where is SALO located?
SALO has many branches all over the Philippines, and most of its stores are in various SM Malls such as North Edsa, Fairview, Tanza, Downtown Premiere, Sorsogon, Olongapo, Megamall, Cabanatuan, Bacoor, Legazpi, Marilao, Lanang Premiere, and many more.
How can I order from SALO Philippines for long-distance delivery?
You can order from SALO Philippines for long-distance delivery through different online platforms such as GrabFood, Foodpanda, and SM Malls online.
What types of dishes does SALO offer?
Lechon belly, seafood, vegetables, chicken, pork, beef, and stews are the types of dishes offered by SALO.
Are there any vegan options available at SALO?
Unfortunately, there are no purely vegan options available at SALO. Every vegetable dish has pork/chicken/beef on them.
Conclusion
The SALO menu is known for its mouthwatering lechon belly, available in different variants. It is a great restaurant for those who want to try different Filipino dishes cooked using lechon belly. The food items it offers are great for all kinds of events and will surely make your celebrations more fun and memorable as they are suitable for sharing and surprisingly good.