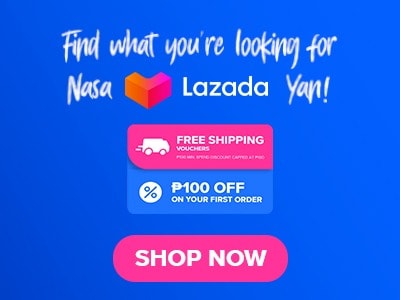 The Miguel & Maria menu features comfort food influenced by Western cuisines. It serves starters, salads, soups, chicken, pork, beef, seafood, pasta, sandwiches, burgers, desserts, and beverages. This restaurant's cuisines are suitable for kids, adults, and vegetarians. Most dishes it serves have a unique taste as they are cooked using homemade signature ingredients.
Below, you'll find the updated list of Miguel & Maria menu prices.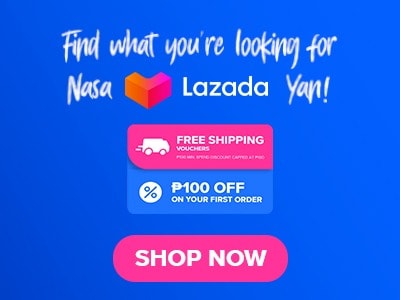 Menu Items
Price (PHP)

Starters

Bacon & Cheese Bread Pulls
180
Calamari
235
Cheesy Belgian Fries
235
Chicken Tenders
235
Chicken Wings (Half Dozen)
240
Chicken Wings (One Dozen)
410
Chips & Saisa
135
Fish & Chips
220
Garlic Baby Squid
265
Mozzarella Sticks
235
Shrimp Gambas
260
Toast N' Dip
160
Ultimate Nachos
235

Soup and Salad

Bacon Chowder
80
Pumpkin Soup
80
Soup on a Bread Bowl
130
Tomato Soup
80
Calamari Salad (Solo)
155
Calamari Salad (Sharing)
295
Miguel & Maria's Salad (Solo)
155
Miguel & Maria's Salad (Sharing)
295
Shrimp Sesame Salad (Solo)
160
Shrimp Sesame Salad (Sharing)
310
Chef's Salad (Solo)
145
Chef's Salad (Sharing)
310
Buffalo Chicken Salad (Solo)
155
Buffalo Chicken Salad (Sharing)
295
Chicken Salad (Solo)
145
Chicken Salad (Sharing)
285

Chicken and Pork

Baby Back Ribs
280
Baked Herb Chicken
260
Crunchy Pork Belly
270
Hickory Chicken Barbecue
260
Homestyle Fried Chicken
410
Paella De Carne
390
Stuffed Pork Belly
270

Beef

Baked Beef Belly
340
Beef Casserole
280
Beef Salpicao
250
Meatloaf Plate
230
Roast Beef
290
Salisbury Steak
250
Steak
390

Seafood

Baked Salmon
370
Creamy Fish Fillet
235
Honey Garlic Salmon
360
Lemon Butter Salmon
360
Marlin Plate
330
Mushroom & Cream Salmon
370
Seafood Paella
390

Pasta

Mac & Cheese (Solo)
230
Mac & Cheese (Sharing)
410
Meatballs Spaghetti (Solo)
230
Meatballs Spaghetti (Sharing)
410
Seafood Marinara (Solo)
230
Seafood Marinara (Sharing)
410
Shrimp & Sausage (Solo)
260
Shrimp & Sausage (Sharing)
470
Lasagna (Solo)
260
Lasagna (Sharing)
470
Creamy Carbonara (Solo)
230
Creamy Carbonara (Sharing)
410
Beef Stroganoff (Solo)
230
Beef Stroganoff (Sharing)
410
Chicken Alfredo Baked Ziti (Solo)
230
Chicken Alfredo Baked Ziti (Sharing)
410
Salmon Cream (Solo)
260
Salmon Cream (Sharing)
410
Seafood Aglio Olio (Solo)
260
Seafood Aglio Olio (Sharing)
470
Spanish Sardines Aglio Olio (Solo)
230
Spanish Sardines Aglio Olio (Sharing)
410
Classic Carbonara (Solo)
230
Classic Carbonara (Sharing)
410
Creamy Pesto Shrimp (Solo)
230
Creamy Pesto Shrimp (Sharing)
410

Burgers and Sandwiches

Miguel & Maria's Burger
240
Add On
Patty
60
Bacon
40
Mushroom
30
Cheese Sauce
30
Chicken Fillet Sandwich
220
Fish Fillet Sandwich
210
Grilled Cheese Sandwich
240
Philly Cheese Steak Sandwich
240

Platters

Miguel's Platter w/ 3 side dishes
670
Miguel's Platter w/ 5 side dishes
720
Maria's Platter w/ 3 side dishes
670
Maria's Platter w/ 5 side dishes
730

Add Ons

Brown Rice
60
Buttered Corn
40
Coleslaw
55
Dinner Rolls
65
Dirty Rice
65
Fries
70
Garlic Parsley Rice
55
Java Rice
55
Mashed Potato
55
Plain Rice
40
Toasted Baguette Slices
40

Dessert

Blueberry Cheesecake
160
Brownie Ala Mode
160
Choco Chip Cookie Smores
210
Churros
130
Classic Cheesecake
160
Frozen Brazo De Mercedes
180
Lava Cake
160
Nutella Chip Cookie Ala Mode
210
Vanilla Ice Cream
50

Beverages

Regular Coke in Can
55
Coke Light in Can
55
Coke Zero in Can
55
Sprite in Can
55
Royal in Can
55
Bottled Water
35
Home Brewed Iced Tea
55
Blue Lemonade
50
Sola Iced Tea (Raspberry, Lemon, & Peach)
65
Stellina's Lemonade (Old Fashioned & Pink)
65
Del Monte Pineapple Juice in Can
55
Del Monte Orange Juice in Can
55
Del Monte 4 seasons in Can
55
Tea
40
Brewed Coffee
60
Cappuccino
110
Espresso
60
Hot Chocolate
95
Latte Macchiato
110
About Miguel & Maria
Miguel and Maria's restaurant is founded by Marou Gloria and Kim to serve locals with Western comfort foods. They want to give customers a casual dining experience where they can enjoy affordable and luscious foods. This restaurant has a refreshing and luxurious atmosphere that perfectly matches its food and beverages. It also has another restaurant named Comedor that provides Filipino cuisine.
Miguel & Maria Menu Best Seller
Miguel & Maria is known for its flavorsome cuisine inspired by Western cultures. Here are some of the best sellers of Miguel & Maria, known for their distinctive and pleasant savory taste.
Baby Back Ribs – This particular cuisine is a perennial hit among its regulars, making them come back for more, time and time again. These rib delights come in two mouthwatering styles: the classic barbeque, where ribs are grilled to perfection, and the dry-rib variety, caressed with a secret blend of herbs and spices exclusive to the restaurant. The meal wouldn't be complete without the perfect sides – a hearty serving of Java rice and a refreshing portion of coleslaw. A gastronomical experience that keeps folks coming back for more!
Mac & Cheese – A hearty pasta doused in the restaurant's special creamy cheese sauce. The cheesy goodness of this mac & cheese and its comfort in every bite make it irresistible.
Steak – This steak is cooked based on the preference of its customers to serve them a meal suited to their taste. It comes with delicious mashed potato and roasted vegetables. The patrons of this restaurant love its tender texture and fragrant scent.
Baked Salmon – Salmon is one of the crowd's favorite seafood, so Miguel & Maria's restaurant topped it with three kinds of cheese and baked it expertly to make it unique and more mouthwatering. Roasted vegetables and mashed potato are the side dishes served with this baked salmon.
Burger – Burgers is one of the go-to food of customers from different walks of life as it is delicious and satisfying. The burger patties stuffed in this burger are specially made by the restaurant, making it unique. It is served with fries for a more gratifying meal.
Miguel & Maria Menu Starters 
The starters of Miguel & Maria consist of bread, fries, chicken, nachos, fish & chips, and seafood. These light and delicious appetizers will stimulate your appetite and make you enjoy your meals.
Chicken Wings – The chicken wings this restaurant serves have finger-licking goodness and are served with the signature dipping sauce. Original buffalo, garlic parmesan, soy chicken, barbecue, and salted egg are the variants of chicken wings this restaurant provides.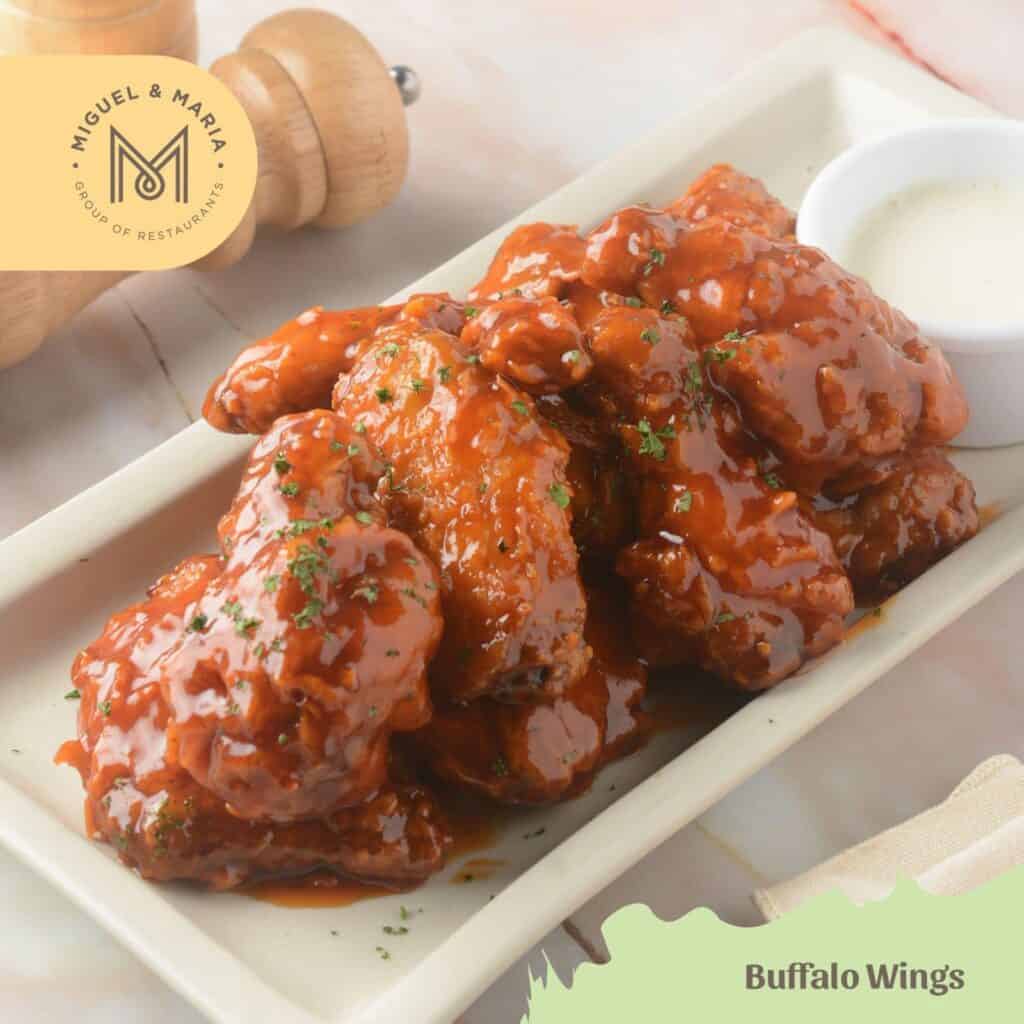 Ultimate Nachos – One of the popular appetizers of this restaurant is packed with delicious flavor and cheesiness. It is topped with aromatic and flavorful minced beef, mango salsa, jalapeno, and homemade BBQ and cheese sauce.
Mozzarella Sticks – It is made with mozzarella cheese coated in a special batter mixture. The gooey cheese on the inside and the crispiness of its outer layer are the features of these mozzarella sticks. The signature marinara sauce of the restaurant is served with it to make it more flavorful.
Soup & Salad
Miguel & Maria offers a hearty and nutritious soups and salad menu that is perfect for those who want a light meal. The soups it offers are tomato, pumpkin, bacon chowder, and soup on a bread bowl, while its salad comprises Miguel & Maria's salad, Chef's salad, calamari, shrimp sesame, and chicken. 
Bacon Chowder – A classic and savory soup well-loved for its creaminess, rich taste, and thick texture. The bits of bacon and herbs on its top add a little crunch and appetizing aroma.
Miguel & Maria's Salad – This is a special restaurant salad made with chicken fillet, cabbage, lettuce, and pieces of goat's cheese and dressed with goat cheese. The ingredients that come in this salad are perfectly mixed, making it healthy and tasty.
Shrimp Sesame Salad – It is a mixture of lettuce, mangoes, sesame seeds, and sesame dressing. The succulent shrimp added to it gives a delicious taste to this salad. This salad is known for its essential nutrients and refreshing goodness.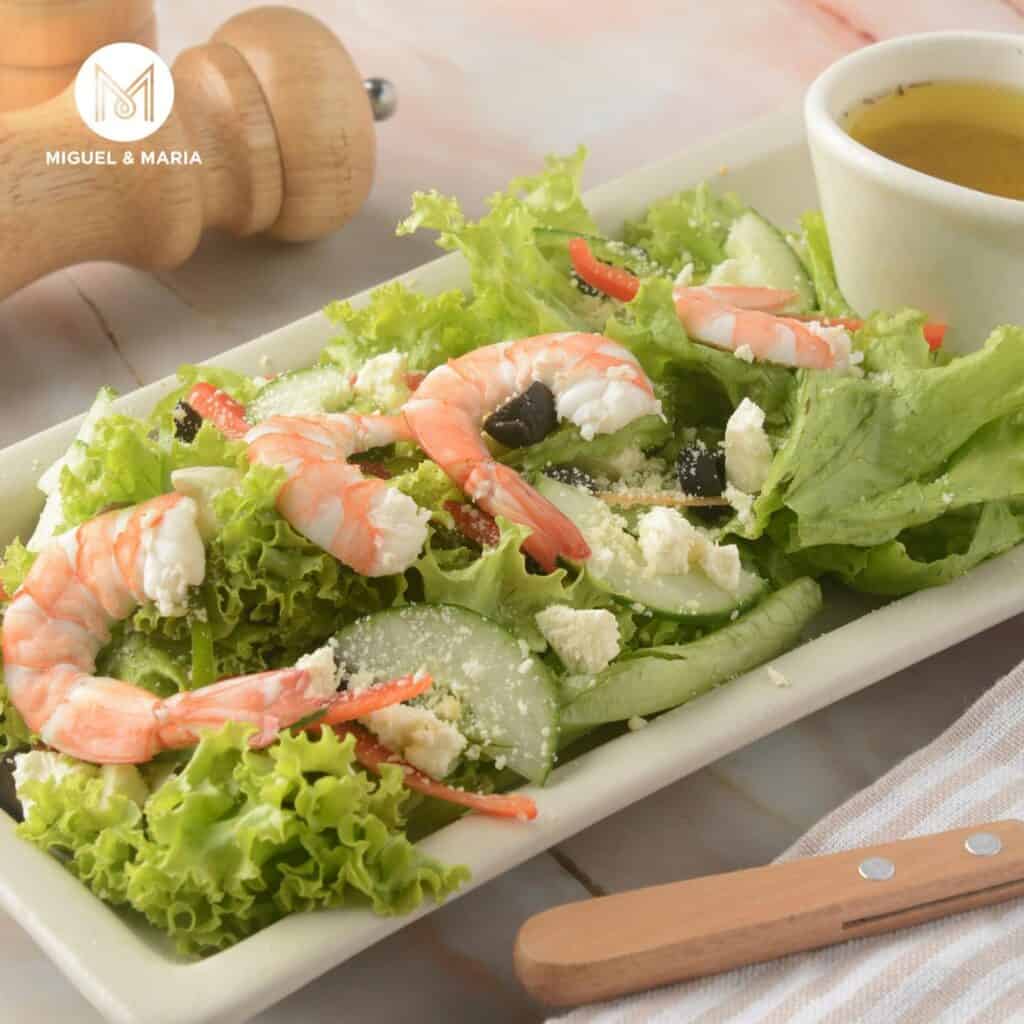 Chicken & Pork
The chicken dishes of Miguel & Maria restaurant consist of baked herb chicken, fried chicken, and hickory chicken barbecue, while pork includes pork belly, baby back ribs, and paella de carne.
Homestyle Fried Chicken – The homestyle fried chicken of this restaurant is made with chicken coated evenly with batter and deep-fried expertly. It is loved for its crispiness, juiciness, tenderness, and yummy taste. The side dishes paired with it are fries, corn, and dinner rolls.
Hickory Chicken Barbecue – It is made with chicken leg quarters doused in a signature barbecue sauce of the restaurant. It is served with roasted vegetables and garlic parsley rice to give diners an enjoyable meal.
Stuffed Pork Belly – Enjoy this cuisine's delicious and unique taste as it is filled with ham and cheese. It is a dish that everyone will surely enjoy as each bite is flavorful. Roasted vegetables and garlic parsley rice are also paired with it.
Miguel & Maria Menu Beefs 
The beef dishes served by Miguel & Maria are known for their aroma, tenderness, and delicious taste. It serves meatloaf plates, baked beef belly, and Salisbury steak paired with mashed potatoes and roasted vegetables. The roast beef comes with roasted vegetables and gravy, the beef casserole is served with garlic bread, and the beef salpicao is paired with garlic parsley rice.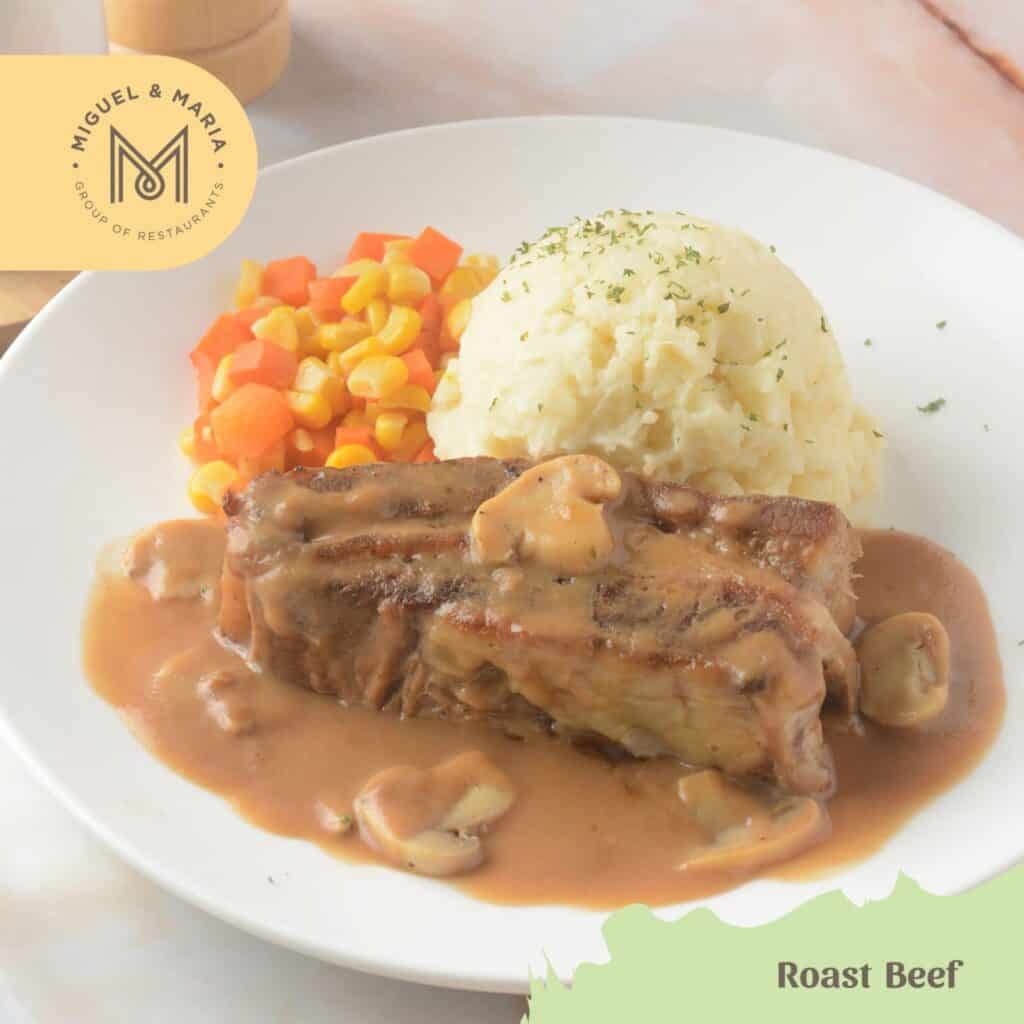 Burgers & Sandwiches
Burgers and sandwiches are the go-to meal of most people as they can be enjoyed at any time of the day. The burger it offers is distinctive as it is made with a homemade patty that is tender and juicy and is served with fries. Regarding sandwiches, this restaurant provides Grilled Cheese Sandwich, Chicken Fillet Sandwich, and Fish Fillet Sandwich that comes with fries. It also serves Grilled Cheese Sandwich paired with creamy tomato soup.
Miguel & Maria Menu Delivery
Miguel & Maria serves up a helping hand by offering delivery services. Now, you can relish your favorite Western comfort food right in the coziness of your own home. You can reach out to them at 0919 085 5478, or ping them on their official social media pages. They're just a call or a message away for your food delivery needs and any other queries you might have. Get ready to enjoy a delectable feast without stepping foot outside!
Social Media Pages
Looking for a vibrant and flavorful dining experience? Look no further than Miguel & Maria! Like and follow their social media pages to discover the delightful world of our culinary creations. Share your dining experiences with them and become part of the Miguel & Maria community.
Facebook: https://www.facebook.com/miguelandmaria
Instagram: https://www.instagram.com/miguelandmaria/
FAQs
What types of cuisines does Miguel & Maria restaurant offer?
Western is the type of cuisine offered by Miguel & Maria restaurant.
Where s Miguel & Maria Restaurant located?
The branches of Miguel & Maria restaurant are located in Lilac (89 Lilac Street, Conception Dos) and Gil Fernando (B3 L4 Gil Fernando Avenue).
Do I need to make a reservation at Miguel & Maria restaurant?
No, you do not need to make a reservation at Miguel & Maria, but it is highly recommended when they are hosting special occasions.
Are there any special promotions or discounts available at Miguel & Maria restaurant?
There are no special promotions or discounts available at Miguel & Maria restaurant.
Conclusion
The Miguel & Maria menu is suitable for all family members as its dishes are well-crafted to satisfy everyone's cravings. Customers commend the reasonable prices of its cuisines, comforting ambiance, and good customer service. It is also a great restaurant where you can bond or celebrate special events with your loved ones.