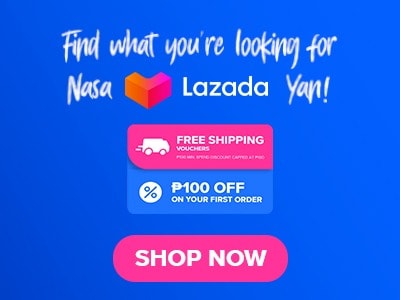 There are so many Spanish influences in our country, such as culture and cuisine, that is why Spanish cuisines have a special place in our hearts and always captivate our taste buds. So, if you are craving dishes from Spain with genuine taste, one of the dining places that are worth visiting is El Español in Angeles, Pampanga. Its menu consists of a wide array of authentic cuisines crafted with passion and creativity.
Below, you'll find the updated list of El Español menu prices.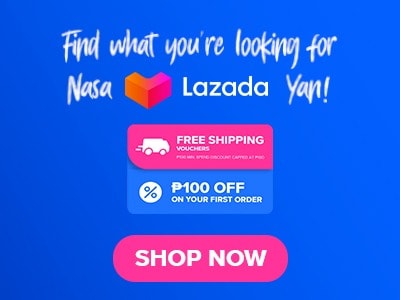 Menu Items
Price (PHP)

Specialty

Conchinillo Asado - Segovia Style (Whole, Good for 8-10 pax)
8995
Conchinillo Asado - Segovia Style (Half, Good for 6-8 pax)
5495

Pintxos

Pintxo De Bacalao Huevo Y Pimiento
425
Pintxo De Carna Cebolla Y Queso
435
Pintxo De Chorizo Quezo Y Huevo
435
Pintxo De Gamba Pimiento Y Aceituna
445
Pintxo De Jamon Tomate Y Aceituna
445
Pintxo De Pollo Panceta Y Queso
435
Pintxo De Salmon Esparragos Y Queso
445
Pintxo De Tortilla, Pimiento Asado Y Aceitunas
415
Pintxo Escalivada Anchoa Y Aceituna
415
Pintxo Moruno
445

Paella

Marinera (Small)
795
Marinera (Large)
995
Mixta (Small)
895
Mixta (Large)
1095
Valenciana (Small)
695
Valenciana (Large)
895
Vegetales (Small)
695
Vegetales (Large)
895

Steaks

Cubes Skewards (250 grams)
1395
Filet Mignon (250 grams)
1495
Milanesa (Breaded Sirloin)
1295
Ribeye (250 grams)
1695

Soups

Sopa De Ajo Castellana
415
Sopa De Menestra
465
Sopa De Tomate
435

Stews

Callos
595
Crema De Mariscos
435
Fabada Asturiana
585
Pochas Con Almejas
555

Salads

Campera (Crusted Tuna or Salmon or Ham)
695
De Atun (Tuna Chunks)
655
De Pollo (Chicken and Bacon)
665

Tapas / Appetizers

Calamares A La Romana
485
Ceviche
495
Chorizos Fritos
535
Croquettas de Jamon
465
Esparragos En 3 Salsas
455
Gambas Al Ajillo
555
Gambas En Gabardina
525
Patatas Bravas
485
Pimientos Rellenos
495
Pollo Al Ajillo
465

Other Dishes

Albondigas Caseras
495
Atun Marinado
585
Bacalao Confitado
555
Bacalao En Salsa Verde
585
Boquerones Fritos
555
Calamares En Su Tinta
565
Esparragos Con Tocino
495
Huevos A La Flamenca
405
Huevos Rotos
415
Lomito Con Champignones
575
Mejillones A La Marinera
515
Pollo Con Queso Y Jamon
585
Revuelto De Bacalao
465
Salmon A La Plancha
595
Setas Al Ajillo
435
Ternera A La Pimienta
505
Ternera Al Vino
565
Tortilla De Chorizo
425
Tortilla De Patatas
415
Turron De Pollo
575

Soul of Spain

Jamon Serrano (100 grams)
795
Queso Manchego (100 grams)
695

Other Cuisines

Charcaturie Board
1105
Pa Amb Tomaguet
125
Pan Con Tomate
125

Especials of the Month

Adobo Paella (Small)
695
Adobo Paella (Large)
895
Pollo A La Barbacoa
465

Family Special

Pernil Asado (Cuban Style - Good for 8-10 pax)
5995

Cuban Cuisine

12'' Thin Pizza (All Cheese)
465
12'' Thin Pizza (Chorizo & Veggies)
485
Arroz Con Pollo
415
Bistec De Palomilla
595
Papas Rellenas
395
Picadillo Habanera
425
Pressed Cubano Pork
325
Puerco Asado
415
Pulled Pork BBQ
285
Ropa Vieja
425
The 90 Miles (12'' Pizza Roll w/ Pork & Veggies)
495

Tex Mex Cuisine

Birria Quesa Tacos (3 pcs)
355
Burrito (Beef)
335
Burrito (Chicken)
325
Chicken Tortilla Soup
295
Chilaquiles
235
Chili Con Carne
355
Chimichangas (Beef)
325
Chimichangas (Chicken)
315
Chips w/ Salsas
215
Chorizo Tacos (3 pcs)
325
Enchiladas (Beef)
325
Enchiladas (Chicken)
315
Enmoladas (Beef)
335
Enmoladas (Chicken)
325
Fajitas (Beef)
355
Fajitas (Chicken)
325
Huevos Rancheros
235
Nachos
295
Quesadilla
240
Quesadillas (Beef)
325
Quesadillas (Chicken)
315
Tacos Al Pastor (3 pcs)
315
About El Español
El Español was founded by Chef Pedro, who takes the lead in preparing authentic Spanish cuisines and managing this restaurant. It is known for its tapas, paellas, wines, and other flavorful dishes inspired by Spanish culture and culinary arts. The traditional and contemporary interior design and the festive adornment match well with the creative and tasty dishes it serves.
El Español Menu Best Seller
El Español offers a lot of Spanish cuisines, so if you are trying it for the first time and do not know what to try, you can start with some of these best sellers as they are the most popular and recommended dishes of its chefs and patrons.
Conchinillo – It is the restaurant's specialty where suckling piglet is roasted slowly to its ideal state. This Segovia-style conchinillo asado is perfect for sharing and is served with paella, sangria, gravy, and roast potatoes. Customers love this dish for its juiciness, delicious taste, and overall goodness, turning their dining into a happy feast.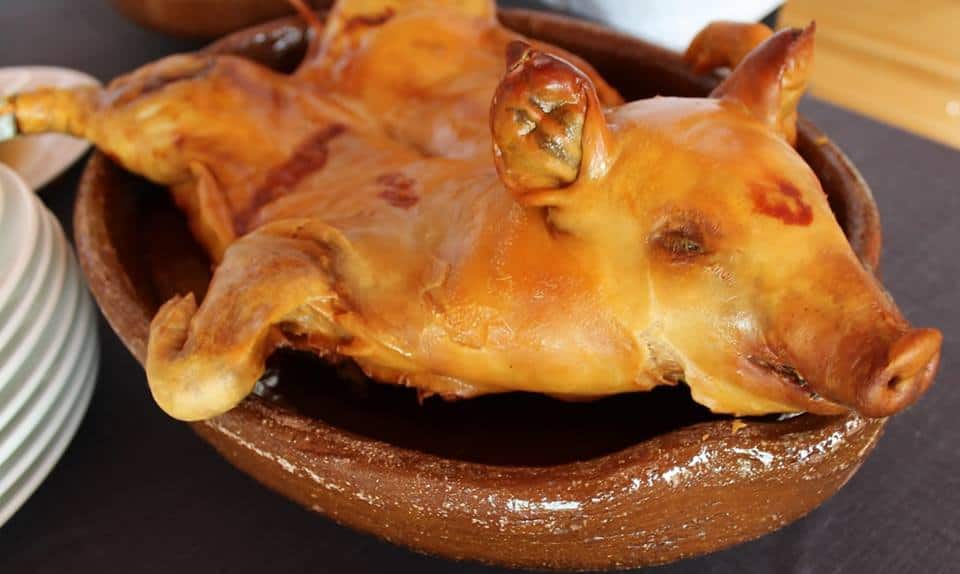 Gambas Al Ajillo – A popular appetizer where sizzling peel shrimp are cooked with rich chili garlic sauce, virgin olive oil, and secret spices and garnished with fresh cilantro leaves. The spicy kick of this cuisine complements well with the freshness and scrumptiousness of shrimp, resulting in a palatable meal.
Turron de Pollo – It is one of the highly recommended El Español menu for their customers where chicken fillet with cheese, almonds, and chorizo are wrapped in a smoky and hearty bacon with blue cheese sauce. It is a mouthwatering cuisine that is sure to impress the palate of its customers of all ages. 
Croquetas de Jamon – Enjoy this bite-size and fun-to-eat roll bechamel croquette made with serrano ham. The aioli and romesco sauce served with it enhances its taste, making every bite enjoyable and flavorful.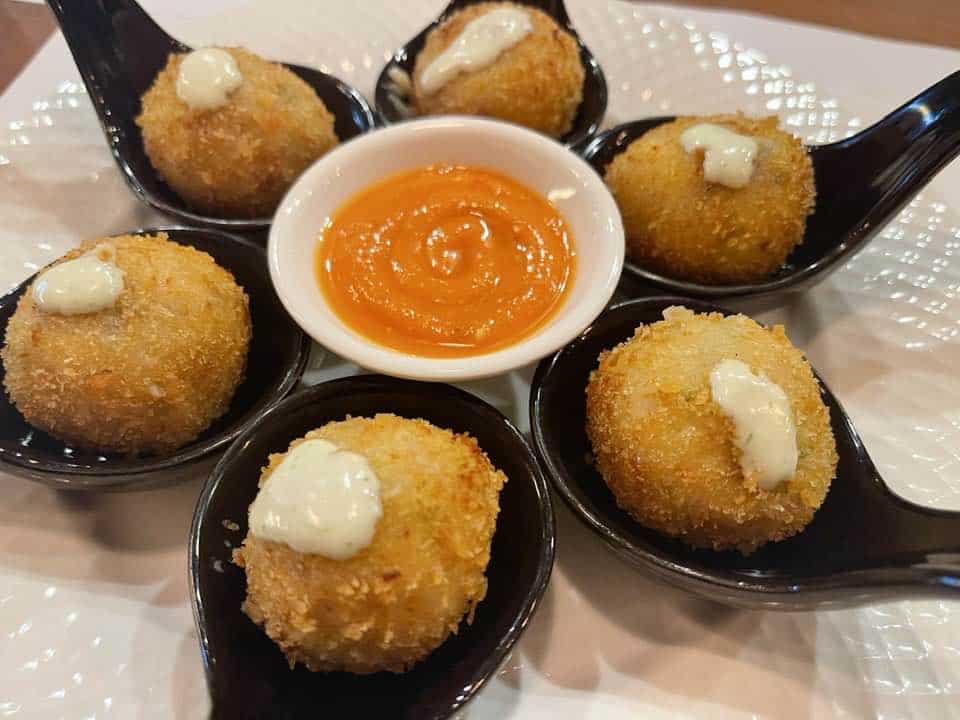 Fillet Mignon – Have a satisfying meal with this fillet mignon steak, loved for its tenderness, juiciness, and mouthwatering goodness. It is served with crispy bacon, mashed potato, asparagus, veggies, and mushroom gravy, giving diners a complete and gratifying meal.
El Español Pintxos/Tapas Menu
Pintxos are popular in Northern Spain, while tapas are famous in its Southern regions, but both are well-loved throughout the country. These cuisines are notable for their simplicity, authenticity, and delicious taste that stimulates the appetite.
Pintxo De Bacalao Huevo Y Pimiento – The grilled cod is topped with egg, piquillo peppers, and other special ingredients. These items are creatively layered and served to make them aesthetically appealing and encourage people to try them.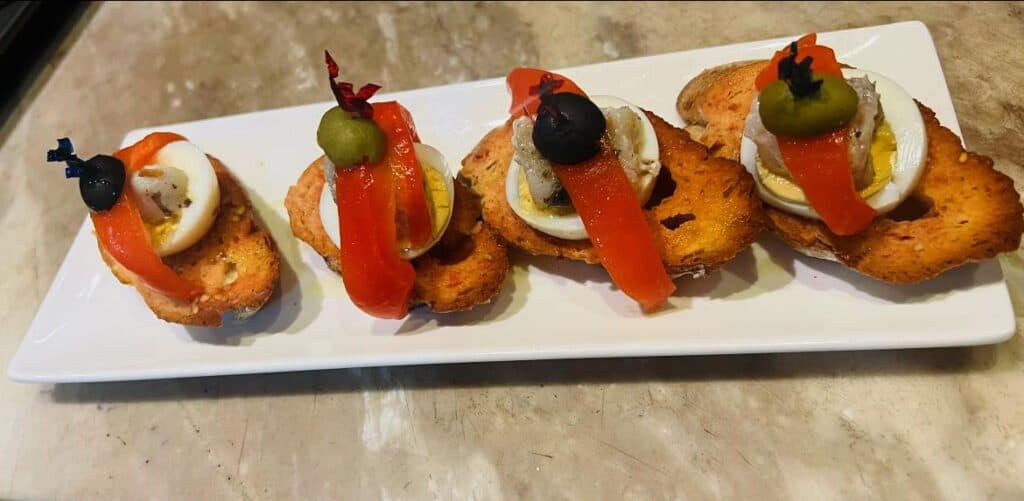 Patatas Bravas – One of the most popular tapas in Spain where fried potato chunks are served in a mild spicy sofrito that spice up its flavor. It is topped with fresh cilantro and aioli to make it unique and more appealing.
Ceviche – Ceviche is made with marinated raw tuna blended with shallots, lemon citrus, caviar, mango, and fresh cilantro. The combination of these ingredients results in a colorful and refreshing cuisine.
Paella
The authentic premium paella menu of this restaurant is regarded as the best in town as the authentic ingredients are used in preparing them. Customers can choose the desired pasta consistency that suits their preferences.  
Mixta – Everything you want in a paella menu is included in the Mixta Paella of El Español. It combines pork, chicken, veggies, and seafood, which is why it is bursting with flavors and packed with satisfying goodness. 
Valenciana – It is similar to mixta paella; the only difference is it does not contain seafood. If you are not into seafood and want a paella with varied flavors and textures, this one is perfect.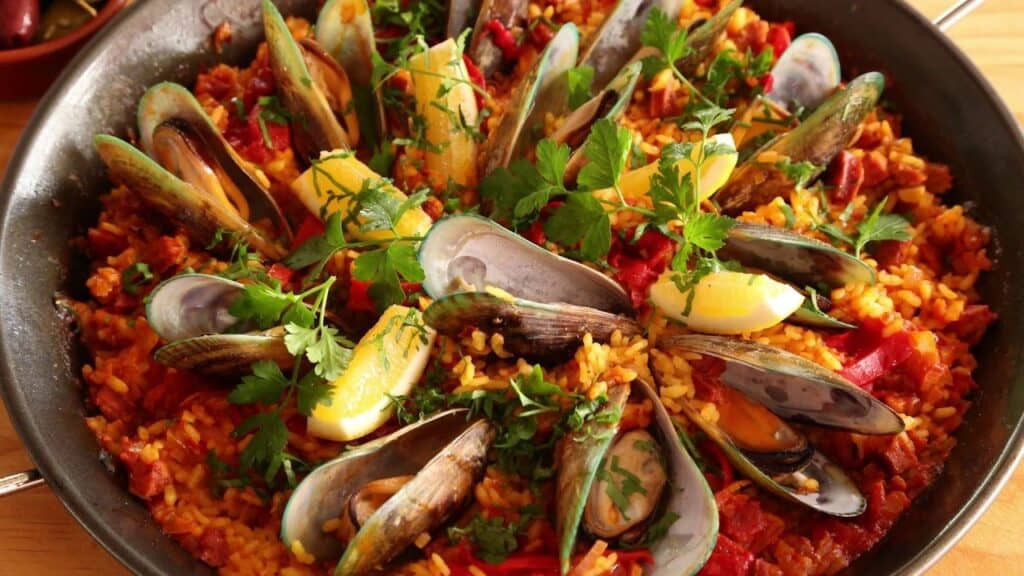 Vegetables – A healthy paella choice made with mixed vegetables. It is also great for those who want a light and nutritious meal. The vegetables in this cuisine are packed with essential nutrients, such as vitamins and minerals, that are good for the body.
Soup/Stews
The soup menu served by El Español consists of garlic, cream of roasted tomato, and veggies, and the stews include chorizo, clams, ox tripe, and assorted seafood. These cuisines are suitable for the sharing of two to three people, making them more enjoyable. 
Sopa De Ajo Castellana – A comforting and delicious garlic soup with egg, chorizo, paprika, and bread. It is one of the remarkable traditional Spanish cuisines as it is easy to prepare and always impresses the palate with a luscious and cozy taste.
Fabada Asturiana – Simply known as fabada, this cuisine is made by stewing chorizo with bacon, morcilla, red sauce, piminetos, and white butter beans. It can warm your heart and soothe your soul, making it an excellent meal during cold weather.
Callos – It is a hearty and absolutely delicious cuisine that will give you a meal you will surely enjoy and remember. This traditional dish from Madrid consists of ox tripe, ox feet, bacon, chickpeas, pimientos, and chorizo stewed in the restaurant's rich red sauce.
Steaks
The steaks served by El Español are made from the best quality beef with a juicy and tender texture. It offers Ribeye that comes with grilled vegetables, asparagus, fries, and balsamic; Cubes Skewards paired with mashed potatoes, grilled veggies, balsamic, and asparagus; Filet Mignon served with mashed potato, asparagus, crispy bacon, veggies, and mushroom gravy; and Milanesa or Breaded Sirloin topped with marinara sauce and served with grilled veggies, asparagus, and balsamic. The Ribeye, Filet Mignon, and Cubes Skeward served with it weighs 250 grams.

Salad
El Español offers salad dishes suitable for two to three people. The salads it serves are De Pollo (Chicken and Bacon), Campera (Choice of ham, salmon, or crusted tuna), and De Atun (Tuna Chunks). These salads come with fresh vegetables that impart a juicy and refreshing taste as well as a visually appealing color that even those who are not into a salad will be encouraged to try.
El Español Menu Delivery
El Español is only available for dine-in and take-out. They do not have a delivery service yet, so if you are craving some Spanish cuisine and visiting Pampanga, make sure this restaurant is part of your itinerary.
Social Media Pages
Follow their social media pages to stay updated on their latest menu offerings, discover their cozy and welcoming atmosphere, learn about their commitment to quality, and connect with a community of food enthusiasts.
Facebook: https://www.facebook.com/elespanolrestaurant
FAQs
What type of cuisine does El Español offer?
Spanish is the type of cuisine offered by El Español.
What are the must-try cuisines at El Español?
The must-try cuisines at El Español are Conchinillo, Tacos, Paellas, Churros, and Gambas Al Ajillo.
Where is El Español located?
El Español is located at Cluster 2D at The Nepo Center Plaridel Street, Angeles City, Philippines.
Does El Español offer special promos?
El Español does not yet offer special promos.
How can I contact El Español for reservations?
For reservations, you can call them at 0939-919-5030 or 0917-132-8425, email them at [email protected] / [email protected], or message them on their official Facebook page.
Conclusion
Experience Spain's rich and vibrant culture through the dishes on the El Español menu and the Spanish-inspired decorations of the restaurant. Most dishes it serves are good for sharing, have large servings, and have reasonable prices. Its customers say that they have an awesome experience and look forward to their next visit, as its staff are friendly, accommodating, and polite.