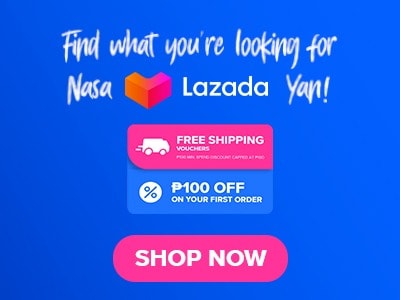 Are you looking for a place that offers our native food items and Western food items at the same time? Found a place to recommend so look no more. This place offers great-tasting meals that you will surely enjoy. The Hai Chix & Steaks menu has a lot of choices that will surely satisfy your craving whether you're looking for a great breakfast or something that you will find in a Western cuisine restaurant. Interested about this place if you're interested in this specific place then stay with me in this article and we are going to talk about Hai Chix & Steaks. Let's get to know this place further and let's talk about their best sellers and other items that you need to know about them. Let's go!
Below, you'll find the updated list of Hai Chix & Steaks menu prices.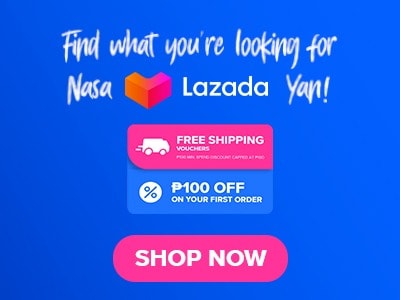 Menu Items
Price (PHP)

All Day Breakfast

Hai Chix Longganisa
370
Hai Chix Breakfast Steak
595
Breakfast Tapa
375
Hainanese Adobo
395
Egg Truffle Cream Sandwich With Pumpkin Soup
380
Grilled Cheese Sandwich With Tomato Soup
380
Breakfast Steak Sandwich Made With Ground Dry Aged Ribeye
595

Sandwiches

Cheesesteak Sandwich
595
Chef's Chicken Sandwich
395
Grilled Cheese Sandwich With Tomato Soup
380
Egg Truffle Cream Sandwich With Pumpkin Soup
380
Breakfast Steak Sandwich
595

Salads

Caesar Salad
395
Chef's Salad
395
Asian Greek Salad
420
Salmon Tatake Salad
495
Tuna Tatake Salad
495
Salmon Poke Bowl
300

Soups

French Onion Soup
245
Pumpkin Soup
195
Prawn Bisque
295
Laksa
295
Hainanese Chicken Ramen With Gyoza
445

Starters

Butter Garlic Shrimp
495
Butter Garlic Squid
425
Truffle Mushroom Dip With Bread Sticks
250
Chef's Wings
345
Buffalo Wings
395
Asian Soy Glazed Wings
395
Mussel And Fries
245
Pulpo Salta
250
Meaty Cheese Fries
395
Calamari With Hai Chix Special Sauce
495

Mains

Steak Frites
975
Steak Paella
695
Japa Steak & Tempura
895
Seafood Paella
695
Chef's Paella
695
Fried Hainanese Chicken With Chicken Rice
395
Hainanese Chicken With Chicken Rice
395
Grilled Hainanese Chicken With Garlic Rice
395
Hainanese Adobo With Garlic Rice
395
Hainanese Chicken Confit With Cilantro Rice
395
Salpicao With Steak Rice
525
Pan Seared Pampano
395
Salmon With Roasted Potatoes
895
Fish And Chips
345
Fish, Shrimp & Chips
495

In House Dry Aged Steak

Porterhouse, In-House 42-Dry Aged (1200g)
5950
Prime Bone-In Ribeye In-House 21-Day Dry Aged (850g)
5950
House Wine
400
Fat Bastard Wine
800

Steaks

Porterhouse Steak (1200g)
4950
Ribeye Steak (700g)
4250
New York Striploin (350g)
1595

Pastas

Surf & Turf Pasta
525
Truffle Cream Pasta
360
Dry Aged Ribeye Meatball Linguine
450
Manila Clams Pasta
360
Asian Stir Fried Noodles
495

Dessert

Chef's Special Tempura Ice Cream
250

Add Ons

French Beans
80
Steak Rice
80
Chicken Rice
60
Garlic Rice
50
Japa Rice
95
Plain Rice
40
Mashed Potato
60
Onion Rings
195
Fries
70
Egg
25
3 Way Sauce
60
Sweet Soy Sauce
50
Honey Mustard Sauce
50
Ginger Sauce
50
Breakfast Dipping Sauce
40
Frites Sauce
50
Focaccia Bread
40
Kimchi
50
Shoestring Potato
70

No Alcoholic

Coke Regular
70
Coke Zero
70
Coke Light
70
Sprite
70
Royal
70
Bottled Water
50
Iced Tea Glass
120
Cooper's Coffee Haus Cold Juice
120

Alcoholic

San Miguel Beer Light / Pale Pilsen
95
San Miguel Beer Super Dry / Premium
115
Stella Artois
195
Hoegaarden
195
Blue Moon
195
Estrella Galicia
195
Pluvium Red Wine
250/795
Pluvium White Wine
250/795
Pluvium Rose
250/795
Fat Bastard Cabernet Sauvignon
1295
Fat Bastard Merlot
1295
Fat Bastard Sauvignon Blanc
1295
Fat Bastard Chardonnay
1295
Fat Bastard Pinot Noir
1295

Engkanto Craft Beers

Live It Up Lager
195
High Five Honey Ale
195
Green Lava Double Ipa
250
Sangria
295/695
About Hai Chix & Steaks
Hai Chix & Steaks is a unique restaurant that offers steaks and Hainanese chicken. This place offers Eastern and Western food, the foods that they offer are really good and delicious. This place only offers Hainanese chicken and steak. Hai Chix & Steaks is a business partnership between Ferdie Agustin and Joma Tuaño, their first place started at the Home Depot Ortigas compound. This concept is a result of their passion for their love of food, mainly steaks and Asian dishes particularly Hainanese chicken, the name of the establishment also comes from the name of their favorite dish which is the Hainanese chicken. This place only serves high-quantity dishes without overpricing. When it comes to their success their customers keep on coming back because what's on their menu is truly satisfying.
Hai Chix & Steaks Menu Best Sellers
Here are sample best sellers of Hai Chix & Steaks for your reference.
Hainanese Chicken with Chicken Rice – Hainanese chicken with chicken rice is one of the top-selling items on their menu, this is actually the star of the show if we're talking about their main menu. This one is also Hai Chix & Steaks' signature dish. This smells delicious, and very aromatic as well.
The chicken is poached until tender they also serve this with soy sauce and their homemade ginger and chili sauce. This one tastes great and is best paired with their chicken rice. This won't leave you craving for more but is very fulfilling. The taste of the Hainanese chicken is just delicious and when it comes to the price this one is affordable.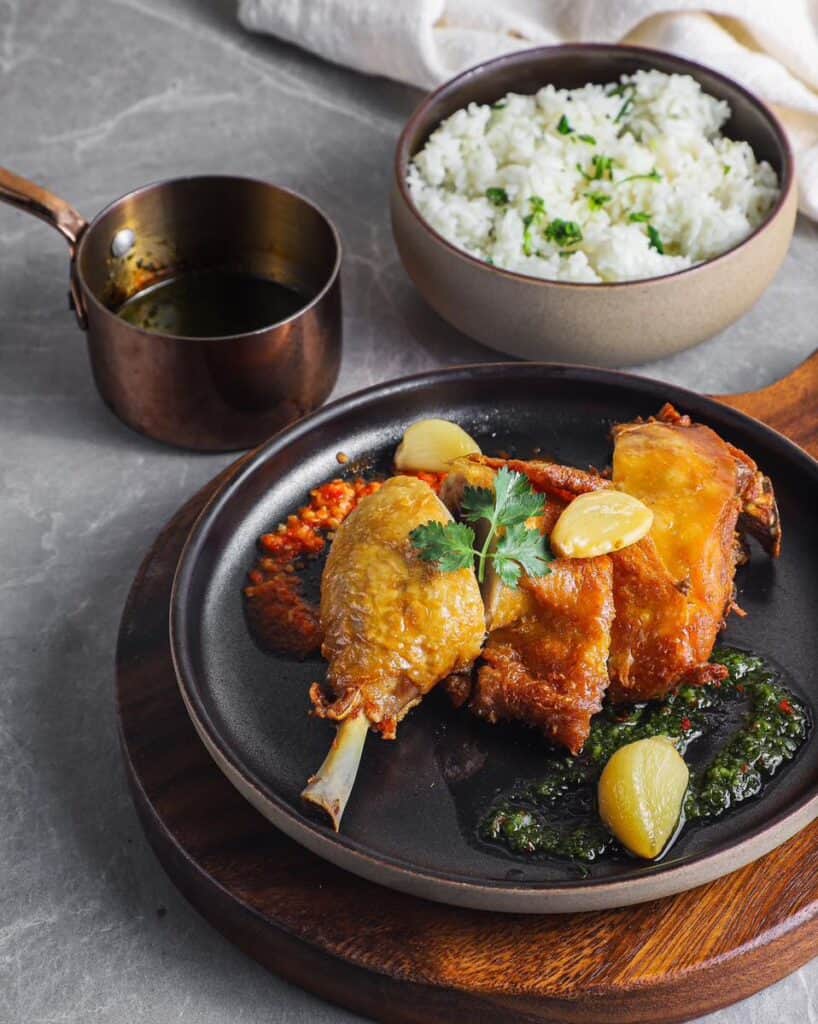 Porterhouse, In-House 42-Dry Aged (1200G) – This is one of the best-selling items on their in-house dry-aged steaks menu. This one is served with shoestring onion rings. 3 steak rice since this one is for sharing and some French beans. This is recommended for 3 to 4 persons.
The meat tastes really good and it is cooked properly not raw not overcooked just right. The tenderness of the meat that melts in your mouth feels, like one of my favorite items on their menu, also this is included in their best-selling items, a must-try item that you will truly enjoy.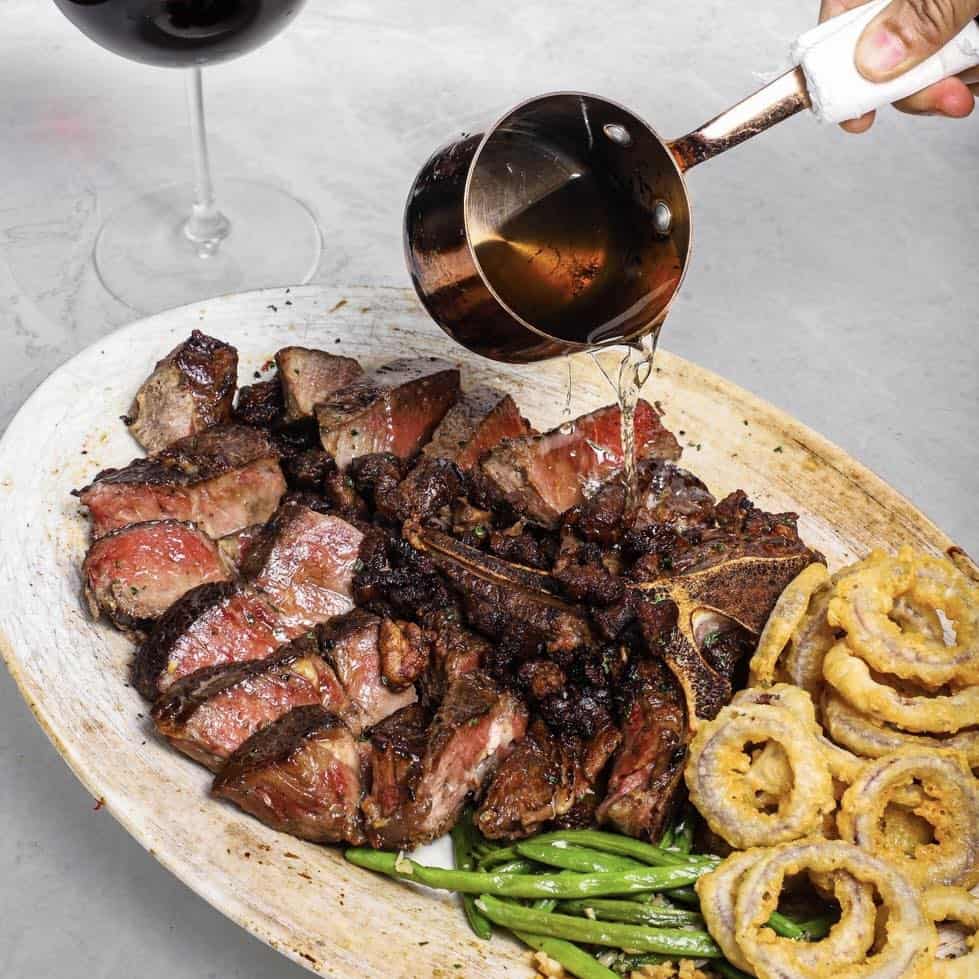 Chef's Paella – Chef's paella version of Hai Chix & Steaks menu is made with slices of Fried Hainanese chicken in a mixture of rice, hard-boiled eggs, shrimp, chorizo, garbanzos, bell pepper, and Hai Chix & Steaks mix of special herb and spices. This one is a must-try item on their menu as well. This tastes great too. Chef's paella is one of the best items that you could get on their menu. The chicken meat is tender the rice mixed with other ingredients tastes gorgeous you don't want to miss the chance to enjoy this one. 
Fish and Chips – The fish and chips version of Hai Chix & Steaks is made with battered fish fillets that they deep fried partnered with some crispy fries and served with their special sauce that is made from honey mustard sauce and malted vinegar. This is also one of the must-try items on their menu, simple yet delicious and affordable.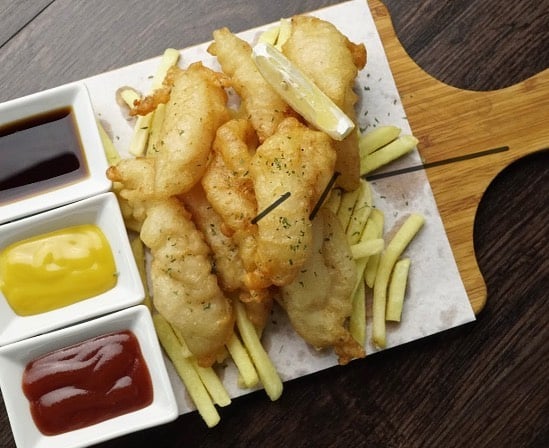 Sandwiches
Hai Chix & Steaks offers sandwiches if you're looking for a light and quick snack. On this menu, they have Cheesesteak Sandwich which is my favorite, Chef's Chicken Sandwich if you're looking for a good chicken sandwich, and Grilled Cheese Sandwich with Tomato Soup if you want something with soup. Egg Truffle Cream Sandwich with Pumpkin Soup and Breakfast Steak Sandwich is also included on this menu.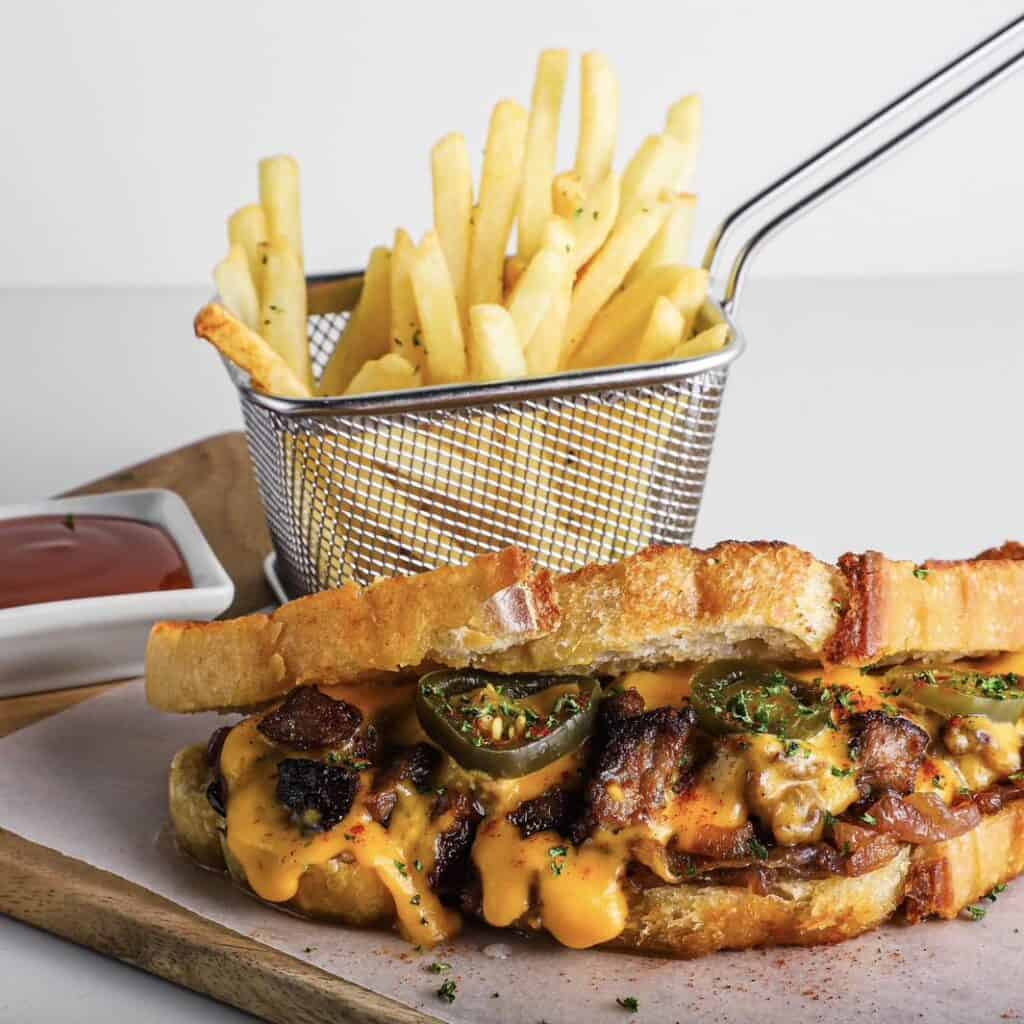 Soups
Hai Chix & Steaks also has a soups menu. They have a total of 5 items on this menu to choose from. French Onion Soup is the first one on the list, they also have Pumpkin Soup. If you're looking for something seafoody they also have Prawn Bisque. Laksa and Hainanese Chicken Ramen with Gyoza are also included on this menu.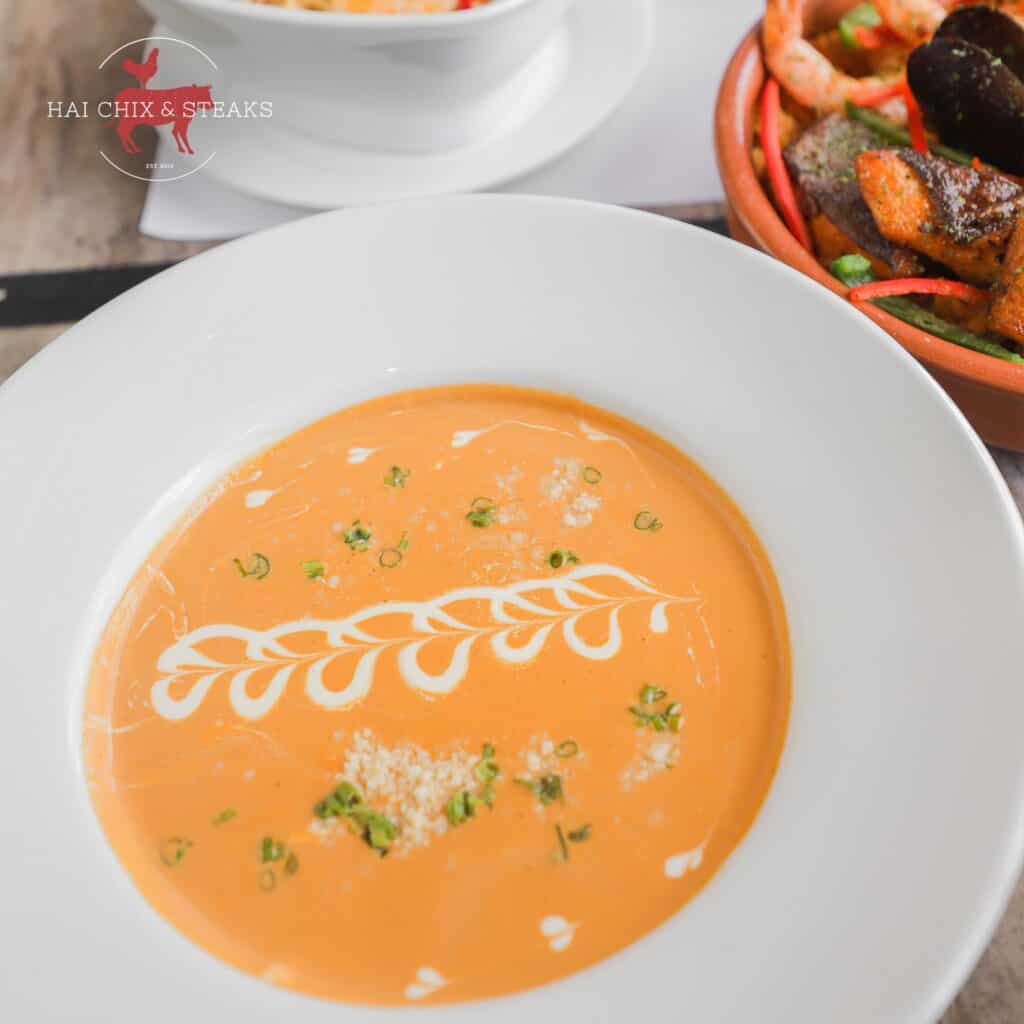 Hai Chix & Steaks Menu Delivery
Ordering your favorite Hai Chix & Steaks food items is made easier simply by calling them directly at their branches for faster and hassle-free delivery. Here's the list of their branches that offer delivery.
Hai Chix & Steaks – Ortigas Home Depot: 09171076611
Hai Chix & Steaks – Estancia Mall: 09171193174
Hai Chix & Steaks – Bonifacio High Street Taguig: 09672208372
Social Media Pages
Become part of their passionate food-loving community and be the first to discover their mouthwatering creations, sizzling specials, and enticing discounts that will elevate your dining experience.
Facebook: https://www.facebook.com/haichixandsteaks
Instagram: https://www.instagram.com/haichixandsteaks_
PickAroo: https://pickaroo.com/hai-chix-steaks/products/hai-chix-steaks-home-depot
FAQs
What are the Hai Chix & Steaks business hours?
Hai Chix & Steaks' business hours depend on their branch location. They have 7 a.m. to 10 p.m. business hours on their Estancia Mall branch, 7 a.m. until 11 p.m. on their Taguig branch and 9 a.m. to 10 p.m. opening on their Ortigas branch.
Is Hai Chix & Steaks halal certified?
No. Hai Chix & Steaks is a non-halal-certified establishment that serves alcoholic drinks.
Who owns Hai Chix & Steaks?
This restaurant is a result of partnership of feedie agustin and joma tuaño. 
What type of cuisine does Hai Chix & Steaks serve?
Hai Chix & Steaks serves Asian fusion foods and steakhouses.
Conclusion
A great place to go if you're looking for a one-stop shop that offers everything from breakfast until late dinner. Hai Chix & Steaks menu has a lot of delicious food to serve though not all of their items are affordable they have a lot of items that are made for sharing so basically if you're going with some of your friends their products are still cheaper than other places. The place looks cozy and has a very welcoming atmosphere, comfortable and clean as well. Their service crews are fast and nice too. Overall experience with Hai Chix & Steaks is good. Highly recommended.