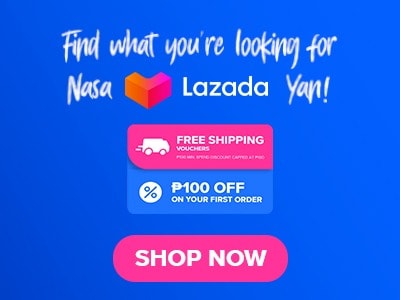 Brace yourselves for another journey to culinary excellence that will bring you a flavorful day filled with the juicy bites of chicken. Introducing Khai Thai Chicken, home of mouthwatering fusion like no other, with a menu that's as diverse as your cravings. Ready to immerse yourself in the vibrant flavors of Asia? I am sure every chicken lover out there is so excited about this restaurant. So now that everything is set, let's take that dream into your flavorful reality here at Khao Khai Thai Chicken—your go-to destination for a taste adventure. Explore the Khao Khai Thai Chicken menu and elevate your dining experience with every delicious bite!
Below, you'll find the updated list of Khao Khai Thai Chicken menu prices.
Menu Items
Price (PHP)

Appetizers & Salad

Farang Fries
119
Toasted Corn
79
Nan Kai Tort
399
Som Tam Platter
284
Crispy Fried Tofu
199
Garlic Beans
164

Signature Dishes

Yam Kai Dao
149
Gai Tod 1 Pc
154
Gai Tod 2 Pcs
274
Gai Tod 3 Pcs
404
Gai Tod Box of 8
879
Gai Yang Regular
364
Gai Yang Large
659
Victory Wings
439

Rice Bowl

Fried Chicken Krapao
264
Shrimp Krapao
329
Squid Krapao
324
Moo Krob Krapao
324
Thai Sausage
224
Kor Moo Yang Rice Plate
204
Bangkok Liempo
284
Gai Tod Curry
324
Red Beef Curry
329

Specialty Dishes

Crispy Pork Riblets
254
Dry Pork Curry
279
Moo Hung
254
Drunken Spaghetti
329
Phat Mama
349
Yaowaraj Fried Rice
284

Sides

Fried Egg
29
Jasmine Rice
59
Sticky Rice
74
Som Tam Solo
94

Beverages

Thai Milk Tea Bottle
174
Coke Light
89
Sprite in Can
89
Royal in Can
89
About Khao Khai Thai Chicken
Khao Khai Thai Chicken specializes in delicious and flavorful dishes that highlight the best flavors of Southeast Asia. This bold fusion offers you the savory elements of the best of both worlds tantalizing flavors of Thai and Khmer (Cambodian). Chicken is the main attraction of this restaurant but they also venture into a variety of dishes such as Pork Entrees and enticing appetizers.
Khao Khai Thai Chicken Menu Best Seller
Savor the wonderful experience from Khao Khai Thai Chicken by giving you unique but still safe options for your first Khai Thai Chicken experience.
Fried Chicken Krapao – This chicken features fried chicken pieces that are served and generously topped with Krapao sauce. The sauce gives off an aromatic and savory delight.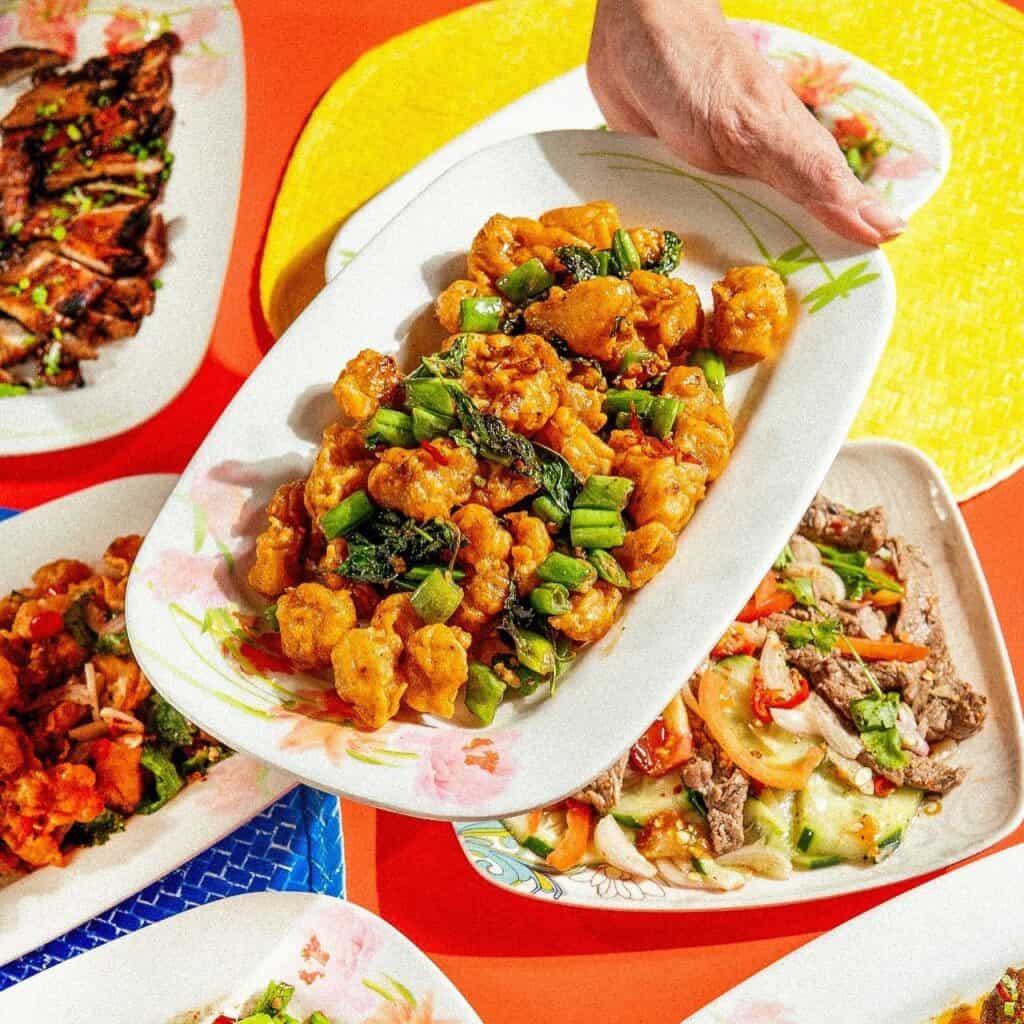 Gai Tod – Gai Tod is a classic dish consisting of a perfectly deep-fried chicken that is marinated in various mixtures giving you a perfectly fried and crispy texture served with a dipping sauce.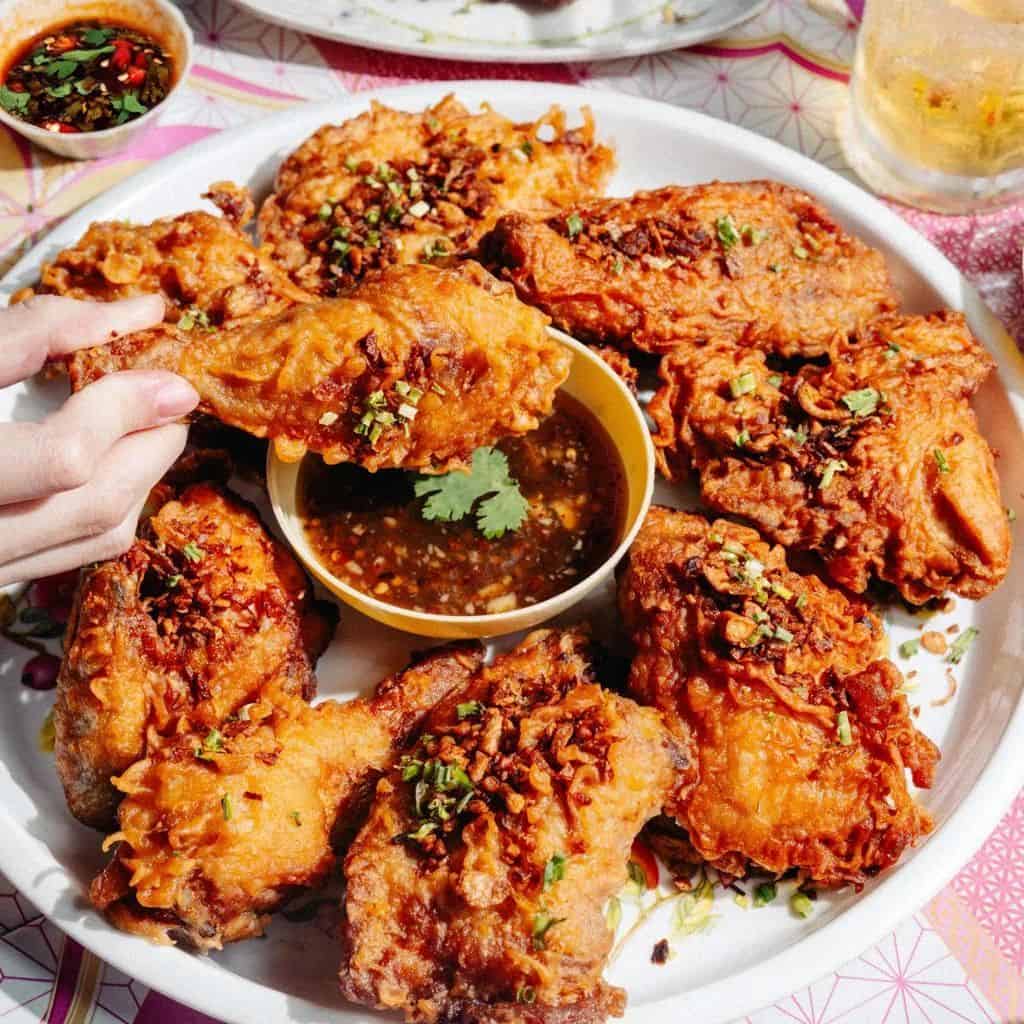 Yaowaraj Fried Rice – This traditional Thai fried rice menu of Khao Khai Thai Chicken is here to take you on the road to Bangkok's finest adventure. It celebrates the culinary fusion of Thai-Chinese influences offering you filled with protein fried rice.
Crispy Pork Riblets – Don't underestimate this dish that features a delightful crunch of your savory pieces of pork ribs. The pork is carefully deep-fried to golden perfection and perfectly seasoned with herbs and various spices.
Garlic Beans – This dish features a classic bite of Thai side dish showcasing its freshness and delightful crunch of green beans. It has an aromatic savory sauce that is rich with garlic kick and various seasonings.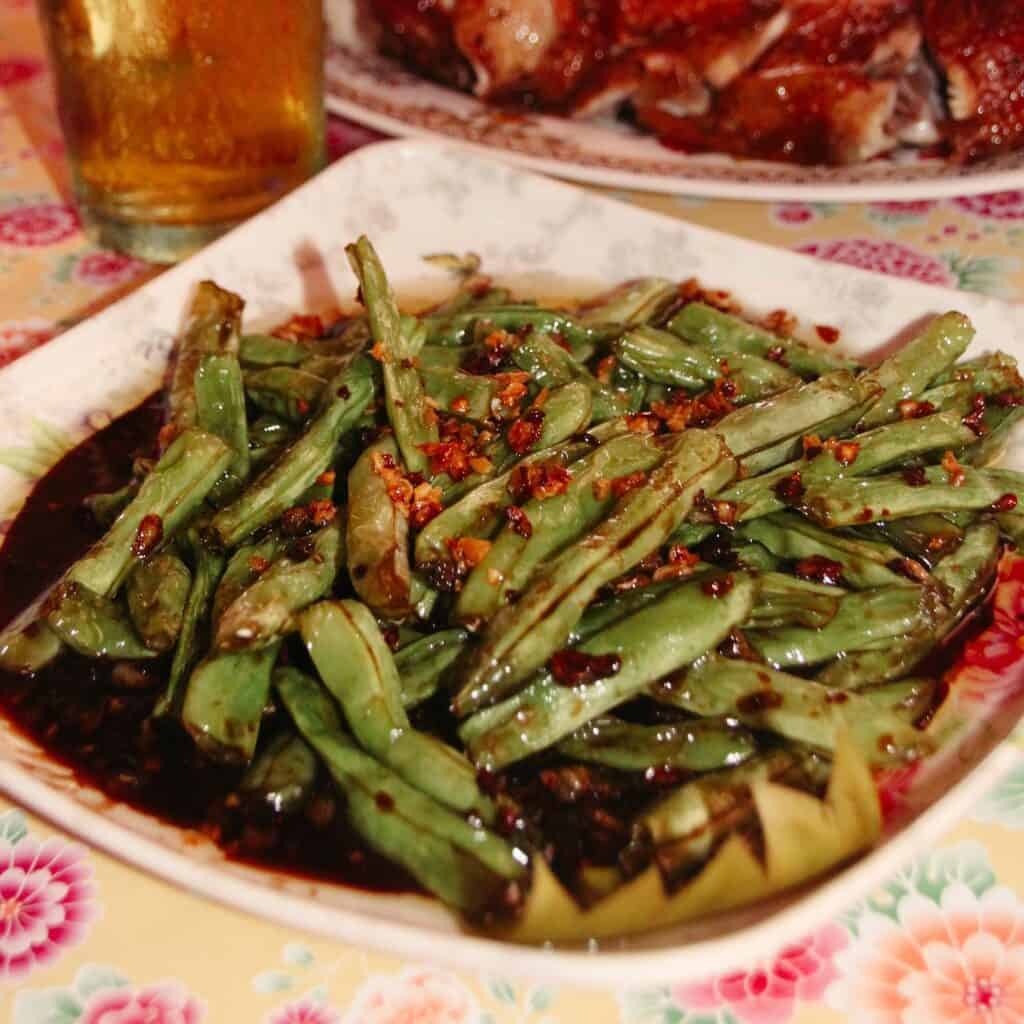 Khao Khai Thai Chicken Rice Bowl Menu
Let's take that versatility to a higher level with these Rice Bowl dishes that feature various customizable meats. seafood and other vegetable dishes.
Shrimp Krapao – The juiciness of this shrimp is definitely something you don't want to miss here which highlights a stir-fried shrimp along with Garlic, Thai basil, chili peppers, and savory sauce.
Squid Krapao – similar to Shrimp krapao, this dish features a tender squid that highlights an aromatic basil sauce giving you a very delicious and savory seafood dish.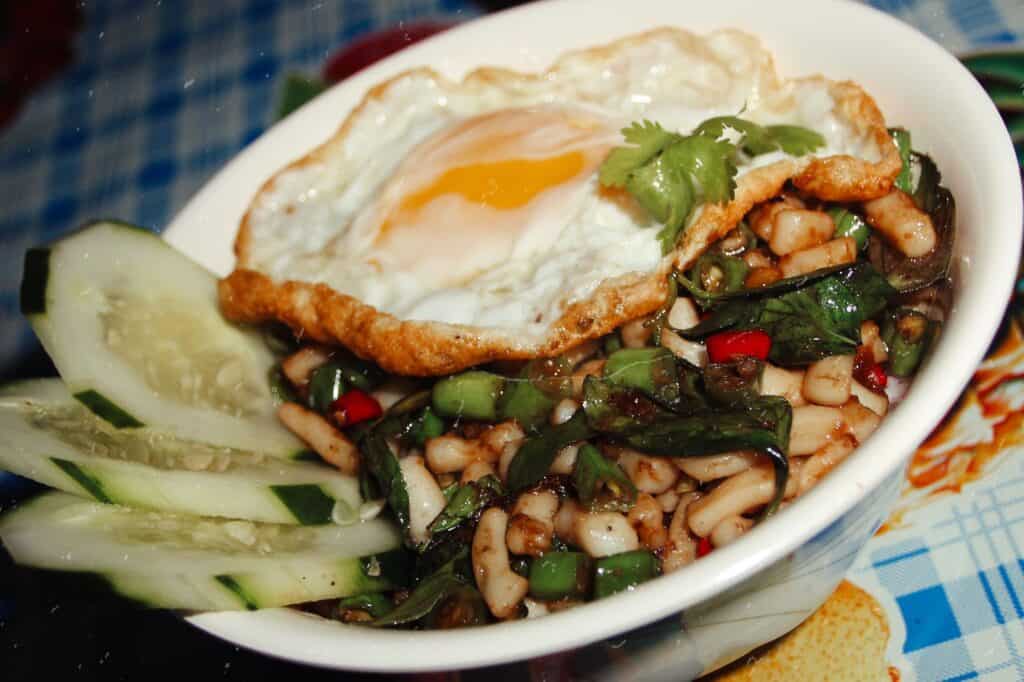 Moo Krob Krapao – This Moo Krob Krapao combines your crispy pork belly with a savory Krapao sauce. It has a level of crunchiness you'll surely love that perfectly contrasts with the rich and spicy kick of its sauce.
Bangkok Liempo – This dish is well known because of its smoky and tender flavorful meat featuring a grilled to-perfection pork belly served with delightful dipping sauce.
Specialty Dishes
Let's make your day joyfully special with these specialty dishes from the Khao Khai Thai Chicken menu. It highlights a flavorful collection of various dishes they greatly take pride in.
Dry Pork Curry – Starting this collection with this rich and spicy dish that originated from the Southern part of Thailand. It is known for its dry and intense aroma of curry paste which is used to glaze pork.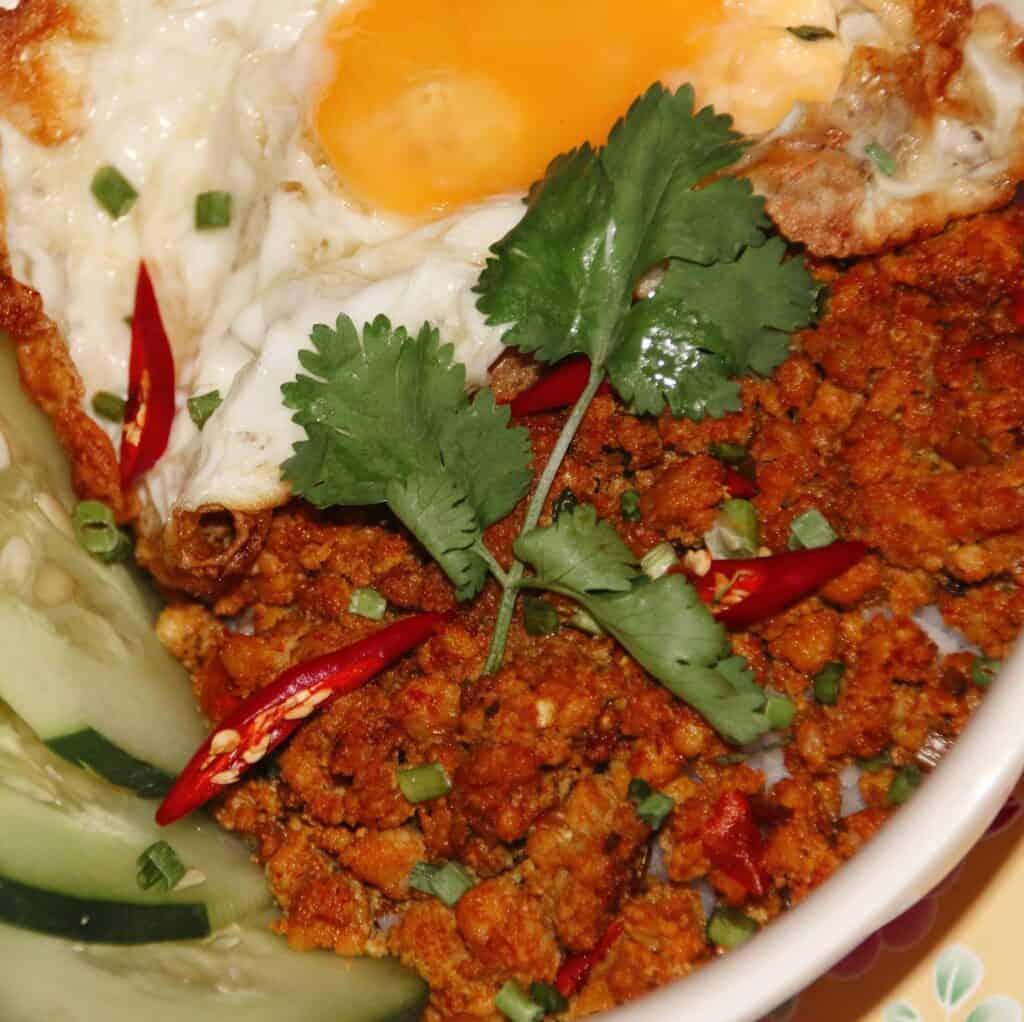 Moo Hung – This Thai dish features a perfectly thinly sliced pork that highlights a flavorful sauce which is a combination of oyster sauce, fish sauce, and soy sauce along with garlic and sugar.
Kor Moo Yang Platter – A grilling adventure is served on your plate with this famous grilled to perfectly pork neck which is marinated and served with a flavorful dipping sauce.
Yaowaraj Fried Rice – As mentioned earlier, Yaowaraj Fried Rice is a hearty dish that features various meat, and vegetables along with seasonings that fully embrace the flavors of the rice.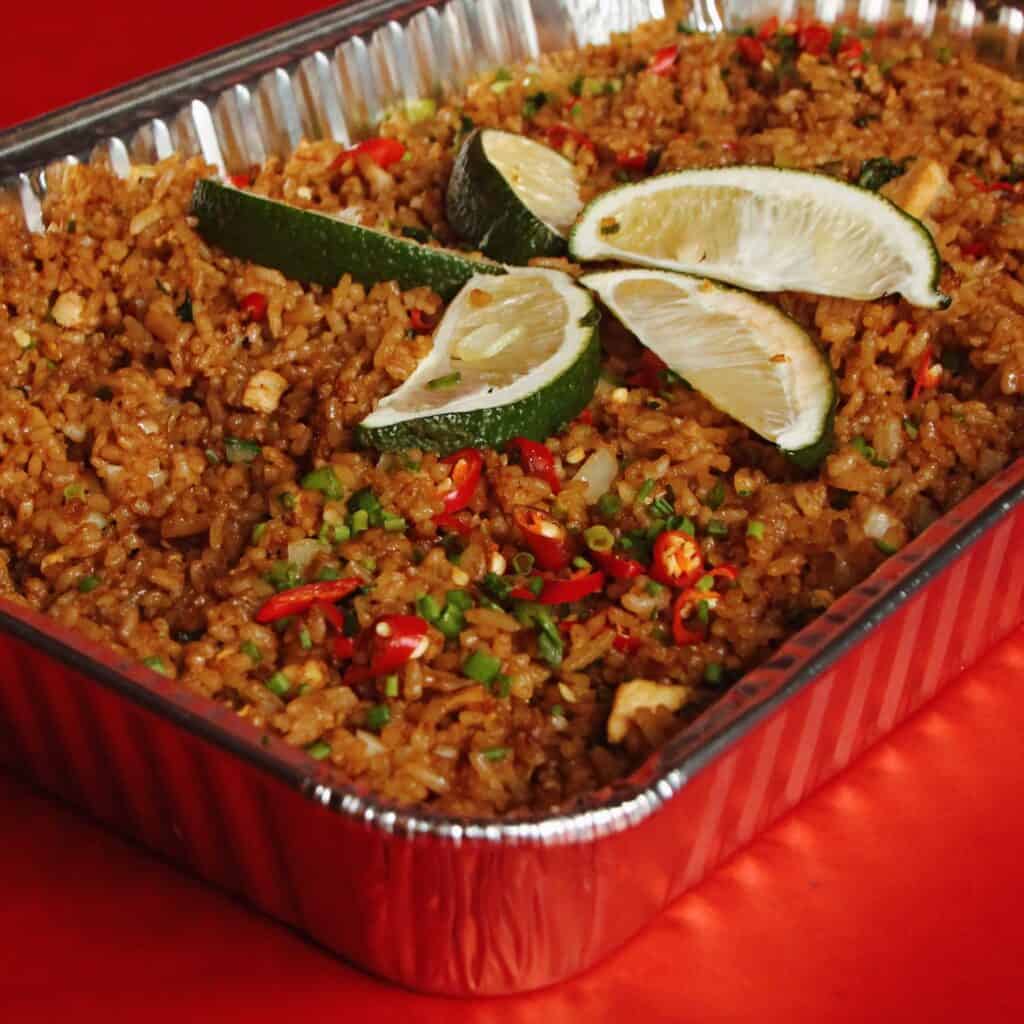 Khao Khai Thai Chicken Menu Delivery
I am sure you are now craving these Thai dishes, and if you are not in your mood and have no energy to go out and have these delightful savory platters, you can order through online food delivery services such as FoodPanda Philippines where you can shop your favorite food with ease and smooth transactions. You can also order through GrabFood or whichever delivery service is available in your area.
Khao Khai Social Media Pages
Follow the social media pages of Khao Khai Thai Chicken, and let's take your taste buds on a flavorful journey! By supporting their page, you're not just following – you're joining their Thai foodie family.
Facebook: https://www.facebook.com/KhaoKhaiPH
Instagram: https://www.instagram.com/khaokhaiph
TikTok: https://www.tiktok.com/@khaokhaiph
FAQs
What type of cuisine does Khao Khai Thai Chicken offer?
Khao Khai Thai Chicken offers you a unique experience filled with fiery and bold flavors with their vibrant collection of chicken and other Thai delicacies.
What is Khao Khai Thai Chicken known for?
Khao Khai Thai Chicken is known for their Fried Chicken Krapao and Gai Tod which was mentioned in the menu best seller earlier.
What are the operating hours of Khao Khai Thai Chicken?
Khao Khai Thai Chicken operates from 11 AM until 11 PM every day.
Where is Khao Khai Thai Chicken located in the Philippines?
Here are the locations of Khao Khai Thai Chicken branches in the Philippines:
Santolan Town Plaza
South Parking Bldg, SM MOA
SM Fairview
Del Monte Ave, QC
Poblacion
SM Manila
BGC Crossroads
Conclusion
In conclusion, I had a very unique experience that I did not know I would surely enjoy in this restaurant. Indeed, Khao Khai Thai Chicken is a restaurant that won't surely disappoint from their juiciness to the grilling and fiery adventure of their collections that highlight the best and the finest flavors of Southeast Asia. There is so much to love in this restaurant and one thing that I want to commend here is their affordability which never compromises the quality of the food they serve and also the accessibility since they have several branches available in Metro Manila. I would suggest expanding it more such as Pampanga because I am sure that Kampamapanag will love these delightful creations. I am looking forward to my next visit so Thank you Khao Khai Thai!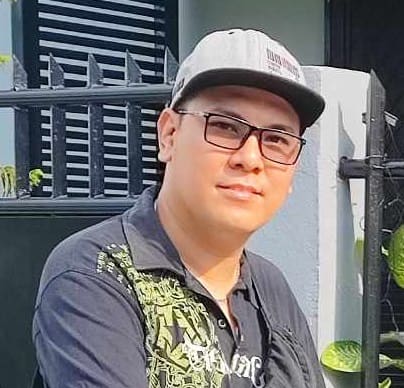 Hi! I'm Nivek Strife, the person who made MenuPH. I'm the one who added most of the popular menus you see on this website, and I really hope you enjoy them! Feel free to check them all out.
Growing up, I was surrounded by lots of tasty foods, like the classic Adobo and the sweet Leche Flan. That love for the many flavors of the Philippines is what got me excited about adding to MenuPH. When I learned how to make websites, I saw the need for a place to show off all the amazing Filipino dishes, and that's how MenuPH started.
MenuPH isn't just a website; it's like a fun journey into food. I've teamed up with famous chefs and found great places all over the Philippines to bring you a bunch of menus that show off the best of Filipino cuisine. Whether you're into the usual dishes or new twists, MenuPH is here to guide you through the rich world of Filipino flavors.
With MenuPH, my aim is to help local businesses, talk about good food choices, and make a group of friends who love food. No matter if you like fancy restaurants or street food, MenuPH has something for you. Come join me on this food adventure as we find great places, taste real flavors, and enjoy the unique food traditions that make the Philippines awesome.