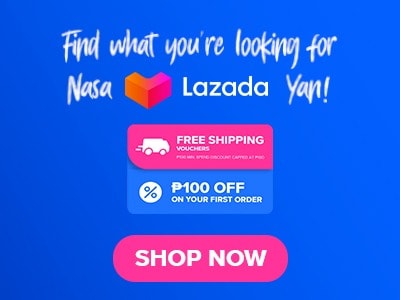 Tenya's menu offers sincere dishes, and by using a lot of their equipment and ingredients that are from Japan, it makes sure that Tenya gives you, their customers, the best-tasting and most authentic Japanese dishes as they can. They now bring their delectable Japanese dishes to their neighboring countries, which are Thailand, Hong Kong, Singapore, and the Philippines, to let the locals in each country enjoy the delicious authentic Japanese cuisine.
Below, you'll find the updated list of Tenya menu prices.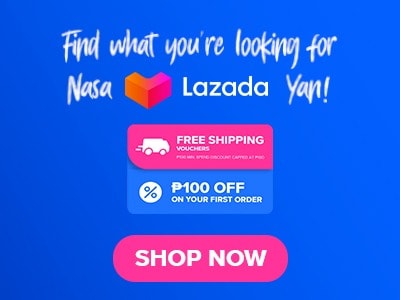 Menu Items
Price (PHP)

Tempura Tendon

Asakusa Special Tendon
395
All-Star Tendon
395
Classic Tendon
295
Jo Tendon
385
Kakiage Tendon
355
Chicken Mayo Tendo
355
Buta Kimuchi Tendon
355
Yasai Tendon
345
Chicken and Cheese Tendon
395

Teishoku Sets

All-Star Teishoku
465
Asakusa Special Teishoku
475
Classic Teishoku
455
Nikujyaga Teishoku
415
Jo Teishoku
465
Sukiyaki Teishoku
465

Tenya Express

Gyudon
185
Buta Miso Don
185
Ebi Toji Don
185
Chicken Karaage Don
185
Ramen Komori with Maki
165
Sukiyaki Bento
265
Seafood Tempura Bento
255
Chicken Teriyaki
245

Maki and Baked Sushi

Ebi Tempura Maki
385
Tenya-Style California Maki
385
Spicy Salmon Maki
385
Califarnia Sushi Bake
365
Spicy Salmon MSushi Bake
365
Karaage Chizu Sushi Bake
365

Appetizers and Snacks

Chicken Karaage
235
Gyoza
235
Isobe Cheese
195
Okinawa Vegan Chips
165
Cheese Age
165
Tori Blak Bun Burger
195
Spicy Spam Musubi
85
Appetizer Basket
395

Ooedo Set

Kagayaki Ooedo Set
1275
Yume Ooedo Set
1595

Salad

Spicy Salmon
325
Tenya Salad
285
Udon Salad
275
Tori Karaage Salad
285

Extras

Asukasa Special
385
Classic
355
All-star
385
Yasai
325
Jo
375
Ebi Tempura
355
Kani Tempura
185
Salmon Tempura
255
Ika Tempura
195
Shimeji Mushroom
195
Sweet Potato
155
Eggplant
145
Small Kakiagi
265

Ramen and Noodles

Tempura Ramen
395
Gyo! Ramen
395
Buta Ramen
395
Hokkaido Butter Ramen
395
Ebi Ten Soba
365
About Tenya
Located at SM stores all over Manila, Tenya is one of the most popular chains of tendon restaurants in Manila that originated in Japan. Traditionally thought to be on the pricey side, Tenya strives to offer their customers premium quality tempura and tendon at a very affordable price. Tenya started back in 1989, when Mr. Yoshio Iwashita, the founder of Tenya, founded the organization's initial location in the Yaesu underground mall at Tokyo Station.
Tenya Menu Best Seller
The list below shows the most popular dishes at Tenya's. They are the dishes that are ordered the most by people who visit the place.
Chicken Mayo Tendon – Fantastic combination for a Japanese mayo day! Anything paired with Tenya's authentic Chicken Mayo Tendon will make you crave their tempura more. For a very affordable price, you can get this delectable Japanese treat!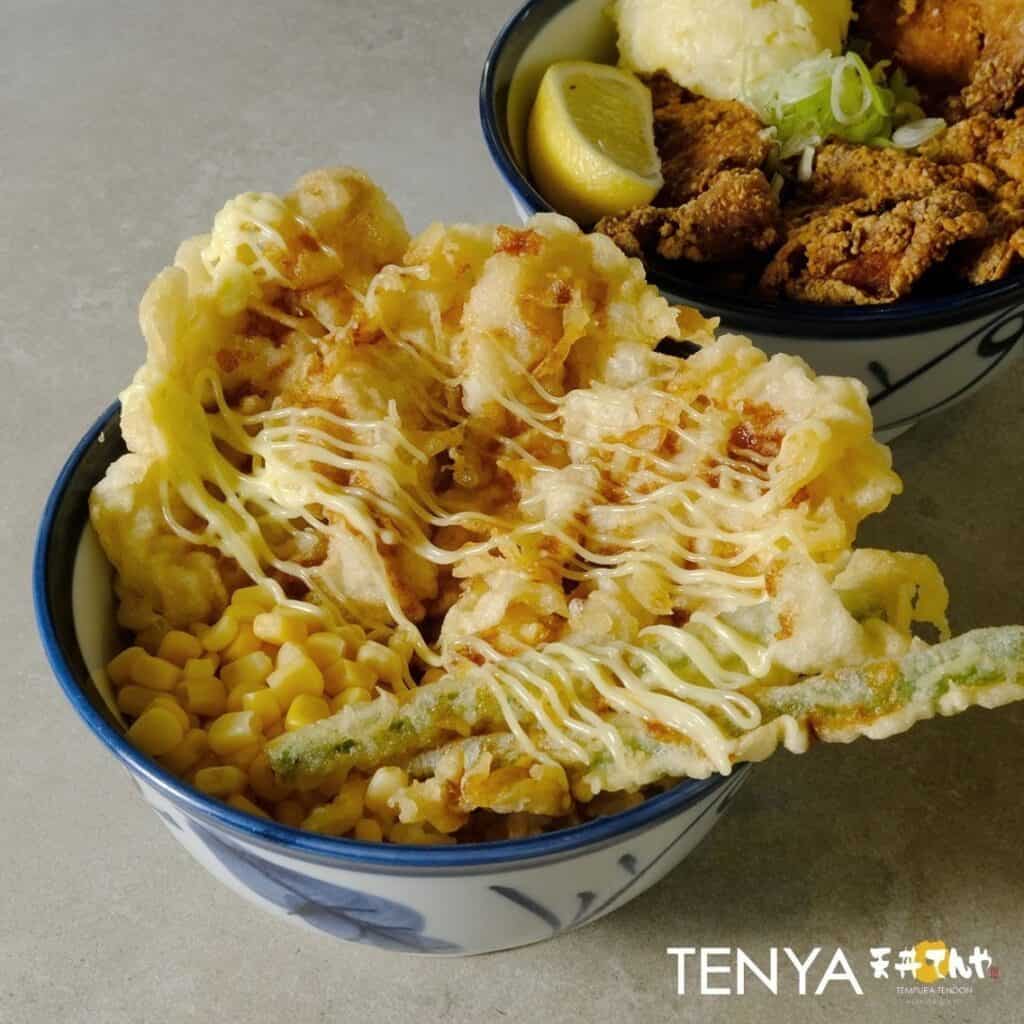 All-Star Teishoku – Composed of Japanese rice, different varieties of seafood ingredients, green beans, and shimeji, this teishoku set also includes hot soba and potato salad that will give you an Asakusa experience after consuming them.
Classic Teishoku – Teishoku is a form of Japanese set dinner in which the entire course is presented as a single unit. The classic teishoku is often served in Zen temples and features a main course, soup, rice, and pickles.
Hokkaido Butter Ramen – Green beans and tempura eggplant are served with buttery tonkotsu ramen that is topped with a shrimp stick, corn, and Pacific white shrimp. In fact, compared to other instant ramen dishes, this dish's mild soy sauce flavor is more reminiscent of the original fresh shoyu ramen.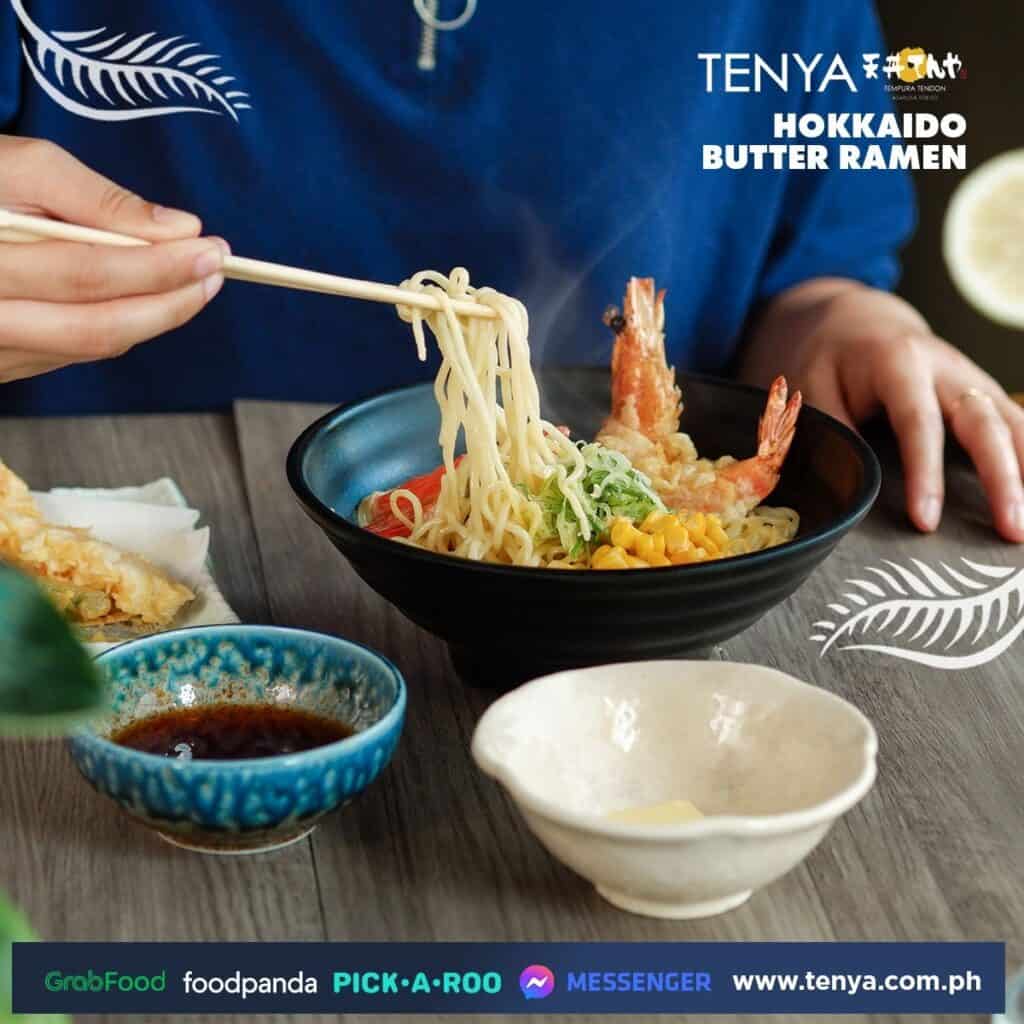 Ebi Ten Soba – This dish literally means shrimp tempura noodles in English. You can now satisfy your hunger with this soba variety made of buckwheat noodles, eggplant tempura, and small shrimps.
Tempura Tendon
This menu is composed of different varieties of tendon dishes that are not only delectable but also affordable!
Classic Tendon – There's nothing elaborate or gimmicky about this dish; it's just plain old tempura. And it's as genuine as anything that is available in Japan. It is simple and to the point, as an average person would anticipate a tendon would be.
Yasai Tendon – Essentially, it's a dish of rice with vegetable tempura on top. For ordering this item, customers can ask for yasai or vegetables only because, oftentimes, these tempuras are made of prawns and other ingredients.
Chicken and Cheese Tendon – Tenya's Chicken and Cheese Tendon will have you getting cheesy with them. It is a tempura dish that cheese lovers would drool over because it is so heavily loaded with cheese!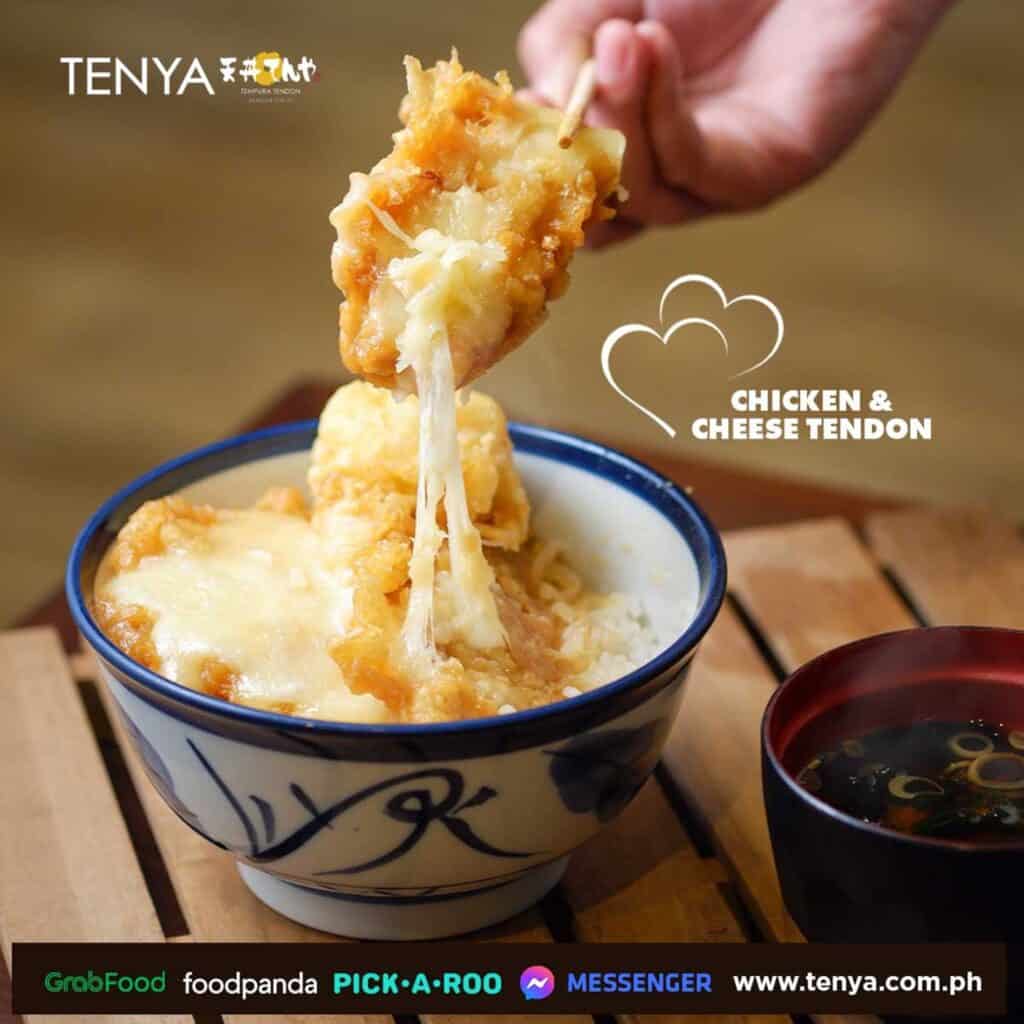 Kakiage Tendon – It is a form of donburi, or a rice bowl that is topped with tempura, made from components like a mixture of julienned vegetables and occasionally a few tiny pieces of seafood, created in a hand-full sized amount, then cooked as tempura in hot oil.
Teishoku Sets
Nikuyajyaga Teishoku – This meal set is composed of authentic Japanese pork stew with eggplant, green beans, black tiger prawn tempura, and a potato salad. A lot of spices, sauces, and rice are served on the side.
Jo Teishoku – It consists of two black tiger prawns, kanim green beans, sweet potatoes, eggplant, and a potato salad. Jo Teishoku is also served with rice and miso/potato salad or hot/cold soba/udon depending on the customers' preferences.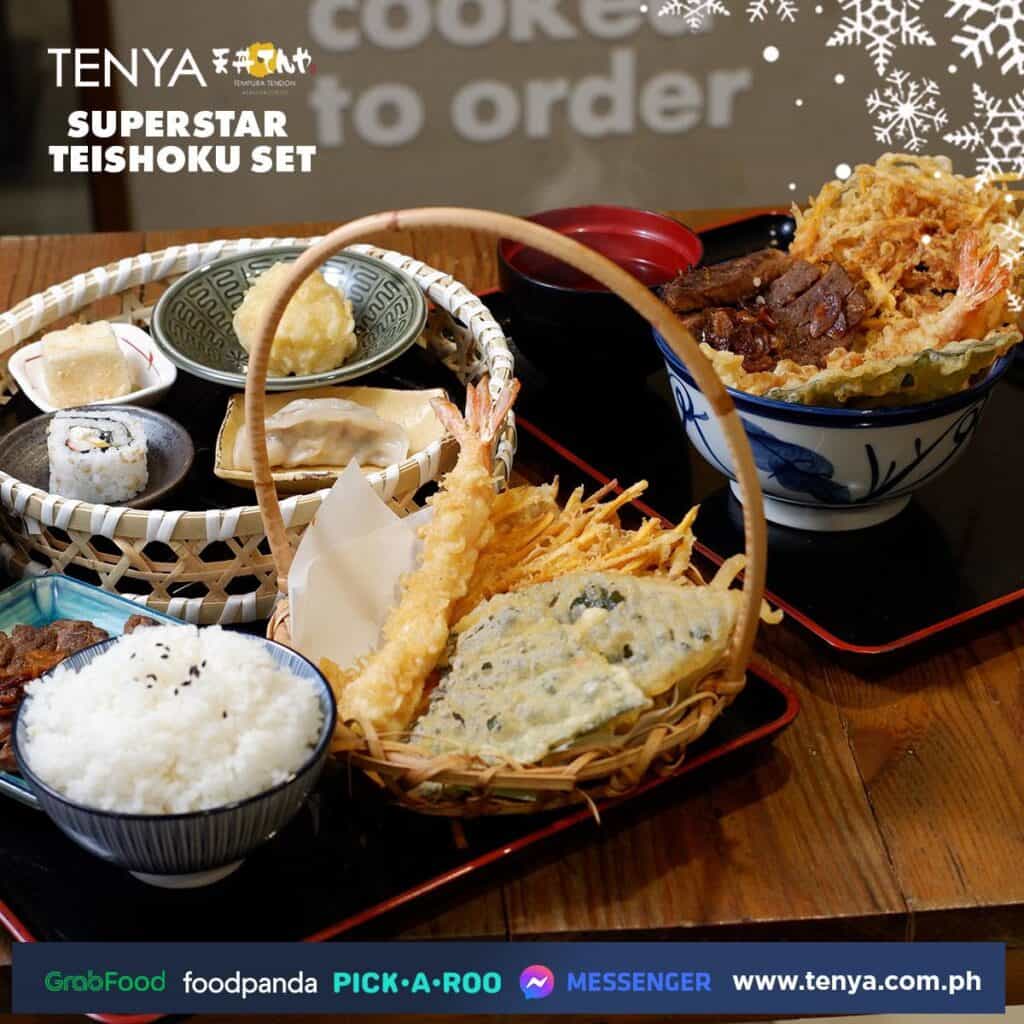 Sukiyaki Teishoku – A bowl of sukiyaki with eggplant, green beans, black tiger prawn tempura, and a potato salad. Sukiyaki Teishoku also comes with a different array of sauces and dips.
Ramen and Noodles
As any Japanese restaurant should, Tenya also serves hot, spicy, and filling ramen & noodles on their menu.
Tempura Ramen – It is a ramen dish that is topped with eggs and ground pork. Customers can also order an additional shrimp for an additional cost.
Gyo! Ramen – Gyo! Ramen is a delicious combination that you know you can't live without! This dish is offered for dine-in services, in-house delivery, and walk-in and takeout. Tenya's Gyo! Ramen is set to take on the next rainy season.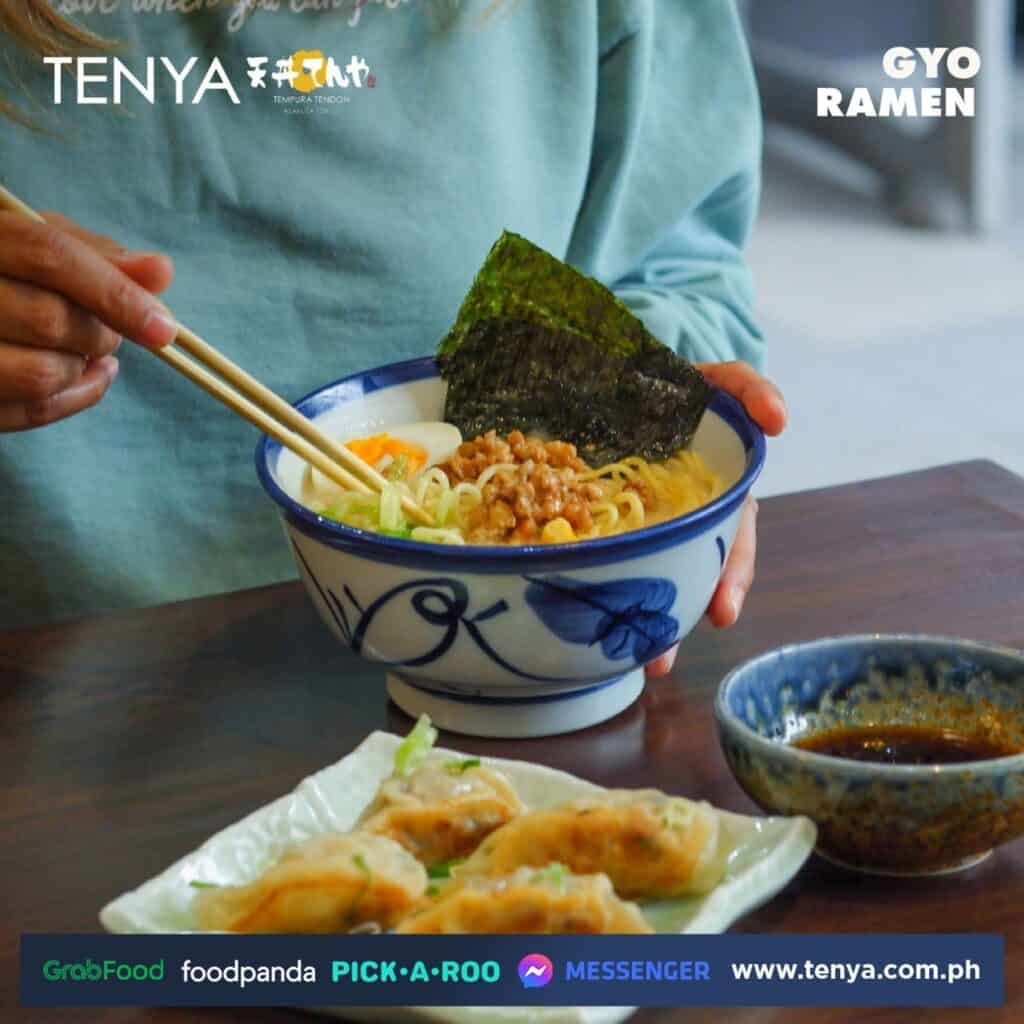 Buta Ramen – It is a variety of tonkotsu ramen that is topped with fried pork cooked using the tenya style of cooking. Buta Ramen is served hot and spicy with tempura on the side.
Tenya Express Menu
This menu offers a delectable range of Japanese cuisine, featuring an array of donburi, ramen, and bento dishes. Whether you are a fan of hearty rice bowls, comforting noodle soups, or well-balanced bento boxes, Tenya Express has got you covered. Indulge in the classic flavors of their salmon teriyaki donburi or opt for the bold and spicy kick of their tantanmen ramen. For those who prefer a mix of flavors, their bento boxes offer a perfect combination of protein, veggies, and carbs in every bite. With Tenya Express, you can have all your favorite Japanese dish styles packed into one convenient menu.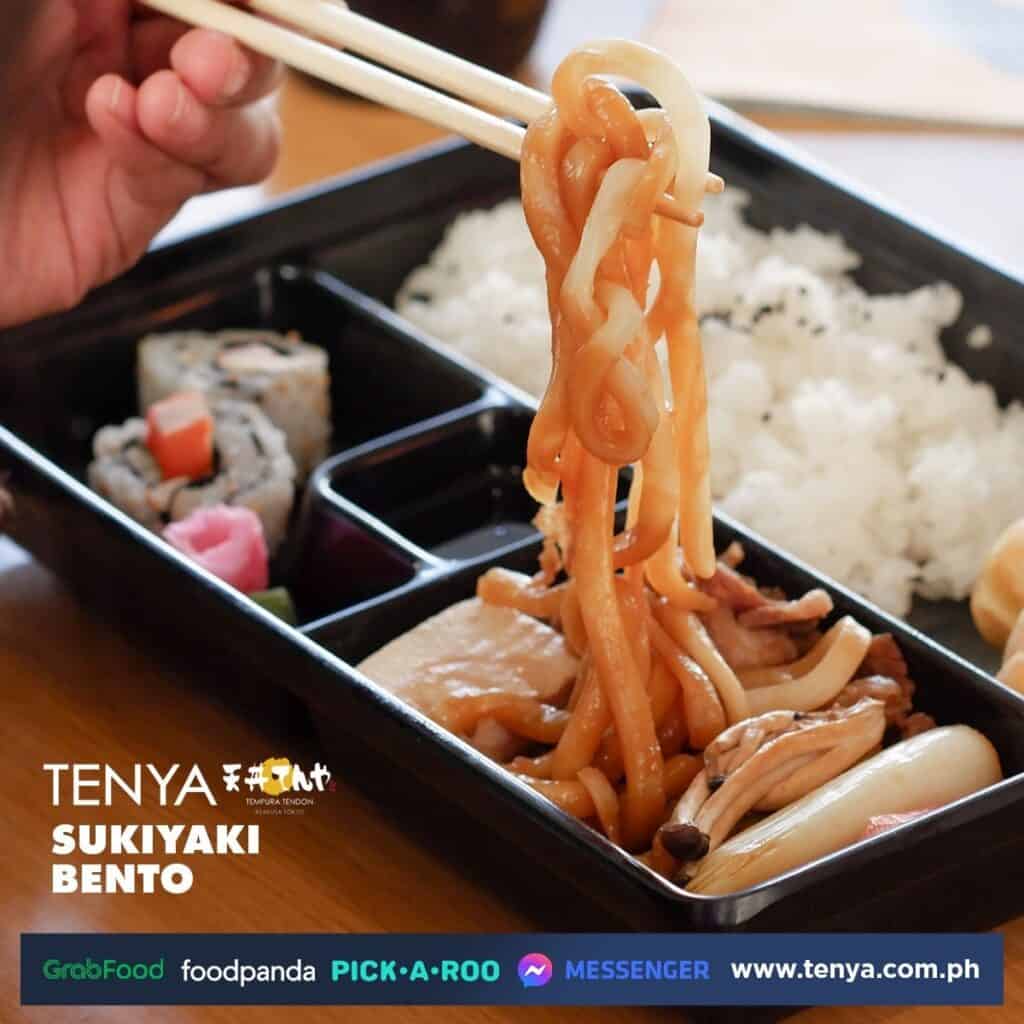 Maki and Baked Sushi
This menu consists of maki and baked sushi that has all the common sushi elements deconstructed into one casserole dish! You can either enjoy the fresh flavors that the maki brings or the delectably crunchy sushi.
Ooedo Set
This menu is composed of only two items: Kagayaki Ooedo Set and the Yume Ooedo Set. Each of them contains black tiger prawns, kani sticks, squids, kakiage, sweet potatoes, green beans, and rice. There are a few different dishes here and there, and the quantity varies, but they almost all have the same exact dishes.
Tenya Menu Delivery
Enjoy your favorite authentic Japanese dishes at home, as Tenya now offers menu delivery services for their beloved customers. You can conveniently place an order for your favorite Japanese treats through the use of your mobile devices by downloading the FoodPanda or GrabFood applications. After installing, open the app, search for Tenya, browse their menu, and place an order for the food that you are craving! Simple, easy, and quick!
Talk to Tenya PH Staff
Craving for authentic Japanese tempura? Look no further than Tenya! Not only can you visit their stores for a delicious meal, but you can also communicate with them through their social media pages. Follow them to stay updated on their latest menu items, promos, and events. And if you have any questions or feedback, don't hesitate to reach out to them through their social media channels. Visit their social media pages and their stores for a truly satisfying dining experience!
Facebook: https://www.facebook.com/TenyaPhilippines
Instagram: https://www.instagram.com/tenyaph/
YouTube: https://www.youtube.com/@tenyaphilippines4387
Website: https://tenya.com.ph/branches/
Conclusion
The tasty and authentic Japanese meals on Tenya's menu are just superb! The tempura tendons and teishoku sets, which are their most well-liked meals, are nothing short of excellent! In addition to the generous servings that each of their meals has, each serving includes the majority of the elements that a teishoku set should have! The place itself is spacious, and the interior is wonderfully decorated, which can also be a wonderful way to spend the time while you wait for your order. Overall, Tenya is a must visit place if you are craving authentic Japanese dishes!