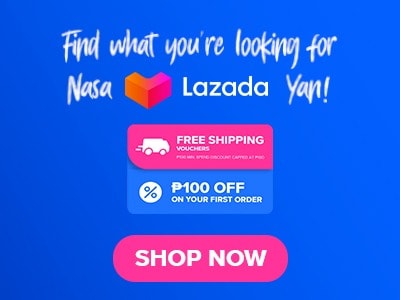 Have you found yourself craving Japanese food but Don't know where to get the most authentic and delicious Japanese food since a lot of Japanese restaurants are mushrooming the market these days? I got you people, no worries since I found an authentic Japanese restaurant that is very affordable and delicious and they have a nice place by the way. Have you heard about Oedo? If not please take the time to read this article. Oedo is a Japanese restaurant where you can Savor the most delicious Japanese food, the Oedo menu have a lot to offer and surprisingly the quality and affordability of their product are really interesting. This restaurant serves authentic Japanese dishes, food is really good and tasty. Let's get to know them more, let's see what foods are they offering and their whereabouts. Don't want to delay anything since we're all set. Let's start now.
Below, you'll find the updated list of the Oedo menu prices.
Menu Items
Price (PHP)

Appetizers

Gyu-motsu ni
130
Gyoza
220
Tako wasabi
155
Pirikara nama harumaki
190

Soup

Tamago jiru
50
Miso jiru
55
Asari jiru
90
Ton jiru
190

Sashimi Appetizer

Aburi salmon hatate mayo
550
Salmon ponzu
260
Maguru ponzu
260
Shiromi ponzu
260
Tako ponzu
260

Salad

Oedo salad
340
Puri puri salad
230
Kani salad
240
Kani salad with mango
310
Tekka salad
355
Maguro tataki salad
385
Seafood salad
455
Wakame salad
150
Mango aigamo salad
390
Spicy tuna salad
350
Spicy salmon salad
450

A la carte

Ika butter yaki
285
Asari butter yaki
285
Uni tamago yaki
230
Buta shoga yaki
265
Shake kabuto ni
455
Chawan mushi
155
Gyu teppan yaki
380
Okonomiyaki regular
265
Okonomiyaki special
295
Saba miso ni
285

Donburi

Ten don
320
Katsu don
260
Oyako don
280
Kakiage don
280
Gyu don
320
Chicken teriyaki don
365
Beef stamina don
330

Gohan

Onigiri
85
Omu rice
185
Pork chahan
150
Gohan
60

Curry

Beef curry
360
Katsu curry
350
Ebi fry curry
370
Chicken curry
350
Pork curry
260
Burger curry
330

Sashimi

Maguro
300
Shake
330
Supashi maguro
305
Supashi shake
345
Hamachi
345
Rapu rapu
300
Botam ebi
500
Ama ebi
380
Aji
210
Unagi
650
Hotate
650
Uni
285
Ikura
450
Shime saba
280
Ika
230
Tamo
480
Tamago
125

Sushi

Chutoro
135
Hamachi
480
Botan ebi
340
Ama ebi
285
Ikura
125
Kani
285
Unagi
285
Shake
185
Aji
165
Shime saba
205
Ebi
175
Uni
240
Ika
135
Shiromi
145
Tako
200
Tamago
125
Hotate
245
Aburi lapu lapu
140
Aburi hamachi
350

Special Sushi

Oedo maki
320
Dragon maki
495
Moster maki
450
Crunch roll sushi
380
Maguro uzu sushi
325
Saba battera sushi
365
Shake ikura roll
410
Hot night roll maki
495
Ning mai maki
295
Tuna imperial maki
165
Ika ebi mayo sushi
185

Maki Sushi

Oshinko maki
140
Kappa maki
130
Ume shiso maki
180
Kanpyo maki
120
Natto maki
160
Crazy maki
480

Chirashi Sushi

Oedo chirashi
1350
Tekka dan
355
Uni don
400
Ikura dan
655
Shake don
355
Shake ikura dan
585
Shake uni don
485
Maguro uni don
450
Supaishi maguro don
375
Supaishi shake don
385

Tempura

Mixed tempura
345
Mixed yasai tempura
225
Ebi tempura
350
Kisu tempura
185
Uni tenpura
240
Chikuwa isobe
185
Hotate tempura
385
Hotate kakiyage
355
Nasu tempura
200
Aspara tempura
150
Kakiage tempura
285
Kani kakiage
180

Agemono

Ika fry
320
Chikuwa isobe age
190
Aji fry
200
Tori kara age
225
Ikageso kara age
190
Tonkatsu
295
Tori katsu
260
Harumaki age
320
Agedashi tofu
195
Ebi fry
320

Hot Udon and Soba

Ebiten
330
Kakiage
300
Tanuki
250
Yakisoba
280
Yakiudon
280
Kake
185
Tsukimi
210
Gyuniku
280
Kare
280
Kaisen yakisoba
310
Kaisen yakiudon
310
Omu yakisoba
290
Nabe yakiudon
400

Cold Udon and Soba

Tanuki
250
Zaru soba
250
Ten zaru
350
Cha soba
250
Somen
230

Ramen

Shoyu ramen
290
Miso ramen
320
Ankake ramen
350
Chasyu ramen
320
Tonkatsu ramen
310
Shio ramen
250
Hiyashi chuka
320
Negi ramen
290
Karubi ramen
380
Kaiko ramen
360
Tantanmen
340

Nabe Hot Pot

Yosenabe
1300
Sukiyaki
780
Buta kimchi nabe
290
Tori kimchi nabe
270
Chikuwa tsukimi nabe
320
Pork yose nabe
290

Yakimono

Hamachi teriyaki
855
Shishamo yaki
225
Ebi shioyaki
320
Shake teriyaki
350
Saba shopyaki
270
Gindara shioyaki
700
Gindara teriyaki
750
Sanma shioyaki
225
So saba yaki
480
Salmon head
200
Shake shioyaki
350
Chicken teriyaki
300

Drinks

Coke, royal, sprite
60
Fresh orange juice
150
Four season juice
150
Household ice tea
60
Matcha shake
150
San miguel beer
75
Brew kettle beer
75
Asahi beer
100
Heineken beer
100
Brewed coffee
100
Premium organic coffee
150
Lemon grass ice tea
60
Fruit shake
150
About Oedo
Oedo is a Japanese restaurant located in Sto. Domingo street Quezon City. The location is very near to Sienna College and is located away from other restaurants mostly surrounded by houses (residential area) so going to their place means lesser crowds. The restaurant serves authentic Japanese cuisine.
The ambiance of the restaurant contributes to the Japanese dining experience. Simple, clean, tasty, and light. The design of the restaurant is minimalist, the exterior maintains traditional Japanese settings. Their careful and artistic cooking brings back their customers to their restaurant. The food is really good and at the same time very affordable. Oedo is a hangout place on Sto. Domingo street.
The entrance of this Japanese restaurant will give you the feeling that you're in japan because of the grand shrine-like entrance. They also have al fresco dining which is recommended for evening dine-in. You'll be impressed with the design and architecture of this restaurant. This Restaurant is managed by the same entrepreneurs behind the two popular restaurants which are Mandarin sky restaurant and Artsy Cafe Restaurant.
Oedo Menu Best Seller
Here is the list of Oedo's menu best sellers that you should try upon going to their restaurant. This list is a safe choice if you are just new to their menu.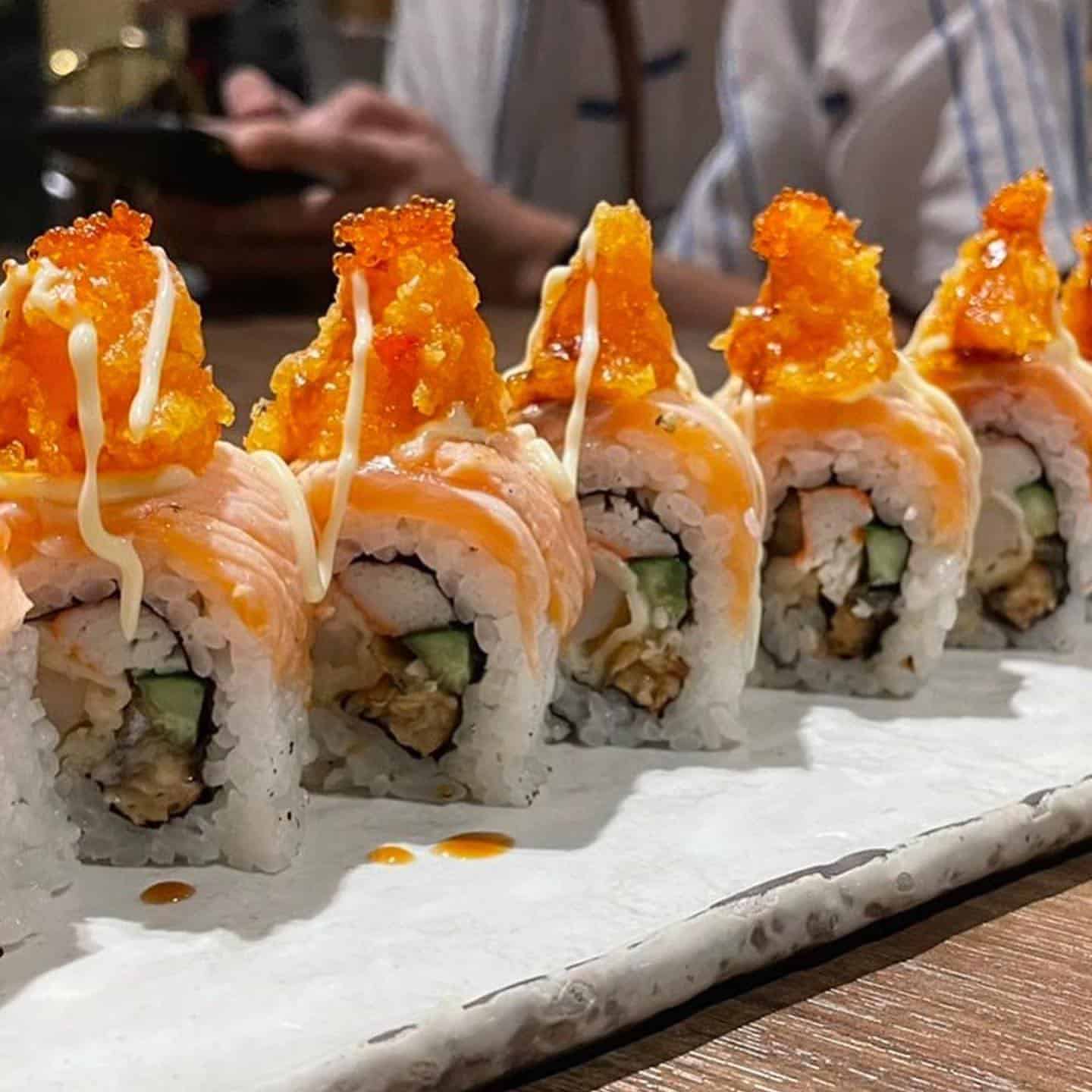 California Maki – Oedo serves their California maki with very tasty nori or dried seaweeds. A Japanese dish that is so tasty and has a lot of textures. This California maki version of Oedo is so tasty and satisfying. Made with a lot of flavors for sure it will satisfy your cravings in an instant.
Ebi Tempura – Rich flavor and delicious. The Ebi tempura version from the Oedo menu is so good it'll be your favorite as soon as you try this one. Good side dish. Really delicious and satisfying.
Asari Butter Yaki – The richness of butter plus the meat of the clam equals delicious. A powerful dish to complete your Japanese food cravings. This one is good with any noodles or even rice.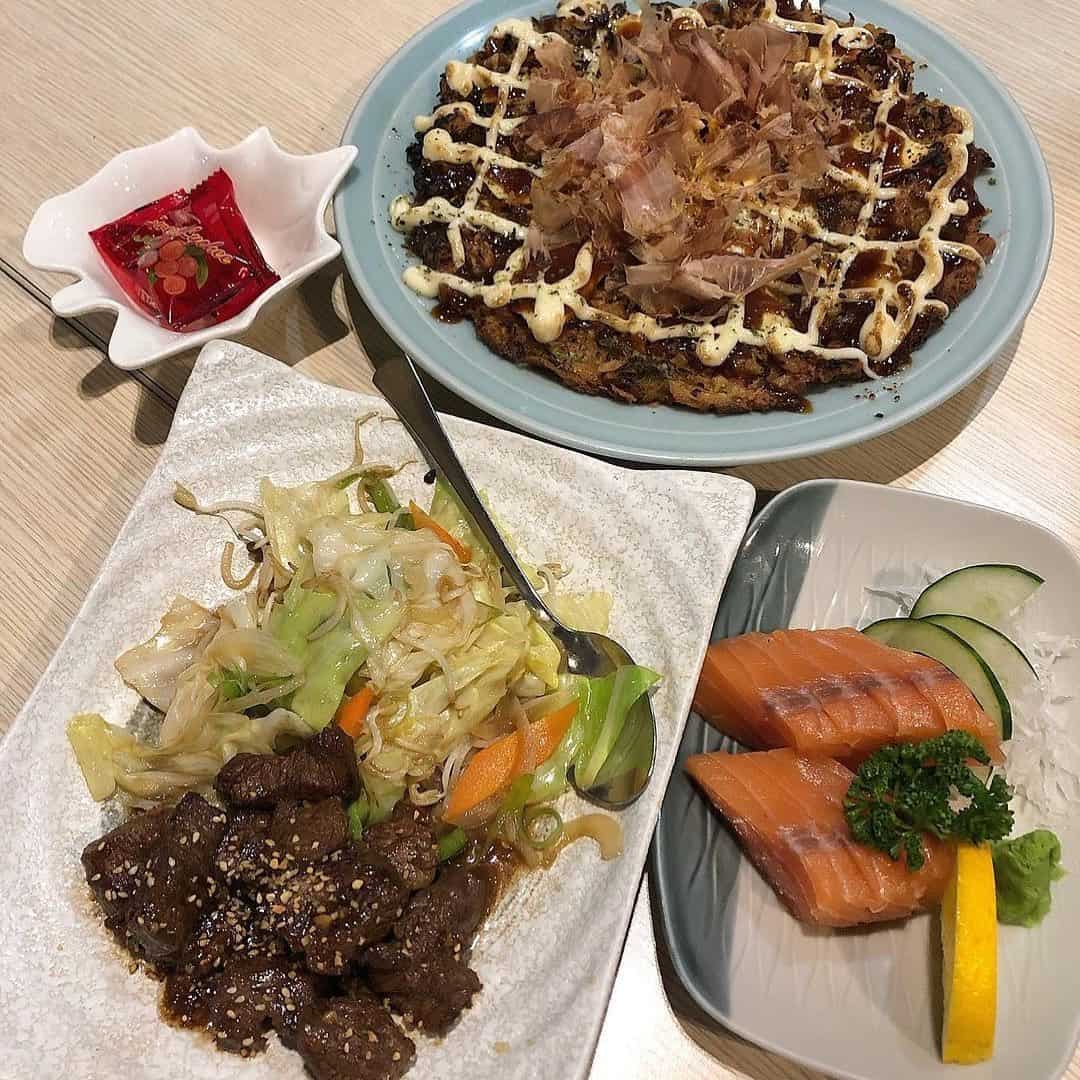 Gyu Tepanyaki – This Oedo menu is a complete meal with meat and vegetables all on one plate. This tepanyaki version is one of the best that you can get on their menu. Very tasty and savory. Meat is really good for this one.
Takoyaki – Most of us are already familiar with takoyaki and Oedo's version happens to be the best that I tasted so far. It got a big piece of octopus inside and plumpy. One you shouldn't miss trying.
Gyoza – This popular Japanese dumpling is really good and Oedo's version is far way better than good. Gyoza comes with a savory sauce. One of their most popular appetizers.
Okonomiyaki Special – These Japanese savory pancake topped with mayo and bonito flakes is so good they will become your instant favorite. Their version is quite good. This is a must try
Oedo Menu Best Maki
Dragon Maki – Oedo is serving maki. What's good about their maki is they are serving this with seasoned nori or seaweeds that's why their California maki is really tasty and different from other maki that you can find in the market these days, bursting with flavor in every bite. This Oedo menu is a combination of flavors wrapped with rice and nori served with sweet-salty sauce.
Oedo Best Ramen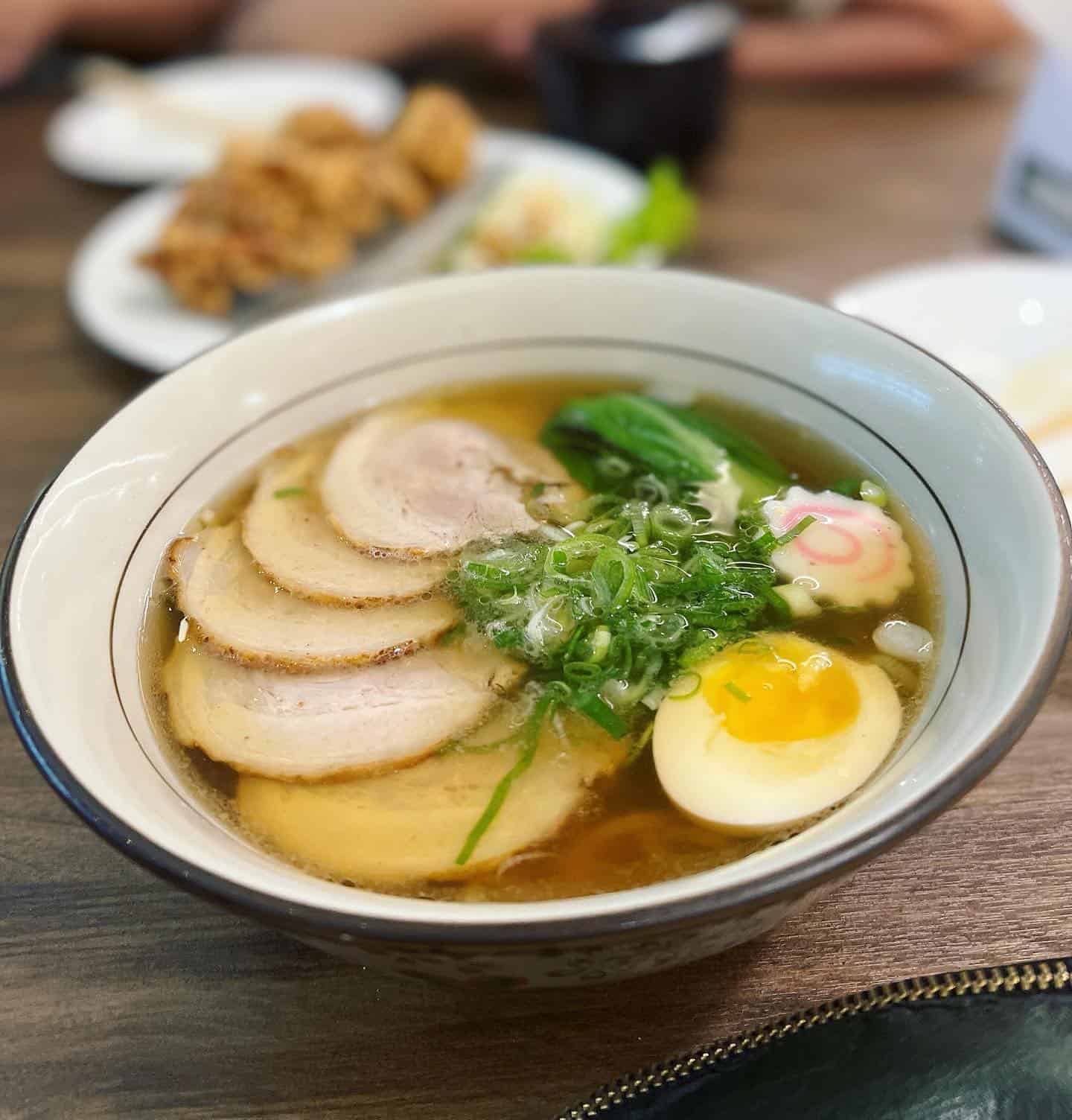 Chasyu Ramen – Of course, every Japanese restaurant serves ramen and Oedo has this simple but satisfying ramen with braised pork belly. A warm bowl of hearty warm noodles cooked in a Japanese way. However, if your looking for more authentic ramen this is not what you're looking for as I noticed that this ramen has some Chinese influence but is just minimal but overall it is really delicious.
Oedo Best Tempura
Ebi Tempura – This Oedo's version of tempura is not your typical tempura. Tiger prawns which are pretty big ate the one that they use for this one. Dipped in tempura butter and deep fried until golden brown. I really enjoy this version of tempura with or without some sauce, really flavorful and satisfying with each bite.
Oedo Menu Delivery
If you're craving some Japanese food but you can't go outside Oedo got you. You can call their delivery number at 02-85180058 for your orders or if this is too complicated enough for you, you can just order thru third-party delivery services like Food Panda and Grab Foods or any delivery services available in your area. Just take note that delivery service is not applicable nationwide as it depends upon your location.
Talk to Oedo Philippines Staff
If you need to talk with the team of Oedo Philippines, you can reach them by sending them a message on their Facebook, or Instagram, or by sending them an email. Below, you will find the pages and email that they use.
Facebook: https://www.facebook.com/OedoJapaneseRestaurant/
Instagram: https://www.instagram.com/oedojapaneserestaurant/
Email: [email protected]
Conclusion
Surprisingly the foods from the Oedo menu that we order are all good, some actually become my favorite and sure we are going back to this restaurant any time we could. The crews are amazing, they are all respectful and the ambiance of the restaurant is so Japanese you'll think you're really in japan upon entering their restaurant. Customer-friendly service, good ambiance and well-maintained place, the whole place are clean and comfortable and that's a big plus for them, right? Good experience good food everything is delicious, the crews are all nice and approachable and the price is so affordable. Highly recommended Japanese restaurant. Thumbs up.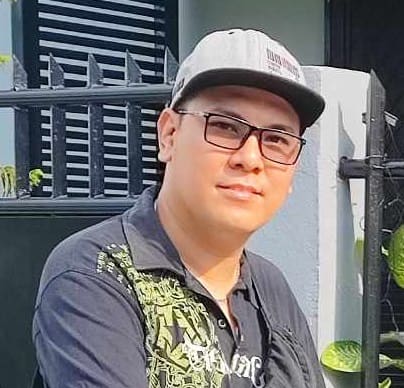 Hi! I'm Nivek Strife, the person who made MenuPH. I'm the one who added most of the popular menus you see on this website, and I really hope you enjoy them! Feel free to check them all out.
Growing up, I was surrounded by lots of tasty foods, like the classic Adobo and the sweet Leche Flan. That love for the many flavors of the Philippines is what got me excited about adding to MenuPH. When I learned how to make websites, I saw the need for a place to show off all the amazing Filipino dishes, and that's how MenuPH started.
MenuPH isn't just a website; it's like a fun journey into food. I've teamed up with famous chefs and found great places all over the Philippines to bring you a bunch of menus that show off the best of Filipino cuisine. Whether you're into the usual dishes or new twists, MenuPH is here to guide you through the rich world of Filipino flavors.
With MenuPH, my aim is to help local businesses, talk about good food choices, and make a group of friends who love food. No matter if you like fancy restaurants or street food, MenuPH has something for you. Come join me on this food adventure as we find great places, taste real flavors, and enjoy the unique food traditions that make the Philippines awesome.