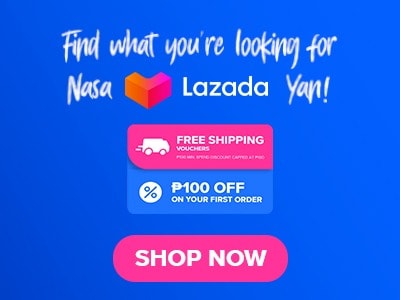 Welcome back, buddy! What a tiring and exhausting day right? Why don't we make a memorable meal today? I crave something raw and fishy, want to join me in my Japanese cuisine? Then hop in and we'll start our journey toward the promised land of Sushi Nori! Sushi Nori managed to establish a total of nine branches across the land of the Philippines. You can locate them at Alabang Town Center, Glorietta 4, Rockwell, SM Aura, SM Mall of Asia, W City Center BGC, SM Megamall, Up Town Center, and General Luna – Siargao. Walking towards the counter to order my set of meals, I noticed that the Sushi Nori menu screams the Japanese tradition. I can't feel my jaw anymore due to the amusement that I have felt. From the bamboo furniture up to its fragile platting, I can clearly say that Sushi Nori is indeed a down-to-earth restaurant where you can be with nature.
I have this wonderful experience at Sushi Nori, want to know what I ordered? Then stay tuned and try to order Sushi Nori online while you continue your reading! Enjoy your meal and enjoy reading buddy!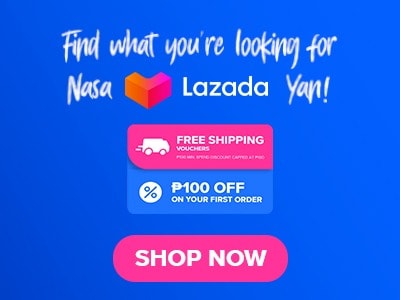 Below, you'll find the updated list of Sushi Nori menu prices.
Menu
Price (PHP)

Ala Carte

Chahan Fried Rice
169
Ebi Tempura (3 pcs) 
299
Edamame
149
Gohan
89
Gyoza (3 pcs)
149
Kani Cheese Tempura (3 pcs)
229
Karaage Ala Carte
229
Miso Soup
89
Salmon Skin Chips Spicy
89
Salmon Skin Chips Teriyaki 
89
Wagyu Kushiyaki (per stick)
189
Wakame Salad
189

Bento Box

Aburi Mix Bento
399
Classic Mix Bento
399
Salmon Overload Bento
449
Tuna Overload Bento
449

Donburi Bowls

Chahan Fried Rice
169
Chicken Currydon
299
Chicken Katsudon
299
Chicken Teriyaki
299
Gyudon
349
Karaage Spicy Teriyaki
299
Karaage Teriyaki
299
Pork Currydon
299
Pork Katsudon
299
Salmon Oyakodon
299
Salmon Teppan
299
Salmon Teriyaki
299
Wagyu Poké
399
Wagyu Teppan Donburi
399

Drinks

Bottled Water
65
Coke
85
Coke Zero
85
Cucumber Green Tea
99
One Cup Ozeki Sake
299
Peach Yuzu Tea
99
Sprite
85

Oishii Box

Aburi Oishii Box (slassic)
899
Aburi Oishii Box (spicy)
899
All Sashimi Box (available in salmon or tuna)
999
Kani Oishii Box (classic)
799
Kani Oishii Box (spicy)
799
Square Nori Sheet Pack
70

Party Platters

Basic Party Platter
1499
Deluxe Party Platter
1899
Poké Party Platter
2299
Premium Party Platter
2299

Poke Bowls

Aburi Poké Bowl
369
Chirashi Poké Bowl
449
Classic (half) Poké Bowl
389
Classic (salmon) Poké Bowl
389
Classic (tuna) Poké Bowl
389
Dreams Poké Bowl
369
Samba (salmon) Poké Bowl
389
Samba (tuna) Poké Bowl
389
Sweet & Spicy Poké Bowl
369

Ramen

Buttercorn Tonkotsu
339
Chashu Tantanmen
339
Chashu Tonkotsu
339
Ebi Shoyu Ramen
349
Gyu Shoyu Ramen
349

Sashimi / Nigiri

Kani Aburi (2 pcs)
149
Kani Nigiri (2 pcs)
129
Salmon Aburi (2 pcs)
189
Salmon NIgiri (2 pcs)
169
Salmon Sashimi (6 pcs)
289
Tamago Aburi (2 pcs)
139
Tamago Nigiri (2 pcs)
119
Tamago Sashimi (6 pcs)
19
Tuna Aburi (2 pcs)
189
Tuna Nigiri (2 pcs)
169
Tuna Sashimi (6 pcs)
289

Sauces

Aburi Sauce
50
Japanese Mayo
30
Kikkoman
20
Spicy Mayo
30
Teriyaki Mayo
30
Teriyaki Sauce
30
Togarashi
20

Sushi Cakes

Classic Sushi Cake
1499
Gold Candle
20
Happy Birthday Gold Topper
60
Spicy Sushi Cake
1499
Sushi Rose Sushi Cake
1599
Veggie Sushi Cake
1299

Sushi Rolls

Aburi Roll
289
Ay Caramba Roll
289
BNY Roll
199
Bonito Roll
199
California Roll
199
Chicken Winner Roll
289
Cloud 9 Roll
369
Crazy Kani Roll
199
Cucumber Roll
99
Dragon Roll
499
Fireball Roll
369
Firecracker Roll
289
Godzilla Roll
499
Guardian Roll
289
Kani Roll
149
Lava Roll
369
Ninja Roll
289
OG Roll
369
Okonomiyaki Roll
199
OMG Roll
369
Salmon Roll
189
Spicy Kani Roll
229
SS Roll
369
Sunshine Roll
499
Sushi Dreams Roll
289
Tamago Roll
149
Tuna Roll
189
Wakame Roll
149

Temaki Wraps

Ay Caramba Temaki
229
California Temaki
169
Crazy Kani Temaki
169
Firecracker Temaki
229
Okonomiyaki Temaki
169
Sushi Dreams Temaki
229
About Sushi Nori
The tropical land of the Philippines doesn't only produces fresh and natural flavors, but they make special meals out of it. One of the herbs and spices that the Philippines offers is Nori. Though Nori authentically originated from Japan, our Filipino folks don't stick to buying abroad, they managed to create their unique Nori just to satisfy their palate.
Sushi Nori is a feast and a sushi-to-go which is founded to serve all races a delightful and funky Japanese experience. The luxurious history of Japanese cuisine was made to perfection thanks to the innovation that Mika and Shiela Romero contained within their sets of sushi. Through its domination on the land of the rising sun, they managed to climb their way towards the pearl of the orient seas – the Philippines.
Sushi Nori is indeed a place for every occasion, whether it's your birthday, simple family gathering, or any other celebration – Sushi Nori is certainly your best buddy. As a diverse restaurant, Sushi Nori managed to create nine strong branches across the Philippines, this branches now serve Filipinos the best Japanese experience that is worth sharing. Since my visitation here at Sushi Nori is perfectly rolled, I believe it is my time to share what I have eaten at Sushi Nori.
Sushi Nori Menu Best Seller
Settling from the best seller and best menu that each restaurant provide is what Filipino would love to try. There is this stereotyping with regards to menu best sellers, most of us believed that they are only included in the best seller section because it is the most pricy menu. However the case of Sushi Nori is indeed different, their set of bestsellers is literally the most loved sushi by the previous customers. Want to know what is the best-selling menu at Sushi Nori? Then below is a list of Sushi Nori best-selling meals that I have tried.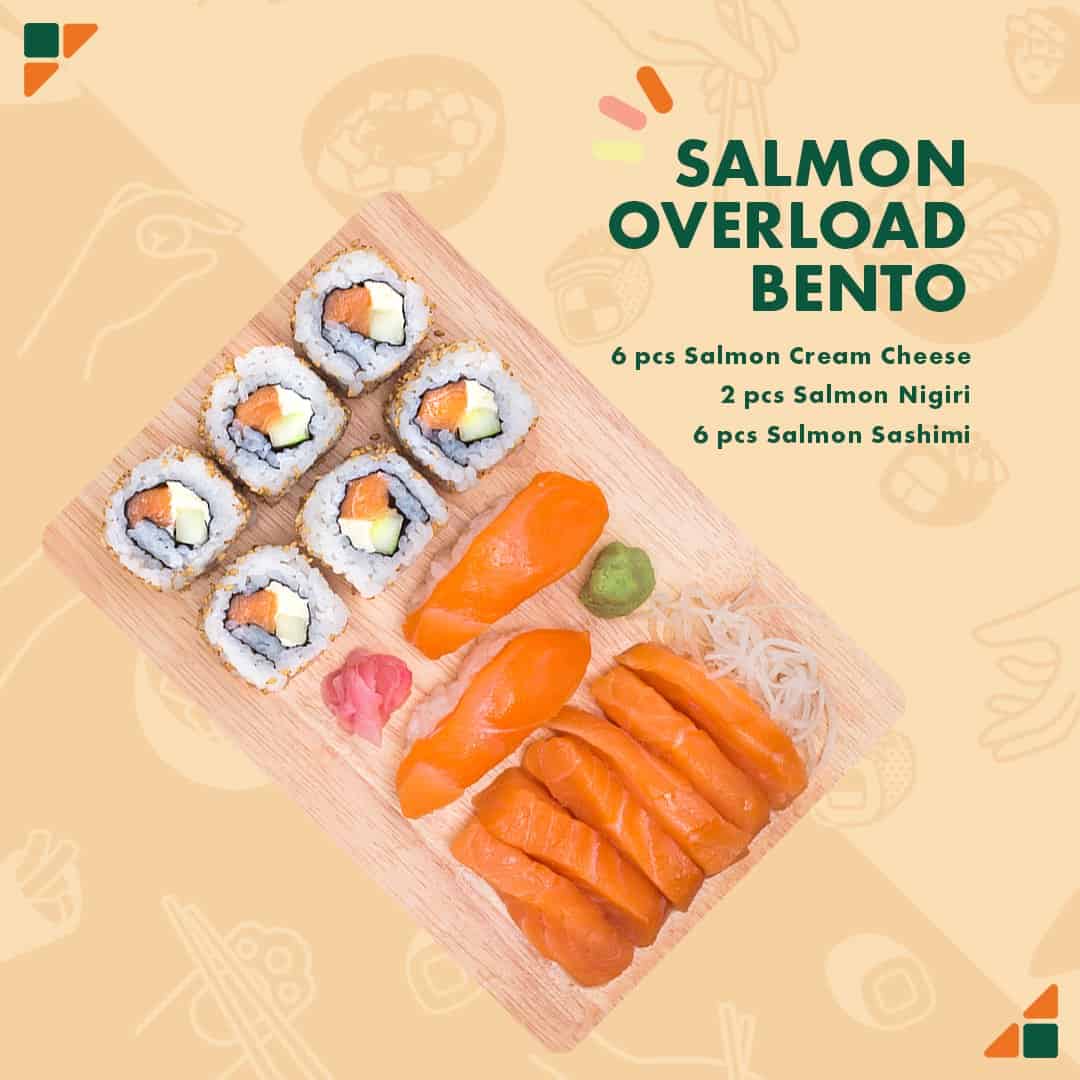 Salmon Overload Bento – I really enjoy this bento box as it gives me a different flavor on a single platter. It somehow helped me to budget my money as I want to have a budget meal today. This 449 peso sushi is composed of 6 pieces of Salmon cream cheese, 2 pieces of Salmon Nigiri, and 6 pieces of Salmon Sashimi. What an overloaded Japanese experience right? That's the main reason why I did order this meal!
Chashu Tonkotsu – this meal is a combination of boiled egg, chashu pork belly, lettuce, and the perfect ramen noodles. The reason why I ordered this ramen is due to the fact that I do not have any knowledge of what chashu tastes like. So based on my experience, chashu has a savory and juicy flavor that has an aroma of a combination of different spices, but what stands out is its salty and peppery scent.
Cucumber Green Tea – this 99 peso drink is indeed healthy, refreshing, and energizing. I love this green tea because it helps me to digest the sushi and sashimi that I have eaten.
Sushi Nori Menu Platter
Sushi Nori now introduces its special menu platter! Savor the different Japanese flavors on a single platter. The enjoyment and the excitement that you can get from this box are indeed worth it. To know what are the inclusions on their menu platter, below is a list of Sushi Nori menu platters.
| | |
| --- | --- |
| PARTY PLATTERS – PRICE | INCLUSIONS |
| POKÉ PARTY PLATTER – PHP 2299 | 3 Mini Aburi Poké, 3 Mini Samba Poké and 3 Mini Classic Poké |
| PREMIUM PARTY PLATTER – 2299 | 6 pcs Sushi Dreams, 6 pcs Guardian, 6 pcs Fireball, 6 pcs Cloud 9, 6 pcs SS Roll, 6 pcs OG Roll and 6 pcs OMG Roll |
| DELUXE PARTY PLATTER – 1899 | 6 pcs Sushi Dreams, 6 pcs Crazy Kani, 6 pcs California, 6 pcs Guardian, 6 pcs Ninja, 6 pcs BNY and 3 pcs Tamago Nigiri |
| BASIC PARTY PLATTER – 1499 | 18 pcs California Maki, 12 pcs BNY, 3 pcs Tamago Nigiri and 3 pcs Kani Nigiri |
Sushi Nori Cake
Do you imagine having a sushi cake? I myself cannot accept the idea of sushi in an image of the cake, however, the innovations and the creativity of Mika and Shiela resulted in four different sushi cakes!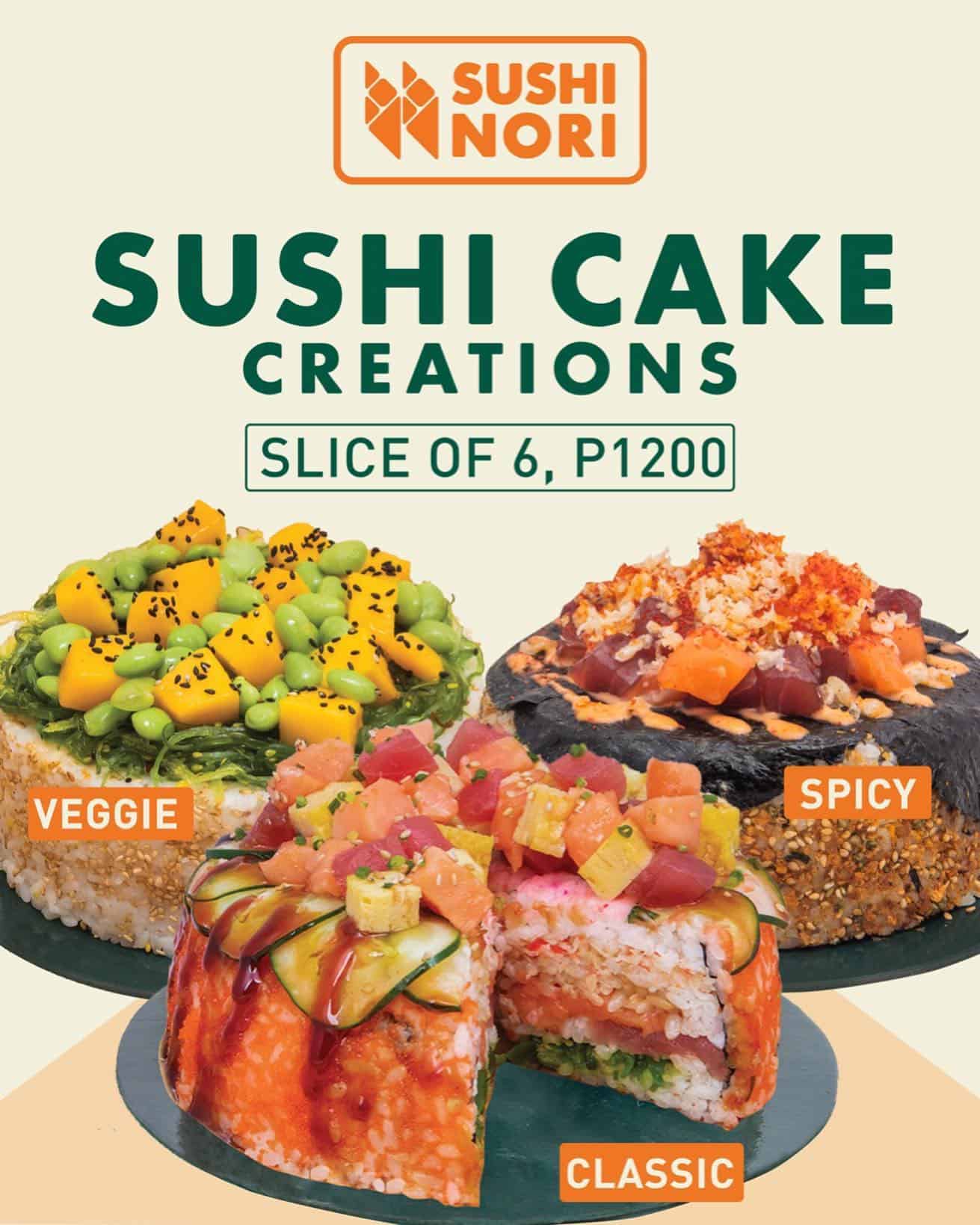 The selection of cakes includes Sushi Rose Sushi Cake, Classic Sushi Cake, Spicy Sushi Cake, and Veggie Sushi Cake. These cakes are indeed perfect if you would come here on your birthday! You can also buy their golden candle and their golden happy birthday topper which is impeccable for your chosen sushi cake.
Sushi Nori Menu Delivery
Due to the threat of the pandemic, Sushi Nori is accessible and offers nationwide delivery! Yes, you heard it right? Enjoy this fine dining experience with your loved ones at the convenience of your own comfortable and relaxing home! To purchase orders at Sushi Nori, you can try the local food servicing app just as FoodPanda, or GrabFood.
There would be instances when food panda and grab food would ask you for the pick-up site or the branch from which you wanted to place an order. So if you like to know the required details, then below is a summary of different Sushi Nori's addresses, contact numbers, and business hours.
Alabang town Center
| | |
| --- | --- |
| Address | Ground Level, Cinema and Entertainment Complex, Alabang Town Center, Ayala Alabang |
| Contact Number | 0966 990 3386 |
| Business Hours | 10 AM to 10 PM |
Glorietta 4
| | |
| --- | --- |
| Address | 3rd Floor, Food Choices Glorietta 4, Ayala Center, Makati City |
| Contact Number | 0945 887 2763 |
| Business Hours | 10 AM to 10 PM |
Rockwell
| | |
| --- | --- |
| Address | Concourse Level (The Marketplace) Rockwell, Power Plant Mall, Makati City |
| Contact Number | 0918 678 4948 |
| Business Hours | 10 AM to 10 PM |
SM Aura
| | |
| --- | --- |
| Address | 4th Floor, Food on Four, SM Aura, Taguig |
| Contact Number | 0997 660 0745 |
| Business Hours | 10 AM to 10 PM |
SM Mall of Asia
| | |
| --- | --- |
| Address | 3rd Floor, MOA Food Hall, Main Mall, SM Mall of Asia, Pasay |
| Contact Number | 0926 626 7902 |
| Business Hours | 10 AM to 10 PM |
W City Center BGC
| | |
| --- | --- |
| Address | Ground Floor, W City Center 7th Ave cor Lane Q, Fort Bonifacio, BGC, Taguig City |
| Contact Number | 0945 317 9912 |
| Business Hours | 10 AM to 10 PM |
SM Megamall
| | |
| --- | --- |
| Address | 5th Floor, Mega Food Hall, Mega Fashion Hall Building, SM Megamall, Mandaluyong City |
| Contact Number | 0936 261 6991 |
| Business Hours | 10 AM to 10 PM |
Up Town Center
| | |
| --- | --- |
| Address | 2nd Floor, Urban Turf, UP Town Center, Katipunan, Quezon City, Quezon City |
| Contact Number | 0945 668 7055 |
| Business Hours | 10 AM to 10 PM |
If you would like to have an advanced reservation at Sushi Nori, you can visit their official webpage @https://sushinori.ph/about/. You can also make a reservation via phone call, you can dial: 0917 888 6674 and be thrilled with the Japanese experience that you are about to embrace!
Social Media Pages
In case you don't want to miss any important Sushi Nori menu news, or announcements that they provided, you must make sure that you are connected with their social media pages. Whenever they posted something, you will always see it. To follow them, simply refer to the following links below:
Facebook: https://www.facebook.com/sushinoriph/
Instagram: https://www.instagram.com/sushinoriph/
FAQs
The moment I entered Sushi Nori, I became the center of attraction as I can see the confused look of individuals standing outside the restaurant. I can clearly see their wrinkling forehead may be asking, "What can I eat at Sushi Nori", and the like. To cut this short, I would like to list the following inquiries that people commonly asked via online and outside the store Sushi Nori.
What is Sushi Nori?
This sushi nori originates from the rich country of Japan and is used to wrap sushi rice. Furthermore, this dried and roasted seaweed has a strong 'natural umami' flavor; other than that, sushi nori can also be used in many different ways other than traditional sushi rolls. A simple way to level up your meal is by simply tearing this sushi nori apart and sprinkling it over your rice or your choice of viand.
Who owns sushi nori?
The people behind the success of Sushi Nori are none other than Mika and Shiela Romero. Other than Sushi Nori, they also established Roku Sushi + Ramen which also made history not only in the Philippines but also across the world.
Does nori taste fishy?
I personally tasted nori as I am a fan of sushi, however, I can't clearly define what it tastes like. It has this unique taste that isn't fishy or bland. The taste resembles seaweed perhaps, however its taste became much more different if you try to incorporate it with other meals just like your favorite bowl of ramen.
Conclusion
What a fruitful and knowledgeable review right? This Sushi store made me want to book a flight going to Japan! I want to taste the other staple food that I can buy at the land of the rising sun. I want to know how the same Japanese experience that Sushi Nori menu provided.
In a nutshell, Sushi Nori is the best place for those who seek to have a budget meal in a Japanese endeavor. You can literally buy everything on their meal due to their cheap pricing but quality sushi. It wouldn't be my last visit to Sushi Nori, I believe there would be more visitations as they hooked my Japanese Craving.