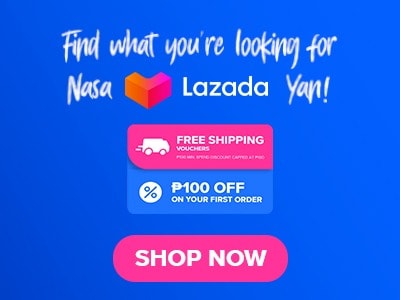 The authentic flavor of regional Japanese cuisine is brought to more people in full support of regional revitalization, which is what sets the Boteyju menu apart. Thus, after going over its intriguing menu, one can find all of Japan's regional culinary specialties from all across the country. Botejyu is picky about the ingredients that go into each meal in order to maintain the original flavors even today. In reality, 70% of the ingredients used in Botejyu menu in the Philippines are imported, from meats to sauces.
Below, you'll find the updated list of Botejyu menu prices.
Menu Items
Price (PHP)

Agemono/Fried

Regular Original Chicken Karaage
280.50
Large Original Chicken Karaage
533.50
Regular Chicken Karaage with Spicy Tartar Sauce
313.50
Large Chicken Karaage with Spicy Tartar Sauce
599.50
3pcs. Kushikatsu Platter
165.00
6pcs. Kushikatsu Platter
313.50
3pcs. Prawn Tempura Platter
225.50
5pcs. Prawn Tempura Platter
374.00
10pcs. Prawn Tempura Platter
737.00
3pcs. Bacon and Cream Cheese Spring Rolls
192.50
6pcs. Bacon and Cream Cheese Spring Rolls
368.50
Tender Pork Tonkatsu
302.50
3pcs. Fried Salmon with Spicy Tartar Sauce
489.50
6pcs. Fried Salmon with Spicy Tartar Sauce
940.50
3pcs. Fried Prawn Platter
275.00
5pcs. Fried Prawn Platter
445.50
10pcs. Fried Prawn Platter
825.00
Mt Fuji French Fries Regular
159.50
Mt Fuji French Fries Large
302.50

BBQ Amiyaki Grilled Dishes

Beef Rib-Eye Steak Osaka Style
2,441.25
Beef Prime Skirt Yakiniku Steak
764.50
Reg. BBQ Pork Rib Hokkaido Style
324.50
Lrg. BBQ Pork Rib Hokkaido Style
599.50
3pcs. Grilled Chicken Jumbo Yakitori
247.50
5pcs. Grilled Chicken Jumbo Yakitori
401.50
BBQ Chicken Jambo Yakitori 10pcs
781.00
Grilled Salmon Belly
269.50

Yakisoba Fried Noodles

Pork Belly Yakisoba Fried Noodles
357.50
Seafood Mix Yakisoba Fried Noodles
489.50
Premium Mix Moonlight-Egg Yakisoba Fried Noodles
577.50
Sukiyaki Beef Yakisoba Fried Noodles
533.50
Pork Belly Yakisoba Fried Noodles with Spicy Curry
462.00

Original Omusoba

Premium Mix Omusoba
566.50
Pork Belly Omusoba
401.50
Seafood Mix Omusoba
544.50
Grilled Char Siu Pork & Cheese Omusoba
473.00

Ramen

Pork Tonkotsu Ramen
467.50
Pork Tonkotsu Ramen with Char Siu Pork
533.50
Pork Miso Tonkotsu Ramen
467.50
Spicy Pork Tonkotsu Ramen with Char Siu Pork
577.50
Pork Miso Tonkotsu Ramen with Char Siu Pork
280.50
Spicy Pork Miso Tonkotsu Ramen with Char Siu Pork
577.50

Japanese Rice Dishes

Beef Sobameshi Fried Rice
291.50
Garlic Fried Rice with Bacon & Egg
214.50
Beef Hayashi Rice
357.50
Sushi And Sashimi
Price
Crispy Fried Prawn Tempura Mayo Roll
390.50
Pork Tonkatsu Cutlet Sushi Roll
280.50
Sukiyaki Beef Roll
291.50
California Roll
280.50
Tamago Yaki
159.50
Unagi & Avocado Roll
434.50
Pressed Unagi Sushi
1,094.50

Drinks

Hiyashiame
143.00
Mineral Water
60.50
Osaka Mix Fruit Juice
220.00
Coke in Can
93.50
Coke Zero in Can
93.50
Sprite in Can
93.50
Royal in Can
93.50

Dessert

Kobe Warabimochi
231.00

Appetizers & Salads

Edamame
121.00
Grilled Char Siu Pork
258.50
Stewed Beef Osaka Style
264.00
Wakame Salad
165.00
Regular Chicken Teriyaki Salad
269.50
Large Chicken Teriyaki Salad
495.00
Regular Botejyu Special Salad
231.00
Large Botejyu Special Salad
434.50

Teppanyaki

Beef Rib with Onion Teppanyaki Grill
302.50
Diced Beef Garlic Steak
539.00
Garlic Shrimp (served with rice)
489.50
5pcs. Teppan Grilled Pork Gyoza
231.00
10pcs. Teppan Grilled Pork Gyoza
440.00
Chicken Teriyaki
269.50
Salmon Teriyaki Steak
407.00
Sukiyaki Beef Hand Teppan
489.50

Original Okosoba

Pork Belly Okosoba
412.50
Seafood Mix Okosoba
577.50
Beef & Spring Onion Okosoba
566.50
Bacon and Cheese Okosoba
489.50
Premium Mix Okosoba
588.50
*Original Tonpei Egg Winding*
Price
Pork Belly Tonpei Egg Winding
302.50
Mixed Seafood Tonpei Egg Winding
434.50
Grilled Char Siu Pork with Cheese Tonpei Egg Winding
396.00

Takoyaki

3pcs. Original Sauce & Mayo Takoyaki
137.50
6pcs. Original Sauce & Mayo Takoyaki
264.00
3pcs. Umami Sauce & Mayo Takoyaki
143.00
6pcs. Umami Sauce & Mayo Takoyaki
275.00
All Star Takoyaki
280.50
3pcs. Spicy Tartar Sauce Takoyaki
165.00
6pcs. Spicy Tartar Sauce Takoyaki
308.00
3pcs. Smoked Bacon and Cheese Takoyaki
126.50
6pcs. Smoked Bacon and Cheese Takoyaki
247.50

Donburi Rice Bowls

Exquisite Chicken Oyako Egg Teishoku
368.50
Beef & Tamagotoji Egg Rice Bowl
412.50
Grilled BBQ Pork Rice Bowl Hokkaido Style
357.50
Prawn Tempura Rice Bowl
357.50
Pork Tonkatsu Cutlet with Egg Teishoku
456.50
Chicken Butter Rice Bowl
357.50
Grilled Char Siu Pork & Egg Rice Bowl
379.50
Garlic Pork Rice Bowl
357.50
Diced Beef Garlic Steak Rice Bowl
517.00
Sukiyaki Beef Teishoku
594.00

Special Curry Rice

Tender Pork Tonkatsu Cutlet Curry Rice Osaka Style
467.50
Beef Curry Rice Osaka Style
451.00

Pizza Toast/Special Buns/Toast

Grilled BBQ Pork Buns
137.50
Fried Chicken (karaage) Buns
137.50
Assorted Buns
368.50
Premium Mix Pizza Toast
187.00
About Botejyu
Eikichi Nishino founded Botejyu in 1946 in the gastronomic hub of Tamade, Osaka. The restaurant's name, BOTEJYU, was inspired by the okonomiyaki's rhythmic cooking sound. In spite of the challenging post-war environment, BOTEJYU launched its first restaurant in Tamade, Osaka, in 1946. Supplies and provisions from America were brought into Osaka's developing black markets and unloaded at the ports of Osaka and Kobe. American flour was one of these resources, and it was combined with water to form pancakes as a substitute for traditional staple foods.
As a result of the food crisis, word of this straightforward, simple-to-cook, and wholesome recipe swiftly traveled around Osaka. In traditional Japan, the practice of combining flour and water dates back to before the war, but after the war, living conditions in Osaka had an impact on how flour-based food developed into a main dish. During this time, rationed items and the daily supplies utilized by the Occupation Army were idolized. Nishino, the creator of BOTEJYU, had his sights set on mayonnaise, a condiment that, up until that point, had solely been employed to flavor cold meals.
Botejyu Menu Best Seller
If you are going to Botejyu, here are some of the menu items that you must try: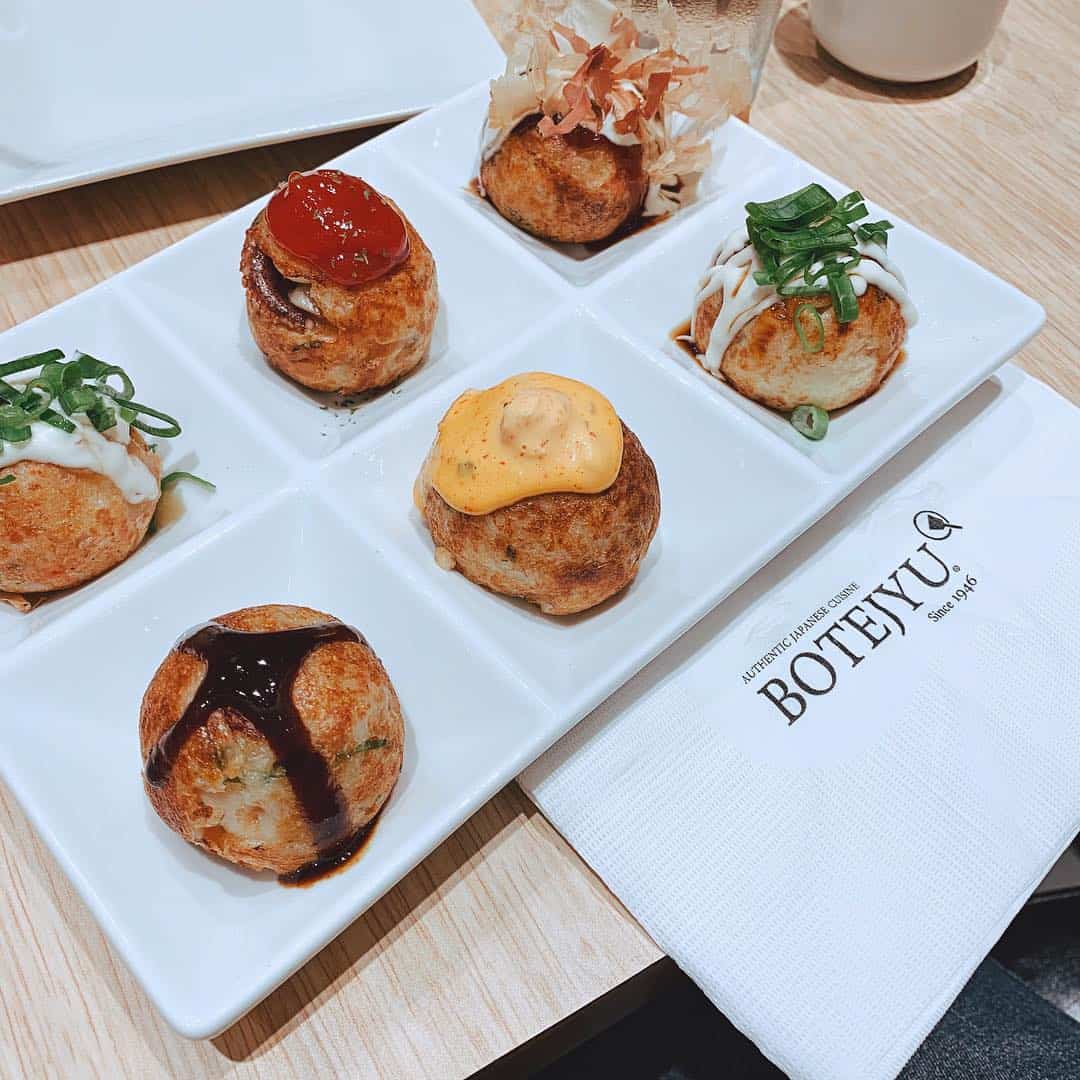 Takoyaki – Takes the stage: choose the All-star Takoyaki if you can't pick between the six delicious flavors of these delectable, crisp-on-the-outside, supple, and chewy ball-shaped treats on the interior. The batter made of wheat flour, a secret Botejyu ingredient, pairs wonderfully with the fresh tako chunks. It has six distinct sauces and flavors: tomato sauce, thick hot sauce, spicy mentai mayo, and salt and garlic sauce.
Pork Paitan Ramen – A hearty, delectable meal of pork and noodles with a hint of Botejyu's ethereal oil to give the soup spirit.
Amiyaki Grilled Pork Rice Bowl – This rice bowl Botejyu menu is a Hokkaido delicacy, that is garnished with thick slices of grilled pork and a unique soy sauce that gives it a sweet-savory taste.
Okonomiyaki – A unique idea from the company's founder, it is wholesome and well-balanced with copious amounts of freshly shredded cabbage and other components incorporated into the homemade batter mixture.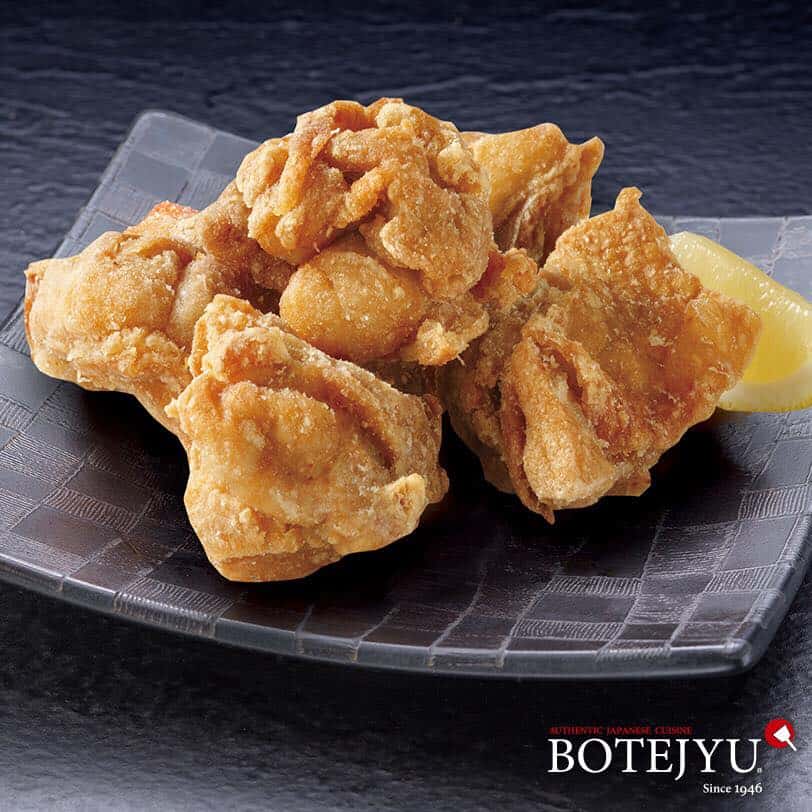 Karaage – This is the most popular Karaage in Japan and has gained popularity among Filipino foodies who enjoy chicken.
Premium Mix Moonlight-Egg Oko – Preservative-free and made with pork, beef, shrimp, fried eggs, and squid, this dish is definitely a wonderful delight. It is also drizzled with a special sauce.
Botejyu Family Set Menu
Botejyu offers a promo on their family sets. Here are some of what is available on the menu: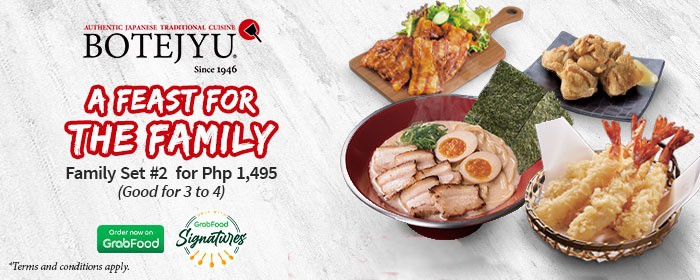 Family Set 1 – This set includes Gyoza, California Roll, Original Sauce & Mayo Takoyaki, and Pork Tonkotsu Ramen
Family Set 2 – This set includes Grilled Pork Rib Hokkaido Style, Original Chicken Karaage, and Pork Tonkotsu Ramen.
Family Set 3 – This Botejyu menu includes Tender Pork Tonkatsu without rice, Chicken Teriyaki, Authentic Sauce & Mayonnaise Takoyaki California Roll, and Pork Tonkotsu Ramen.
Family Set 4 – This assortment includes BBQ Chicken Jumbo Yakitori, Grilled BBQ Pork Rib Hokkaido Style, California Roll, Original Sauce & Mayo Takoyaki, and Pork Tonkotsu Ramen
Family Set 5 – This set includes Original Sauce & Mayo Takoyaki, California Roll, fried prawns, Grilled BBQ Pork Rib Hokkaido Style, Teppan Grilled Pork Gyoza, and Original Chicken Karaage
Family Set 6 – Family Set 6 – This set includes Cali Roll, Shrimp Tempura Platter, Original Sauce & Mayo Takoyaki, and Teppan Grilled Pork Gyoza.
Botejyu Okosoba
Is made with their own yakisoba noodles and cabbage that is sandwiched between a special batter and an egg. a dish that combines yakisoba and okonomiyaki. Expect this to be more filling given that it has noodles. There is still flavor and umami. With thick yakisoba noodles, a ton of cabbage, and our original batter layer and fried egg, it is a well-rounded, filling dish.
Botejyu Birthday Promo
There is no current information as to whether Botejyu still offers the discount that they give to customers who celebrate their birthdays at the restaurants. However, there are coupons that you can avail yourself of online through their website that give you a 50% off on their menu items. They also offer promos on their family and bundle meals.
Botejyu Menu Delivery
Wanted to get a taste of the Botejyu menu but you don't want to go outside and que on the lines? To taste the menu of this delicious Japanese restaurant, you can always order via delivery and the food you ordered will be sent to you at your home or office. You could always order via Grabfood, Foodpanda, or even at their website at botejyu.com.ph.
Social Media Pages
Don't you want to get the current offers of the Botejyu? Ensure that you always get the latest news about them by following the social media pages below:
Facebook: https://www.facebook.com/Botejyuph/
Instagram: https://www.instagram.com/botejyuphilippines/
Twitter: https://twitter.com/botejyuph/
FAQs
What is Botejyu?
You don't have to travel all the way to Osaka to have mouthwatering Okonomiyaki because there are a few shops in the Philippines as well as long-established eateries like Botejyu.
Who is the owner of Botejyu?
Eikichi Nishino, the creator of Botejyu, came up with an inventive technique to employ mayonnaise, which at the time was mainly used to flavor cold meals. In his restaurant, he invented the use of white mayo to dress okonomiyaki.
Is Botejyu a Japanese?
Eikichi Nishino founded Botejyu in 1946, and the company is proud of its name. Botejyu began as a specialty okonomiyaki restaurant in the upscale Tamade neighborhood of Osaka and has been working hard to rebuild despite the difficult post-war environment.
Conclusion
The foundation of what Botejyu menu is today is the pride and careful consideration we put into choosing our ingredients, which allows us to bring out the full flavor of each component.
They take great care in selecting each and every component that goes into our meal because they are a specialty okonomiyaki restaurant representing Japan. The policy has a crispy outside and a fluffy within. This batter is created by combining our natural broth with carefully ground premium flour as well as shrimp, squid, kelp, and bonito. We are able to make flavorful, aromatic, and crispy okonomiyaki thanks to our unique batter.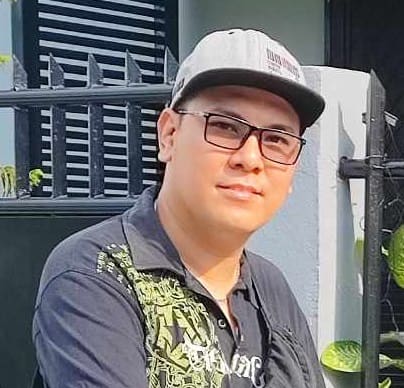 Hi! I'm Nivek Strife, the person who made MenuPH. I'm the one who added most of the popular menus you see on this website, and I really hope you enjoy them! Feel free to check them all out.
Growing up, I was surrounded by lots of tasty foods, like the classic Adobo and the sweet Leche Flan. That love for the many flavors of the Philippines is what got me excited about adding to MenuPH. When I learned how to make websites, I saw the need for a place to show off all the amazing Filipino dishes, and that's how MenuPH started.
MenuPH isn't just a website; it's like a fun journey into food. I've teamed up with famous chefs and found great places all over the Philippines to bring you a bunch of menus that show off the best of Filipino cuisine. Whether you're into the usual dishes or new twists, MenuPH is here to guide you through the rich world of Filipino flavors.
With MenuPH, my aim is to help local businesses, talk about good food choices, and make a group of friends who love food. No matter if you like fancy restaurants or street food, MenuPH has something for you. Come join me on this food adventure as we find great places, taste real flavors, and enjoy the unique food traditions that make the Philippines awesome.